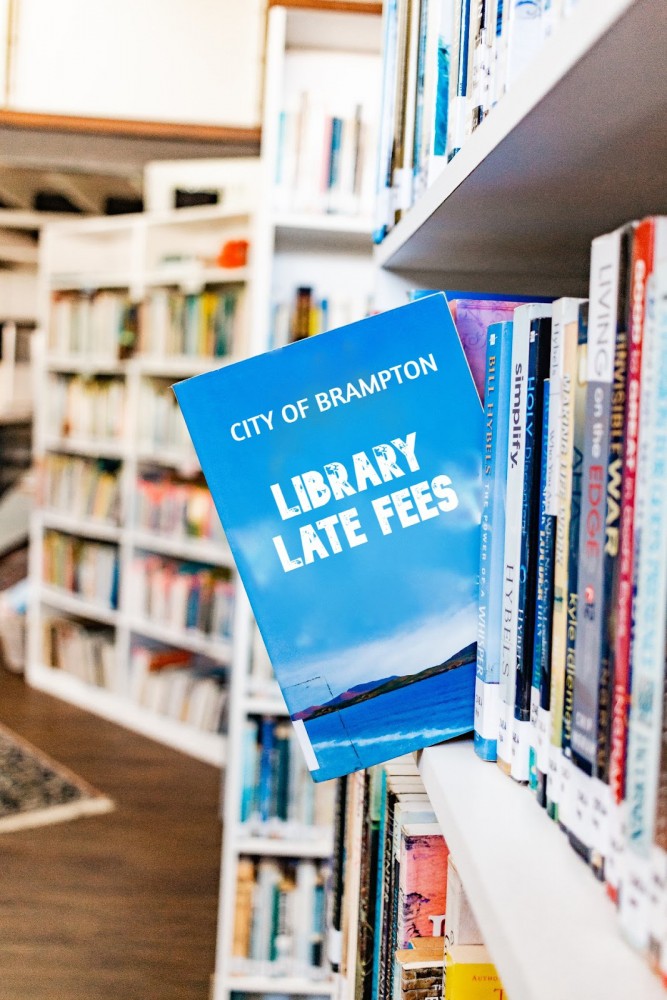 Feature image from Isaac Callan/Sincerely Media/Unsplash 
Will ending library late fines boost public use of these centuries-old institutions?
Brampton Library has had its own turbulent time over the past 18 months.
The organization, in charge of eight branches in the Flower City, spent the years leading up to 2020 investing in innovative services. Locals saw their libraries transform into increasingly comprehensive community hubs that offered everything from music studios to 3D printers.
Brampton's library system was making a concerted effort to diversify and redefine what it stood for. In a world where information is near-universally accessible and in the palm of our hands, it was important the library became more things for more people. It rebranded as a gathering place, a technology hub and a support centre for everyone from creatives to entrepreneurs.
Then COVID-19 hit, and the library system was forced to change again.
Shared 3D printing and label-making facilities were a sanitization nightmare, a no-go in the short term as viral spread in the city had made Brampton a national COVID-19 hotspot. Bands and amateur musicians gathering inside soundproofed studios and crowding around microphones represented a severe health hazard at the height of an airborne pandemic.
The library system closed its doors during the spring of 2020 as the vast majority of Ontario shut down. Even when it was allowed to open, the pandemic kept many away.
Although its doors were closed, Brampton Library still played a vital role in the lives of many residents. The amount of virtual materials borrowed shot up, while an even quieter quiet than usual hung over its physical locations. Bramptonians borrowed more than 511,000 ebooks and eAudiobooks in 2020, an increase of more than 65 percent over the previous year. There was also a 34 percent increase in those using its online learning collections.
In the face of a crisis, Brampton Library was adapting again.
Brampton Library's Springdale branch.
(Image from Joel Wittnebel/The Pointer files)
Its efforts to reach Brampton residents extended beyond a logical transition to online content. As staff battled the difficulties of working during a global pandemic, the library was innovating. In the summer of 2020, it announced overdue book fines would be scrapped for all Brampton borrowers until the end of 2021. The pilot was designed to test how Brampton Library could improve its relationship with users, especially those who needed its services the most.
The decision to temporarily scrap all overdue fines followed a successful pilot, launched in September 2018, that removed late fines from content in the children's section. The pilot within its children's section proved to be a success and led to the library system being awarded the Minister's Award for Innovation.
"Brampton Library is here to support you, especially in tough times," a press release in July 2020 announced. "To enable you to borrow our physical materials freely, we are pleased to announce the elimination of all overdue fines on all materials until December 31, 2021."
Around five percent of all physical books borrowed in 2019, the last year before the pandemic impacted lending patterns, were returned late.
A spokesperson for Brampton Library outlined how removing library fines would be handled to avoid bad actors abusing the system. "As Library fines create barriers to access information, the email reminders ensure that materials are returned on time for the next customer to borrow," they said. "Once an item is overdue, customers are provided with additional notices before a replacement fee is applied. After a fee has been applied further notifications are sent to encourage the return of materials in order to keep their membership in good standing."
A similar scheme is in place at Winnipeg Public Library, which went fine-free in January. If an item is overdue for more than 30 days in Winnipeg, its replacement cost is charged to the customer's account. Accounts that owe more than $50 are unable to borrow new items until things are resolved "by paying for lost items or otherwise negotiated."
Now, the City of Brampton faces a decision around how it will serve its residents. Brampton Library's board of directors has indicated it would like to make that abolition of late fees permanent, but finds itself at the mercy of councillors as budget season approaches.
"It's their intention, obviously, to permanently eliminate overdue fines, but at this point, we only promised the community to the end of 2021," Todd Kyle, CEO of Brampton Library, told The Pointer. "Unfortunately, that does remain to be seen — it is a financial question."
Left to right: Todd Kyle, Mayor Patrick Brown and Neil Arsenault, Four Corners Branch Manager, in the children's area of Brampton Library's downtown branch.
(Image from Brampton Library)
The move to get rid of overdue fines is part of a library rethink that is sweeping North America. Major systems on both sides of the border have scrapped late fines, admitting that they discourage library use amongst those who need it the most and, as a result, limit the library's ability to act as an equitable force for good.
At the start of October, the New York Public Library announced it would be eliminating late fees. Its president, Anthony W. Marx, said late fees were "an ineffective way" to get people to return books. He explained that based on New York's experience, the system doesn't act as an incentive to return books for the residents that can afford the fees. The threat of punitive costs also puts off those that libraries are designed to help the most.
"For those who can't afford the fines — disproportionately low-income New Yorkers — they become a real barrier to access that we can no longer accept," he said.
Winnipeg Public Library has also seen success with this model.
"The library has not yet returned to full service levels, but so far feedback is positive," a spokesperson said. "Staff are spending less time managing fines and accounts and have not noticed significant changes to borrowing patterns."
Meghan Nicholls, the CEO of the Mississauga Food Bank and an anti-poverty leader in Peel Region, told The Pointer that eliminating library fees could be an important step for Brampton.
For many who rely on food banks around Peel Region, the library represents a welcome source of knowledge, entertainment and vital access to technology. Removing the threat of fees that increase and compound over time can increase access to the system.
"I know, anecdotally, how important libraries are to families who are struggling financially," Nicholls said. "Whether it's time on a computer to work on a school project or to work on a resume for a new job … or even the free entertainment that borrowing DVDs and movies and books from the library is for families, removing that resource because they perhaps kept the library book a little bit too long is a way of shutting people out of a community service. Every dollar that can be kept for people is going to make sure that they can pay their basic needs like housing, and food."
Brampton Library is a key community resource.
(Image from Joel Wittnebel/The Pointer)
The use of late fines goes against the ethos of everything Brampton Library stands for. Across its various branches, the organization has been introducing a range of different services to its users — all are free with a library card.
Charging those who are late in returning books, especially in a world that increasingly uses automatically returned e-books, undermines the library's model of offering services that are free at the point of use. "Fines are increasingly at odds with the Library's mission, impacting those least able to pay, most vulnerable, and often racialized," a slide presented by Kyle to council last month explains.
He says the system of late fees has been phasing itself out for some time.
"Fine revenue has been declining across libraries for years," he said. "Fines were, of course, never intended to be a revenue source, they were intended to be something that nudges people's behaviour towards being responsible."
Although revenue from library fines was not designed to fund the system, it is not negligible. Kyle estimates overdue fines make up between $200,000 and $300,000 of Brampton Library's revenue. The number is equivalent to around 1.6 percent of the system's 2021 operating budget.
As the Christmas period of municipal budgeting approaches, departments under the City of Brampton's umbrella are finalizing requests. They know their funding needs will go before a miserly council, one which has approved three tax freezes in a row that are putting an unsustainable strain on the City.
The 2022 budget process will be particularly tight. It is the last financial blueprint before the next municipal election, a time when councillors typically look to deliver lower increases and curry favour with residents.
Since Mayor Patrick Brown was elected in 2018 on a promise to reduce the tax burden on local residents, budgets have been cut to ribbons. Every year, even requests to marginally raise the rate of tax and support critical services have been swept aside, leaving long-term infrastructure projects to rot on shelves.
"The City has historically underfunded libraries," Brown said in 2019. His words have not yet been matched by actions. "We're going to work with the library board and administration to grow."
The $200,000 to $300,000 required each year to permanently remove library fees in Brampton may seem like a small price worth paying. But, under the current Brampton council, the fee could still prove an insurmountable stumbling block, as Brown and his councillors scramble to deliver another tax freeze before they seek reelection.
---
Email: [email protected]
Twitter: @isaaccallan
Tel: 647 561-4879
---
COVID-19 is impacting all Canadians. At a time when vital public information is needed by everyone, The Pointer has taken down our paywall on all stories relating to the pandemic and those of public interest to ensure every resident of Brampton and Mississauga has access to the facts. For those who are able, we encourage you to consider a subscription. This will help us report on important public interest issues the community needs to know about now more than ever. You can register for a 30-day free trial HERE. Thereafter, The Pointer will charge $10 a month and you can cancel any time right on the website. Thank you
Submit a correction about this story