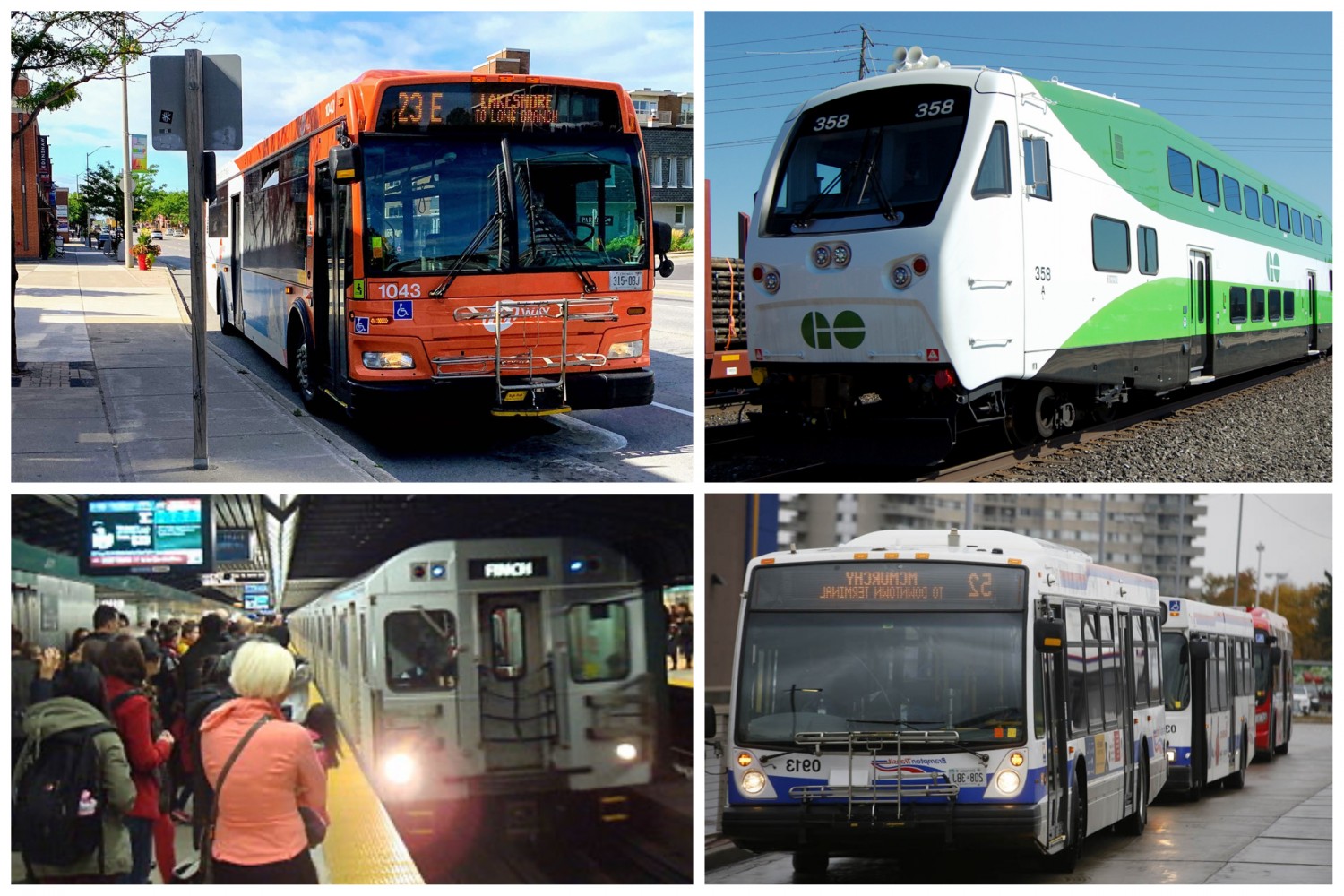 Feature images from The Pointer files/Wikmedia Commons
Part 2: Regional transportation—GTA students need integrated transit system
The City of Brampton has become the latest municipality to join an ad-hoc push for fare integration in Toronto and the surrounding 905 area.
Transit commuters in the GTA have long looked across the ocean, to Europe and Asia, where regional transit integration is one of the transportation features that makes cars a distant second option.
In Tokyo, London and Hong Kong, commuters seamlessly travel on buses, trains and ferries in and out of the city using networks integrated across systems and local borders.
That's not the case across Southern Ontario's disjointed public transportation network, which often involves poor connectivity, out-of-sync schedules, and different points of payment for weary travellers.
But that could be changing.
A motion passed by council members two weeks ago asks Queen's Park to endorse a limited fare integration pilot for passengers switching from Brampton Transit to the Toronto Transit Commission (TTC) subway at the Vaughan Metropolitan Centre (VMC). The request would require the support of Toronto and the Province to move forward and, if realized, could demonstrate the power of integrated fares between the GTA-905 and Toronto itself.
Councillor Harkirat Singh brought a motion to the City's Committee of Council on October 13 asking for a fare integration pilot to unlock billions of dollars of provincial transit investment. VMC, where Toronto's Line 1 terminates, is a key connection between transit services in Brampton, York Region and Toronto.
Under the current system, passengers transferring to York Regional Transit (YRT) from Brampton Transit enjoy a seamless process where their ticket acts as a free transfer. However, those getting on and off the subway are forced to pay again, with passengers punished for switching between a 905 service and the subway.
"A lot of our students take the TTC specifically to York University and the double fare is really becoming an economic barrier to attend post-secondary education," Singh said.
The route is particularly popular with students living in Brampton and studying in Toronto. As in-person learning returns and Brampton Transit attempts to recover its ridership, students represent a particularly reliable passenger base that continues to use transit, even after the pandemic decimated demand.
The Vaughan Metropolitan Centre is where Brampton Transit, York Regional Transit and the Toronto subway meet.
(Image from Google Maps)
Before the pandemic, Brampton Transit was recording steady growth in demand. Ridership rose 18 percent in 2017, 14 percent in 2018 and two percent in 2019. Ridership in February 2020 rose 20 percent year-on-year before the pandemic led to an overall drop of 43 percent for the year. The number of passengers remains well below pre-pandemic levels.
According to pre-pandemic ridership data for Fall 2019, the City's express bus route along Queen Street was its busiest. The 501 Zum route boasted 20,804 daily riders on weekdays, 11 percent of all the transit system's daily boardings and above even the 502 Zum route connecting to downtown Mississauga.
The issue of fare integration, a barrier to residents embracing public transit, has been at the top of the provincial agenda for almost a year. A report by the Toronto Region Board of Trade (TRBOT), released in December 2020, outlined how municipalities and the Province could work together to deliver a seamless system of fare integration based on how far people travel within a zone system.
"The need is especially urgent at VMC, where ridership is definitely below what it could be because of the double fare," Jonathan English, the author of the TRBOT report, told The Pointer. "On the other hand, the best approach is clearly a comprehensive one. A lot of the challenges and costs of implementing ad-hoc changes like this (software reprogramming, public information) would be the same for a comprehensive solution, which would obviously deliver far more benefits."
In its proposal, TRBOT suggested a standard fare of $3.25 to ride within two zones. These two zones could include Mississauga and Brampton or Brampton and outer Toronto or Mississauga and Oakville. In theory, those travelling the farthest would pay the highest fare ($2.50 for one extra zone and $10.50 for five), while those who travel shorter distances wouldn't face extra costs for switching between operators.
Applying this system to the VMC example means students travelling from Brampton to York University would only pay one fare. Those travelling from Brampton to downtown Toronto via Line 1 would pay for passing through three zones.
Brampton Transit wants to take part in a fare integration trial in an effort boost ridership and make getting around the city simpler and cheaper.
(Image from Isaac Callan/The Pointer)
"Fare and service integration is something we've been talking about for a long time," Caroline Mulroney, Minister of Transportation, said in May. "We're still in the early stages of it, but we are taking those important steps because we recognize how important it is to commuters."
Since TRBOT's proposal was published, Ontario's transit bureaucracies have slowly taken notice. A central planning table has been drawn up at Queen's Park under the Associate Minister of Transportation, Stan Cho, while different agencies have started to work out minor agreements that would pilot the possibility of integration. Metrolinx, which was tasked with realizing integration years ago, has stayed relatively quiet.
In June, Mississauga's MiWay bus service announced an extremely limited pilot on the west side of Toronto. The yet-to-begin trial will allow residents to hop on and off Mississauga buses when they travel through Toronto, and avoid duplicative services provided by MiWay and the TTC.
Brampton's motion has been sent to local members of provincial parliament and Queen's Park, and will not move forward until the Province and TTC signal a willingness to play ball.
Councillors did not discuss concerns raised by a resident and Transit Advisory Committee member Sylvia Roberts two weeks ago suggesting integrated monthly transit passes in Peel Region could be a more effective strategy. The current system allows for free transfers between Brampton Transit and MiWay using Presto cards; it does not let riders sign up for a blended pass.
Before the pandemic, between July and December 2019, 87 percent of all GTA-905 transfers onto Brampton Transit came from MiWay. A further 13 percent of GTA-905 transfers spilled over from YRT.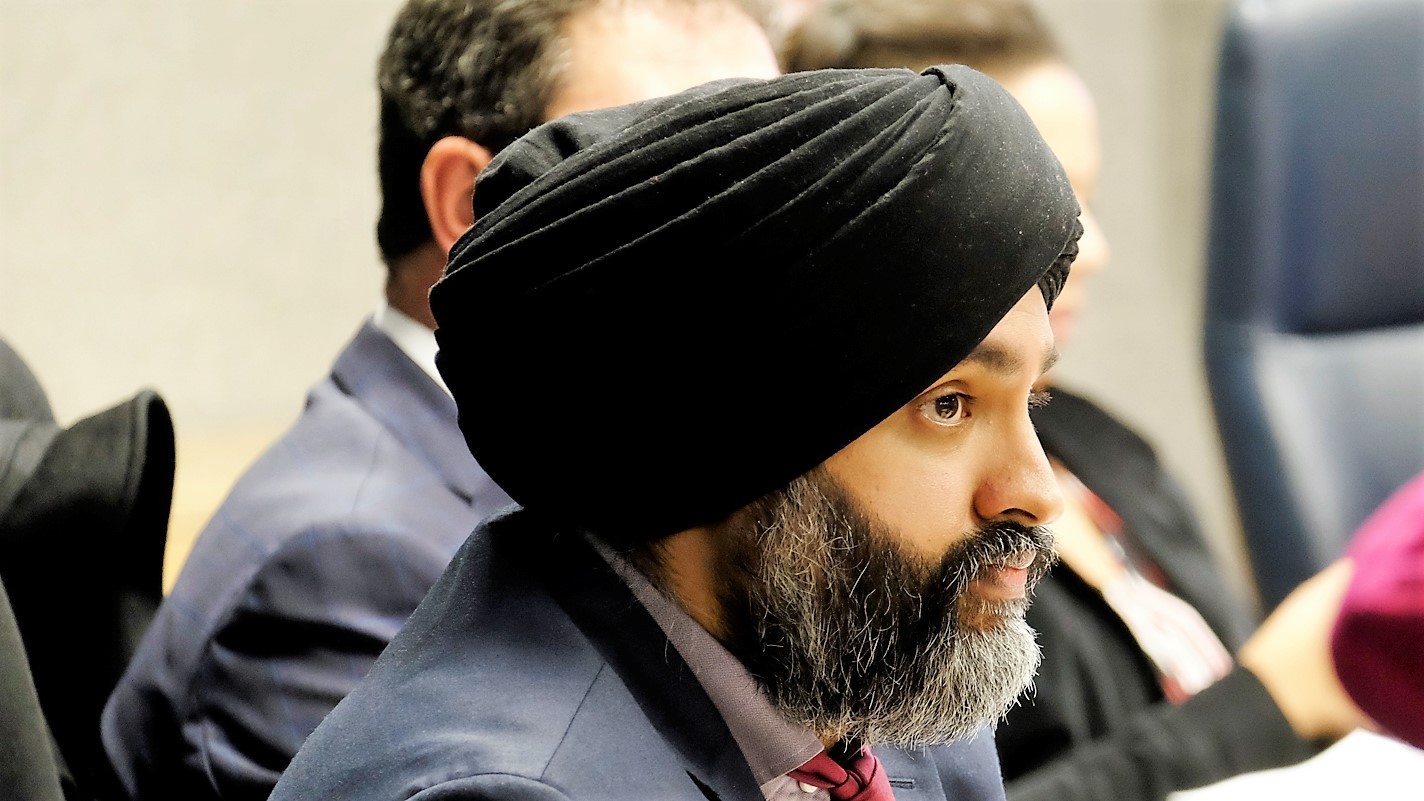 Councillor Singh moved the motion which will need endorsement from the provincial government and City of Toronto.
(Image from The Pointer files)
"Fare integration with agencies across the GTA is something we are actively working on," Stuart Green, senior communications specialist for the TTC, told The Pointer. "We look forward to productive discussions with them."
Queen's Park provided a short, generic statement.
"Fare and service integration is a shared goal of both our government and municipal transit systems – including Metrolinx – and we will continue to work collaboratively towards making transit more affordable and easier to access," Bradley Metlin, director of communications for the Associate Minister of Transportation, said.
The introduction of Presto travel cards around the GTA makes this transition easier to realize. When the cards were first launched, more than a decade ago, the system fell short of its potential by failing to integrate fare systems. Its only real utility was an end to physical paper transfers.
Presto is at the heart of fare integration.
(Image from Isaac Callan/The Pointer)
Now, pilots like MiWay's or Brampton Transit's proposal could take full advantage of a system, which can identify vital data, including the location someone taps on at.
The potential stumbling block for Singh's motion is a line that asks the province to "financially support a pilot program" rather than budgeting the trial through Brampton Transit and the TTC. Smoothing out costs and sharing fare revenue between transit agencies that run on fine margins has been one of the biggest barriers to fare integration in the past.
TRBOT's proposal valued integration across the region at $165 million, 46 percent of which would go toward lower fares on GO Transit. Local transit integration with GO's huge network represents the key to unlocking the potential of public transportation across Southern Ontario. As Singh said, much of the current commuter infrastructure is not properly utilized, pushing people into their cars. A large provincial investment is needed, but the pay-off — reduced travel times, increased transit use — could be significant not just for commuters but the urgent need to cut carbon emissions as well.
"I expect the ministry would be quite enthusiastic about this," English said. "They've been very keen on the idea of tangible positive steps. YRT and Brampton already cooperate very well on their Highway 7 services, so this would be more a matter of bringing TTC into the picture."
---
Email: [email protected]
Twitter: @isaaccallan
Tel: 647 561-4879
---
COVID-19 is impacting all Canadians. At a time when vital public information is needed by everyone, The Pointer has taken down our paywall on all stories relating to the pandemic and those of public interest to ensure every resident of Brampton and Mississauga has access to the facts. For those who are able, we encourage you to consider a subscription. This will help us report on important public interest issues the community needs to know about now more than ever. You can register for a 30-day free trial HERE. Thereafter, The Pointer will charge $10 a month and you can cancel any time right on the website. Thank you
Submit a correction about this story