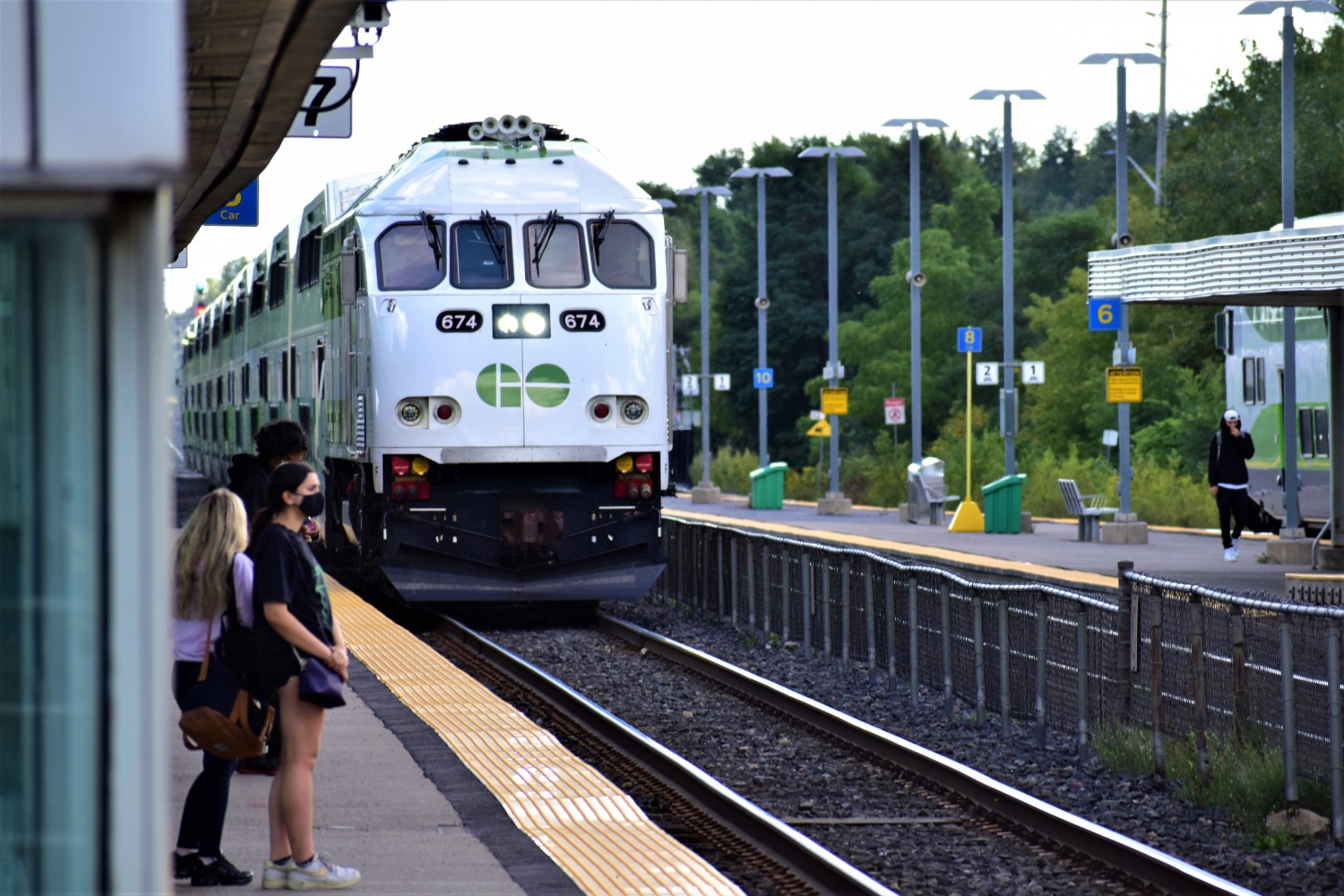 Isaac Callan/The Pointer
Part 1: Regional transportation—Brampton trundles toward all-day, two-way GO service
Few things in Brampton move forward quickly. Hard working residents appreciate when they go in the right direction at all.
Years of ambitious expansion to the City's bus service hit a snag last year and progress appears to have stalled. At the beginning of 2020, before the COVID-19 pandemic hit, Brampton's budget postponed the recruitment of 81 new drivers, most of whom had been pencilled in to increase its bus service.
A crucial transit storage and maintenance facility, which was supposed to have been built years ago, was postponed before the pandemic thanks to Mayor Patrick Brown's refusal to expand the City budget.
The moves were part of a series of decisions forced by Brown to freeze property taxes. The populist policy, repeated since his election in 2018, has made it increasingly hard for Brampton to reliably plan for and fund its future, and has been misleading as utility rates and costs for services have increased. The necessary cuts to meet Brown's demands have resulted in the stalling of transit-service expansion, which was then knocked completely sideways by COVID-19.
In 2015, Brampton City Council voted to reject a flagship downtown light rail transit system that had been planned and funded by the government of Ontario because a majority of council members questioned the unapproved alignment along Main Street, which likely would have needed massive investments to mitigate flood risks caused by Etobicoke Creek, while ridership and growth projections were minimal because of the lack of residential and commercial potential around the floodplain. Other north-south options for the LRT connecting to downtown were explored, but those options were cancelled as soon as the current council took office.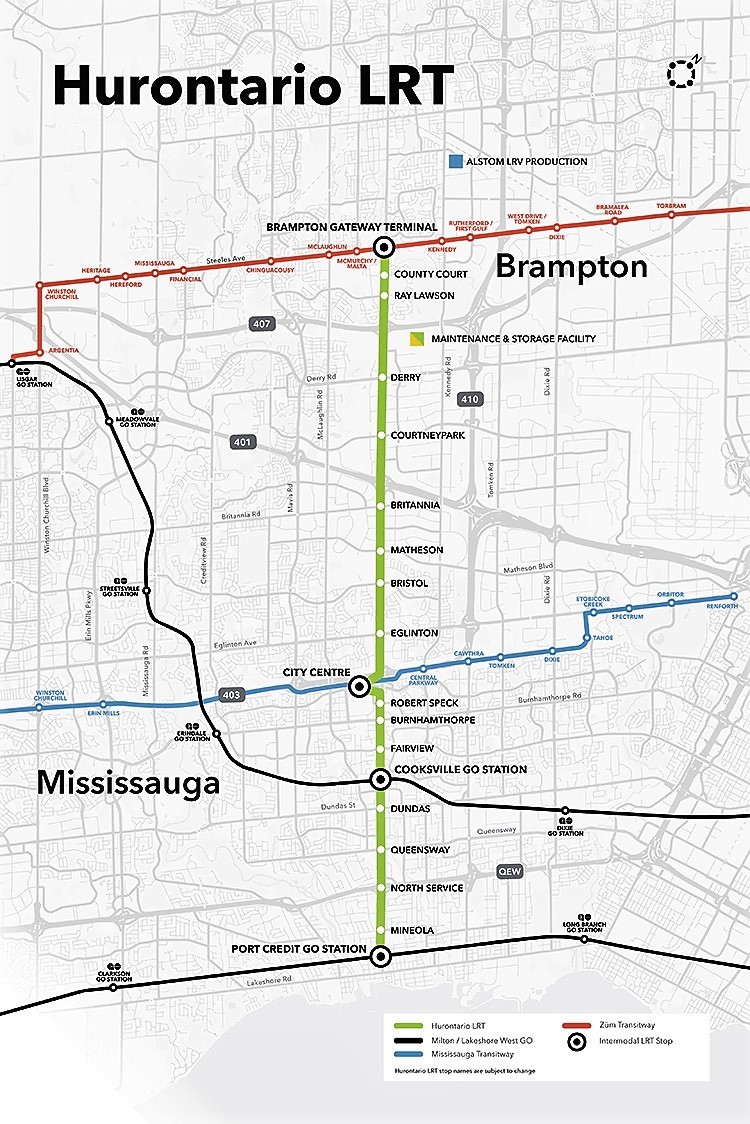 The Hurontario LRT will end at Steeles Avenue (Metrolinx)
The City has been caught in an endless cycle of infighting ever since, as opposing interests thrash out how to deliver a Main Street route that is now entirely unfunded and largely unplanned, with no flood mitigation in place. There is still no completed environmental assessment for a possible Main Street LRT route, and Brown has pushed a tunnel solution, despite a cost estimate that is four-times higher than a surface alignment and no geological/engineering work to find out if an underground option is even viable.
Even if council decides on a Main Street configuration, once current studies are completed, it will have to fund flood mitigation and enormous costs to pay for the City's responsibilities around the LRT, such as surface upgrades, changes to utilities, re-routing of traffic and possibly some of the ongoing operating costs. Brown has proven incompetent around financial management, pushing irresponsible tax freezes while simultaneously claiming major expansions to infrastructure that never come with any local funding or action to bring about meaningful change.
Meanwhile, City Hall remains under a dark cloud with allegations of corruption hanging over Brown's mayoralty.
The City Hall backslide has not stopped plans for Kitchener GO-line expansion in Brampton, which would provide some hope for local commuters who have given up on local elected officials. It's a provincial project that is moving slowly and methodically in the right direction.
In September, several key Metrolinx officials presented a plan to Brampton City Council, outlining how the provincial transit body will achieve train service to Toronto every 15 minutes. Metrolinx is gradually increasing its service to offer more and more journeys for Brampton residents. It's a project that has been on the agenda for years.
"The way we're rolling this program out, we will be doing incremental construction across the corridor," Meaghan Mendonca, GO's rail extensions program sponsor, told Brampton councillors. "Metrolinx is working to bring more service to Brampton and you'll see that it's not a flip-the-switch, it's an incremental rollout. Brampton will benefit from additional service expansion before 2025."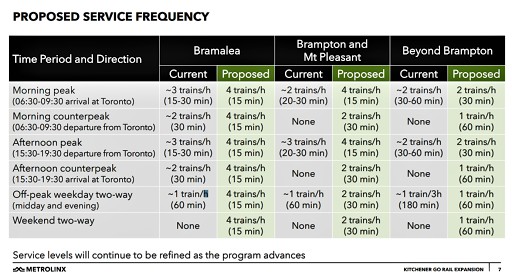 Metrolinx has ambitious plans to deliver 15-minute peak train service in Brampton (Image from Metrolinx presentation)
The Kitchener GO line serves several key areas in Brampton. Its route runs through Bramalea, the historic downtown core and Mount Pleasant, serving the three stations with varying reliability.
The line itself has evolved over the years. Kitchener was added as its terminus station in 2011 and, just last month, London became the furthest customers could travel on the line. Through this period, service has increased at GO stations in Brampton but has always lagged well below the 15-minute peak service in both directions that would allow the route to boast genuine, all-day, two-way service.
Using early 2020 timetables (written before the pandemic hit) as an example shows how incomplete the service can be.
On weekdays, the first train to leave Toronto's Union Station would depart at 8:55 a.m., terminating at Mount Pleasant in Brampton at 9:44 a.m. Trains would then operate out of Union roughly every hour until the 4 p.m. rush hour when more were set to be added. In the other direction, services started earlier into Toronto and continued regularly, drying up dramatically in the afternoon with no trains leaving Brampton between 4 and 8 p.m., the height of the commuting period. The unreliable pattern was designed almost exclusively for Brampton residents working 9 to 5 jobs in Toronto.
The quest for all-day, two-way GO is made more complicated by track ownership. Downtown Brampton and Mount Pleasant are located on lines owned by Canadian National Railway (CN), meaning negotiations and significant infrastructure investments are needed to deliver new service.
Metrolinx says this is a slow and ongoing process that will result in very gradual service improvements.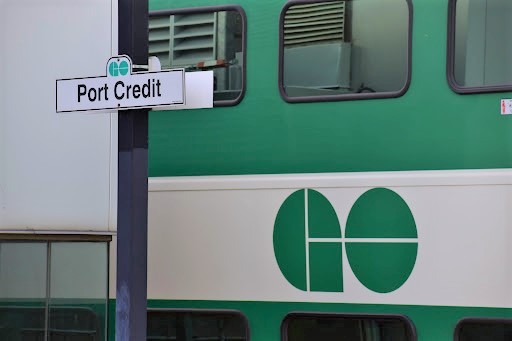 Port Credit in Mississauga, on the Lakeshore Line, already has two-way, all-day GO Train service (Isaac Callan/The Pointer)
A variety of plans, including station improvements and new tracks in some places, will be rolled out. When they are completed, at a yet-to-be-determined date, Brampton will benefit from 15-minute train service in both directions throughout the day.
"This is a major investment project that aims to achieve two-way, all-day service across Brampton, connecting Brampton to all the other destinations along the corridor, so west towards Kitchener-Waterloo and east towards downtown Toronto," Mathieu Goetzke, vice president of planning and development for Metrolinx, told councillors. "Our forecasts show that this program will generate an increase of over 55 percent of new riders… that will generate about 10.9 [million] annual riders by 2041."
The work will also dramatically reduce journey times from Brampton. Taking the train from Brampton to Toronto is currently comparable to sitting in peak rush-hour highway traffic but, after its improvements are completed, Metrolinx promises it will take a similar length of time to drive on an empty highway as it will to take take the train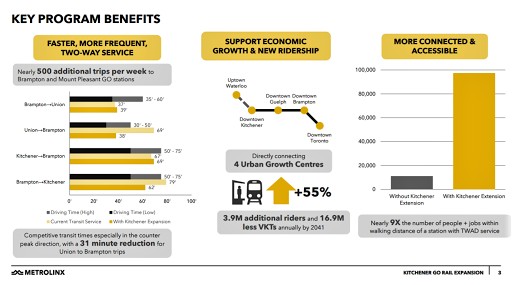 Upgrades will significantly reduce journey time for GO passengers and make them very competitive with driving (Image from Metrolinx presentation)
"It's mostly modifications: so additional track and signal infrastructure — passing tracks near stations, some additional tracks in some bottlenecks along the way, especially to accommodate freight and passenger trains," Goetzke said. He listed an extra track in Brampton's downtown, bridge widenings, new parking structures and platform upgrades among the various tasks that makeup the overall project.
Metrolinx is unable to offer a firm deadline for when its vision of two-way, all-day GO will be a reality for Brampton residents. Instead, the organization has committed to regular improvements to its service, progressing slowly and regularly towards its ultimate goal.
"Metrolinx is looking to bring more service to the City of Brampton through an incremental roll out of increased service that will be introduced in phases," James Wattie, a Metrolinx spokesperson, told The Pointer. "For example, earlier (in September) Metrolinx increased GO Rail counter-peak services to Bramalea, above pre-pandemic GO Train service levels."
The service Wattie referenced was introduced on September 7, when Metrolinx announced 20 trips per day between Toronto and Kitchener, compared to 16 pre-pandemic. The plan includes new express trains and extra trips to Bramalea, on the tracks owned by GO transit.
There is no public timeline for the various individual projects which will deliver each increase in service. Target journey-times and increased service presented to councillors last month came from a business case, which provides a general roadmap to the future, but few specifics.
"Building on the Kitchener Corridor works that have already been completed, and construction that's underway, we anticipate there will be multiple construction procurement packages with the next set of works tendered tentatively next Fall/Winter," Wattie added.
With Brampton's dysfunctional leadership under Mayor Brown, and little hope that an LRT into downtown will be built anytime soon, if ever, the slow progress toward reliable, regular GO Train service is what the city's growing number of commuters are holding their breath for.
---
Email: [email protected]
Twitter: @isaaccallan
Tel: 647 561-4879
---
COVID-19 is impacting all Canadians. At a time when vital public information is needed by everyone, The Pointer has taken down our paywall on all stories relating to the pandemic and those of public interest to ensure every resident of Brampton and Mississauga has access to the facts. For those who are able, we encourage you to consider a subscription. This will help us report on important public interest issues the community needs to know about now more than ever. You can register for a 30-day free trial HERE. Thereafter, The Pointer will charge $10 a month and you can cancel any time right on the website. Thank you
Submit a correction about this story