Image from Mauro Sbicego via Unsplash
Can't stop, won't stop: New road cameras reveal Mississauga's addiction to speed
They have an intense craving for speed. A need to bend the law and fly across suburban roads.
Swerving in and out of traffic to get their speed fix or save a few seconds, we have all watched these drivers with a sense of frustration… and dread. The roads, they believe, are theirs.
Automated Speed Enforcement (ASE) cameras were designed to catch those using the city's streets as their own speedway. In the first month of implementation (July 5 to August 5) two cameras issued 495 tickets for those disobeying a 30km/h zone.
Even with a 90-day notice, signs and the deterrent of a stiff monetary penalty, some Mississaugans simply aren't interested in slowing down.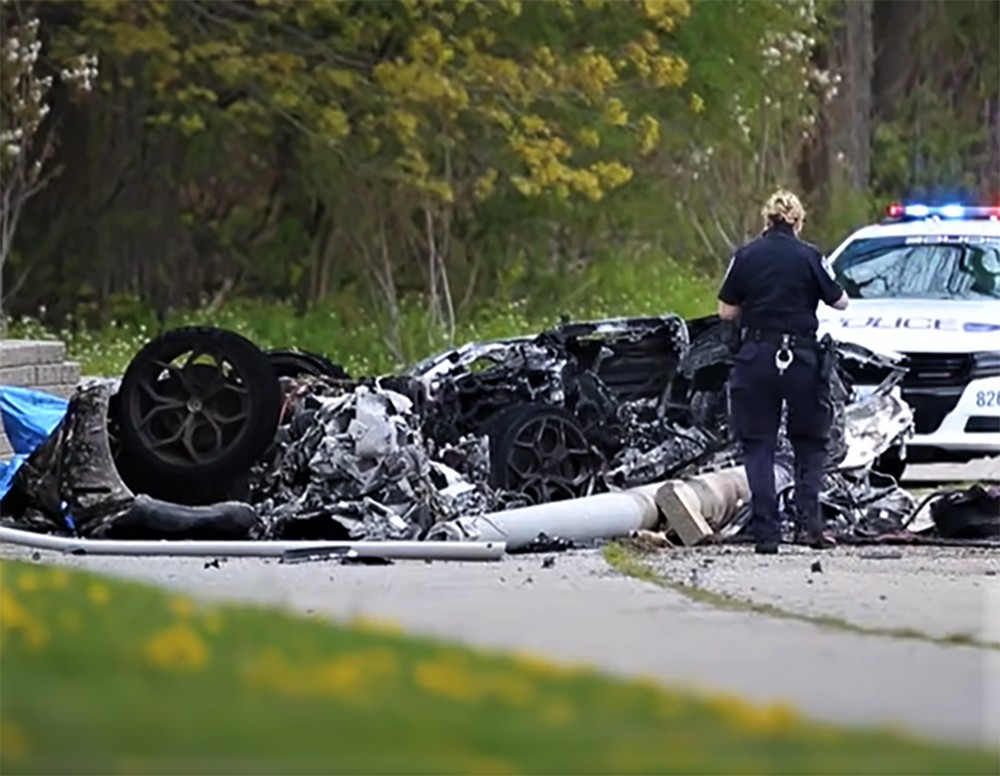 A burned out Ferrari near Burnhamthorpe Road and Mississauga Road in May when two people died after the car hit a light standard on a stretch known for racing.
(Screengrab YouTube)
Despite the high number of people issued tickets, the average speeds on Morning Star Drive and Sawmill Valley Drive decreased by 11km/h and 9km/h respectively. This shows the cameras do have their intended effect on some people and their speed. Some people. The speed compliance rate increased by 41 percent on Morning Star Drive and 28 percent on Sawmill Valley Drive.
ASE cameras, unlike speed zones often monitored by officers, have no mercy and no bias.
Caught flying by at 50km/h in a 30 km/h zone, expect a $150 ticket in the mail. The faster people drive the higher the ticket. Under Schedule D of the Provincial Offences Act, the fine is based on the rate of speed over the speed limit when the image is taken. The ticket includes the set fine, court costs and a victim fine surcharge.

The increased speed also increases the monetary fine, a direct result of the lower survival rate for pedestrians and cyclists if they are struck.
(Government of Ontario)
The average fine issued on Morning Star Drive was $140 and on Sawmill Valley Drive it was $126. One reckless stunt driver plowed through Morning Star Drive at 67km/h and another on Sawmill Valley Drive at 71km/h, being caught and issued tickets of $544 and $607 each.
Of the 495 tickets, 55 were repeat offenders. Showing the same drivers repeatedly value speed over the lives of pedestrians and cyclists who frequent the areas.
"The fact there were so many speeding is frankly alarming," Ward 9 Councillor Pat Saito, who sits on the Road Safety Committee, said to The Pointer in an email. "The repeat offenders really are of concern."
Some areas in the city, where roads are particularly wide, are winding or cut through quiet, rural-style areas of Mississauga are notoriously bad for speeding.
In May two people lost their lives when a Ferrari burst into flames that engulfed the crumpled vehicle which had just slammed into a light standard on Burnhamthorpe Road near Mississauga Road. The stretch of road meets all three criteria for stunt drivers and speed junkies, with a winding corridor of wide roadway in a quiet, sprawling residential area of the city. Residents near the racetrack-style stretch of asphalt call it the "Burnhamthorpe Speedway".
Data provided to The Pointer by the City of Toronto's Transportation Services shows a similar number of charges from two random ASE cameras. One on Plains Road near Milton Road in East York captured 410 speeders between July 5 and August 3. The ASE camera on Military Trail in Scarborough resulted in 233 tickets issued during the same period.
Both Toronto cameras are in their first phase of implementation and are located on roads directly linked to a school and have maximum speeds of 30km/h.
Over the course of the first month in operation the two cameras only had a total of 36 repeat offenders compared to Mississauga's 55 during the same period. Both municipalities conduct the implementation of the cameras the same way, with signage and in designated community safety zones.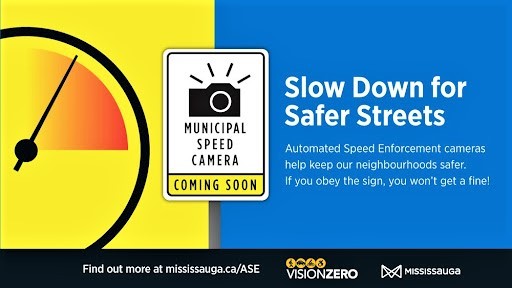 Mississauga's campaign to slow speeders down.
(City of Mississauga)
This begs the question of what more Mississauga can do to convince certain drivers to slow down.
Ward 1 Councillor Stephen Dasko who also sits on the Road Safety Committee believes some drivers are still not paying attention to road signage and may not be getting the message, despite the multiple months of persistent signage in the areas before the cameras are installed.
"Quite frankly, I would be absolutely thrilled if we didn't issue a single ticket," Dasko told The Pointer, "that would show that people see it, they're paying attention to traffic calming."
The councilman will be welcoming an ASE camera on Mineola Road East just off of Hurontario Street near Port Credit Secondary School. The street which runs between Hurontario and Cawthra Road sees higher than normal traffic during rush hour, as drivers use the sideroad as a shortcut to avoid further congestion on the higher-speed thoroughfares.
"You'll notice there as well, I've got some other initiatives, for example, the centre line with the flexible bollards because it's been a significant cut-through street both on the west and on the east side," Dasko said.
Earlier this year, Mississauga City Council passed a motion to implement more ASE cameras in the municipality and fast track 20 additional cameras. At the time only two were approved and had funding. In May, council increased the program budget by $467,000, the overall budget until 2024 is $2,520,000 with funding coming from City reserves.
Mississauga is desperately trying to move forward with its Vision Zero initiative, an idea that originated in Sweden decades ago. The goal is to eliminate traffic-related fatalities and injuries from local roadways, something Peel as a whole is not close to.
In 2020, there were 43 motor vehicle collisions that caused death. Mississauga recorded 13 deaths in 2019, down one from 2018. Not only are high-speed vehicles hazardous to other drivers, the likelihood of killing pedestrians and cyclists increases exponentially with every increased kilometre of speed a car travels at during the point of a collision.
A poster from the City's Vision Zero program illustrates that even a 16km/h difference between 32km/h and 48km/h can be the deciding factor between life or death for a pedestrian. As speed increases the chance of survival drops drastically.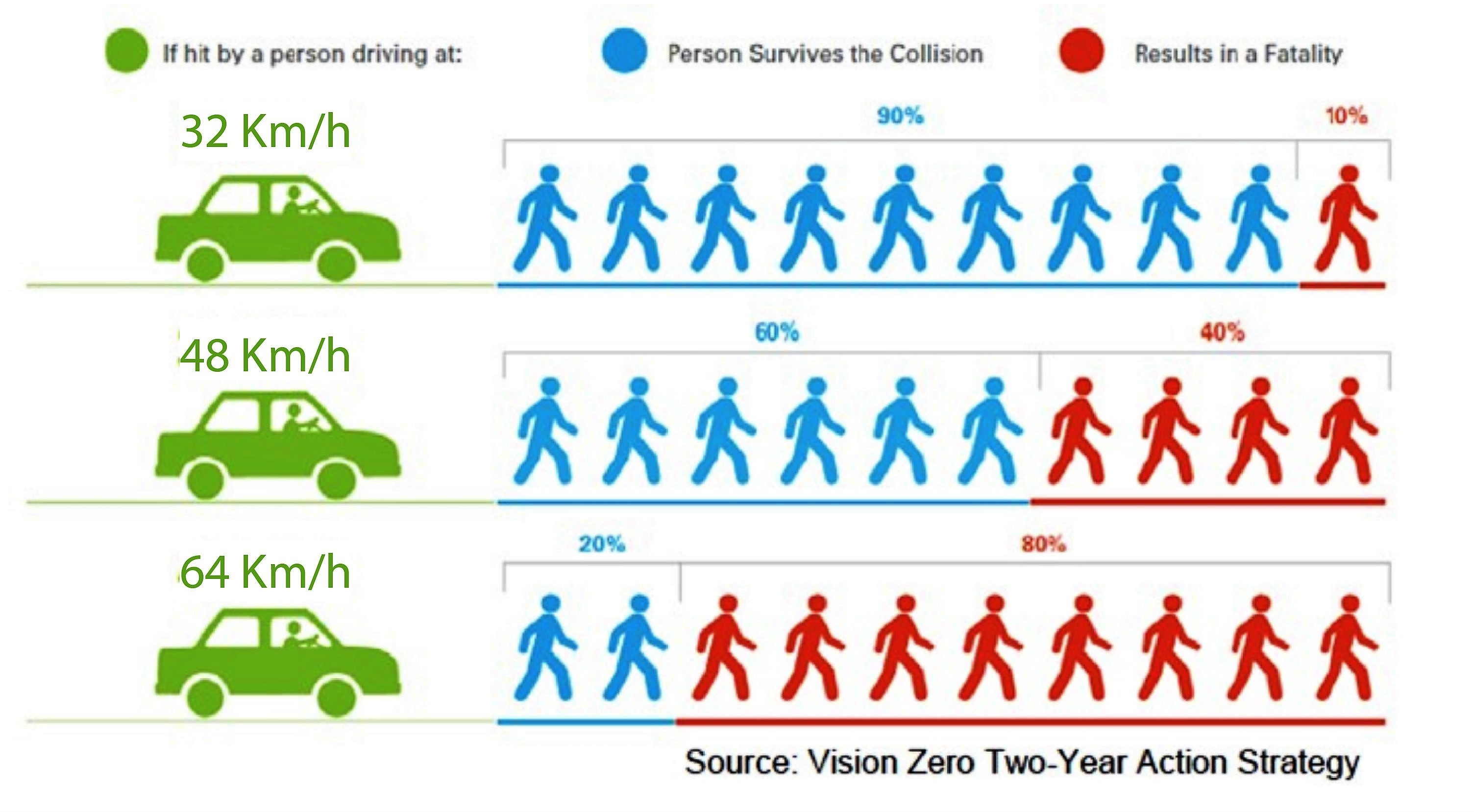 Last year, 25 cyclist-collisions were reported to Peel Regional Police, in three instances someone passed away. Throughout the same year, 77 pedestrians were involved in a collision with vehicles, five of them resulted in a fatality.
Later this month, ten more cameras will come on board in Mississauga in various wards across the City. This will increase the amount of tickets issued, something council was initially concerned with during debates on the program.
In June, a council report said the system could handle 8,700 ASE charges per year, based on the City of Brampton's calculation of 2,000 tickets per camera. This informed council that Mississauga's court could only operate with a maximum of four cameras before overwhelming the already over-stretched court system. With data from the first two cameras available, it shows less tickets than predicted, allowing the City to safely implement more cameras without the fear of flooding the courts with more cases than they can handle, which could result in many of the charges being thrown out.
Advocates have criticized the province of Ontario for not investing in more court capacity to handle the need to process more cases involving traffic offences, especially in high-growth areas like Peel. This means the lack of court space and staff is a bottleneck that prevents the system from effectively dealing with speeders who routinely break the law, and get away with it, even sometimes when they are caught.
If courts do reach gridlock, trial dates get set into the future and risk delays to minor offences which could ultimately get dropped. This is a reality if courts cannot find more justices of the peace rotated in. This scenario could occur if tickets dramatically increase with the next ten cameras in Mississauga and many people charged request a trial date to fight the ticket.
Brampton City staff indicated in the past only 10 percent of people pay their Highway Traffic Act violations without questions asked, which means 90 percent of people are demanding a court date or just don't bother paying.
The Region hosts more than 1,500 lane-kilometers of roadways and approximately 400 intersections; many roads have speeds in Mississauga above 60km/h and as high as 80km/h. Visually speaking, the large roads host multiple lanes traversing across the City. The inclination of drivers to step on the gas increases if flat, barren roads lie ahead.
This represents the dilemma for elected officials. Many residents like the high speed limits in the city on certain major thoroughfares because it speeds up commute times. They also increase dangerous speeding and add to the culture of stunt driving that is common on Mississauga's network of suburban roadways.
If the roads are built for speed, ASE cameras may provide only part of the solution for calming drivers and reducing their need to break the laws. Other solutions like increasing turns in roads, reducing lanes, introducing bike lanes, adding more traffic lights and creating concrete islands or roundabouts will force drivers to slow down.
However, in a car-dominated city like Mississauga complaints of slower driving and congestion are bound to occur. The lack of transit that meets the needs of commuters and poor urban planning are also at the root of the problem. If Council can harness its public transportation dreams into a reality, more people will opt to use MiWay instead of their own vehicles. Moving away from a sprawling suburban culture tied together by massive roadways that call out to drivers who have become accustomed to speed, is part of the City's ambition to become more compact, dense and urban.
The fate of Vision Zero will lie with how quickly Mississauga can create an intricate transportation network, one that empowers drivers to ditch their vehicles and let public transit deliver them to their destination.
For those drivers who are simply addicted to speed, be warned, from now on a small camera in Mississauga might be watching you.
---
Email: [email protected]
Twitter: @taasha__15
---
COVID-19 is impacting all Canadians. At a time when vital public information is needed by everyone, The Pointer has taken down our paywall on all stories relating to the pandemic and those of public interest to ensure every resident of Brampton and Mississauga has access to the facts. For those who are able, we encourage you to consider a subscription. This will help us report on important public interest issues the community needs to know about now more than ever. You can register for a 30-day free trial HERE. Thereafter, The Pointer will charge $10 a month and you can cancel any time right on the website. Thank you
Submit a correction about this story