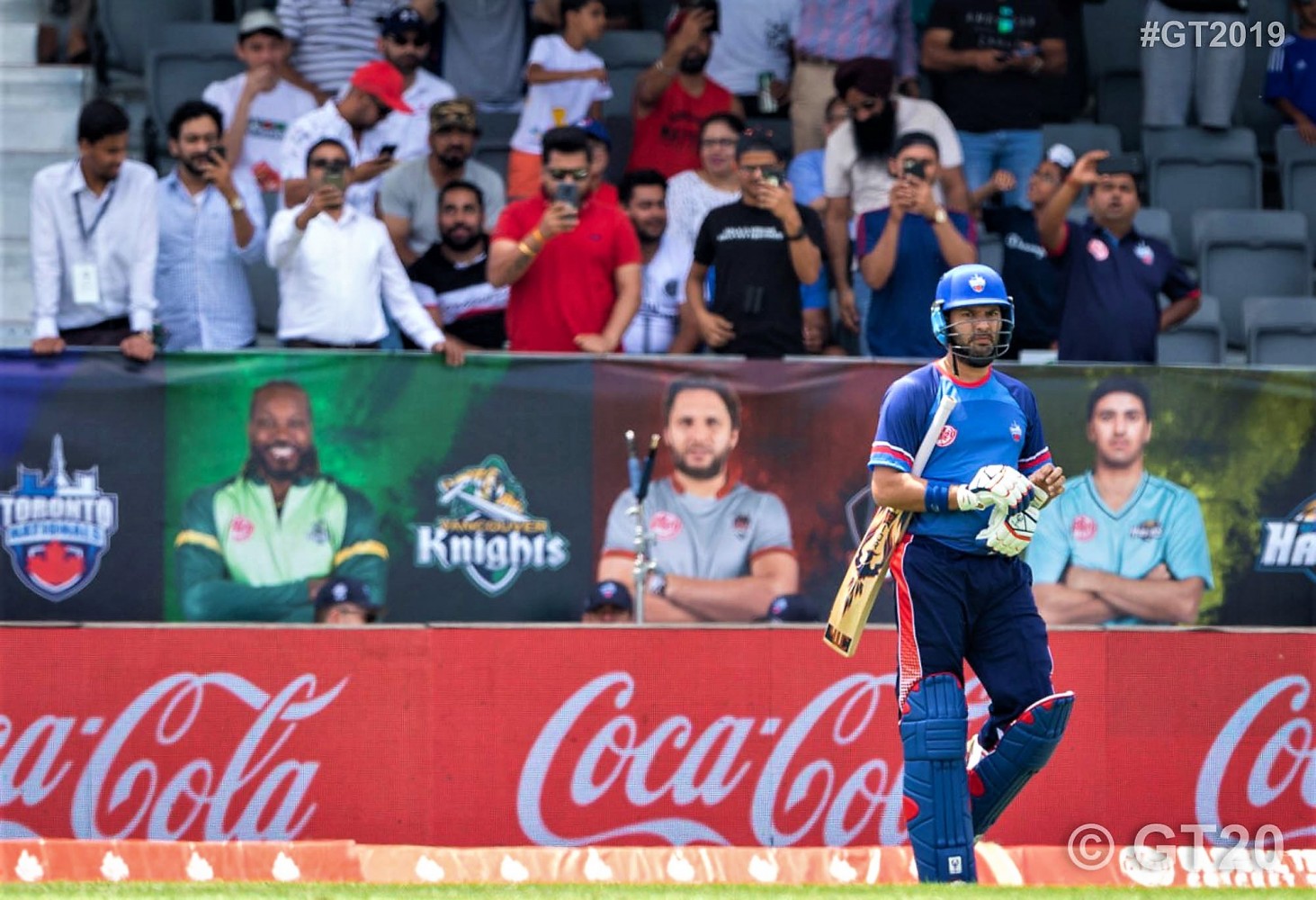 GT20 Cricket
$35M Brampton cricket stadium 'thrust' upon council; Patrick Brown pushing project without details
The local cricket community is rallying behind a recent push by Mayor Patrick Brown to begin the expensive process of constructing a state-of-the-art stadium for the sport in Brampton, but some councillors are concerned the financial burden may be too much to place on local taxpayers, and could further stress city coffers, strained after three years of consecutive tax freezes forced by Brown.
"At this time the decision for that big an investment, can't be taken without the context of understanding all our other priorities," said Councillor Martin Medeiros, who urged his council colleagues to make an informed decision during Wednesday's meeting. He pushed a successful motion, supported by Councillor Jeff Bowman, to refer the matter to the City's budget committee meeting on November 29.
Bowman told The Pointer the whole plan was "thrust" upon council with hardly any details, and no idea who was behind a recent staff report recommending elected officials use $35 million of taxpayer money to design and construct a cricket stadium on the CAA Centre (formerly the Powerade Centre) grounds.
"It has sort of been thrust upon us with a lack of details," Bowman said, making it clear that the concept is a "fantastic" one for the city, but he wants the stadium to be used for multiple sports, an idea that has been floating around for years.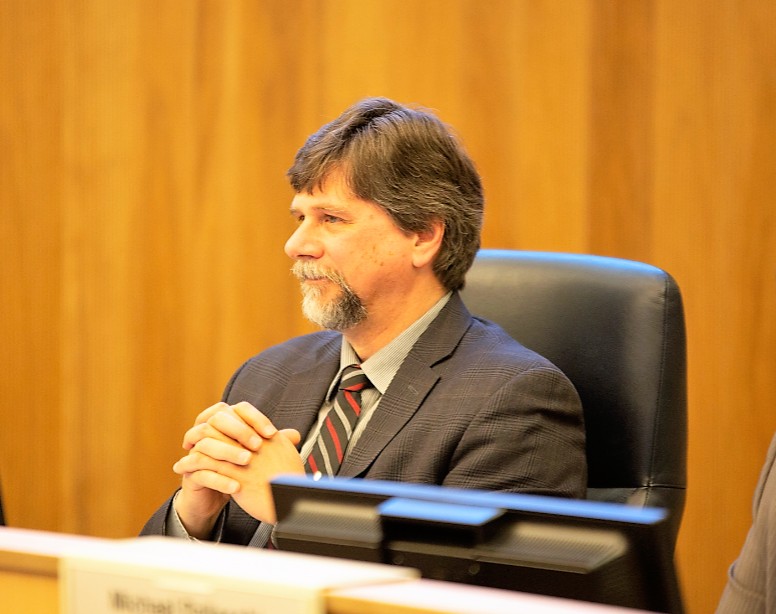 Councillor Jeff Bowman wants to see a multi-sport stadium and says there needs to be a proper public decision making process. (The Pointer files)
The cricket stadium recommendation "was originally brought to us about 5 weeks ago by staff (Marion Nader Commissioner) as a change from being built in Gore Meadows to the CAA lands. There is an ask for a budget amendment now of 5 million and a further ask for 30 million in [the] 2022 budget," Bowman wrote in an email.
"There are still unanswered questions."
Bowman also said it's unclear where the $30-million construction cost, on top of the $5 million for planning and design, came from. "I am skeptical of the 35 million dollar estimate."
Smaller stadiums have cost ten times that amount and the most expensive one, in Perth, Australia, cost almost $1.5 billion (Canadian).
The cricket stadium in Lauderhill, Florida cost almost $100 million (Canadian) and it was opened in 2007. It is a modest configuration with a simple design that only features seating around half the cricket circle.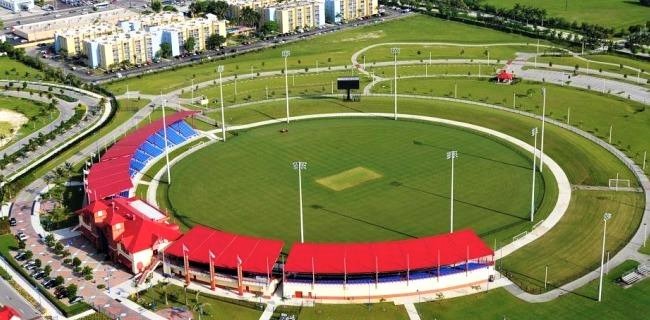 The Central Broward Park Stadium in Lauderhill, Florida cost about $100 million (Canadian) to build fifteen years ago. (Sunny.org)
---
A number of other questions have not been answered:
Who asked for the staff report calling for the use of $35 million of taxpayer money?
How was this figure reached and why do similar cricket stadiums elsewhere cost so much more?
What was Mayor Brown's role and why didn't he bring forward a proper public motion with a fulsome debate?
Would it be used for multiple sports equally?
Why not create multiple small facilities in parks to give much greater access to local cricket players?
Are private interests who are lobbying for the stadium driving the plan without a proper public process?
Are there any concrete commitments from international cricket groups and professional bodies to use the facility for regular matches or tournaments?
Should the private sector pay for it, if certain groups stand to benefit the most?
What would the ongoing operating costs be every year?
---
By 2009, Brampton taxpayers subsidized the former Powerade centre (now the CAA centre) to the tune of $6 million, and as losses piled up the former principal tenant, (the OHL's Brampton Battalion) left the city in 2013. The Brampton Beast, a professional team, took up residence right after, but as losses continued and even after taxpayers bailed out the club with $1.5 million to keep the team afloat, it folded last year.
Now Brown, who has forced tax freezes every year since becoming mayor in 2018, demanding belt-tightening and major cuts to desperately needed infrastructure projects, wants the city's taxpayers to be placed on the hook for a cricket stadium, without offering details of the plan, and no explanation of who is driving it. Meanwhile, he has ignored the need for the city's share of a second hospital, funding for a university and has cancelled crucial infrastructure projects to achieve his tax freezes.
"There are too many unknowns for me on this," Bowman said. "I haven't seen any cost/revenue analysis, there are still unanswered questions about the traffic flow in and out of CAA (Centre) with only a single exit, there has been no confirmation of being a multi-use facility, and without a cover, it may be unusable for several months of the year."
Bowman says this was brought to the council barely a month and a half ago, and while many support the idea of a stadium, a long list of details has not been addressed.
"Despite all this it seems we are under some time constraints or pressure to make a decision? Projects like this take years in planning, development and building. If we are going to commit to this, we need to be absolutely sure it is done right."
The Ward 3 and 4 councillor said even if the construction cost for a full "state of the art" stadium (as described by staff) somehow comes in at the $30-million price claimed by staff, it is a large cost for Brampton taxpayers to bear on their own. The ongoing operating costs would also have to be covered by taxpayers if revenues fall short.
"I don't know where they got the figure of 35 million," Bowman said. "We've had zero (tax increase) budgets for three years and now we're saying we want to put $35 million dollars into the budget next year, so it's a difficult decision."
Bowman says by moving this to the budget committee the City would get another month to figure out the details.
Rushing into getting a stadium doesn't seem right to Bowman when other infrastructure projects have waited years.
"We've got a downtown innovation corridor, we've got a university and a hospital that we want to bring here and we've been talking about some of these for years," he said.
While Mayor Brown initially promised a cricket stadium for Brampton in 2018 during his election campaign, it remains unclear when staff were directed to begin looking into the matter, something that would typically require a motion from a member of council.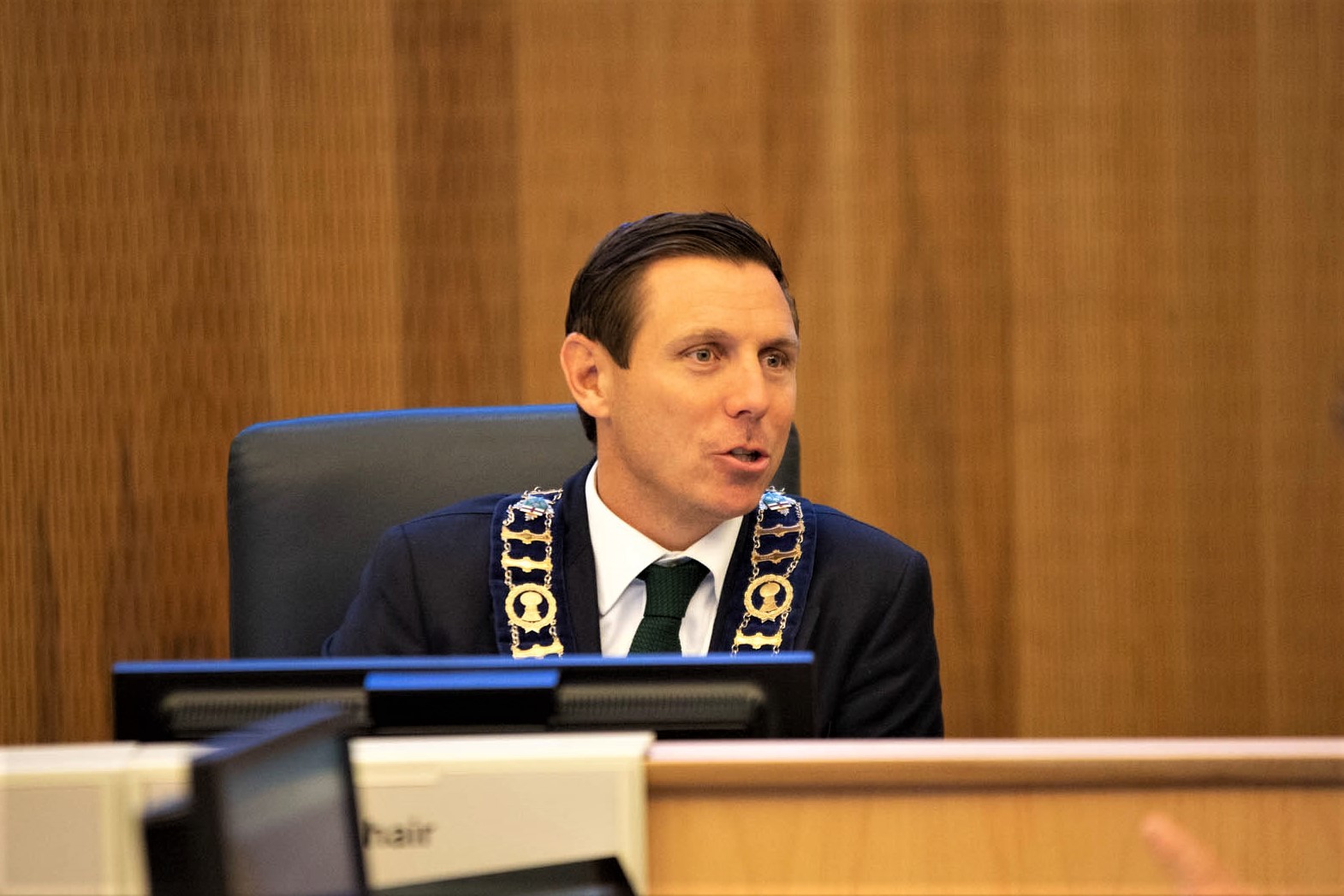 The lack of transparency continues under Patrick Brown, who has failed to explain details of the cricket stadium and how a staff report calling for taxpayers to spend $35 million even came about. (The Pointer files)
"This morning I am announcing that, as Mayor, I will lead the effort to create a public-private partnership that will build a world class, cricket/multidimensional sports stadium right here in Brampton," he declared on September 15, 2018.
According to Bowman, the project was brought to councillors by staff about 5 weeks ago.
Mayor Brown says he wants the City to make significant investments in cricket because "it's preventative health care."
"By getting more people involved in sports, it reduces the burden on the healthcare system, given the fact we have rising rates of obesity and cardiac issues in our city."
The only time players run on the cricket field is when bowling, taking a run between the wickets or fielding - all of which combined doesn't come close to High-intensity interval training (HIIT). It's called a gentleman's game after all.
The mayor has also made public statements suggesting questions about cost and construction would not be an issue if the money was being spent on a hockey or baseball facility, appearing to suggest opponents are prejudiced against cricket.
It's the type of divisive politics leaders have long used in Brampton, trying to suggest claims of intolerance as a way to pander to one group, while alienating others.
Brown has not explained why, if he is primarily concerned with access to the sport and the health of the community, he did not instead bring forward a proposal to build multiple community-based cricket facilities in parks and other areas which would create far greater access than one "state of the art" stadium designed for professional use and international cricket.


Reddit featured posts questioning Mayor Patrick Brown

Some on the social media site also voiced support for the cricket stadium
Those from the cricket community in attendance at Wednesday's meeting said cricket has been underserved by the City for years, and it's time more investment was poured into the widely popular sport.
"There's no doubt now that cricket being the most popular sport needs an investment, so why is it that this is open for discussion?" said Faraz Saleem, the president of the Brampton Cricket League. "Sometimes I feel that cricket is considered a second-class citizen in the city."
Praim Persaud, president of the Brampton-Etobicoke & District Cricket League and the vice president of the Cricket Council of Ontario says that the City will not be able to satisfy the appetite of cricket-hungry Bramptonians in the years ahead.
"We're standing at a position where we do not have enough facilities to accommodate the growth," he said.
Persaud says the BEDCL has over 220 teams in North America and they had to turn away about 50 teams that wanted to join due to a lack of space.
"We lost three facilities this year and we're looking to build more."
Saleem says the league has more teams but not enough fields to accommodate them.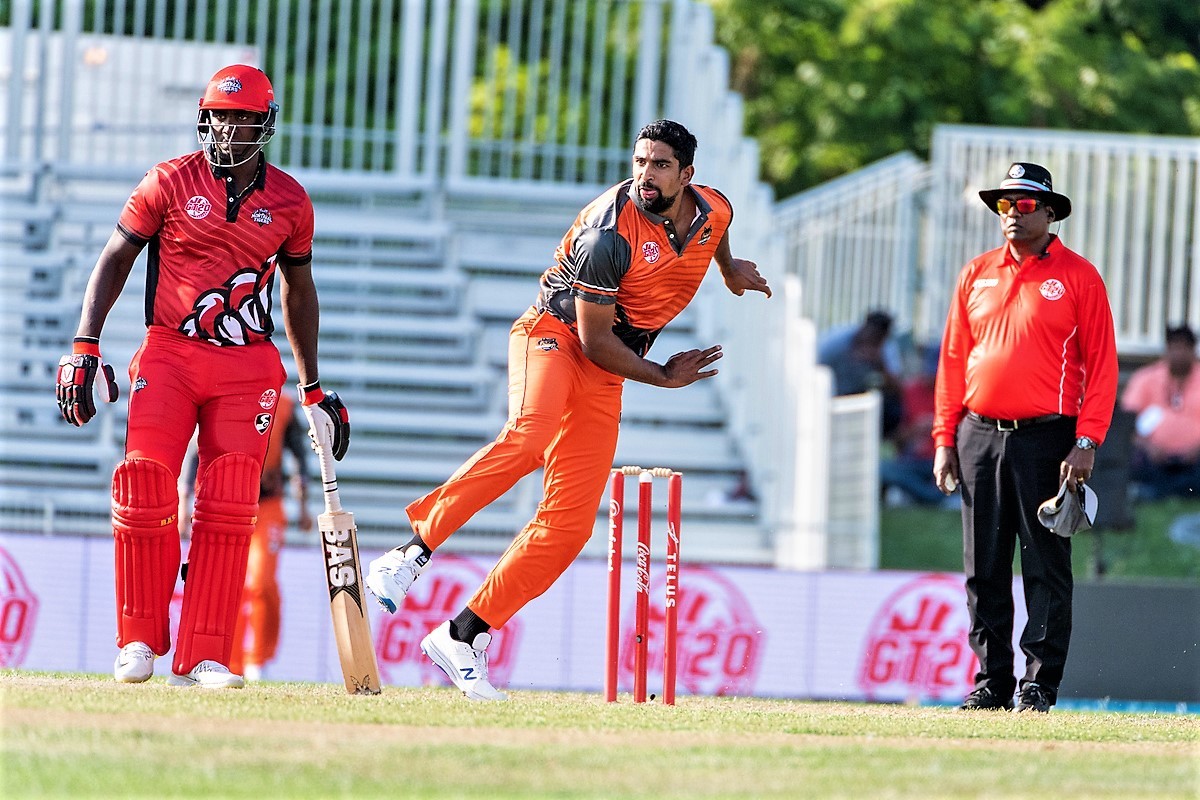 The GT20 Cricket tournament was hosted two years ago in Brampton, using a temporary stadium that was erected on the CAA Centre grounds. (GT20 Cricket)
"It's sort of a chicken and an egg story that the teams keep on coming, and increasing in numbers with the facilities," he said.
City staff reported that Brampton currently has 17 cricket pitches, some of which are exclusively for the sport while others are multipurpose facilities.
Persaud says a world class stadium would put Brampton on the global map of cricketing nations.
Such a stadium would cost hundreds of millions of dollars.
Persaud says in the last three decades, he approached many private commercial entities but none of them had any interest in the sport. Since the standard of cricket has now risen in Brampton, "everybody wants a slice of the pie."
Persaud says a cricket stadium would bring many benefits to Brampton, including business to the city's struggling restaurant and hotel industries.
He added that Canada repeatedly fails to qualify for the ICC World Cup because it only has three months to practice, and there are no ICC quality standard facilities that can be used year-round.
At the moment, the only ICC standard stadium in Canada is in King City, which Persaud says is "overused and overmatched."
Saleem says that if the stadium is built, the cost will be covered in the not too distant future.
"I can guarantee you that not even a single day will be left without being paid for and utilized."
He offered no business plan or financial projections to back up his claim.
Persaud and Saleem have no objection to the proposed stadium becoming a multi-use facility, provided the outfield and artificial turf are protected for high-level cricket.
Most cricket stadiums have multiple pitches, 22-yard strips between the wickets, and game schedules are usually spread out to let the pitch recover.
It's unclear how they plan to maintain the facility in such pristine condition for world-class professional international cricket while also ramming dozens and dozens of games through for non-stop daily local play.
There is not a common model anywhere in the world for a single stadium that is used both for a professional team or league, and simultaneously for residents who play casually in the equivalent of a rec league.
Councillor Michael Palleschi asked City staff if there are any comparable sports facilities like the proposed cricket stadium. Staff said there isn't anything similar.
Funding is a major issue for the cash-strapped city.
If its elected representatives approve $5 million to design the stadium from the recommended reserve account, there would only be $900,000 left in it.
About $2.5 million from the capital budget might still be available but annual maintenance and upkeep of the existing recreation facilities has not been taken into account.
Councillors supported the idea of a Centre of Excellence for cricket brought by Akhil Shah and Gurbax Singh Brar of the Brampton Wolves, a local club that competes in a number of tournaments in Canada and elsewhere.
Brar said a grassroots training and development program would enable young boys and girls to have a career path in cricket.
Councillor Charmaine Williams questioned whether a stadium is necessary to house such a program. The Brams United Soccer Club in Brampton uses existing indoor and outdoor facilities and is one of the most successful development programs in Canada, producing numerous players who have competed on the women's and men's national soccer teams.
Olympic gold medalists Ashley Lawrence, Kadeisha Buchanan and Adriana Leon all came up through the club's development system, and five players on the Toronto Football Club last season, a professional team that competes in the MLS, were from Brampton.
The remarkable achievements have been accomplished without a soccer stadium in the city.
Williams asked the two men from the Wolves if they had reached out to local school boards for support.
Bowman reiterated that he wants to support the growth of cricket, he just wants a proper, public process to ensure an outcome that benefits all stakeholders. He says to build a stadium that not only Brampton, but all of Canada can be proud of, will take time.
"Everybody in the world is gonna say Brampton's got one of the best cricket stadiums, so let's do it right," he said.
"You can't do that in a month and a half."
---
Email: [email protected]
Twitter: Anukul_AT
---
COVID-19 is impacting all Canadians. At a time when vital public information is needed by everyone, The Pointer has taken down our paywall on all stories relating to the pandemic and those of public interest to ensure every resident of Brampton and Mississauga has access to the facts. For those who are able, we encourage you to consider a subscription. This will help us report on important public interest issues the community needs to know about now more than ever. You can register for a 30-day free trial HERE. Thereafter, The Pointer will charge $10 a month and you can cancel any time right on the website. Thank you
Submit a correction about this story