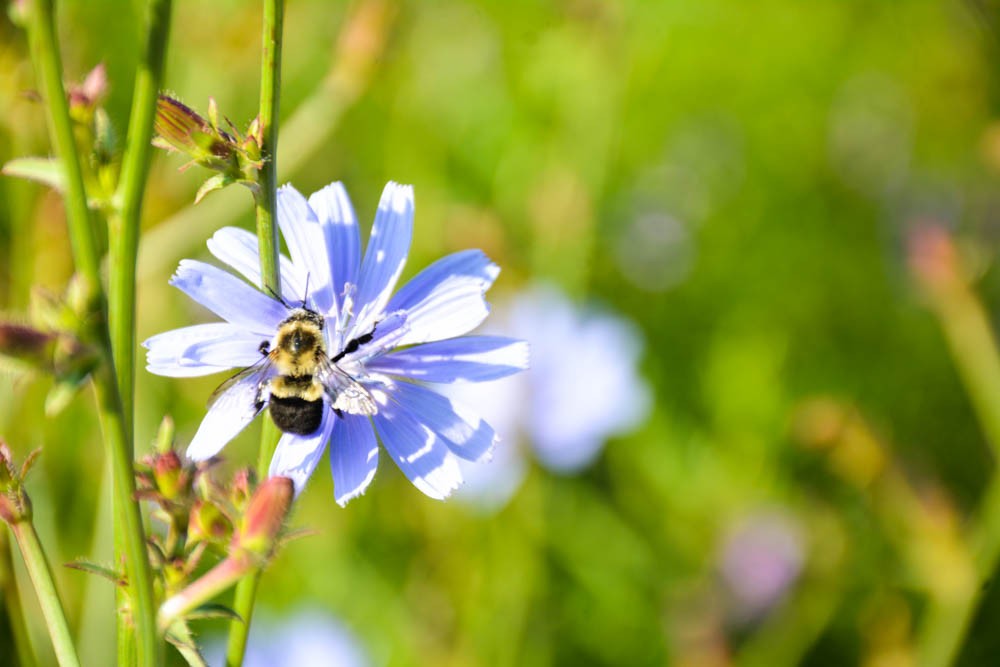 Image from Joel Wittnebel/The Pointer
'Where we're going, we don't need roads'; And other ideas for a green future 
Janet Kuzniar is a landlord, whose tenants are a bit more on the wild side.
She houses 12 beehives on her three-acre property that sits along the still rural west side of Brampton. Kuzniar never anticipated she would house thousands of pollinators, until she was introduced to a European beekeeper who lives in urban Mississauga.
Unable to house his insects in the city, the beekeeper made a deal with Kuzniar. In exchange for keeping her property full of luscious flowers and allowing the bees to stay, she gets paid in honey.
Quite literally, a sweet deal!
While some may believe the process of taking care of wild spaces is easy. Kuzniar says the job is not for everyone.
(Janet Kuzniar)
Ontario is home to the endangered rusty-patched bumble bee, which was once found in thriving open fields, mixed farmland and abundant woodlands. The Environment Ontario website says the reason for the decline in the bee's population is unknown. It's been on the species at risk list since 2010. It's likely that the loss of native floral species it thrives on, is at least partly to blame.
In the past few decades expansion into the province's natural world has been unstoppable, with roads connecting subdivisions and highways to create a kingdom of concrete for the area's dominant species. Few rural woods and open fields are left untouched as population, especially in Peel, continues to explode outward.
The pollinators and woodland animals are either disappearing or adapting to our urban lifestyle. Some predators can be dangerous to city dwellers. Coyotes seem to have found the chipmunks and rabbits they once ate in forests, now roaming in built-out Mississauga and parts of Brampton.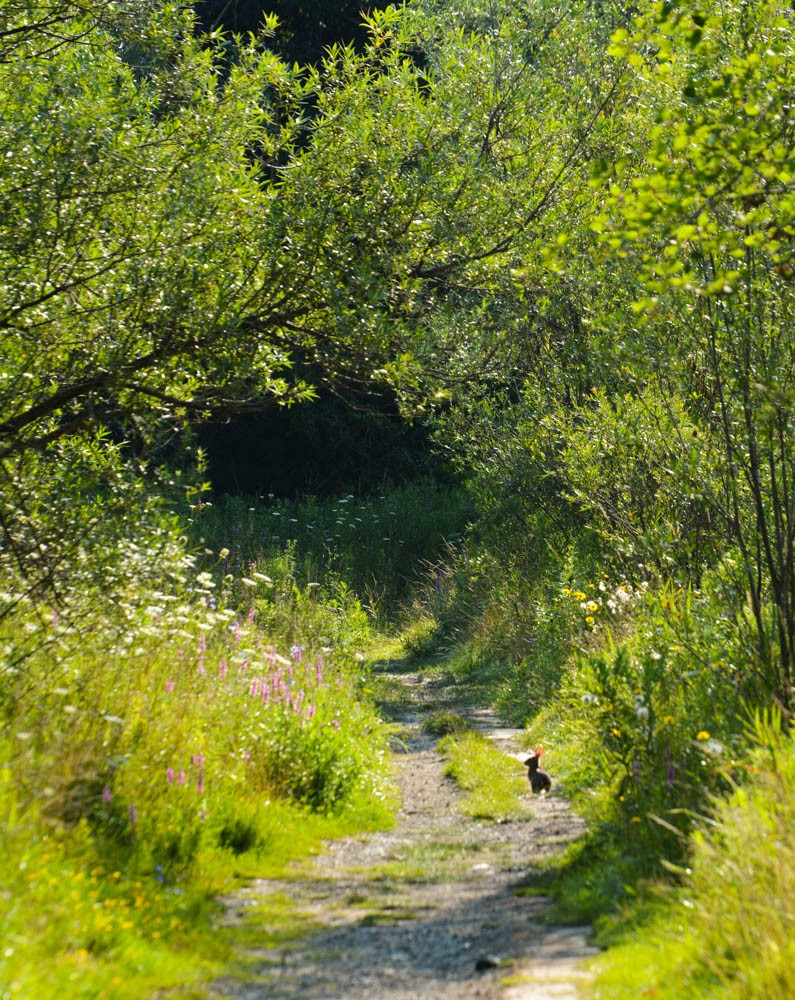 With rapid urbanization, many wildlife species are left with limited areas to feed and breed.
(Photo by Joel Wittnebel/The Pointer)
By ravishing their natural habitat, we destroy the ecosystems of prey and predators. Without food sources many animals such as foxes, now a common sight in many urban parts of the GTA, will make the treacherous journey into the heart of cities where animals can easily be found, including cats and small dogs.
Roads built for our non-stop urban lives extend to the Greenbelt and beyond, as a spider web of connecting routes spreads across former forests, grasslands, even wetlands now routinely under siege by development.
Kuzniar's efforts to push back against the impacts of urbanization and hyper-growth are part of a more common approach to revitalizing the decimated bee population across North America.
But it's not just the animal world that's been dramatically impacted, and some of the ideas to confront our addiction to sprawl are much more out of the ordinary.
Like the good Doctor Emmett Brown said on his way to the future, in the famous 1985 film, maybe there won't be any roads where we're going.
In 2018, the Intergovernmental Panel on Climate Change (IPCC) pointed the finger squarely at asphalt covered urban areas like Peel as a huge contributor to global temperature increase. A report by the group said sprawling cities that bake car-centric assumptions into every element of their planning have driven up people's reliance on fossil fuels.
Not only do concrete jungles create more demand for carbon to heat and cool residential and commercial sprawl, air pollution and a heat-island effect, they cost people their precious time.
According to the provincial government, congestion in the Greater Toronto and Hamilton Area (GTHA) costs Ontario $11 billion in productivity annually. The total number of hours lost to congestion could triple by 2051 if drastic changes aren't made.
Our dependence on asphalt is what has left few trees to clean the air and many animals without a natural habitat or on the brink of extinction. Peel alone has more than 1,500 kilometres of roadways, it used to house rolling fields and numerous wooded areas, and is still home to a giant corridor of Greenbelt that developers are desperate to bulldoze, if the GTA West Highway is not scrapped by the federal government, which is currently reviewing the environmentally disastrous plan.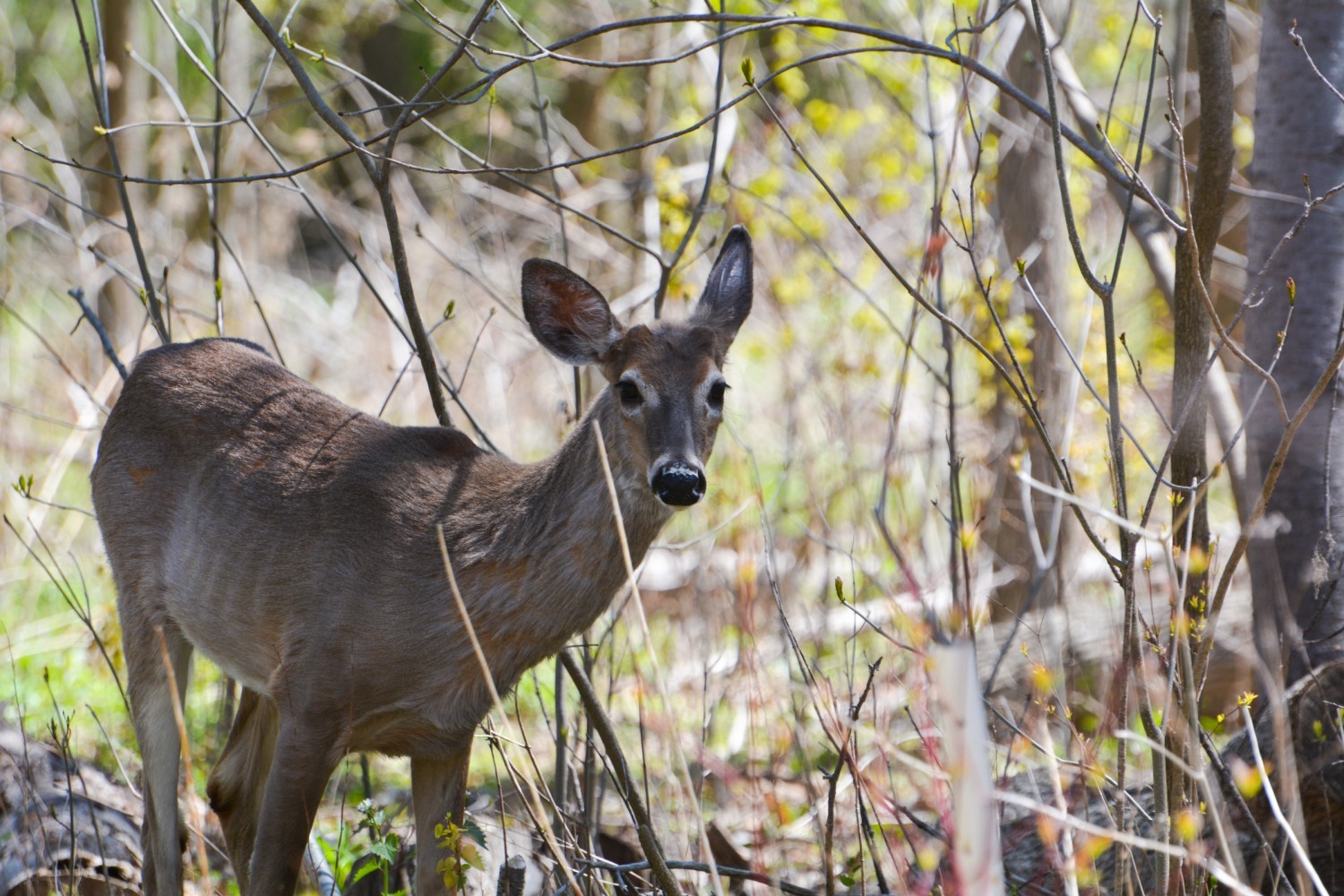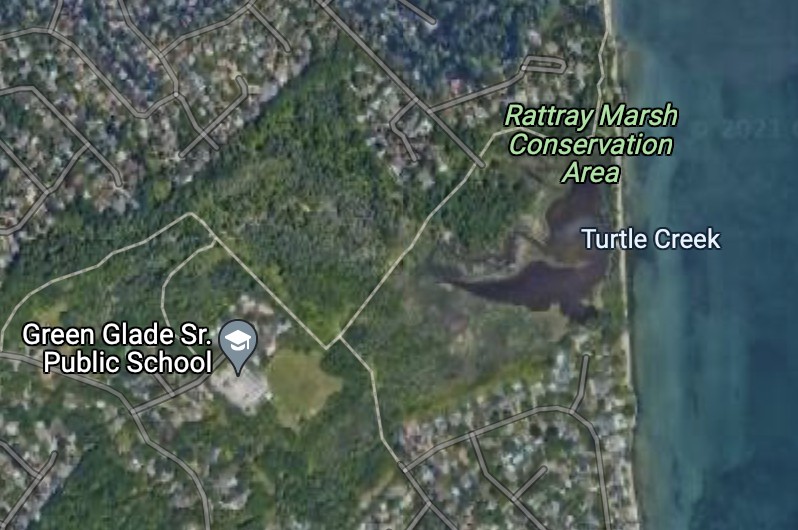 (Top): A deer is seen in Mississauga's Rattray Marsh, a green space almost completely surrounded by urban development and roadways, making any wildlife journey in or out of the critical habitat a dangerous one.
(Photo by Joel Wittnebel/The Pointer, Map from Google Maps)
The laying down of roadways cannot be undone, but the opportunity to better construct future networks and responsibly utilize existing ones still presents itself.
Miranda Baksh, co-founder of Community Climate Council, a youth focussed, Peel-based organization, wants the Region to start looking for options to replace tarmac. She pointed to an idea to use solar panels on roads to maximize their use, that she didn't know existed until recently.
"I was just dreaming big and I was thinking about how great it would be if all the tarmac on roads, especially ones that are unoccupied, were covered in some sort of solar cells," she said.
While the thought at first might seem odd, the idea is already in use across the world. On one of China's busiest roads, a 1,080 metre-long stretch is made of solar panels. According to Bloomberg, this length of road generates enough electricity to power 800 homes. If Peel were able to implement this technology in all its roads, 1.2 million homes could be powered.
Photo from Solar Roadways, showcasing their LED panels and how they can create messages.
(Solar Roadways)
"It just tells us that these things are possible even if they do seem crazy or wild or just like we're painting a fake utopia," Baksh told The Pointer. "It shows us that this utopia is possible, and we can get there, we have that technology."
Solar Roadways, an Idaho-based company in the U.S. creates these special solar panels for highly trafficked roads. They allow for heavy commercial trucks to continue using highways, and can withstand up to 250,000 pounds of weight. The top layer is glass, and on the MOHS hardness scale scores higher than asphalt. The company embeds LED lights underneath to use as road lines and signs to convey information to motorists.
The MOHS scale measures hardness along with the resistance of a smooth or rough surface.
(Solar Roadways)
The flat surface provides similar traction to vehicles as asphalt and is just as durable in the long run. One fall back is that the glass would not allow any sort of water to seep underneath, while the formation of potholes like regular roads would increase pooling and the risk of flooding. Solar Roadways address this issue on the company website, explaining an improved stormwater management system on the sides of highways and roads would mitigate the problem.
Canada's weather, with a range of extreme heat and cold, could be another barrier, and it's unclear how the glass would perform when icy conditions arrive. The panels are costly, as are most new technologies, which can be a financial barrier for governments.
But this type of innovative thinking is inevitable. Humans have little choice but to save our own habitat before it's too late for Earth.
Another idea to help slow down climate change is to paint roads white, to redirect the sunlight and mitigate the heat island effect.
Los Angeles started painting some of its roads with CoolSeal, a coating of asphalt. Black absorbs the sun, which is the reason why urban areas are hotter than their rural counterparts. The sealant is made by GuardTop, and is a mostly water-based asphalt emulsion.
The company's website says its product can reduce surface temperatures by 10 to 30 degrees fahrenheit and it is environmentally friendly without causing glare at night from streetlights.
As such technologies advance, and provide some mitigation to the impact of already built roadways, avoiding the unnecessary construction of new ones should also be a priority.
Bryan Smith, president of Gravel Watch, an organization that focuses on aggregate-related operations in Ontario, sees the 407 Highway as a missed opportunity. The toll route runs almost parallel to the provincially approved GTA West Highway, or 413, and is largely underused.
"One of the things you would ask first before building a road would be, is there a need for it?" Smith told The Pointer. "Does the need outweigh the advantages and disadvantages?"
The Ministry of Transportation has not said if it will be a toll road. The highway plan has been highly criticized by environmental groups for its intrusion into the Greenbelt area, the loss of species it will lead to, and the attendant sprawl that will develop alongside the corridor, which, according to an extensive study by the previous provincial government, will not help solve the GTA's congestion problem—one of the many reasons it was cancelled, before the Doug Ford majority PC government rushed it back and pushed through its approval.
The previous Liberal government scrapped the 413 in 2018, when an expert panel reviewed all of the studies and information that had been gathered on the project and came to the conclusion it would do almost nothing to save time for commuters. Transportation design experts have shown it would have the opposite effect, with "induced demand" guaranteeing more vehicles would simply be attracted to the new 400-series roadway and its surrounding network, leading to even longer drive times, farther travel distances and stretched-out sprawl. The Ford government has not provided any new statistics that show how the GTA West Highway would reduce congestion in the long run.
It may reduce congestion temporarily, but as more cars are added on the road, disincentivizing transit and other smart transportation, even more greenhouse gas emissions will be pumped into the atmosphere.
Smith believes to reduce traffic on highways the Province needs to reconsider the use of railways to transport goods. Across many parts of Brampton and Mississauga, large trucks are seen on runway-sized three-and-four-lane suburban thoroughfares. Not only are they loud and bad for the local air shed, they can be dangerous to cyclists, pedestrians and other vehicles in close quarters. Smith's idea is to take all these trucks off the roads.
"Why is it advantageous to put trucks full of merchandise on a highway that's crawling, when you could probably do it by short-haul railway," he said.
Canada already uses a rail system to transport many goods across the country every day. Smith suggests investing in more rail tracks to make trains accessible for smaller merchandise deliveries that are not as far apart, with last-mile delivery handled by much smaller vehicles.
"The more freight you move off the roads, the less freight trucks are on the road, and you get more capacity for short-haul freight," Smith said.
Pushing forward with the ways of the past, roads and highways will continue the pattern of expansion toward greenspaces. While the Province can create mega-highways without municipal approval, Peel can try adapting its highways and roads to be more environmentally friendly, taking a stance against the continuous cycle of sprawl that has pushed our planet to the point of no return.
A 'Back to the Future' approach is what's needed instead.
---
Email: [email protected]
Twitter: @taasha__15
---
COVID-19 is impacting all Canadians. At a time when vital public information is needed by everyone, The Pointer has taken down our paywall on all stories relating to the pandemic and those of public interest to ensure every resident of Brampton and Mississauga has access to the facts. For those who are able, we encourage you to consider a subscription. This will help us report on important public interest issues the community needs to know about now more than ever. You can register for a 30-day free trial HERE. Thereafter, The Pointer will charge $10 a month and you can cancel any time right on the website. Thank you
Submit a correction about this story