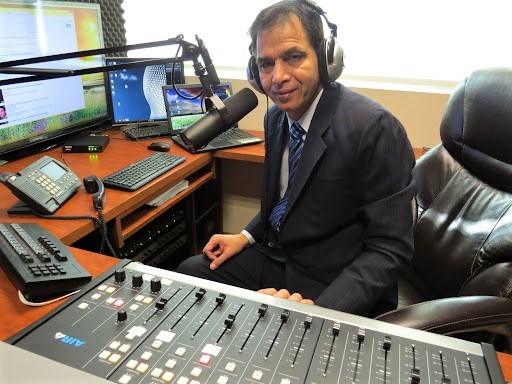 Parvasi Media
Popular Punjabi news radio show pulled off the air, leaving thousands of Peel residents without vital information 
A 17-year relationship between Parvasi Radio and CJMR 1320 AM fell apart over a payment-related mix-up last week.
The Parvasi Radio show aired every day from 10 a.m. to noon Monday to Friday and 11-11:30 a.m. every Sunday.
Thursday was the last time Parvasi radio braced Mississauga airwaves, and there were no goodbyes.
"They just pulled the plug. We found out in the morning when we were getting ready to go on, from our studio," owner and host Rajinder Saini told The Pointer. But there was good news Wednesday morning, when he announced a new arrangement with a new national broadcast partner. Details, he said, would be made public soon.
His large suite of studio spaces in Malton, just north of Pearson International Airport, is a hive of activity, where the company broadcasts its 24-hour TV line-up across Canada and produces its Parvasi newspapers.
But it's the flagship radio show that turned Parvasi into a formidable media brand, regularly attracting the biggest names in Canadian politics to its studio, including Prime Minister Justin Trudeau, who, like most other political heavyweights, is on a first-name basis with the popular media owner and community leader.
Listeners could hear guests interviewed on the pressing issues of the day and the show's popular call-in segments attracted hundreds of residents who phoned in with their own views, all moderated in English and Punjabi by the host.
After a successful civil engineering career in India, where, as a union leader he was the whistleblower behind a major corruption scandal, Saini moved to Canada in 2000 and after sifting through many odd jobs, decided to follow his passion for journalism, to serve his community.
He founded the Parvasi Punjabi-language newspaper in 2002 and later added a second paper that features English and Punjabi content.
Saini became the voice of the Punjabi community with his radio show when it hit the airwaves in 2004 and continued his vital work, providing tens of thousands of daily listeners with up-to-date news and current affairs programming. Until last week.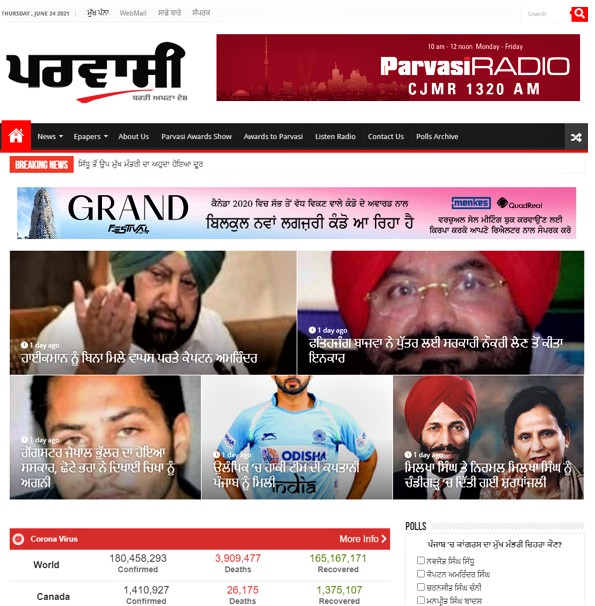 The web version of Parvasi's Punjabi-language newspaper (Parvasi Media)
With its two newspapers, a radio show and a 24/7 TV channel, Parvasi Media is one of the largest ethnic media groups in Canada, with partnerships between some of the largest platforms in the country.
The radio show has won several awards.
"I'm honoured that we have been given many awards by the Peel police for the best ethnic media news feature for our radio show," Saini said, highlighting one of the local organizations that has recognized the importance of his team's work.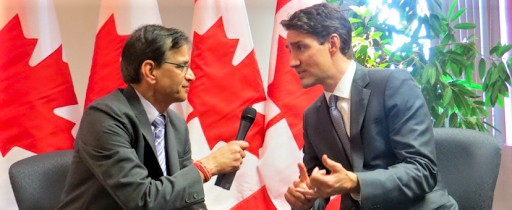 Prime Minister Justin Trudeau pictured with Rajinder Saini at the Parvasi Media studios. (Parvasi Media)
Saini has been the voice and the bridge between the Punjabi community and leaders from federal, provincial and municipal governments. Trudeau, like prime ministers before him, has been a regular on the show, along with Ontario premiers such as Doug Ford and Peel mayors.
Saini says for his primarily Punjabi-speaking listeners Parvasi Radio offered news from Canada as well as India which required full-time and freelance staff in both countries.
"I give 50 percent content from Canada, and 50 percent from back home, India. I have a team of around 15 to 20 reporters who work full time with me on this radio show."
Saini says everything was fine before COVID-19.
"I got COVID, my wife got COVID, my staff got COVID. Our office was shut down for one month but not even a single day, we stopped our show," he said.
"Even during COVID, I was doing the show from my home."
A 'little dispute' about payments to the broadcast licence holder emerged.
Matt Caine, owner and operator of CJMR Trafalgar Broadcasting which CJMR 1320 is a part of, phoned Saini last Monday.
"He called me, and we had a very cordial meeting."
Saini says he was told the plug would be pulled on the Sunday show which shouldn't have had any impact on the weekly show he has tirelessly produced for the last 17 years, with the support of dozens of local and national advertisers.
"I've been paying from my pocket for one year and I didn't get a single penny for that show. I was paying for nothing. But that's okay."
Caine and Saini mutually agreed to do away with the Sunday show, he said.
To Saini this meant there were no issues with the main show as long as the payments were made.
Saini said he was asked to clear all outstanding payments by the end of March, but asked to have the date extended.
"January, February, March are very tough months, so can I pay off all arrears by May instead of March?" Saini asked Caine in an email on Friday, September 24.
There was no reply and a few days later the licence holder called with shocking news, after 17 years of business.
"Wednesday he called me and said, 'I am putting you off the air in next two days."
"Are you joking?" Saini replied.
He offered to pay on the spot using his personal $50,000-limit credit card.
Saini says Caine agreed to accept a credit card payment provided Saini pay a two-percent transaction fee.
"Instead of March, I was willing to make the payment right then but Caine, said, 'Okay I will think about it'."
"I have made the draft," Saini says he told the licence holder. "It is with me in your company name. Please tell me where I have to deliver it and for God's sake don't disrupt my radio show." Saini sent a copy of the draft to Caine later last Wednesday, but he says the man did not answer his repeated phone calls.
Thursday morning Saini went to his studio.
"Our contract was till the 30th of September," so he couldn't be pulled off the air until the following day. But when he arrived there was no signal. Seventeen years after launching, his show was suddenly gone.
Saini says sometimes the recurring contracts aren't even signed for two or three months until after the previous one expires.
"It is a mutual understanding for 17 years."
Under the contract that expired on the 30th, CJMR was supposed to give a month's notice before cancelling the show, instead it didn't even let Parvasi air on Thursday morning, a day before the agreement expired.
The Pointer made numerous attempts to reach Caine since last week. He did not respond.
Saini says numerous local, provincial and federal politicians who are regular guests on his show have written strong letters of support since they found out the shocking news last week, when they were not able to tune in.
Parvasi Radio's loyal listeners were surprised when they tried to tune in Thursday.
Saini says many started calling him when they heard tacky music.
"People started calling me because CJMR started putting on some vulgar songs because they don't understand the Punjabi language," Saini said.
"Hundreds of people are calling me asking 'What's going on?'"
He said they have been directed to CJMR management.
Saini said it was the first time Caine responded to him in a week, to complain about the flood of emails being sent to the station.
Saini says he should have been given proper notice.
"If you're throwing me away, there should be some prior notice. Isn't that the law of this land? No time to listen to my side of the story — nothing."
Rajinder Saini has announced a new broadcast arrangement with a new partner; details will be released soon (Parvasi Media)
Saini said Parvasi Media has paid $3.5 to $4 million to CJMR over the last 17 years.
Money isn't the only investment. Saini and his team have given their blood and sweat working day and night to make the show as popular as it was.
"I have spent 17 years on this show. All my time, my efforts to build this show, to build this brand are gone in just one day. He ruined me, my family, my staff of 15 to 20 people working for this show, their salaries, their jobs. He just ruined everything in one go."
"How can he throw a person like me who's been there for 17 years under the bus?"
"I have to collect $100,000 from my advertisers and I'm cooperating with them because this is COVID time. I call my clients, which are small advertisers, and they asked me, 'Mr. Saini, we can't pay right now, can you give us a time of two months?' But I said it's okay. Now I have to get $100,000 from the market, how can I get it now?"
Saini also says the Government of Canada gave away millions in support to big broadcasters during the lockdown whereas companies like Parvasi struggled to make ends meet.
"We were dying, but we still kept our shows on to give information to our community to help fight against COVID."
Parvasi Radio continued offering the latest public health updates, key information to the battered residents of Peel's large Punjabi community and eventually critical information to help residents get vaccinated.
"They were under so much stress at that time but we kept our shows. We were not getting ads, but we still kept paying CJMR and we are still paying them," he said.
Parvasi did non-stop shows during the pandemic.
"We brought the best doctors and experts from the medical industry and that's why the public listens to us."
"You're taking everything away from us."
Saini says CJMR got some of its own fees waived and received grants from the federal government whereas Parvasi got nothing.
CJMR 1320 AM did not produce the show. The arrangement saw Saini producing his two-hour broadcast and CJMR simply broadcasting it over the frequency it has a licence for, across Brampton and Mississauga and many other parts of Southern Ontario.
One listener, 40-year-old Prem Gill, has been following the show for the last 12 years and was heartbroken.
"We have a relationship with Mr. Saini because of the show. I was really hurt yesterday," Gill told The Pointer on Friday.
"Saini wholeheartedly breaks-down Canadian policies and laws for the immigrant listeners in a language they understand," Gill said in a mix of Hindi and Urdu, a dialect fairly common in northern India.
For him this should have never happened in Canada.
"For a country that we call honest, for a country that we give up our everything for, a country where everything is fair, why does this feel so unfair?"
Raised in Punjab, Gill is now a Canadian citizen and wants Saini back on the 1320 AM airwaves so he can continue to be a bridge for many listeners.
For now, another show has replaced Parvasi Radio in the slot.
On Wednesday, Saini had good news for his loyal listeners. He announced that Parvasi Radio will be back on national airwaves next week, with a new partner. Saini made the announcement on the show, which was simultaneously broadcast on Parvasi TV, Facebook, YouTube and Parvasi Media's mobile app.
Saini thanked his listeners and said that details about which frequency the show will be on, what time it will be featured and other highlights will be announced soon.
"We promised that we will keep the show running until we get back on the national airwaves. The show is live and it will go on."
---
Email: [email protected]
Twitter: Anukul_AT
---
COVID-19 is impacting all Canadians. At a time when vital public information is needed by everyone, The Pointer has taken down our paywall on all stories relating to the pandemic and those of public interest to ensure every resident of Brampton and Mississauga has access to the facts. For those who are able, we encourage you to consider a subscription. This will help us report on important public interest issues the community needs to know about now more than ever. You can register for a 30-day free trial HERE. Thereafter, The Pointer will charge $10 a month and you can cancel any time right on the website. Thank you
Submit a correction about this story