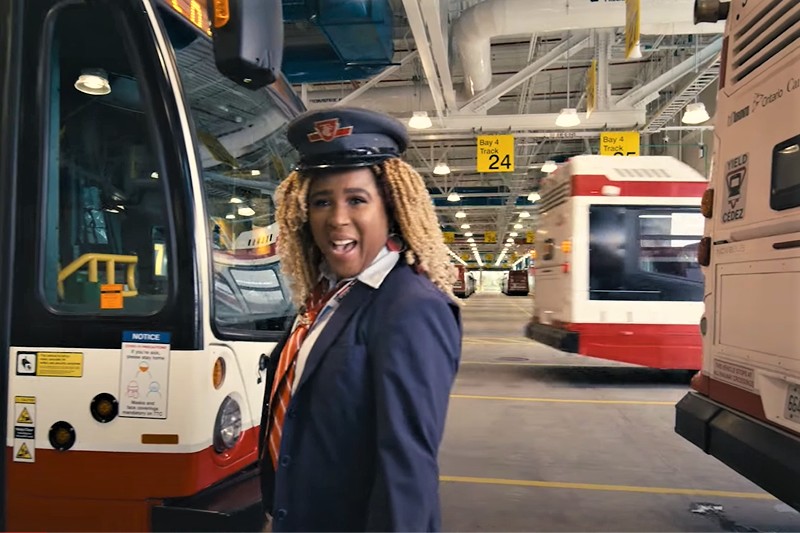 Feature image TTC-YouTube
Could a viral ad campaign like the TTC's 'Welcome Back' spot help return riders to MiWay?
A new marketing campaign has gone viral. No, it's not for Drake's latest album, or a new energy drink. It's the brainchild of creatives behind the TTC's 'Welcome Back' advertisements, which are practically impossible not to watch.
The song, popularized by the '70s sitcom Welcome Back, Kotter, is sung on the ad spots by TTC workers (Toronto Mayor John Tory even rings out a line of the iconic ballad, which reached number one on the Billboard Hot 100 chart in 1976) who are shown getting the system ready for riders who have been sidelined by the pandemic.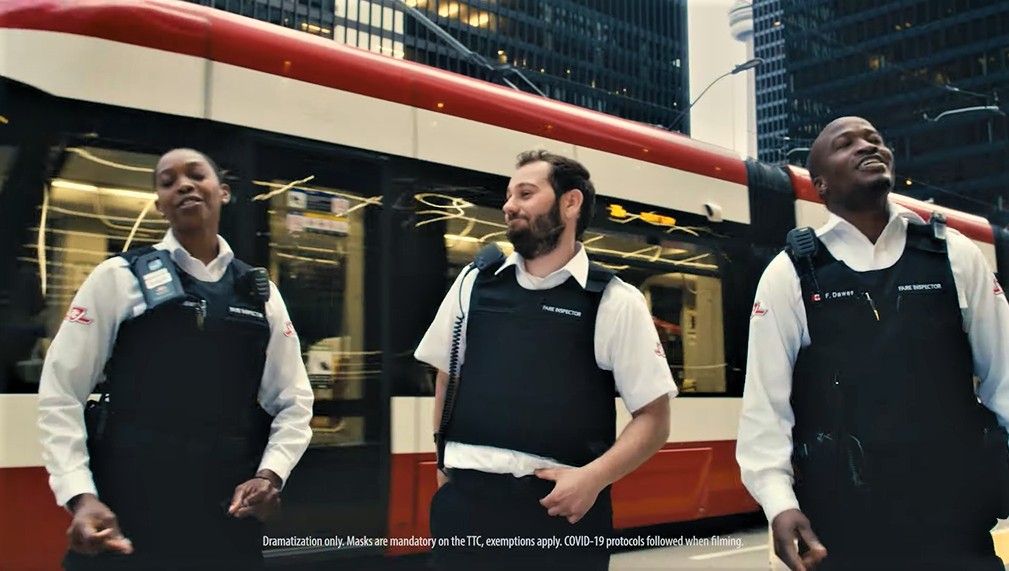 A screen grab of the TTC's 'Welcome Back' ad shows staff singing the famous song redone with transit-friendly lyrics (TTC-YouTube)
The goal is to boost ridership, as numbers for the TTC currently sit at just over 40 percent of pre-pandemic figures. Multi-billion-dollar transit systems, already reliant on a range of subsidies, simply have no future if ridership revenue isn't dramatically increased.
Whether the new campaign, launched as the weather usually drives more commuters onto transit vehicles, has its intended effect, remains to be seen, but two things should be clear to Mississauga leaders facing the same dilemma: the ridership problem runs deep, and a range of approaches will be needed to get MiWay back to where it was, so it can move forward with ambitious plans for massive transit expansion in the city.
No one wants to see the Hurontario LRT line—currently under construction—open in late 2024 the way the UP Express between Pearson Airport and downtown Toronto did a few years ago: Empty trains was the headline (a problem largely addressed by eventually cutting ticket prices in half).
But for Mississauga's aspirational transit goals, the ongoing spread of a dangerous virus is much more complex a problem than a simple price fix can solve.
MiWay is stuck in a catch-22: it needs residents to use its system but is challenged to provide more buses as some routes continue to see low ridership due to concerns of overcrowding, while others are experiencing high demand.
As schools reopen, and workers gradually move back to their daily commuting routines to office spaces, MiWay ridership will continue to slowly increase. But questions mount: How long will it take to get back to normal; and what will the pandemic impact mean to a city in love with the car that is desperately trying to get residents out of their vehicles?
The city's transit system leaders put forward a plan to entice riders back, while keeping their future expansion plans in mind.
Seven principles will guide MiWay back to its success while also noting the millions of dollars in revenue lost for the City.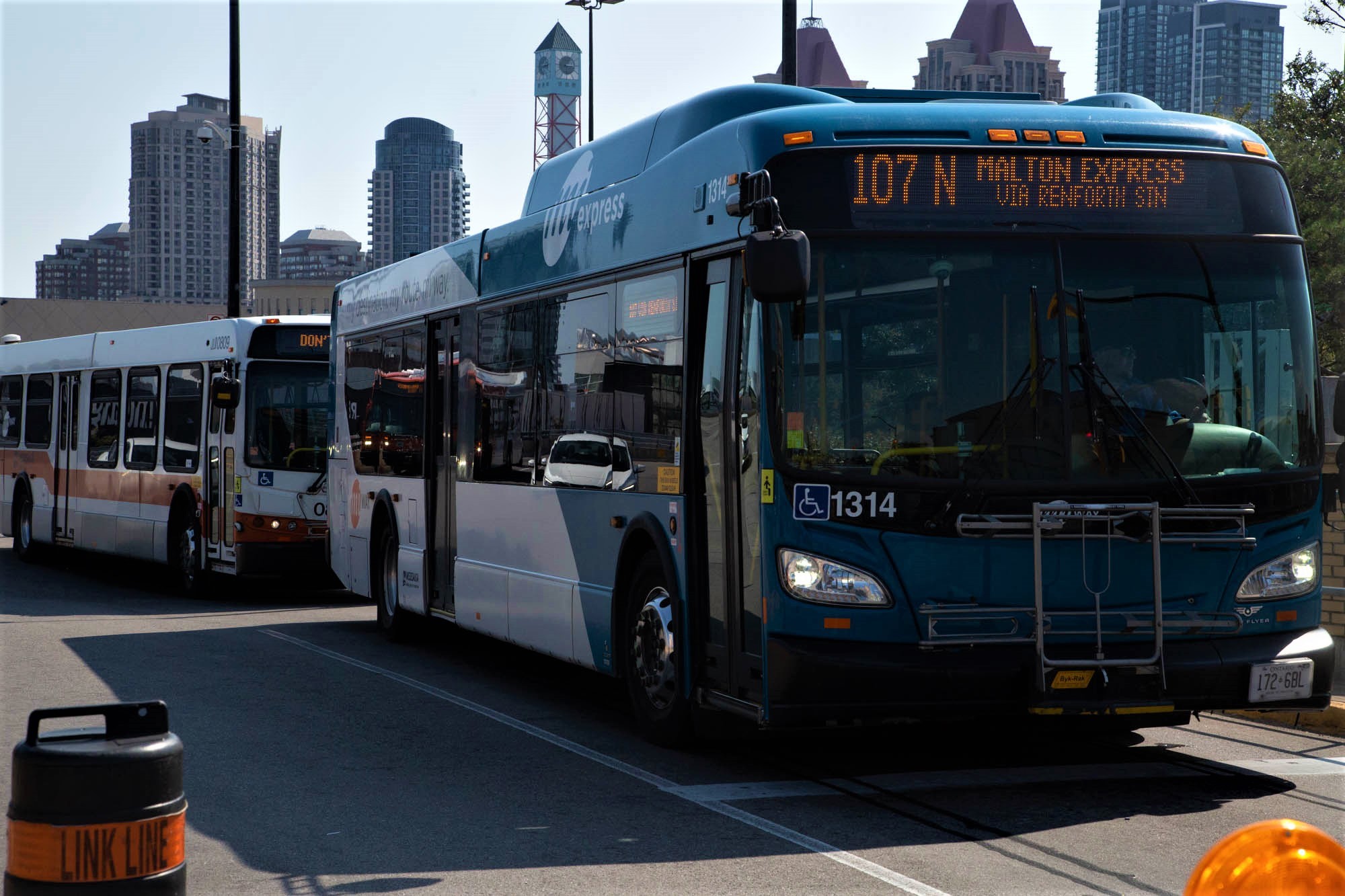 MiWay, like transit systems around the world, has been decimated by the pandemic. (Isaac Callan-The Pointer)
In the past MiWay knew its passengers well, which routes were constantly in demand and where riders travelled most on its network. As the pandemic continues, ridership is below pre-COVID levels, dramatically, about half what it was in 2019, and the system is unsure how to respond to many new transit dynamics.
"The decision is to, if I'm uncomfortable getting on that bus, I might have to wait for the next bus, or maybe change my travel time and that's an undesirable outcome," MiWay Director Geoff Marinoff told city councillors at a recent meeting.
Some people are ready to jump back into their old routines, others are more cautious about getting back onto public vehicles. Passengers now reluctant to get onto a more crowded bus, put pressure on the system by waiting for the next one to arrive, while others have moved away from the system altogether.
With lower than expected ridership in 2021, the City is battling a $40-million loss in revenue, which can be offset by safe restart funding from higher levels of government, but for the time being makes it unable to provide more routes or buses to maintain social distancing whie meeting the demand that still exists.
"It's an unsatisfactory answer, but we're boxed in pretty tight in terms of the resources we have, and the financial pressures on the City," Marinoff told council.
The challenges are widespread and difficult to foresee, for example, the system could not predict how many students would attend school in person, so decision makers had to guess how to prepare for staffing and bus resources on the most popular school routes, in consideration of the ongoing revenue pressures.
With monitoring of certain school areas, MiWay has already been able to reconfigure some buses mid-day based on higher or lower demand than anticipated. More case-by-case route considerations are being looked at in October.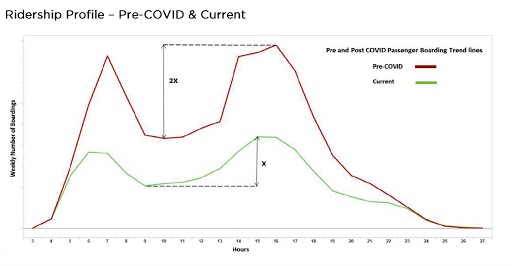 Ridership on buses has remained consistently low as the city goes through various waves of the pandemic. (City of Mississauga)
The lack of bus drivers and vehicles is one situation MiWay did foresee.
Each additional bus driver creates approximately 1,500 hours of extra service in a year.
Over the course of the past year-and-a-half, MiWay stopped hiring drivers. Without the pandemic, it was projected to have 1,187 drivers in 2020, rising to 1,211 in 2021 and 1,235 in 2022.
Because of the current lack of demand, MiWay adjusted and there are only 1,127 drivers for 2021.
According to the 2020 budget, because new hiring stopped when the pandemic began, 42 drivers will not be replaced as exits, retirements and promotions naturally reduce the workforce. That number will stay constant in 2022 and finally grow to 1,153 drivers in 2023, if all goes to plan.
MiWay understands it needs to establish a new ridership base and respond to the changing demands by various transit users. Building collaboratively with other transit systems to create better, stronger and more reliable networks across the city and the Greater Toronto Area (GTA) is also a key requirement to bring riders back.
Reworking service routes and planning and balancing operational efficiencies to create reliable and responsive bus service is also on the agenda. Showcasing an easy system to bring people from one point to another safely and efficiently as more residents leave their homes on a day-to-day basis, will help grow ridership.
How the system plans to market this is unclear.
The new TTC Welcome Back campaign includes lyrics in the famous song that explain what the system has done to ensure safety as numbers on vehicles hopefully increase.
The featuring of staff, everyone from cleaners shown singing on a bus, to subway operators and system-maintenance workers, is a clever way to ease the hesitancy of some commuters while creating a 'welcoming' message aimed at overcoming concerns many riders still have.
MiWay could certainly be given a bump by a similar marketing approach, a way to really connect with the very residents who represent the key to success, or failure. At the very least, even if the TTC campaign does not yield immediate results, it has already attracted tens of thousands of eyeballs.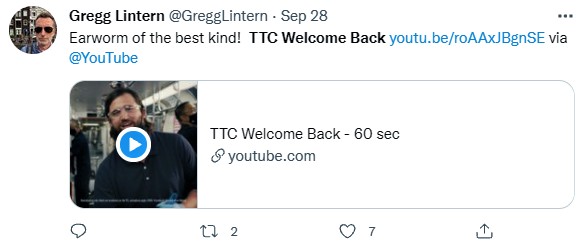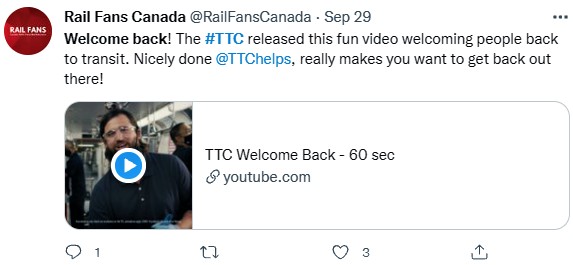 Social media users were quick to reflect the popularity of TTC's 'Welcome Back' ad. (Twitter)
As ridership slowly increases, MiWay will need to make sure the system meets the needs of a changing transportation landscape. It's another challenge for a city trying to transform itself away from the car, which Mississauga was literally built around.
City Hall is hoping the provincial and federal governments will provide funding for opportunities to reduce single-occupancy-vehicle use, through strategic zoning, planning for higher order transit and using existing infrastructure for multimodal transit hubs.
Before 2020, the system was on its way to completing multiple transit oriented projects which would improve the system overall. As the pandemic took shape, riders dropped off dramatically as many worked from home or were advised to stay inside, while others found themselves out of work or found alternative travel options due to fears of viral spread on public transit, which had to introduce social distancing measures that significantly reduced ridership capacity.
MiWay believes its planned expansion projects are a way to bring people back into the system.
Building higher order transit like the Hurontario LRT and improving certain transit corridors using the proposed Lakeshore and Dundas rapid bus routes, could generate more ridership. These projects offer more convenient and quicker options for public transportation and would alleviate pressure on certain local bus routes that are chronically overcrowded.
But before running, MiWay first has to walk again.
Roughly 50 percent of its operating costs were covered by fares, before the pandemic. As ridership sank the City lost millions in revenue from passengers. To combat the revenue loss while not increasing fares, MiWay is applying for grants through the Transit Relief Fund via the upper tiered governments.
MiWay will also review fees and its fare strategy and continue to collaborate with other transit providers for fare integration across the 905 and 416.
In an ideal world, ridership would have continued to grow, allowing MiWay to invest in more buses and bigger projects to reflect the transit demand. Before the pandemic, ridership revenue had grown a healthy four percent between 2016 and 2018, a positive trend that showed the potential.
MiWay says the increase was because of strategic planning and investing in the transit system. Lockdowns came and abruptly ridership declined; it was the beginning of what is sure to be a long journey for transit leaders in the city. The first two-week lockdown in 2020 plunged ridership to 25 percent of previous levels and the system has been scrambling since.
As various restrictions were lifted, then implemented again, ridership fluctuated but has been increasing since the success of Ontario's mass vaccination campaign. By the end of July, ridership increased to 46 percent of pre-COVID levels and was at about 49 percent by the end of August.
Routes along industrial corridors (for essential workers) remained relatively well used.
Meanwhile, an unforeseen impact has been overcrowding on other routes at certain times of the day, as many commuters, including students, have no other option.
Councillor Pat Saito raised the issue during Council recently. She mentioned a resident whose child uses public transit to commute to and from school. The particular bus travels from Meadowvale to Streetsville Secondary School and is constantly at capacity, Saito said.
The resident explained to Councillor Saito that because of the overcrowding concerns and the highly transmissible COVID-19 Delta variant, she has to drive her child to and from school everyday.
"My question to you is what are we doing to really communicate to residents the position that we are in, because I don't think they understand the cost impact, the logistical impact of putting an additional bus on, so that we don't have an entire bus jam packed with students," Saito said to Marinoff.
The MiWay director pointed out that, in some areas, demand exceeds the capacity of the buses — the limit of people on a bus has been lowered to provide social distancing.
"We do move the resources around as best we can. But at some point, you just need another bus and you just need another driver," Marinoff said. "And it's just not practical and hasn't been practical through all of COVID to maintain physical distancing on a transit bus."
Marinoff explained how the perception of what is considered safe or unsafe differs from person to person, making it difficult to please all riders. MiWay is aware of the crowding on certain buses, but with their "finite resources" often cannot solve the problem.
Marinoff said if MiWay can use overtime to fit an extra bus into the schedule it will, but "at some point you run out of buses and you run out of drivers."
The concern expressed by the parent illustrates what transit systems are up against. MiWay might want to look at how it can 'welcome back' riders who remain unsure about their relationship with public transit.
---
Email: [email protected]
Twitter: @taasha__15
---
COVID-19 is impacting all Canadians. At a time when vital public information is needed by everyone, The Pointer has taken down our paywall on all stories relating to the pandemic and those of public interest to ensure every resident of Brampton and Mississauga has access to the facts. For those who are able, we encourage you to consider a subscription. This will help us report on important public interest issues the community needs to know about now more than ever. You can register for a 30-day free trial HERE. Thereafter, The Pointer will charge $10 a month and you can cancel any time right on the website. Thank you
Submit a correction about this story