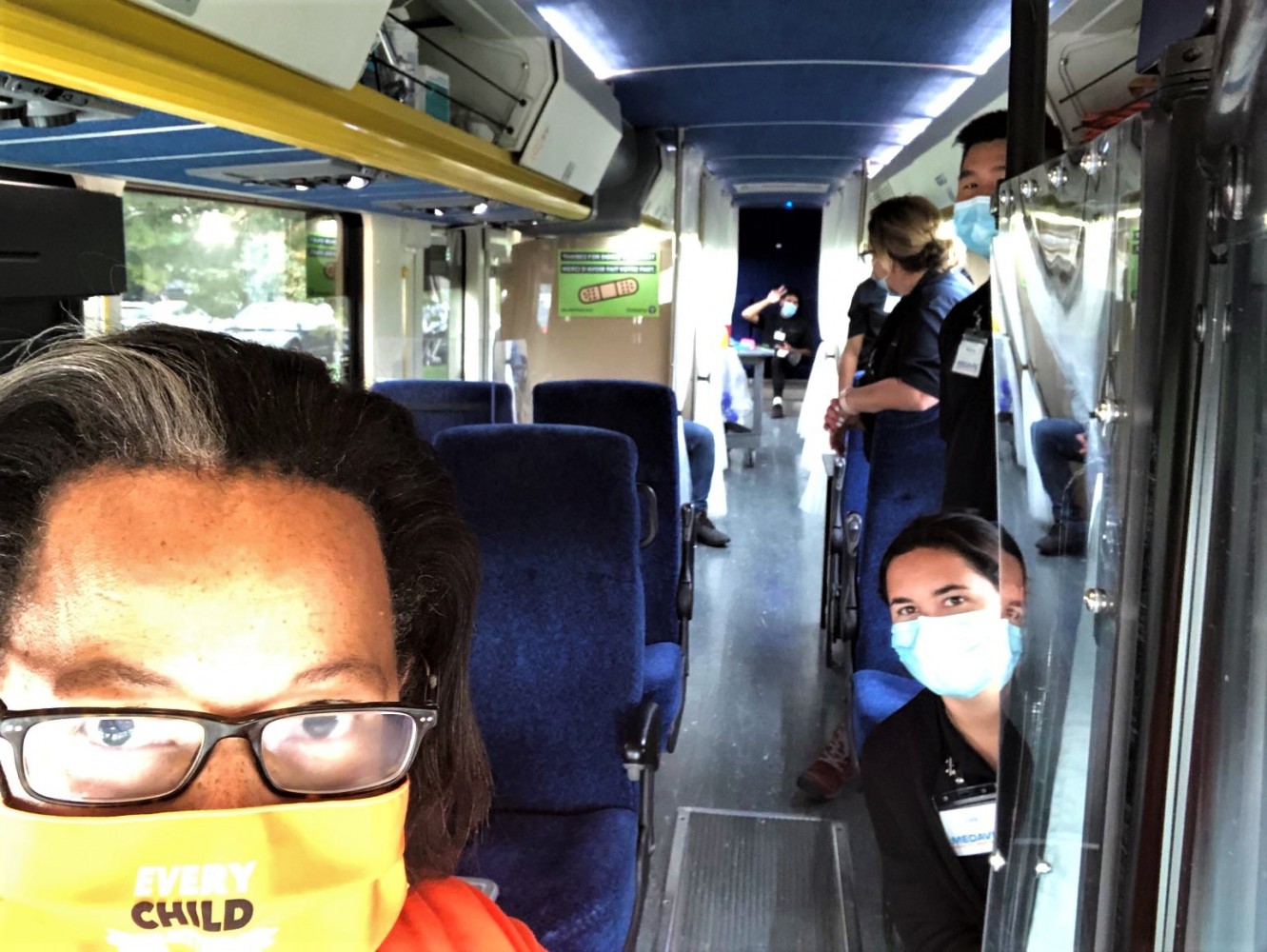 Twitter-Kathy McDonald
Peel targeting communities to bring higher vaccination rates 
The cities of Brampton and Mississauga, along with the Region of Peel, have adopted vaccine mandates for their staff in the hope of convincing more residents to get inoculated.
Each of the policies has the same exemptions as other government programs, such as the federal government's vaccination mandate. It requires all federal employees to provide proof of vaccination to participate in person at their offices or other places of work. Those who are exempted under religious beliefs or have a medical reason as to why they cannot be inoculated or choose not to be vaccinated, must undergo rapid antigen testing at regular intervals.
This mandate, with these exemptions, is also in line with the policy set by the provincial government for high-risk settings which was implemented early September.
Mass vaccination clinics within Peel Region are starting to close down as demand has dried up following the mass efforts since the spring, meaning vaccination rates are likely not going to increase significantly. According to the Ontario COVID-19 vaccination dashboard, as of Friday morning, 86 percent of eligible residents (12 or older) in Peel have one dose and 80 percent have had two doses. This compares to 84 and 79 percent in Toronto, and 96 and 91 percent in Leeds, Grenville and Lanark District, the region with the highest vaccination rate in the province. Overall, in Ontario, 86 percent of eligible residents have one dose and 81 percent have two, almost identical to the rate in Peel.
The Province has an ambitious goal of 90 percent of the population to be fully vaccinated against the virus. To achieve this, municipalities and regional governments must continue to press the necessity for inoculation to convince the remaining small numbers of residents who might be willing to take the crucial step.
A closer look shows some specific postcodes could be the reason for low vaccination rates in parts of Mississauga. In the L4X community, 62.2 percent of eligible residents are vaccinated, this specific postcode is the lowest in the municipality. The L5A area is the second lowest in terms of vaccination rates with 65.4 percent inoculated. Postcodes L4T, L4W, L4Z, L4Y, L5B, L5K, and L5E are hovering around the 67 to 70 percent mark, while the rest of the city has vaccination rates in line with the provincial average or slightly higher.
Two of Brampton's 10 postcodes, are also around 70 percent vaccinated, the rest of the City is sitting at 70 percent or higher.
As lines to get vaccinated shorten, officials will need to get creative if they want to reach a higher threshold and those who are either hesitant or simply do not have access due to their work and family situation.
When asked about mobile clinics and their necessity to bridge the gap, Dr. Lawrence Loh, Peel's chief medical officer said during a press conference this week, "It's slow work, but it is about building trust."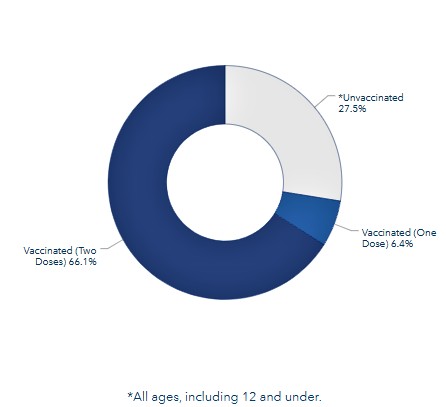 The Peel Region dashboard shows 27.5 percent of all people, including those who are not eligible, are unvaccinated. (Peel Region)
"We're making progress, that's like about an additional 100,000 that we've managed to get protection to either first or second doses in the last four to six weeks," Dr. Loh said. "We have noticed an uptick in our clinics since the introduction of the vaccine certificate program."
Similar uptake of vaccinations has been noticed across the province due to the required vaccine passport, which came into effect September 22. This policy by the Ontario government requires people aged 12 and up to show proof of vaccination to non-essential businesses such as restaurants and gyms and for gatherings such as sporting events.
When asked at Mississauga's press conference to elaborate on what more Peel Public Health can do to convince people to get vaccinated, Dr. Loh pointed to education, communication and transparency as key pillars to help people make informed decisions.
"They have legitimate questions and concerns which deserve to be answered, to make sure that they are reassured that the vaccines are safe, that they are effective and that they are doing the right thing, both for themselves and for their community," Dr. Loh told The Pointer.
PPH's goal aligns with the province's and it hopes to reach a 90 percent vaccination rate.
In the Region and across Canada, governments and health agencies have been trying to entice more people to get inoculated. September 14, Peel launched a mobile clinic called Vax Van to help reach more residents. Bringing the shots to specific communities with lower rates of vaccination to hopefully create convenience and access for these residents, some of whom struggle with a variety of societal barriers including precarious shift work, a lack of transportation and childcare.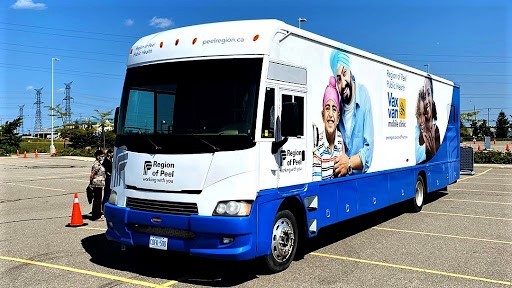 The Region's Vax Van is bringing doses to communities with lower vaccination rates. (Twitter-Region of Peel)
Such approaches, especially when public figures who residents can relate to join the cause, might help reach the maximum vaccine coverage to keep the general public as safe as possible.
Peel District School Board Trustee Kathy McDonald has helped reach out to communities, including those where some hesitancy for a variety of reasons exists. For groups that have traditionally not been treated in an equitable way by the political and healthcare systems, skepticism toward public health initiatives is understandable.
The efforts of someone like McDonald who community members trust and identify with, is invaluable. She was with the GO Transit vaccination bus that was in specific Peel neighbourhoods this week.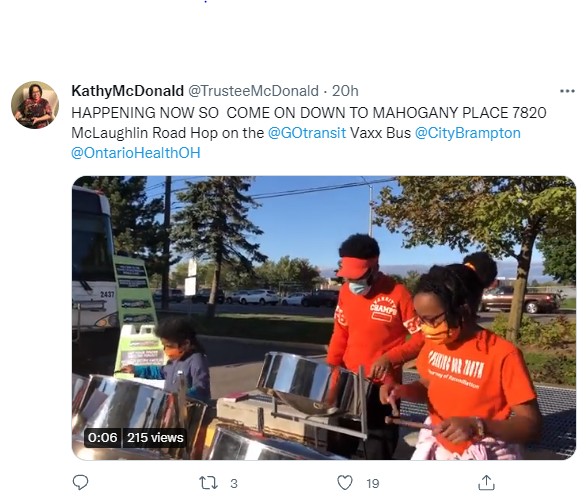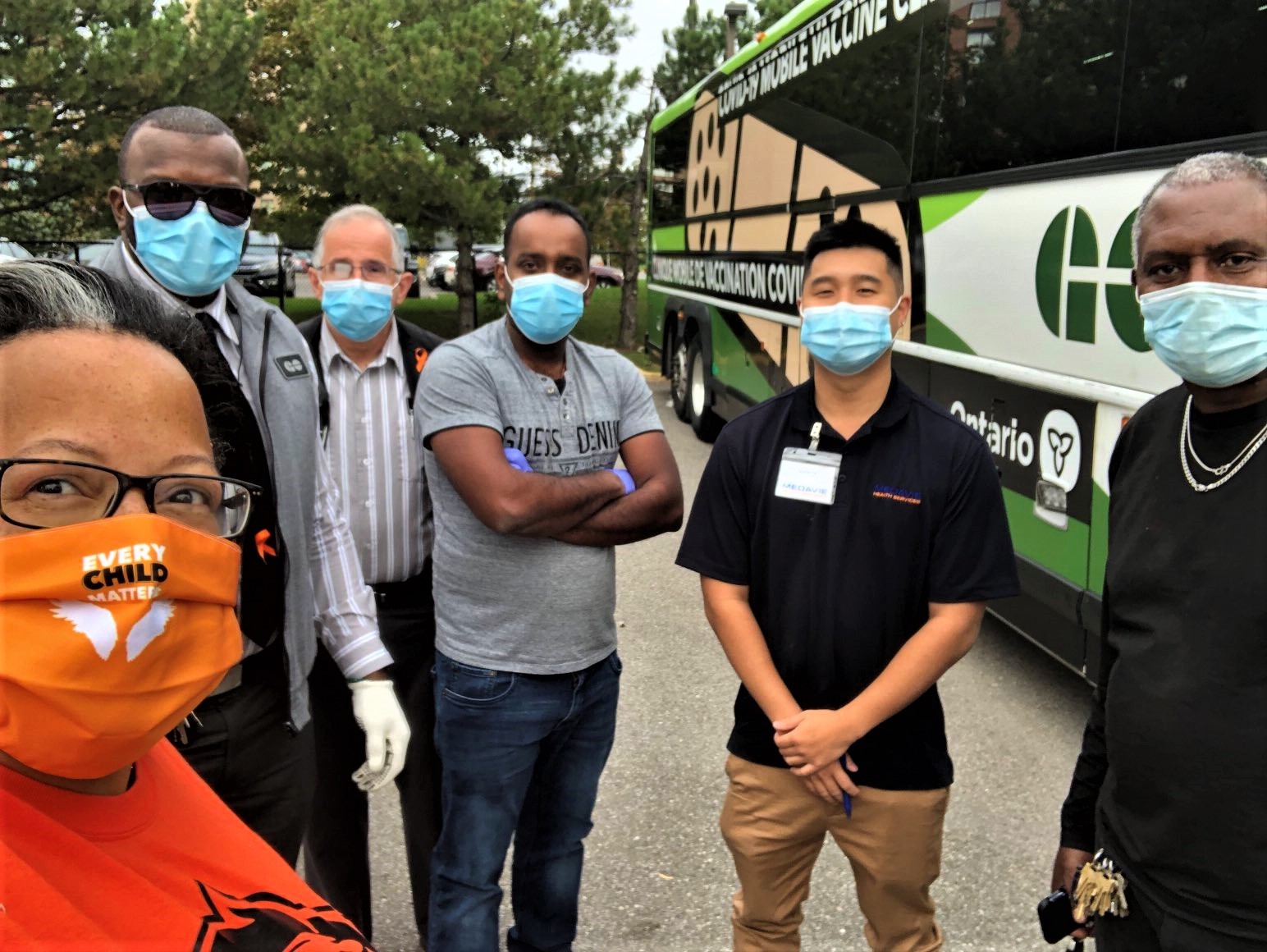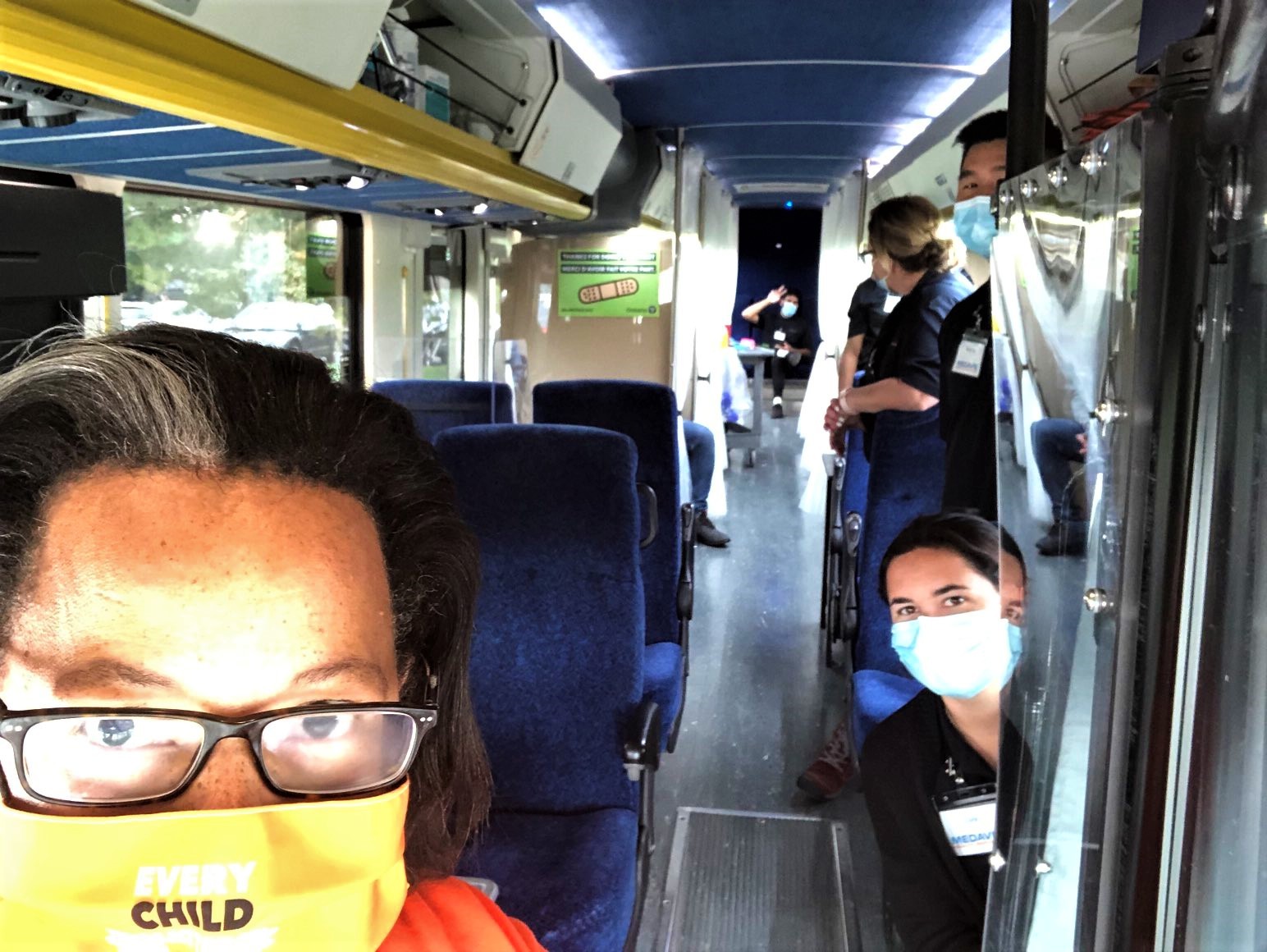 PDSB Trustee Kathy McDonald (bottom left) was on the GO-VAXX bus in communities this week. (Twitter-Kathy McDonald)
The Region of Peel partnered with the province to bring GO-VAXX GO buses to neighbourhoods in Peel. The effort by the Region is to reach those who have either not had access or might still be reluctant, and the commitment to a ground game to reach every possible resident is showing incremental gains. As Loh said, it's all about building trust and reaching out to every last individual who might be willing to get a shot.
Other specific community vaccination clinics have also been launched with various community based organizations in schools, malls, places of worship and parks.
Other provinces have been offering monetary compensation to entice people to get inoculated.
Until October 14, Alberta will offer a $100 debit card to anyone 18 or older who gets their first or second dose of the vaccine. Once registration for the vaccine is complete, residents will receive their card in the mail.
In Manitoba, the province offered a lottery enticing people to get the jab, with winners receiving $100,000. All Manitobans 18 or older were automatically entered if they received their first dose by August 2. The second lottery was aimed at youth aged 12 to 17 and offered a $25,000 scholarship if they received a dose before September 6.
Policy-wise governments are pulling out the stops to convince their own employees to get vaccinated. Under the Ontario Human Rights Code these requirements are allowed as long as there are accommodations for people who cannot be vaccinated, under religious and medical exemptions.
"Receiving a COVID-19 vaccine is voluntary. At the same time, the Ontario Human Rights Commission's position is that a person who chooses not to be vaccinated based on personal preference does not have the right to accommodation under the Code," the OHRC states.
Specifically, the OHRC says the Code protects those with specific religious beliefs, and not someone's personal preferences to not be vaccinated.
"Even if a person could show they were denied a service or employment because of a creed-based belief against vaccinations, the duty to accommodate does not necessarily require they be exempted from vaccine mandates, certification or COVID testing requirements," OHRC's website says.
Rafael Gomez, director of the centre for industrial relations and human relations at the University of Toronto, is concerned the mandates are a tool to manipulate workers into going back into unsafe workspaces.
"We've had frontline workers working since 2020, in supermarkets, in Amazon warehouses, in food processing plants, in migrant worker homes," said Gomez. "This has never come up with them. This is only now a question for white-collar workers who have been on their laptops at home for 18 months."
Workers have the right to refuse unsafe work, participate safely in their workplace and the right to know. Gomez says many workers are scared and are asking "legitimate questions."
He believes the mandates are coming from "top down" and not involving workers in these decisions that ultimately affect them.
"It's a real coordinated plan that involves workers, it involves employers, and yes, it involves government all working together," Gomez said.
In the effort to get as many Ontarians vaccinated as possible, Dr. Loh reiterated the need to create trust, in order to finally get out of this lingering pandemic.
---
Email: [email protected]
Twitter: @taasha__15
---
COVID-19 is impacting all Canadians. At a time when vital public information is needed by everyone, The Pointer has taken down our paywall on all stories relating to the pandemic and those of public interest to ensure every resident of Brampton and Mississauga has access to the facts. For those who are able, we encourage you to consider a subscription. This will help us report on important public interest issues the community needs to know about now more than ever. You can register for a 30-day free trial HERE. Thereafter, The Pointer will charge $10 a month and you can cancel any time right on the website. Thank you
Submit a correction about this story