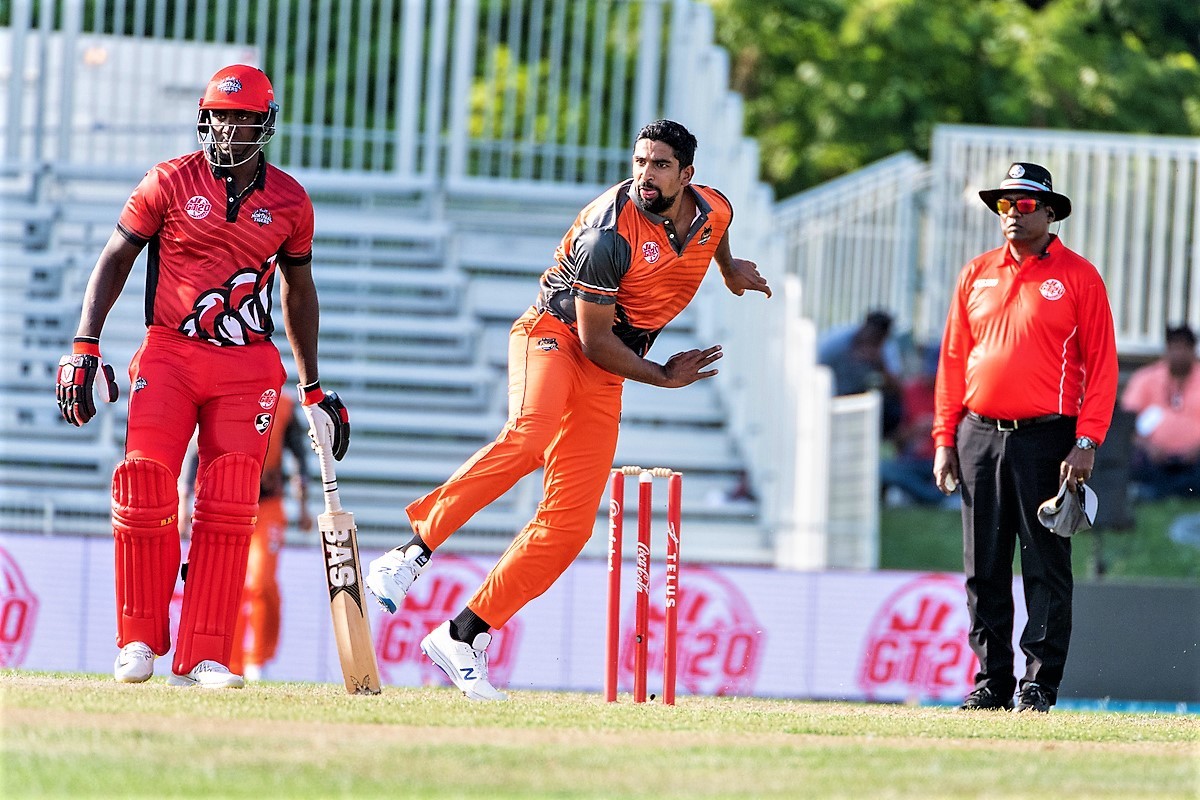 GT20 Cricket
Is Patrick Brown's $35.5M Brampton cricket stadium ask a responsible move in a struggling city?
The first Canadian prime minister, John A. Macdonald, declared cricket as Canada's first official national sport in 1867. Lacrosse came a year-and-a-half later… and the other game faded away long before a sport played on ice became the national obsession.
But for many Brampton residents, the love for cricket is written in blood and its rebirth over the last few decades, alongside waves of immigration from the Caribbean, South Africa and the Indian subcontinent stretching back to the '60s, has been a godsend.
National sport or not, it is difficult to replace a game that has been a significant part of life for residents across Brampton's huge diaspora communities.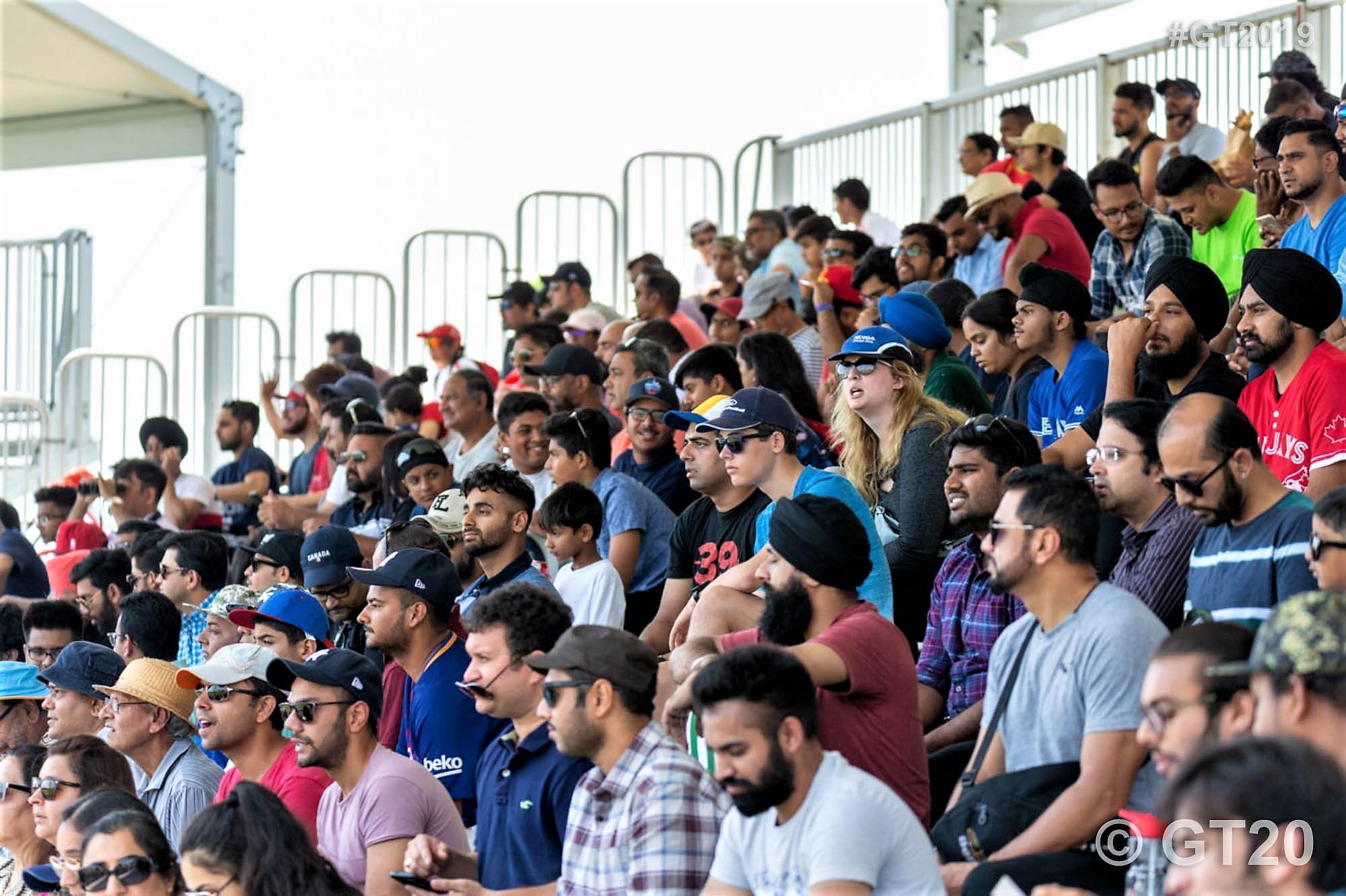 Large crowds at Brampton's GT20 global cricket tournament in 2019 (GT20 Cricket)
For Rashpal Bajwa, the president of Cricket Canada, the game has always been close to his heart.
"I'm from the subcontinent, so cricket has been a part of my life growing up as it is for most people from that region. It's something like a religion back home."
For some, cricket is everything.
"Although I have affiliation with field hockey and basketball, but cricket means everything to me," says Faraz Saleem, president of the Brampton Cricket League.
"Brampton is a mosaic of the world where you have people coming in from all around the globe and make Brampton their home."
Saleem says cricket helps immigrants adapt to the Canadian way of life. Not only does the game help new residents find a familiar territory, but it also offers avenues to mingle and network with other communities.
"I have a person who literally came off a flight from India three days ago and they are now looking for a cricket team in the summer," he says.
Bajwa, too, found the game helpful in his early days when he moved to Canada in 1996.
"Because of this sport, I have made so many friends and that initial adjustment to Canada was much more easier."
But the big question now facing Brampton, and many of its struggling taxpayers, is whether they should pay $35.5 million for a proposed cricket stadium that, if approved by City Council, would be built on the grounds of the CAA Centre, formerly known as the Powerade Centre, a white elephant that has been a massive drain on taxpayers for years.
Three professional sports clubs that once occupied the existing stadium have left, after years of revenue losses and tens of millions in subsidies paid by Brampton taxpayers. The Brampton Battalion, and Brampton Beast hockey teams could not make a go, and the Excelsiors lacrosse club met the same fate.
But Patrick Brown, who out of one side of his mouth talks about freezing taxes as he makes cuts to capital projects for transit and other badly needed infrastructure, has been touting the stadium for years, even promising to have it built this term of office (one of his many promises that won't be kept).
The request for a $35.5 million cricket stadium, after Brown's promise, is once again on this week's Council agenda, and is set to be debated Wednesday, as the city continues to reel from the unrelenting pandemic that has crippled Canada's ninth largest city and left many of its most vulnerable residents desperate for help.
Business owners are also struggling and those in the city centre might be wondering how Brown could push a $35.5 million cricket stadium after he cancelled a previously approved downtown revitalization plan that would have cost about the same amount.
But Brown is a political animal and he has long relied on support from the South Asian community to fuel his professional ambitions. The stadium would be a legacy project for the man who has admitted his eyes are still on the provincial and national political stage.
Should Brampton taxpayers be the ones to give him his legacy project so he can highlight it in future campaigns?
For people from the cricketing nations of the world, who make up a sizable chunk of the Brampton community, the upcoming debate could signal how they feel about politicians who pander for their support. For many, a second hospital, a first university, improved transit and better local infrastructure could be more of a priority.
But there is no doubt, the demand for a cricket stadium in Brampton is unprecedented. And Brown knows it.
"If you build a stadium, I can guarantee you that not even a single day will be left empty," Saleem says.
The cricket fraternity in Brampton had asked the city for nighttime lights on cricket fields three years ago.
The city initially shrugged on the idea but considered it after the BCL staff put the lights in themselves.
"We put about ten power generators that are at construction sites and lit up the cricket ground," Saleem says.
City officials took notice, and Brampton was able to get permanent lights approved for cricket.
The facility at Teramoto Park on Chinguacousy Road features LED lighting and has hosted night tournaments in the cricket-crazed city.
Not even a single day of the week is available for bookings ever since the permanent lights have been put up, Saleem told The Pointer.
"It's jam-packed and booked solid every hour on the lights. And I can tell you if the bylaw is extended, and cricket is allowed to play all the way to seven in the morning, I can fill the gap."
Despite the growth of the sport over the last five decades, Canada still does not have a single cricket-dedicated stadium.
"If you say it's a stadium like Wankhede or Eden Gardens or Lords, we do not have any but we do have (international cricket-approved) infrastructure," Bajwa says.
In 2019, Brampton hosted the Global T20 international cricket tournament which attracted international cricketing superstars and a worldwide television audience. A temporary stadium was erected next to the CAA Centre and drew big crowds, and even bigger stars. Chris Gayle, Lasith Malinga, Kieron Pollard, Andre Russell, Shahid Afridi, Shoaib Malik, David Warner, Steve Smith and Brendon McCullum have all played on Canadian pitches.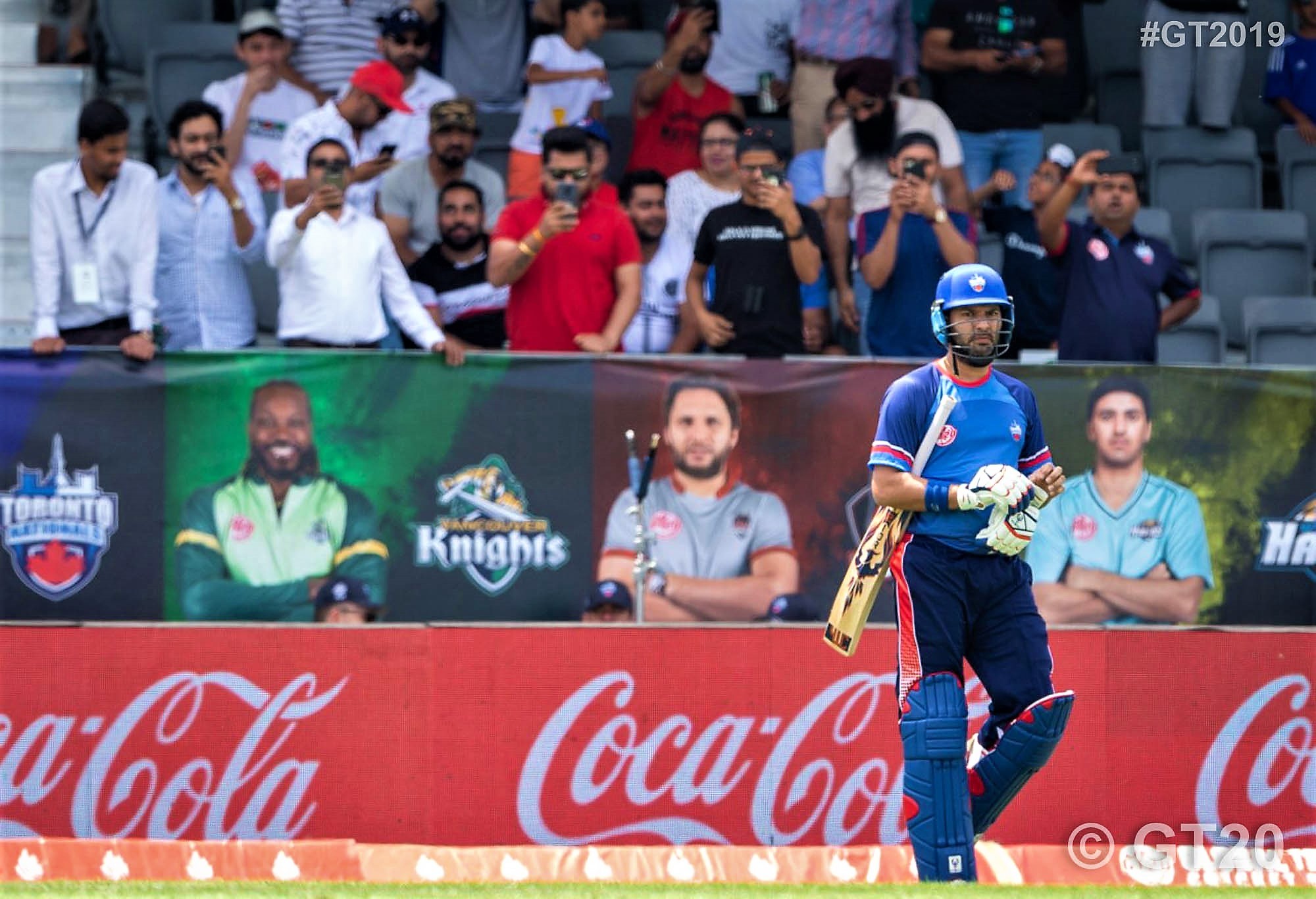 The 2019 global tournament was played in a temporary stadium constructed on the CAA Centre grounds (GT20 Cricket)
The third edition of the tournament was supposed to be held in 2020. It was postponed initially because of the pandemic, then scheduled to be held in Malaysia but eventually called off because of growing COVID-19 case numbers.
Bajwa is hopeful that Canada will host the Global T20 cricket tournament in 2022.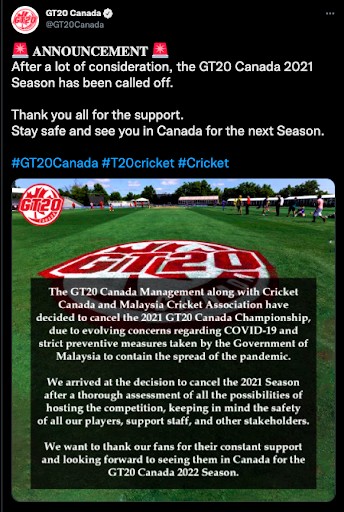 GT20 announced the cancellation of the tournament in a tweet on July 9, 2021.
"Once we have a stadium, it is going to have a huge impact, and we can host international games in Canada, so international players can come and rub shoulders with our Canadian boys and girls," he says.
"We don't want any kid growing up in Canada to feel that they should not pursue cricket because they don't have a future."
This is not the first time the idea of a world-class cricket stadium built to International Cricket Council standards in Canada has been on the table. Brampton saw a proposal almost a decade ago, but it ultimately died.
Canada has only two facilities that can meet international standards. Maple Leaf North-West Ground in King City, which can seat 7,000 and the Toronto Cricket, Skating and Curling Club at 141 Wilson Avenue, which barely fits 5,000 fans.
Our southern neighbours have one, Central Broward Park, which can seat a 20,000 crowd in the Florida city.
When an up-and-coming cricket league promised to help meet the growing demand seven years ago, all eyes were upon it.
In 2014, a T20 league promised to build one in Fort Erie, after considering Brampton, Markham and Milton as options in the Greater Toronto Area.
It was touted to be a 35,000-seat stadium just outside the GTA.
It was never built.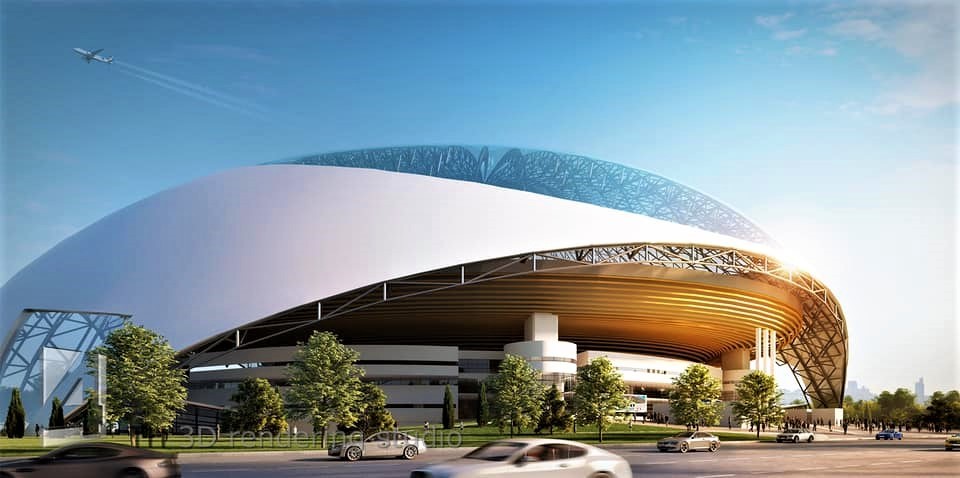 A computer-generated image of the proposed state-of-the-art cricket stadium to be built in Fort Erie. (Image from the CPLT20 Facebook page)
In 2008, the Government of Canada recognized cricket as a national sport with promises of federal funding.
Faraz Saleem has run the Brampton Cricket League for 13 years and would love to see a major investment here.
When the Brampton cricket stadium discussion was brought forward in the Brampton City Council meeting late Wednesday evening, September 22, the exchange drew out a number of opinions.
Councillor Jeff Bowman asked if any studies have been done before an RFP is approved by council to design the cricket stadium.
"That's where the challenge is, those Environmental Site Assessment studies, noise studies, traffic studies need to be done. The whole gambit of studies need to be reviewed and we're a bit under the gun in terms of getting this all down," said David Bottoni, a director with the Building Design and Construction department.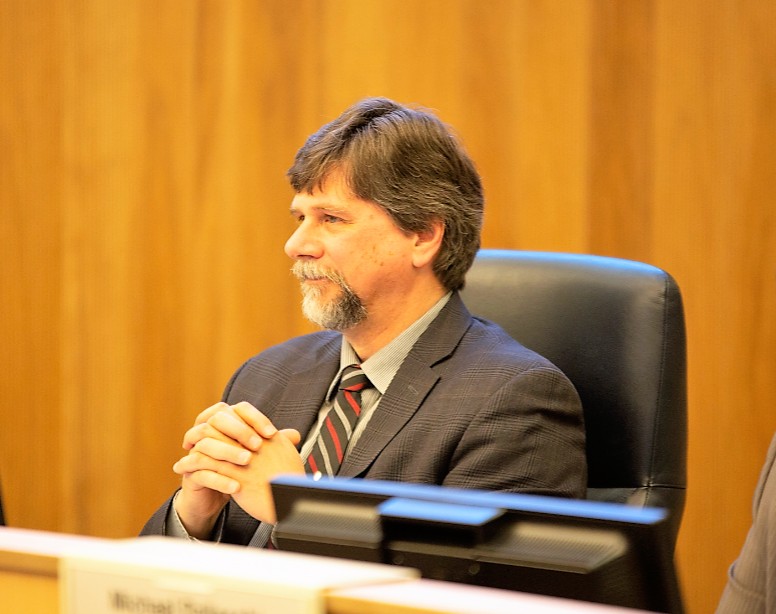 Councillor Jeff Bowman wants a multi-sport facility and wants the private sector to pay for it. (The Pointer file photo)
"We could attempt to get the RFP for the architect in November."
"So there's really no hurry right now to get a bunch of amendments approved for $5 million?" Bowman asked, referring to the estimated cost for the initial design work.
"Well, we wouldn't be able to release the RFP without it," Bottoni said.
"That's an expensive RFP," Bowman replied, with another $30 million that would have to be approved for the construction, if the estimated cost is accurate and does not increase due to delays and other unforeseen issues.
The councillor also raised concerns about traffic and the implications the cricket stadium may bring considering there is only a single way in and out of the facility.
"Back when the Brampton Beast would have their New Year's Eve games, the place was sold out. Both exits were open at the CAA Centre and there was usually a 45-minute-to-an-hour wait to get in or out, so I'd be very interested in traffic studies now that they've changed the entrances and there's only one in and one out," Bowman said.
The matter will now be referred to the council meeting tomorrow, September 29.
While some argue Brampton could better use the $35.5 million needed for the stadium elsewhere, Bowman questioned why taxpayers should pay for it.
"We always look to try and take the burden off the taxpayer and use some other type of funding where we can," Bowman said.
He is hopeful that the provincial and federal government would help fund some of the stadium costs. The federal and the Ontario government partially funded the cost to upgrade and renovate a cricketing facility in the town of Ajax.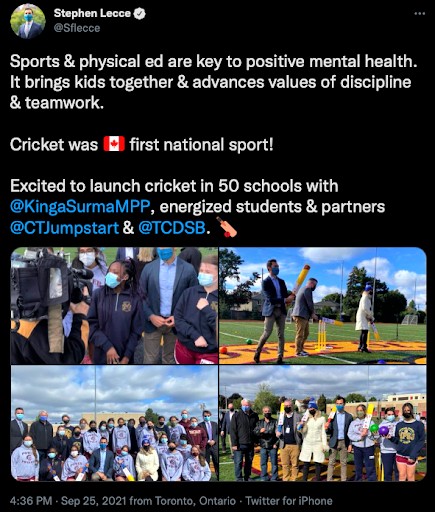 Education Minister Stephen Lecce announced Saturday that cricket will be part of 50 schools in the Toronto Catholic District School Board. (Twitter)
"I know that our federal government is also ready to support by funding the stadium," Saleem claims.
Momentum for the sport is building.
The Ontario government announced this past weekend that cricket will now be a part of 50 schools in the Toronto Catholic District School Board, in a press release Saturday.
"We know the critical role that physical fitness and exercise play in the well-being of our youth," said Premier Doug Ford.
"The introduction of cricket into physical education classes will allow our students to participate in a great sport that is played all around the world and will play a positive role in improving their overall health."
"Our government strongly supports student sports, which is why we are excited for the launch and introduction of cricket in 50 schools and physical education classes this fall," added Education Minister Stephen Lecce.
While cricket fever catches up in other parts of the GTA; who will be paying for a possible Brampton Cricket Stadium, remains a 'bouncer'.
"The CAA lands have always been sort of underutilized," Bowman said in an interview with The Pointer.
And while Canada waits for its first cricket-dedicated stadium, Bowman still wants it to be a multi-sport facility.
And that's just another sticky-wicket for Brampton.
---
Email: [email protected]
Twitter: Anukul_AT
---
COVID-19 is impacting all Canadians. At a time when vital public information is needed by everyone, The Pointer has taken down our paywall on all stories relating to the pandemic and those of public interest to ensure every resident of Brampton and Mississauga has access to the facts. For those who are able, we encourage you to consider a subscription. This will help us report on important public interest issues the community needs to know about now more than ever. You can register for a 30-day free trial HERE. Thereafter, The Pointer will charge $10 a month and you can cancel any time right on the website. Thank you
Submit a correction about this story