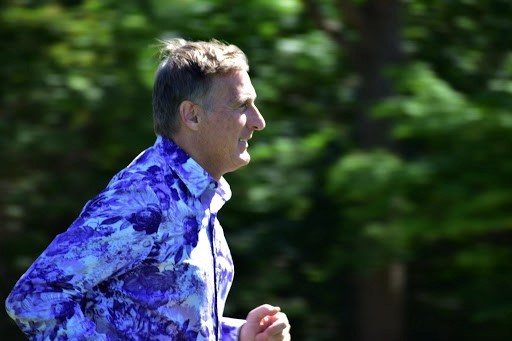 Feature image Isaac Callan-The Pointer
'They want to control the climate, only God can do that': Mississauga PPC rally pushes wild theories
A bustle of purple-clad supporters surrounded the Port Credit Memorial Park marquee in Mississauga, chatting and exchanging stories. After the Canadian national anthem, anticipation began to build. From Thursday morning, the stage was set for People's Party Leader Maxime Bernier to arrive.
A slowly dwindling number of supporters waited for 193 minutes.
The gaggle of PPC faithful tried to fill time, with their leader apparently a mere 20-minute drive away in Oakville. As time dragged on and enthusiasm faded, the Mississauga PPC rally turned into a bizarre affair. One candidate gave the same speech twice, because "my cameraman missed it" — his claim that he is "not a politician" rang hollow the second time around.
Slowly, as any semblance of organization floated off in the morning air, the stage morphed into an open mic platform for wild theories. As people mocked action to prevent climate change, the contracting crowd cheered. One of the many random speakers who commandeered the PA system said Canada doesn't need more wind or solar energy and another proclaimed, "They want to control the climate, only God can do that".
Everyone gathered was waiting for one man. He has quickly become a cult-leader figure for millions across Canada including the loyal followers who waited hours to see their man in Port Credit.
"Max inspires me, he really does," Dave Shaw, a Mississauga resident who voted PPC in 2019, told The Pointer. "He's so positive in his direction and freedoms he wants to give people that are being taken away by the other parties because they all walk the same line. Max is different."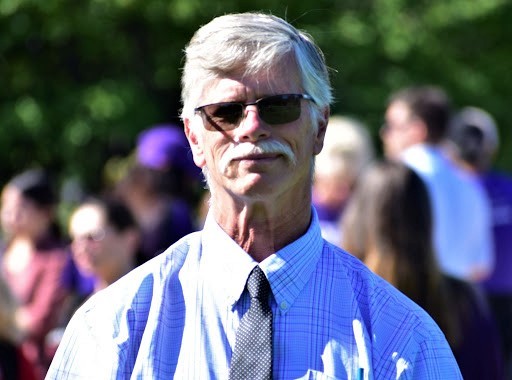 Dave Shaw voted for the PPC in 2019 and plans to do so again in 2021. (Isaac Callan-The Pointer)
Eventually, as the lunch hour passed and after standing under the sun for more than three hours, the main attraction jogged from the Port Credit Library parking lot toward the group assembled since the morning. Shouts of "Max is here" rippled among the maskless throng.
He took the microphone and launched into a speech reminiscent of what took place south of the border on January 6, when the U.S. Capitol Building was stormed.
"When tyranny becomes law, revolution becomes our duty," Bernier told the crowd as chants of "freedom" filled the air.
He trotted out the PPC's standard talking points, focusing on COVID-19 and the need for "common sense" to return. His party has pushed anti-vaccination views throughout the election campaign, attracting a sizable fringe of loyalists who have driven up support according to polling numbers that suggest the PPC will be the biggest winner after the ballots are counted Monday, as some surveys show it could garner as much as eight percent of the electorate's votes. Even if it fails to secure any seats in Parliament, extreme right wing politics has now found a home in Canada.
"What they want freedom from is responsibility to their fellow Canadians, they want freedom from COVID and public health measures," Evan Balgord, the executive director of the Canadian Anti-Hate Network, an organization that has been tracking the rise of the far-right including the PPC, told The Pointer. He listed numerous examples of PPC members being linked to Canada's far-right. "It's not freedom they want, it's to act like children. Citizenship comes with freedoms and responsibilities, they want none of the responsibilities."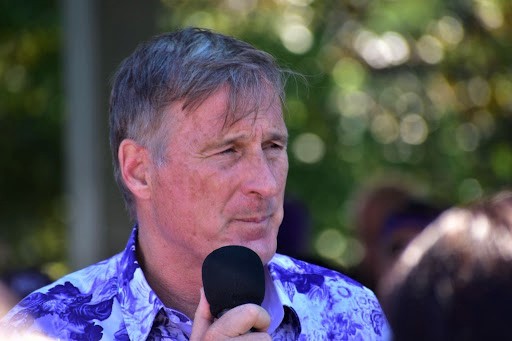 Bernier speaks to supporters in Port Credit Thursday, after arriving more than three hours late. (Isaac Callan-The Pointer)
Whenever the speeches stopped, dog walkers strolled past as gentle music drifted above from two elderly women meditating nearby. Layered over the surrounding serenity, an angry mood competed with the otherwise calm Port Credit afternoon. Shouts of "medical segregation", "tyranny" and "freedom" belted out from the small group of Bernier supporters.
"We don't need more legislation," one speaker said, failing to explain why hundreds of candidates are seeking election to represent the PPC and push its own agenda on all Canadians in the national legislature. Another said municipalities were colluding with developers to raise house prices.
In 2019, the PPC received a flurry of public and media attention. On polling day it proved to be too generous. Despite filling many column inches, Bernier's upstart party — centred on anti-immigration sentiment in 2019 — received less than two percent of the vote and failed to win a single seat.
The COVID-19 pandemic and a rise in anti-lockdown, anti-vaccine and anti-mask views have given the party a boost this time around.
The marked shift of the Conservative Party, led by Erin O'Toole, toward the middle of the political spectrum, along with the ongoing disaffection caused by the pandemic, has created a pathway for Bernier to seize on extreme right-wing views.
Disillusioned Conservative voters and those who have never voted before, in particular, have gravitated toward the PPC and its leader. The anti-vaccine sentiment in Port Credit Thursday (where supporters repeatedly referred to COVID-19 vaccines as "injections") was particularly pronounced.
There was no effort by Bernier to bring facts into the proceedings, as he failed to point to the volumes of scientific research and new data coming out that show how effective vaccines have been in the fight against COVID-19, nor was it mentioned that possibly billions of human lives have been saved because of vaccine science over the past 200 years.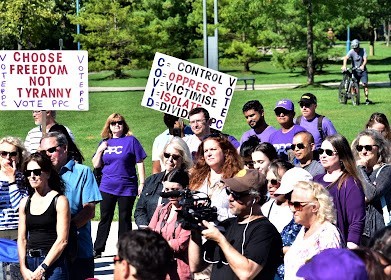 PPC supporters gathered in Mississauga on Thursday. (Isaac Callan-The Pointer)
Polling has shown the PPC trending high in the 2021 federal election, outnumbering the Green Party almost around the country and even clipping the heels of NDP candidates in some races. Poll tracking for September 16 from EKOS Research put PPC support at eight percent in Ontario, compared to four percent for the Green Party and 20 percent for the NDP.
One supporter who talked to The Pointer, Pete Emslie, has been a card-carrying member of the Conservative Party for years and voted for Erin O'Toole in its leadership race. He said he is a Rebel News reader and switched his support to the PPC after being frustrated by O'Toole's shift to the centre.
"I was happy when he won the leadership race, but everything I have been reading since then on his Facebook, I feel like he's totally let us down," Emslie said. "He's not listening to the base at all and he just sort of spouts these meaningless platitudes and it sounds so similar to what [Justin] Trudeau is saying."
Emslie, like many at the Mississauga event, chalked his slide to "the COVID situation".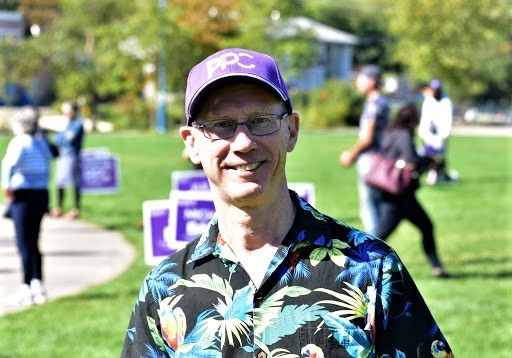 Pete Emslie is voting PPC. (Isaac Callan-The Pointer)
Mississauga Mayor Bonnie Crombie would not comment directly on Bernier's visit when asked about it at her weekly press conference. "You know I am no fan of divisive rhetoric or some of the anti-vaccine messages that are being [spread] so I hope they keep their messaging to fact and science," she said.
The appeal of the PPC in an area like Mississauga or Brampton is surprising. The party is decisively anti-immigration — planning to reduce Canada's immigration levels from more than 400,000 this year to a maximum of 150,000 — yet some of its Peel candidates come from immigrant backgrounds themselves. The party stance on COVID-19, masks and lockdown policies also flies in the face of Peel's brutal experience with the pandemic, as essential workers and many other residents have suffered from some of the highest rates of transmission in the country throughout much of the ongoing pandemic.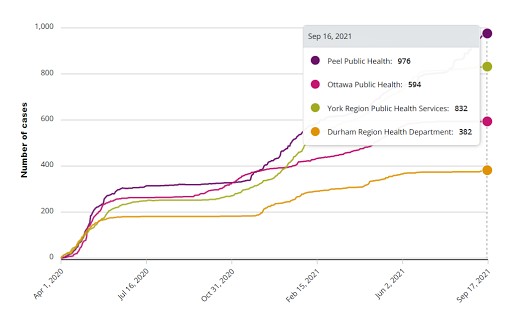 Peel has suffered through the pandemic. (Image from the provincial dashboard)
At Thursday's event, in another bizarre episode, to prove the PPC is an inclusive party that could legitimately reflect the values of one of the world's most diverse regions, one speaker asked the crowd to cheer based on their place of origin.
Supporters erupted to the call for those of European descent, with a scattering of shouts for China and India, followed by silence when the speaker called out for supporters with Indigenous roots. The event was not exclusively white but the vast majority of attendees did not reflect the majority visible minority population of Mississauga and Peel, where almost two thirds of residents are not white, according to the 2016 Census.
Balgord says COVID-19 conspiracy theories and the far right go hand-in-hand, with a range of anti-establishment conspiracy theories being co-opted to recruit and expand movements like the PPC.
Activists frequent corners of the internet where conspiracies breed, drawing anti-vaccine supporters and others who push an anti-establishment narrative, while a mix of racist messaging blends in with their ideology, he said.
"They grab onto new issues and add new grievances and that means they suck in people who don't fully realize it's a racist movement and have a chance to radicalize them," he said. "They bring a bunch of people who are right-wing minded, but they aren't raving racists or anything, and then they feed them a bunch of racism and conspiracy theories and those people become a part of the far-right."
---
Email: [email protected]
Twitter: @isaaccallan
Tel: 647 561-4879
---
COVID-19 is impacting all Canadians. At a time when vital public information is needed by everyone, The Pointer has taken down our paywall on all stories relating to the pandemic and those of public interest to ensure every resident of Brampton and Mississauga has access to the facts. For those who are able, we encourage you to consider a subscription. This will help us report on important public interest issues the community needs to know about now more than ever. You can register for a 30-day free trial HERE. Thereafter, The Pointer will charge $10 a month and you can cancel any time right on the website. Thank you
Submit a correction about this story