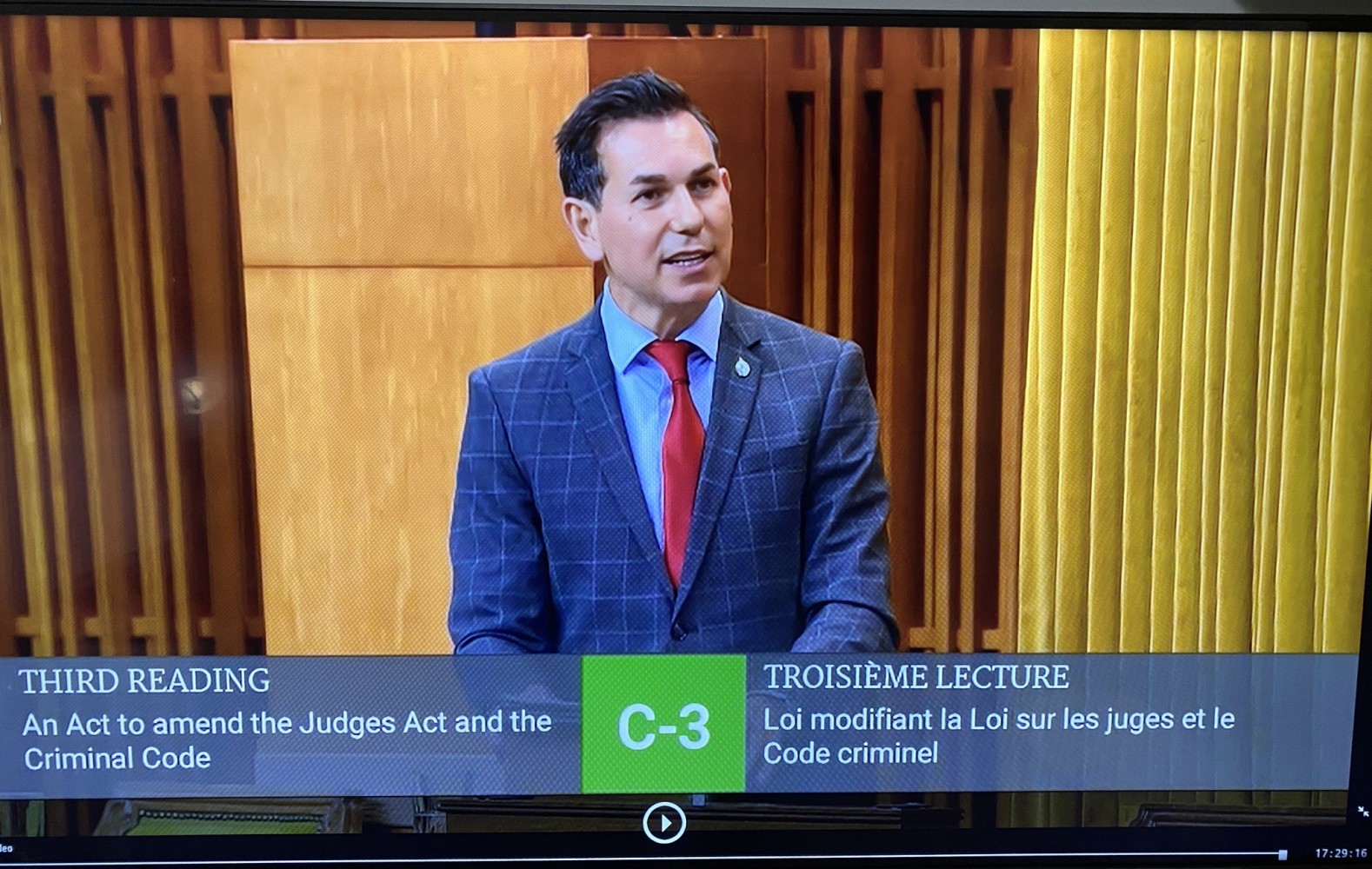 Feature image from ParlVu
Peter Fonseca addressed the concerns of Mississauga East—Cooksville in House of Commons
Peter Fonseca is first a "proud Mississauga resident" then a member of Parliament.
He regularly brought up his riding of Mississauga East—Cooksville in the House of Commons over the last two years.
Speaking 39 times in the past two years, Fonseca mentioned his riding or the municipality the most out of all Mississauga incumbents, rising to speak 14 times while he addressed local issues. He defended Bills or issues, routinely entering into heated debates about the environment, human rights and defending his political party.
The Liberal candidate sat on the foreign affairs and international development committee before Parliament was dissolved for the election. Fonseca also co-chaired the subcommittee on international human rights of the standing committee on foreign affairs and international development. He spoke 651 times throughout the last two years in committees/subcommittees, usually to facilitate the meetings as chair or co-chair, but also offered his views and direction on key legislative decisions impacting a range of issues important to Canadians.
The first time Fonseca spoke in the House was while responding to criticism of the Prime Minister, Justin Trudeau, and the handling of the USMCA trade deal between the United States, Mexico and Canada and the Trans-Pacific Partnership (TPP), a trade agreement between Canada and 10 other countries.
"If the member could recall the election of 2015, the Liberal Party made a commitment to Canadians to consult widely, to have a trade agreement be transparent and accountable to Canadians," Fonseca said, February 2020.
Colin Carrie of the Conservatives replied: "The hypocrisy of the Liberals is unbelievable."
Fonseca rose twice more that day, first to thank his constituents for reelecting him and to defend the USMCA, outline important protections for Canada's large forestry industry.
Twice more in February, he mentioned his riding, once on how impactful the Canada summer jobs program is across Mississauga East—Cooksville and also to highlight the leadership of a local non-profit in the city, Community Living Mississauga.
Peter Fonseca often spoke of his home riding of Mississauga East-Cooksville in the House of Commons.
(Image from Peter Fonseca/Twitter)
In regard to International Women's Day, Fonseca stood to recognize Indus Community Services, a not-for-profit organization serving new Canadians, families, women and seniors.
"I was happy to hear about their women-oriented programs," Fonseca said. "Through the advocacy, counselling, empowerment and safety program for women, they provide culturally responsive counselling to victims of domestic or family violence and abuse."
From March 2020 until September 2020 the MP was largely absent from whatever legislating was still taking place, at least in terms of his verbal contributions, as COVID-19 spread across the country and his riding. When he did rise again, he mentioned Mississauga East—Cooksville and the effects of the pandemic on his constituents. He spoke thankfully about the community leaders who raised money or found ways to help those who needed it most during the first wave.
A month later, Fonseca acknowledged his constituents and riding again, and named many frontline workers in industries that continued to function while COVID-19 kept others at home.
"It is a tremendous honour and privilege to be a voice for the residents and businesses of Mississauga East—Cooksville," he said, "...I also want to take this opportunity to thank all the front-line workers from all sectors of health care and essential services from my home of Mississauga East—Cooksville and from all members' hometowns from coast to coast to coast."
Throughout that particular October day, Fonseca rose many times to speak about small businesses and defend the emergency subsidies the Liberals continued to provide. He also mentioned healthcare and jabbed the Conservatives for flip flopping on commitments to frontline care and supports for other struggling industries.
"What I hear from the Conservatives is that one second they want to cut and the next second they want to spend more money. I do not know what side of the fence they are on. They keep jumping. One cannot suck and blow at the same time," he said.
While he did not drive legislation or introduce policy, it was clear Fonseca is a constituent-politician, representing those who sent him to Ottawa, more so than members consumed by party politics and opportunities to shine on a national stage.
In October 2020, Fonseca spoke three more times and mentioned his riding on each occasion. Speaking about how "proud and humbled" he is to represent his constituents, events celebrated in his riding or how COVID-19 effected Mississauga East—Cooksville, Fonseca made a point to link everything back to the community.
In November 2020, the MP spoke about Bill C-3, legislation to amend the Judges Act and Criminal Code of Canada. It would make judge candidates who are appointed to a provincial superior court participate in training related to sexaul assault law and social context. Fonseca provided the House with the details of the Bill and answered questions from other MPs, speaking a number of times throughout the day on the importance of changing the culture of the courts to be more reflective of women's rights and less biased against the realities they have suffered for decades.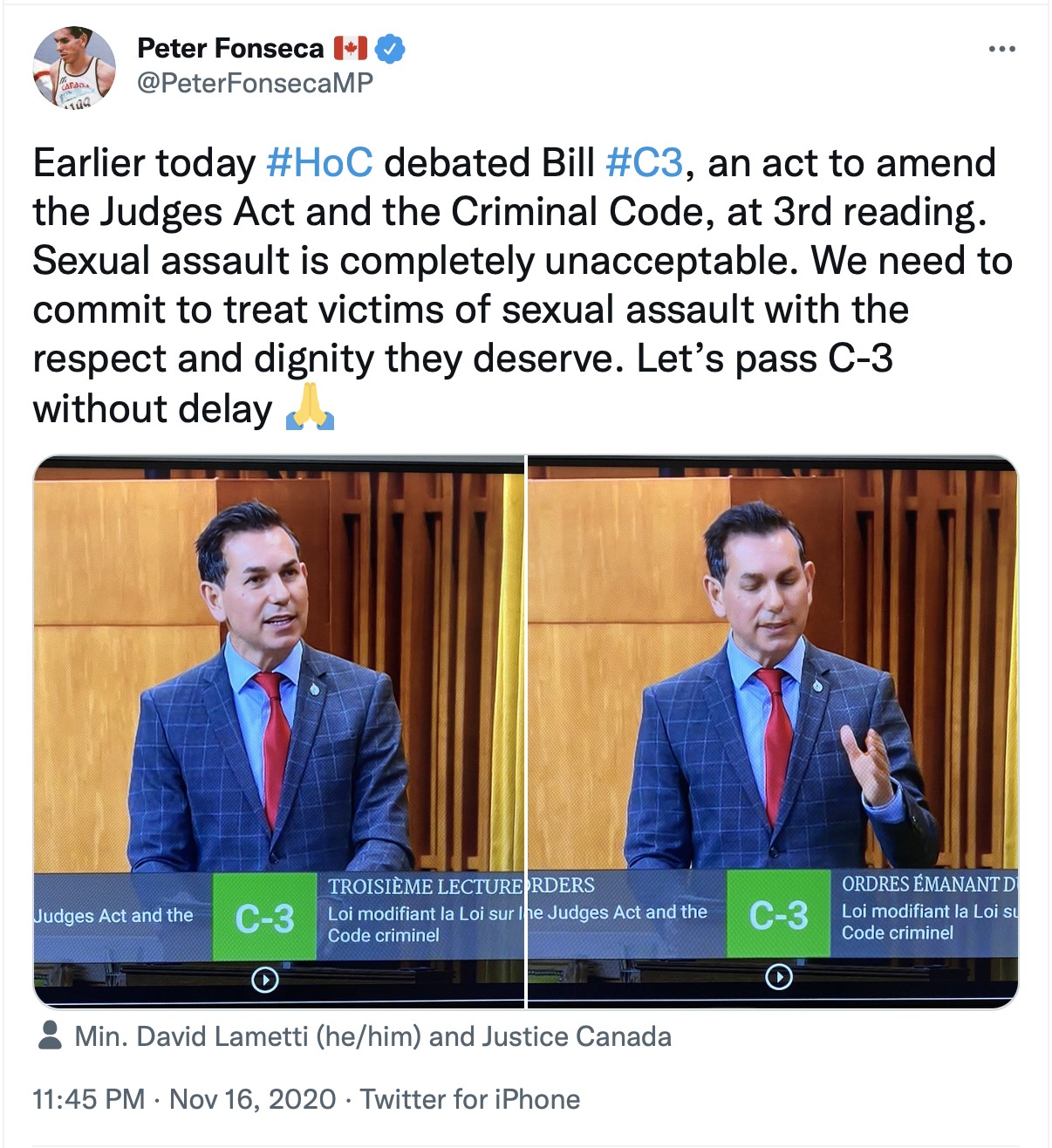 From November to April 2021 Fonseca focused on broader Canadian issues and did not mention his riding during his time in the House. He acknowledged a number of special days such as Giving Tuesday in November, Human Rights Day in December, Tamil Heritage Month in January and Black History Month in February.
At the end of February, Fonseca commented on the long-term care crisis in regard to C-7, a Bill to amend the Criminal Code for medical assistance in dying.
"Canadian families will live with these painful memories forever," he said on the 23 of February. "The lives lost in long-term care homes during COVID is one of Canada's greatest tragedies."
In April, he spoke up numerous times on the environment, highlighting the fast-paced action needed by the Canadian Government to immediately curb climate change.
"I know first-hand just how devastating the impacts of climate change can be on their lives. My riding in the City of Mississauga has had to deal with some of the worst flash flooding in the country," Fonseca said. "Extreme weather events that used to happen every 40 years are now happening every six years."
He highlighted in his speech to the House the emissions targets and key changes to help Canada become net-zero by 2050. Bill C-12 is an effort to ensure transparency and accountability in Canada's actions to achieve its net-zero target, and the goal of Fonseca and his party was to pass the Bill quickly.
"Madam Speaker, this member just voted to have this steamrolled through. I really hope he is interested in debating today," said Dan Albas, a Conservative from the Central Okanagan-Similkameen-Nicola riding in British Columbia.
He asked Fonseca if he agreed with the approach to phasing out oil and gas, "targeting" Alberta, Newfoundland and Labrador and British Columbia.
"Madam Speaker, I respect the honourable member, but I reject the premise of that question," Fonseca said. "That honourable member and the member's party, the Conservatives, have been obstructionists to any kind of climate change policy for the last six years."
The Mississauga East—Cooksville MP also answered questions about the Liberals continuing to put money into the oil and gas sector.
"We have invested $53 billion in creating jobs and securing a cleaner future for everyone… The targets are there, the numbers are there and the dollars are there, I say to the member," Fonseca responded.
Speaking four times in May 2021, Fonseca touched on a number of topics, such as the contributions of Polish and Lithuanian residents in Canada, Mother's Day and empowering women, International Day of Families and again, saying he is proud to represent his riding.
"I live in Mississauga and I proudly represent my constituents of Mississauga East—Cooksville," Fonseca said on May 26. "I know how hard they work to provide for their families; protect their health and provide a better education for their kids, which we know are the keys to a better future; and to take care of their aging parents and grandparents."
Later the same day he raised concerns over the long-term care crisis and how the tragedy played out in Mississauga.
In June he recognized Portuguese Heritage Month, something Fonseca shares every year in the House.
"It is a special day of pride for me, both as a Portuguese Canadian and as a resident of Mississauga, a city with over 20,000 Luso Canadians," he said.
Fonseca is running against Grace Adamu of the Conservative Party, the NDP's Tom Takacs, Joseph Westover of the People's Party of Canada. The Green Party does not have a candidate in Mississauga East—Cooksville.
---
Email: [email protected]
Twitter: @taasha__15
---
COVID-19 is impacting all Canadians. At a time when vital public information is needed by everyone, The Pointer has taken down our paywall on all stories relating to the pandemic and those of public interest to ensure every resident of Brampton and Mississauga has access to the facts. For those who are able, we encourage you to consider a subscription. This will help us report on important public interest issues the community needs to know about now more than ever. You can register for a 30-day free trial HERE. Thereafter, The Pointer will charge $10 a month and you can cancel any time right on the website. Thank you


Submit a correction about this story