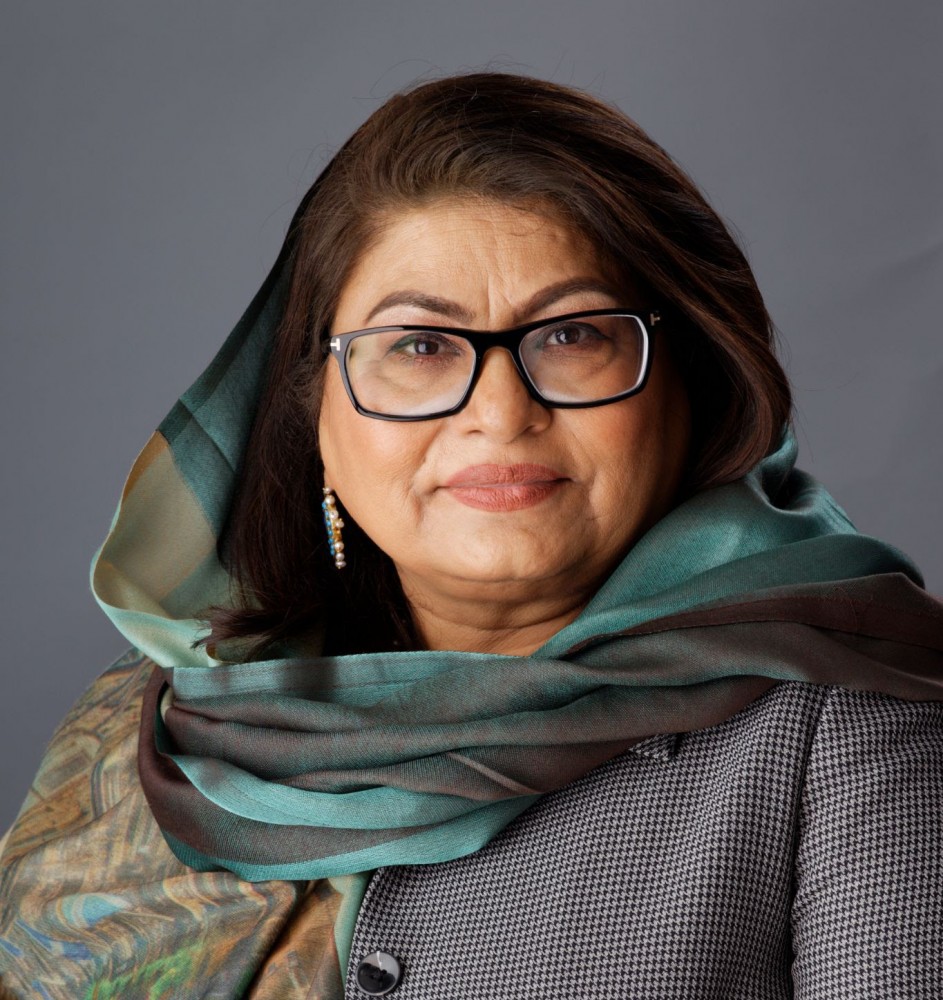 Image contributed by Kaukab Usman 
Mississauga NDP candidate Kaukab Usman sets her sight on immigration reform to unlock wasted talent
Kaukab Usman has had a frustrating, and not uncommon, experience since moving to Mississauga.
The Pakistani-Canadian immigrant returned to Peel five years ago, after a period back in her motherland. She has two masters degrees in English literature and educational leadership and, before moving to Canada, she enjoyed a successful career in academia. She is a volunteer with the Peel Poverty Strategy Action Group and sits on the City of Mississauga's Diversity and Inclusion Advisory Committee.
These experiences and talents seem to have counted for very little in the eyes of her adopted nation over the past half-decade.
"You have dropped me in this country based on the qualifications that I have from my country and you recognized my experience from back home," she said in an interview with The Pointer. "But why do I [then] become totally irrelevant in this country?"
Usman is struggling with an issue that impacts many talented newcomers to Peel and across Canada.
The country operates on a point-based immigration system that is designed to prioritize those would-be newcomers whose professional experience aligns best with the economic needs in different parts of Canada. Despite this, many arrive and immediately struggle to find work, or settle for under-employment while toiling at low-skilled jobs that do not utilize their education and experience. In some specific fields, foreign-born workers face years of retraining, while others are unable to find companies that value their international professional experience, opting instead to only hire staff with Canadian experience who have been educated here.
Research has shown that such tendencies are not always born out of practical considerations, but cultural ones, as employers often don't realize that a candidate with an accent or whose experience was overseas, would actually be better for the company because of their underlying talent.
It is a problem that drove Usman to stand for election. She is the NDP's candidate for Mississauga—Erin Mills. Her name is on the ballot alongside Liberal incumbent Iqra Khalid and Conservative candidate James Nguyen. Ewan DeSilva is standing for the Greens and Michael Bayer represents the People's Party of Canada.
Asked what her biggest priority would be if elected, Usman doesn't hesitate. Reforming how Canada settles new immigrants and the work done by settlement agencies is a fiery passion. A rocky landing process is Canada's biggest "brain drain" and "is not the start" talented and highly educated new arrivals should be subject to.
Peel's proximity to Toronto Pearson Airport and established diaspora communities make Brampton and Mississauga key destinations for many immigrants arriving in Canada. In total, more than 706,000 residents in the region were born outside of Canada — 94,000 new immigrants came to Peel between 2011 and 2016 alone.
Proximity to Toronto Pearson Airport has made Peel a magnet for newcomers to Canada.
(Image from Isaac Callan/The Pointer)
Usman believes Canada has "the best brains in the world" but bad coordination and outdated policies are wasting its talent.
"The very understanding of who an immigrant professional is, is totally not correct," she said. "First, we need to understand that they are not high schoolers, they are people coming in their mid-age and they are coming in with a lot of experience and at a very senior level of work experience. They are highly educated. The services that we get from these settlement agencies or these employment agencies are set at a level where you are only getting some kind of Tim Hortons job, assembly-line job or entry-level position. That is not what we need."
If Usman is elected, she will be well-positioned to begin to address these issues. The federal government oversees the immigration portfolio and has vast resources to "tweak", in her words, how companies and industries develop relationships with newcomers.
A new government planning to tackle the issue of immigration and settlement would likely need to set up its own task force or committee to hear directly from employers, experts and non-profits. Such work has been done before, by Peel's own parliamentarians.
Former Brampton Liberal MP Ruby Dhalla made the issue of foreign credential recognition her top priority in 2005, and introduced a successful motion to create a Foreign Credential Recognition Secretariat, within Human Resources and Skills Development Canada.
When it was announced, the human resources minister at the time, Belinda Stronach (elected as a Conservative before she crossed over to the Liberal Party) said, "The work of the Secretariat will help coordinate the various FCR initiatives under way to improve systems and processes so that immigrants are better able to integrate into the labour market. It is clear that Canada's future prosperity and competitiveness will depend heavily on how successful we are at integrating skilled immigrants and foreign-trained Canadians into our economy and society."
But the Conservative government under Stephen Harper undertook a number of bureaucratic changes to the portfolio and today foreign credential recognition falls largely under the jurisdiction of Employment, Workforce Development and Disability Inclusion, and also the ministry of Labour and the ministry of Families, Children and Social Development.
Critics have said the foreign credential issue and practical measures to remove bureaucratic barriers to foreign-trained workers have not been dealt with ideally by the federal government over the past decade-and-a-half, since the original secretariat was created.
The result is a confusing bureaucratic web and a wide variety of hoops to jump through.
Some qualifications, such as law degrees obtained overseas, may require significant retraining since the intricacies of legal systems around the world vary dramatically, while other skills and talents are much more universal.
"All the experience they bring from other countries is as valuable experience as anybody gets in Canada, or anywhere," Usman said. "It is diverse experience, it is international experience. There are 101 different ways of doing things."
The NDP candidate highlights the inflexibility of the Canadian system. She says retraining schemes are a key issue for families who arrive in Canada.
"It is very irrational in the sense that a person who is coming with a family has to put food on the table as well. So why is it that he's not given the opportunity of doing both?" she said. "And then you are told that you have to have Canadian experience. What is Canadian experience? Is it going to Tim Hortons and pouring coffee?"
Kaukab Usman is running for the NDP as part of the Jagmeet Singh ticket.
(Image from Isaac Callan/The Pointer)
The issue is one that pulls together key problems in Peel. It addresses questions about whether Canada's immigration system sets new arrivals up for success, unlocking talent that is being underutilized. Policy changes could also help the country recover from COVID-19, Usman said, but if little changes, talent will continue to be wasted.
"Then these people are stuck driving the cabs and they're never able to come out of poverty," she said. "This vicious cycle is affecting the social fibre of the country as well, where the families are kind of torn apart. They're never meeting at the dining table and eating food together and everyone is living in their own silos … that is why we also have so many of these emotional issues, these mental health issues, everyone is feeling so alone, so lonely. There is no connection."
She said her priority is not something that only helps newcomers in Canada. Any policies to improve how new Canadians settle in the country can boost the overall economy as well.
"I have seen that this is an industry where the immigration is a way of making money off immigrants," she said. "These are half-squeezed lemons, the juice is still there. The government does not realize that there are more potentials for bringing in the money: they have this talent that is not utilized, they totally ignore it."
---
Email: [email protected]
Twitter: @isaaccallan
Tel: 647 561-4879
---
COVID-19 is impacting all Canadians. At a time when vital public information is needed by everyone, The Pointer has taken down our paywall on all stories relating to the pandemic and those of public interest to ensure every resident of Brampton and Mississauga has access to the facts. For those who are able, we encourage you to consider a subscription. This will help us report on important public interest issues the community needs to know about now more than ever. You can register for a 30-day free trial HERE. Thereafter, The Pointer will charge $10 a month and you can cancel any time right on the website. Thank you
Submit a correction about this story