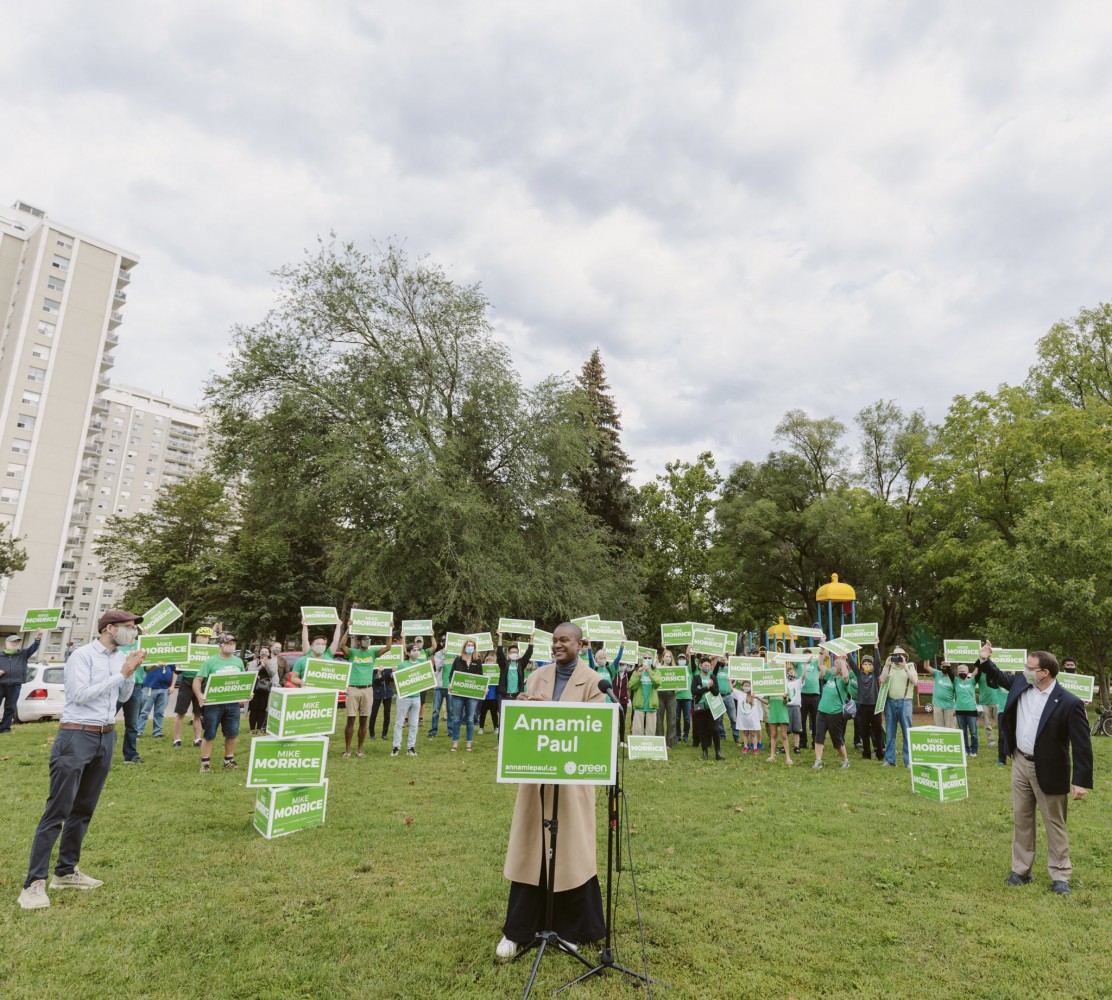 Feature image from Annamie Paul/Twitter
A Green government would help Peel reach climate goals & provide direct funding for local needs 
The Pointer is breaking down the platforms of Canada's major parties, analyzing their promises to Canadians and what they plan to deliver for Peel. These stories are not endorsements, but meant to provide information to assist voters, and a record to hold the future government accountable.
---
The Green Party of Canada is built from the foundation that "all life on the planet is interconnected and that humans have a responsibility to protect and preserve the natural world."
It should come as no surprise then that the party has the strongest plan to cut greenhouse gas emissions, protect our remaining green spaces and preserve biodiversity on land and in our oceans.
While the other political parties have jumped on the Green Party bandwagon, as Mississauga—Erin Mills candidate Ewan DeSilva describes it, putting forward plans to address the ongoing climate crisis through a varying degree of emission reduction targets and green initiatives, it's the Green Party's plan that stands out for its bold vision to transform Canada's energy future: Shut down oil and gas operations; ban the sale of combustion engine vehicles; divert federal public investments, including the Canada Pension Plan, away from fossil fuels; accelerate carbon taxes starting in 2022; ensure 100 percent of the country's electricity is produced through renewable sources by 2030.
"I think the one thing that makes the Greens a little bit different is the Greens are thinking outside the box," says Mississauga—Malton Green candidate Mark Davidson.
Reading reports from the world's leading climate scientists, they state a bold vision is what is required if the planet is to avoid the most catastrophic impacts of global warming — many of those thought to occur after the planet has warmed 1.5°C above pre-industrial levels.
"Pathways limiting global warming to 1.5°C with no or limited overshoot would require rapid and far-reaching transitions in energy, land, urban and infrastructure (including transport and buildings), and industrial systems," the Intergovernmental Panel on Climate Change (IPCC) wrote in 2018. "These systems transitions are unprecedented in terms of scale, but not necessarily in terms of speed, and imply deep emissions reductions in all sectors, a wide portfolio of mitigation options and a significant upscaling of investments in those options."
According to DeSilva, many have described the Green Party platform as a "fantasy plan". While the word fantasy conjures images of dreamy, pie-in-the-sky whims, elements of the Green platform are already becoming a reality in other parts of the world.
Sweden already has a goal to be fossil-fuel free by 2040; Denmark is aiming for the same by 2050; 95 percent of Costa Rica's electricity now comes from renewable sources, and almost 100 percent of Uruguay's energy comes from renewables.
Green Party Leader Annamie Paul hopes to position Canada as a leader in the renewable energy sector as the country's economy — currently heavily reliant on natural resource extraction — transitions toward greener technologies.
"I know that we have got to diversify our economy," Paul said during last week's English language leader's debate. "Canada will remain an energy superpower. We will be a renewable energy superpower."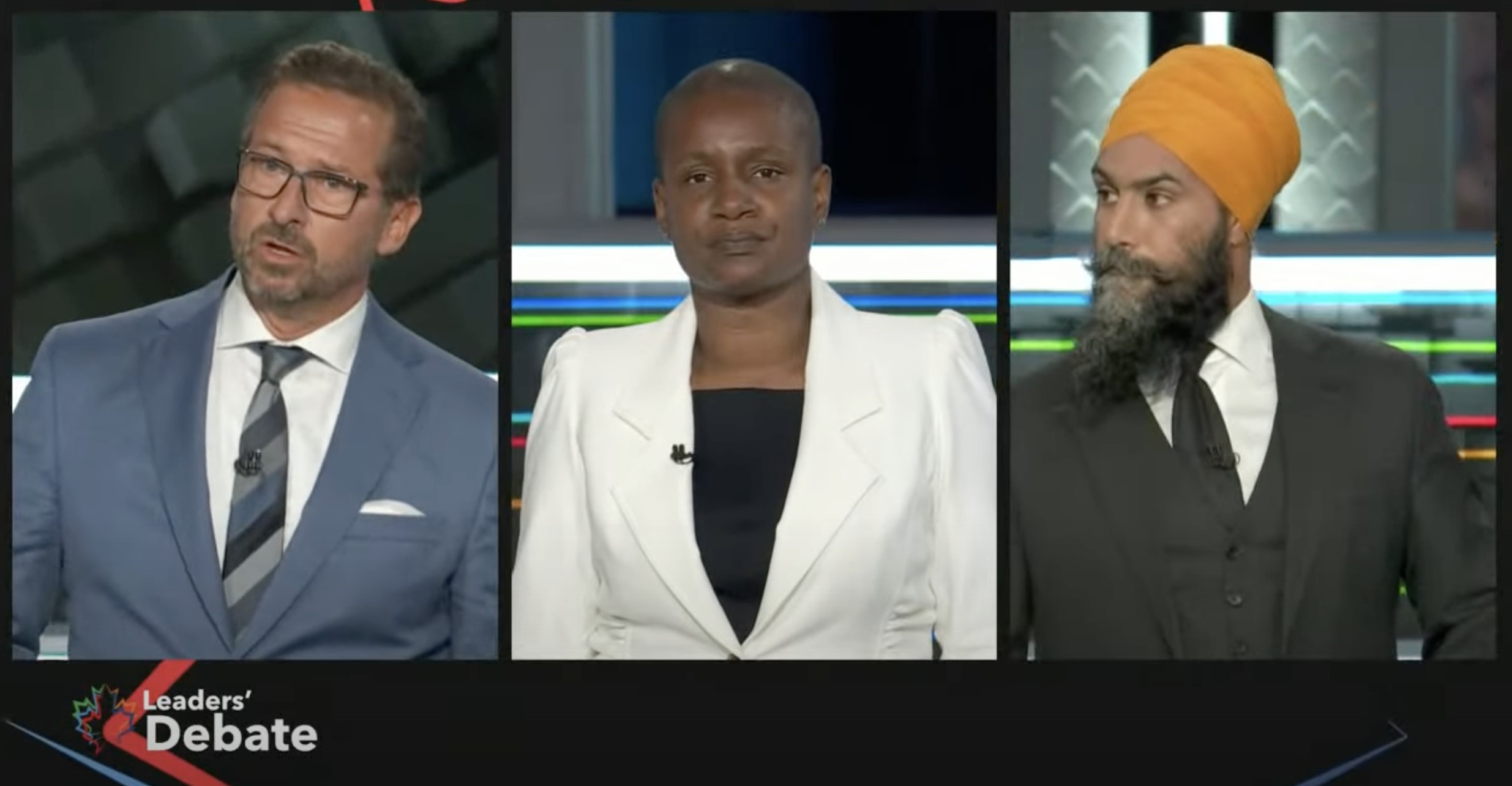 Green Party Leader Annamie Paul (centre) during last week's English language leader's debate.
Perhaps the most significant feature of the Green platform is its commitment to municipalities. It is the only party that has illustrated a genuine understanding of the situation cities are in, as they continue to deal with all of the direct backyard, day-to-day impacts that residents face at the local level. Surprisingly, the other parties largely ignored the reality that all issues are local and that national policy impacts all Canadians in their immediate communities.
Only the Greens have outlined specific assistance for municipalities and dedicated funding sources to help cities that are struggling badly with everything from infrastructure to public health. The platform states the party will:
Support the use of city charters to give greater autonomy to cities.
Make changes to the Canada Infrastructure Bank to reduce interest rates to municipalities on loans for infrastructure projects.
Institutionalize federal transfers to municipalities through the creation of a Municipal Fund, renaming the Gas Tax funds, which were delinked from gas tax revenue years ago, and retaining the same eligibility as the Gas Tax funds.
Ensure a permanent doubling of current funding to ensure predictable and reliable funding to municipalities.
Allocate one per cent of GST to housing and other municipal infrastructure on an ongoing basis to provide a consistent baseline of funding.
Answer the Federation of Canadian Municipalities' and Vancouver Mayor's Council's call for a permanent, dedicated federal public transit fund of $3.4 billion annually starting in 2026-2027, once the existing transit program expires.
Commit to a multi-year solution to transit operating shortfalls in order to protect and secure shared investments in building out Canada's transit networks for the decades to come.
Greens support the Federation of Canadian Municipalities request for rapidly scaled up funding through the Disaster Mitigation and Adaptation Fund (DMAF) to support climate resilience projects critically needed to avoid the worst impacts of climate change including: wildfire mitigation activities, rehabilitation of storm water systems.
While Liberal Leader Justin Trudeau squabbled with NDP Leader Jagmeet Singh and the Conservative's Erin O'Toole, all three of them constantly speaking over one another, prompting the moderator to interrupt and remind them to act like a group of leaders, Paul appeared calm and collected next to her male counterparts. While the others on the stage appeared desperate to convince Canadians they were the right choice to lead the country, Paul appeared content in the reality that the Green Party more than likely will not win enough seats for her to become prime minister. Instead, she pushed a message of collaboration, urging Canadians and her fellow politicians to realize it will take cooperation across party lines to tackle the climate crisis.
"This is a non-partisan issue and we have got to be able to come together across party lines," she said. "People were so inspired to see these leaders come together in the early days of the pandemic, we have got to bring that same approach here. Let's come together because that's what's needed.
"What happens next is really up to you," she told Canadians, staring directly into the camera. "We can keep moving towards a mirage…or you can send people back to Ottawa from every single party who are committed to working together across party lines on the greatest existential challenge of our time and seizing the opportunity of a truly green recovery."
With municipalities playing a crucial role in the fight against climate change, the Region of Peel, City of Brampton and City of Mississauga could all benefit greatly from a government that includes tackling the climate crisis in the foundation of its mandate, baked into its DNA.
At the top of its climate plans, the Green Party pledges to achieve net zero emissions as quickly as possible, ensuring a cut of 60 percent from 2005 levels by 2030, and aiming to be net negative by 2050.
The transition will not mean an immediate stoppage to oil and gas production, but a halting of any new oil exploration initiatives, followed by shifting high-paying oil-industry jobs to green-sector jobs.
While this will certainly be an expensive transformation, the Green's plan to eliminate subsidies to oil and gas companies could free up billions of dollars. According to The Narwhal, the Government of Canada provided over $18 billion in subsidies to oil and gas companies in 2020.
Many economists have also pointed out that the economic benefits to those countries that pursue and capitalize the transformation to a new green economy will reap trillions of dollars in profits for their private sectors while adding huge revenues to government coffers.
The Green's commitment to a steep reduction in emissions would align and support the goals of all of Peel's municipalities. The Region is aiming to reduce emissions 80 percent below 1990 levels by 2050; Brampton has a goal to reduce community-wide emissions by 50 percent from 2016 levels by 2041 and 80 percent by 2050; and Mississauga is looking to cut greenhouse gas emissions 40 percent by 2030 and 80 percent below 1990 levels by 2050 with a long-term goal of achieving net-zero.
A number of proposals from the Green Party could help them get there, including plans to create a national retrofit program for residential, commercial, institutional and industrial buildings; investments in green transit to "ensure access to zero-carbon public transportation, with high-speed rail networks between major cities, and spokes of light rail and electric bus connections across the country" and create a dedicated federal public transit fund of $3.4 billion annually; and changes to the national building code to require all new construction and major renovations of old buildings meet net-zero standards by 2030.
The Greens also plan to increase funding to municipalities, including a doubling of the existing transfers through the Gas Tax, and an increase to the Disaster Mitigation and Adaptation Fund (DMAF). The City of Brampton has received $38.8 million from this fund to support the Riverwalk project, work that is desperately needed to eliminate the flood risk in the city's downtown to allow further development. The more than $100 million project still requires significant investment, and could potentially benefit from an expansion of the DMAF.
Along with the Riverwalk, Brampton also needs funding for its LRT, and Mississauga is seeking to reintroduce the downtown loop that was cut from the Hurontario LRT and add BRT to Dundas Street, all of which could move forward with a government that prioritizes these critical transit projects.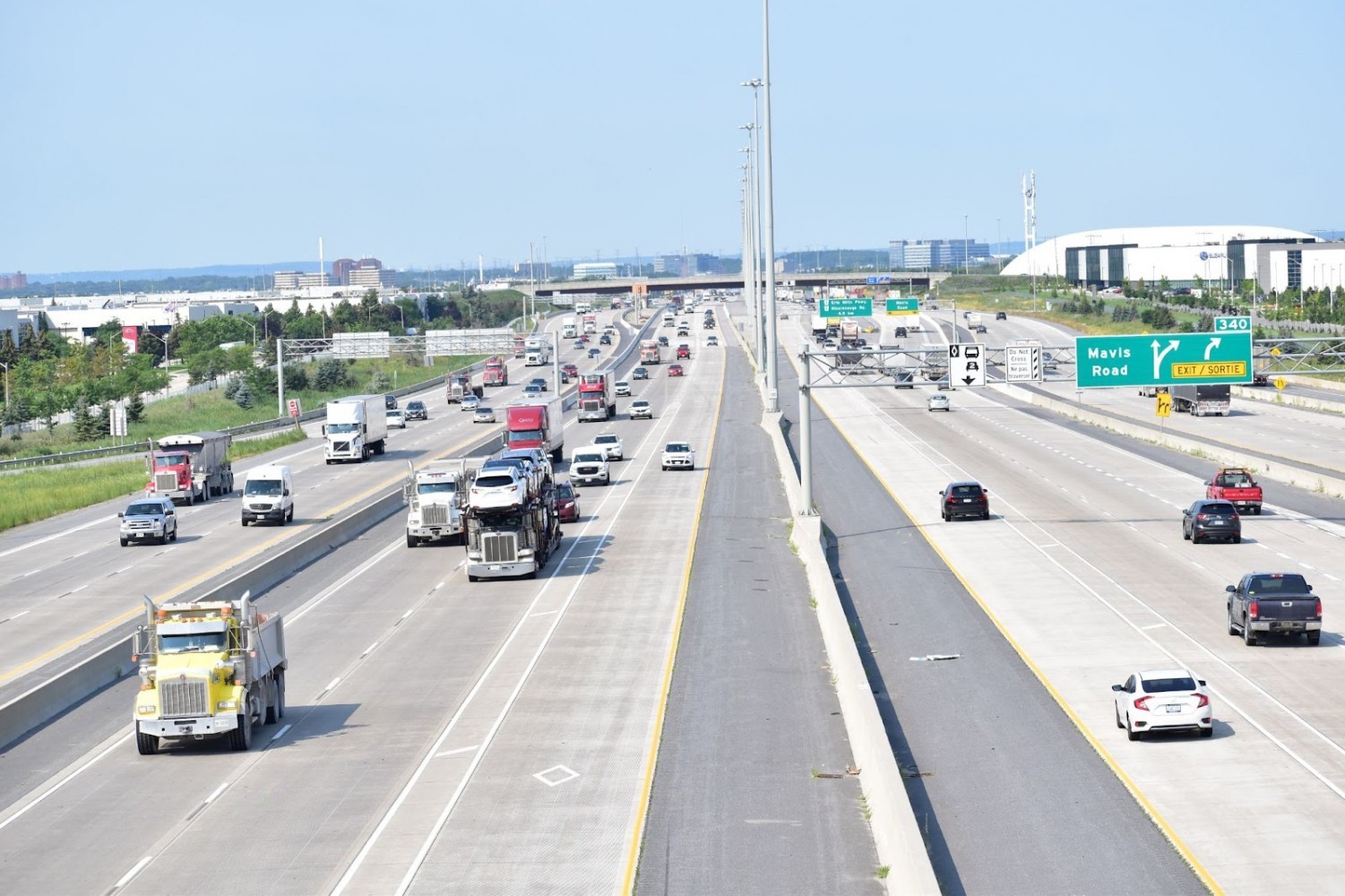 The Green Party plans to end the sale by combustion engine vehicles by 2030.
(Image from Isaac Callan/The Pointer files)
Stepping outside the environmental realm, the Greens also have plans to address many of the region's other pressing needs, including crises in housing and mental health and addictions.
"While our party is best known for its climate focus, our innovative social policies have shone through during the pandemic," Paul stated in a press release. "The urgent need for a guaranteed liveable income (GLI), long-term care reform and a safe supply to combat the opioid drug poisoning epidemic; sadly, the pandemic has proved the value of these policies over past months. There is now a growing cross-party and civil society consensus around these and other Green Party ideas."
The housing crisis in the Region of Peel is impacting the vast majority of households. It's a crisis the Region has completely failed to address, and one that relies on support from upper levels of government.
In 2018, councillors endorsed the 10-year housing and homelessness road map, titled Home For All, with ambitious targets designed to meet a desperate need. In total, the plan established Peel needed 7,500 new units annually, with at least 2,000 of them affordable, and another 5,500 at market rate. Across 10 years, the plan suggested public sector involvement to deliver 10,000 of the 75,000 units needed in Peel by 2028. It has failed to get anywhere close to those targets.
According to its platform, the Green Party plans to address the housing crisis by helping construct 50,000 supportive housing units over 10 years, and build or acquire a minimum of 300,000 units of "deeply affordable non-market, co-op and non-profit housing over a decade." The Greens also plan to expand the Rapid Housing Initiative to help promote the construction of more affordable units.
Many of Peel's social issues have been exacerbated by the COVID-19 pandemic, the opioid crisis perhaps more than others.
Despite pouring more efforts into life-saving harm reduction measures to help Peel's drug-using population, the region saw more opioid overdoses in 2020 than any previous year on record with 121 people dying between January and October 2020.
The Greens plan to increase funding to community organizations to boost drug testing capabilities to detect harmful substances like fentanyl, and provide other services to support those who use drugs. To help eliminate the stigma that plagues drug users, the Greens also plan to decriminalize possession of illicit drugs for personal use. It's something public health professionals have called for in the past.
"It is not possible to reduce this stigma while the possession of drugs is a criminal act. There is a societal shift needed, where all governments treat drug use as a public health issue and not a criminal justice issue," reads a 2020 report from Toronto Public Health.
Exploring decriminalization is also part of the Region of Peel's Opioid Strategy.
The Region of Peel is also struggling to care for those dealing with mental health struggles, particularly the region's youth. According to the local branch of the Canadian Mental Health Association, hundreds of kids are waiting over 700 days to get support with mental health needs.
The Greens plan to establish a national mental health and suicide prevention strategy while also allocating more federal investments toward community organizations with a focus on youth mental health.
Universal dental care, pharmacare, and childcare are also part of the Green Party's pledges to Canadians. In Brampton in particular, labelled a "childcare desert", plans to eliminate GST on construction costs related to childcare spaces, and a boost in federal funding to create new spaces could help bridge a large gap in the city's current services.
"For those who say Greens are dreamers, of course we are," Paul said in a press release. "We are also leading scientists, entrepreneurs, students, creatives, and civil society leaders from diverse backgrounds across the country. Take a look in your community for the great Green running to represent you, and who is ready to be your fearless, daring champion."
---
Email: [email protected]
Twitter @JoeljWittnebel
---
COVID-19 is impacting all Canadians. At a time when vital public information is needed by everyone, The Pointer has taken down our paywall on all stories relating to the pandemic and those of public interest to ensure every resident of Brampton and Mississauga has access to the facts. For those who are able, we encourage you to consider a subscription. This will help us report on important public interest issues the community needs to know about now more than ever. You can register for a 30-day free trial HERE. Thereafter, The Pointer will charge $10 a month and you can cancel any time right on the website. Thank you
Submit a correction about this story