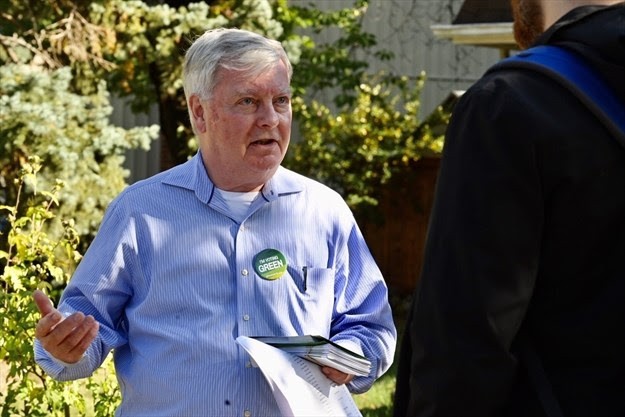 Feature image contributed
Mississauga—Streetsville Green candidate Chris Hill wants the GTA West Highway scrapped for good
Last week at the Mississauga Board of Trade debate, Green Party candidate for Mississauga—Streetsville, Chris Hill, put his foot down.
He was the only participant to explicitly say he would not support the GTA West Highway, or 413, under any condition. When The Pointer spoke to him a day later and referenced the revealing exchange, he elaborated, saying his party wouldn't support the project either.
Hill also personally opposes Highway 413 because, "I live so close to where it would be, I'm sure I would hear it every day."
For most of his life, personally and professionally, Hill has made the environment a priority; his views and lifestyle closely align with those of the Green Party. His career has taken him from getting gas vehicles off our roads to finding alternative fuel sources, a path that has stretched on for 30 years.
Hill was also head of a not-for-profit industry association called Electric Mobility Canada from 2012 to 2014. The organization dedicated itself to electric transportation in all forms.
"I was frustrated with all the policies that were being made and the fact that the job just wasn't getting done by the others," he told The Pointer. "So, if they weren't able to get the job done, I felt like I certainly could. And I would like to give it a try."
At home Hill upholds the Green's eco-friendly values his party has embodied since its creation and he's implemented sustainable practices into his life. He's retrofitted his home to a high standard of efficiency including all windows and doors, the air conditioner and heating systems.
For a decade now, he's driven hybrid cars, he hopes one day to afford a fully electric vehicle. Hill commutes 100 kilometres to work and said he needs to be conscious of the range of an electric vehicle that might one day land on his driveway.
The Green candidate is not alone in opting for a hybrid car. Fully plug-in electric vehicles still carry a significant upfront cost and, after subsidies in Ontario were scrapped for their purchase, the number of sales plummeted, immediately after the move by Premier Doug Ford following his 2018 election. Hybrids provide a fraction of the environmental benefits but appeal to commuters because they generally have better mileage than exclusively gas cars and do bring some eco benefits.
Under the current federal government, there is a $5,000 subsidy for any zero emissions vehicles (ZEV).
Hill has represented the Greens in three elections, 2011, 2015 and 2019, but his ties to the party started in 2006. A few elections ago, a reporter asked Hill how he could represent the "environmental party" when he drives a gas car.
Hill has run in three previous elections for the Green Party. September 20 will mark the fourth time his name will be on the ballot in Mississauga—Streetsville.
(Contributed)
"I had to say to her, 'Well, as I just mentioned to you, it's not the world I want just yet. It's the world that I'm aspiring to'," he recounted.
The candidate has lived most of his life in the riding and feels he understands the community and its needs, especially seeing the sleepy suburban area turn into a thriving diverse neighbourhood.
Hill has been door-knocking to fully understand the key issues of constituents, and spread his message on green ideals. He knows climate change is a top priority for many constituents, and experiencing record temperatures for much of the summer only brings the global issue closer to home.
"You know, it doesn't take the United Nations sounding a code red to get everybody's attention," Hill said. "We saw the fires in B.C, we saw what tropical storms have done, we saw the heat dome in Western Canada that killed hundreds of people. And I think we're appalled that this can even happen in our own country."
Hill knows the switch to a green economy will take sacrifice and a new approach to invest public dollars elsewhere, but he believes it is critical to help Canadians facing the everyday effects of climate change. He described the treatment of a green economy up until now as "haphazard" while we're "dealing with hell and highwater that just seems to strike from nowhere."
Another issue residents are raising to Hill is the necessity of the election. Just before August 15, a survey by Mainstreet Research and Torstar confirmed just under 65 percent of Canadians did not think it was a good time to call an election.
Hill believes the only reason the election was called was so Justin Trudeau and the Liberals could gain a majority. He believes the government was "running along smoothly" and there was not a sense of "us versus them politics." But that's changed since the decision to send Canadians to the polls.
Another key issue Hill is running on that he knows struck a chord with the residents of Mississauga—Streetsville and the country, is the mass graves found on former residential school sites. He talked of how the illusion of Canada being a fair and just society had been broken with the gruesome revelation of the nation's history, which had been hidden away from so many, for so long. Hill says reconciliation must be a priority along with providing clean drinking water to all Indigenous communities.
"We're a rich, modern and technically progressive and advanced country and we seriously have more than 50 First Nations communities that don't have safe drinking water!" Hill said.
He was introduced to the beauty of nature as a small child when his parents took him up to North Bay every summer. He adored the area and wanted to preserve the quiet, wild environment. Hill saw noise and pollution and urban lifestyles "encroach" on his Northern Ontario getaway.
For him there wasn't a lightbulb moment that defined his environmental values but rather seeing the natural Canadian heritage he holds so dearly slip away slowly, made him realize something had to be done.
"Why would we allow that to happen? We've got the opportunity to do this. We should do it now," Hill said.
If elected, the first thing he would do is gather representatives of the other parties to have a "serious discussion" on climate action. He emphasized it would not be political but collaborative, requiring input from all stakeholders, and their respective political circles.
Hill has a Masters of Business Administration from the University of Toronto and has worked with various municipalities on environmental leadership, including the City of Toronto, City of Hamilton and currently, the City of Guelph.
He is running against Liberal Rechie Valdez, Farina Hassan of the NDP, Conservative Dr. Jasveen Rattan, Gurdeep Wolosz of the People's Party of Canada and Natalie Spizzirri of the Animal Protection Party of Canada.
---
Email: [email protected]
Twitter: @taasha__15
---
COVID-19 is impacting all Canadians. At a time when vital public information is needed by everyone, The Pointer has taken down our paywall on all stories relating to the pandemic and those of public interest to ensure every resident of Brampton and Mississauga has access to the facts. For those who are able, we encourage you to consider a subscription. This will help us report on important public interest issues the community needs to know about now more than ever. You can register for a 30-day free trial HERE. Thereafter, The Pointer will charge $10 a month and you can cancel any time right on the website. Thank you.
Submit a correction about this story