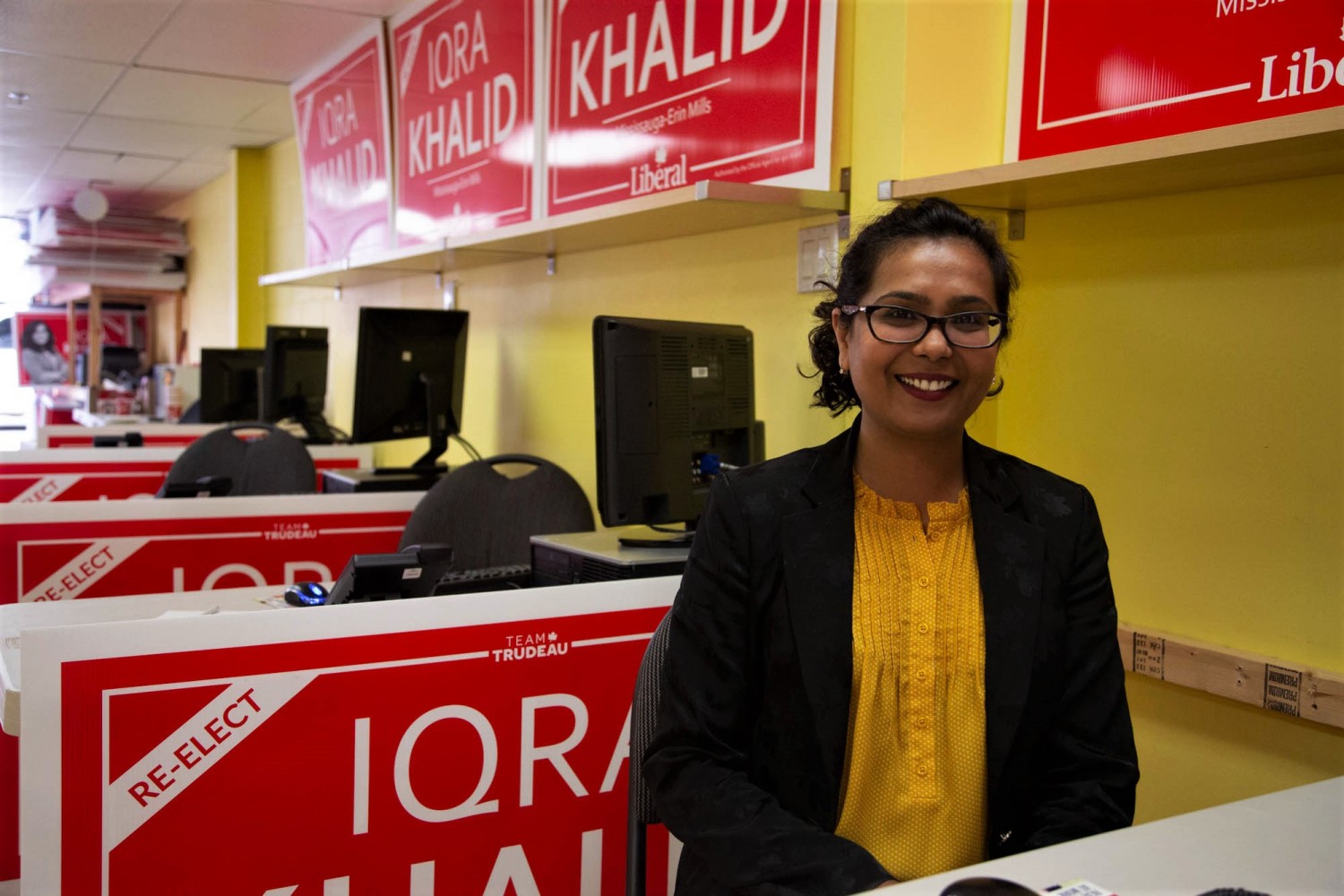 Feature image The Pointer file photos
Iqra Khalid continued her fight for equity & human rights in 43rd Parliament
The Liberal incumbent for Mississauga—Erin Mills often speaks up in the House of Commons on the issues she cares about most, issues that impact constituents across her diverse riding.
Unlike many young MPs intimidated by the imposing mood of Parliament and comfortable in the pecking order of their Party hierarchy, falling in line with other quiet loyalists in the back-benches, Iqra Khalid continued to push for women's rights, confronting gender violence and fighting other forms of discrimination. She spoke 54 times, bringing up her riding or Peel Region on 13 of those occasions.
Khalid was given the prestigious and influential role of chair of the Standing Committee on Justice and Human Rights, helping set the agenda on many of the most complex issues that millions of Canadians struggle with in their day-to-day lives.
She was also on the COVID-19 Pandemic committee and the Liaison committee, which all chairs of standing committees are part of (it largely sets the budgets and deals with the finances to operate the standing committees).
She also sat on three parliamentary associations and interparliamentary groups: the Canadian NATO Parliamentary Association (CANA); the Canadian Branch of the Commonwealth Parliamentary Association (CCOM) and the Canadian Group of the Inter-Parliamentary Union (UIPU). She spoke 1,522 times, with the majority of those occasions being while she chaired the Justice and Human Rights committee and some of its subcommittees. The vast majority of her remarks were strictly procedural, handling the management of the meeting as the chair.
In the House, Khalid often focused on what was happening in her own riding and what she was hearing from her own constituents.
"Over the summer, I heard my constituents loud and clear about the issues that matter most to them, from climate change, pharmacare and affordable housing to seniors issues, fundamental human rights and women's empowerment," she said, speaking for the first time in the House in 2019 after being reelected. "Many of these issues I focused on and will continue advocating for as we proceed in this new parliamentary session."
And records show she did just that.
A few months later she added her voice to Bill C-3, to establish a public complaints and review tool by making amendments to the Canadian Border Service Agency (CBSA) Act and Royal Canadian Mounted Police (RCMP) Act.
"Bill C-3 would fill a gap in our security review landscape. The CBSA is the only organization in the public safety portfolio without its own review body," she said in early February 2020.
For Khalid, this Bill was an important safeguard to hold those federal employees accountable at the border who treat people unfairly, like one of her constituents.
"He did not know where to go when he felt he had been discriminated against at the border. He had a complaint to file against the CBSA and felt there was no recourse for him," she told Parliament.
Many people in the riding of Mississauga—Erin Mills and in Peel Region cross the border on a regular basis. As someone with Pakistani roots, Khalid is not afraid to deal with forms of discrimination seeping into the lives of her constituents.
Later the same month she spoke twice more, once in depth about the revisions on the oath for citizenship that would include more information on Indigenous peoples; and once more to ask how much her own Liberal Party was doing to prevent workplace harassment.
It's clear that human rights and the protection of the most basic needs of her constituents and other Canadians, to live free from intimidation, harassment and discrimination, are key motivations for Khalid.
Over the course of the next few months she spoke passionately about women's rights and gender violence, and recognized the ongoing battle against Islamophobia, an issue she took a firm stand on during her first term as an MP, when she successfully brought forward a motion to address rising Islamophobia. It called for the recognition that hate against Muslims is an issue with unique dimensions, which requires unique solutions and established data gathering requirements to establish a wide range of actions, including in the criminal justice system, to counter rising Islamophobia.
Like many things in the world, some issues fell sideways with the arrival of the pandemic.
However, Khalid instead turned her focus to who the virus was disproportionately affecting and what had to be done to protect the most vulnerable.
"A few weeks ago, I had a really heart-wrenching conversation with a constituent who outlined her struggles. She is a single mom, a personal support worker and a mother of three children," Khalid said in October 2020, "She and thousands more like her have been faced with the challenge of a lifetime. While this pandemic has taken its toll on every Canadian, it has taken a bigger toll on women."
Once again, her instincts were to view the ongoing public health crisis through a human rights lens, focussing on those impacted most severely, and often due to structural inequalities in our society that Khalid continued to confront as a parliamentarian.
She also rose to inform the House of her conversation with Chief Nishan Duraiappah of Peel police on the increased incidence of domestic violence in Mississauga and Brampton during the pandemic, as lockdown measures often put women in more danger. She referred to the $50 million investment by the Liberals to combat gender-based violence and how the plan had been assisting those who faced a horrific reality, being stuck inside homes in isolation, with their abusers, during the pandemic.
Despite the pandemic raging through the end of 2020, Khalid stayed focussed on the issues she set out to tackle. On December 4, 2020 she spoke about the shooting at École Polytechnique in Quebec ahead of the day that marked 31 years since the mass murder that took place there. She highlighted the murderous attack against women and asked the minister of public safety what was being done about gun control to ensure assault weapons often used for such targeted mass shootings would be banned in Canada.
She has consistently spoken up on International Women's Day and continued to make remarks about the ongoing equity issues women face. Khalid entered debates focussed on educating and discussing women's rights. On March 25, she shot back at a Conservatibe MP who blamed most violence against women on pornography.
"I have a lot of concerns about the member blaming the pornographic industry as the sole reason for intimate partner violence, gender-based violence and toxic masculinity," Khalid said.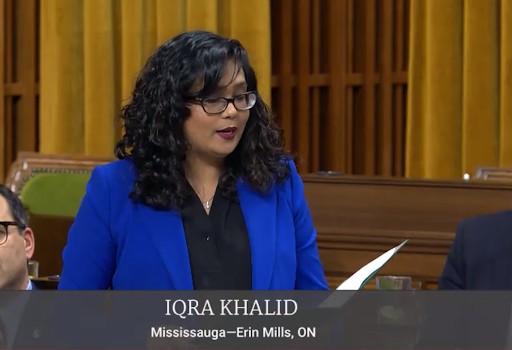 Iqra Khalid standing in the House of Commons speaking about workplace harassment. (screenshot from Government of Canada)
The incumbent from Mississauga—Erin Mills was also quick to point out other members of the House who did not support fundamental women's rights. Bill C-233 was a failed Conservative private member's effort to amend the criminal code on sex-selective abortion. Khalid quickly spoke her mind during the debate.
"Mr. Speaker, it is 2021, yet there are still those who would debate a woman's right to choose what happens to her own body. Today we will be voting on a Conservative MP's bill, Bill C-233, which is yet another attempt to police women's bodies. It is an attack on women's autonomy over their bodies by the Conservatives," she said June 2 of this year, shortly before the bill was defeated on the same day.
While she consistently fought for women's rights across the nation, she also mentioned issues in her own riding and across other parts of Peel, sometimes highlighting the work of local women's shelters and organizations. She often used personal stories from her constituents to underscore her point.
Khalid's second term saw her gain prominence through her role as chair of the human rights and justice committee, and it seemed to carry over in the House of Commons, where she spoke more often than during her first term, when she rose only 88 times across four years.
Khalid is running against James Nguyen of the Conservative Party, Kaukab Usman of the NDP, the Green's Ewan DeSilva and Michael Bayer of the People's Party of Canada.
---
Email: [email protected]
Twitter: @taasha__15
---
COVID-19 is impacting all Canadians. At a time when vital public information is needed by everyone, The Pointer has taken down our paywall on all stories relating to the pandemic and those of public interest to ensure every resident of Brampton and Mississauga has access to the facts. For those who are able, we encourage you to consider a subscription. This will help us report on important public interest issues the community needs to know about now more than ever. You can register for a 30-day free trial HERE. Thereafter, The Pointer will charge $10 a month and you can cancel any time right on the website. Thank you
Submit a correction about this story