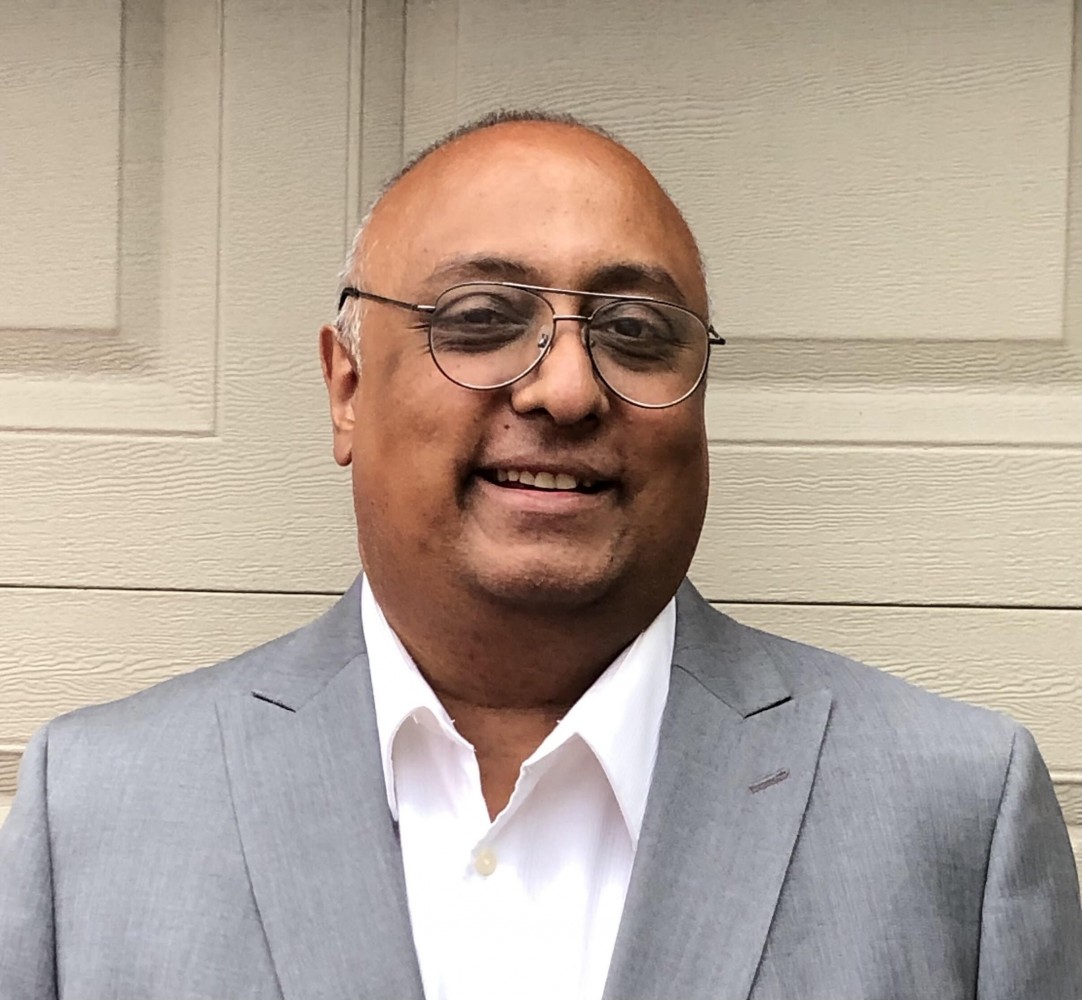 Feature image from Green Party of Canada
Mississauga's priorities are the Green Party priorities, Ewan DeSilva says 
Ewan DeSilva is having the kinds of conversations people seldom have with strangers. It's not the weather on his mind, he's talking to Mississauga residents about what they want for their future.
As part of the novel experience of campaigning, the first-time candidate is visiting approximately 200 homes every day. He has repeatedly heard that residents are reluctant to cast their vote for the Greens, not because they disagree with any particular platform or policy plank, but because they see a Green vote as a wasted one.
"I've heard a lot of that door to door," he says. "I've had people tell me, 'Why should I vote for you, you're going to lose anyway'." Others have said they wish to use their vote strategically to avoid a Liberal or Conservative government.
DeSilva, running in the riding of Mississauga—Erin Mills, has a steep hill to climb. In the last two elections, the Green Party has failed to generate any real support, trailing behind the other three major parties.
But there are signs of hope.
In Mississauga—Erin Mills, the party more than doubled its vote share in 2019 compared to 2015, garnering 3.6 percent, up from 1.6 in 2015. Similar results for the Greens were recorded in all 11 ridings in Brampton and Mississauga.
"If you don't vote for Green, we can't be a contender, we need that support and that vote, it's not a waste, you're doing your civic duty," DeSilva says.
He has lived in Mississauga for close to 20 years. A chemist by training, work which has included studying persistent organic pollutants, things like pharmaceuticals, that make their way from our wastewater into the environment, he has spent several years now working in quality assurance in the cannabis industry.
The political rookie is facing off against Mississauga—Erin Mills Liberal incumbent Iqra Khalid, who won her second term in office in 2019, with 53.5 percent of the vote. James Nguyen is running for the Conservative Party in the riding and Kaukab Usman for the NDP.
While climate change has loomed over elections in recent years, the delivery of the most recent report from the Intergovernmental Panel on Climate Change (IPCC) and the launch of the United Nations Decade of Restoration, has made the warming of our planet the top issue for more and more voters who understand there's little point squabbling about tax rates and foreign policy, if we have no place to inhabit.
All the major parties — save for the climate-change-denying People's Party of Canada — have plans to address the climate crisis and limit emissions by varying degrees in the coming decades.
With a foundation built on protecting our natural world, it's no surprise the Green Party has the most ambitious plan to transition Canada toward a green economy and drastically cut emissions from fossil fuels.
The Conservative Party of Canada plans to cut emissions 30 percent by 2030 from 2005 levels — in line with the Paris Agreement targets. The Liberal Party — despite not being able to reduce national CO2 emissions in six years of government — vow to reduce them by 40 to 45 percent by 2030. The NDP have promised to cut emissions 50 percent by 2030.
The Green Party pledge, described by some as a "fantasy plan" according to DeSilva, is a giant leap toward carbon neutrality. The platform promises a 60 percent reduction in emissions from 2005 levels by 2030 with an aim to achieve net-zero as quickly as possible. The Greens plan to get Canada to a net-negative position — a state that would see Canada pulling more CO2 from the atmosphere than it is emitting — by 2050.
"It's really for our children's future," DeSilva says. "Really we have to do something now. It's a little late in the game, 30 years ago would have been definitely better, but we will have a chance to mitigate the risk."
Mississauga-Erin Mills candidate Ewan DeSilva (right) with Green Party Leader Annamie Paul.
(Photo from Ewan DeSilva/Facebook)
According to the IPCC, the risks are substantial — flooding, food scarcity, species loss, increased severe storm events, mass climate migration — and limiting warming as quickly as possible will help mitigate these catastrophic impacts.
DeSilva says many of those sitting in Ottawa say the right things when it comes to dealing with climate change, but have done little to take the steps necessary to start transitioning Canada's economy, transportation systems, and power grids away from fossil fuels.
"They say what they want to get elected, and once they get elected things get worse."
He admits that many of the pledges in the Green Party platform, including the complete phase-out of oil and gas industry operations, and the elimination of combustion engine vehicles by 2030, can be difficult to swallow for many people. But it won't be like flipping a switch.
"There has to be a graduated plan in place to reduce those emissions," he says.
DeSilva still drives a car that runs on gasoline, and realizes that for many families, the costly price tag of many electric vehicles is untenable. The Green transition would not start with those who can't afford such changes, DeSilva says, instead, it is about ensuring those who can afford to transition, are considering that option, and then incentivizing them through grants and buy-back programs to make the change.
"The government can help," he says. "We should be able to help because what we're trying to do is save the country, and the planet in the process."
This also means aligning government priorities with those of local municipalities tasked with the complex role of implementing many of the frontline changes — transportation infrastructure, waste management systems, flood mitigation to name a few — that will be critical in the battle against climate change.
In Mississauga, this means implementing new transportation options like the Hurontario LRT — the City is pushing for the Port Credit loop to be restored after it was removed by the provincial government due to cost constraints — and the Dundas BRT, both of which DeSilva says he will push to make a priority with the Green Party. The City has also made it clear that investments from the federal government will be crucial in order to fully implement its climate change strategy.
"Everyday wear and tear as well as the impacts of climate change such as severe storms and flooding are taking a toll. Each year, we need more and more funding to keep our infrastructure in good working order. We need a committed federal partner who will invest in maintaining and building safe, accessible and sustainable infrastructure to keep Mississauga moving forward," reads a letter from Mayor Bonnie Crombie, published as part of the City's Mississauga Matters campaign.
The campaign also points to issues with affordability, especially when it comes to housing.
For DeSilva, with a daughter that just entered high school, he's thinking a lot about her future, and what it will look like. He says the Green Party has many plans to make life easier for young Canadians, including platform planks to abolish post-secondary tuition.
The "Education for All" Plan, estimated to cost $10.2 billion annually, would be partially offset by redirecting current spending on tuition tax credits and saved costs of administering the student loan system, according to the Party's platform.
"Those are things that I'd like to push for as well," he says.
---
Email: [email protected]
Twitter: @JoeljWittnebel
---
COVID-19 is impacting all Canadians. At a time when vital public information is needed by everyone, The Pointer has taken down our paywall on all stories relating to the pandemic and those of public interest to ensure every resident of Brampton and Mississauga has access to the facts. For those who are able, we encourage you to consider a subscription. This will help us report on important public interest issues the community needs to know about now more than ever. You can register for a 30-day free trial HERE. Thereafter, The Pointer will charge $10 a month and you can cancel any time right on the website. Thank you
Submit a correction about this story