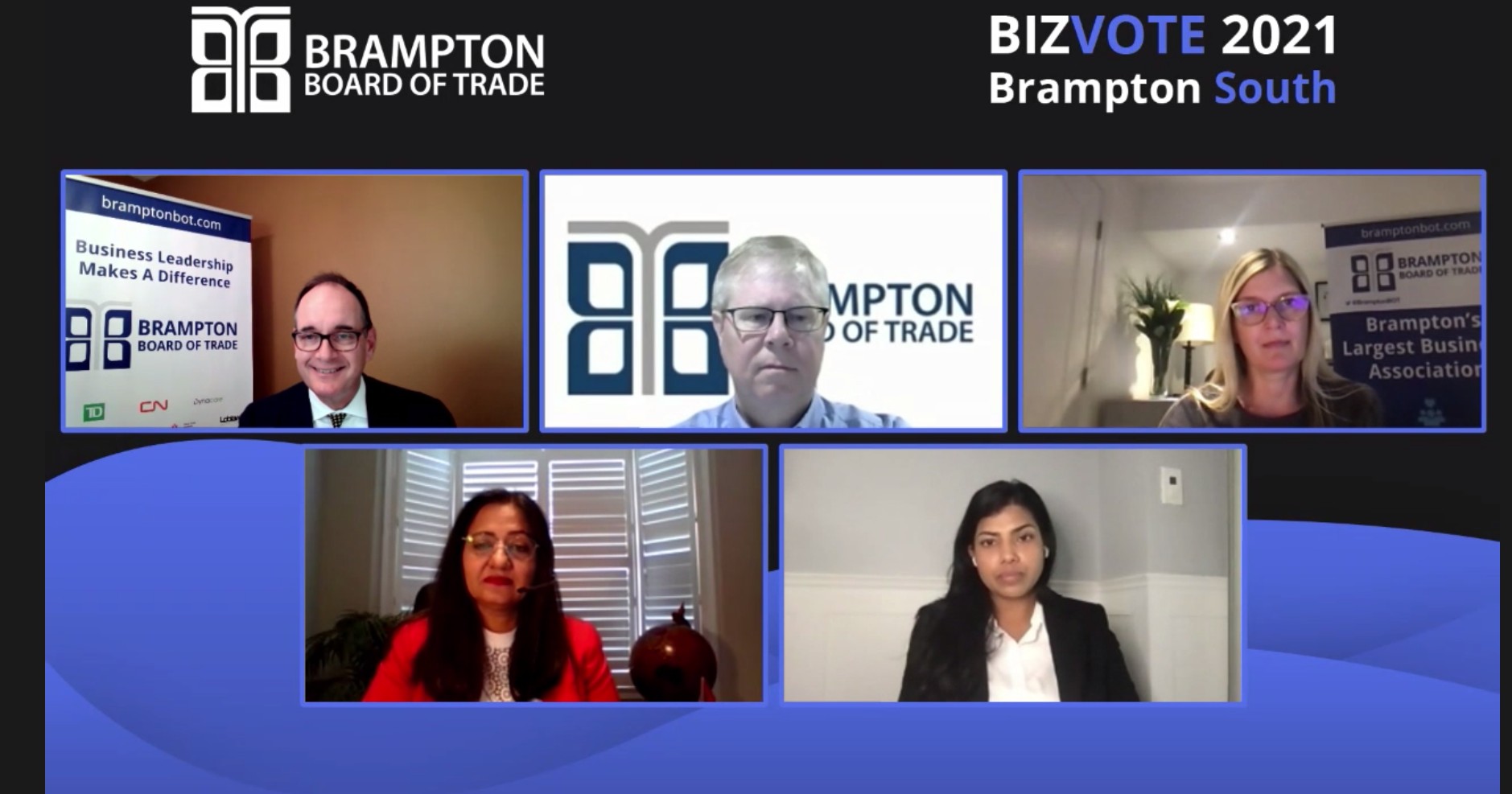 Screenshot from Brampton Board of Trade Debate
Liberal incumbents participate in Brampton Board of Trade debate, many NDP, Green and CPC candidates decline
As September 20 nears, debates offer voters crucial insights about candidates, their trustworthiness and the platforms of their party.
Nationally, the leaders' debates are watched by millions of Canadians still trying to negotiate who would make the best prime minister. Historically, some leaders clinch the job by performing well in debates; others show their true colours and start plummeting in the polls.
After the lone English language leaders' debate Thursday, many Brampton voters are turning their minds to the local candidates vying to represent Canada's ninth largest municipality, which faces a range of needs that have been neglected by federal leaders for decades.
Brampton has one of the largest immigrant populations in the country, a willing partner of the federal government in its ongoing support of progressive immigration policy to boost the economy while accepting newcomers escaping persecution and seeking to unite with family members.
Unlike many municipalities that avoid zoning and planning policies to accommodate immigrants, Brampton has adapted its planning approach and issued building permits for relatively affordable housing at a dizzying rate over the last three decades (the market, however, has pushed previously moderate housing prices into another, more unaffordable level in recent years).
But Brampton has received little in return from Ottawa over the same period. As a result, a healthcare crisis has escalated—although a provincial jurisdiction, the federal government can advocate for fair-share funding and put pressure on Queen's Park to allocate funding based on need, while specific grants for program delivery can also be used by Ottawa to address chronic under-funding of healthcare in a community like Brampton.
Meanwhile, infrastructure funding from Ottawa has been woeful and assistance for needs such as childcare has been absent.
Each election, the parties and their leaders line up in Brampton with little to offer for the city's specific needs, but ask for local voters to support them anyway.
On Thursday a debate was hosted by the Brampton Board of Trade (BBOT), which represents a few hundred businesses in the city that rely on a healthy local economy, healthy and happy residents, and the type of modern infrastructure to keep Brampton from falling behind in the fierce competition across the GTA for jobs, commercial opportunities, employees and investment.
Questions and discussions during the debate were facilitated by the BBOT and revolved largely around assisting small businesses through the ongoing pandemic and lifting the struggling local economy. The only parties invited to participate were those that have previously held a seat in government, this excluded any independents or People's Party of Canada candidates.
The Pointer recorded all the BBOT debates and used the transcript to generate word clouds of the most mentioned subjects. Filler words were omitted from the final photo.
(Graphic by Natasha O'Neill with Word Art)
One panellist asked each participant how they would close gaps that cause Brampton residents to look elsewhere for work, often leaving the city for good.
Liberal candidate Shafqat Ali (Brampton Centre) responded first to the question, but due to technical problems The Pointer was not able to fully understand his entire statement. Ali did mention at one point a new hospital for Brampton, noting the creation of such a facility would bring not only healthcare relief to the city but also create opportunities for various professionals in the industry to settle in Brampton.
NDP candidate Jim McDowell (Brampton Centre) was second to respond and he challenged Ali, saying his Liberal Party, "has done nothing" for job creation and retention in Brampton.
"When you look at what's happened with the light rail transit (LRT) for Brampton, it stops at Steeles (Avenue)," McDowell said. "For any type of major investment in our community, we must have mass transit, and the Liberals have done nothing in regard to making sure that Brampton has mass transit."
Editor's note: The LRT funding issue does not involve the federal government. The Ontario provincial government under the previous Liberal leadership approved funding for the Hurontario-Main LRT, but Brampton City Council rejected the route pushed by provincial transit agency Metrolinx, resulting in the project's termination at Steeles Avenue.
Many in the city's business community have advocated for better transportation and transit to move employees, customers and goods more efficiently in and out of Brampton. Creating faster, reliable transit could assist businesses trying to establish themselves and thrive within the municipality while creating more opportunities for residents who would benefit from increased mobility.
Conservative candidate Jagdeep Singh (Brampton Centre) also attacked the Liberal government and its failure to help job creation in Brampton.
"Under the Liberal government the economy has shrunk," Singh stated. "You want to narrow that gap by creating projects like Riverwalk construction, which will add $256 million to the Canadian economy and creating 2,200 full-time jobs." It's unclear where his numbers are from, but Singh questioned the actual Liberal commitment to the Riverwalk project, aimed at mitigating flood risk caused by Etobicoke Creek, lifting downtown development restrictions and beautifying the city-centre area.
An environmental assessment (EA) of the project has been completed and approved. If everything goes accordingly, construction on the new downtown waterway should start in 2023 and conclude by 2026. If any problems arise, stakeholders hope delays won't push completion beyond 2028. This corresponds with the expiration of $38.8 million the federal government committed for the project in November. This is a fraction of the $107 million it will cost, at a minimum, just for the flood mitigation elements. The federal government funding is contingent on the City of Brampton budgeting for its share, which it has not yet done.
The full project, including the beautification features and surrounding upgrades, could cost more than double the $107-million figure.
An important issue to BBOT members and other employers is the potential GTA West Highway, or Highway 413 project. The question posed by Steve Stevens of RioCan (real estate), a director on the board of trade, asked candidates if they felt the federal government was intervening unfairly by conducting its own current assessment for the highway.
Singh dodged the question, but said a Conservative government would invest heavily in infrastructure to make sure the transportation of goods continued across the province.
"A conservative government will immediately get shovels in the ground on projects, including transit, road, rail and broadband projects," he said.
McDowell pointed blame at Doug Ford and his Conservative government, saying they have pushed "massive cuts to infrastructure."
"It was the reason why we lost the university, it is the reason why we have not been able to get light rail transit, because these services, these incredibly important infrastructure programs, have been cut by the Conservatives," McDowell stated.
Due to bad sound quality, The Pointer could not understand Ali's response to the question.
During the Brampton East debate, NDP candidate Gail Bannister-Clarke, Conservative Naval Bajaj and Liberal Maninder Sidhu answered questions on child care and housing.
A question directed at Sidhu, the incumbent, on the supply and demand for housing, asked if a Liberal government would help create more housing stock for Bramptonians.
Sidhu stuck mostly to Liberal Party talking points in his response such as the promise of up to $40,000 from tax free savings accounts to purchase a home and banning foreign ownership for two years to cool the housing market.
Commonly heard words during the Brampton East debate.
(Graphic by Natasha O'Neill with Word Art)
In terms of working with provinces and municipalities on increasing supply Sidhu said, "we've got a big country, and we have a lot of places where we can build."
Bannister-Clarke of the NDP explained how her government would build 500,000 affordable homes across Canada and provide relief to renters through a rental benefit program. The candidate also touched on a 20-percent levy that would be put on international buyers to remove some of the outside capital that acts like rocket fuel in the housing market.
Conservative candidate Naval Bajaj echoed the need for fewer international buyers purchasing in Canada to create a more affordable market.
"One of the things that Liberals have failed to address in Canadian real estate [is that it's] being used by the foreign groups to launder money," Bajaj said.
Another panellist asked candidates how they would create more childcare spaces in Brampton. Having access to affordable childcare is a huge need in a city identified as a childcare desert, a situation which has worsened during the pandemic, with many women forced to stay home due to high costs and the lack of childcare in the city. Having more childcare spaces in Brampton could largely benefit the local economy by allowing more people (women in particular) to be able to stay in the workforce.
"It's very important that we get our economy back on track, there is no plan, the Liberals have today to get the economy back on track with no plans to create the jobs," Bajaj said. "It's just empty promises, year after year."
The Conservative candidate did not directly answer how or where he would create childcare spaces but turned the discussion to the root of the problem—a lack of jobs within the local economy that puts pressure on Brampton workers.
Sidhu challenged the Conservative plan for a tax credit aimed at lower income families to put more money in their hands for childcare, instead of the Liberal plan to create $10-a-day childcare for all families, stating, "Their tax credit to rich families will do nothing to increase childcare spaces, our plan will create 250,000 places."
The Conservative childcare plan does not include benefits for high-income earners.
"The NDP believes that childcare centres investments in our families, our future and our economy, and we will invest $1 billion in childcare and grow that investment annually," Bannister-Clarke said.
The Brampton North debate had Ruby Sahota as the sole representative for the riding. Conservative candidate Medha Joshi declined the invitation, Teresa Yeh of the NDP was unable to be reached and the BBOT said there was no Green candidate.
Sahota faced questions of pandemic preparedness and was asked about her accomplishments as an MP.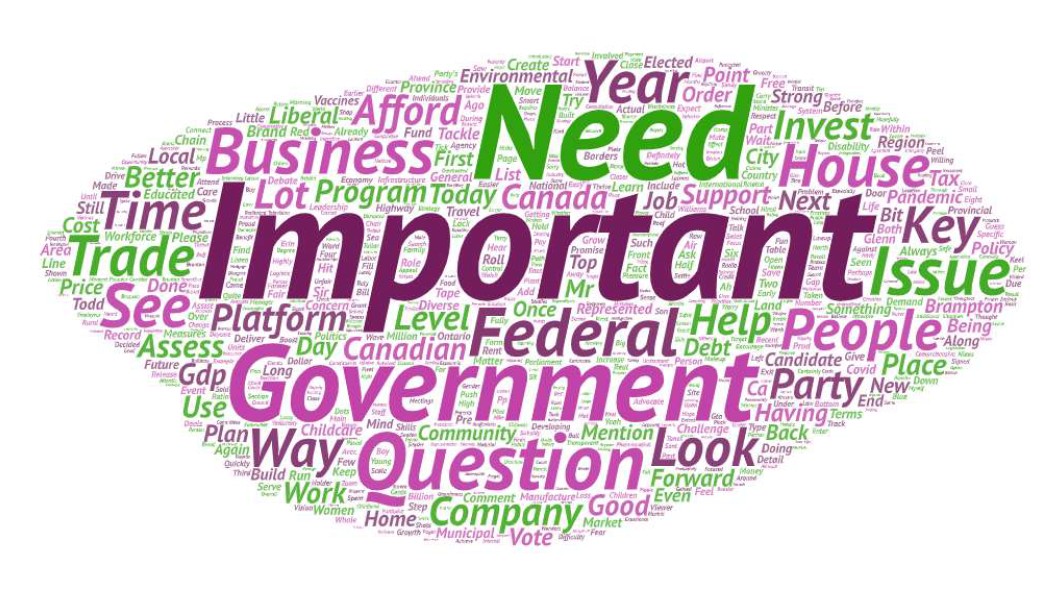 The most common words incumbent Ruby Sahota said. (Graphic by Natasha O'Neill with Word Art)
A member of BBOT asked her to explain how her government would be better prepared for "the next catastrophic event."
Sahota said growing Canadian vaccine production capacity to make sure the country isn't relying on foreign suppliers is extremely important.
"We've invested right here in Peel, over $200 million has been invested into a Mississauga company, so they can manufacture booster shots and vaccines right here in our region," the incumbent responded.
Sahota was then asked if she ever opposed positions that aligned with the Liberal Party. Sidhu was asked the same but largely avoided the question.
Sahota answered more directly. "There have absolutely been situations where I disagree [with my party.]"
She referenced her voting record but did not offer a specific example of voting against the Liberal Party line on any particular matter.
"If it's something I've run on, then you can expect that it is something I will vote in favour for," Sahota said. "If it's something else that comes up along the way, an issue that was not a part of our platform, then you can expect for me to vote my conscience."
The Brampton South debate saw NDP candidate Tejinder Singh-Dabb and Liberal incumbent Sonia Sidhu square off against one another, while Conservative candidate Ramandeep Brar was unavailable to participate.
Singh-Dabb did not answer a question about funding for the Riverwalk project, saying she did not have a position on the issue, yet.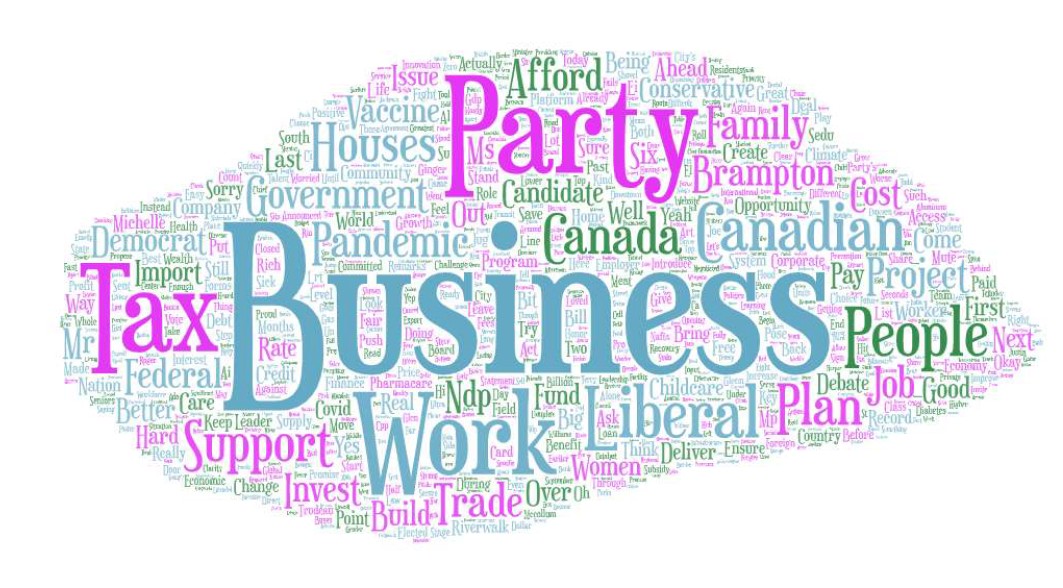 The most common words Sonia Sidhu and Tejinder Singh said during the debate for the riding of Brampton South.
(Graphic by Natasha O'Neill with Word Art)
The young NDP candidate remarked how nervous she was to participate saying, "This is my first ever debate."
Sidhu, elected in 2015 and again in 2019, said she worked hard to bring the Riverwalk project funding, but has never explained what she did. There is no parliamentary record of any specific work done by the MP to secure the funding, however she could have met with senior government officials behind the scenes. Sidhu said she promised to work on funding for the project at the last BBOT debate in 2019.
"I can say proudly, you know, we delivered that with the Riverwalk project," she stated.
The $38.8 million pledged by Ottawa will help cover the estimated $107-million base cost for the project. Constituents and City Hall have called for more project funding from higher levels of government.
Sidhu was asked about the city's hopes to bring the LRT into downtown, from Steeles Avenue, where it is currently set to end. "If you're elected and your party forms government, can we count on the Liberal government to contribute a third or more to this project?"
The incumbent responded, dodging any commitment and saying she will continue to advocate for support to make Brampton a world class city.
Singh-Dabb took a stronger stand.
"I would push for that because I want more businesses to come into Brampton, and the only way to do that is to bring in an easy way to commute for both employers and employees," the NDP candidate said.
The Brampton West debate wrapped up the BBOT event. Only Liberal Kamal Khera attended. Conservative Jermaine Chambers and the NDP's Gurprit Gill declined the invitation.
Khera was asked about the city's plans to develop the local innovation economy and how her Liberal government could have handled the pandemic better.
The most common words Kamal Khera used during the debate.
(Graphic by Natasha O'Neill with Word Art)
The incumbent said infrastructure investments for transit and creating more complete, walkable communities would benefit job creation in the local technology sector.
"We're going to continue to make sure we're gonna keep going, we're going to reform the scientific research and experimental development programs to reduce any red tape in the means of consultants and better align eligible expenses to today's innovation," she said.
The Liberal candidate did not provide any areas of improvement her government could have focussed on to better handle the pandemic. She was asked the question twice by a panellist.
Khera pointed to how quickly her government moved to provide benefits to those struggling in "unprecedented" times.
"We left no stone unturned to move forward, and we're going to continue to do that for everyone," she said.
---
Email: [email protected]
Twitter: @taasha__15
---
COVID-19 is impacting all Canadians. At a time when vital public information is needed by everyone, The Pointer has taken down our paywall on all stories relating to the pandemic and those of public interest to ensure every resident of Brampton and Mississauga has access to the facts. For those who are able, we encourage you to consider a subscription. This will help us report on important public interest issues the community needs to know about now more than ever. You can register for a 30-day free trial HERE. Thereafter, The Pointer will charge $10 a month and you can cancel any time right on the website. Thank you
Submit a correction about this story