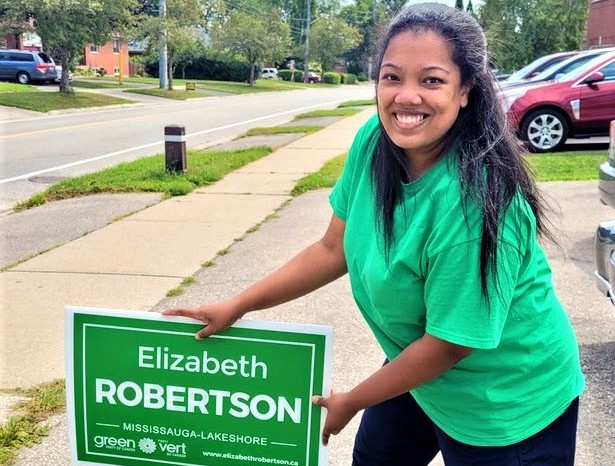 Feature image from Elizabeth Robertson/Twitter
Green candidate Elizabeth Robertson: justice for nature in Mississauga—Lakeshore & money for cities
"Ninaskomitin, Gdi-mokaagoom, Bonjour, Hello."
Greeted in Cree, Ojibwe, French and English is how residents are welcomed by Elizabeth Robertson's Green Party website.
A woman of many cultures, Robertson reflects the pluralism that defines the city she wants to represent, and she is running in this election on a platform of human rights, climate action and equal opportunities for the residents of Mississauga—Lakeshore.
She believes there is no climate justice without social justice.
Robertson has lived in Toronto with her husband and three kids, but has close ties to the riding and wants to be a viable option for those voters whose priorities align with the Green Party of Canada's policies and vision for the future.
Mississauga—Lakeshore runs along the shoreline of Lake Ontario and hosts tourist destinations like Port Credit's marina area, small businesses and some of the city's toniest neighbourhoods, old and new. The thriving features of mother nature, from creeks and mature trees to all the sensitive elements of the Credit River watershed and the waterfront of the Great Lake, attract many to the riding, as visitors and residents.
But these features are facing unprecedented pressure from human activity.
After the heavy industrialization of the waterfront throughout the first seventy years of the last century, large-scale restoration of former brownfield sites is occurring across the riding, such as the Jim Tovey conservation area, the massive Lakeview Village development and the Brightwater project.
Along with diverse needs from all constituents such as housing, protecting shorelines and other green spaces, residents need an MP who will elevate other local concerns in the House of Commons, Robertson says.
Her platform, linked to the Green Party vision, calls for support for city charters to give municipalities more autonomy; reducing loan-interest rates for municipalities to fund infrastructure projects; creating a direct, permanent municipal transfer similar to federal transfers used for the provinces; committing one percent of the GST to fund municipal affordable housing needs with a mandated formula; and a firm, long-term policy to fund municipal transit expansion.
The average age of the riding is 42.2 according to Statistics Canada Census data from 2015, predominantly constituents speak English at home, while a small minority speak neither French nor English.
Elizabeth Robertson strategizing with other Green Party members during the campaign.
(Image Twitter-Elizabeth Robertson)



For Robertson, her first interaction with the area was taking her kids to visit Port Credit.
"I've been so embraced by the community," she told The Pointer.
Robertson was approached by some members of the riding, asking if she would run as a candidate in the election so there was another option for diverse residents. Since, she's immersed herself in the community, describing its residents as "progressive" and "engaged."
Robertson is pursuing two masters degrees in public administration and constitutional law, and community leadership and engagement at York University. Prior, she completed an honours degree in political science and graduated in 2020.
She faced many challenges and did not pursue her post-secondary education until later in life.
Her mother fled El Salvador and came to Canada as a refugee and her father gained immigrant status from Jamaica as a commonwealth citizen.
"I feel I have both of those backgrounds," Robertson said, "so one, fighting and fleeing violence and poverty, and the other, a deep respect for our constitution and institutions."
She grew up in Ontario and attended high school before applying to university in her 20s, but a range of challenges forced Robertson to drop out and start working. She continued working multiple entry level, low paying jobs just to get by.
After meeting her husband at the Native Canadian Centre where they both worked, they eventually started a family and Robertson decided to pursue higher education. Juggling children and work, she eventually completed her requirements for a degree in political science, then jumped right back into education to obtain her masters.
"Going from customer service job, to customer service job… being able to move out of the cycle of poverty, for me and my husband it was just not possible," Robertson said.
When Ontario introduced a free tuition program for low-income families, Robertson was able to go to school without worrying about the high costs of post secondary education.
She was eventually drawn to the idea of giving back and entering public life to do so, finding a unique connection with the Green Party.
"I decided to run to poke the bear. I'm going to push the big parties and say, 'Hey, because of this one policy, it dramatically changed my life'. And they have the power right now to do so much, but they choose not to."
While Peel has many pressing issues that need attention from the federal government, Robertson named three she will fight for in Ottawa if elected.
Robertson is running against Liberal incumbent Sven Spengemann, Progressive Conervative Michael Ras and young NDP candidate Sarah Walji.
(Contributed)
The first is to create permanent funding for the Green Municipal Fund, a stream of money to all cities assisting them to switch to more sustainable practices. It would create stable funding for businesses attempting to retrofit their property, charities and organizations implementing and educating greener technologies and for municipalities to kickstart their own range of green initiatives to meet approved emissions reductions targets.
"The green municipal fund is a great opportunity where the federal government, with their federal spending power, can go in and allow a program for municipalities to have money," Robertson told The Pointer.
Tying in with her green platform, Robertson also wants to see a sustainable transition away from fossil fuels. She admits many of her party's candidates want fossil fuel subsidies to end immediately, but Robertson understands the "shell shock" that would create among many who still rely on the current carbon-based economy.
Instead, she wants to propose a fossil fuel subsidy reform, to start "trickling down their money while trickling up the taxes."
This would ensure impacts on the economy can be minimal while also reaching carbon emission targets in a two-way transition—allowing green technologies to take hold, while moving the oil and gas industry and its workers into these new economic opportunities.
Robertson also believes young kids and seniors need to be prioritized in this election. Stories from all over Peel are heard about those less fortunate trying to create a good life while simultaneously fighting to keep their head above water.
"I've been priced out, we've had to move so many times because landlords that are very ambitious will change the price of the rent, and you get priced out," Robertson said.
She understands what it's like to live paycheque to paycheque, and wants more assistance for seniors and young people, the two ends of the economic spectrum where most financial challenges are being felt.
Robertson believes she could successfully represent the riding in Ottawa because of her diversity and background in policy and politics. She's worked for all levels of government before and knows both the academic and practical aspects of bureaucracy. If elected Robertson says she would do the type of heavy lifting behind the scenes that would directly benefit Mississauga—Lakeshore, instead of mouthing a party-line that often ignores the specific needs of local communities.
"I want to make sure that for the voters in Mississauga, if they support the green values, that there's someone on the ballot who's willing to put their face forward and do that," Robertson said. "For me, I'm willing to sacrifice even a month's salary so that somebody else could have the opportunity to vote the way they want to vote."
---
Email: [email protected]
Twitter: @taasha__15
---
COVID-19 is impacting all Canadians. At a time when vital public information is needed by everyone, The Pointer has taken down our paywall on all stories relating to the pandemic and those of public interest to ensure every resident of Brampton and Mississauga has access to the facts. For those who are able, we encourage you to consider a subscription. This will help us report on important public interest issues the community needs to know about now more than ever. You can register for a 30-day free trial HERE. Thereafter, The Pointer will charge $10 a month and you can cancel any time right on the website. Thank you
Submit a correction about this story