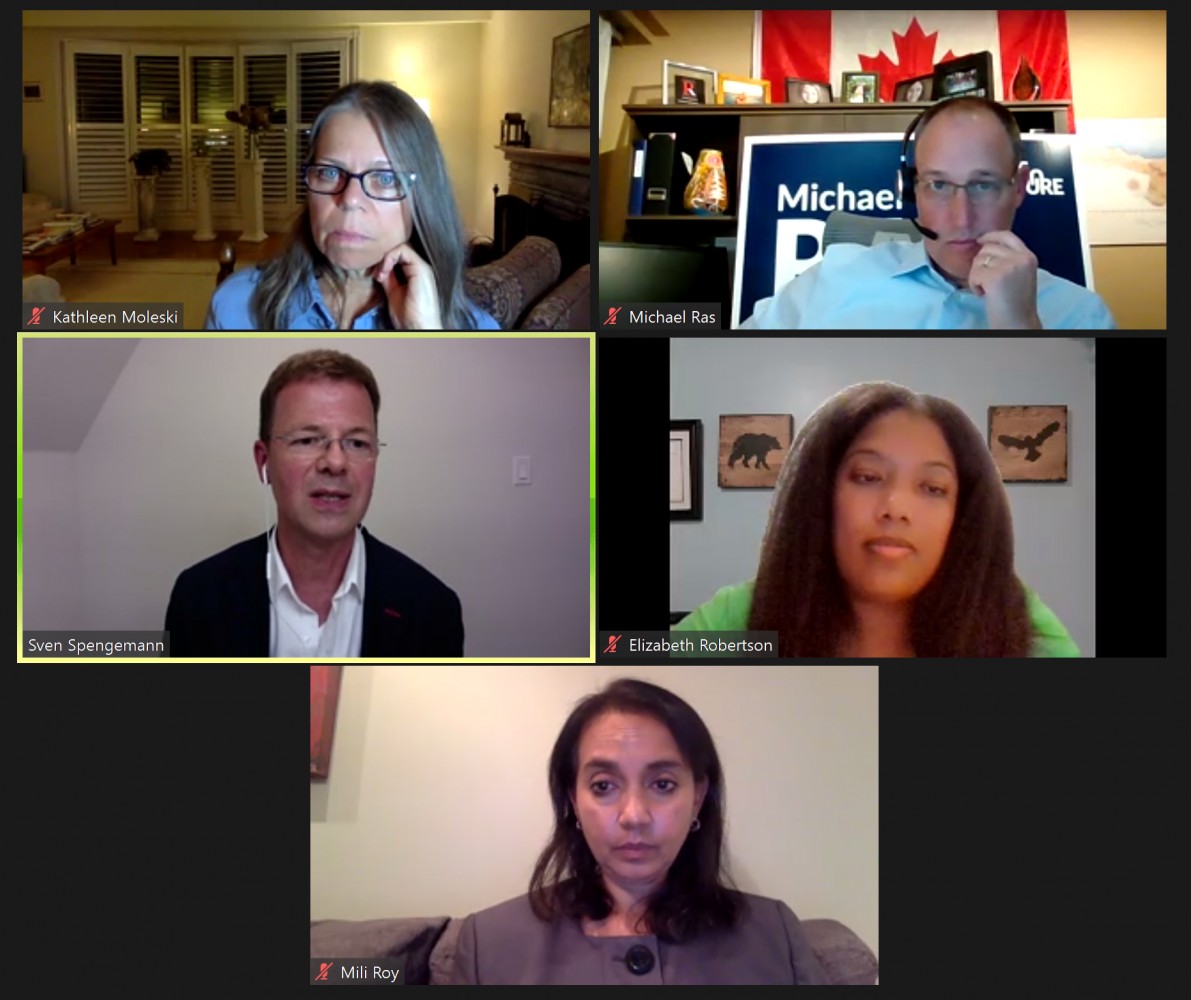 Feature image screenshot via Zoom
Mississauga's lakeshore candidates share common ground on climate change 
The riding of Mississauga—Lakeshore holds an important place in Peel's climate conversation.
The area covers the entirety of Mississauga's border with Lake Ontario, an area that was once dominated by grimy industry. Recent efforts to reclaim the shoreline with parks and sparkling new developments have coincided with vital conversations about pollution as a result of urbanism. At the same time, increasingly disastrous storms and flooding have added urgency to the conversation about how we care for our planet, and look after vulnerable areas such as Mississauga's waterfront area.
Because of the surrounding geography, with Mississauga essentially at the bottom of a basin leading into Lake Ontario and with watersheds flowing down from the north across much of the city, large areas are susceptible to flooding.
In the run-up to polling day on September 20, a group, GreenPAC, is organizing a series called 100 Debates across the country to discuss climate change. The program, which was also held in advance of the 2019 election, is designed to bring attention to the climate crisis.
The debates use grassroots democracy as a form of advocacy.
"Debates are often seen as defining moments in elections," the 100 Debates website explains. "Candidates will be challenged to put their best ideas forward and voters will be empowered to hold future MPs accountable for those ideas. MPs consistently and vividly recall the issues raised at all-candidates' debates, which can translate into policy gains once a government is formed. Coordinated, large-scale, issue-based, debates like this can generate enough attention to directly impact voter and party priorities."
Mississauga—Lakeshore is uniquely positioned across the city's waterfront.
(Image from Elections Canada)
One such event was held Wednesday in Mississauga—Lakeshore. Liberal incumbent Sven Spengemann, Conservative candidate Michael Ras and the Green Party's Elizabeth Robertson all took part in the virtual conversation. Organizers said the NDP's Sarah Walji declined their invitation.
Compared to national debates among party leaders, which often spiral into made-for-television gotcha opportunities, the Mississauga—Lakeshore climate debate was composed. It offered a refreshing glimpse into local political representation free from the strategizing and cynicism behind so much of the national party vote counting.
Three election hopefuls waited on mute until they were called upon to answer questions and regularly found common ground. Partisan attacks or dire warnings were saved for the national perspective and not directed at opposing candidates.
"This is another area that I find myself in a great deal of agreement with Mr. Spengemann," Ras said when asked what policies the candidates would put in place to protect vulnerable populations from climate change. It was one of the multiple times the candidates found themselves on the same page.
The format of the debate itself did not encourage opposition. Candidates were asked four questions of national importance followed by four about local issues. Speakers were then selected in random order to answer the questions in turn. While there was space to challenge opposition platforms, there was no period of open conversation or rebuttal, making the event more of a round table or a panel than the blood-sport approach of national debates.
The four national questions yielded very little from any of the three candidates. The questions essentially evaluated how well each had memorized their respective party platforms rather than testing the calibre of the individual candidates as local environmental activists with a deep familiarity of the issues directly impacting Mississauga residents.
Mississauga's waterfront is a natural gem being reclaimed from dirty industry.
(Image from Natasha O'Neill/The Pointer)
The four broad questions were sometimes more a request, asking candidates to commit to pledges such as protecting 30 percent of Canada's land and freshwater, modernizing the Canadian Environmental Protection Act and forcing all sectors to decrease emissions to 60 percent below 2005 levels by 2030. The organizers also pushed for the federal government to withdraw fossil fuel subsidies and asked for commitments to carbon pricing.
"Being a Green is very easy, I'm just going to say," Robertson said, agreeing to the Paris Agreement's targets and promising to push them further. Fielding national questions, the candidates either trotted out the relevant portion of their party's platform or skirted questions while dancing around the topic.
"The Liberal Party has committed to protecting at least 30 percent of our land, freshwater and oceans by 2030," Spengemann said. "Our plan includes 10 new national parks, 10 national marine conservation areas and 15 new national urban parks. We are committed to 30 percent by 2030 and we have a proven track record to get there."
Ras pushed back. "Mr. Spengemann talks about a track record of success but we're moving awfully slowly in that target," he said. "We're going to invest an additional $3 billion between now and 2030 in natural climate solutions focused on management of forests, crop and grazing lands, restoration of grasslands, wetlands and forests."
On the local questions, it was the challenger, Ras, that offered the most specific ideas. Unburdened by electoral records, candidates often make promises incumbent politicians do not, with those seeking reelection relying more heavily on what they and their party have already done.
Candidates were asked how they would take a sector-by-sector approach to climate change at the local level. The moderator asked for a commitment to low carbon transportation, deep retrofits of existing buildings and increasing the usage of renewable energy sources.
Renewable energy was on the agenda during the debate.
(Image from Jason Ng/Unsplash)
Robertson reiterated Green pledges on transit and retrofits. Spengemann referenced the importance of electric trains on the Lakeshore GO line to increase service and reduce emissions (a policy largely under provincial control but usually partially funded through the federal level), also promoting a variety of Liberal promises for transit and retrofits. Ras repeated Conservative talking points, before pivoting into a rare local example.
"I have this great vision," he said. "Sheridan Park, which is in our riding, some of the leading science that solved the acid rain crisis in the 1980s was done in that park, the CANDU nuclear reactors were designed by engineers in that park. And you go through there now and it feels like a wasteland… wouldn't it be great if we attracted the investment back to that park to build the next generation of carbon capture technologies or zero-carbon nuclear reactor technologies?"
The good-natured discussion ended with broad commitments to environmental principles from candidates. Ras said he would draw on locals with experience, including his current opponents, to work on the climate crisis if elected, while Spengemann cast his eyes around the world promising to work on international and interparliamentary climate caucuses.
Robertson admitted she only had an outside chance of landing a seat, saying her role was to push the other candidates beyond their party's past record and represent those who can not wait a day longer for change.
---
Email: [email protected]
Twitter: @isaaccallan
Tel: 647 561-4879
---
COVID-19 is impacting all Canadians. At a time when vital public information is needed by everyone, The Pointer has taken down our paywall on all stories relating to the pandemic and those of public interest to ensure every resident of Brampton and Mississauga has access to the facts. For those who are able, we encourage you to consider a subscription. This will help us report on important public interest issues the community needs to know about now more than ever. You can register for a 30-day free trial HERE. Thereafter, The Pointer will charge $10 a month and you can cancel any time right on the website. Thank you
Submit a correction about this story