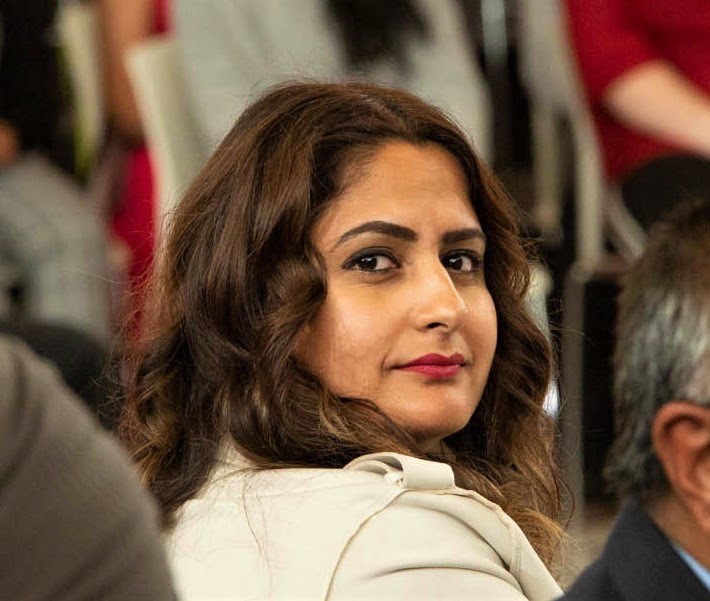 Feature image from The Pointer files
Controversial actions continue to define Kamal Khera's representation of Brampton West
Kamal Khera's second parliamentary term was in some ways a continuation of her first.
The Liberal incumbent ended her maiden term as a parliamentarian in 2019 after speaking occasionally in the House of Commons and holding parliamentary assistant roles, coveted jobs that offer direct access to key cabinet decision-makers.
But during her first term, Khera delivered few tangible wins for the residents of Brampton West, despite the relatively significant profile given to her by the ruling Liberals.
The rookie MP's judgement and lack of experience — she was 26 when elected and had very little work experience after briefly being employed as a nurse — caught up with her quickly. In 2016, the Brampton West representative accepted a seven-day trip to Tanzania from World Vision (which lobbies politicians and spent more than $5,000 on her travel to Africa) which was forbidden in her role as a parliamentary secretary, as the National Post reported.
Public records show she met with World Vision lobbyists eight times after her Africa trip since December 2016, and as recently as the end of this past May. She also went on the controversial 2018 trip to India, along with Justin Trudeau and many other South Asian-Canadian Liberal MPs who were grilled about the high cost of the diplomatically disastrous trip and the lavish spending — $17,000 was spent to fly celebrity chef Vikram Vij there to prepare a meal for one of the elaborate functions.
Brampton's rookie MPs, including Khera, had nothing to show after their taxpayer-funded excursion, in terms of what was achieved for their constituents.
Her questionable judgment continued during the 2019 election campaign. Khera egregiously doctored a video clip from a televised debate to misrepresent what her Conservative opponent, at the time, said regarding women's rights and protections for abortion.
It was clear the candidate thought he was responding to the previous question by the Prime Asia Television moderator and responded, no. When the moderator clarified what he was asking the Conservative stated that he fully supported women's rights and would be a champion of women, if elected.
The network's manager, Nitin Chopra, told The Pointer that Khera's campaign team tried to pressure him and threatened action if the debate was aired without the initial response when the Conservative candidate clearly thought he was answering to the previous question, which had nothing to do with women's rights.
When the full version of the debate was aired, Khera edited the clip to make it look like her Conservative opponent said he would not support women's rights and she posted the doctored version on social media.
She refused to answer questions after Prime Asia publicly voiced concern over her behaviour.
She was returned to Ottawa for a second term with another comfortable win over her Conservative challenger.
Khera's track record during the pandemic has raised more concern about her suitability as a member of parliament.
In the last term she spoke in the main chamber on just 16 days over the past two years. Khera was also quiet in committee, making 77 interventions.
Then, at the start of the year Khera lost her special privileges when she was forced to resign her role as a parliamentary assistant after it was revealed that she quietly left Canada to visit the United States at the height of the pandemic's second wave when such travel was prohibited. A comment from Prime Minister Justin Trudeau at the time suggested the Brampton West representative was instructed to resign her posts.
"I was disappointed to find out [about] two of our caucus members who travelled and [that is] why there were consequences in them resigning from their committee roles," Trudeau said. "That's why all Canadians were so disappointed to see so many examples of folks who should have known better doing things that put us all at risk."
In a January statement, Khera said her trip to Seattle, Washington, was to "attend a private memorial of less than 10 people" for her late uncle, who passed away in the fall of 2020. She left Canada on December 23 and returned on December 31.
She did not respond to questions at the time and was not available during the campaign for an interview ahead of publication.
Kamal Khera with former MP Navdeep Bains.
(Image from The Pointer files)
Khera with her team of volunteers.
(Image from Kamal Khera/Twitter)
Prior to her misstep and public embarrassment over her travel to the U.S. and the loss of her previous parliamentary roles, there was a noticeable gap in Khera's legislative record between March 12 and December 7, 2020. Over the course of almost nine months, she did not speak once in the House of Commons, continuing to contribute to committee discussions away from the spotlight. Khera was a member of the COVID-19 pandemic committee until June 2020 and also sat on the public safety and national security committee.
Khera spoke on the topic of international development on March 12 last year. In her speech, she laid out Canada's role as an international power, helping in peacekeeping missions and offering women and girls access to modern contraceptive methods around the world. She responded to comments from NDP and Conservative MPs, playing a central role in the discussion.
Then she went silent.
Khera does not have a record in Parliament again until December 7, 2020. Khera finally spoke in the legislature to make a lengthy speech about Global Affairs Canada, highlighting the role it has played around the world. She spoke about work to find solutions for "protracted political crisis (sic) in … Ukraine and Venezuela and in the Middle East". Khera again held an important role in the conversation, fielding multiple questions from opposition members.
Two days later, she rose to wish her constituents a happy holiday season. Then she quietly left for the United States.
After her trip and resignation from her roles, Khera was given a less important responsibility. Her first speech in Parliament after the controversy came at the beginning of February when she spoke during Statements by Members. The time is specifically dedicated to general announcements which are made unopposed and are not part of a wider debate. On February 18, Khera made another brief speech under Statements by Members.
By May 12 of this year she seemed to return to a more prominent role.
Kamal Khera is seeking reelection for a third term representing Brampton West.
(Image from Kamal Khera/Twitter)
Khera gave a long speech in Parliament about sexual misconduct within the military. The Liberal fielded multiple questions from other members on the topic, defending her government's controversial record and admitting more still needed to be done.
The majority of Khera's public legislative effort, when she did speak, was national. She did not table any motions or bills herself over the past two years, acting as a loyal supporter of legislation championed by Liberal colleagues. On several occasions she defended or promoted laws that advanced the Party's mandate. One example early in the year of her more pronounced advocacy was when she spoke at length in February about Bill C-7 (to amend medical assistance in dying laws) and Bill C-5 (to change rules around sexual assault cases and judges).
"It is an honour for me to speak to Bill C-5," she said in one such speech. "As members know, if passed, this proposed piece of legislation will amend the Judges Act and the Criminal Code to require newly appointed provincial superior court judges to participate in training on sexual assault and the social context in which it occurs. Judges are expected to apply the law in a manner that is respectful of the dignity of survivors. Training on sexual assault law and the social context in which the sexual assault occurs will help to ensure that they have a full understanding of the complex nature of sexual assault when presiding over such cases."
Khera was less vocal — but not silent — about her home riding.
During the pandemic, her city's status as one of Canada's worst-hit areas was referenced as an issue on her radar. Speaking about residents in Brampton West and her time as a nurse, she raised Brampton's hotspot status several times.
The diversity of her riding was another issue mentioned in the legislature. Pushing the need for Liberal reform of the childcare sector, Khera told her colleagues that her residents were among the youngest in the country. She also referenced Brampton West during Black History Month in both 2020 and 2021; 19 percent of all residents in the riding are Black compared to a Peel average of about 10 percent, according to the 2016 Census.
"Not only is my riding one of the fastest-growing in the country, but Brampton West is home to Canada's largest Black community," she claimed in February 2020. "In honour of Black History Month, although the list is extensive, I would like to recognize local leaders in my riding who make Brampton West a better place every day."
It was a mostly performative statement and did not come with any initiative for tangible action.
Khera's expense records show appealing to diverse constituents was top of mind.
She spent public money taking out advertisements with the Toronto Caribbean Newspaper, Asian Television Network, Parvasi Weekly, Gurbaz Punjabi Media and Asian World Today. While these advertisements doubtless increased her profile at the expense of Canadian taxpayers, they also show Khera uses local and culturally relevant communication to reach her constituents during the ongoing pandemic.
Khera is seeking reelection in a race against Jermaine Chambers for the Conservative Party of Canada and Gurprit Gill for the NDP. Rahul Samuel will represent the People's Party of Canada, while the Green Party does not have any candidates in Brampton.
---
Email: [email protected]
Twitter: @isaaccallan
Tel: 647 561-4879
---
COVID-19 is impacting all Canadians. At a time when vital public information is needed by everyone, The Pointer has taken down our paywall on all stories relating to the pandemic and those of public interest to ensure every resident of Brampton and Mississauga has access to the facts. For those who are able, we encourage you to consider a subscription. This will help us report on important public interest issues the community needs to know about now more than ever. You can register for a 30-day free trial HERE. Thereafter, The Pointer will charge $10 a month and you can cancel any time right on the website. Thank you
Submit a correction about this story