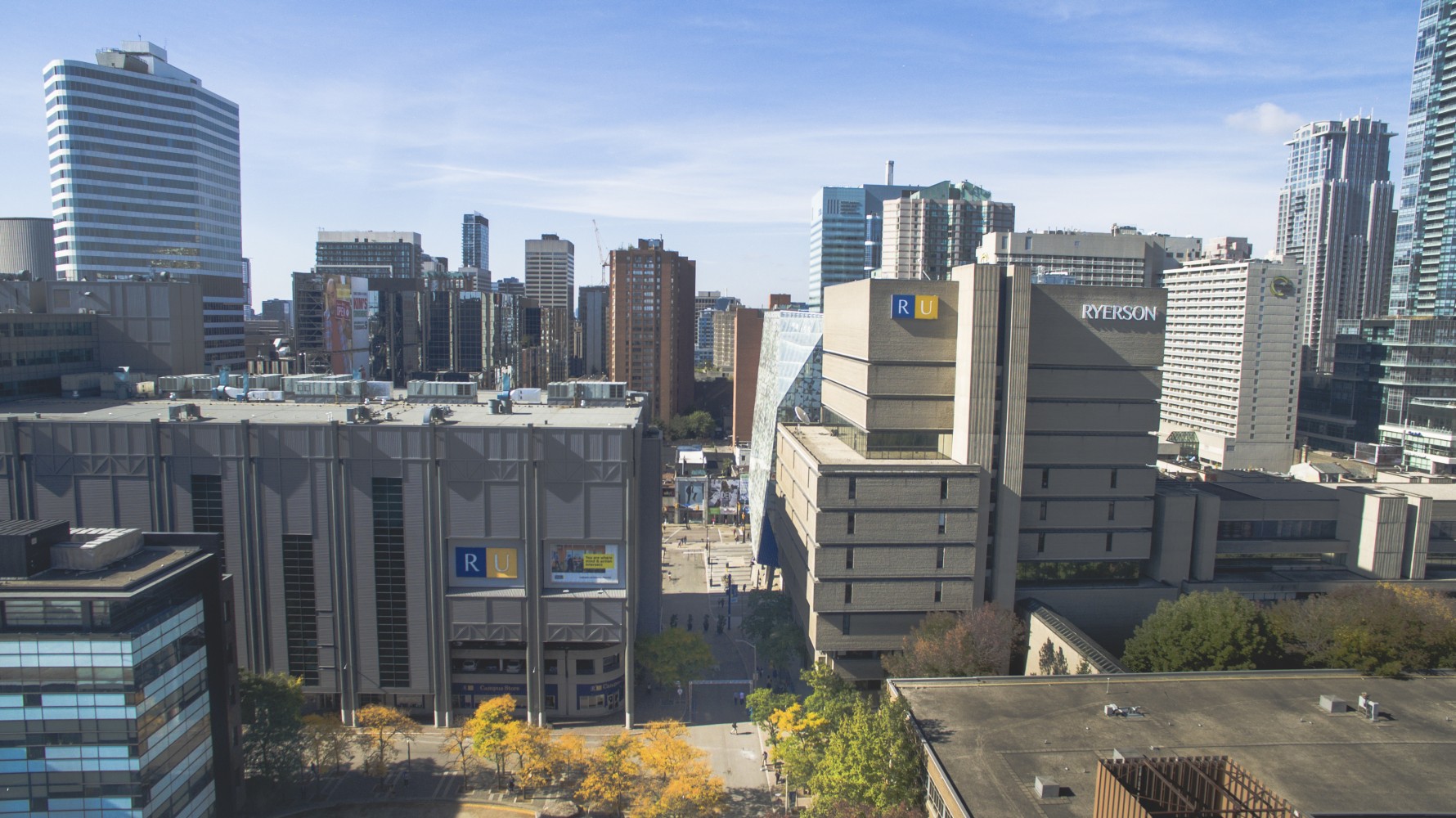 Feature image from Ryerson University/Twitter
Brampton welcomes calls for Ryerson medical school, but avoids talk about the university's controversial namesake
"The Ryerson name has such a close connection to the residential school. When I see the name I have an immediate sense of grief wash over me. I would never attend the school myself simply because of the name it bears."
These were the tearful words Brampton resident Deanna Mitchell shared with City Council on June 16.
Just three weeks prior, the remains of 215 children were found in Kamloops, B.C. next to a former residential school. Since then hundreds of bodies of young children have been discovered in unmarked graves near the sites of former residential schools across Canada. One of the the latest discoveries came July 12 when the Penelakut Tribe announced 160 bodies were found on Penelakut Island, in B.C.
Egerton Ryerson, the university's namesake, was a prominent figure in the creation of residential schools. As the founder of Ontario's public school system, he called for Indigenous children to be educated separately, away from their parents.
Ryerson wrote in an 1847 letter: "It is a fact established by numerous experiments, that the North American Indian cannot be civilized or preserved in a state of civilization (including habits of industry and sobriety) except in connection with, if not by the influence of, not only religious instruction and sentiment but of religious feelings. Indians should be schooled in separate, denominational, boarding, English-only and agriculturally-oriented (industrial) institutions."
Deanna Mitchell displayed 215 shoes in a memorial after children's bodies were discovered in Kamloops.
(Screen grab of video/ Deanna Mitchell's Facebook page)
"Ryerson, the person, not the school, helped curate cultural genocide, and it was carried over multiple generations for over 100 years," Mitchell said.
The City of Brampton has a partnership with the university that bears the controversial name.
Plans were launched four years ago to open a satellite campus in the city's downtown by 2022. After the Doug Ford PC government pulled the funding, the two institutions continued their relationship, planning for the Rogers Cybersecure Catalyst and Ryerson Venture Zone in downtown Brampton.
Now, the university is exploring the possibility of a medical school component in the city and has received the full support of Council to look into the potential. Members of council welcomed the proposition with open arms.
Following the discovery in Kamloops, Council had discussions on Indigenous reconciliation, largely led by Regional Councillor Michael Palleschi. A resulting motion asked staff to remove or cover up any signs featuring the Ryerson name, if it's in the City's control. The name is not to be used until the Standing Strong Task Force (Mash Koh Wee Kah Pooh Win in Cree N-dialect), assembled by the university, finishes a report it is working on to offer direction regarding the Ryerson name and the possibility of changing it.
The City told The Pointer it is "currently working to remove or cover signage" that features the name 'Ryerson'.
The university task force was created in November. Part of its mandate includes gathering feedback on how to "reconcile the history" of the university's namesake. The website says a final report will be submitted to university president Mohamed Lachemi and its board of governors in fall 2021. The task force asked for community responses during a two-month period that wrapped up on May 16.
Mskwaasin Agnew, a Brampton resident with Cree and Dene roots from Salt River First Nation in the Northwest Territories, told The Pointer change needs to happen in the university's faculty and leadership, and any subsequent report should reflect that. While she understands the need for educational institutions, she said it's unfortunate leaders have taken so long to realize the legacy of the name. "We need to make sure that they understand the importance of a name and the history of it and why it's inappropriate to have a place of education under the Ryerson name."
Agnew said the task force is a step in the right direction but it's nothing new. Similar groups have come and gone but what matters is how the findings of any legitimate report are implemented, and in this case, if there will be a name change, or not. Agnew said people are very aware of "Ryerson's impact on Canada and its Indigenous people" and can't understand what legacy they're trying to protect. "We can go learn about history, we don't have to memorialize them."
Hundreds of faculty and students felt the same way and signed a petition calling for a name change, proclaiming the institution as X University until that's done.
Yellowhead Institute, a "First Nation-led research Centre" at the university, released a letter written by Indigenous students who have doubts about the task force.
"As the work of the 'Standing Strong' task force on Egerton Ryerson's legacy wraps up, we fear that this work, yet another discussion among the mountain of others we've already had, will result in more of the same," the letter states.
Many have taken to calling the institution X University.
(Image from Yellowhead Institute.)
The same sentiment could describe conversations the City is having on the possible involvement with a Ryerson medical school.
When Lachemi came to present his plans for such a program to Committee of Council, nothing about reconciliation, the task force or the university's problematic name was discussed. When Palleschi's motion was dealt with later in the meeting, there was no mention of what it would mean for the possible future relationship with a proposed Ryerson medical school. Regional Councillor Gurpreet Dhillon asked if any meetings on the medical school have taken place with Indigenous communities, outside of the delegations that came before council. Staff reported none have taken place as they did not have direction from council.
Agnew said handling such conversations in isolation is not new. She said a lot of apologies, including by politicians, are lip service and she doesn't accept them anymore, describing them as "commonplace".
"To recognize Indigenous rights, and then in the same breath act against it, that's been the same song and dance for many, many, many, many, many decades now. It's to be expected."
The Pointer asked all 11 members of Council why the two topics, reconciliation and the possibility of a direct connection to a Ryerson medical school, were being discussed separately. City Councillors Jeff Bowman and Charmaine Williams were the only members who provided a response. An assistant for Regional Councillor Martin Medeiros said he "was not available for comment" and the remaining eight members of council did not reply ahead of publication.
Bowman said any prospect of a name change would likely apply to the medical school. "I don't believe that Brampton would use the name Ryerson in conjunction with any new university."
Williams said the two topics, the medical school and Indigenous reconciliation, "were brought to council as separate issues" and she will wait for results from the final report the university task force delivers before she offers advice.
Both Mitchell and Agnew said their families have been impacted by residential schools for decades.
City Councillor Charmaine Williams
(Image from The Pointer file photos)
Agnew said idolizing people who created the destructive system and naming institutions after them "makes you feel unwelcome."
Mitchell said both her grandparents went to residential schools. Her grandfather was forcibly removed from his family by the RCMP and would run away multiple times every year to escape abuse.
"He did not continue his education and slowly began to ease his trauma with alcohol. Like many residential school survivors do. He abused his children and ended up dying of liver failure before I was born."
Her grandmother became a devout Catholic and translated the Lord's Prayer, a Christian prayer, into Cree. The family was never even able to identify its Indigenous roots and Mitchell said she only found out she was Mohawk a couple of years ago.
The abuse was passed down through generations. When she was 18-months-old, her mother left her and her sister at a women's shelter to escape her father's abuse. After being in the sole custody of her father until the age of nine, she was placed in foster care where she remained until she was old enough to be on her own. "I still have trauma in relation to the abuse I suffered growing up. I hated being Indigenous when I was growing up."
Agnew said she remains hopeful meaningful reconciliation, including what happens in Brampton, will occur, eventually. "Change isn't going to happen overnight."
---
Email: [email protected]
Twitter: @nida_zafar
Tel: 416 890-7643
---
COVID-19 is impacting all Canadians. At a time when vital public information is needed by everyone, The Pointer has taken down our paywall on all stories relating to the pandemic and those of public interest to ensure every resident of Brampton and Mississauga has access to the facts. For those who are able, we encourage you to consider a subscription. This will help us report on important public interest issues the community needs to know about now more than ever. You can register for a 30-day free trial HERE. Thereafter, The Pointer will charge $10 a month and you can cancel any time right on the website. Thank you
Submit a correction about this story