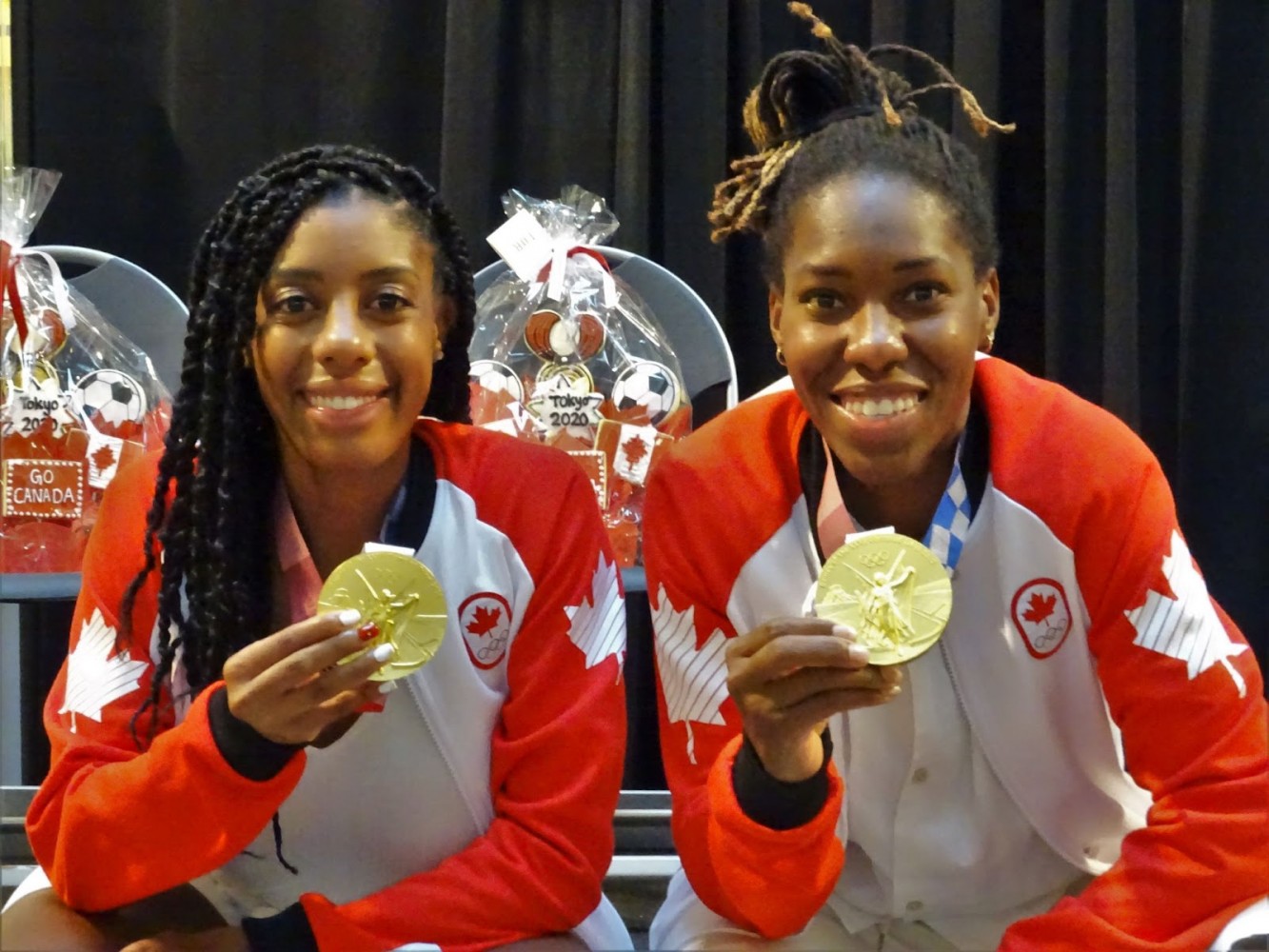 Feature image from Natasha O'Neill/The Pointer
New Brampton soccer pitches will be named after gold medalists Kadeisha Buchanan & Ashley Lawrence; is a Canadian professional league next?
It was as if the entire country was standing still watching, holding its breath. Julia Grosso stepped up to the penalty spot against Sweden with Canada hanging spellbound across the ocean.
The Tokyo 2020 Olympics needed one last moment of glory to send the nation over the moon.
As each team took turns, sending players on a lonely walk to take aim for a career-defining strike, they were left elated, or dejected, as two countries on the other side of the world tried to keep their nerves in check.
Stephanie Labbé, Canada's outstanding goaltender, faced what would be Sweden's final shot. She lunged to her left and hit the ground as her outstretched hand slapped the ball away.
Moments before, Deanne Rose had walked up to the 12-yard mark with almost 40-million Canadians standing on her shoulders.
It was do or die. A miss would hand the gold to the Swedes. Seemingly oblivious to the crushing pressure, she stepped casually toward the ball and side-footed it perfectly into the extreme top-right-corner of the net, with surgical precision.
After Labbé smothered her opponent's effort, the stage was set for 20-year-old Grosso.
She pounded the ball off the goalkeeper's stranded hand up into the gaping net, sending her team, and all of Canada into euphoria, its first gold medal in women's Olympic soccer. The roars echoed through the empty stadium.
When the ball was safely in the back of the net, the entire country celebrated with them, a historic moment of pride for our very best female soccer players. It was reported that 4.4 million Canadians tuned in on TV alone to watch the shoot-out, making it the most viewed event in Canada during this year's Olympics.
Any female soccer player would say they've heard the phrase, 'No one watches women's soccer'. Now, they can say, 'More people watched women's soccer than any other Olympic sport'.
Many within the country's soccer system are already saying this could be the momentum to launch a women's professional soccer league in Canada.
Peel would certainly play a large role.
Toronto FC (TFC) is stacked with players who trace their roots back to Brampton; five of the club's first team are from the Flower City and a full 36 percent of members in the TFC's academy were brought up in Peel.
Brampton and Mississauga now have three more world-class players, who are also Olympic gold medalists.
Three of the Canadian women's national-team members got their start in Brampton at the Brams United Girls Soccer Club. Ashley Lawrence who resides in Caledon, Kadeisha Buchanan from Brampton and Adriana Leon from Mississauga are inspirations to many young Peel athletes.
Lawrence and Buchanan were honoured at an event Wednesday, as two new Brampton soccer fields were announced, to be named after the women who were instrumental in securing Canada's, and the city's, women's soccer legacy. The announcement was led by heartwarming speeches from the athletes who reminisced about growing up and playing soccer together.
"We just hope that we inspired a nation and the next generation of players that are looking up to us and hopefully playing for Canada one day," Lawrence said.
Buchanan said she will never forget her roots or seeing Lawrence play for the first time.
"The player that stood out the most was actually Ashley, and the reason why is because she looked like a total baller from the very beginning. She was always the best of the best."
Both grew up playing together, went to school together and had the same dream of playing for team Canada.
They were encouraged under the watchful eyes of trainers and coaches at Brams United, one of the top female clubs in the country. It hopes to continue its tradition of excellence, but making sure all players get the opportunity to participate is a challenge.
"Not only for girls, but for boys as well, at grassroots level, we need to ensure that financially, it's accessible," Melanie Bradley, general manager of Brams United, told The Pointer.
The current high level of interest in professional soccer comes from the generation of active players who continue to strive toward lofty goals, once seldom set in the realm of top-level soccer in this country, especially in places like Brampton that were, for decades, dominated by other sports, especially hockey. Bradley says there is now less of what she calls "backyard soccer" happening.
"We don't see as many kids just grabbing a ball and going to play pickup soccer and that pure passion for the game that we've seen in the 90s (without support to cultivate it)." Now, athletes can take that interest and use it to open so many doors, she says. "Like Ashley and Kadeisha, they were so hungry to just enjoy the game."
"Never forget your roots," Buchanan said. She was first introduced to competitive soccer at Brams United soccer club.
(Natasha O'Neill/ The Pointer)
The passion is mounting for many young players and the momentum behind the women's gold will hopefully fuel their dreams. The Canadian Women and Sport organization did a study evaluating females in sport, painting a worrisome picture of the dropout rates.
Girls at a young age face barriers that prevent them from participating in sports or discourage them. A lack of access is a huge reason many females end up dropping out, despite their potential. The older the athlete, access to high-quality training and practice facilities becomes a bigger barrier.
Financial burdens and decisions about a more reliable career choice also contribute to women dropping out of sports. Unlike their male counterparts who are rewarded with sponsorships and garner media attention that helps bring in money, women rarely enjoy the same level of support, regardless of how much they accomplish.
It took the superhuman performance of Christine Sinclair, who holds too many records to count, including the most goals ever scored by a woman in international competition, to finally draw the attention of sponsors.
More change is needed to support the next generation of Sinclairs, Buchanans and Lawrences.
The 2020 report shows 62 percent of Canadian girls were not participating in any kind of sport, while those who come from low income households or are racialized have more barriers to participation.
Brams United offers both a recreational and competitive stream for girls to enjoy the beautiful game. They are using progressive methods in practice, making sure girls work with the ball at their feet while also doing more fitness activities. Making practices game-realistic will help with athletes' quick decision making and ball control. Girls older than 13 participate in three on-field practices a week and have opportunities for more training with other programs.
The club also introduces mental health and psychological support to their players at a young age—the pressure of being a high performance athlete can be difficult for others to grasp. Conversations about an athletes' psyche are becoming more common, especially since high-profile performers under the microscope, such as U.S. gymnast Simone Biles who pulled out of events at the Tokyo Olympics due to her mental health, have become more outspoken about these pressures.
Investing in grassroots clubs like Brams United will ensure young athletes have the support to continue developing their skills, while also being nurtured in an environment that understands what many young women go through, on and off the field. Bradley said Brams United has been lucky to receive broad support in and out of the community, making sure it has appropriate facilities and financial assistance for the future planning of the club.
On May 2, the City hosted an event called We Play Too: Women and Girls in Sports, aimed at collaborating with industry experts on how to build a career in sport. The event was facilitated by an all female staff and had speakers from various organizations, post secondary institutions and coaches.
"There are four City-affiliated youth programs specifically for girls. One of our affiliated sports groups, the Brampton Canadettes, host the World's Largest and Longest Running Female Hockey Tournament, dating back to 1967," a City spokesperson told The Pointer.
Support from the community including those closest to the athletes plays a huge role in their continued participation in sport.
Andre Lawrence, an avid soccer fan, has been advocating for the National Women's Soccer League (NWSL) in America to expand to Toronto. Lawrence's niece Telaijah Folkes is the inspiration for his support. After a soccer game they attended in 2016, Folkes asked how she could play soccer in Toronto.
"I said, we don't have a team yet. And then she gave me a sad puppy face. And she's like, 'Oh, that's not fair'," Lawrence said.
Telaijah Folkes met Kadeisha Buchanan when she was nine. Her uncle, Andre Lawrence, said she just recently dropped by one of Folkes' practices.
(Contributed by Andre Lawrence)
This pushed the fanatic to form a Twitter account to stir some momentum to bring the NWSL to Toronto. The Mississauga native has been messaging companies and begging people to follow his account. He had a big boost in followers when he put on a contest for them. Carmelina Moscato and Diana Matheson (both former Canadian national players) signed shirts for a giveaway to attract even more supporters.
When the Canadian soccer team won gold, many of the current and former women's athletes expressed that it's time for Canada to invest in a professional league of its own.
They believe the medal marks an important point in the rise of women's soccer. Currently, there is no women's professional soccer league or franchise in Canada, forcing our athletes to look elsewhere, in the U.S., Asia or Europe to play at the next level. This might suit the very best players in the country who have no problem making professional teams, but for younger players or those who might need some experience before reaching their potential, a Canadian league could do wonders. For players who want to be closer to home, the option might keep them in the sport. Otherwise, for our elite athletes, who want to perform at home for Canadians, the national team program is the only current avenue. Making the squad is a tall order for thousands of aspiring female athletes. And competition will only be even tighter with a gleaming gold medal now dancing in the minds of all those young soccer players.
Ontario and Quebec both have province-wide semi-professional leagues for women, the League1 Ontario and the Premiere Ligeu de Soccer du Québec. Semi-professional is far from professional despite the title. They are not considered amateur because they receive small payments from their team, peanuts compared to professional athletes, and many hold down other jobs at the same time.
"There's like a national cry for investors to come forward. And if and if that sits on deaf ears, I'll be very surprised, because I think we've got enough momentum and enough support behind us at this point that we will see a women's professional team and then a league come forward," Bradley said.
In the days following the historic win in Tokyo there was speculation about what the victory could mean in moving forward a women's professional soccer league in Canada. The Pointer has confirmed there are a number of former and national team players, business people, potential investors, sports management groups and celebrities actively discussing the idea.
Former general manager of Shopify Loren Padelford, who is a part of these discussions, told The Pointer, "There's a lot of momentum, there's a lot of interest, women's sports will be, is going to be huge over the next, you know, couple of decades."
The University of Guelph graduate is an investor with the Guelph United F.C. (in League1) and confirms discussions surrounding a separate women's professional league are occurring.
"I am a support system for the incredible women that are actually leading a lot of this background work and doing the work to figure out how to make this happen," Padelford said, "and I think that is super important. We can't have this league built by a bunch of old white guys who happen to have money, right?"
If movement toward a national women's soccer league solidifies, Peel would be an obvious team host and Brampton may have the opportunity to foster more talented athletes.
Having soccer pitches named after Buchanan and Lawrence will remind the next generation of superstars of their potential.
It will also be a reminder of the historic moment Canada witnessed at the Tokyo 2020 games.
---
Email: [email protected]
Twitter: taasha__15
---
COVID-19 is impacting all Canadians. At a time when vital public information is needed by everyone, The Pointer has taken down our paywall on all stories relating to the pandemic and those of public interest to ensure every resident of Brampton and Mississauga has access to the facts. For those who are able, we encourage you to consider a subscription. This will help us report on important public interest issues the community needs to know about now more than ever. You can register for a 30-day free trial HERE. Thereafter, The Pointer will charge $10 a month and you can cancel any time right on the website. Thank you
Submit a correction about this story