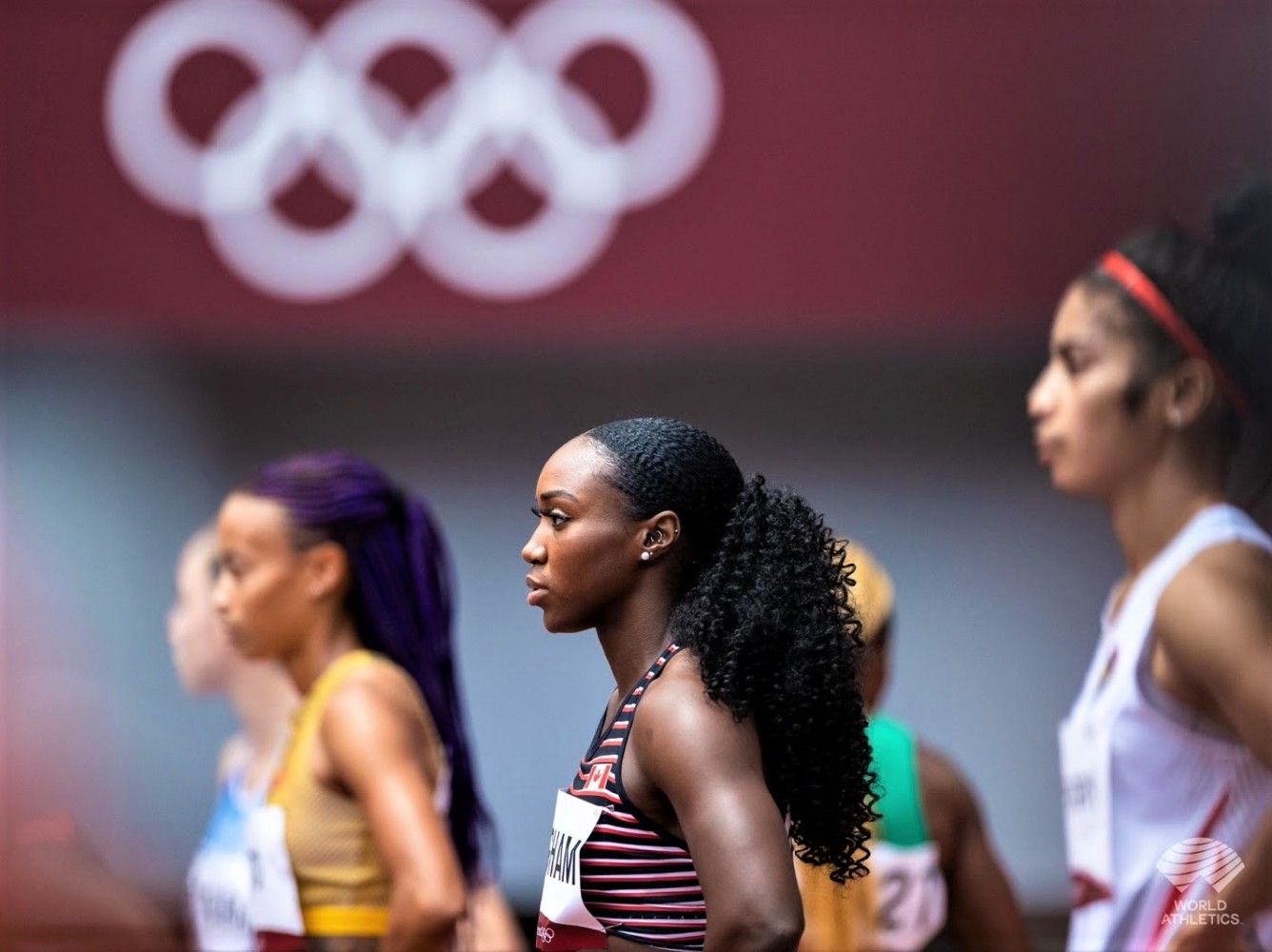 Feature image from Khamica Bingham
'It is not a career for me': the Olympic side of inequality in women's sports
Head down. Clear mind. Muscles twitch, ready to spring into action. Beads of sweat form in the stifling 40-degree weather. Deafening silence where roars and chants should be. Heart rate slows, one breath and a split second to pause.
In the background, leading up to the impossible pressure of the moment, thoughts of family and friends flood over, remembering the pain after a hard workout, the injuries, almost giving up but pushing through with the help of all those who always believed.
Training was sometimes done in less than stellar conditions; finding practice partners was often difficult; financial burdens constantly loomed.
All for the love of sport, and the ultimate prize — an Olympic medal.
Peel has raised numerous leaders, businesspeople, politicians, advocates and Olympic athletes. At Tokyo 2020, 16 of 315 elite Canadian athletes call the region home, where they grew up and found their passion for sport.
Over half the athletes from Peel, and on the Canadian roster, are women, making this Olympics a platform for female empowerment. Canada won 24 medals (a record for an Olympics without boycotts). Of those, 18 were won by women, one of which belongs to Natalie Wideman, a catcher on the Tokyo 2020 Canadian softball team and a Mississauga native.
Wideman grew up in an athletics-oriented family, both her older brothers played minor league professional baseball which sparked her love for the sport.
"I tell my brothers all the time to this day, the reason I got to this level was because of them," she tells The Pointer.
Growing up, neither of her brothers, Aaron and Jordan, would go easy on Wideman, throwing balls at her harder than she would have liked, just so she could be a better catcher. At 11, her dream of playing ball professionally was kindled when she went to the Canada Cup in Vancouver. She competed at the tournament for younger girls, while at night the international teams would play.
At 11-years-old, Natalie Wideman knew she wanted to play softball professionally.
(Contributed photo by Natalie Wideman)
"I remember watching some of the athletes and looking at my mom and saying, 'I can do that, that's gonna be me'," Wideman says.
Watching amazing female athletes competing at such a high level while the community supported them, proved to Wideman girls just like her could do the same. At the Tokyo games, when she put on her team Canada jersey the immense responsibility had different dimensions.
"It's an honour to have that opportunity to own it and to really set a really cool example for who's next."
Unfortunately, the next generation of female athletes in Canada faces more obstacles.
A 2020 report by the Canadian Women and Sport organization shows 62 percent of Canadian girls are not participating in any kind of sport, and as they age the number dwindles further. Between 2010 and 2011, approximately 74 percent of Canadian girls were involved in sport, meaning in just a decade the rate has fallen dramatically.
Decades ago, the realm of athletics was still primarily for men, dominated by those who controlled each individual sport. The incredible success of our women athletes in Tokyo came despite many deeply rooted norms that continue to deter female athletes today. One in three girls drop out of sport for good, compared to one in ten boys.
The older women get, the less likely they are to participate in sports.
(Canadian Women and Sport)
Young athletes are more likely to participate in sports if they are able-bodied, are younger than 12, with parents who regularly play a sport and have a household income above $100,000. Young Indigenous girls in Canada are the least likely to participate in sports.
Participation builds a sense of camaraderie with teammates, allows individuals to be more physically active and in turn supports positive mental health. High self esteem and confidence are enjoyed by those regularly playing a sport. But those numbers are in decline.
Researchers have speculated that the sharp drop in female participation is partly linked to the rise of online engagement, as smartphones and social media not only take up more and more time, but send girls mixed messages about their images and identity. Sport can become one of the many pursuits that falls to the wayside in a hyper-consumerized, image-obsessed world that tells girls how they should gain a sense of worth.
The beauty of sport, where young people can simply play, and sometimes achieve more than they could ever dream, is one of the casualties in our screen-dominated modern world.
Other factors are also at play. Girls at a young age face barriers that prevent them from participating in sports or discourage them. A lack of access is a huge reason many females end up dropping out, despite their potential. The older the athlete is, access to high-quality training and practice becomes harder.
Financial burdens and decisions about a more reliable career choice also contribute to dropping out of sports. Unlike their male counterparts who are rewarded with sponsorships and garner media attention that helps bring in money, women do not enjoy the same level of support, regardless of how much they accomplish.
"I could not live off of this," Wideman says. "This is an experience of a lifetime, it's a dream come true, it's all of those things, but it is not a 'career' for me."
Male baseball players have options to stay in the sport.
For most female athletes there has always been a side career, something to pay the bills while dominating in their sport. Hayley Wickenheiser, Canada's greatest female hockey star, is pursuing a career in medicine while also being the assistant director of player development for the Toronto Maple Leafs.
Her male counterparts, like Sidney Crosby (who also served as team Canada captain) is one of the richest hockey players of all time, signed to a $104-million contract, which doesn't even include all his endorsement income.
Female athletes need to juggle training, jobs and sometimes raising a family, while many male athletes enjoy sponsorships that come to them.
In a male dominated industry, women have to claw their way to get even a sliver of recognition... unless it's the Olympics.
The Canadian women's softball team made history as they snatched a bronze medal at the 2020 games.
(Contributed by Natalie Wideman)
The games are broadcast widely because of the immense global popularity and showcase both men's and women's events. In 2016, 32.1 million Canadians tuned in to watch their favourite athletes compete. Yet, in off-Olympic years barely four percent of traditional media coverage was given to women's sport.
This persistent issue prevents younger Canadians from seeing the power, will and athleticism of female athletes, causing a trickle-down effect on the most impressionable. Khamica Bingham, an Olympic sprinter for Canada, competing in an event that demands remarkable focus, 24/7 attention to training and conditioning, and nerves of steel, remembers how monumental it was to see someone like her on TV.
"It was just amazing. The fact that someone that looked like me, on the TV that is from Canada was supposed to win the Olympics," Bingham tells The Pointer, "I think since then, it's gotten a lot better."
The hometown girl from Brampton competed at the Tokyo games in the women's 100-metre sprint, coming just shy of a finals appearance. Her remarkable career (already a double Olympian with two Pan American Games' medals, at the age of 27; still young for an elite sprinter) has been anything but smooth, with injuries, obstacles and the recent loss of her mother. The devotion to her sport and passion she brought to Tokyo was felt through the TV. Thousands of hours committed to her craft, came down to eleven seconds of pure brilliance.
Last year, just after the Black Lives Matter protests in June, Bingham co-founded an organization named Meet My Melanin, a grassroots organization aimed at teaching racial inclusion in sports. She and her co-founder have visited all the schools in the Dufferin Peel Catholic District School board and a few high schools and elementary schools in the Peel District School Board.
"It was just phenomenal to have these open, real conversations about what happens, and help the teachers kind of understand how they can have their students trust them, and feel included," Bingham says.
Racial inclusivity and justice has been a path many hope to widen. In schools, in industries and in sport, many racialized women are underrepresented and often are not included in plans to move forward. The survey from Canadian Women in Sport highlights issues visible minority women face, causing additional barriers.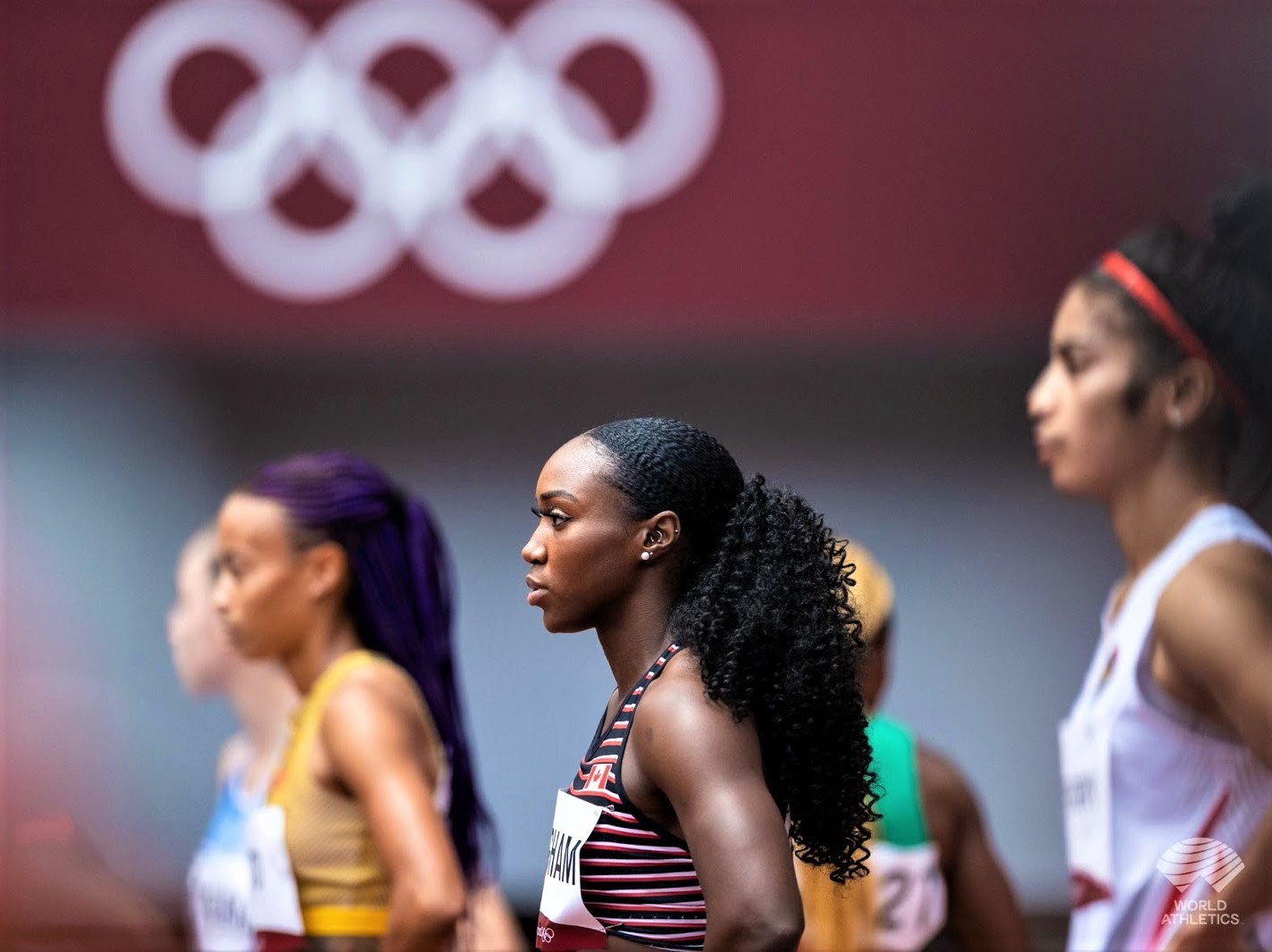 Khamica Bingham has a voice and wants to use it.
(Contributed by Khamica Bingham)
In 2015, Bingham was named Canada's fastest woman which led to sponsorship opportunities and media attention. Her numerous accomplishments at international meets and medal earnings made her a shoo-in for the cover of a sports magazine.
"I had that opportunity presented to myself and then they came back and told me that I didn't fit the look," Bingham said. "That was really just disheartening. Because I knew that it didn't have anything to do with my athletic ability, it more so had to do with my appearance."
According to a recent study of Instagram posts, even when women athletes are portrayed in the media it is often in ways that sexualizes them and undermines their athleticism, and targets their emotions or appearance.
Young female athletes need to be shown how they can achieve goals in sports; this can be done by seeing athletes like Bingham and Wideman, or having a female coach to look up to. Unfortunately, as female athletes get older they are severely underrepresented at club, provincial and national levels as coaches. Meaning even if girls stay in sport the likelihood they can train with a female coach decreases as they move up in levels.
Having access to updated, modern sports facilities can also be a challenge for up-and-coming Canadian female athletes.
Despite being at the top of their game during the Olympics, many athletes can't train where they grew up.
Peel's athletes sometimes find training for their Olympic dreams hard when facilities and training grounds are not in their backyard.
"There's so many more facilities now available to female athletes that play softball, whether that's indoor cages or turf facilities," Wideman tells The Pointer. "A lot of my time growing up, it was elementary school gyms on a Thursday night."
At 29 years-old, Wideman is pleased to see the progress in baseball and softball, from when she tagged along to watch her brothers train at the Ontario Blue Jays facility.
"It's becoming more the norm for baseball facilities to have the specific dimensions and things required for softball players as well, which is really, really cool," Wideman says.
It's critically important for athletes at her level to practice at facilities that mimic the playing field of the international competitions. Turf fields, which use fake grass, handle the ball differently than real grass, creating a completely different feel for reacting to balls that behave differently on artificial surfaces. Teams that train on grass everyday have a huge advantage.
The ability to practice daily in top conditions, to replicate the performance required to succeed at the highest level of competition is paramount for sports such as swimming. The precise movement and timing of strokes and the execution of a perfect flip-turn off the wall take years and years of training and muscle memory. Katrina Bellio of Mississauga was the first Canadian woman to ever compete in the women's Olympic 1500-metre freestyle, an event that debuted this year.
The 17-year-old has been competing seriously for four years and made team Canada despite practicing in a subpar pool. Due to construction at her home pool, the Etobicoke Olympium, Bellio and the rest of her team had to swim at community pools.
Katrina Bellio will be attending the University of California, Los Angeles in September 2022.
(Katrina Bellio instagram)
"At the beginning of the year, we had pretty much our whole group, so there were 20 swimmers in this six-lane, 25-metre pool. And I mean, the air quality was terrible, it was just not a good setting," she tells The Pointer. "At that point, I was kind of just like, 'I don't think that I'm gonna make the Olympic team swimming in this pool'."
Athletes like Bellio train year round to qualify for the Canadian Olympic team; obstacles like the pandemic and other stressful circumstances make their jobs as athletes much harder.
"I would have never thought two years ago that I would have made the Olympic team swimming out of a six-lane pool. But we made do with what we had," Bellio says.
Canada traditionally performs better in the winter Olympics than the summer games, with the climate making it difficult for training for warm-weather sports. Competing in a track event, Bingham relies on the indoor facilities in North York.
"Peel is so rich with so many athletes, so much talent," she says.
Katrina Bellio competed in her first Olympics at Tokyo 2020 and hopes there will be many more.
(Katrina Bellio on Instagram)
Even with a facility somewhat closeby, the commute still takes away from the daily performance of athletes. Bingham tells The Pointer if there was a facility in Brampton she would have benefited greatly. She used to believe some Carribean countries had the best advantage for sprint training ahead of the summer games, but after seeing the facilities at some universities and high schools in the United States she was blown away.
"I didn't even understand that our conditions were not ideal. To be training and trying to be at our best and then competing against U.S. athletes that have the advantage," was an eyeopener, Bingham says.
As the Tokyo 2020 summer Olympic games come to a close, it's crucial to keep the momentum of women's sports going. For younger female athletes the ability to see women compete on such a large stage might inspire them to pick up sports, or stay involved, at any level.
The awe-inspiring success of Canadian women at the Olympics overshadows the challenges many aspiring athletes in the country continue to face.
---
Email: [email protected]
Twitter: taasha__15
---
COVID-19 is impacting all Canadians. At a time when vital public information is needed by everyone, The Pointer has taken down our paywall on all stories relating to the pandemic and those of public interest to ensure every resident of Brampton and Mississauga has access to the facts. For those who are able, we encourage you to consider a subscription. This will help us report on important public interest issues the community needs to know about now more than ever. You can register for a 30-day free trial HERE. Thereafter, The Pointer will charge $10 a month and you can cancel any time right on the website. Thank you.
Submit a correction about this story