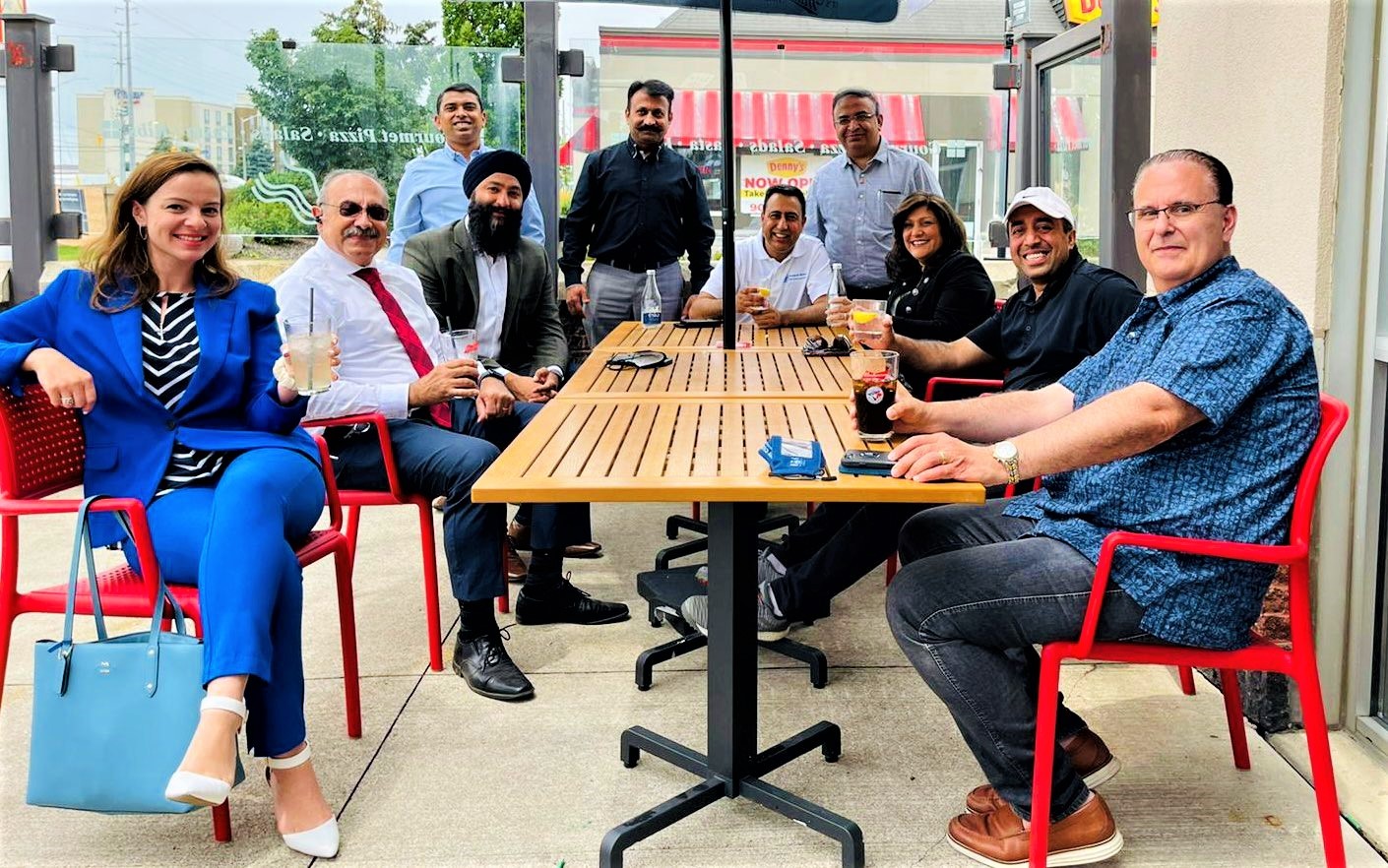 Image Twitter-Natalia Kusendova
Every Peel PC MPP given high-profile role as Ford prepares for 2022 election
A realtor, an engineer and the CEO of a car lubricant company: Amarjot Sandhu, Sheref Sabawy and Deepak Anand.
No, it's not the opening of a joke. All three are MPPs representing Brampton and Mississauga at Queen's Park who boast the role of parliamentary assistant (PA) heading into Ontario's June 2022 election.
The latest cabinet and PA reshuffle has gifted every single governing MPP in Peel some kind of additional responsibility, while veteran Sylvia Jones remains solicitor general of Ontario, a high-ranking minister in Premier Doug Ford's cabinet. Three more Peel MPPs now have cabinet positions and five have been installed as PAs.
Nina Tangri (Mississauga—Streetsville) has been promoted to the cabinet as associate minister for small business and red tape reduction and Kaleed Rasheed (Mississauga East—Cooksville) is the new associate minister of digital government. Prabmeet Sarkaria (Brampton South) has been moved up within the cabinet to become president of the Treasury Board.
A reshuffle of assistants means Sandhu (Brampton West) has become PA to the minister of infrastructure and Anand is helping the minister of labour, training and skills development. Natalia Kusendova (Mississauga Centre), Rudy Cuzzetto (Mississauga—Lakeshore) and Sabawy (Mississauga—Erin Mills) held PA positions before the latest reshuffle made them one-a-penny in Peel.
MPPs who hold the role support their ministers with the drafting of legislation, shaping of committees and special-project work that each ministry constantly undertakes to make sure government operations keep running smoothly. Those working as PAs play a key role in building relationships around Ontario and earn an additional $16,000-plus on top of their six-figure salaries.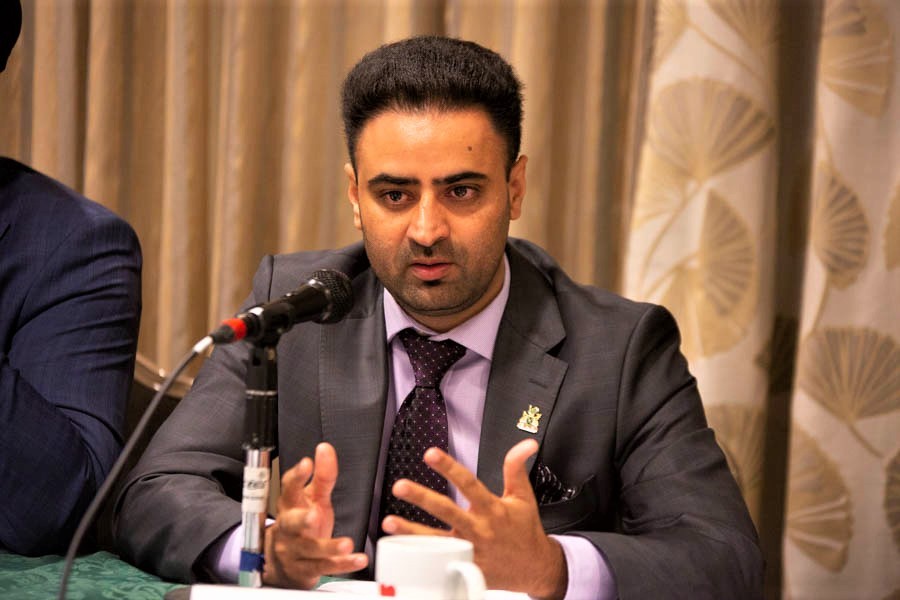 Amarjot Sandhu is a new parliamentary assistant at Queen's Park heading into an election year. (Image from The Pointer files)
"The role of PA is very, very important," Natalia Kusendova, PA to the minister for francophone affairs, told The Pointer. "As you can imagine ministers are very busy people, especially throughout the pandemic, making critical decisions for Ontarians. Any portfolio you look at, any ministry you look at, there are so many things to manage."
In theory, the positions are something of an apprenticeship for ambitious MPPs. In an election year they are also an opportunity to boost the profile of candidates who will be vying to keep their seats from NDP and Liberal candidates hoping to help remove Premier Doug Ford and his government from office next year.
For some, the links between their private-sector experience and political portfolios are obvious, for others the qualifications that allow them to make critical decisions for the people of Ontario are less clear.
Before entering politics, Sarkaria had experience in corporate law, but the COVID-19 pandemic thrust him into an entirely different realm. Four separate bills partially shaped by Sarkaria received royal assent during the pandemic while he was associate minister for small business and red tape reduction, including significant legislation that now allows restaurants and bars to sell takeaway alcohol for the first time. After performing strongly at Ford's daily press conferences, and in his role for the PC government generally, Sarkaria's promotion to a major cabinet position is unsurprising.
While he and Sandhu have received criticism for failing to advocate effectively for a number of pressing issues in Brampton, particularly healthcare, Sarkaria has been a high-profile figure around Ford's push to reduce regulations that make doing business in Ontario more onerous.
His successor, Tangri, had business experience before being elected to Queen's Park. She ran insurance businesses, working as the CEO of Tangri Insurance and Financial Group as well as being the president of Tangri-BMT Insurance Brokers. The Mississauga Streetsville MPP also worked as a PA for economic development since 2019.
According to the Ontario Legislature's website, she did not put forward any bills during her three years at Queen's Park.
Kusendova had a political track record showing a genuine interest in Franco-Ontarian issues, even before she was given her PA role toward the end of 2020. A private members bill she introduced to instate the Franco-Ontarian emblem as an officially recognized symbol received royal assent in September 2020. The MPP also speaks five different languages, with French the first she learned to read or write during her early education in Belgium.
Natalia Kusendova successfully introduced legislation to highlight the importance of the Franco-Ontarian flag before she was appointed to her role. (Image from Twitter)
"There is a growing francophone population in Mississauga, in the Region of Peel: 1.8 percent of the region is francophones, about 22,000," she said. "It is growing, we are seeing an increased number of immigration and especially from African countries that are French speakers."
Kusendova has combined her professional experience as a nurse with her PA role and is working on a report to investigate the condition of francophone long-term care beds in Ontario. It is an example of how ministers can and should delegate responsibilities to their PAs, she says.
Going down the list, the reasons for appointing some Peel MPPs to their new PA positions are less clear.
Cuzzetto (Mississauga—Lakeshore) has served as assistant to the president of the Treasury Board with a responsibility for auditing since 2019. The MPP worked for more than 30 years for the Ford Motor Company before he moved into politics, his last job was as a vehicle auditor, his website states. Despite the description, Cuzzetto's work for Ford was very different from his role for the Ford government, with the former akin to quality control.
"I work with the President of the Treasury Board (now the Hon. Prabmeet Sarkaria, formerly the Hon. Peter Bethlenfalvy) to help direct these internal audit resources and services to the highest-priority areas in our ministries, agencies, and TP partners," Cuzzetto told The Pointer.
In a follow-up, Cuzzetto admitted his professional experience was not related to his political portfolio. He said it was critical to bring a different perspective to government, and the rookie MPP has shown impressive energy and commitment while jumping headfirst into his role as a Mississauga MPP. He's one of the most active on social media, has advocated for issues such as ensuring the Credit River is a key protected feature of the Greenbelt and got involved with community-based initiatives to help residents during the pandemic.
"While it's true my current role is different [from working for Ford Motors], it's been invaluable to have significant experience in the private sector, where enterprise risk management has been a best practice for decades," he said.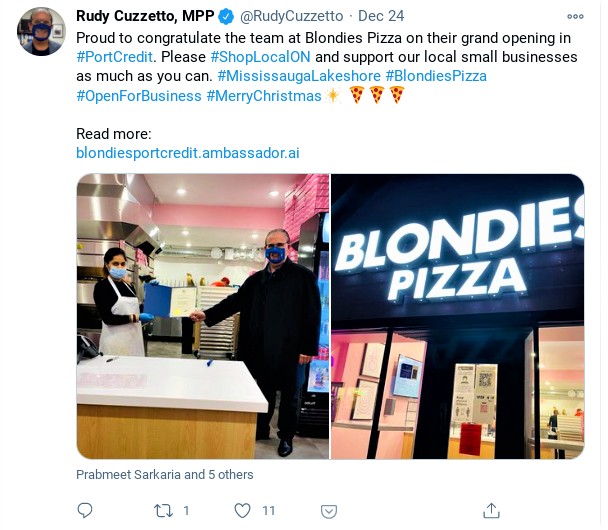 Rudy Cuzzetto worked for Ford Motors for more than three decades (Image from Rudy Cuzzetto/Twitter)
Anand, who has just been appointed to help the minister of labour, training and skills, doesn't have direct experience either. Before entering politics, he worked for Morguard Investments as a reporting analyst, eventually transitioning entirely to take over as the CEO of Godden Distribution, a company specializing in car parts and chemical lubricants.
A spokesperson for the MPP explained his unique journey in Canada gives him the lived experience necessary to shape the Province's labour training programs.
"MPP Anand immigrated to Canada in 2000, and worked in a factory on the assembly line as a lab technician," the spokesperson explained. "During this role, his boss noted his qualifications were not from Canada, and that he may benefit from local training. When MPP Anand said he could not afford this training, the superior offered to pay for it if he got at least a B plus."
Through this experience and a volunteer portfolio working with newcomers to the country, Anand says he is ready to help make Ontario an easier place to work as an immigrant.
One of the most surprising PAs is Sandhu, who was a realtor for Royal LePage before going into politics. The Brampton West MPP is now helping the minister of infrastructure, but has little previous experience. His only piece of legislation was a bill in 2019 designed to change the rules governing those who drive vehicles with air brakes. It has disappeared into the void of parliamentary committees.
The MPP tasked with helping out on the infrastructure file was caught running two unregistered secondary units in Brampton. Unregistered properties have been a thorny issue in the city, where their proliferation has made planning for various local infrastructure needs including schools, roads and transit more difficult for governments that are unable to plan as effectively because of the inability to know how many people actually rely on services and infrastructure in a given area.
"A realtor, Amarjot understands how the Wynne Liberals have made life unaffordable," Patrick Brown, then-PC leader, said in 2017 after Sandhu was nominated. "I am proud to have Amarjot on our already impressive slate of candidates for the upcoming election, and I know he will work tirelessly to ensure Brampton families pay less and get ahead."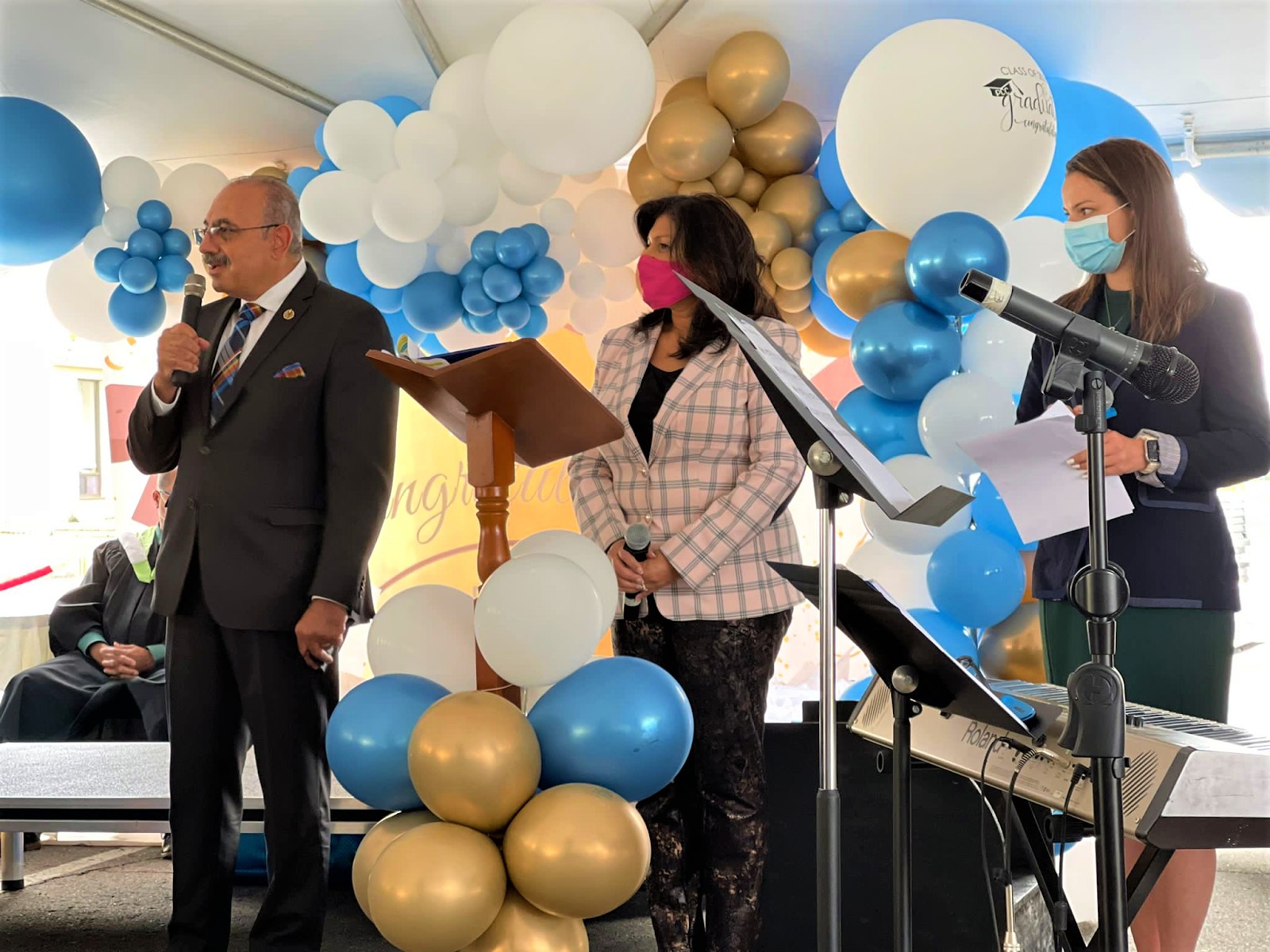 Sabawy, Tangri and Kusendova (left to right) all have elevated positions within the Ford government (Image from Sheref Sabawy/Twitter)
Rasheed, a former business student and account manager with Blackberry, will now serve as associate minister of digital government. The only legislation Rasheed has tabled is a bill to dedicate a day to ending cyberbullying in Ontario and a week of recognition for service workers. Sabawy will continue as an assistant for heritage, sport, tourism and culture, where it is unlikely his 32 years in the IT industry or engineering degree will be particularly useful.
Many of the MPPs who have been elevated to more senior roles possess private sector skills that generally help understand how to navigate certain processes and dynamics in order to push important legislation forward.
But it remains unclear if any will take the lead on crucial work to make Ontario one of the world's best places to live.
What the promotions mean for residents in Peel is also unclear.
Peel's current MPPs could return after re-election more rounded than before and ready to tackle the challenges of the next four years. They could also become distracted from their riding-specific work, serving the residents of Peel.
The new roles will certainly boost their profiles to help the PCs hold onto nine of Peel's twelve ridings, in a region that can swing to either side of the political spectrum.
---
Email: [email protected]
Twitter: @isaaccallan
Tel: 647 651-4879
---
COVID-19 is impacting all Canadians. At a time when vital public information is needed by everyone, The Pointer has taken down our paywall on all stories relating to the pandemic and those of public interest to ensure every resident of Brampton and Mississauga has access to the facts. For those who are able, we encourage you to consider a subscription. This will help us report on important public interest issues the community needs to know about now more than ever. You can register for a 30-day free trial HERE. Thereafter, The Pointer will charge $10 a month and you can cancel any time right on the website. Thank you.
Submit a correction about this story