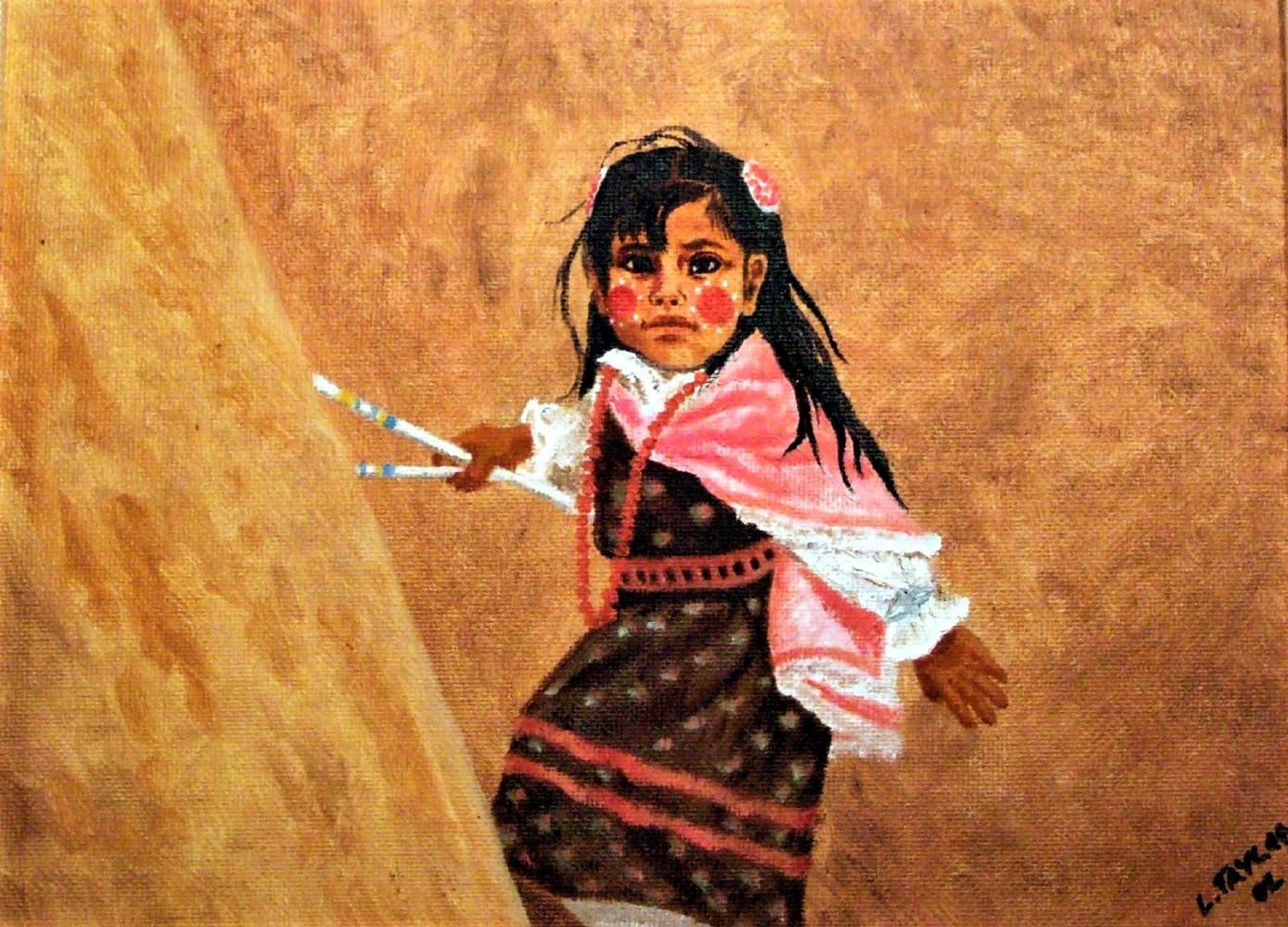 Painting by Lynn Taylor courtesy of artist
America moves painfully toward togetherness while Canada's history grows darker
Historians are like cold case detectives – reluctant to close the books on any unsolved mystery.
The idea is to seek out the truth, because in the end, justice will be done.
Dr. Martin Luther King Jr. reminded us that the arc of the moral universe is long, but in the end, it bends toward justice.
The results have been agonizingly slow to reach but they can finally be seen.
Former Minnesota police officer Derek Chauvin was found guilty of killing George Floyd and has been sentenced to 22.5 years in jail.
The George Floyd Police Act to have a national registry for police misconduct, was passed in the Democratic-led House (it is being stalled by Republicans in the Senate).
Donald Trump was voted out of office.
There is still much to do in the U.S.
Voter suppression laws at the state level are an ugly effort to keep Black Americans disenfranchised. Republican lawmakers have latched onto critical race theory as the latest bogeyman to scare white voters into supporting the party of hate.
But more and more south of the border believe only the truth will set their nation free.
As Steve Schmidt, the erudite former Republican Party strategist who led the Lincoln Project's highly effective anti-Trump strategy during the 2020 vote, said in a recent tweet: "History is not science, there are no algorithms or immutable laws. There is only memory and evidence."
Overwhelming evidence concludes that Confederate monuments in the U.S. were built not as memorials to the dead from the Civil War, but assertions of White Supremacy. When Black soldiers returned from Europe in 1918 after fighting with valour, their hopes of a more just society were crushed.
As the 19th century folded into the 20th, the notion of Black inferiority remained the dominant social organizing principle that shaped laws and customs in America. A fear that had spread across much of the country ahead of the First World War was that the inclusion of Black soldiers in the military would not just instill a sense of previously unfelt pride among men who had only ever been treated with contempt, it would do something far more insidious to the white man.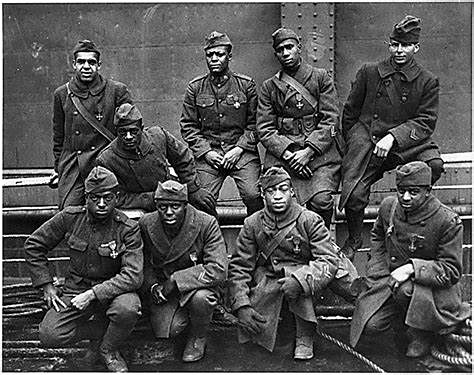 Decorated Black soldiers who fought for America in WW1. (U.S. Army Center of Military History)
Mississippi Senator James Vardaman feared that returning Black soldiers would see themselves as American heroes, and he predicted a year before the end of the Great War that their participation would lead to the "conclusion that his political rights must be respected." Black soldiers arriving home bathed in the sentimentality and respect of valour, he claimed, would "inevitably lead to disaster."
If white Americans were allowed to feel emotions such as guilt and remorse, even respect, toward their Black neighbours – suddenly humanized through an act of sacrifice that had an intense effect on those whose freedoms were protected – centuries of economic, political and social construction designed to advantage those in power would unravel.
Charles Lewis survived the brutality of trench warfare only to be lynched while in uniform by a murderous white mob. Weeks after returning from the war effort, Mr. Lewis was approached by a white police officer on the street who saw him in his uniform and clearly took issue. It was claimed the soldier resembled a robbery suspect (the story was likely made up). Lewis was eventually arrested and the next morning, after being tipped off, a large group of white men stormed the jail, subdued Mr. Lewis, and hanged him.
After fighting for their freedom, they did to Lewis what the enemy at war could not. In the end, he was killed by the real enemy of his people.
Soldiers like Hosea Williams and Medgar Evers became instrumental in the civil rights movement.
Jim Crow laws denied Blacks their legal rights in the post-civil war period, and segregation only ended during the 1960's.
Today, the Fox News propaganda machine drives home the message that Trump's Presidency was stolen by Black people from the inner cities of Detroit, Philadelphia and Atlanta who want to wage a full-on war on "Anglo Saxon" culture. The message from Trump America to Black America is this: your voice is not a God given right, but dependent on White magnanimity. When a white nationalist mob stormed the U.S. Capitol on January 6th, it was a clarion call for a return to yesteryear, when white hegemony ruled, and Blacks were docile slaves, saying "Yessim, boss," as they served the needs of their masters from the master race.
And yet…
When President Joe Biden returned from a successful G7 Summit in England recently, he spent the next day signing into law a monumental piece of legislation. A new federal holiday will commemorate the end of slavery. Biden called making Juneteenth (June 19) the 12th federal holiday, one of the greatest honours he has ever had. The House voted 415-14 to send the Bill to him, while the Senate passed it unanimously the day before.
"This is a day of profound weight and profound power, a day in which we remember the moral stain, the terrible toll that slavery took on the country and continues to take," Biden said, in an emotional address, that drew tears of joy.
In perhaps his most powerful declaration, he said: "Great nations don't ignore their most painful moments… They don't ignore those moments in the past, they embrace them. Great nations don't walk away; they come to terms with the mistakes we made. And in remembering those moments, we begin to heal, and grow stronger."
It celebrates June 19, 1865, when Union soldiers brought the news of freedom to enslaved Black people in Galveston, Texas — two months after the Confederacy had surrendered. That was also about two-and-a-half-years after the Emancipation Proclamation freed slaves in the Southern states. It's the first new federal holiday since Martin Luther King Jr. Day was created in 1983.
A foundational inclusion will be added to U.S. history books. Biden's announcement was a righteous act of reconciliation for past misdeeds, although nothing will rub away the stain of slavery, Jim Crow laws, segregation, or even the recent murder of George Floyd, and others like him who have been harmfully policed for generations.
Not long before the Juneteenth announcement, Biden travelled to Tulsa, Oklahoma, the heart of Trump country, to re-right the city's race massacre where whites destroyed the burgeoning Black business neighbourhood and murdered hundreds, as fears of Black economic empowerment overcame those horrified by the thought that the underclass might soon stop working for their masters.
Biden movingly said: "Some injustices are so heinous, so horrific, so grievous, they cannot be buried, no matter how hard people try. Along with truth comes healing."
Yes, history is about telling the truth, even when it hurts, or comes with a disclaimer. Tom Hanks, the famed actor, who has been part of Hollywood's powerful political machinery that chooses which stories to tell, and which to ignore, penned a column in the New York Times asking why none of this history was ever taught to him or all of us in school.
Schmidt is buoyed by his country's passage of the Civil Rights Act of 1866, the 13th, 14th, and 15th amendments, and now its newest national holiday to entrench the significance of slavery's destructive legacy, but said America's reactionary forces were emboldened when Trump was in office.
He said the Harlem Renaissance still stands as a stirring reminder about what can happen when the human soul is freed from the indignities of oppression. "There is a reason why autocratic societies do not produce great art, music and literature. There can be no joy without freedom. And there can be no art absent joy," he said.
Schmidt probably knows less about Canada and our long-standing contempt for our neighbours south of the border. Many of us look at their blood drenched history with revulsion – a Revolutionary War to rid them of the British, and a Civil War to rid the country of slavery. There was the Vietnam and Iraq wars (both based on a lie), inner-city strife, race riots, mass shootings, and the proliferation of guns – at last count an estimated 400 million. Finally, and fittingly, the election of Donald Trump – a bigot and autocrat (the two go hand-in-hand).
Yes, we have stared across the 49th parallel in disbelief, grinning our smugly superior grin. We revel in our parliamentary system. Our cool, peaceful, detached separation from Britain – not a shot fired. Our contributions to two World Wars, and our new role as peacemakers. Our lower crime rates. Our minimal gun usage. Our universal healthcare. Our well-regulated banking system. And, our casual multiculturalism.
Sure, we've had our share of incompetent prime ministers, but we invariably toss them from office, and don't tear down Parliament Hill when we transfer power.
While the U.S. seemed to exist to create the perfect individual (an Emersonian ideal) we took a different path, a better one, as far as we were concerned.
And yet…
As the U.S. comes to some kind of a reckoning on its history, in Tulsa, and in celebrating the end to slavery with a new holiday, we have been confronted with our own made-in-Canada horror show. In late May, the remains of more than 200 Indigenous children were discovered buried near a former residential school in Kamloops, B.C.
A national and international disgrace.
Then, the remains of more than 700 bodies were found in unmarked graves next to a former Saskatchewan residential school.
We have had a long and shameful relationship with the Indigenous people who were here thousands of years before the marauding Europeans arrived, but few of us knew how deep the wounds were in this country. How endemic was the hate, and the racism?
History already revealed much of the evidence, like our first prime minister, John A Macdonald's speech delivered in the House of Commons on May 9, 1883.
"When the school is on the reserve the child lives with its parents, who are savages; he is surrounded by savages, and though he may learn to read and write, his habits and training and mode of thought are Indian. He is simply a savage who can read and write. It has been strongly pressed on myself, as the head of the Department, that the Indian children should be withdrawn as much as possible from the parental influence, and the only way to do that would be to put them in central training industrial schools where they will acquire the habits and modes and thought of white men."
This was decades after many American politicians had openly recognized that notions of white superiority were absurd, and that the U.S. constitution's original position that Black individuals would only be counted as three-fifths of a state's representation, compared to whites, needed to be rescinded.
Imagine an educational official, government agent, and one or two RCMP officers arriving at a "reservation" and announcing to a mother and father that they were removing your son or daughter to a Christian school so they could knock the "Indian" out of them.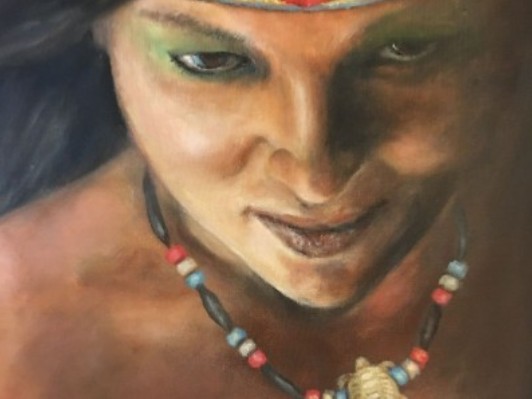 (Painting by Lynn Taylor; image courtesy of artist)
The Chinese now use our disgraceful past and Canada's long history of atrocities against Indigenous populations whenever we try to bring up human rights issues on the international stage.
It seems perfectly appropriate for one serial abuser to call out another, even if Prime Minister Justin Trudeau tries to deflect Chinese rebuttals by claiming our actions were in the past. Really, Mr. Prime Minister, are you sure about that?
Kamloops and Saskatchewan and the other approximately 130 residential schools that ensnared at least seven generations of Indigenous communities represented cultural and physical genocide (murder by any degree).
The Truth & Reconciliation commission made numerous recommendations, some kept, others ignored, but it has not been enough, not now, not in light of Kamloops and Saskatchewan and the reality that thousands more bodies will be discovered across the country.
Outraged Canadians can knock down statues of Macdonald or Egerton Ryerson, but we have to do more: search for more bodies, more horrors. We can't re-right systemic wrongs if we don't have all the evidence.
We took so much from our First Nations – but perhaps the worst was trying to bleed their children white.
It's easy to forget the Mississaugas were members of a thriving tribe when settlers first arrived on the shores of Lake Ontario. Or that Ryerson created religious missions on present-day Mississaugua Golf Club, where a residential school once operated. The tribe was destitute before it was consigned to a "reserve" – New Credit First Nation near Brantford. Its current chief, Stacey Laforme, was born there. He was elected chief and has served his community for more than 18 years. He recently commented on Kamloops. It was important, he said, that all of us stand together and show the world that we recognize the moment that we are in. "It's time to start doing things better. It's time to do away with racism and divisiveness."
The reaction from other leaders, like the Pope, whose Catholic parish was where the horrors of the Kamloops residential school occurred, is beyond inept. He still hasn't apologized for the abuse of Indigenous children.
Mississauga Catholic priest Owen Keenan resigned in disgrace this weekend, the ultimate embodiment of the Church's hate and disregard toward those it forcefully converted. He said during a sermon the previous weekend that the Catholic Church had done much good through residential schools and that Indigenous communities across Canada benefitted significantly from residential schools.
It was a horror story.
Keenan represents all that is terribly warped in this country and some of our major institutions.
June is National Indigenous History Month, and this is how he chose to honour our First Nations and all the other founding Indigenous communities. By claiming people just like him saved them from themselves.
Imagine how Keenan's words cut into the souls of those survivors who were ripped away from their families.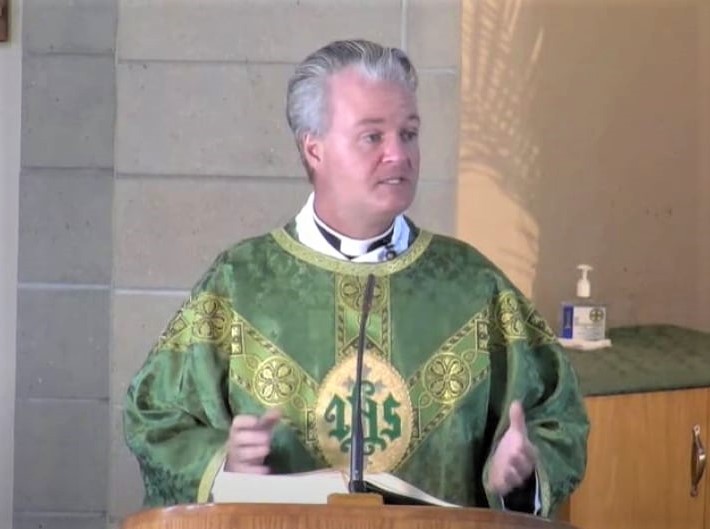 Mississauga Catholic priest Owen Keenan just resigned after claiming residential schools were good for Indigenous communities. (Screen grab: YouTube)
He further desecrated those sacred children who died and were meant to be wiped away forever.
History has not been quick enough to tell us the truth about the relationship between Canada and its founding peoples. That needs to change, along with school curriculums.
The late and legendary Chief Dan George of the Tsleil-Waututh Nation, a Coast Salish band whose community is located on Burrard Inlet in the southeast area of the District of North Vancouver, who gained fame as a Hollywood actor (Little Big Man, The Outlaw Josey Wales) once said, "A child does not question the wrongs of grown-ups, he suffers them!"
Chief George also said the only thing necessary for tranquility in the world is that every child grows up happy.
Most among our Indigenous communities weren't given the chance.
History is also good at mythmaking, hiding the truth. And some think Canada suffers from a severe case of cultural amnesia. Famed Canadian author and philosopher John Ralston Saul is one of them. His book, A Fair Country: Telling Truths about Canada (2008) argued the contemporary Canadian elite were incompetent because of their inability to solve problems or even effectively discuss them. He attributed this failure to a colonial mentality that still perceives Canada as a derivative of Europe or the United States. It was his contention that Canada is an aboriginal-minded society, and our First Nations are part of our national consciousness. Amnesia might explain our weird reluctance to address Aboriginal concerns or to fashion an identity that seems credible.
Maybe that's why the Conservative government in Ottawa refused to endorse the United Nations Declaration on the Rights of Indigenous Peoples in 2007, which would have created a comprehensive legal framework to address human rights issues for 370-million people in 70 countries.
Saul said Canada was, in fact, "a Métis civilization," French/English/Indigenous. We share each other's values. This makes us unique in the world, our true and identifying principle as a nation.
Time for more words has long passed. At the massive Lakeview Village development on the old Ontario Hydro lands in Lakeview, a group called Eagle Spirits of the Great Waters, has proposed that an Indigenous Village be built on the land that was once shared by their ancestors. This village will be a learning centre for arts and culture. It will be built to serve Indigenous and non-Indigenous people. The plan has no financial backing and has been met with stony silence from the City of Mississauga, and the Lakeview Partners, a consortium of developers who look to score mega-profits from the project which has grown in density since it was first conceived by the original planners, the local residents' association.
The latter have heartily embraced the village within a village plan, and John Danahy, a former University of Toronto professor, and one of the original framers of a moderate, mixed-use design that tried to save the area from over-development, thinks this would be an amazing opportunity to put Mississauga on the map by celebrating such a rich history; a project to secure the origin story of the entire area around the GTA and ensure it will never be lost. What a great way to serve the needs of future generations.
The idea of having a place where all people can be taught the First Nations' ways, the skills and values and their millennia-old spiritual beliefs that we denied them in this country for so long, seems a fruitful way to start the reconciliation process right here in Mississauga. Educators in Peel seem enthused about the possibilities too, and many are excited by the original plan. Let's see if the City, Province, developers and Ottawa make it work. Empty platitudes seem like the norm these days.
Whether First Nations or Black Americans, it seems clear that we have entered a new age. What will happen if we don't reckon with our past, if we don't tell the truth? This truth was denied to all of us in the past, in our schools. We were never told the non-white story.
Let's find every buried body and fully and completely admit our sins.
Let's create a proper national holiday to commemorate and forever remember our shameful past.
Let's demand every Canadian child learns our history.
And let's make sure our First Nations and other Indigenous leaders lead the teaching process.
Then let's use what we learn to finally begin healing our entire nation.
In Canada, we need to educate our children about our First Nations, how they contributed to making Canada what it is today. Maybe we are a Metis nation. If so, let's find out.
Being founded on the principles of three peoples seems like a pretty cool concept.
---
COVID-19 is impacting all Canadians. At a time when vital public information is needed by everyone, The Pointer has taken down our paywall on all stories relating to the pandemic and those of public interest to ensure every resident of Brampton and Mississauga has access to the facts. For those who are able, we encourage you to consider a subscription. This will help us report on important public interest issues the community needs to know about now more than ever. You can register for a 30-day free trial HERE. Thereafter, The Pointer will charge $10 a month and you can cancel any time right on the website. Thank you.
Submit a correction about this story