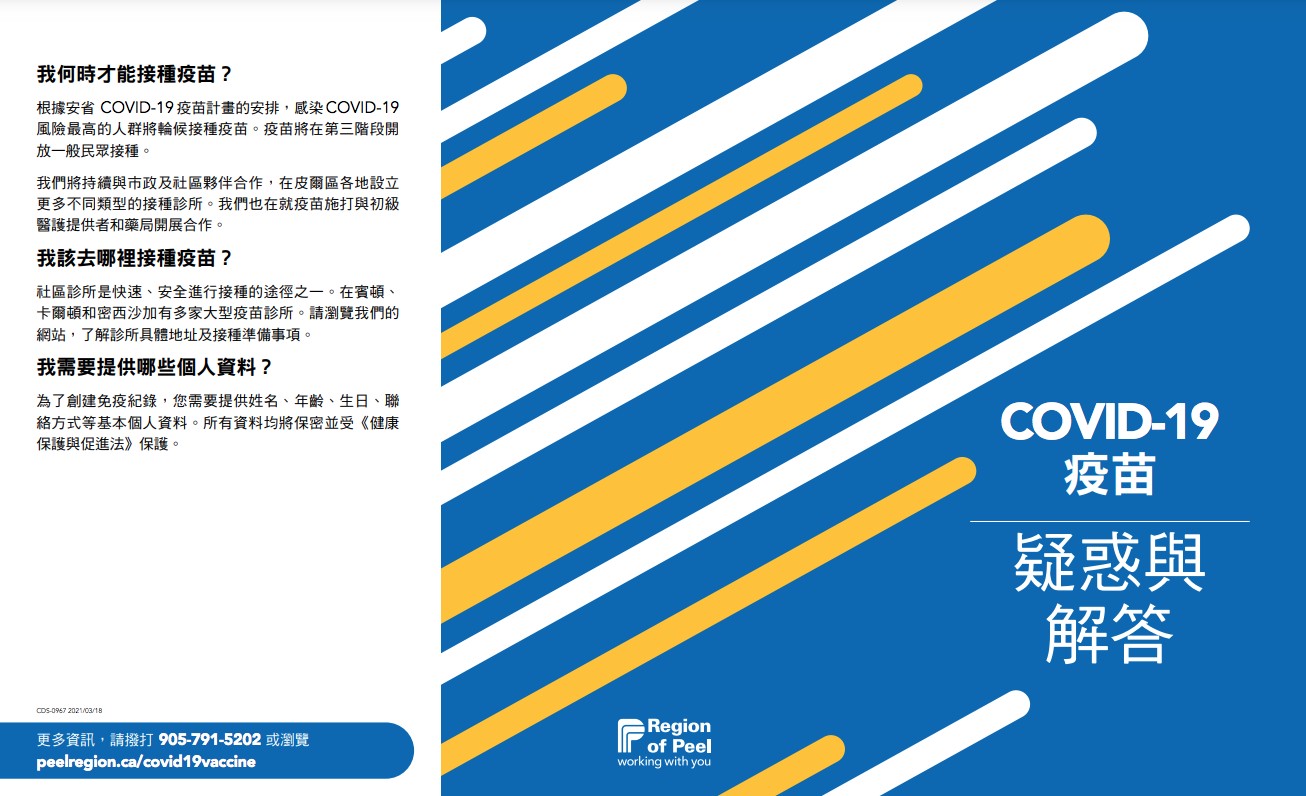 Image from the Region of Peel
The best $100K Peel spent during the pandemic
When Prabhjot Sohal sits in front of her microphone, she holds the trust of thousands.
The RedFM reporter delivers news in Punjabi to listeners across Peel. She breaks down vital developments using her proficiency in one of the region's most commonly spoken languages.
During the pandemic, across parts of Canada and the U.S., language has been a key barrier that has resulted in disparities around testing, contact tracing, medical treatment and vaccination uptake.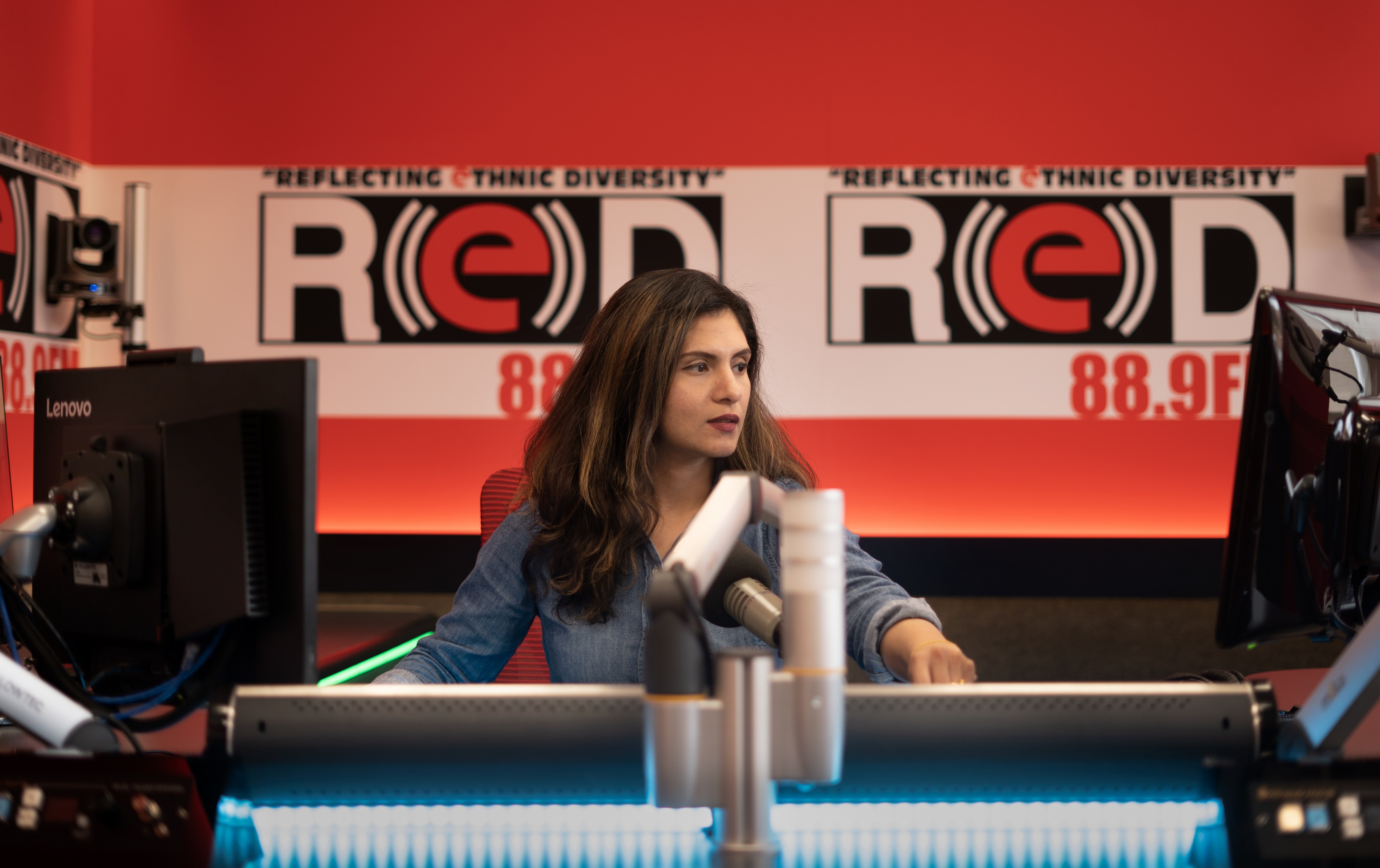 Prabhjot Sohal, a reporter with RedFM.
(Image courtesy of Prabhjot Sohal)
What has often been mistaken for hesitancy, is actually a simple communication problem. For tens of thousands of Peel residents who have never had the medicine and science relevant to the pandemic explained in a way that makes them comfortable, or fills in gaps most people have experienced while trying to understand complex moving pieces, the language barrier can be the difference between positive and negative outcomes.
The past 16 months has featured confusing decision making by leaders, constantly changing science and policies that have sometimes been hard to comprehend even for those fluent in English. Imagine what it's been like for those trying to navigate all the messaging in another language, without the proper tools to do so.
Communication barriers put everyone in a jurisdiction at further risk. Translation isn't just beneficial for those who use such services, it helps limit the pandemic's reach across the entire GTA.
Before the COVID-19 pandemic, non-English and other media outlets aimed at specific ethno-cultural communities like RedFM played an important role. They disseminated news in various languages and added a unique lens to local and international issues.
For recent immigrants or older generations, these newspapers, television channels and radio stations represent a key source of information for hundreds of thousands of Peel residents most comfortable engaging with news through their mother tongue. Children born into diaspora communities in Canada can also use them as a tool to keep languages and connections alive.
"If I belong to one area and I use that dialect, I sometimes get a caller saying, 'I felt so good that you spoke in that dialect and explained this thing'," Sohal tells The Pointer, emphasizing how much her listeners value receiving news in their native tongue. "People connect to you and then they listen to you more."
Radio broadcasts in different languages can be a key source of information in Peel Region.
(Image from Nick van der Ende and Unsplash)
In the Region of Peel, media and vital communications only pushed out in English fail to work for the entire population. To effectively communicate with its residents, the Region has to translate its materials and forge meaningful relationships with non-English media outlets and community organizations.
According to the 2016 Census, just 52 percent of Peel's residents list English or French as their mother tongue. Across the region, 70 percent of households speak an official language most often at home. That means almost one third of Peel families do not communicate around the dinner table in English or French.
The wide range of dialects spoken means diverse media outlets have always had an important role to play. The onset of COVID-19 and accompanying merry-go-round of government restrictions made multilingual media and translated communications more important than ever before.
The pandemic suddenly challenged Sohal to explain complicated and evolving medical news in simple terms, using the language her listeners are most comfortable speaking. The news was no longer optional or abstract, it impacted what people were allowed to do and how they should live their lives. Delivering technical information in Punjabi to households across Peel allowed the nuance of various decisions to be communicated, kept people safely informed and helped to bring compliance in a difficult fight against the novel coronavirus.
A body of research has shown how important language is for building trust around medical issues; when patients share a language with doctors, it leads to better healthcare outcomes. A 2007 study from the United States found patients who did not share a common language with their healthcare provider were less likely to benefit from health education, received worse interpersonal care and ended up less satisfied with their treatment.
"It's an easier way to explain in their own language," Sohal says. "Translation becomes a huge help when people have to understand, and also access — radio, it's a very interactive medium. Everytime there's a new [announcement] there are so many callers calling to know: 'Can you give me the number to book a vaccine', any sort of question, whether it was quarantine issues or anything, a lot of listeners call in."
At the local level, the Region of Peel and Peel Public Health have been tasked with key pandemic duties. Most recently, the vaccine rollout has fallen squarely under their justiction. Communicating vaccine information and pandemic-safe behaviors is critical to Peel's hopes of a return to normality as soon as possible. For this to happen, communication cannot take place in English and French alone.
Relying on the 2016 Census, the Region has identified the ten most common languages in Peel, other than English or French. Punjabi is the most widely spoken, used by 16 percent of all Bramptonians and eight percent of Peel's residents. Urdu, Mandarin and Arabic are also spoken widely.
Using this information, and considering factors including the availability of media outlets in each language, the Region has invested funds to translate its COVID-19 materials. Professional translation services have been used to design posters and information pamphlets in all of Peel's most commonly spoken languages.
The Region of Peel has invested in translation services during the COVID-19 pandemic.
(Image from Google Maps)
The Region's website also features a translation button that allows residents to select the language they want information to be displayed in. The languages most often chosen by website visitors are French, Chinese, Arabic, Punjabi, Spanish, Hindi, Urdu, Filipino, Portuguese, Polish, Italian, Tamil and German, according to the Region of Peel.
To date, the Region has spent $97,902.58 translating COVID-19 and vaccine communication materials into different languages.
The funding represents a type of cost not faced by all governments equally. In Simcoe County, for example, 90 percent of all residents consider English or French to be their mother tongue and 98 percent of residents speak one of the two official languages most at home. Peel hopes some funding may be reimbursed by the Province, but details are unclear.

Data used by the Region of Peel to monitor its most spoken languages.
(Image from the Region of Peel)
In order to get its linguistically accessible information out to members of the public, Peel has placed advertisements with various non-English media outlets. The Region has a budget of $125,991 for print advertising and $68,288.88 for broadcast. A mere 17 percent of its print dollars have been spent with non-English media outlets, but 53 percent of the broadcast budget has gone to ethno-culturally specific media channels.
Dollars spent on non-English or multicultural media outlets travel far.
According to a 2020 report by the Region, Can-India News Online, an English language newspaper focused on the South Asian diaspora and local communities, boasts more than 137,000 unique visitors per month. Fairchild Television Network, a Mandarin TV station, receives close to 59,000 separate visitors monthly. Akhbaar-e-Pakistan, an Urdu publication, has a monthly audience of 41,000 and the Arabic outlet Al Wattan has 40,000.
These platforms offer an opportunity for Peel's vital vaccine and COVID information to permeate into its mosaic of communities.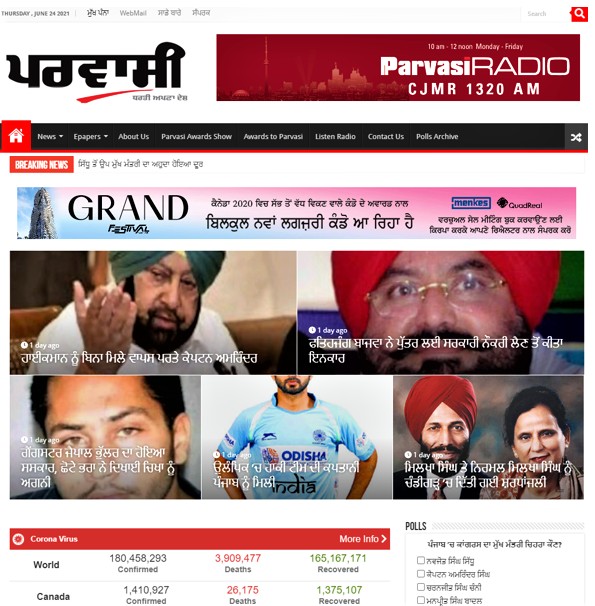 Outlets like Parvasi Media offer alternative ways for the Region to communicate with Peel's Punjabi-speaking community.
(Screenshot of Parvasi News)
Delivering this information in various languages through trusted diaspora-focused media outlets can increase accessibility and trust. For residents who speak English as a second language, the translation allows them to focus on processing potentially complex information without the additional complication of internal translation.
In the early days of the pandemic, Sohal, who recently transferred from Vancouver to the GTA, says RedFM was faced with COVID-19 denial from some of its listeners. The station's presenters doubled down on their content and pushed public health campaigns to the top of the agenda. They sought out Punjabi-speaking doctors and nurses, interviewing native speakers who had experienced the disease to talk about their troubles.

The Region of Peel's 'Vaccine Myths' page translated into Punjabi. Residents who want pandemic information from the Region of Peel in different languages can go to the Translation Resources page. Visitors can choose one of 14 languages other than English.
(Image from Region of Peel)
RedFM took on a community leadership role, disseminating key messaging to keep its listeners safe.
Language has a powerful impact on how people receive information and even subtle differences are noticed, Sohal says. Each dollar the Region has spent on translation works effectively to protect residents from the dangers of COVID-19, in turn keeping the entire GTA population more safe.
"When we do our shows or anything, if we end up using a lot of English or maybe another Indian language like Hindi … people do feel like, 'Why aren't you talking to us in our language?'"
---
Email: [email protected]
Twitter: @isaaccallan
Tel: 647 561-4879
---
COVID-19 is impacting all Canadians. At a time when vital public information is needed by everyone, The Pointer has taken down our paywall on all stories relating to the pandemic and those of public interest to ensure every resident of Brampton and Mississauga has access to the facts. For those who are able, we encourage you to consider a subscription. This will help us report on important public interest issues the community needs to know about now more than ever. You can register for a 30-day free trial HERE. Thereafter, The Pointer will charge $10 a month and you can cancel any time right on the website. Thank you.
Submit a correction about this story