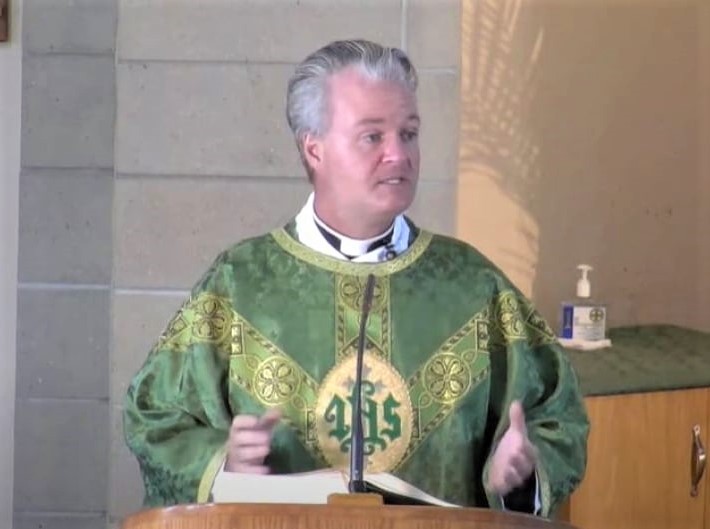 Feature Image from YouTube
Mississauga priest's residential school comments raise questions about future of Catholic Church
Leaders in Mississauga have condemned a local pastor after he made comments referencing "the good that was done" in the Canadian residential school system, while critics are raising questions about the Catholic Church's place in modern society.
Monsignor Owen Keenan of the Merciful Redeemer Parish in Mississauga told his congregation over the weekend positive impacts of the residential school system had been ignored. In a homily that was clipped and shared on social media, Keenan can be heard pushing a narrative that the church deserved praise for elements of the residential school system and its legacy.
"I presume that the same number would thank the church for the good that was done in those schools, but of course that question was never asked," he said, after suggesting that "two-thirds of the country" blames the Catholic Church for residential schools. "And, in fact, we're not allowed even to say that good was done in those schools. I await to see what comes to my inbox."
The remarks illustrate the lack of compassion the Catholic Church and many of its leaders have shown in recent decades as reports of atrocities carried out by the institution around the world have added to the demise of Catholicism in the eyes of more and more people.
Canada's residential school system operated from the 1880s until 1996, taking Indigenous children from their families and forcing them to live in boarding schools run by religious institutions. The schools banned children from speaking their traditional languages or connecting with their roots.
The Canadian government has admitted both physical and sexual abuse were rampant. Students were beaten for speaking their native languages. Canada's Truth and Reconcilliation Commission said the system amounted to cultural genocide.
The Catholic Church worked hand-in-glove with the federal government to eradicate First Nations, and other Indigenous ways of life and spiritualism from the country.
Two recent discoveries have pushed Canada's residential school system, and the country's colonial legacy, to the top of the public consciousness. At the beginning of June, the remains of 215 children were discovered in Kamloops, British Columbia, and on Thursday, 751 unmarked graves were found near a former residential school in Saskatchewan.
Keenan's harmful remarks followed the unwillingness of Pope Francis to issue a formal apology after the remains were found in Kamloops.
Stacey LaForme, Chief of the Mississaugas of the New Credit First Nation, told The Pointer Keenan's comments initially angered him. He said the pastor should consider if he was suitable for the position of community leadership he holds.
"I think making a statement like that — not understanding what is occurring in the world around you — shows a real and complete lack of awareness," he said. "For someone who is actually in a leadership role, I would suggest the gentleman seriously go away for a little while and take some time to reflect [on if he is in] a role he's suited for."
Keenan (left) during a church service in 2017.
(Image from Twitter/Bonnie Crombie)
Pope Francis has given a speech "expressing sorrow" over the discovery in Kamloops, but has not apologized for the role played by the Catholic Church.
In recent weeks, social media has been flooded by comments suggesting the Catholic Church and the Vatican, which has carried out centuries of brutality around the world, operates more like a corporation consumed by power and profit, while making decisions based on legal considerations, not morality.
The Catholic Church's refusal to apologize for its role in the residential school system has angered critics. The church's central teachings are based on the premise of seeking forgiveness, but its leadership has resisted pressure to apologize. Prime Minister Justin Trudeau has called on the Pope to take responsibility and issue a formal apology.
"You should reflect on that before you just open your mouth to defend something you don't understand," LaForme said.
Keenan's comments were also condemned by Mississauga Mayor Bonnie Crombie. In a statement, Crombie — a practising Catholic — said she was "extremely disappointed" to see what the pastor had said.
"In regard to his comments on residential schools, what Monsignor Keenan said was deeply insensitive to Indigenous Canadians, particularly at a time when Indigenous communities are in pain as they unearth more mass graves at the sites of former residential schools," she wrote. "His comments show a fundamental misunderstanding of one of the core tragedies of the residential school system in Canada: that children were forcibly separated from their parents."
Crombie has condemned Keenan's comments, saying she was "extremely disappointed".
(Image from Twitter/Bonnie Crombie)
Keenan and the Archdiocese of Toronto, which oversees his parish, both issued apologies, following widespread backlash over his disturbing remarks over the weekend.
"I apologize sincerely for any hurt I have caused and pledge to do better, especially at a time when there is a national conversation underway regarding residential schools," Keenan wrote. "I am deeply sorry, embarrassed, ashamed and shocked at the revelations of abuse, destruction and harm done in residential schools across this country. As a Catholic and a Priest, I in no way condone the Residential School System, I regret deeply that these places existed, and I lament the harm that was caused... I ask for your pardon, understanding and prayers."
But his comments ring hollow for many who have pointed out that the priest mocked the expected response his remarks would provoke, when he said, "I await to see what comes to my inbox."
The Pointer contacted Keenan's parish to ask if he could explain how his understanding had evolved since he gave his sermon over the weekend and if he could articulate why his comments were hurtful. He did not reply in time for publication.
Keenan said "good was done" in Canadian residential schools.
(Screenshot from YouTube)
"The archdiocese has been in contact with Msgr. Keenan to convey the deep pain and anger felt by those hurt by his words," the Archdiocese of Toronto wrote in a statement. "Msgr. Keenan has pledged to fully educate himself, with the appropriate support, to gain a more wholesome understanding of the full history of residential schools and their impact in our country. We apologize to anyone who was offended by his remarks."
Keenan will not lead any services in the coming days, including this weekend.
The Merciful Redeemer Parish Church where he presides over the weekly liturgy was apparently vandalized with graffiti Thursday, in response to Keenan's harmful words.
Two Catholic Churches were burned to the ground this week in B.C. in what was believed to be a response to the horrific findings in Kamloops and the Church's continued refusal to issue an apology for what it did to generations of Indigenous peoples who were subjected to unspeakable atrocities in the name of Catholicism.
Its leaders have systematically fought against those who have exposed decades of sexual abuse and more recently have refused to take ownership for what the Church has done to indigenous communities around the world.
In May, German Cardinal Reinhard Marx sent a letter to Pope Francis that rocked the foundations of the Church. In offering his resignation, he said: "In essence, it is important to me to share the responsibility for the catastrophe of the sexual abuse by Church officials over the past decades."
Marx characterized the Catholic Church as being at a "dead end" and wrote that factual evidence has "shown that there have been many personal failures and administrative mistakes but also institutional or 'systemic' failure".
He said remaining silent would make him "personally guilty and responsible."
"We have failed," he added.
In Canada, there has been no such admission or apology for the generations of genocide and destruction the Catholic Church caused to those who were here long before Europeans arrived with their brand of religion.
The Catholic Church has been in sharp decline for decades, as participation has fallen dramatically. In the U.S., survey data from Gallup show affiliation with a parish among Catholics dropped from 76 percent in 2000 to 58 percent in 2020, meaning more and more born into the denomination are even ignoring the Church.
Speaking at Crombie's weekly press conference on June 3, LaForme said he hoped the Kamloops discovery would be a moment for the country to take action and reflect together. "The pain you feel is because we're all connected and on some level you realize that — or at least your spirit does," he said, reading a poem he had written in response to the discovery.
The poem is reproduced with permission below.
---
Reconciliation
I sit here crying
I don't know why
I didn't know the children
I didn't know the parents
But I knew their spirit
I knew their love
I know their loss
I know their potential
And I am overwhelmed
By the pain and the hurt
The pain of the families and friends
The pain of an entire people
Unable to protect them, to help them
To comfort them, to love them
I did not know them
But the pain is so real, so personal
I feel it in my core, my heart, my spirit
I sit here crying and I am not ashamed
I will cry for them, and the many others like them
I will cry for you, I will cry for me
I'll cry for the what could have been
Then I will calm myself, smudge myself, offer prayers
And know they are no longer in pain
No longer do they hurt, they are at peace
In time I will tell their story, I will educate society
So their memory is not lost to this world
And when I am asked
what does reconciliation mean to me
I will say I want their lives back
I want them to live, to soar
I want to hear their laughter
See their smiles
Give me that
And I'll grant you reconciliation
– R. Stacey Laforme
---
Keenan's comments, if they are charitably viewed as ignorance, show the importance of updating Ontario's education system, LaForme says.
Chief Stacey LaForme believes tangible and sizeable investments need to be made in education.
(Image screenshot from City of Mississauga/YouTube)
In 2018, the Province cancelled a curriculum revision designed to increase Indigenous voices. The project had planned to revise how social studies, geography and history were taught in schools in response to the findings of the Truth and Reconciliation Commission.
LaForme wants to see significant resources put toward vital education improvements to properly teach the next generation of Canadians about their own history, which has been completely ignored by text books for more than a century.
"It's important that we reinstate these things and get them up and running," he said. "Our kids — and I say our kids in the context of kids in this country — need to be educated. They're way smarter than we are and they're ready to do the right thing… I see such bright and ready faces to meet the challenges of the world."
---
Email: [email protected]
Twitter: @isaaccallan
Tel: 647 561-4879
---
COVID-19 is impacting all Canadians. At a time when vital public information is needed by everyone, The Pointer has taken down our paywall on all stories relating to the pandemic and those of public interest to ensure every resident of Brampton and Mississauga has access to the facts. For those who are able, we encourage you to consider a subscription. This will help us report on important public interest issues the community needs to know about now more than ever. You can register for a 30-day free trial HERE. Thereafter, The Pointer will charge $10 a month and you can cancel any time right on the website. Thank you.
Submit a correction about this story