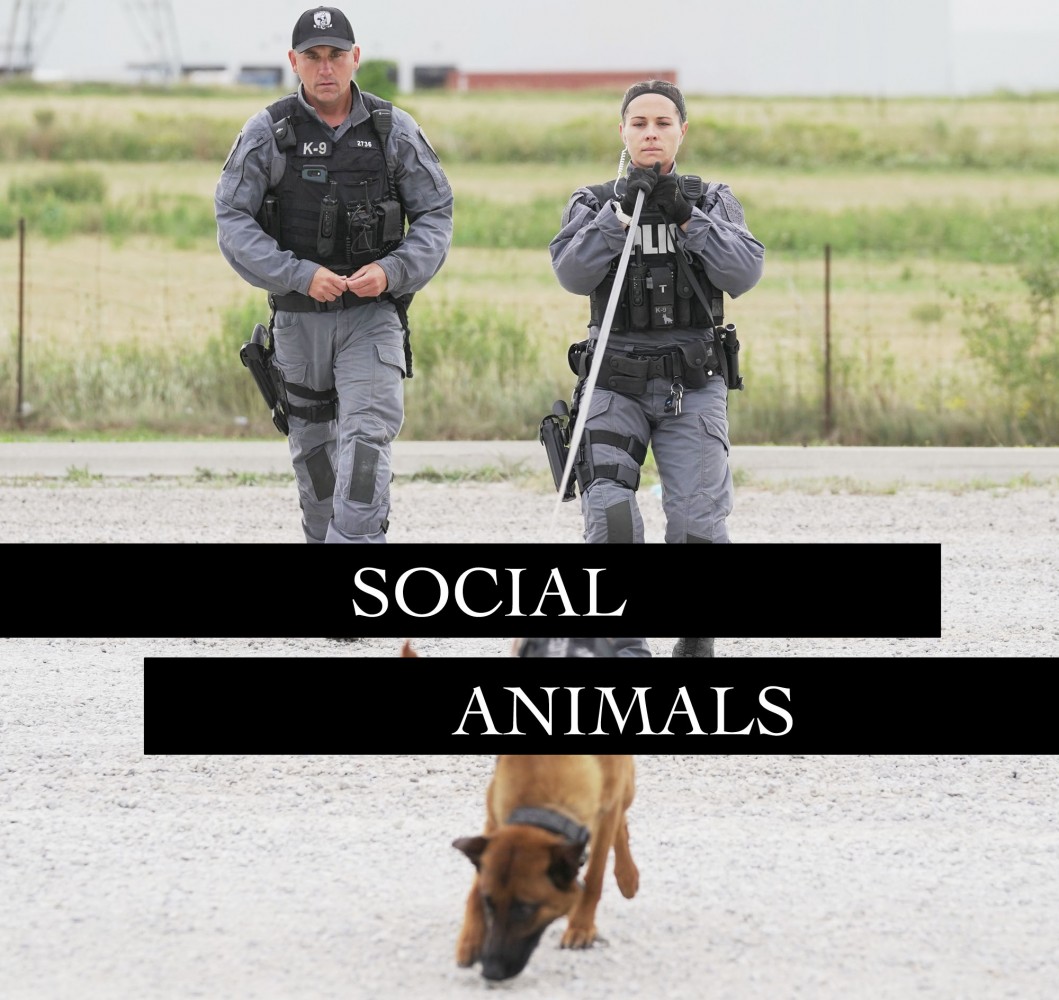 Image from Peel Regional Police K9 Unit
Peel's K9 unit has a social media style police forces should learn from
The Pointer's Social Media Monitor is a weekly look at how elected officials and other public civil servants or organizations are using their taxpayer-funded resources to shape digital communication aimed at constituents. We feature one public figure or topic each week.
---
The Mississauga house had already been given a solid search by Peel police officers. The 2015 warrant was the result of a drug case that led investigators to believe large quantities of narcotics were inside.
But they couldn't find anything.
Police Service Dog (PSD) Trooper and his handler, Peel Regional Police Sgt. Matt Bertram, were called to help.
The pair started at the top of the townhouse and worked their way down, Trooper ready to alert Sgt. Bertram and only reacting so far to what might have been insignificant traces of cocaine. In the basement there was a dark and dingy laundry room that was bare. Trooper stopped and sat right by a solid wall. Sgt. Bertram looked and couldn't figure out what his partner was telling him.
The pair stepped out of the room, then returned, and immediately Trooper went back and sat in front of the same section of the same wall, as he is trained to do when locating drugs or firearms. Sure enough, Trooper's nose knew a large bag of cocaine was hanging behind the drywall, suspended from a heating vent on the first floor.
Trooper got his name from the ABBA song "Super Trooper". (Image from by Matt Bertram)
"That's probably the most fun because you go to the warrants and search the houses and you get a lot of calls for service and then you always feel happy when you find stuff that someone's worked so hard to hide," Sgt. Bertram told The Pointer.
Trooper and Sgt. Bertram worked together from 2010 to 2017 when Trooper retired. Shortly after, Sgt. Bertram moved to the media unit and created @PRPK9, the Twitter account dedicated to showcasing the hardworking canines and their handlers, online.
He was seeing a lot of negativity from the public on gun violence and police misconduct while working in the media department. To contrast this, he used the K9 unit to show a more positive part of policing, highlighting the amazing work and giving praise to officers and their four-legged partners so crucial to keeping drugs and weapons off the street.
It was policing in the name of public safety, at its best.
"I'm a joker, I've always had a sense of humor. So my medium, a lot of it revolves around comedy, because many of the police sites are just so sterile and boring, it's nice to put something out there that's engaging," Bertram says.
The Pointer compared the @PeelPolice Twitter account to the @PRPK9 account. The main verified PRP account is run by a number of media relations officers. Bertram runs the K9 account during his lunch breaks and days off and doesn't pull any funds from the public. He's thoughtful in his approach of what messages he's trying to convey and why it's important.
There are some key differences in the two accounts, especially in themes and how often they are active. An analysis done by The Pointer shows even with fewer posts, the K9 account often surpasses the main police account when it comes to engagement.
With a quick glance, it is clear Peel police tweet often and are extremely active when information needs to be shared with the public. The Pointer used TweetStats.com a Twitter scraping website which analyzed all tweets by PRP since July 2020. Graphs showed the account was most active Monday to Friday and posted most often at 10 a.m. They also show which interface is used to post the tweet; most came from Hootsuite, a social media organizing software that schedules posts. The main Peel police account costs money which comes from the general operating budget funded with public tax dollars.
TweetStats.com shows the most used interface for PRP is Hootsuite.
The K9 unit's tweets come from Sgt. Bertram's iPhone, not costing the public a cent. TweetStats scraped all tweets and found he is most active throughout the week at 11 a.m.
The main police account has 210,600 followers and was launched in September 2009. The K9 account has a fraction of the followers, 2,660, since it was started three years ago.
In April 2021, Peel Police tweeted 185 times (not including replies or retweets) while the K9 unit tweeted seven times. On average Peel Police received 51 likes for their tweets, but the K9 unit received an average of 270.
Comparing likes showcases how many people are engaging with a certain post, for the police it's important to know how many people they are reaching. Police tweet most often about traffic accidents and messaging put together by their media team.
Good morning @OfficerSarah1 and @AkhilMooken are in for the day. Have a happy and safe Sunday. pic.twitter.com/beui22Jqg3

— Peel Regional Police (@PeelPolice) May 23, 2021
Every morning and evening, media members post who will be taking over the account for the day, to be "welcoming", staff said.
The Pointer sorted each tweet in April into different categories. The 'trend' category refers to holiday or celebration posts such as paramedic week; 'promotion' refers to tweets Peel police issue to enhance their image, sharing them in the community or at charity events. The last prominent category was public relations statements, which update residents on active cases police are investigating, or broader institutional statements about the force's plans and objectives.
The Pointer analyzed 185 tweets and sorted them into specific categories, the themes most prominent were media and traffic.
A report by Urban Institute, a think tank devoted to progressive public policy, shows that Peel Police are on par with other law enforcement agencies in terms of its social media presence. In 2016, the group partnered with the International Association of Chiefs of Police (IACP) and surveyed 500 agencies about their social media use. The top reason they used social media was to notify the public about safety concerns.
Further down the list, 86 percent used social media to convey messages about traffic and public relations, which Peel's force often does.
The Urban Institute report also includes effective measures for police agencies to effectively connect with those they serve. The first is to foster good relationships with community members and leaders. This is why police reply and retweet mostly community members or organizations that are instrumental to key initiatives in Brampton and Mississauga.
On the other side of the spectrum, the police dogs are getting far greater interaction with the public, all their tweets in the month of April got over 120 likes. Even by tweeting seldomly the K9's are being showcased doing their job and updating the public on their duties.
Over 50 percent of the tweets made by this account informed the public of what the unit was doing. In a tweet April 15, the account posted two photos of dogs, Nitro and Kylo, and said, "Police #K9's may not always catch the suspect, but they still put their noses to work, assisting any way they can. That often means locating important evidence. Recently, Nitro located a knife from a weapons call and Kylo was called to locate shell casings at a shooting scene."
Police #K9's may not always catch the suspect, but they still put their noses to work, assisting any way they can. That often means locating important evidence.

Yesterday, Nitro located a knife from a weapons call and Kylo was called to locate shell casings at a shooting scene. pic.twitter.com/aQiFcPcTPO

— Peel Police K9 Unit (@PRPK9) April 15, 2021
By posting photos of police dogs the account strives to show the important work they do on a daily basis. This particular tweet received 192 likes and eight positive comments.
The Urban Institute states that a goal law enforcement's social media should have is transparency. A high level of openness allows the public to have a greater understanding of the work police do to keep their community safe. It is clear the K9 unit showcases their behind the scenes actions more often than the official police account does.
The K9 account also puts together fun posts celebrating the dog's birthdays and other uplifting milestones; these posts have the highest number of interactions. Unsurprisingly, people are attracted to furry friends, showing them more love online. Some tweets also poke fun at the dogs and their handlers, using entertaining approaches to engage with the public.
This sample is for April 2021 and shows when the K9 account tweets about the dogs doing a good job on an arrest, they will get more likes.
Comments are another way to see the level of engagement between the public and these Twitter accounts. With the amount of tweets Peel police pushed out in April, they received 1,458 comments, the K9's received only 94.
The tweet below gained a lot of traction with the public and had a very high number of likes, 2,620, and performed double duty, not only informing the public on the issue of stunt driving in Brampton and Mississauga but also showcasing the valuable work of the K9 unit.
#K9 Officer briefly stopped a car for stunting on the 407. Suspect changed his mind and took off, crashing into a guardrail a short time later. He then got out and ran.

I guess he didn't see "Canine" on the side of the cruiser, Nitros 4 legs were faster than his 2. pic.twitter.com/YB7ziGKVMF

— Peel Police K9 Unit (@PRPK9) September 22, 2020
For the main police account, many posts about crime or other general policing issues lead to negative comments. The effect can impact the main message police are trying to convey. Much of the negative response is around the force's relationship with various Black communities in Peel and other groups that are often marginalized. Considering two-thirds of Mississauga and Brampton residents identify as racialized, this is a problem the force needs to overcome.
Oh the same teams that you promote your killer cops Tyler-Bell Morena and Mark Opper on to? Mark Opper killed D'Andre Campbell whilst he was in the midst of a mental health crisis and now you have him attending to others. #makeitmakesense

— eyeson12 (@eyeson122) May 4, 2021
Vivian Roese in her book, From Media Hype to Twitter Storm, describes how "hype" can play a role in what users see on Twitter from police.
"Media hype is generally associated with that of the political media scandal, mostly evoking emotions such as outrage and protest," she writes.
Peel police have come under fire after a particularly difficult year in Brampton and Mississauga. Several high profile fatal police shootings, including D'Andre Campbell, who had been diagnosed with schizophrenia and bipolar disorder, and 62-year-old Ejaz Chowdry, who was also schizophrenic, are two examples. In both cases, the Special Investigations Unit (SIU) cleared the officers involved of any wrongdoing; a factor that did little to relieve the frustration and hurt of families who lost loved ones to bullets fired by officers.
Roese explains that people, "can be triggered by any kind of deep emotion, not just outrage and protest." When residents let loose some of that anger on Twitter, replying to a post from Peel police, it launches Twitter's algorithmic approach to maximizing impressions that are controversial and provocative. Instead of positive engagement, it sets off a firestorm of negative interactions toward the force.
The same algorithms work to promote the police dogs as people express joy and amusement around messages and images of these hard-to-resist police K9s.
The question is, how can police capitalize on this type of positive interaction with the public?
The K9 unit receives almost no negative comments, while eliciting lots of praise and positive replies to posts. Sgt. Bertram told The Pointer he can count on one hand the amount of negative comments the dogs have received. Even when the account specifically showcases Peel police matters generally, people ask for more information on the dogs and their jobs.
The answer may lie behind how the Twitter algorithm works and what the public opinion of police is.
A basic social media algorithm uses interactions from the user and their created content to understand what they want from the platform. If the interactions with police, for example, are more negative it tells the algorithm the person is against law enforcement.
This is not the only reason algorithms are problematic to law enforcement. The more users who are outraged by something police do, generally means they will spread reinforcing negative content to other users who may not have interacted with the controversial content yet.
"Echo chambers of like-minded people provide a breeding ground for information to spread, and thus for creating media hypes," Roese writes.
By increasing positive public opinion, Peel police might be able to escape the negative echo chamber many community members fall into. Key ways to increase positive public opinion go back to Urban Institute's ideas of community engagement and transparency.
When PRP does make a point to tweet about the K9s it rarely has to do with police policy matters or the specifics around a case. The tweets The Pointer found were mostly lighthearted and humanizing. A tweet on K9 Griffin's birthday, received over 1,000 likes.
Combining this sort of messaging with more detailed accounts of the great police work being performed and the larger benefits to the community, could be a way to broaden the positive appeal and steer clear of the negativity.
Happy birthday to our Police Service Dog Griffin! Griffin is turning 5-years-old and has been with #PRP for four years! We hope you have a fun day of playing fetch and having treats! pic.twitter.com/Y3QHlOuE67

— Peel Regional Police (@PeelPolice) August 3, 2020
Conversations around routine police business and the inherently upsetting news of crime rarely garner positive interactions. It's necessary but can have the opposite effect on force's ultimately trying to create trust.
Taking inspiration from the K9 unit, could make a difference when dealing with police messaging on social media.
---
Email: [email protected]
Twitter: @taasha__15
---
COVID-19 is impacting all Canadians. At a time when vital public information is needed by everyone, The Pointer has taken down our paywall on all stories relating to the pandemic and those of public interest to ensure every resident of Brampton and Mississauga has access to the facts. For those who are able, we encourage you to consider a subscription. This will help us report on important public interest issues the community needs to know about now more than ever. You can register for a 30-day free trial HERE. Thereafter, The Pointer will charge $10 a month and you can cancel any time right on the website. Thank you.
Submit a correction about this story