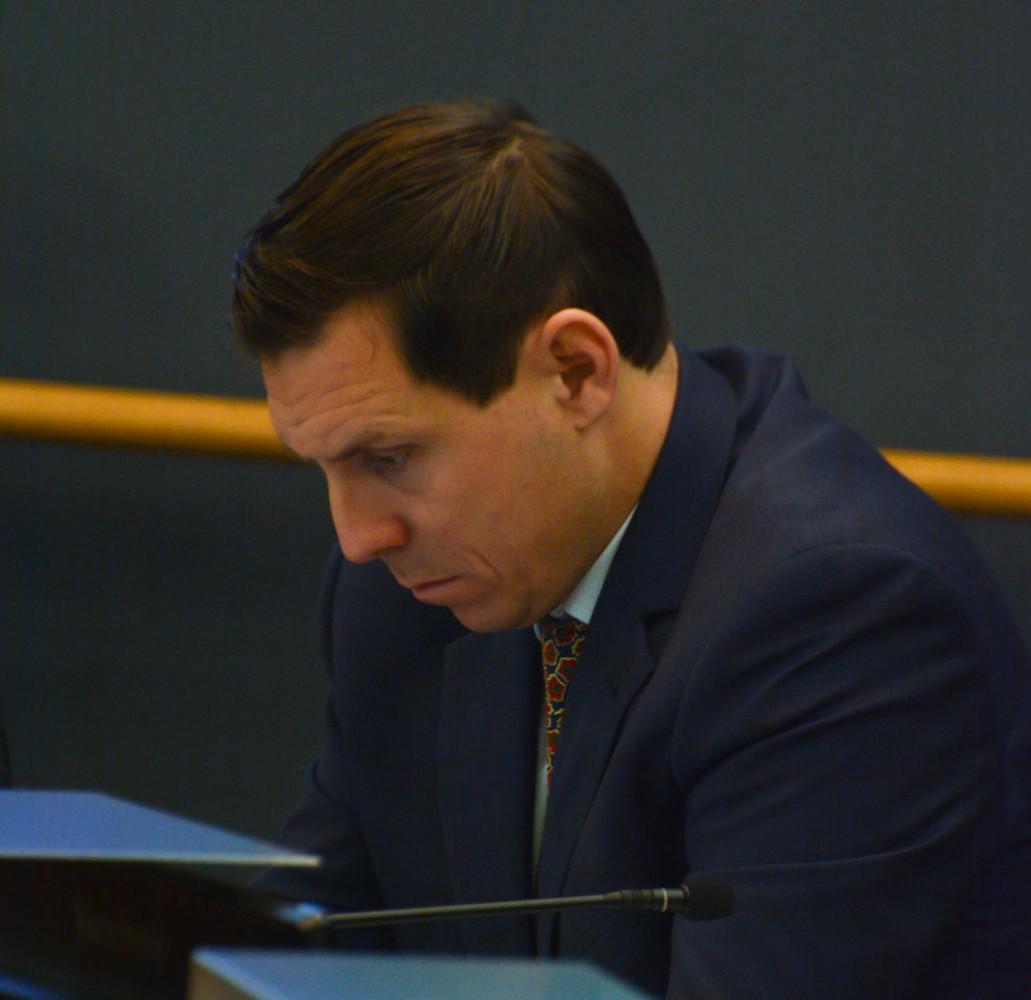 Feature image from The Pointer files
Brown's attempts to mislead Regional officials on downtown plan backfires – project moving forward
"I think we need to save some of the Brampton councillors and Mayor from themselves."
After Patrick Brown's confused, misleading comments during Thursday's Peel Region Council meeting, Councillor Karen Ras was one of many officials who made sure Brampton's planned downtown infrastructure replacements will move forward after years of delays.
The entire Downtown Reimagined project, to reshape the whole look and feel of the city's crumbling city centre, would have been completed this year. But Brown cancelled it as soon as he was elected in 2018.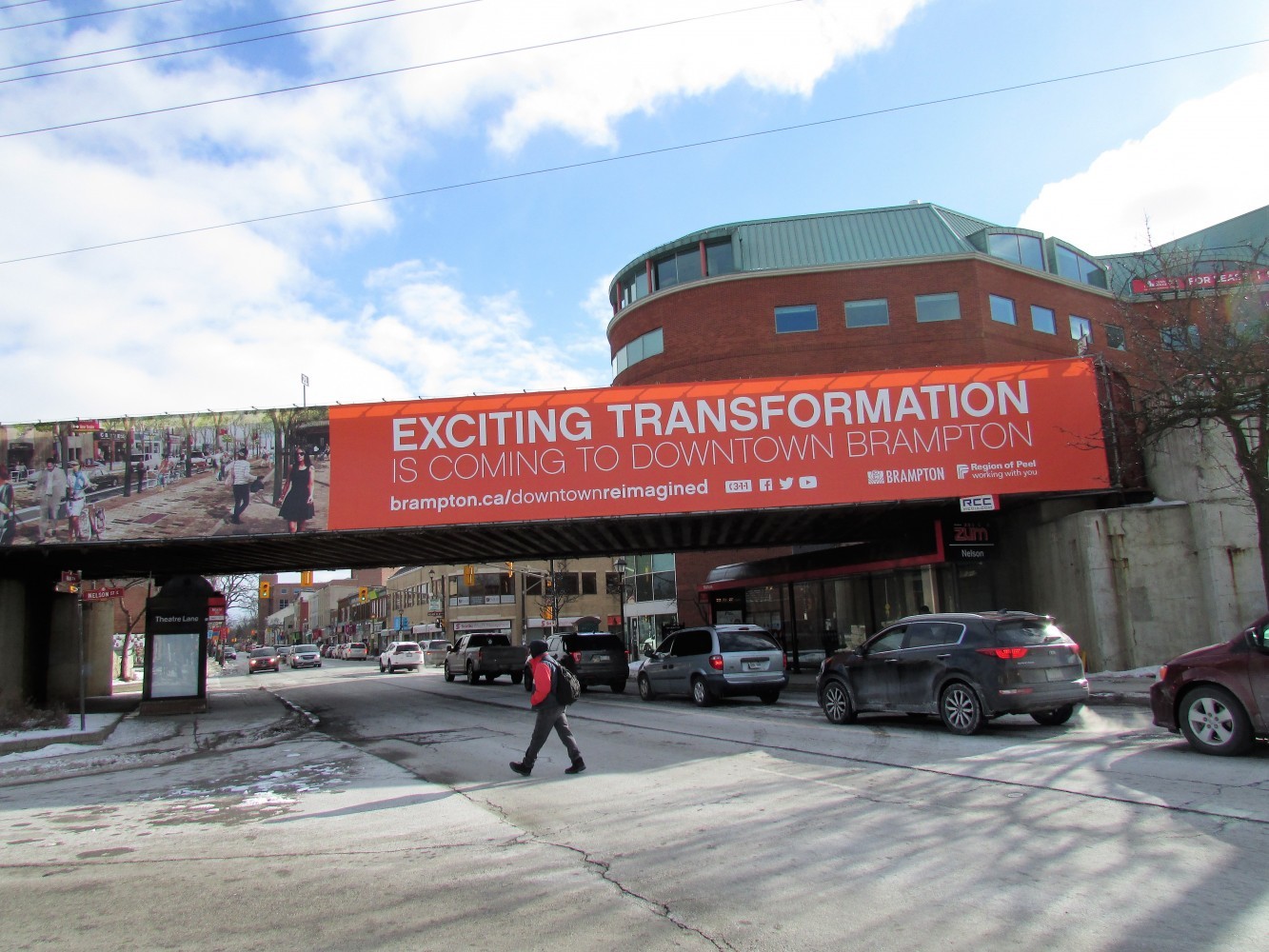 Downtown Reimagined promised "exciting transformation" for Brampton's city centre. (Photo from The Pointer files)
Now, the work to save downtown from decades of decline, might not be completed for another six years. But the Region of Peel's sewer and water main work will proceed this summer, after a motion supported by Brown to again delay the plan was easily defeated Thursday.
Because of Brown and councillors Rowena Santos and Paul Vicente, business owners and residents in the city centre are looking at the worst possible scenario.
Regional councillors easily defeated a motion backed by the trio to postpone the infrastructure work to repair outdated sewer and water mains in the Four Corners area of Brampton's historic downtown. Some of the water mains are at "high risk of failure" councillors heard, once again. The work will begin this summer and could take until the summer of 2023 to complete.
But the long anticipated Downtown Reimagined project to completely makeover the aging area, with attractive streetscapes, a sweeping redesign of walkways and millions of dollars in vibrant landscaping, might not be finished till 2027 or 2028, if the City even moves forward with a version of it, because Brown cancelled the entire plan right after he was elected in 2018.
He ran on a promise of tax freezes and immediately torpedoed the project, claiming excessive costs and engineering issues, which Regional staff shot down, pointing out the cost was set and the engineering work had been dealt with before Brown cancelled the project.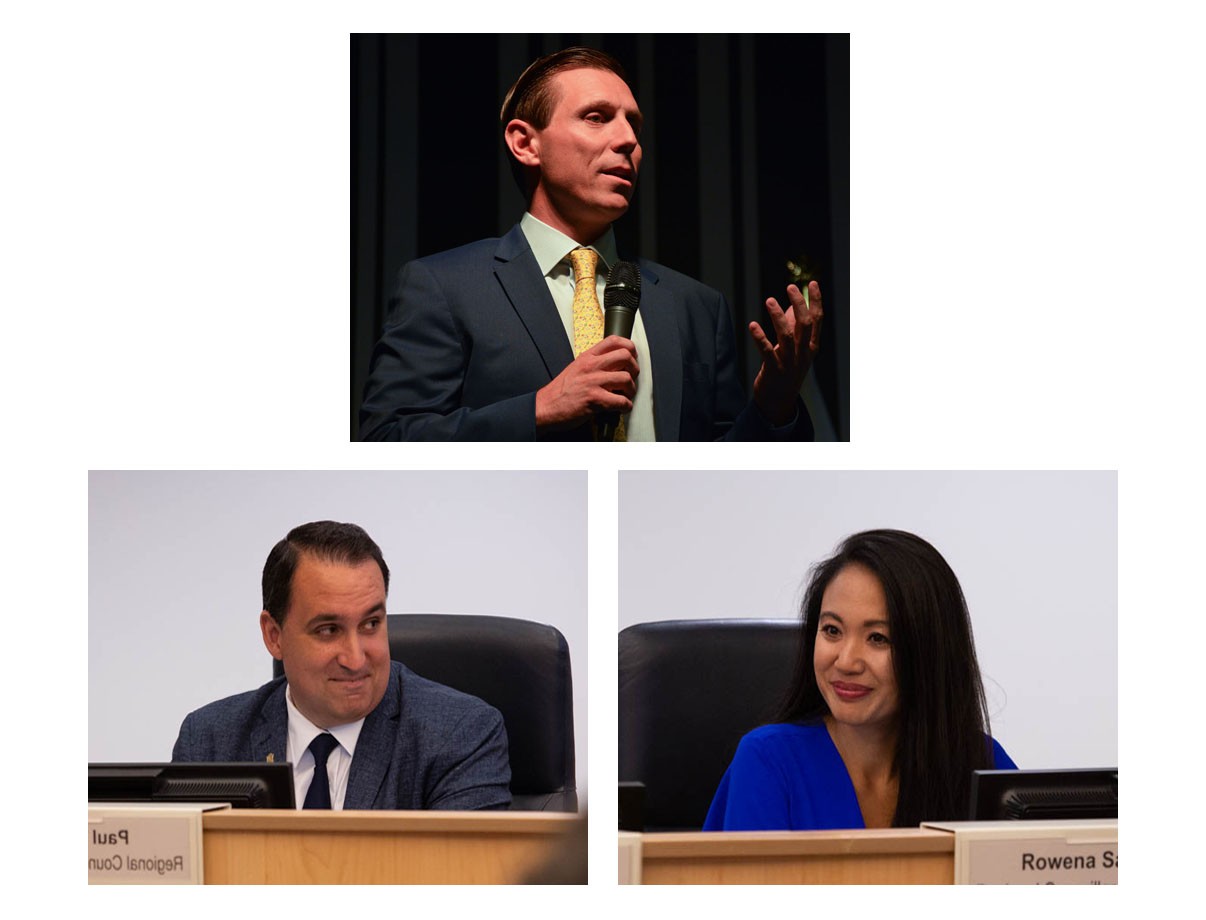 Efforts by Mayor Patrick Brown (top) and Councillors Paul Vicente and Rowena Santos to delay critical downtown infrastructure work have failed. (Photos from The Pointer files)
Now, because he, Santos and Vicente are demanding an LRT route along Main Street, Regional staff told them it could be six years before any revitalization work would be completed.
The LRT option on Main Street had previously been eliminated as an option by the former Council, but Santos and Vicente, both of whom represent downtown, voted to make it the only option and along with Brown they have married a Main Street LRT with the downtown revitalization work through a vote they pushed through at Brampton City Hall.
Now, Brown's scheme to delay any downtown work, to get another tax freeze, has blown up in his face. He might likely get his fourth tax freeze in a row – a populist but destructive political strategy that will end up costing taxpayers more in the future, while Brown might be long gone; he aggressively campaigned for Peter MacKay during his federal Conservative leadership bid last year and even directed City staff to help, suggesting Brown plans to move back into federal politics.
However, because of his tactics to avoid any costs that might increase taxes, including the addition of an LRT into the revitalization plan which guarantees it won't be done for years, the desperately needed work to help businesses might not happen for more than half a decade.
There currently is no funding for the LRT and it's unclear if a Main Street route is even feasible because it would have to run through a floodplain and over Etobicoke Creek.
The Brampton Board of Trade joined regional councillors who blasted Brown's attempt to once again delay the infrastructure work.
"In our opinion, waiting for a decision on the LRT, which is implied in the proposed motion being considered by Council this week, is irresponsible," the BBOT wrote in a letter referring to the motion that passed at Brampton Council. It was included on the Region's Council agenda yesterday, at the request of the BBOT, to help persuade the higher tier government to reject Brown's plan.
"There is no realistic schedule for LRT implementation. Although the motion encourages delay until, 'one overall coordinated and permanent infrastructure upgrade and urban streetscape improvement plan for the downtown can be developed', the current state of failing infrastructure caused by a historical delay in decision-making makes that impossible," the strongly worded letter reads.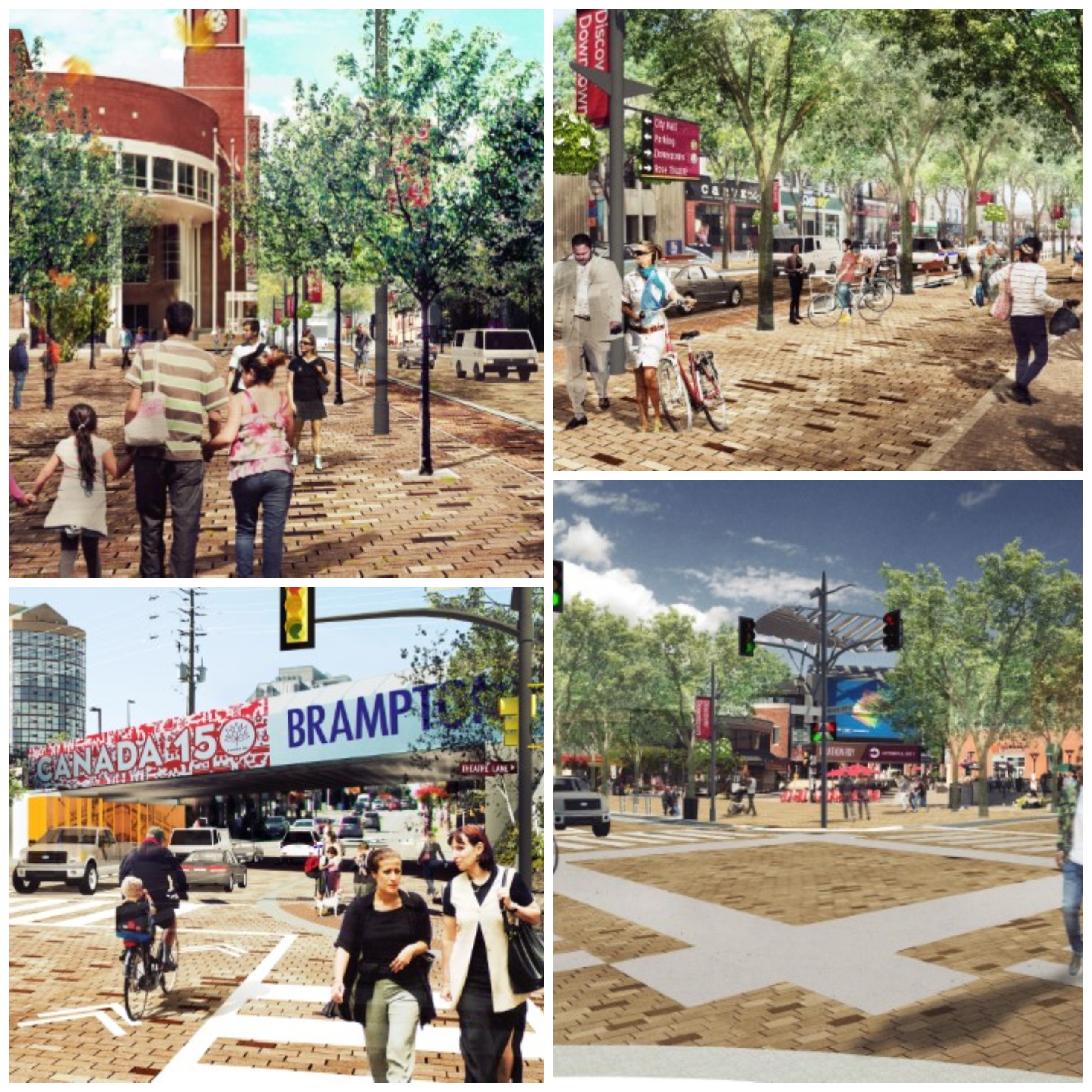 The initial vision for Downtown Reimagined (Renderings from City of Brampton)
The City's largest and most influential group of business owners questioned why Brown, Santos and Vicente, who weren't even on Council prior to late 2018, waited till the eleventh hour to suddenly call for the postponement of the Region's infrastructure work. The work and the Downtown Reimagined project had been planned since 2011, led by the Region in coordination with the City of Brampton.
"When it made the decision to go forward with the essential infrastructure work on July 8th, 2020, [Brampton] Council knew that to wait until LRT funding was in place would likely mean water and sanitary work would be delayed for at least 10 years. Nothing has changed since that decision was made, and to consciously delay this work for another decade would be irresponsible."
Anthony Parente, manager of water and wastewater and Andrea Pitura manager of capital works and wastewater collection for the Region of Peel set the record straight after Brown repeatedly offered misleading information to justify his continued efforts to delay the project.
After he claimed outstanding engineering issues and cost escalations were the reason he cancelled the entire project in 2018, Parente stopped Brown in his tracks, pointing out there were no cost escalations, as the project had not even begun, and the engineering issues had already been investigated ahead of the tender process that was carried out in 2018.
"Mr. Mayor, if you recall, when the Downtown Reimagined project was cancelled, we had firm prices on that," Parente said. "The total was $57 million; $18.4 million of that was the regional component. And again, that was predicated on no LRT whatsoever. And the City's portion was approximately 37 million."
Parente also made clear that if not for Brampton's latest attempts to delay the infrastructure work, it could have started "in two weeks".
Because of the mayor's latest stalling tactics (despite his assurances to the business community that he would get the work started as soon as possible) the infrastructure project will begin in August or September.
What made Brown's misleading claims about costs even more confusing was that just last week he said money wasn't an issue. To deflect criticism that his only concern is avoiding costs to ensure another tax freeze, he told Brampton councillors, "Council's already allocated $275 million towards this downtown revitalization. It's not an issue of financing, those funds are set aside."
Brampton staff later confirmed to The Pointer no money has been set aside for the downtown revitalization plan, other than $200,000 in this year's budget for a report. Since becoming mayor, Brown has failed to budget any capital money for it, which has helped him achieve his tax freezes.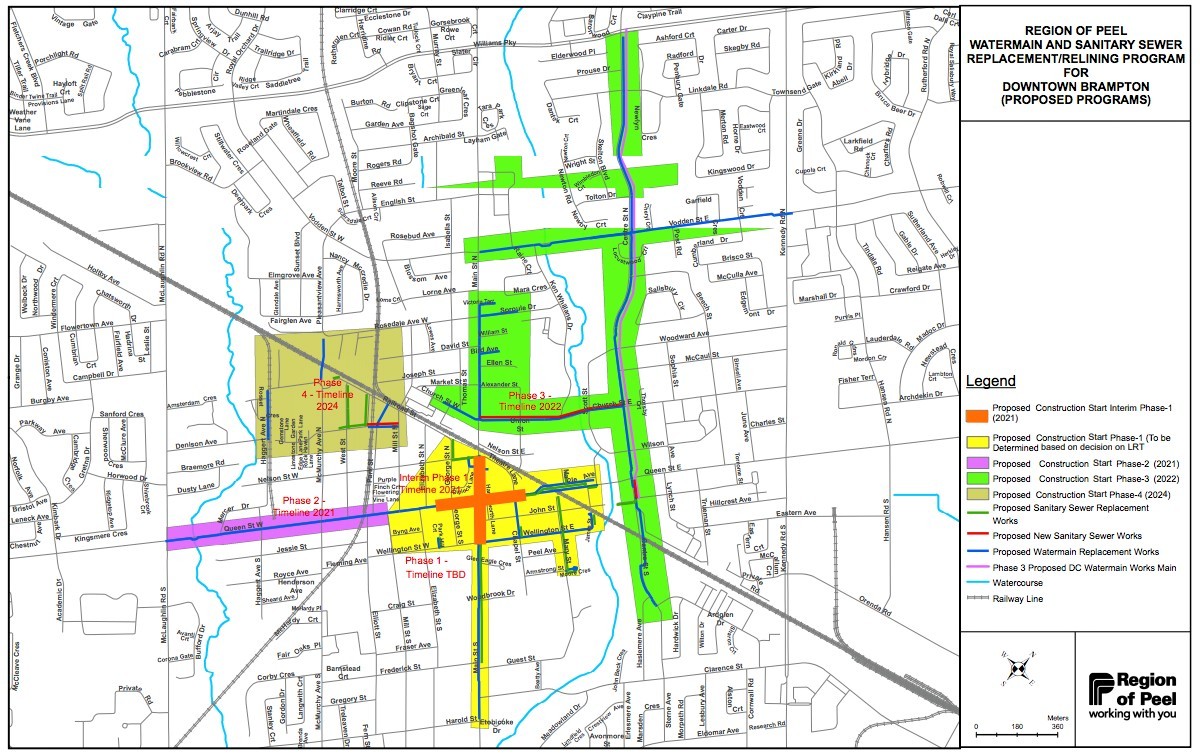 An overview of the Region's infrastructure work planned for downtown Brampton. (Graphic from the Region of Peel)
Parente had to explain to Brown that a delay to the latest schedule for the infrastructure work could cause legal liability and that any consideration of an LRT would put the upcoming work back by two to three years, in order to redesign the utilities to accommodate the hypothetical transit route (the Province would have to approve any plan for the LRT first, and flood mitigation throughout the entire Main Street corridor would have to be built).
In the end, it didn't matter, as the motion to delay pushed by Brown was easily defeated.
Regional Council members called Brown out for his terrible leadership, while badly needed downtown work is waiting to get done.
Chair Nando Iannicca said that when he took on the job in 2018 the Brampton Downtown Reimagined project was one of the "three or four" major issues he needed to oversee. Addressing Brown's cancellation and efforts to further delay the infrastructure work, Iannicca said, "It isn't the dollars in and of themselves, it's the liability of our necks sticking out if, God forbid, the next microburst hits here."
Staff and councillors repeatedly mentioned the legal and insurance risks to the Region every day the work is delayed.
"I fear for the businesses, if they suffer a more catastrophic water main break," Councillor Ras said. "And that's not good for Peel Regional taxpayers or the downtown Brampton businesses."
She questioned why Brown, Santos and Vicente didn't raise any concerns when the infrastructure work was approved last year, and like others around the regional table, pointed out that Brampton had already postponed the project twice.
"If there was an opportunity to raise those concerns, it was last year, folks, so we need to get a move on."
Brampton and Regional Councillor Pat Fortini agreed.
"This would have been a perfect time to start last year, since most of the businesses were closed anyway." He said the cancellation by Brown in 2018 was part of 20 years of delays and will now end up costing businesses who will have to be disrupted for another two years just when consumers will be ready to go out and spend as the pandemic appears to finally be subsiding.
Brown's ill-advised move is even harder for downtown Brampton businesses to swallow, as the two years of upcoming disruption won't even involve the promised revitalization, which might not be done till 2028.
Downtown Councillor Martin Medeiros, who previously supported a Main Street LRT, said Brampton now has bigger decisions to make, if leaders expect to help save the city's struggling downtown.
"Essentially Brampton, we really have to, you know, choose a lane, we really have to sort of make the decision – LRT or take it off."
The only way to get the downtown revitalization plan restarted, so it can be done in coordination with the Region's upcoming infrastructure work, is if two-thirds of Brampton councillors agree to remove the Main Street LRT from the downtown plan, after they joined them together earlier this month, at the insistence of Brown, Santos and Vicente.
Otherwise, businesses might have to wait until 2028 for a revitalization plan promised in 2011 that was supposed to be completed this year.
---
Email: [email protected]
Twitter: tasha_15
---
COVID-19 is impacting all Canadians. At a time when vital public information is needed by everyone, The Pointer has taken down our paywall on all stories relating to the pandemic and those of public interest to ensure every resident of Brampton and Mississauga has access to the facts. For those who are able, we encourage you to consider a subscription. This will help us report on important public interest issues the community needs to know about now more than ever. You can register for a 30-day free trial HERE. Thereafter, The Pointer will charge $10 a month and you can cancel any time right on the website. Thank you.
Submit a correction about this story