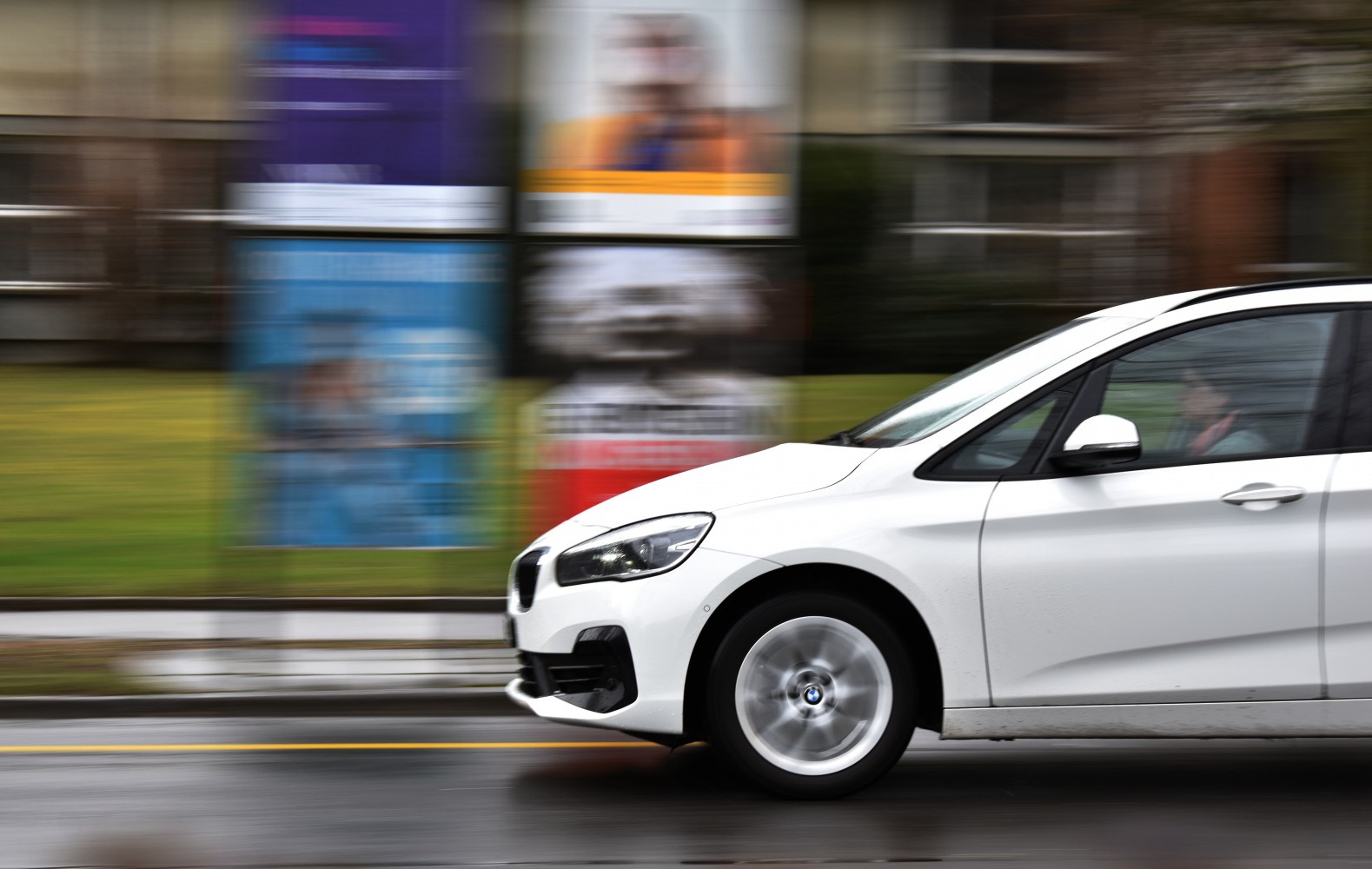 Photos from Mauro Sbicego & Unsplashed/City of Mississauga/Twitter/Vision Zero/City of Brampton
Can cameras slow Mississauga's chronic suburban fixation with speed?  
It's dusk and a sports car that sits impossibly low to the ground glides down a wide Mississauga roadway, all green lights ahead.
The italian-made vehicle with its turbo-charged engine was made to go fast. Its driver plays chicken as it approaches each intersection, beating the red-light. In a blink of an eye, as other speeding vehicles get caught by changing traffic lights, it races off into the early night.
It's a scene familiar to Mississauga drivers, frustrated with the recklessness, wondering 'where are the cops when you need them?'
The pandemic has made the situation even worse.
"We know that the volume of traffic has decreased which often changes drivers behaviour and allows people to take more liberties on the roadways," Chief Nishan Duraiappah previously told The Pointer. "We have seen almost a 100 percent increase in street racing offences which, by law, is 50 kilometres per hour over the limit or more."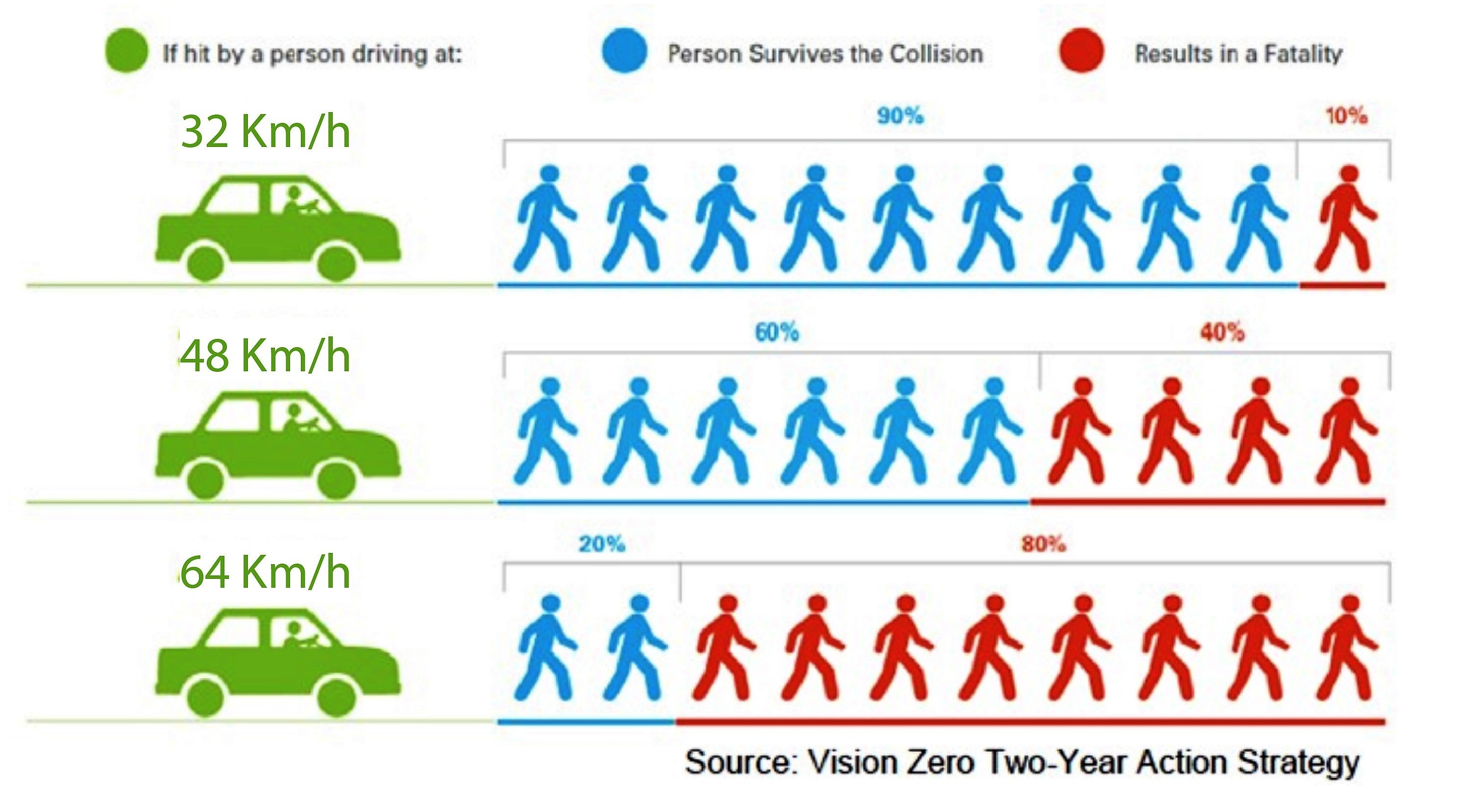 Speeding kills. The faster a car is driving, the less chance the person has of surviving a collision.
Police soon won't be the only ones patrolling Mississauga's runway-like thoroughfares.
To kick off Canada's Road Safety week, council passed a motion Wednesday moved by Ward 9 Councillor Pat Saito to increase the number of Automated Speed Enforcement (ASE) cameras to 22 this year. Previously, the City approved just two cameras, with signs warning of their impending arrival already set up on local roadways. There was an overwhelming positive response from councillors for the motion, as many are flooded by complaints from constituents.
In order to fast track the program the City increased the budget by $467,000 so the 20 cameras and four additional permanent staff can be added. The overall budget until 2024 is about $2,520,000 with funding coming from City reserves.
"I said back in 2018, when we adopted Vision Zero, that there would be a cost to implementing Vision Zero, and you can't put a cost on a life saved," Saito said.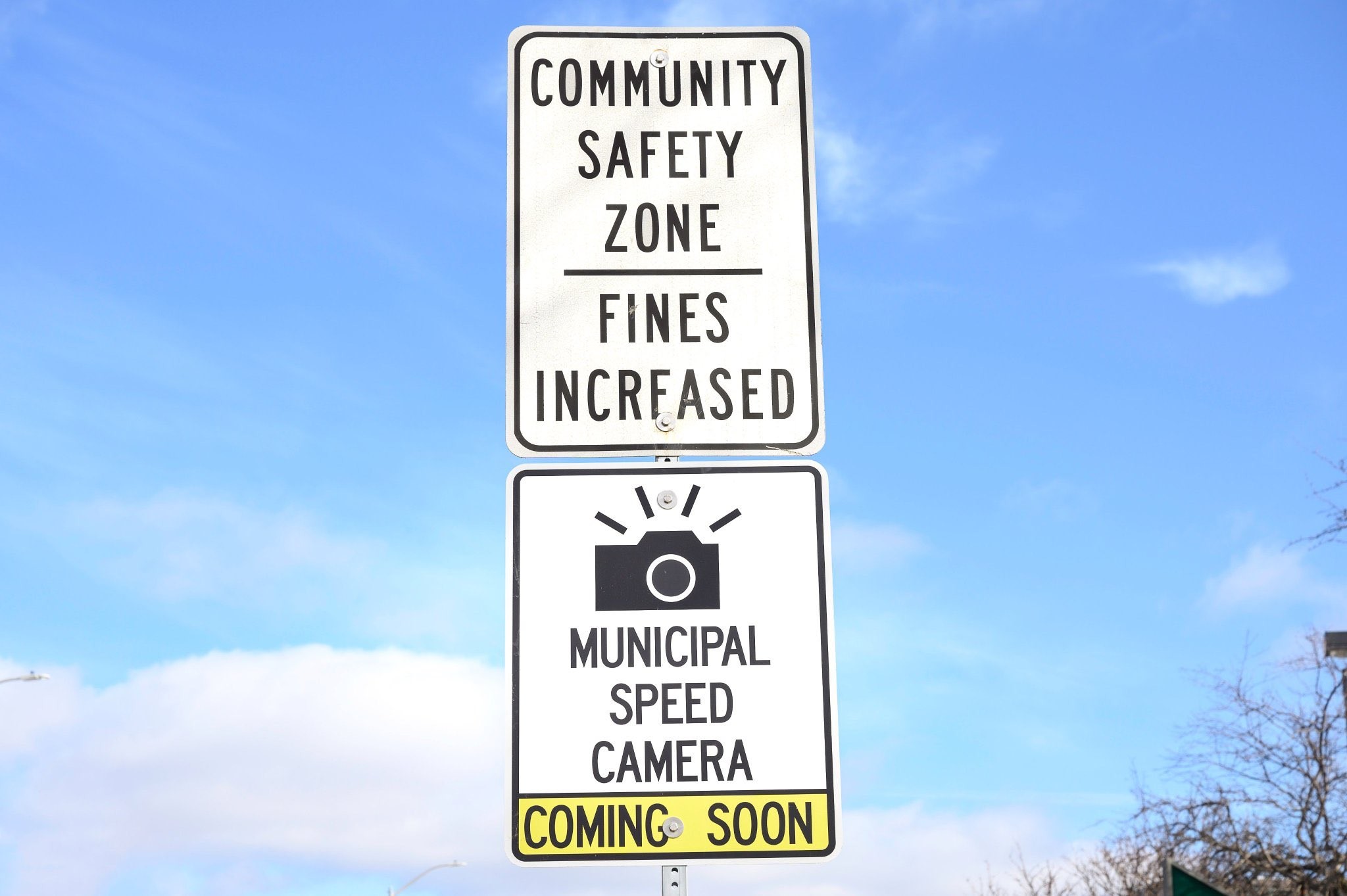 Every new camera location will include signage 90 days ahead of installation.
The idea of Vision Zero, a concept that originated in Sweden almost 25 years ago, is to completely eliminate traffic-related fatalities and injuries from local roadways. Council opted into the plan in February 2018, ahead of Brampton which approved its own vision in June 2019. Currently, Peel Region is far from zero fatalities; in 2020 there were 43 motor vehicle collisions that caused death. Mississauga recorded 13 deaths in 2019, down 1 from 2018.
Brampton faces similar issues and recorded only nine fatalities in 2019, down from 22 in 2018. Peel police also laid 827 stunt driving charges across Brampton and Mississauga in 2020. Stunt driving typically involves someone driving 50 km/h over the speed limit.
Mississauga's unveiled signage in April for its first two future cameras. They will be located on Morning Star Drive (Ward 5) and Sawmill Valley Drive (Ward 8).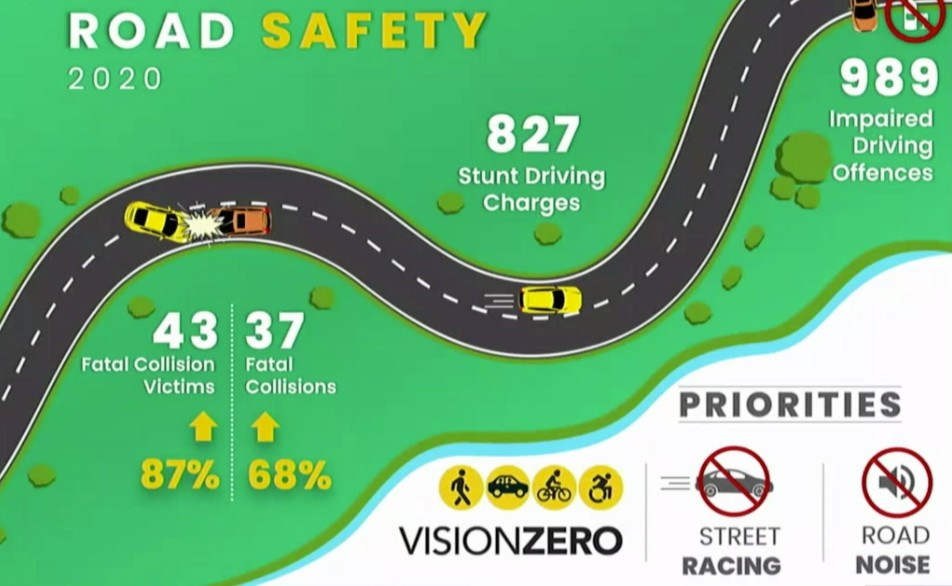 Statistics from Peel Regional Police
The 20 additional cameras will also have signage placed beforehand to warn drivers and a 90 day no charging period before they are made operational. Cameras will only be placed in school zones or designated community safety zones.
The Vision Zero objective poses particular challenges in communities like Mississauga, built around the car and planned as commuter communities serviced by 400-series highways, that exit onto large arterial connector routes, many maintained by the Region of Peel, and then local streets that often feature multiple, wide lanes.
Peel Region currently maintains more than 1,500 lane-kilometres of roadways and more than 400 signalized intersections, with speed limits as high as 80 km/h.
Drivers have become accustomed to high speed limits even along residential areas; conditions that make stunt driving and racing common in Mississauga.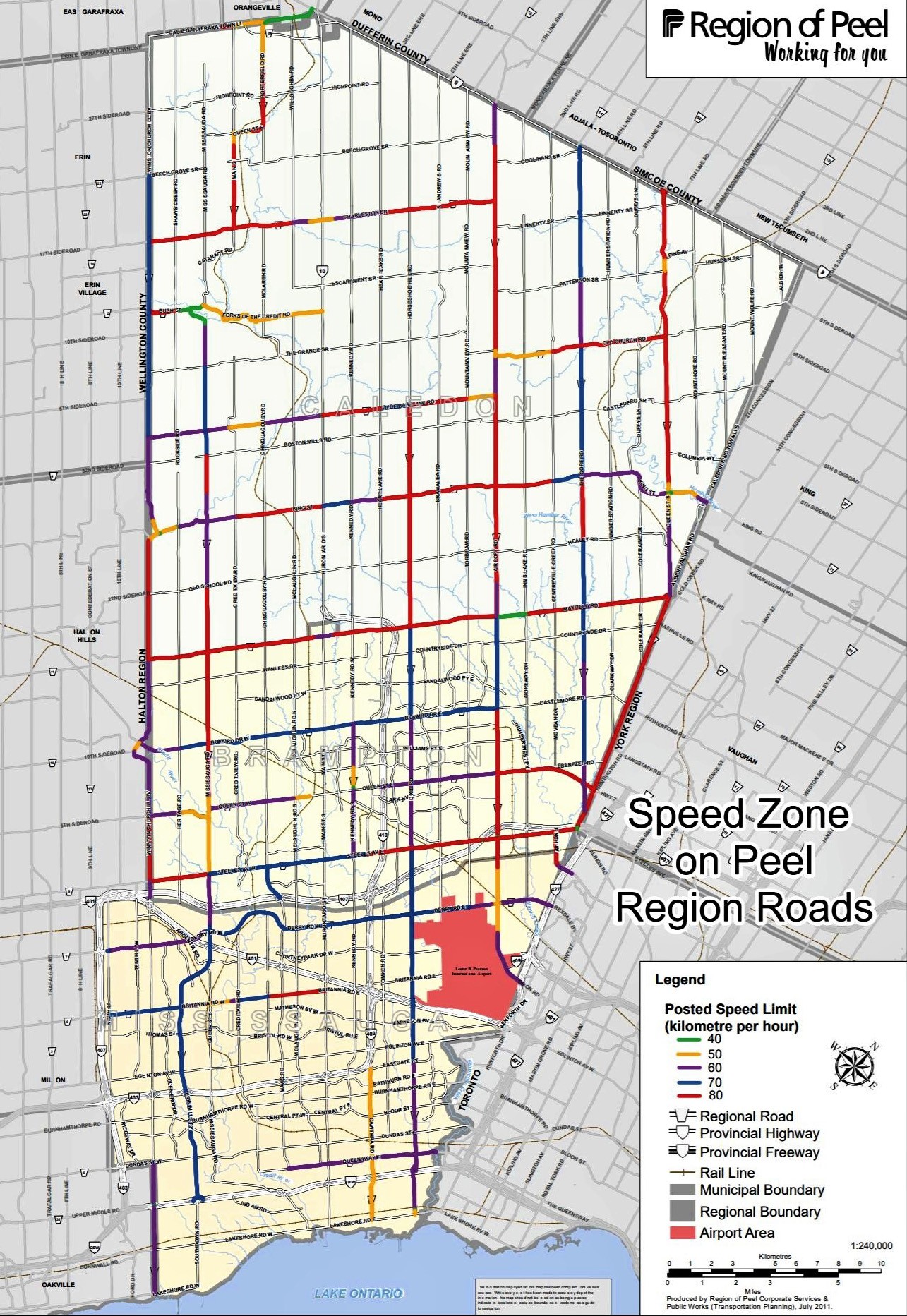 Peel's road network includes a large proportion of streets with speed limits of 80km/h.
In larger, more urbanized areas where highway driving and major thoroughfares are not as integrated with local transportation patterns, reduced speed limits are more common and have dramatically decreased the number of fatalities and injuries.
Under its own Vision Zero plan, Toronto began reducing speed limits in 50 km/h zones to 40 and those that were already at 40 km/h have been reduced to 30. This week, three more wards in the city reduced local-road speed limits to 30 km/h under the broader Vision Zero plan.
It raises questions about whether Mississauga's ASE-camera approach is addressing the root causes of traffic-related injuries and fatalities. In a city where the car is king, built around a transportation network designed for speed and flow, achieving Vision Zero will involve a much more nuanced approach.
But how do you reduce speeds along corridors built for it?
The City is well aware of the challenge. Its own Vision Zero statement acknowledges there is a 9 in 10 rate of survival if hit by a vehicle travelling at 30 km/h or lower, compared to 1.5 out of 10 if the car is going 50 km/h. Toronto has pushed sweeping speed-limit reductions, including many local streets that now have a 30 km/h maximum.
Mississauga is getting there. The default limit for streets in the city is 50 km/h, unless posted otherwise, but these are coming down across Mississauga.
In the fall of 2019, speed limit reductions began in 11 neighbourhoods and that is being expanded to all of the city's 150 neighbourhoods this year. Councillors told The Pointer they have been inundated with complaints from residents reporting speeding, especially around school zones, as residents become used to the lower limits and as tragic news stories of needless fatalities seem to become more common.
The entire province was shaken this week after the deaths of a sister and brother, ten and four, in Vaughan. They were on their driveway when a 16-year-old in a Mercedes lost control, swerved off the street and struck the children, who later died in hospital. Another individual was also hit. The teenage driver has been charged with four counts of dangerous driving causing death and bodily harm.
In Mississauga, school-zone areas that previously had 40 km/h speed limits will now be limiting speeds to 30.
The biggest concern around implementing more cameras is the increase in the number of tickets and appeals that will reach the court system. In June, a council report said the system could handle only 8,700 ASE charges per year. Based on Brampton's calculation of 2,000 tickets per camera, Mississauga's court could only operate with a maximum of four cameras before overwhelming the court system.
The ASE cameras, meanwhile, will be located in other areas of the city. But speed reduction in some of the problem corridors, including stretches maintained by the Region or Province, is another challenge.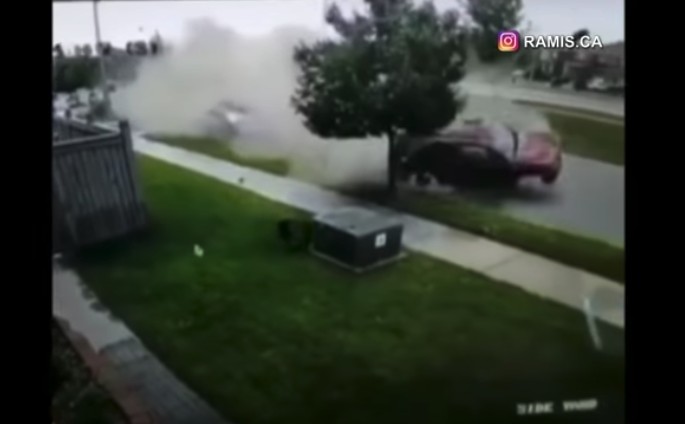 A Brampton resident's porch camera captured this terrifying single-vehicle crash last year after a speeding driver lost control of their car.
To make sure the new camera system won't be overwhelmed Saito will be bringing forward another motion, this time at the Region of Peel council table, to send a request to the Province to urge Queen's Park to amend the Highway Traffic Act.
Staff hope to convince the Province to allow ASE charges to be dealt with through the Administrative Penalty System (APS), similar to parking tickets and other bylaw infractions. The structure, the City says, is more localized and would divert appeals away from the provincial court system.
Mayor Bonnie Crombie said council will continue to advocate and write to the Province to have this process implemented.
Criminal defence lawyer and lecturer at the faculty of law at the University of Toronto, Andrew Furgiuele, explained the outcomes of an overwhelmed court system.
"You'll see delays in the Crown or the prosecution being able to respond to defendants, when they ask for disclosure. And then second, you'll see trial dates being pushed far, far into the future because there simply isn't enough court space to handle the large influx of cases," he said.
When courts are in gridlock and trial dates are set long into the future it risks the potential for cases to be "stayed for delay." Furgiuele said the courts could drop charges on the more minor offences.
Those who believe appealing their ticket could get them off scot free should be warned, this is not the case all the time.
"What always happens is that the courts find an equilibrium," said Furgiuele. "More court space gets opened up, more justices of the peace get rotated to do trials in these matters. So the overwhelming part of it will only happen when people demand trials for their cases, and only until the system can accommodate by recalibrating."
Councillor Saito also mentioned the success of ASE cameras in other provinces such as Saskatchewan. Cameras have been in place since a pilot project concluded in 2017 in Saskatoon, Regina and Moose Jaw. The study used a "before and after" method of measuring the success of the project. The cameras "positively impacted" speeding behaviour in both school zones and high-speed locations.
"It [the program] is associated with reducing 35 casualty collisions (28 from high-speed locations and seven from school zones) resulting in an estimated 50 fewer injuries," reads a report on the Saskatchewan program.
Cameras are only one of the many traffic calming solutions that can be implemented. Increasing the number of turns in a road, reducing width or creating concrete islands and roundabouts are all shown to force drivers to slow down. If roads do not offer a long enough stretch to build up speed, the vast majority will stick to the limit.
Since the beginning of the pandemic street racing and speeding down roads in Peel have made national headlines. Major thoroughfares like Hurontario Street, Dixie Road and Williams Parkway are just a few examples of the region's highway-like roads, cutting straight through the heart of residential suburbia, tempting those with expensive engines to test them out.
The pandemic has been another inviting factor for street racers.
In March 2020 when the roads were particularly quiet, police laid 44 charges for stunt driving up 63 percent from the 27 offences the year prior. In April, the number of charges decreased to 26 compared to 35 in 2019, but year-over-year for the two-month period, stunt driving charges increased 13 percent.
The cameras implemented by the City will not be covering any roads that have a speed limit over 80 km/h. However, the hope is they will deter residents from speeding and allow police to focus on other problem areas within the city and region.
---
Email: [email protected]
Twitter: @taasha__15
---
COVID-19 is impacting all Canadians. At a time when vital public information is needed by everyone, The Pointer has taken down our paywall on all stories relating to the pandemic and those of public interest to ensure every resident of Brampton and Mississauga has access to the facts. For those who are able, we encourage you to consider a subscription. This will help us report on important public interest issues the community needs to know about now more than ever. You can register for a 30-day free trial HERE. Thereafter, The Pointer will charge $10 a month and you can cancel any time right on the website. Thank you.
Submit a correction about this story