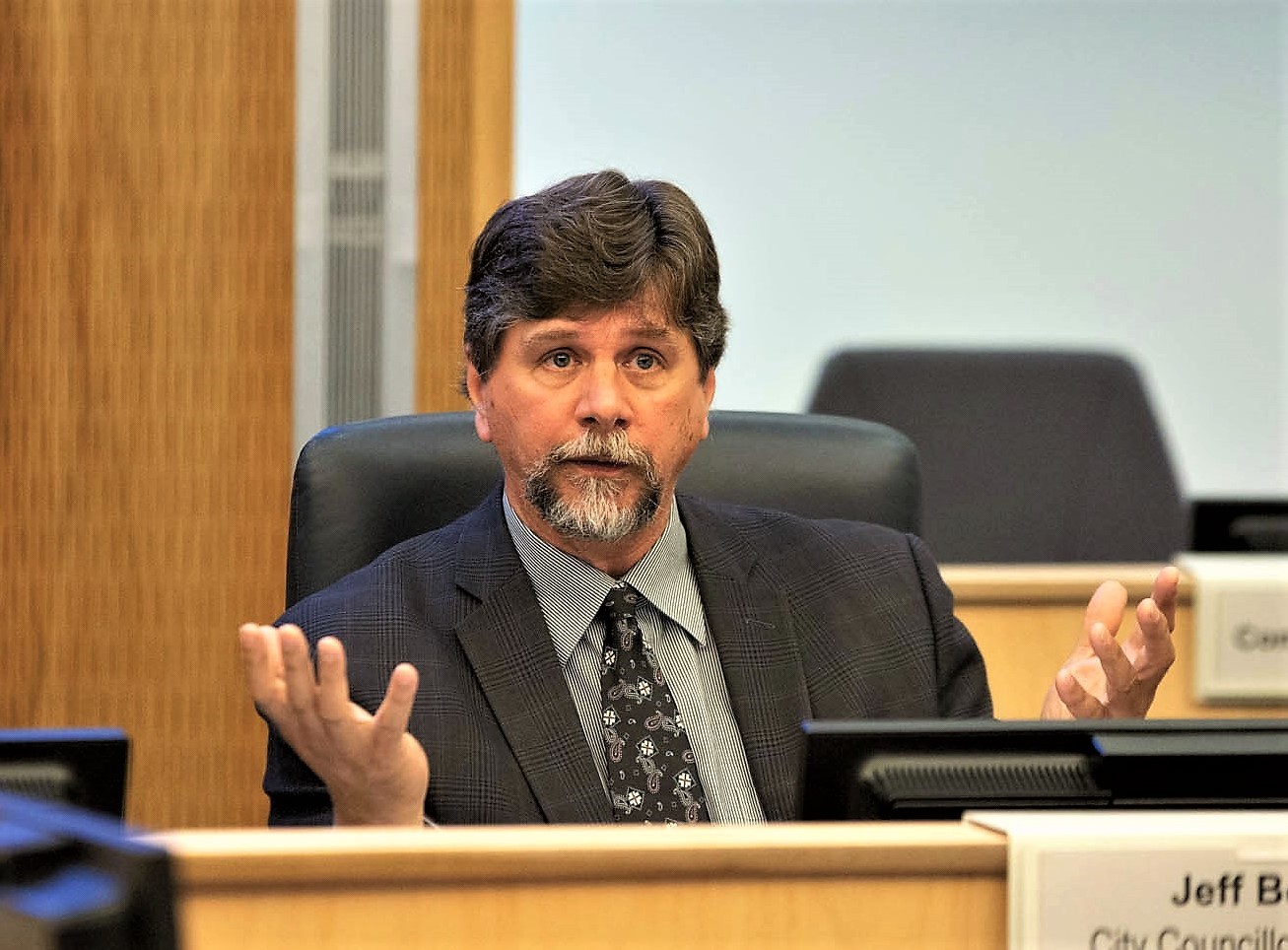 The Pointer file photos/Graph City of Brampton
'Grotesque': Brampton councillors will get details on alarming raises for senior staff during pandemic
Brampton councillors want to know why many of the most senior staff inside City Hall received "handsome" salary increases, bonuses and lavish perks like car allowances while so many taxpayers have been suffering during the pandemic.
"I almost found it grotesque, to a certain perspective, that you would see a lot of job ads during the time of COVID when a lot of the work that we were doing – great work, don't get me wrong – but there wasn't an expansion of a lot of this work as there were the pay increases," Councillor Martin Medeiros said during Wednesday's Committee of Council meeting.
"While we're on one end freezing taxes and on the other end, we had bonuses and salary increases and so on…".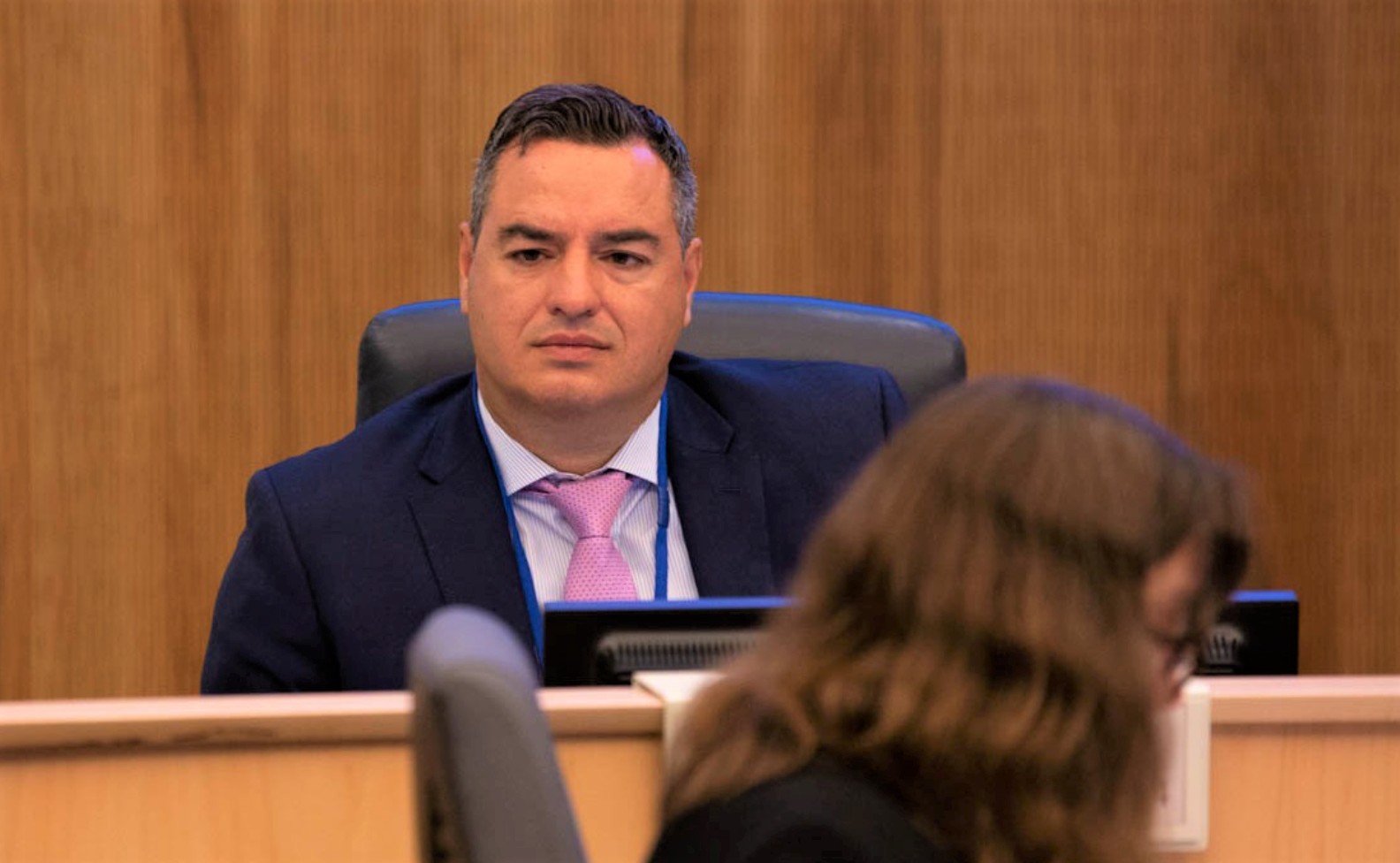 Councillor Martin Medeiros supported the move of his colleague Jeff Bowman to find out why senior staff salaries have been increasing beyond allowable rates.
City Councillor Jeff Bowman moved a motion during the meeting for a comprehensive report detailing the salary and bonus increases for all non-union staff after the recent release of Ontario's annual public sector salary disclosure, commonly known as the "sunshine list" which captures all publicly funded employees in the province who earn $100,000 or more.
Brampton has gone from 426 City staff on the list in 2015, to 1,002 last year.
Medeiros said the needed scrutiny to find out why, especially in recent years, senior staff payouts have increased so suddenly isn't a slight against most municipal employees in Brampton.
"This is not because we don't appreciate our staff, but ultimately our job here is to protect our residents, defend our residents and represent our residents… Ultimately, a resident here, and I could beg to differ, really [doesn't] care what's happening in one jurisdiction or another, they're concerned with the salaries we're paying right here at the City of Brampton, and what are we doing to ensure that there's financial integrity and discipline in this municipality."
Councillor Rowena Santos, rather than echoing the need to protect the taxpayers she's supposed to represent, seemed more concerned with how the scrutiny will make senior staff feel.
Repeating what HR director Sandeep Aujla said in response to Medeiros, Santos expressed concern over senior staff morale.
"Every single time we talk about these sorts of things, every single time when things get reported in the media and staff names get thrown into the media, it does damage to the morale of the staff," Santos said.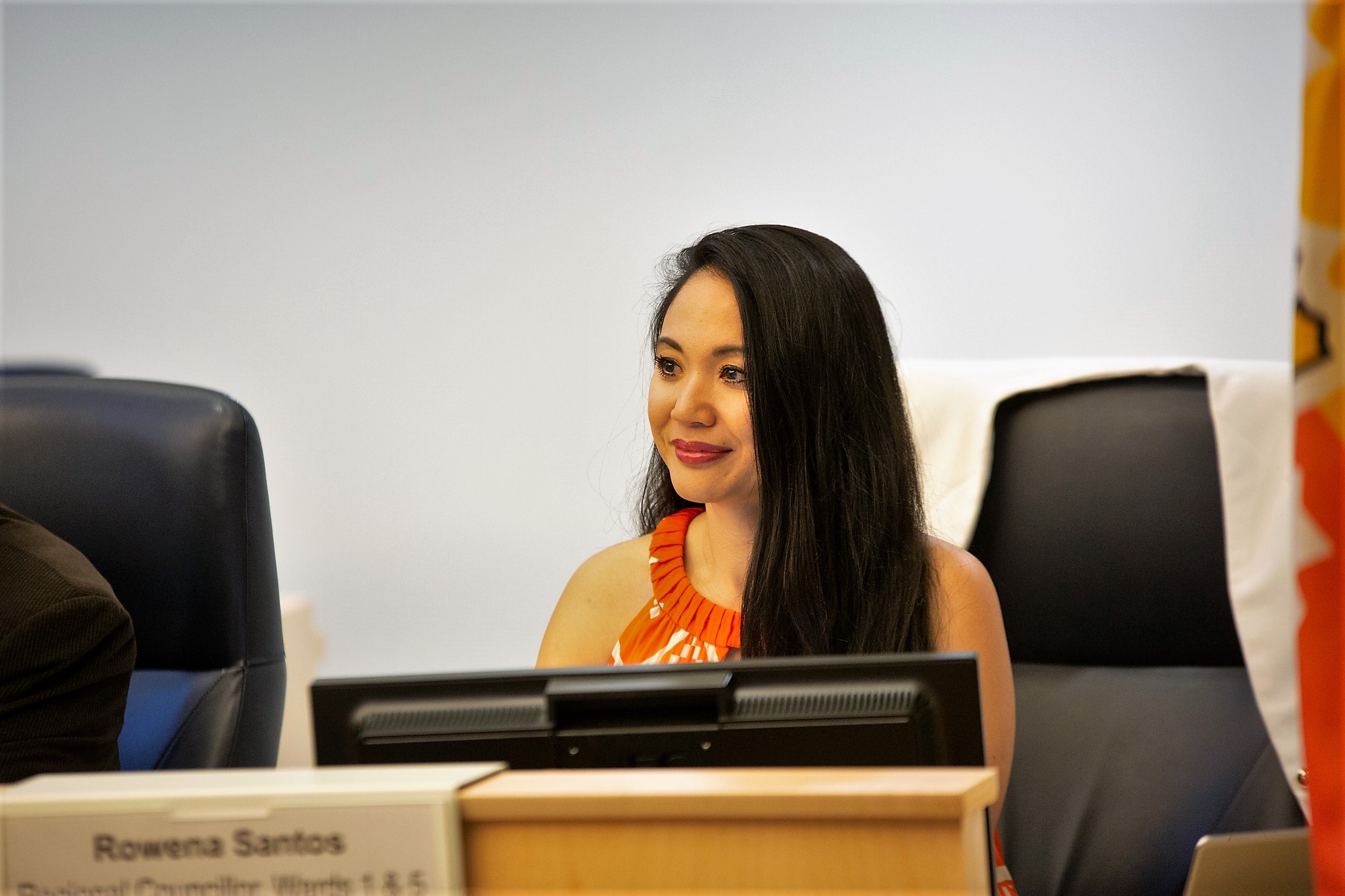 Councillor Rowena Santos seemed more concerned with protecting senior staff than the taxpayers who voted for her.
It's unclear if she understands that the information is publicly available through the Province's salary disclosure web page and the release of the taxpayer-funded salaries is done by Queen's Park specifically to offer the public accountability over the way their money is used.
The City's non-union salary and bonus increases are supposed to be governed by a council-approved formula, known as the pay "grid" which determines the maximum percentage increases senior staff can receive year-to-year.
Salary increases are usually limited to around 2.5 percent and bonuses have in the past been limited to a maximum of 5 percent of the base salary, in exceptional circumstances. Maximum salary and bonus increases are not supposed to be given out broadly, reserved only for those whose performance is measurably far above the average. Very few staff are supposed to receive these.
In the past, only commissioners or senior staff at an equivalent level, received car allowances, but it now appears that directors and others are being handed these lavish, taxpayer-funded perks.
Aujla herself received a taxable benefit of $16,787 in 2020 (it's unclear if this was for an annual car allowance which staff can use toward a vehicle or can pocket). Her counterpart in Mississauga, Lori Kelly, who has the exact same title, director of human resources, received $666 in taxable benefits last year, indicating she did not get a car allowance.
Recently, it appears lavish increases, large bonuses and excessive perks such as car allowances have been handed out to many of the most senior staff. Some councillors, led by Bowman, are now demanding a full accounting to determine what needs to be done to protect taxpayers.
Aujla said the 2020 sunshine list includes 428 Brampton non-union staff, compared to 310 in 2018, a 38 percent increase in just two years, since Mayor Patrick Brown was elected.
Despite his demands for fiscal belt-tightening inside City Hall to meet his promised tax freezes, senior staff costs have rapidly increased while desperately needed projects have been postponed or cancelled under Brown.
In 2020, according to the provincial salary disclosure list, a number of non-union staff received salary and benefit increases that appear to be far out-of-line with previously approved amounts.
Debra King, who manages salaries and benefits for the City, a gatekeeper role that's supposed to ensure out-of-line increases do not occur, saw her own salary jump from $138,364 in 2019, to $180,661 in 2020, a 31 percent increase (it's possible she received some sort of special payout, possibly from a retirement account). Prior to that, her increase from 2018 to 2019, while she held the exact same position, was 3.5 percent, which was still above normal increases based on previous formulas.
Communications Operator Sandra Smith saw her salary go from $100,928 in 2018, to $113,632 in 2019 and $132,413 in 2020, a 32 percent increase in two years, while she held the same job title.
Brampton Fire Chief William Boyes, known to play hockey with Mayor Brown, saw his salary spike from $181,100 in 2018 to $221,178 in 2020, a 22 percent increase.
Brampton Transit General Manager Alex Milojevic received a salary of $221,543 in 2020, on top of taxable benefits of $17,490. In 2018, his salary was $189,892, meaning in two years it went up 17 percent.
There are dozens of other examples of senior, non-union staff at the City who have enjoyed lavish perks and salary increases since Brown became mayor.
In 2015, former mayor Linda Jeffrey called for non-union salaries to be frozen after an alarming third-party report was done by former Ontario auditor general Jim McCarter, who was brought in by Jeffrey to conduct a comprehensive examination of the City's finances.
He found more than 90 percent of property tax revenues were going toward staff salaries and benefits and that almost all growth-related revenue increases in Brampton were going toward rapidly increasing salary costs inside City Hall.
Harry Schlange was brought in by Jeffrey and her council to make dramatic changes and he radically reduced the number of senior staff in the administration, as at least 180 staff were removed by the former CAO.
After Patrick Brown became mayor in 2018, he immediately fired Schlange and later oversaw the hiring of David Barrick as CAO, despite his complete lack of experience. Barrick, a former Port Colborne councillor, had never even worked in municipal bureaucracy and had not managed any city department.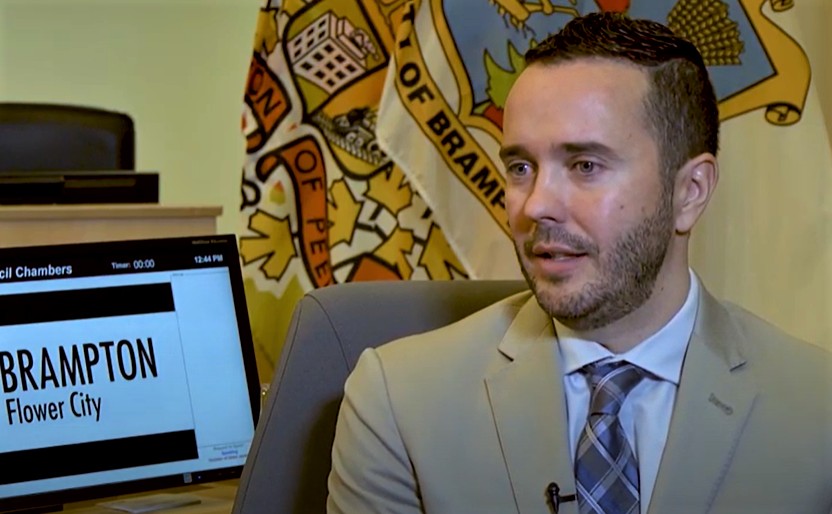 CAO David Barrick was hired by Mayor Patrick Brown who oversaw the process to bring him to City Hall
During his brief time as the head of Niagara's conservation agency he was accused of financial mismanagement including lavish perks like car allowance that he handed out to senior staff there. He was fired shortly after and since being given the role of CAO by Brown, who oversaw the hiring process, senior staff salaries and perks have ballooned.
Barrick has hired a number of unqualified staff from Niagara Region, where he was part of a group of Conservative politicians embroiled in a series of scandals.
He also hired Aujla, immediately after he was brought on by Brown, to oversee the City's HR department.
Now, councillors demanding answers will soon be provided a report to explain why so many senior, non-union staff have enjoyed large salary and benefit increases over the past few years, including excessive bump-ups during the global public health crisis when many Brampton residents have lost their jobs and some public sectors across the country cut or froze salaries.
While senior staff made the decision to lay-off hundreds of non-union staff, mostly part-time seasonal workers, they themselves have seen no salary freezes or rollbacks.
After Aujla told Bowman during Wednesday's meeting that the overall number of non-union staff has not increased significantly in the last two years, he pointed out that it's the amount they're being paid that is of concern.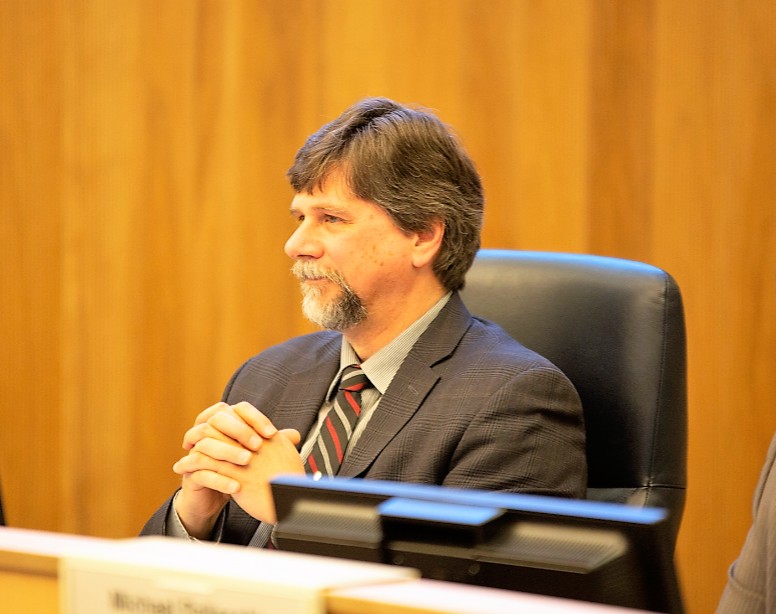 Councillor Jeff Bowman is leading the effort to find out how taxpayer dollars are being used to inflate the salaries of senior staff
"The numbers hadn't changed since 2018 to 2020, but the numbers that we see on the sunshine list sure have. They've almost doubled," Bowman said. "I'm asking for a breakout of the non-union staff that are there so we can make a true comparison of how many people we've got in management positions on the sunshine list today than we did in 2018. It all stems back to McCarter's report – if those council members who were here last council remembered – McCarter said we were spending over 90 percent of the (property tax) revenue that was coming in on staff salary levels."
McCarter's 2015 report, a wake-up call at the time, showed the City's total discretionary reserve funds were not growing with the rate of population increase. The City, he said, needed to prioritize funding for capital projects and to replace aging infrastructure; while the City payroll had to be reined in, as two-thirds of every dollar spent was going toward salaries and benefits.
McCarter prefaced his report by stating his "sense is that senior City management is well aware of these issues."
Aujla claimed on Wednesday that the number of employees on the sunshine list over the past five years has been consistent with the overall number of employees at City Hall and increased numbers on the list have been the result of "salary progression" and "economic adjustment".
However, compilations of yearly sunshine list data dating as far back as 1997 show that while the City may have grown its workforce as its population grew, the number of employees that ended up on the list has grown almost exponentially.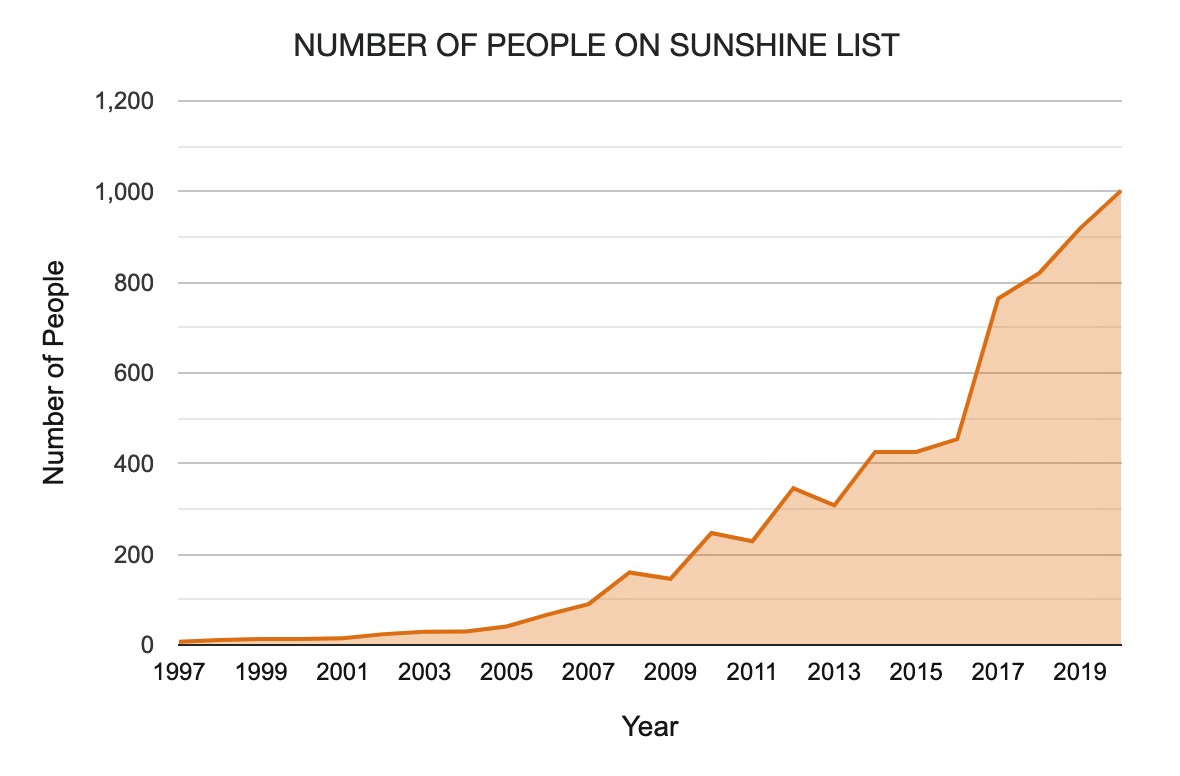 The number of Brampton staff on the sunshine list has skyrocketed in recent years
Medeiros brought forward a motion to find out what Barrick has done to the organizational structure and whether changes to City departments and management structures have caused the number of senior staff positions to dramatically increase or individual costs to spike after Schlange let almost 200 staff go, when he was brought in by Jeffrey to cut labour costs and find efficiencies.
Medeiros is one of only six members of council who also served during the previous term when the radical transformation was done.
"When we did that mass change, it almost eliminated a whole layer of management people," Medeiros said. "If that's changed, and if we're increasing that management level again, I want to make sure that it's transparent and people understand why we're doing it."
Under Bowman's motion, staff will return in two weeks at the next committee of council meeting with a report that will outline the number of non-union employees who manage others, their job titles, current salary, year-over-year increases and the number of staff each managed from 2018, the year Brown was elected, to May 2021.
---
Email: [email protected]ointer.com
Twitter: @vanessabalintec
---
COVID-19 is impacting all Canadians. At a time when vital public information is needed by everyone, The Pointer has taken down our paywall on all stories relating to the pandemic and those of public interest to ensure every resident of Brampton and Mississauga has access to the facts. For those who are able, we encourage you to consider a subscription. This will help us report on important public interest issues the community needs to know about now more than ever. You can register for a 30-day free trial HERE. Thereafter, The Pointer will charge $10 a month and you can cancel any time right on the website. Thank you.
Submit a correction about this story