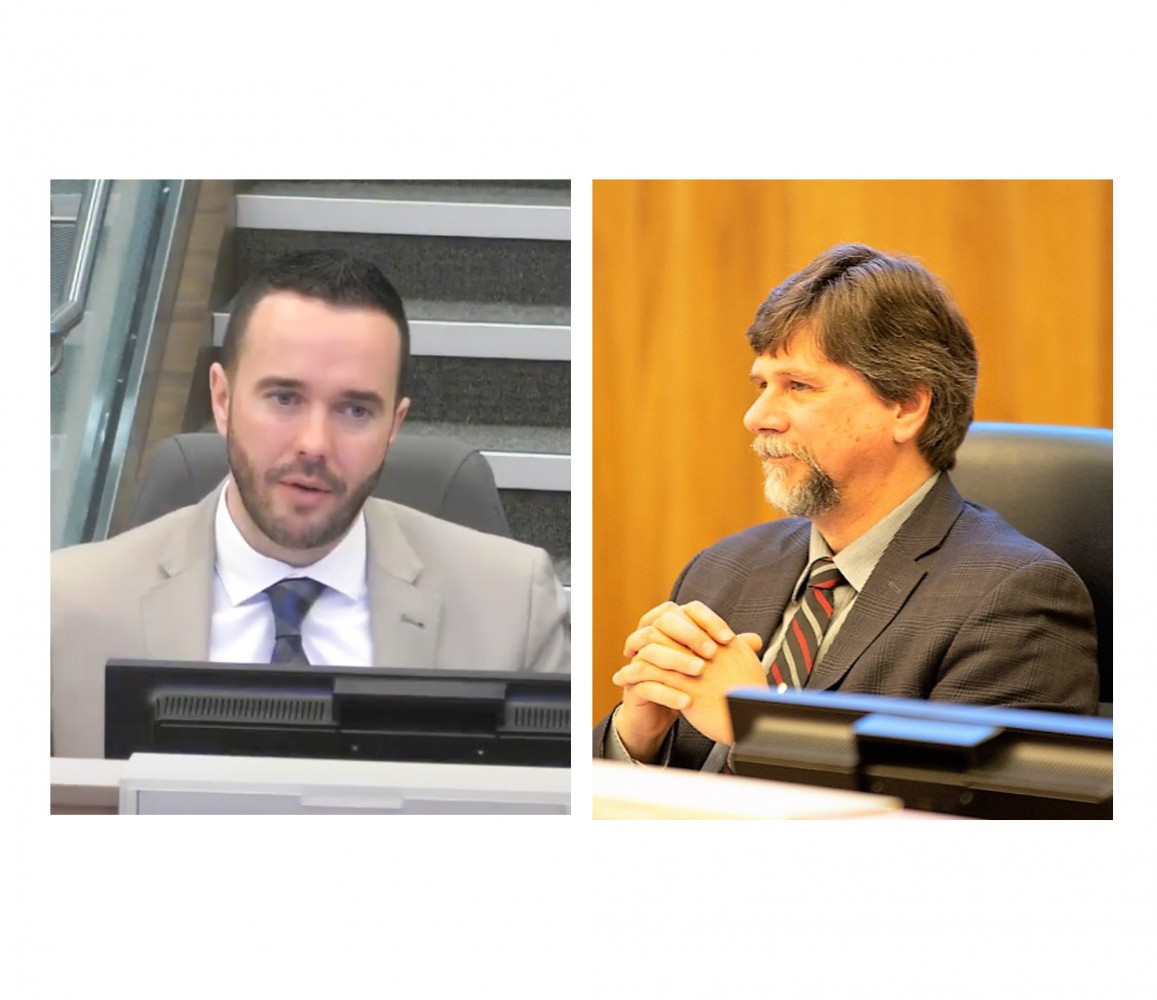 Photos from The Pointer files/City of Brampton
'That is not factual': Councillor demands CAO answer for misleading council on audit department – met with silence
Members of Brampton's council are tired of being misled by their chief administrative officer, David Barrick.
At Wednesday's Committee of Council meeting, City Councillor Jeff Bowman grilled the CAO, who faces an independent investigation into damning allegations of misconduct by a now-former employee.
Bowman demanded he answer why the office of the internal audit department, which is supposed to function independently from staff and report directly to council, was moved under Barrick's authority, reporting to him, instead of council.
"I'm looking for a response from our CAO, who told us continuously there was no change in that report and that audit had always reported through the CAO (even before Barrick was hired in late 2019). Is that true?"
When Barrick was confronted recently by councillors angered by the CAO's quiet move to place the independent audit function under his control, he claimed that had always been the reporting structure.
This was not true.
City Councillor Jeff Bowman questioned why Barrick misled council on his involvement with the internal audit department.
On Wednesday, Bowman demanded to know why the man responsible for reporting to council had misled the elected officials who are sworn to protect taxpayers, and use the independent internal audit function as their primary oversight tool.
After a few moments of silence, Bowman said, "Well, I guess I'm not going to get an answer."
The confrontation came after a staff presentation outlined how the City could hire an auditor general to hold the corporation accountable for the way the public's money is used.
The report came after councillors sought direction on the best option for another layer of accountability and oversight following a series of disturbing actions by Barrick to erode transparency and accountability inside City Hall.
The report presents a range of models to protect the public: maintaining the "status quo"; having an auditor general alone; having both an auditor general and an internal audit department with a head; or a hybrid model where the director of internal audit is hired as the auditor general.
Bowman said restoring the internal audit mandate to the 2017 model, which councillors thought was still the process, was an option missing from the report.
Shortly after Barrick was hired in Brampton, following his firing from Niagara's conservation agency and a trenchant investigation by Ontario's Ombudsman that implicated him in a CAO hiring scandal at Niagara Region, he fired the director of internal audit, Foruzan Velji, and moved the role under his supervision so reports would go to him instead of directly to council.
He hired Satinder (Sunny) Kalkat as a replacement, creating an opportunity for a new internal audit charter to be developed. It states audit reports will be reviewed by divisional heads or commissioners of a department, alongside the CAO, before being presented to the audit committee, led by council. "The CAO will be advised prior to Internal Audit sharing internal audit reports and/or related information with the Audit Committee." Kalkat worked for the City for less than a year.
The previous charter, last changed in 2017, showed the department worked independently, as directed by the Institute of Internal Auditors, which provides governments in Ontario guidance to ensure public servants behave in the best interests of taxpayers.
A November 2017 report, cited by Bowman, states the independence of the internal audit function was strengthened when a direct reporting structure to council was created through the audit committee governed by councillors.
The CAO's office was only involved through administrative support and the director of the audit department was to be hired by council.
"We have been told over and over and over, I don't know how many times in audit and in council, that the new charter, there was no changes to what was previously done here in the City," Bowman said in frustration Wednesday.
Every time Barrick was questioned on why he quietly moved the department under his control, he falsely claimed internal audit always reported to the CAO. Organizational charts the City shares publicly show from June 2020, and for the months prior, the department stood on its own, independent of the CAO who the function is supposed to hold accountable.
In the months after, the publicly available organizational chart shows the department had been moved into the CAO's office reporting to Barrick.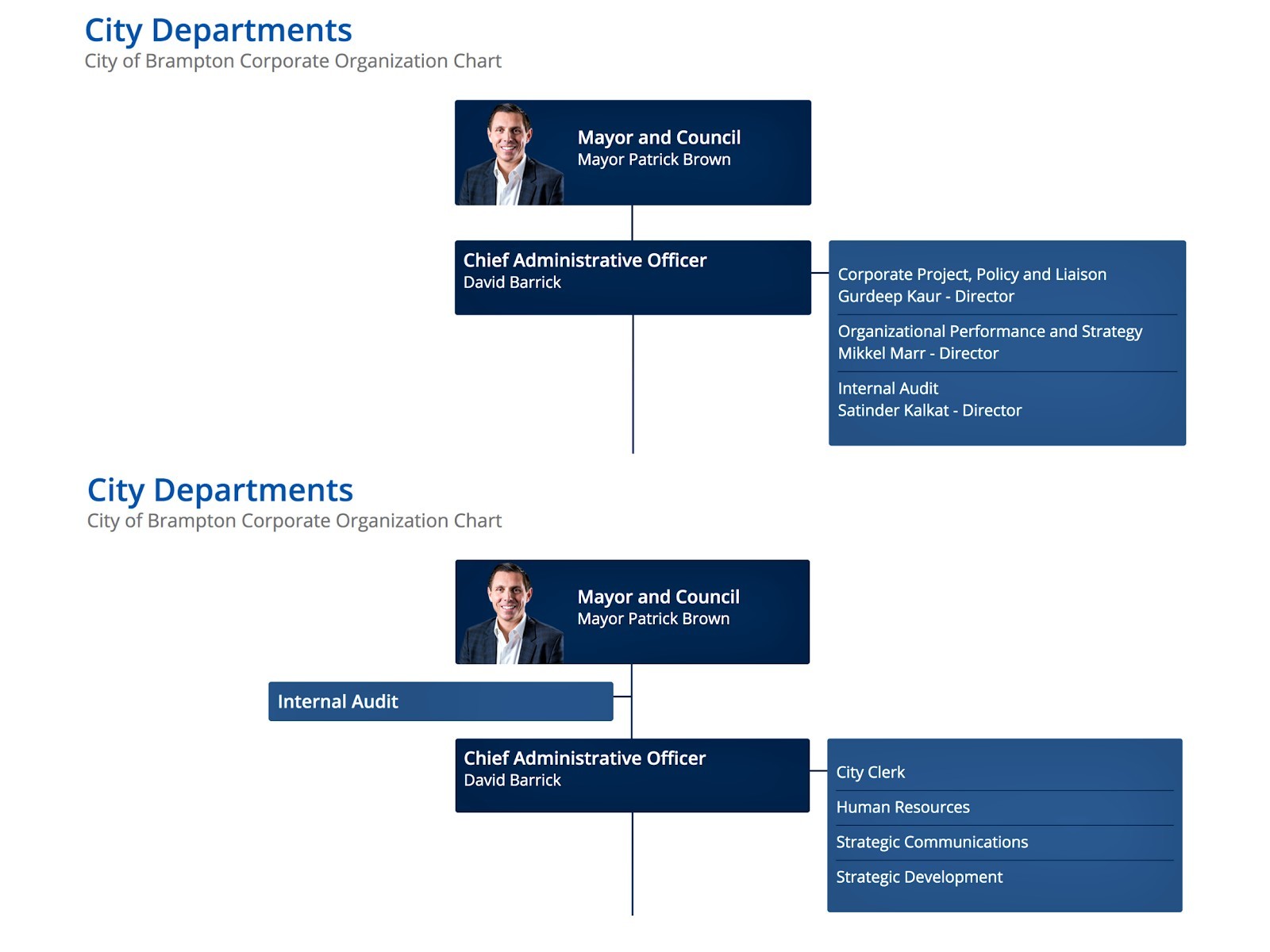 The internal audit reporting structure in February (top) after CAO David Barrick quietly changed it, and the structure before the change (bottom).
"We changed that. We voted on it. We put it in writing. And when we go into meetings, and we hear, that 'No, this is not the case, that it always reported to the CAO', that is not factual," Bowman stated Wednesday, frustrated by Barrick's actions and refusal to answer for himself.
The CAO remained silent, despite Bowman's repeated demands to answer his questions and explain why he had misled members.
It was the latest tense line of questioning by a member of council over Barrick's actions to strip away oversight.
After finding out he illegally moved the crucial freedom of information function out from its independent reporting line to council from the City Clerk's office into his own CAO office, in February councillors dressed him down for once again misleading them.
Barrick claimed he had not done anything wrong and the FOI role still reported to council. They shot him down, pointing out he had clearly hired a privacy officer to oversee the FOI role, reporting to him. The provincial legislation that outlines the function of a municipal FOI head says only council can determine who will fill this role, and the City clerk, under Brampton's relevant bylaw, is named as the head.
Members pointed out that it makes no sense to have the FOI function under the supervision of the person who controls all the bureaucratic staff, and that a review of other municipalities showed no other CAO had such authority over a role that is supposed to be independent with direct reporting to elected officials.
Despite no authorization from council, Barrick tried to change this, but councillors passed a motion in February restoring the FOI role under the clerk, reporting to council, after they confronted Barrick over his actions.
The CAO has faced a series of damning allegations of misconduct.
Late last week, a former director in his office, Gurdeep Nikki Kaur, alleged corruption, questionable hiring and fraudulent procurement processes under Barrick's direction.
One such procurement involved $218,000 handed out to Barrick's former key Niagara political ally. It's unclear what "consulting" work Tony Quirk, Barrick's close associate when the pair served on Niagara Regional Council together, completed for the City. Quirk was paid $110,000 within four months of Barrick's hiring in Brampton.
On Barrick's direction, a man who has a two-decade relationship with Mayor Patrick Brown, and is a longtime Progressive Conservative Party associate, was also given a contract worth $300,000. Kaur alleges Barrick sent her the contact information of Brett Bell, the director of Menes Company, on January 7, 2020 and directed her to hire the company to consult on a project to create a municipal development corporation to manage the City's large real estate portfolio. She provided evidence to The Pointer of Barrick's direction to her, which he sent through text messages, instead of using proper, documented written correspondence in a City memo or email, which can be easily retrieved under an FOI search.
Brown chaired the committee that hired Barrick as Brampton's top bureaucrat. The pair have close ties through Conservative political circles, and despite all the evidence that shows Barrick's problematic past in Niagara, the Mayor has always denied Barrick was implicated, even though the investigation report by Ontario's Ombudsman says otherwise. Titled "Inside Job", it details Barrick's role in a disturbing scheme to get his former boss at the conservation authority, Carmen D'Angelo, the job of CAO at Niagara Region. Brown has never spoken against any of Barrick's disturbing actions since he was hired by the City, including when the internal audit department was removed from the purview of council.
Following the disturbing allegations by Kaur, council called an emergency meeting last Friday and ordered an independent, third-party investigation into Barrick and the other claims made by his former director, who was fired hours after she lodged her allegations last Thursday. They are also being sent to the appropriate police authority for possible investigation.
The key to the accountability function of internal audit is independence.
The City's own internal audit mandate emphasizes improving City functions through due diligence and independence. It's not clear how an independent audit function to ensure there's no abuse of public trust, finances, or staff responsibilities, can operate with complete transparency if the internal auditor reports directly to the CAO.
"Limited justification can be made to suggest deviation from the city's current Internal Audit direction given its successes and commitment to accountability and transparency," the 2017 staff report stated.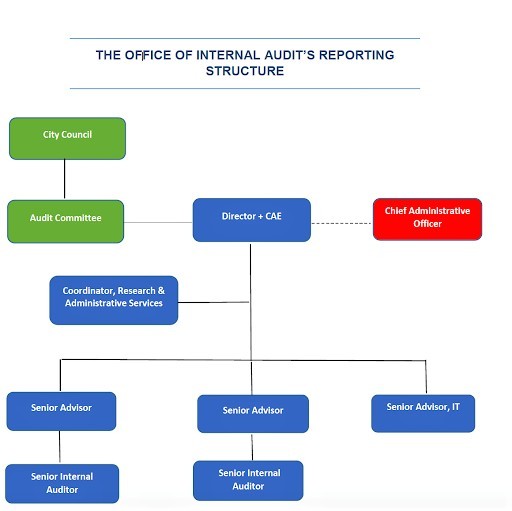 The internal audit's reporting structure in 2017.
Municipal auditors in Ontario follow the ethical and professional standards of the Institute of Internal Auditors (IIA), an oversight group that provides guidance.
"The internal audit charter is a formal document that defines the internal audit activity's purpose, authority, and responsibility. The internal audit charter establishes the internal audit activity's position within the organization, including the nature of the chief audit executive's functional reporting relationship with the board (council); authorizes access to records, personnel, and physical properties relevant to the performance of engagements; and defines the scope of internal audit activities. Final approval of the internal audit charter resides with the board (council)," the IIA states.
Wednesday marked the third time Bowman has raised the issue of Barrick's behaviour, questioning the CAO's efforts to erode the independence of the internal audit function.
During the September 8 audit committee meeting, he said the process was "not transparent." When questioned about why the audit charter had been changed, Barrick said the new charter respects the wishes of council, reflecting bylaws and City legislation. He didn't explain what bylaws or legislation he was referring to and councillors have made clear that their authority has not been respected by the CAO.
Bowman urged council on Wednesday to restore the audit charter to the previous version, with the internal audit department functioning indepent of the CAO's office, because the "exact truth" was not shared by Barrick when he changed the process.
"When we're told over and over and over again something that's inaccurate, and then we vote on something based on inaccurate information, I don't think that's fair."
Regional Councillor Martin Medeiros said he will take the steps to reopen the discussion at next week's City Council meeting. Only those who voted in favour of accepting the charter could move to reopen, the City Clerk explained. Medeiros, who had voted for the new charter, not realizing the changes Barrick had made, said council was previously presented with "inaccurate information".
A vote of two-thirds will be required to reconsider the 2020 charter. The staff report discussing the auditor general model has also been referred to the audit committee meeting this coming Tuesday to discuss the governance models presented.
Brown said he shares Bowman's perspective. "Internal audit should be independent of any office in the City, and if it requires two thirds, I'll be there with you to make sure we have that independence."
Brown, along with a group of other council members, repeatedly voiced their support for a new auditor general model because it was more "independent and arm's length" compared to the internal auditor model. Part of the reasoning stemmed from the auditor general getting direction under the provincial Municipal Act, compared to internal audit, which gets direction from a charter developed by staff and approved by council.
Both functions could be maintained simultaneously, similar to other municipalities that use an internal audit department to perform constant reviews of city department operations to ensure compliance, while an auditor general launches specific investigations, often stemming from internal audit reviews, or from other signs of irregularities, or through complaints that can be brought forward by council, staff or the public.
Medeiros expressed frustration with some of his colleagues Wednesday. He questioned why some have failed to raise any concern after the internal audit function was stripped of its independence by Barrick. He said they are only now addressing the alarming conduct because it was reported "by media and certain things that have happened".
He said those that have remained silent are now using the opportunity to say they're looking for a more transparent and accountable model for oversight.
There was always an opportunity to be more open and transparent, he said, and if council members understood the 2017 charter and followed it, we "wouldn't be here today."
---
Email: [email protected]
Twitter: @nida_zafar
Tel: 416 890-7643
---
COVID-19 is impacting all Canadians. At a time when vital public information is needed by everyone, The Pointer has taken down our paywall on all stories relating to the pandemic and those of public interest to ensure every resident of Brampton and Mississauga has access to the facts. For those who are able, we encourage you to consider a subscription. This will help us report on important public interest issues the community needs to know about now more than ever. You can register for a 30-day free trial HERE. Thereafter, The Pointer will charge $10 a month and you can cancel any time right on the website. Thank you.
Submit a correction about this story