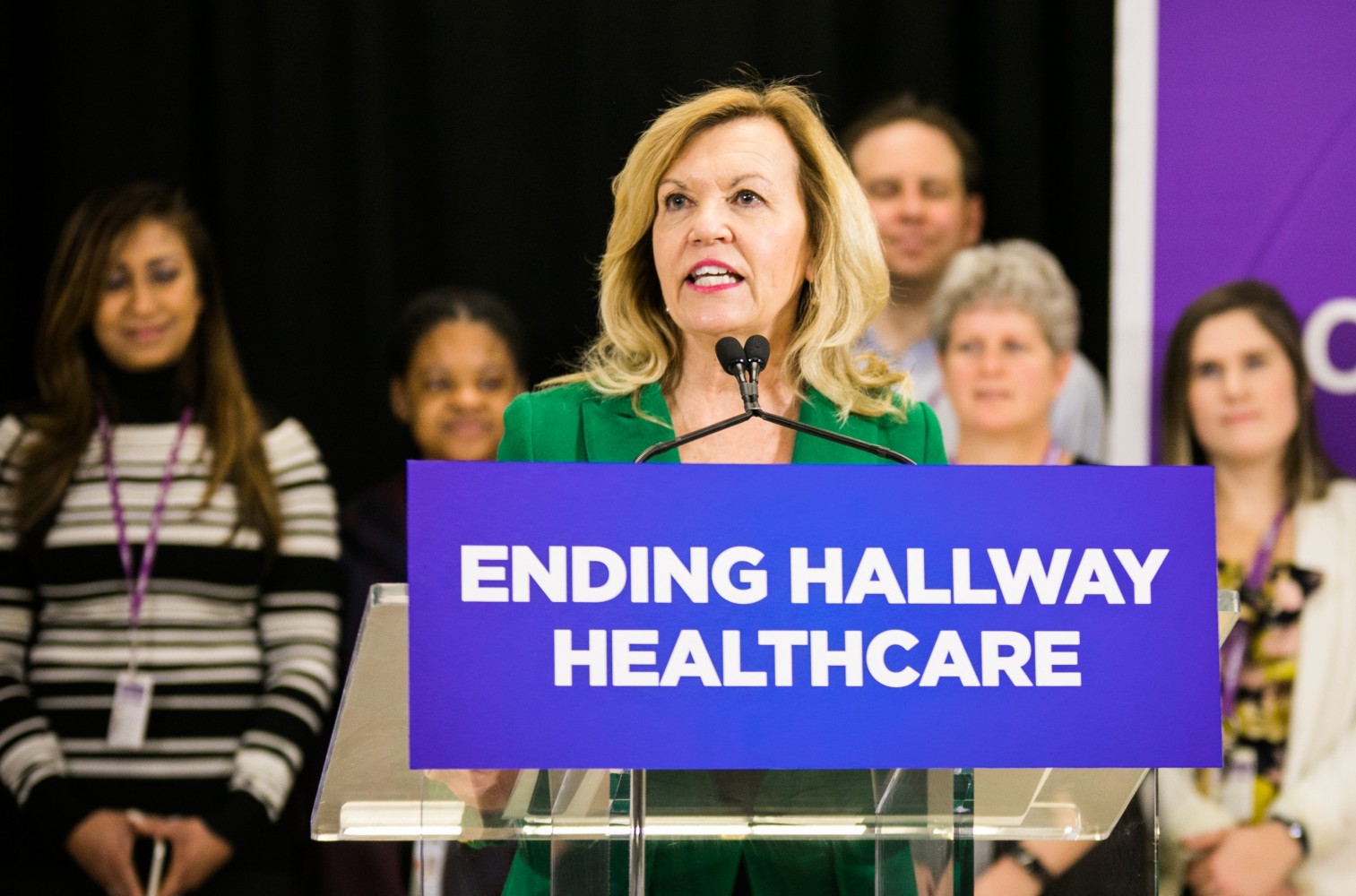 Government of Ontario-Twitter
Christine Elliott's words to the family of a 13-year-old-girl lying in repose: They didn't receive 'any less than they're entitled to'
While Brampton burns, Ontario's Health Minister claims the city has received "significant" assistance and that, notwithstanding the mountain of evidence proving her wrong, residents in Peel's decimated hotspots are getting all the help they are "entitled to".
Her heartless tone deaf remarks were in response to questioning inside Queen's Park Monday by the Opposition NDP, who asked how many more in Brampton and other parts of Peel would have to die, before Elliott does something for one of the worst hit areas in Canada.
The anger over the PCs' ongoing neglect of Brampton has been crystallized by Emily Viegas, a 13-year-old Brampton girl who died last week after succumbing to COVID-19.
The minister was asked to answer for the girl's death.
"There is no suggestion that they're receiving any less than they're entitled to," Elliott replied.
She also claimed "significant" assistance has been provided to Brampton.
At the start of the pandemic and throughout most of its deadly reign over Peel, Elliott provided the area, where more than 1.5 million residents live, just four testing centres; Brampton only received one. Toronto was given 17, more than twice the per capita amount as Peel and about four times more than Brampton.
Despite Brampton's staggering infection counts, it lagged far behind Elliott's own testing targets by the fall, barely hitting half the per capita goal she set because of the lack of resources directed to the city by the health minister.
In September, after Brampton had reported five times the rate of infections during the late summer compared to Ontario overall, The Pointer, after trying for months to get an explanation from Elliott, asked her at a press conference why her PC government refused to provide adequate resources to one of the worst hit areas in the country.
"If we find that there is a need for another testing centre in Brampton, of course, we will take a look at that," she said.
The remark came ten days after Doug Ford called Brampton "broken". "Something is broken when you have 3 percent of the population with 40 percent of the cases," he said of the city during a September 4 press conference.
The man who broke Brampton stood at a podium, right before the start of the Labour Day weekend – when much of Ontario decamps for some desperately needed sun, while Brampton's immigrant workforce goes to the factories and food processing plants that make the ice-cold beer and fat juicy steaks for others to enjoy – and told the city what it had known for months.
When the vaccine rollout began, it was more of the same – places like Brampton and Malton burned, but Ford and Elliott sent the fire department elsewhere. After being left out of a pharmacy pilot program, by late March Peel had only received 6.7 percent of Ontario's vaccine allotment, despite having 10.5 percent of the population and about 20 percent of the province's cases at the time.
Now, the sense of abandonment, as a 13-year-old-girl lies in repose, has engulfed communities across Brampton and Malton.
That's how NDP MPP Gurratan Singh described the feeling Monday. He too, like his constituents and fellow Peel residents, feels abandoned.
It's the only sense left for tens of thousands who no doubt read the crushing, soul destroying story of Emily Viegas.
Her death seems to have broken a place where the hard-worn souls seem unbreakable – most have already survived so much just to get here.
As reported by the Globe and Mail's Dakshana Bascaramurty over the weekend, the 13-year-old was one of three family members who contracted one of the versions of the novel coronavirus that causes the disease known as COVID-19.
It took her quickly.
Her mother was already on oxygen inside Brampton Civic. Her father, a factory worker and the only member of the family who had been leaving their two-bedroom apartment, feared taking his daughter there, knowing the city's only hospital was in desperate shape and worried she would be transferred elsewhere.
She died on her bed, in the room she shared with her brother, who found her.
Paramedics could not save her and she was pronounced dead at the hospital on April 22.
If Elliott's claims were true, which they weren't, the young girl might still be alive.
In her response on Monday, the minister stuck to her talking points. The Viegas family, just like all the others in Peel ravaged by this killer disease, received everything they were "entitled" to.
If that were true, Brampton would not have just one hospital and less than half the number of beds per capita compared to the rest of Ontario.
But, apparently, taxpayers in places like Brampton and Malton, which has no hospital, are not entitled to a fair and safe number of hospital beds. They are not "entitled" to the same safety others enjoy.
So Mr. Viegas was scared to take his daughter to a place that had no room for her.
And instead, she died in her own bed.
Frontline healthcare workers have suggested that if the PC government's decision makers looked like Brampton's residents, not like Elliott, maybe the city wouldn't have been abandoned from the start of a pandemic as unsympathetic as Ontario's leaders.
Submit a correction about this story