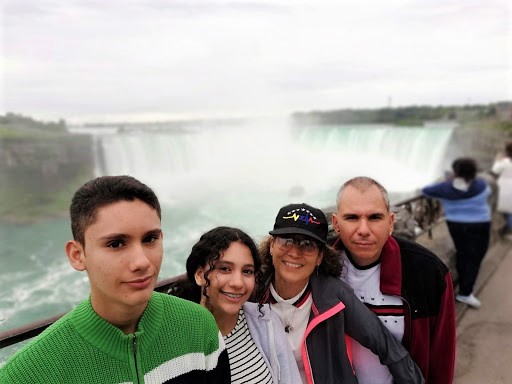 PDSB/Carmen Salas/Andrew Taylor
Cultivating success for many newcomers in Canada starts with learning English
Amid the constantly changing scene in elementary and secondary school teaching that has recently brought students back to online education, many adult learners quietly trudge along.
They are parents, aunts and uncles, economic-class immigrants and refugees, taking high school-equivalent courses and English as a Second Language (ESL) classes as part of plans to become administrative workers or healthcare employees or one of the other types of contributing members on a long list of careers increasingly taken up by recent immigrants. Some log online to participate with a screen filled by faceless names in an endless scroll of default Google Classroom profiles, while others turn on their camera and mic only to be interrupted by children screaming in the background.
In the coming years, immigration into the country is predicted to soar, bouncing back from decimated numbers in 2020. With a large newcomer population, Peel Region knows rapid growth will continue. From 2011 to 2016, Peel welcomed an average of 18,821 new residents annually, 50 a day, according to the 2018-2019 Collective Impact Report from the Peel Newcomer Strategy Group.
"Settlement service providers continue to report that newcomers present with a wide range of needs that they are not fully equipped to address on their own," the report reads, expressing concern that not enough immigrants and refugees are utilizing government social programs to successfully integrate into society. "This intersectionality of newcomer needs – traditional settlement priorities (like employment, housing and education) with non-settlement needs, such as mental health or crisis and trauma – begs the question: how to prioritize and address the full range of newcomer needs, given our capacity constraints?"
In the region, non-credit education programs such as ESL and Language Instruction for Newcomers to Canada (LINC) are offered by the Peel District School Board (PDSB) to target the problem of integration directly and help empower newcomers and those whose mother tongue is not English with the linguistic basics they need to succeed. Dozens of adults fill these programs each year, but because of the pandemic, 2020 saw a 40 percent reduction in registration numbers that meant many adults relied on Google translations and family interpretations to get by.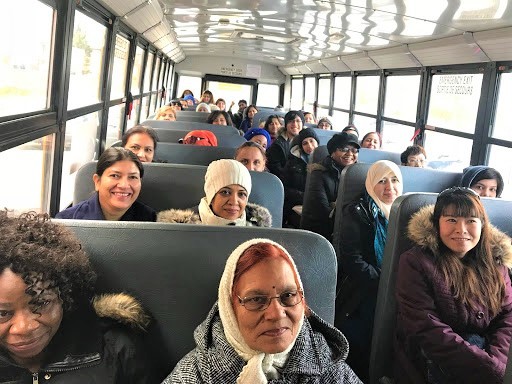 In-person, adult learning programs often feature visits to Toronto to help those in the program learn more about Canadian traditions and Ontario attractions. Online videos and podcasts are used by teachers to provide similar levels of education and exposure. Pictured is a group of ESL students going to The Royal Agricultural Fair in November 2017.
From finding affordable housing for a family of five to securing work for the foreseeable future, getting by means something different to each immigrant and refugee. The pandemic has added another layer of challenges. On top of learning English, while ensuring the safety and security of family here, making sure loved ones back home are safe, sometimes trying to send them money, has become another stress of starting a new life in a far away place. Much of this is impossible without the help of a village to help guide newcomers in the right direction.
"I have found a growing number of our students are sadly dealing with a lot of grief – loss of jobs, loss of family members both here and back home, and the grief that comes with not being together during these times," says PDSB social worker Martha Brunet, who has worked for the school board helping newcomers for 35 years. "Many countries of origin are also dealing with floods, earthquakes, wars, and other catastrophes, and many of our students are extremely worried about family and [are feeling] helpless as [to] how to help from this distance. Some have told me that they feel that they can't complain about life here (loneliness, poverty, family squabbles) as they feel it pales in comparison to what is happening to family back home. In many ways, although our students are 'safe' they feel cut off from the family support they used to have."
Her extensive knowledge of the diverse communities she serves and willingness to wear many hats helps Brunet do her job effectively and connect all Continuing Adult Learners (CAE) to the resources they need. She and other social workers use Facetime, text messages, phone calls and emails to stay connected, but the physical distance and isolation is palpable.
"I don't feel like I get to know new referrals as well as students I already have a relationship with," Brunet says. "Some of this comes from physically being present with someone, through tough stories, tears and planning next steps together. I work at three school locations, and it is often announced, or students know which day of the week I am there and will often just 'drop-in' to see me. Body language, what is 'not said' and a person's demeanour all speak volumes when the student can't verbalize what is going on."
Some days, she directs students to LGBTQ+ resources and learning difficulty supports, sends others to housing services and creates career plans with another group, often helping them to utilize skills they acquired before arriving in Canada.
She also simply provides a desperately needed shoulder to cry on. Hugs with students tortured by stress inevitably help forge relationships bonded by tears and a sense of unity.
In one particular class the sense of community is especially strong. Missed classes and late arrivals are not the norm, and despite the hustle and bustle of daily life, students look forward to practicing their English.
Every Monday to Wednesday, Carmen Cristina Salas Villasmil picks up her English learning binder, otherwise known as her language companion, filled with notes and definitions in preparation for the day's grammar and vocabulary class. She stares into her computer screen and logs into Google Classroom for up to two-and-a-half-hours at a time. She stays engaged, ready to answer her teacher's question at a moment's notice, despite the setting sun that reminds her of how long she's been at it.
As a registered paediatrician, Carmen already invested decades of her time into learning and practicing medicine in her home country, Venezuela, and later in Colombia. Coming to Canada and facing the sprawling list of qualifications needed to practice, Carmen didn't hesitate to start all over again. Studying a new language from scratch represented a secure pathway to building a new life with her family in Canada.
"I remember all the grammar lessons with my teacher," the 55-year-old says. "I take pictures all the time, I review all the pictures and review my language companion. I use my language companion very much because I have so many papers with grammar [to remember]."
At times, Brunet's proactive and unprompted assistance came as a surprise. But with her help, Carmen settled into the routine of taking classes online, learned more about the numerous social benefits available to her as a refugee and how to get connected with a doctor in the area.
"My main social worker is from Ontario Works, but Martha is a friend," Carmen says with a laugh.
This term, she's taking night classes to accommodate her new job at Amazon. When she's not at work, she talks to her father back at home and goes to the supermarket by bus to stock up on food and essentials for the week. National Geographic or Jeopardy! often plays in the background in her basement apartment, where Carmen soaks up the trivia and new vocabulary. Her two teenage children, enrolled in ESL classes with the Dufferin-Peel Catholic District School Board, watch Spanish TV shows on their own.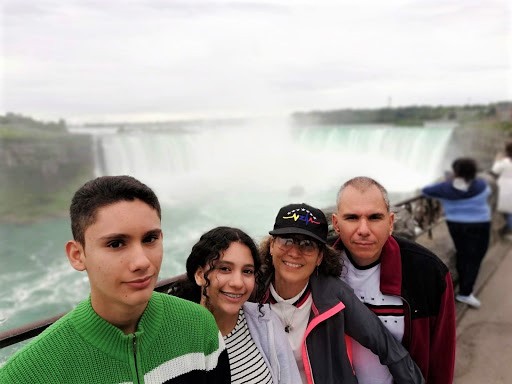 The Brito Salas family are all newcomers to Canada. Pictured from left to right are Samuel, Érika, Carmen and Simón at Niagara Falls during the summer.
For PDSB's non-credit language learning programs, the switch to online happened in April due to technology barriers, such as lack of access to laptops and learning devices. If it were not for her first term teacher, she would have dropped her classes upon learning the move to online had to take place.
"When the lockdown started, believe me, I didn't like the online classes," Carmen says. "I decided not to continue my English classes, but [my teacher] wrote me an email that said, no, Carmen, you must continue, you can do it. I said, 'Okay, I will continue my English classes. I don't like online classes, but if you want, okay, I will go, because you helped me improve'."
Outfitted with a laptop provided by the school board, Carmen is one of more than 300 adult learners who have been given devices to keep thanks to refurbishment programs, donations and funding by the provincial and federal governments. Given the flexibility of remote learning, the upside is weighed against a staggering list of challenges that make the reality of studying from home difficult for immigrants and refugees.
"Many of the students enrolled in the non-credit program have not necessarily settled into permanent accommodations, [have] limited access to employment and [face] challenges with accessing technology/internet," said PDSB communications officer Ryan Strang. "Also, it's important to note that approximately 65 percent of non-credit learners are women with families at home – often K-12 students enrolled in the Peel District School Board. This is important as you see the connection above with the drop in non-credit registration (a 40 percent decline compared to pre-pandemic enrollment). With the uncertainty of the pandemic and switches between in-person learning and online learning, many of these adult learners remain at home with their children to support virtual learning and well-being."
At PDSB, class levels are often mixed to maximize resources for the handful of students in each level who enroll into ESL programs, where Canadian Language Benchmarks (CLB) composed of reading, writing, listening and speaking scores are used to cumulatively measure a student's fluency level. Brunet says Level 8 is usually the goal to have students comfortably communicate in all professional and social settings.
Carmen's husband, Simón, is currently in Level 4-5. From a split-Level 5-6, which demonstrates initial and developing intermediate language ability, Carmen is now in a split-Level 6-7 class. Moving up from each level takes around 250 hours to complete, and is an accomplishment Carmen predicts will take her up to two years to achieve.
"Actually, in the case of Carmen, she doesn't need two years," says her current night school ESL teacher, Andrew Taylor. "Because she's a doctor, she learns very fast compared to other students. I have a feeling that she's waiting to go to level (mixed level) 7-8-9 in September, which means that in February next year, if she wants to repeat the course, by June, she can leave the school if she is working."
A veteran in the field, Taylor has been teaching English as a second language with the school board since 1992. Known to his colleagues for his exuberant and animated nature, Taylor was at first frightened over the idea of teaching remotely, then realized that letting his personality shine through the screen helps tremendously with letting students feel confident enough to do the same.
"Teaching online has given me the chance to showcase my gift of acting, which helps a lot in bringing energy to my class and in keeping my students' enthusiasm," says Taylor, who utilizes social media platforms, YouTube videos and podcasts, as supplementary materials to his lessons. He has received numerous awards in recognition of his ESL teaching throughout the years. "I am able to become a more efficient educator by successfully adapting to the new 'normal' which is remote teaching."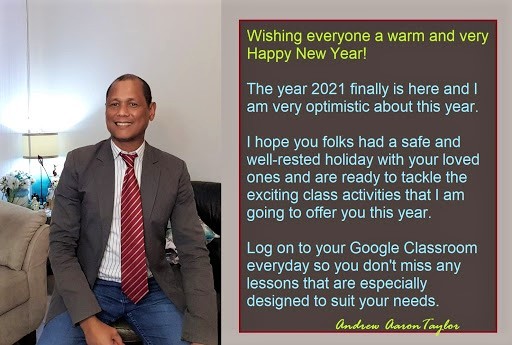 Andrew Taylor makes sure to be personable on screen to his students to increase comfort and participation in the classroom. Through emails and text messages, and buoyant, colourful worksheets and presentation slides, Taylor keeps tabs on and accommodates every single student, trying his best to make sure no one falls through the cracks.
Each class, Taylor sings his praise to each student, making sure everyone has the ability to answer a question and practice speaking English. He regularly posts lessons and short videos of positive criticism for his students on his dedicated YouTube channel. Despite missing crucial in-person interaction that helps build a sense of community in the classroom, Taylor says roughly 33 out of 35 students enrolled in Carmen's class showcase eagerness to learn on a daily basis and attend class on time. Most days, students log on to the virtual classroom at least 15 minutes before class starts, conversing with other students while waiting for their teacher to arrive.
"Everyone in my class is equally important. Everyone gets the same amount of affirmation and validation," Taylor says. "I strive to promote every student by learning some positive information about their countries – foods, dances, music, sports, famous celebrities, fashion and landmarks – and relaying them in the class in the sentences that I use when I teach grammar, pronunciation, idioms, conversations and so on. These activities allow the students to focus on the positive things about their classmates, and as a result promote understanding, open-mindedness, respect and better camaraderie in the classroom."
Protected deep in her memory, Carmen lists her peers from: Afghanistan, Jordan, Abu Dhabi, Ukraine, Russia, Hong Kong, Venezuela, Colombia, Ecuador, Syria, Cuba, Barbados and Sri Lanka, off the top of her head. According to Taylor, the average age for an adult learner is around 32, but many range anywhere from 20 to 65-years-old.
Despite the difficulty in fostering peer relationships, Carmen enjoys practicing English with her classmates.
"[It's all] very different countries and different cultures," she says. "[It's] very nice to learn about."
Taylor spends up to two hours a day on top of his teaching time preparing visual aids and listening exercises for his two EHL cohorts. He has also given his personal phone number to students who may need help with a lesson or need accommodation with tests and homework when life gets in the way.
Throughout the pandemic which has uniquely burdened immigrants, refugees and essential workers, who make up a large portion of ESL students, Taylor says they are making the most of the situation and enjoying the flexibility that comes with learning from a distance. Although in-person learning is almost always preferred, the consideration of online classes in the future for enhanced flexibility and accommodation isn't far-fetched, anymore.
"I mentioned to my supervisor that some students are beginning to enjoy and benefit from this online teaching," says Taylor. "I'm afraid that when we return to in person teaching, some students will probably prefer online classes."
Two obvious benefits to the virtual setting are time and money. Students can save hours of commuting, which they can use in much more productive ways, while the cost of travel to in-person classes also is a factor that will be considered in future decisions. Another reality is that some aspects of life might permanently be altered – the new normal could be here to stay.
Since March 2020, 160 adults have received their diplomas and approximately 2,000 credits have been earned through the program. In the non-credit program, more than 950 adult learners have received their Canadian Language Benchmark certificate.
Carmen says she's grateful for the support from Taylor, Brunet and other teachers and workers at PDSB. It's with their help, students like her are able to transition into Canadian society with adequate support and a community to fall back on when things get tough. The kindness she's witnessed and benefited from validates the decision she made to bring her family here in the first place.
"I think this is the best country for my kids," Carmen says. "I think my kids need to know about human rights, other cultures, being patient, being honest. I think Canada brings opportunities for all people – the race, religion, culture, the politics [it doesn't matter]. This is an open-minded country. People respect you, your opinion and your point of view."
After achieving fluency in English, Carmen is considering multiple different professional pathways. She hopes to return to school to become an ultrasonographer, and is open to the idea of becoming a personal support worker, while Brunet nudges Carmen toward bridge programs at Humber College for internationally trained medical professionals that can open the door to nursing.
She's in no rush to complete her English training, and is happy absorbing the learning day-by-day. English mastery is the latest challenge she wants to add to the already impressive list of accomplishments she has achieved.
---
Email: [email protected]
Twitter: @vanessabalintec
---
COVID-19 is impacting all Canadians. At a time when vital public information is needed by everyone, The Pointer has taken down our paywall on all stories relating to the pandemic and those of public interest to ensure every resident of Brampton and Mississauga has access to the facts. For those who are able, we encourage you to consider a subscription. This will help us report on important public interest issues the community needs to know about now more than ever. You can register for a 30-day free trial HERE. Thereafter, The Pointer will charge $10 a month and you can cancel any time right on the website. Thank you.
Submit a correction about this story