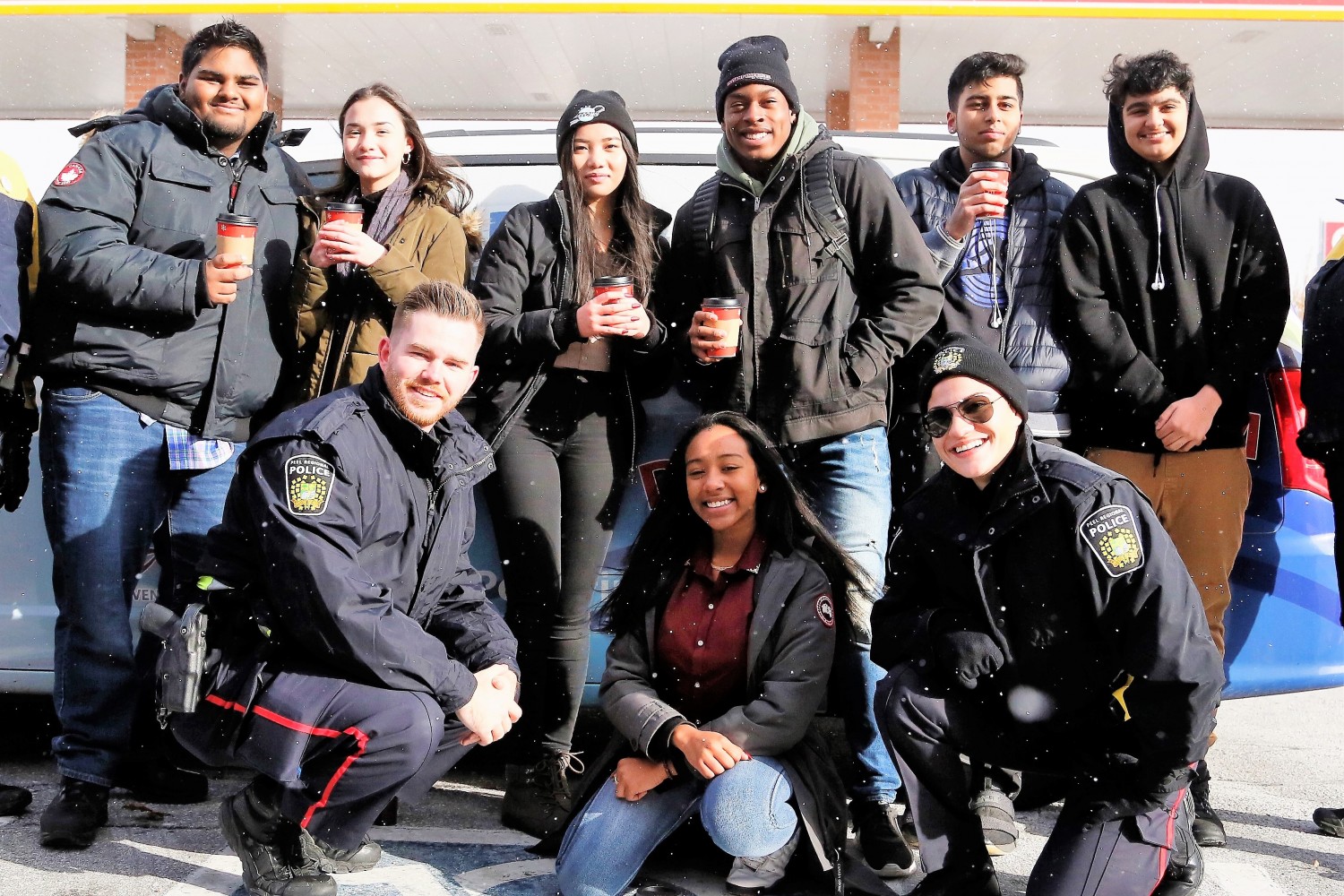 The Pointer file photos/Peel Police
The dangers of our growing mistrust in police
On Saturday morning, after 18 hours of social media panic and wild speculation that Ontario was about to descend into a mordant state of lawless policing, The Pointer spoke with Mississauga Mayor Bonnie Crombie.
She has a unique position of power.
Crombie sits on the Peel Police Services Board. She is also mayor of the country's sixth biggest city, where the majority of residents are not white. There is a troubling mismatch between the residents she governs and the police force she oversees. It is overwhelmingly white.
She commented on the sweeping concern spreading across the province after Premier Doug Ford on Friday afternoon issued his latest pandemic directives, including new authority for police to enforce stay-at-home rules.
The mayor agreed with those voicing displeasure over what she described as "overreach" but much of her worry is for different reasons.
Crombie believes in the women and men in uniform, their professional instincts and the leadership that now sets the tone for them under the guidance of Chief Nishan Duraiappah. She questioned if officers will be stretched thin and distracted from their primary role as investigators. Officers, she said, need to be on the streets deterring crime, not acting as enforcers in the name of public health.
She argued that bylaw enforcement departments should continue to handle interactions with residents and businesses suspected of violating pandemic-related directives, not police.
As the leader of one of the most diverse cities in the world, Mayor Crombie also shared her knowledge that many of Mississauga's residents are still apprehensive about the force she helps govern. Even the perception they will be targeted, is problematic. Decades of abuse can't easily be wiped away.
In 2015, after carding data (known in Peel as street checks) showed the department targeted Black citizens at an alarming rate in these random police encounters, often putting racialized youth in illegal custodial situations without explaining their right to safely walk away from the common intrusions into their daily lives, Crombie had seen enough.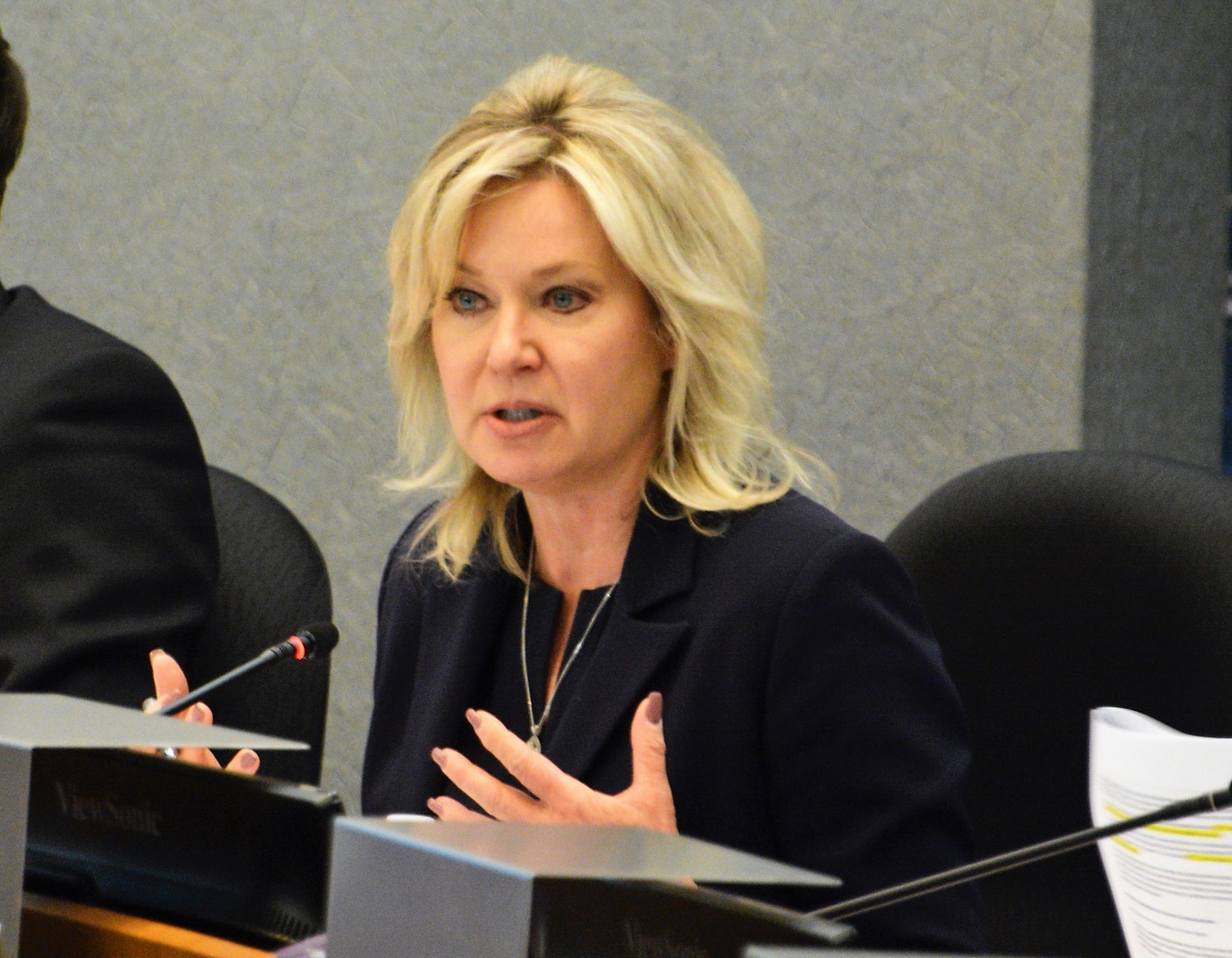 Mayor Bonnie Crombie at a Peel Police Services Board meeting before the pandemic
Her Black constituents were being stopped in these deeply scarring encounters at more than three times the rate, compared to Mississauga's white residents.
It caused profound damage to the relationship between Peel police and those it was supposed to serve and protect.
In Brampton and Mississauga, the practice of random police carding had been going on for decades, and when Crombie joined the board, the chief at the time was wholeheartedly in favour of this long-standing discriminatory and destructive procedure.
Jennifer Evans represented everything wrong with policing. She displayed little interest in the reasoning put forward by community members who demanded carding be stopped.
She was petty and vindictive toward anyone who challenged her authority, which seemed most concerned with the protection of her beloved thin blue line, the tight-knit police culture she was nurtured and groomed by throughout her long career with the Peel force. It rewarded her unfailing loyalty with the top job.
Evans had fought hard to retain a version of carding that involved officers randomly stopping people and demanding their personal information, without reference to a particular crime being investigated. The Charter Rights of citizens, who should have been informed at the start of any police interaction under the guise of a street check that they were free to walk away at any time, were rarely respected.
When demand rose for evidence of how effective street check data had been, Evans was able to cite only six instances over more than 35 years in which carding had helped solve a crime, and most of those were minor infractions.
By 2015, most forces in Ontario had renounced the harmful practice, pointing out how ineffective it was, while it destroyed community relationships crucial to crime prevention and public safety.
In 2016, Evans gave an interview on CBC Radio in response to the controversy. "We talk about people being stopped under suspicious circumstances while they're not in their areas, so 76 percent of our street checks in Peel were people being documented because they weren't in the area where they lived," she said.
"What's wrong with being in an area where you don't live?" asked Matt Galloway. The CBC host seemed bewildered by her comment.
The former chief's disturbing remarks reflected a police culture unaware of what was happening in our broader society. Heavy-handed policing tactics would no longer be tolerated.
But she dug in even deeper.
As calls for her to step down mounted, she shamelessly claimed increased violent crime in Peel a few years ago was a direct result of new provincial guidelines that curtailed carding, forcing compliance with Charter Rights.
"I think criminals right now feel that officers aren't going to engage them," Evans said, suggesting her force's inability to randomly card residents had emboldened thugs and contributed to lawlessness.
Policing experts and community leaders were outraged. Evans failed to provide any evidence that new carding guidelines were contributing to violent crime.
But here is the bigger problem, the same issue behind Ontario's reaction to Ford's latest announcement: Evans and a dwindling number of police leaders fail to understand the fundamental breakdown – bad policing and bad officers have destroyed trust in one of our most important institutions.
Evans' claim that new carding rules had prevented her officers from "engaging" criminals was stunning. The head of one of Canada's largest police departments had no clue of what good policing involved.
The provincial requirements introduced around carding had not changed one single dynamic around the ability of officers to engage those suspected of criminal activity.
Under provincial and federal legislation, officers not only have the right to utilize their policing expertise and instincts to protect the public, they are encouraged to use the law to their advantage.
There was never a need to rely on the excuse of a carding stop to investigate someone suspected of criminal activity.
A Black man driving an expensive car is not a legitimate reason to pull him over under the ruse of a random carding stop. Any police officer who immediately associates all young Black men in expensive cars with illegal activity, should be rooted out of the profession.
What Evans was saying to her officers was, 'don't use your investigative expertise, don't trust your knowledge of the criminal code, and your unbiased experience as an officer of the law; use carding instead as a catch-all excuse to randomly detain anyone you want'.
Crombie put an end to the former chief's authoritarian ways. In 2015 she demanded an end to carding in Mississauga and Brampton, and though Evans once again dug in her heels, the power of the mayor, who was assisted by her fellow board member, former Brampton mayor Linda Jeffrey, proved too much for the former chief.
She stepped down, and Duraiappah was brought in by the board to turn the beleaguered force around.
The Pointer has been tough on him, reminding that performative actions and empty words will only increase our scrutiny of him. He has responded to the public's expectations with some promising moves, including a ground-breaking partnership with the Ontario Human Rights Commission to help transform a force with a history of systemic racism.
But the reaction to Ford's overreach Friday, illustrates just how difficult it will be for the new chief and others like him across Ontario to repair decades of damage.
Immediately after the announcement, in the absence of clear directives around the latest pandemic restrictions and the enforcement role police will provide, social media and traditional media, along with opposition politicians went on the offensive. Claims of martial law and a return to destructive police carding procedures filled the void, as the PC government failed to clarify its policy.
Civil Rights would be ignored, Charter Rights ignored. Journalists and elected officials led the charge.
Meanwhile, police chiefs were quick to calm the situation.
Duraiappah released a statement Saturday morning: "I recognize the concern that this brings to our community as a whole. As chief of one of the most diverse communities in Canada, I would like to reassure our citizens that our officers will not be conducting random vehicle or individual stops."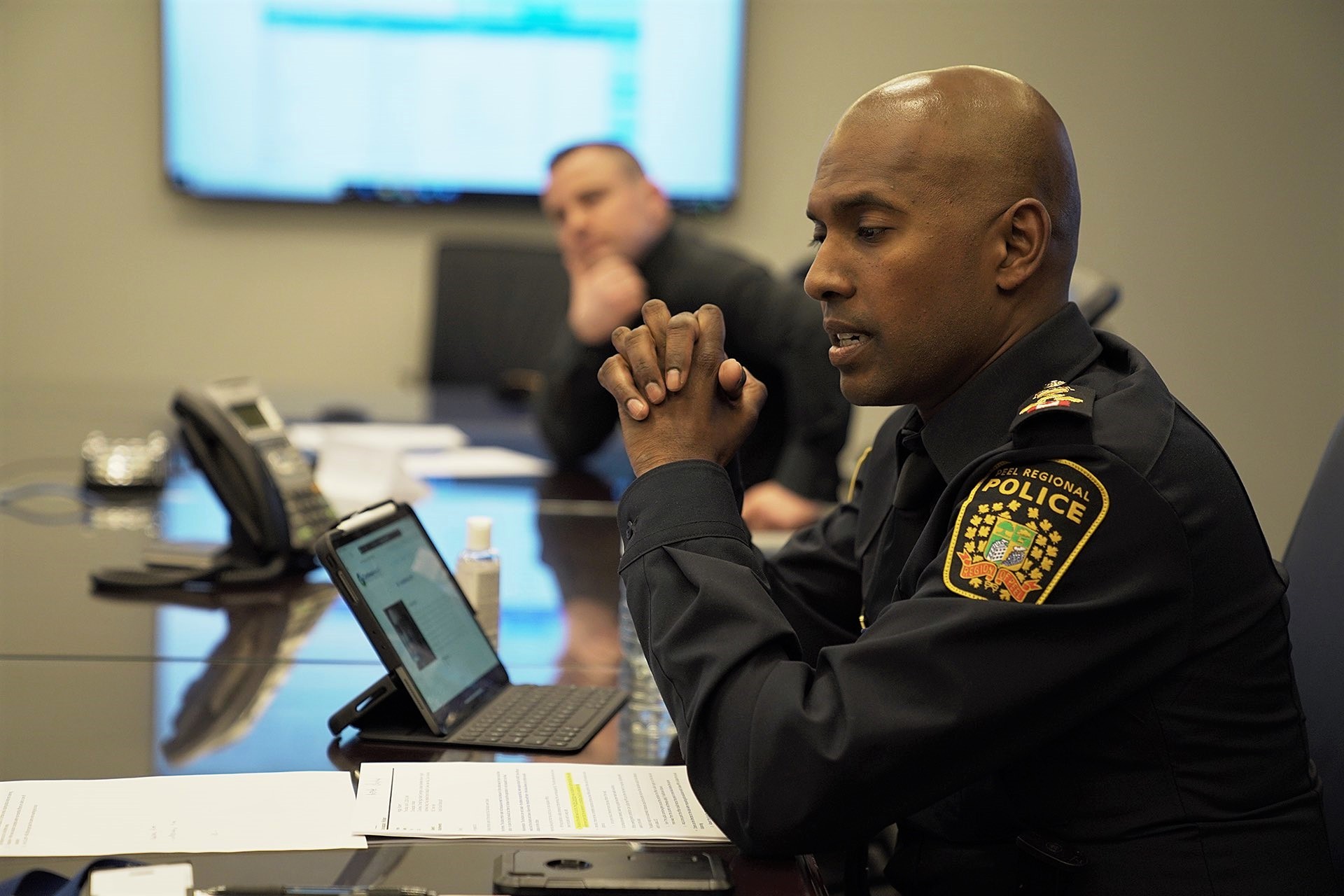 Peel police Chief Nishan (Nish) Duraiappah is trying to turn the force around, but public discourse often works against him
Toronto's Chief, James Ramer, quickly tweeted out a similar response Saturday: "New emergency orders announced yesterday to help limit the spread of Covid-19 are now in effect. The Toronto Police Service will continue to engage, educate and enforce, but we will not be doing random stops of people or cars."
Ottawa Chief Pete Sloly made it clear that his force would do everything to support the new public safety measures, but assured that random carding-like stops would not take place: "We are carefully reviewing these new authorities. We are very mindful of the perceptions of the broader public as well as within our more marginalized, racialized and/or Indigenous/Aboriginal/Inuit peoples," Sloly said in a statement. "The [Ottawa Police Service] will continue to use a combination of education, engagement and enforcement. We do not want these powers to impact public trust. The public's compliance with the Stay-at-Home order along with their collective effort to be healthy is our biggest strength and our best chance to manage this public health emergency."
His force also offered clarification about the new authority.
"Under the updated orders, police have the authority to stop and make inquiries of individuals who are out in public spaces and not at their home address (pedestrians, motorists, occupants of vehicles, etc.) to assess if the person is in compliance with the Stay-at-Home order. This authority requires such individuals to provide the officer(s) with their home address and purpose for leaving their home.
"The OPS will not be conducting random stops. We will be taking a deliberate and careful approach that emphasizes equity, legality, and efficacy in the application of these authorities with the specific and exclusive purpose to support public health measures."
Members of the public can't be blamed for their outrage after the PC government's disorganized announcement Friday.
Ontario Solicitor General Sylvia Jones outlined the new policing measures, which came into effect today, as part of the Ford government's latest effort to slow the runaway viral spread threatening to collapse the province's already desperate healthcare system.
"We have made the deliberate decision to temporarily enhance police officers' authority for the duration of the stay-at-home order," she said Friday. "Moving forward, police will have the authority to require any individual who is not in a place of residence to first provide the purpose for not being at home and provide their home address. Police will also have the authority to stop a vehicle to inquire about an individual's reason for leaving their residence."
The statement was too vague and the actual directive to police chiefs was not immediately available. There are already rumours the Province might walk back some of the language Jones used.
Crombie is one of those who would have appreciated more specifics.
In the vacuum of information, social media offered the perfect platform for misinformation. Politicians stirred the pot.
Liberal Leader Steven Del Duca issued the following statement moments after the Friday announcement:
DOUG FORD IS CALLING CARDING A PUBLIC HEALTH MEASURE
"I simply don't believe the Science Table recommended martial law. This is a dangerous attack on racialized Ontarians, and Doug Ford needs to be held accountable for it. I can't believe Doug Ford is calling carding a public health measure while refusing paid sick days."
There's no doubt the PCs brought the blatant political spin on themselves after failing to provide clear details and a publicly available directive to police. But "martial law"?
Del Duca is part of a party that for decades did little to help "racialized" Ontarians as they suffered the economic and personal destruction of racism and discrimination in education, healthcare and the criminal justice system.
But unlike the homogenous media industry in this country that hypocritically uses "racialized" communities to make its point when it is convenient, politicians are directly accountable to the public.
Del Duca is trumpeting his heroic defence of Charter Rights, suggesting the police are about to descend on vulnerable communities to do battle.
The move will "needlessly target racialized Ontarians" he said. Del Duca failed to mount such a passionate defence of racialized Ontarians when the issue of police carding was actually front and centre inside Queen's Park, while his party was in power.
Serious journalists should know better, but even they can be excused for self-destructively revealing their own reflexive biases against the police. Using visible minority communities to showcase it might simply reflect how many residents feel whenever fears arise over expanded powers that could lead to biased policing against them.
It's been happening for decades.
Even Mayor Crombie, who emphasized her absolute faith in Chief Duraiappah and the officers under his leadership, said just the perception of over-policing is enough to cause justifiable concern within diverse communities. She saw first-hand what they were subjected to for so long, and joined in the charge to change course.
But a deeper question lies at the heart of our policing problem. When will the actions of uniformed officers, not the words of their leaders, show us that serious reforms are taking hold?
The daily coverage of the Derek Chauvin trial in Minnesota, news and videos of Indigenous and other visible minority residents in Canada being subjected to horrific treatment at the hands of authorities, make it next to impossible for many to give police the benefit of the doubt.
The public backlash in Ontario following the Ford government's ham-fisted press conference, before police leaders offered their reasoned responses, is an unfortunate picture of the reality for many. They simply do not trust police.
The media reports and statements over the past day by politicians are part of a tiresome echo chamber, where out-of-touch spin and inside-the-bubble thinking is the norm, but social media offered many views shared by members of the general public. While police have plenty of supporters, the reaction Friday should be a reminder to leaders in the profession of how a large segment of the public feels.
If the PCs do walk back some of the misguided wording around the new authority, one drawback will be the chance police forces around Ontario are looking for.
To show citizens they can be better.
Random carding and martial law were hopefully never actually on the table. Ford is like a Ford in a china shop and his party's messaging was terrible.
Police forces quickly stepped in to reassure their communities, especially those who have understandably lost confidence after decades of harm.
Chief Duraiappah, like some of his colleagues across Ontario, might use this opportunity to show citizens they can trust the officers meant to serve and protect them.
---
COVID-19 is impacting all Canadians. At a time when vital public information is needed by everyone, The Pointer has taken down our paywall on all stories relating to the pandemic and those of public interest to ensure every resident of Brampton and Mississauga has access to the facts. For those who are able, we encourage you to consider a subscription. This will help us report on important public interest issues the community needs to know about now more than ever. You can register for a 30-day free trial HERE. Thereafter, The Pointer will charge $10 a month and you can cancel any time right on the website. Thank you.
Submit a correction about this story