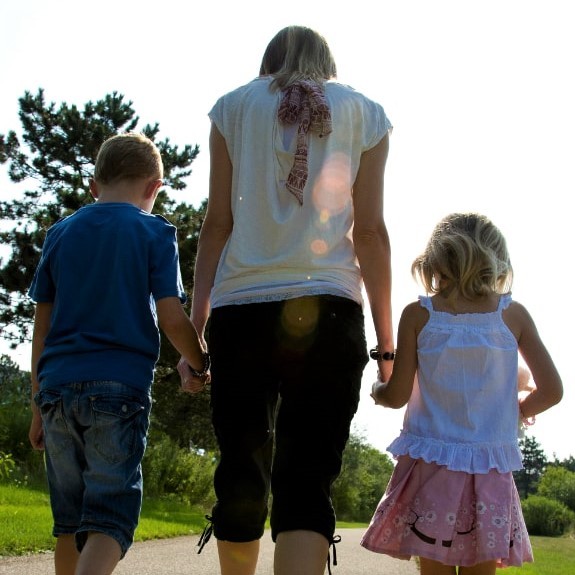 Photos Courtesy of Peel CAS
The pandemic offers us an opportunity to rethink our social priorities
History reminds us that in times of plenty, when economic fortunes are in the ascendency, danger lurks.
These moments often create a mismatch between winners and losers. If that gap widens, a dramatic correction ensues, sometimes in the form of a violent movement.
The French Revolution (1789-99) ushered in mob brutality to re-right deep societal wrongs.
The guillotine was the unsparing tool used to pass judgement on the bejewelled elites, lopping off the heads of the King and Queen. Oscar Wilde's aphorism seems most applicable here, calling these favoured few: "Those who know the price of everything, but the value of nothing."
The phrase often (but wrongly) attributed to Marie Antoinette, "let them eat cake," sums up the entire disconnect between the haves and have-nots.
At no time in history has this gap been wider than 2021, exemplified by Jeff Bezos, founder of Amazon. The obscene profits pulled in by him and his company while his workforce battles for decent wages and a rash of COVID-19 cases, is a sign of our misguided times.
Amazon came out in full attack mode against the two Americans who, more than anyone else, represent the voice of the disenfranchised (Alexandria Ocasio-Cortez has followed their lead).
Amazon recycled a snide remark by Dave Clark, its worldwide consumer CEO, who sounded more like a sandbox combatant than a corporate leader (or is this what corporate leadership looks like when share value is protected the way Antionette and her husband Louis XVI disregarded the toll that sparked the Reign of Terror and their own demise at the executioner's hand) when he launched an ill-informed tirade at Senator Bernie Sanders. He "should save his finger wagging lecture until after he actually delivers in his own backyard," Clark said of Sanders. The senator had been in Alabama to support Amazon workers agitating to unionize, in their fight for better wages and work conditions.
Amazon's position is that $15-an-hour (about $16.50 in Canada) for warehouse workers and the various benefits they receive, are more than fair. The company's belief is that its 1.3-million global employees represent the epitome of free market capitalism's ability to lift the fortunes of an entire class.
In exchange for paying these employees in the U.S. about $31,000 a year and providing certain medical benefits, Amazon can keep its costs down and offer consumers the value that benefits them. The service these customers also value is, of course, provided by the efficiency of the company's processes and the staff who carry them out.
Employees have said this speed and efficiency demands almost inhuman conditions (high injury rates, a lack of time for breaks, and stress related to unrealistic targets) but many are unable to leave because they are dependent on the paycheque.
No wonder protesters gathered in front of Bezos's Washington home and built a guillotine to voice their displeasure as he became the first man in history to register a net worth of $200 billion.
His company's next target was Senator Elizabeth Warren, another tireless defender of the American middle class.
After she questioned why Amazon pursued tax loopholes that see the company avoid billions in revenues that would otherwise contribute to the true lifting of Americans, the tech giant once again stooped to schoolyard tactics: "You make the tax laws," it told Warren. Taunting her to change them if she wasn't happy, knowing Amazon lobbies politicians to ensure friendly corporate tax policies, many of which are blatantly regressive, was akin to Trump claiming he had nothing to do with the insurrection of the U.S. Capitol.
Warren accepted Amazon's challenge to hold it accountable.
"You bet I'll fight to make you pay your fair share. And fight your union-busting. And fight to break up Big Tech so you're not powerful enough to heckle senators with snotty tweets."
Amazon, meanwhile, has hired some 500,000 employees during the pandemic and its stock price has gone up about 78 percent since it began.
This has added to the public dilemma around the corporate world's driving ethos. Any notion that supposedly progressive tech start-ups would grow up to be benevolent, gentle giants, unlike the soulless oil companies destroying our planet, has been met with a sobering slap in the face.
Consumers, Amazon is betting, don't care about its treatment of workers, but they will get upset if their latest purchases don't arrive on time.
Money is money. Those motivated by it might change their job title, but their need for status, power and material reward is exactly the same.
Yet, lost in our "Age of Outrage," is the fact that some parts of the four pillars of society – the public, non-profits, corporations, and government – continue to step up to help those who depend on it.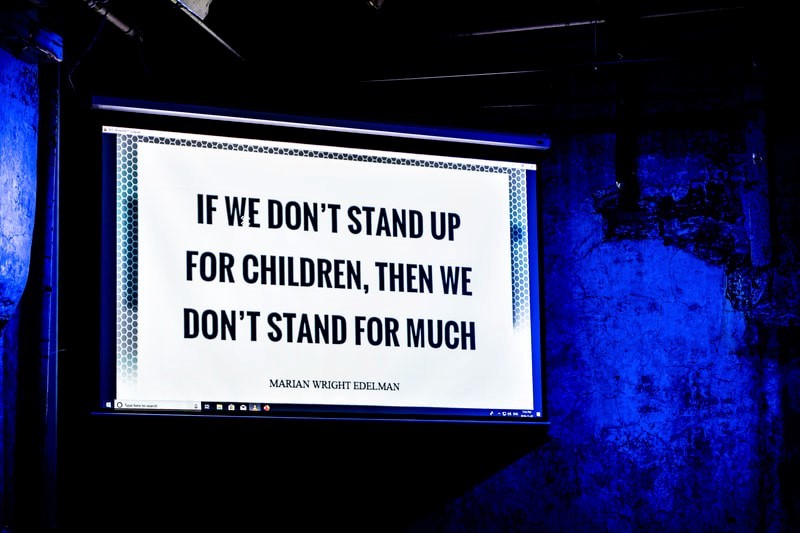 Case in point: The Children's Aid Society (CAS) of Peel, and its Foundation, the fundraising arm. As Renae Addis, executive director of the latter told The Pointer this past week, "those people that can are doing."
One of these groups of caring citizens is The Rotary Club of Brampton, and its Show Your Love online auction. The funds raised late last month, support the CAS Foundation's Skills for Success Program, which encourages "aging-out of care." These are youths (16 to 21) who are moving from foster care to independent living and want to continue their education or new life skills.
Imagine finding your way through life without the bedrock of family support – an even harsher reality during these troubling and disconnected times. Imagine trying to shuck off abuse or neglect at such a vulnerable age, and then having to find the capacity to create a new life, setting out into the world alone at 16.
Many of the families consumed by their latest Amazon shopping spree don't think about what might happen if the fickle finger of fate picked them. A crippling job loss, a tragic accident or an unexpected economic shift could force them into chaos and confusion. Who would they turn to for help?
Many Canadians, including those with ample means, even signed up for government relief offered to help families during the pandemic. The social safety net worked for them, did its part, perhaps small, to help them feel less uncertain about the ominous future staring at all of us last March.
The aging-out issue was one of the most worrisome for CAS officials, but partially erased by the Ontario government's announcement it was extending the moratorium on support and services scheduled to expire during the pandemic.
Also, those aged 18 and "transitioning" from care, are eligible to receive financial support of $850 a month, as well as guidance up to the age of 21. Another extension of aftercare benefits applies to those ages 21 to 24 and includes prescription drugs, dental, vision and extended healthcare benefits. Counselling and life skills might offer support right up to age 29.
While this is great news for our vulnerable youth, it has put added emphasis on fundraising. Addis and her small team are learning to be more flexible to new ideas, like the online auction. Offering succor to vulnerable children as they age, is one of the heartening takeaways from this time of COVID. Addis calls these new fundraising drives, the "silver linings" of our age.
The mother of two teens can't imagine what it must be like to transition to adulthood without the consolations of family. These children have no one to call when struggling with a personal issue. There is no bank of mom and dad. No support when running into one of the routine roadblocks youth encounter on their journey to full independence.
CAS Peel has come to understand who it can count on when it turns to its broader community for help, but it hopes to expand this tent of support.
We all know those in our lives who are always quick to help, who just can't say no. The key is getting the other half to get on board, the ones often quick to ask for a helping hand when they seek an advantage but are much slower to offer their own assistance to others.
There are plenty of opportunities for those who want to think outside themselves, who realize showing off their latest Amazon purchase is ultimately part of an empty and unrewarding existence.
CAS Foundation helped create 70 bursaries for children before the pandemic and hit the mark of 70 this year as well. These $5,000 gifts for students, are an example that a groundswell of support remains steadfast and true.
Addis credits many of the corporate givers employed in industry sectors like real estate and banking, who have remained on the job during this past year. "We haven't seen a massive hit from those that continue to work," she says.
The pandemic was untimely for all, but especially CAS Peel, which moved into a new facility in the Hurontario-Courtneypark area of Mississauga last July. This was to be a gathering place for youth, with classrooms, and a new sports venue.
Addis and her small staff now work at home, but the distribution centre still provides all kinds of much-needed goods – clothing, toiletries, cribs, diapers, car seats, etc., for single moms, teen mothers, and many others.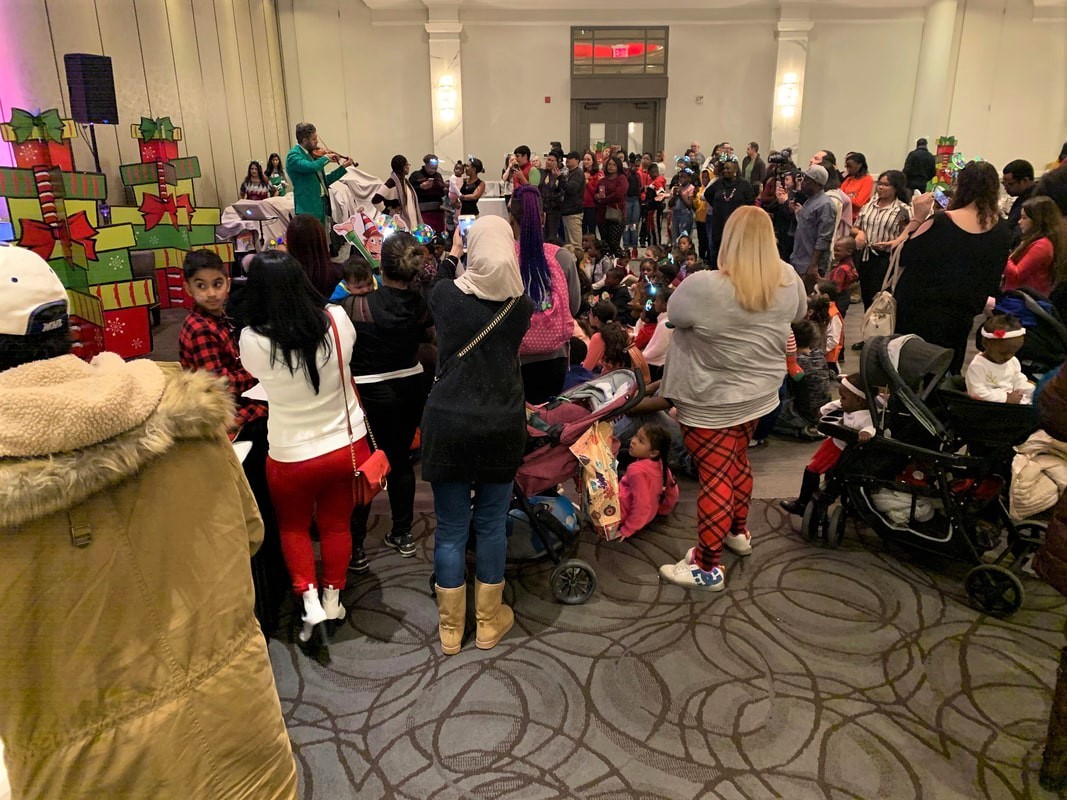 A Peel CAS Holiday Wish event
The number in need has jumped 30 percent this year, but corporate givers like Gap Canada, Dynamite, and Banana Republic, continue to provide these new goods. The sports facility is working closely with the Toronto Blue Jays and Raptors 905 (through Maple Leaf Sports and Entertainment) and the new facility will be a welcome addition once it fully opens.
The good news: CAS Peel has the lowest number of children in care, per capita, in Ontario and Canada. Now the bad: without the support of the community, many of these children emerging from bad homes to foster care, then independence, won't have a chance of succeeding without support. Yet, "the resilience of our children is tremendous," Addis says.
The stories of abused or neglected youth entering college or university and now flourishing, is often under-reported. CAS often provides:
• full tuition for youth leaving care and enrolled in college or university;
• the Ontario Student Assistance Program (known as OSAP) which includes university application fee refunds, bursaries, tuition grants, income exemptions, and loans;
• a 'Living and Learning' grant for full-time post-secondary or training programs, with youths receiving upward of $2,000 per semester during the school year to help with living costs; and
• mentorship and orientation programs offered by Crown Ward Education Championship Teams, including peer support, mentorship, motivation and guidance – these teams include volunteers from local school boards, children's aid societies, post-secondary institutions, community agencies, Employment Ontario and provincial ministries.
History, parenting and public health tells us that in our greatest times of need – during The Great Depression, World War II, even today's pandemic – the four pillars of society step up.
"The man who dies rich dies disgraced," said the world's greatest philanthropist Andrew Carnegie, the father of "smart giving." Carnegie (America's richest man during the gilded age – the 1890s) set up self- perpetuating models for giving – funds that would continue to pay dividends long after he and all his companies have exited the planet. His altruism was the genesis of Corporate Social Responsibility (CSR).
It grew into a catch-phrase by the '90s and the notion is now often criticized by commentators such as journalist Anand Giridharadas. In his book, Winners Take All: The Elite Charade of Changing the World, he argues CSR and the broader stated goal of philanthropy by elites today is a sham, a public facing exercise that makes the wealthy and big businesses feel good about themselves while fooling the world. In reality, such efforts are little more than performative but highly effective PR stunts similar to rhetoric used by politicians who say one thing but stand for the opposite, he carefully lays out in his book.
Carnegie was born in 1835, in Dunfermline, Scotland. His father was a handloom weaver and his mother stitched shoes. When the family moved to America in 1848, settling in Allegheny City, now a part of Pittsburgh, Andrew found work at a cotton textile factory as a bobbin boy, setting the spindles on which thread was wound, making $1.20 a week.
When he grew up and worked in the railroad industry, during its explosive expansion, he founded a steel bridge-company and eventually secured contracts through insider help that turned him into one of the world's wealthiest steel magnates.
Shortly after the turn of the century, he was believed to be the richest man in the world. Like Bezos today.
Carnegie began the largest act of philanthropy yet seen, giving away the equivalent of more than $5 billion US dollars, in today's value, to a wide range of causes including more than 3,000 public libraries he helped build across the U.S. Canada and the UK.
Brampton's Carnegie Library was completed in 1907.
His example was an inspiration, one so desperately needed these days.
As the pandemic bit into society, Imagine Canada (which works alongside other charitable sector organizations – and often in partnership with the private sector, governments and individuals to ensure that charities continue to play a pivotal role in building, enriching and defining the nation) started discussions with the federal government to create an emergency and stabilization fund including cash grants to charities and non-profits and interest free loans. Other charitable leaders, including efforts headed by the Emergency Coalition of Canadian Charities, advocated strongly for similar measures.
Beyond providing essential services to millions, Canada's non-profit sector is a critical engine of economic growth and jobs. Charities and non-profits account for 8.1 percent of GDP and employ 2.4 million Canadians of which 70 percent are women.
Mark Carney, former head of the Bank of Canada, and Bank of England, says in his new book, Value(s) – How to Build a Better World, the difference between value and values is often how a company defines itself. He believes companies that give back, practice 'Smart philanthropy', which is based on good business practices.
David Grayson, Chair of the UK's Institute for Business Ethics, told corporate Canada a few years back that it should play an increasing role in protecting the country's social contract. Grayson said, "As governments restructure and downsize their services, companies are being called upon to play a new role in supporting society. Global companies understand that a healthy society is critical to a productive and competitive business environment and that without greater support and involvement by business, both society and productivity are at risk."
Show Your Love welcomed gift items from the public and corporations (unused products or gift certificates valued at $50 or more) to be auctioned off on the 32auctions.com website. Bidding took place until the end of March. Sponsorships are another avenue of fundraising for the Foundation.
The hope is to help vulnerable youth succeed by providing opportunities for them to learn and grow. It's generally accepted that of all the transition periods in a person's life, the toughest might be the childhood-adolescence-early adulthood stretch.
All suspicions of child abuse or neglect must be reported directly to a CAS, which has the exclusive mandate (under the Child and Family Services Act) to investigate allegations of abuse or neglect and to deliver child protection services.
Addis is the mother of two teenagers, and says she can't imagine them piloting their way through COVID-19 when schools are closed, and all jobs available to the young – especially in the service industries – have dried up during the pandemic. The fiscal, physical, and emotional challenges have become even more daunting during the past year. Addis says the "indomitable spirit of those youth" might be the most stirring takeaway from the pandemic.
She has more than 20 years of corporate and non-profit experience in community investment and has designed and implemented leading edge fundraising plans for both corporate and non-profit organizations. She has managed large donation and sponsorship budgets for some leading Fortune 500 companies.
But the pandemic changed everything.
In March of 2020, as it tightened its grip, and society shut down, stories about charities facing billions in shortfalls crept into the media. Those battling for the homeless, or preventing violence against women and children, and all the other support agencies, were under fiscal assault as the economy shut down.
According to Imagine, which represents 170,000 organizations in Canada's social-good sector, much more government stimulus was needed to ensure charities and non-profits survived. COVID-19 caused charities to lose $9.5 billion and layoff more than 117,000 employees, the vast majority women.
This caused governments to step up. Ottawa provided up to $31 million in funding to support community-led projects that respond to immediate and ongoing needs. The Canada Healthy Communities Initiative supported local projects under three themes: creating safe and vibrant public spaces, improving mobility options, and digital solutions.
Projects would include:
• expanding outdoor seating on main streets;
• remodeling playgrounds to allow for proper physical distancing; and
• creating digital apps to allow residents to access municipal services remotely.
In mid-October, Ottawa and United Way partnered to activate the nationwide expansion of 211 services to connect families with the social supports they needed. Demand for these 211 services surged. Anyone in Canada could pick up the phone and dial 2-1-1 to reach a Service Navigator for information on community-based health, social and government services in or near their community.
The Demand for social services has continued to skyrocket, and United Way remains the go-to agency of choice. Its Greater Toronto arm funds a GTA-wide network of community agencies that work locally to provide everything from food and mental health counselling to shelter and vital outreach services. United Way splits its giving in three slices: moving people from poverty to possibility (20 percent); helping kids: (31 percent); and building strong and healthy communities (49 percent).
Other agencies are proving to be creative and light on their feet during COVID-19; The Mississauga Heritage Foundation Inc. created content and virtual programs to help people in isolation with education resources. Community Foundations in Peel, which creates pools of investment, will continue to do so, helping a smorgasbord of agencies and non-profits.
Pro Bono Ontario helps those in need of legal help, and agencies like ISNA-Canada, based in Mississauga, protect the vulnerable, and help keep them at home. Generous Space COVID-19 Mutual Support Fund (through Generous Space Ministries, Mississauga) is a fund designed to help cover specific one-time emergency expenses such as food, current rent, transportation, medical support, etc.
Punjabi Community Health Services is providing a wide range of pandemic-related public health assistance across Peel along with supports for seniors, community outreach and counselling help.
There are hundreds of others, many specializing within specific communities.
Worldwide, the Global Citizen's 'Give While You Live' campaign which was launched at the World Economic Forum in Davos, Switzerland, just before COVID-19 enveloped the planet, aims to encourage the world's more than 2,000 billionaires – who are collectively worth more than $8 trillion, nearly 30 times the funding needed annually to end extreme poverty – to give at least 5 percent of their wealth away every year.
They alone, with a significant contribution, could end extreme poverty and it makes good business sense to elevate the estimated 1.9 billion people who live in such conditions, creating an entirely new labour and consumer market, instead of a massive segment of the population reliant on public support.
No word yet what Bezos plans to do with his mega-billions, but the image of that guillotine outside his home, as the income divide becomes rather pathetic, might make him shudder, and move him to follow Carnegie's lead.
Many economists have pointed out it's not even a matter of charity. These wealthy individuals owe huge portions of company wealth to the public that subsidizes all the infrastructure they need to operate, while they often get rich through public-sector spending and contracts secured through an inside track. Meanwhile, the same politicians who secure these gifts on the backs of middle-class taxpayers, are paid by the same companies to enact tax codes and loopholes that see them get away with highway robbery.
It's become almost a cliché to repeat the words of Warren Buffett, the investment billionaire who has declared the imbalance in the U.S. tax code, which has created the radical disparity in incomes across class, economically unsustainable.
"The (tax rate) differential between me and the rest of the office, not just my secretary but the rest of the office (means) I'll probably be the lowest paying taxpayer in the office," he said.
A new Forbes 400 philanthropy score was created in partnership with Global Citizen to assess how much money the 400 wealthiest billionaires in the United States have given to charities and non-profits each year.
Thomas Homer-Dixon is research chair at the University of Waterloo. His new book, Commanding Hope: The Power We Have to Renew a World in Peril, says that instead of passively accepting a dystopian image of what will come tomorrow, we need to actively create together from our diverse perspectives a shared story of a positive future – including a shared identity as "we". That, he writes, "will help us address our common problems and thrive. And, finally, we need to fully mobilize our extraordinary human agency to produce that future."
His idea of "commanding hope" is grounded in historical and scientific knowledge of how hope works at every level – in our lives as individual human beings and in our society, too. Today, he adds, "confronting challenges so large that all too often we feel unable to move, we need it more than ever."
Most of our most profound problems, the existential crises of racism, gender inequality, political oppression and climate change, are tied directly to the economy.
Keeping so many from full and fair participation is the root cause of our most worrying societal ills.
The collective apathy only makes these calamitous realities worse. As societal gaps widen, we all feel the stress. No one can completely isolate themselves in their wealth, escaping into some utopian hideaway, not even the richest like Bezos.
They might physically decamp to their luxury resorts and warm-weather retreats, but psychologically we all live in the same world.
And it is in dire need of a fix. Historians might argue we have always lived in a similar condition, aspiring to rid ourselves of the darkness so many suffer in.
But there seems to be a recent reversal of our collective fortune.
According to the World Bank, for the first time since 1998, poverty rates will rise, as a result of the pandemic's economic downturn. Upward of 60-million people will fall into extreme poverty (earning less than $1.90 US a day) and another 150 million could begin living on less than $3.20 a day.
Will we as a people come out of this pandemic with a collective need to spend, spend, spend, on ourselves? Will the tourism and travel industry make up for its losses, tenfold? Will the clothing companies and car manufacturers make out like bandits? Or will there be some savings and personal choice left over for charity?
Carney says there is extensive evidence that when markets extend into human relationships and civic practices (from child-rearing to teaching), the choices built into these markets can change the character of the goods and the social practices they control.
It's all about giving back. He leans on a study by the late social scientist Richard Titmuss on blood-donation systems in the U.S. and the UK, which he called the "Gift Relationship". Titmuss demonstrated that in economic and practical terms, the UK system of voluntary donations was superior to the U.S. system, which paid for donations. He added an ethical argument that turning blood into a commodity diminished the spirit of altruism and eroded people's sense of obligation to donate blood to support others in their community.
These observations are familiar to the civic response to COVID. Carney says, none of the voluntary groups that spontaneously formed were paid for the makeshift PPE and protective masks they created and donated. A call for volunteers to help those in the British NHS was met with over a million people within days. No citizen drew on a government payment to help elderly neighbours or the homeless in their communities.
Carney concludes: "Value in the market is increasingly determining the values of society."
This trend, that began in earnest during the '80s, is a self-fulfilling ethos: You create the desire for wealth and material commodities and the status promoted as a benefit of such pursuits, then the slavishly adhered to desires for these creature comforts and trappings previously reserved for the exclusive, drive massive market expansion.
On and on it goes.
But there are other ways to spend money, and there is an escape from this sense of "community".
The CAS Foundation launched a $5 million capital campaign which was shut down by the pandemic. They then pivoted, looked for emergency response fees, raised hundreds of thousands, went after all the funds they could garner from government, and tried new ways to fundraise. Addis admits it has been a challenge, but the lessons learned will be carried on when it is back to being fully functional. Things like the online auction show that fundraising can work in any guise.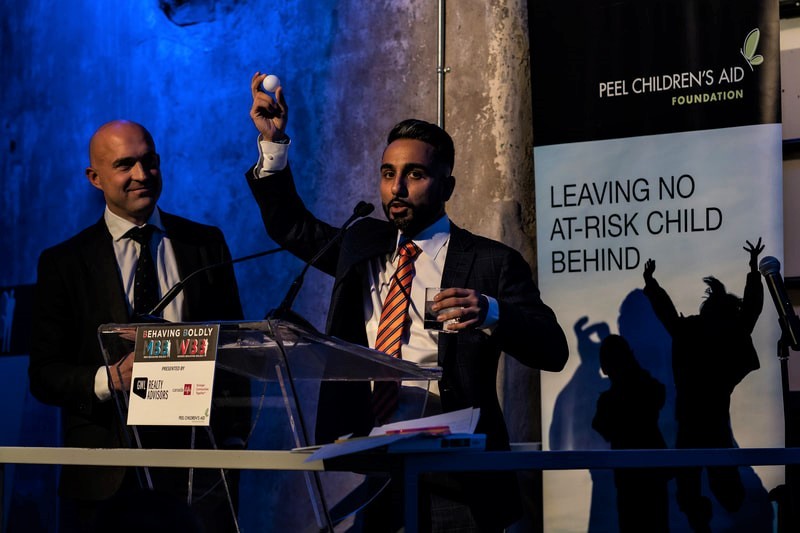 "Men Behaving Boldly": A Peel CAS fundraising event aimed at engaging more men
Other ways of tapping into a community desire to give back instead of wanting more are being considered.
The CAS Foundation will continue to deliver much needed packages to immigrant families, making hands-on deliveries of meals, too. It has built new relationships with the MLSE Foundation, Raptors 905, and the Blue Jays Care Foundation. The work is critical, but all the agencies are pulling together as one because the needs are so great.
The CAS Foundation is in the middle of a new strategic plan, and the pandemic has actually opened locked doors, and created a new way of thinking, says Addis. It doesn't want to be tied to events, preferring to find new ways of reaching out to corporate Canada or individual givers.
Her biggest takeaway from the past year: "The human spirit is alive and well, and there's always a silver lining."
The great collaborative drive now pushing charitable fundraising has been a net positive – even now, as agencies battle through COVID fatigue.
There are so many needs in the community, and agencies are often the lifeline for those with nowhere else to go. Addis, who worked for years in the child cancer sector, says switching over to kids that have been neglected or abused, has its own unique challenges.
But the bottom line remains those four pillars of society.
The French Revolution upset our world and didn't end until it had helped create a new one, inquiétude – a disturbing emotional state caused by fear, worry and uncertainty.
It describes how many of us feel today.
But this feeling of dread is being mollified by those unsung heroes in the charitable sector who give back to society, and ease life's passage for our most vulnerable.
---
---
COVID-19 is impacting all Canadians. At a time when vital public information is needed by everyone, The Pointer has taken down our paywall on all stories relating to the pandemic and those of public interest to ensure every resident of Brampton and Mississauga has access to the facts. For those who are able, we encourage you to consider a subscription. This will help us report on important public interest issues the community needs to know about now more than ever. You can register for a 30-day free trial HERE. Thereafter, The Pointer will charge $10 a month and you can cancel any time right on the website. Thank you.
Submit a correction about this story