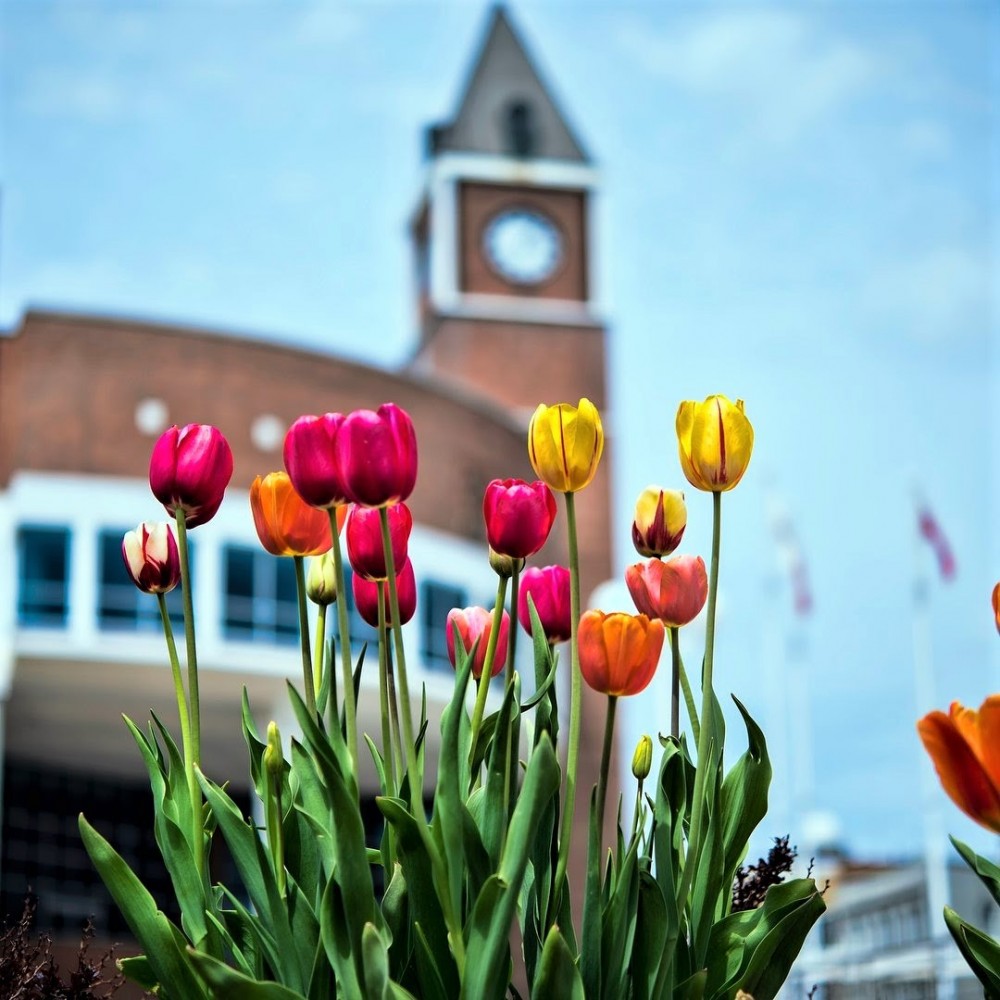 City of Brampton-Stacey Wilson/Roma MacPherson/What'sthatbug.com-Rob S/The Pointer files/Wiki Commons/Friends and Stewards of Dorchester Park
What could a modern 'Flower City' look like?
In the spring and summer months, the city's natural flora emerges from hibernation and newly planted annuals appear. Vibrant blooms of reds, yellows and purples bring life to the dreary neutral tones of winter months. Hardy flower beds filled with varieties of petunias, daylilies and marigolds greet admiring passersby. City and backyard gardens draw residents out, as bees, butterflies, wasps and moths venture around neighbourhoods doing their job, pollinating the plant life we depend on for food and environmental sustainability.
But with each passing year, less and less of our pollinators are seen. Canada, home to thousands of different types of insects with their own unique role to play in each ecosystem, is seeing crucial pollinator species decline due to habitat loss, pesticide use and human development.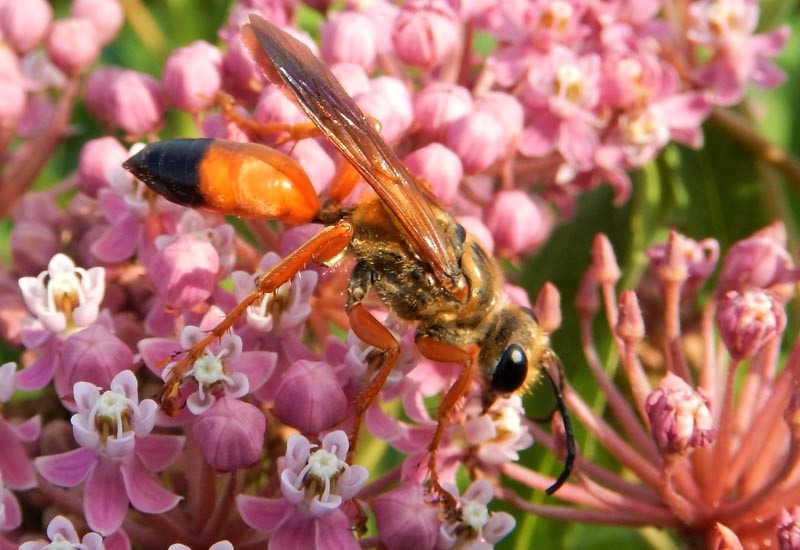 According to Credit Valley Conservation, bees, butterflies and moths are the most familiar pollinators, as well as flies, beetles, ants, wasps, hummingbirds, and in some places, bats. Pictured is a Golden Digger Wasp pollinator on a Milkweed plant.
In provinces like Ontario, which houses about 400 different species of bees that account for 70 percent of all pollination activity in the area, conservation authorities such as Credit Valley Conservation and the Toronto and Region Conservation Authority work with cities to preserve the natural environment.
While government and environment bodies are crucial in the success of pollinator protection programs, it's really the grassroots organizations that inspire real change on the ground.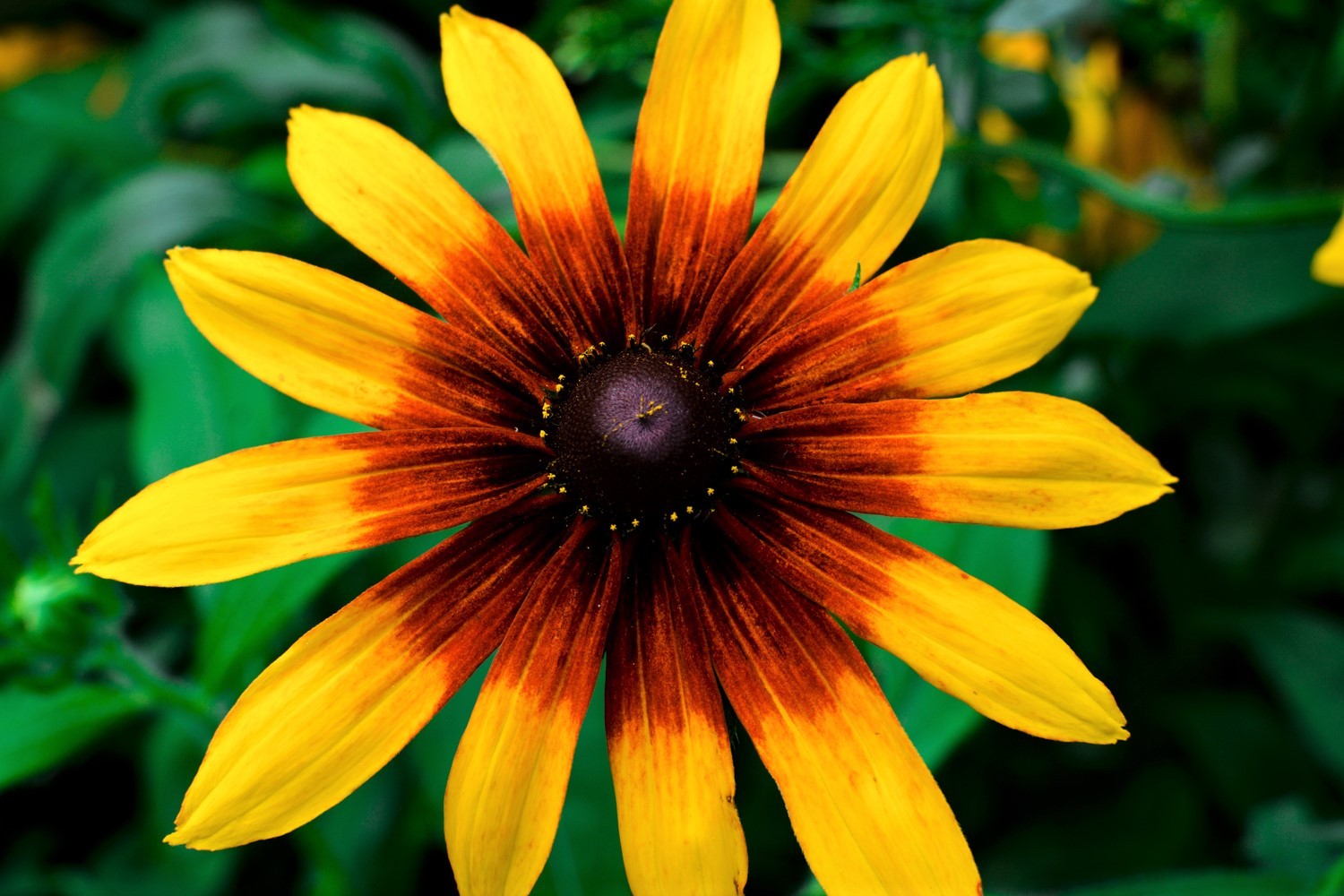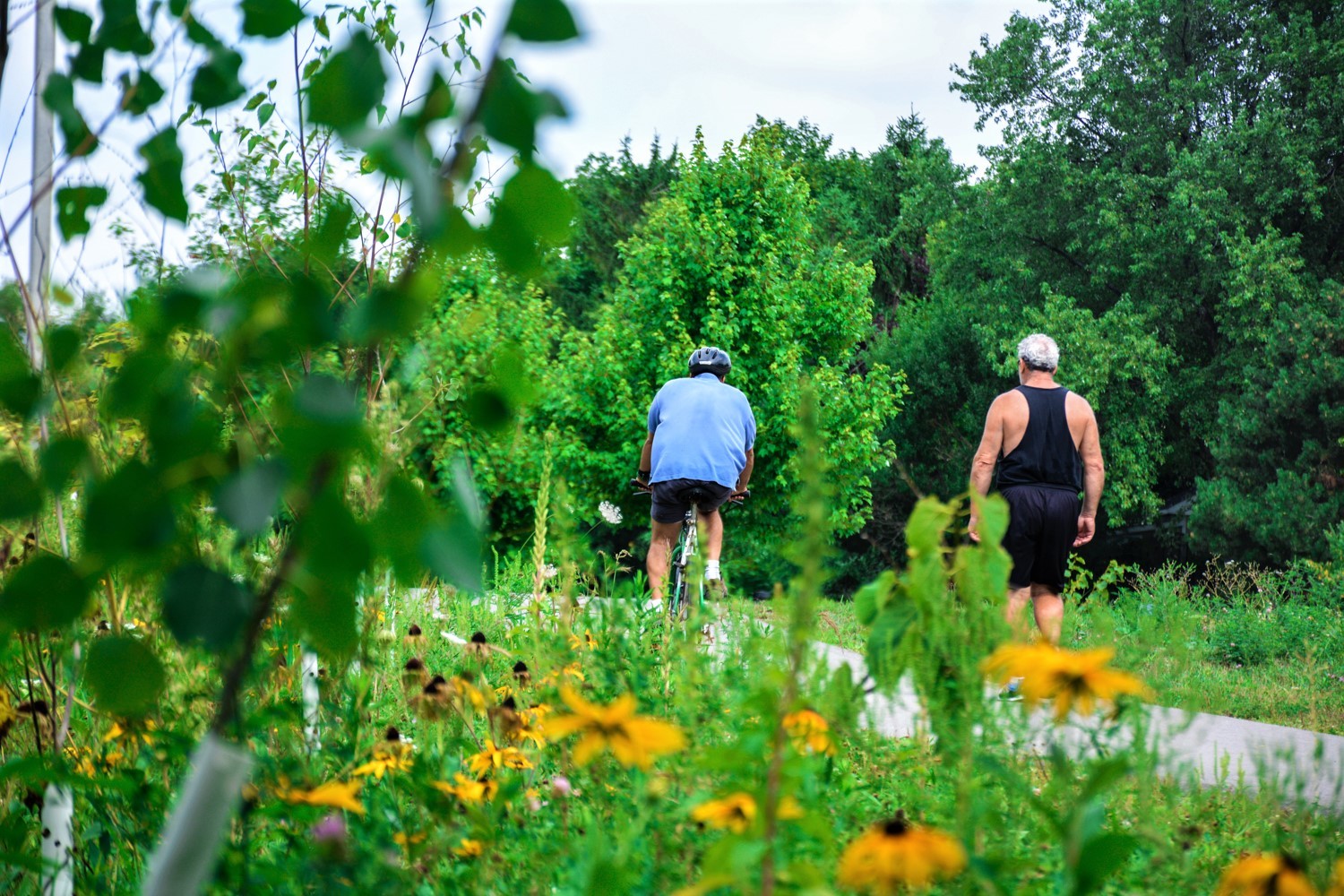 Brampton has an abundance of natural spaces and flora but they, along with the pollinators that keep them healthy, need to be protected
"It was my neighbor and I, we had a mutual interest in trees and woodland plants and in Dorchester Park itself," says Stacey Wilson, a member of the Brampton Environment Advisory Committee (BEAC) and a co-founder of the Friends and Stewards of Dorchester Park.
"It's a remnant woodlot – those trees in that park are mature, but their understory has been completely decimated. The main focus of our work in that park has been a restoration of this remnant woodlot to reintroduce native plant species and understory plants, in particular, to restore this little edge habitat."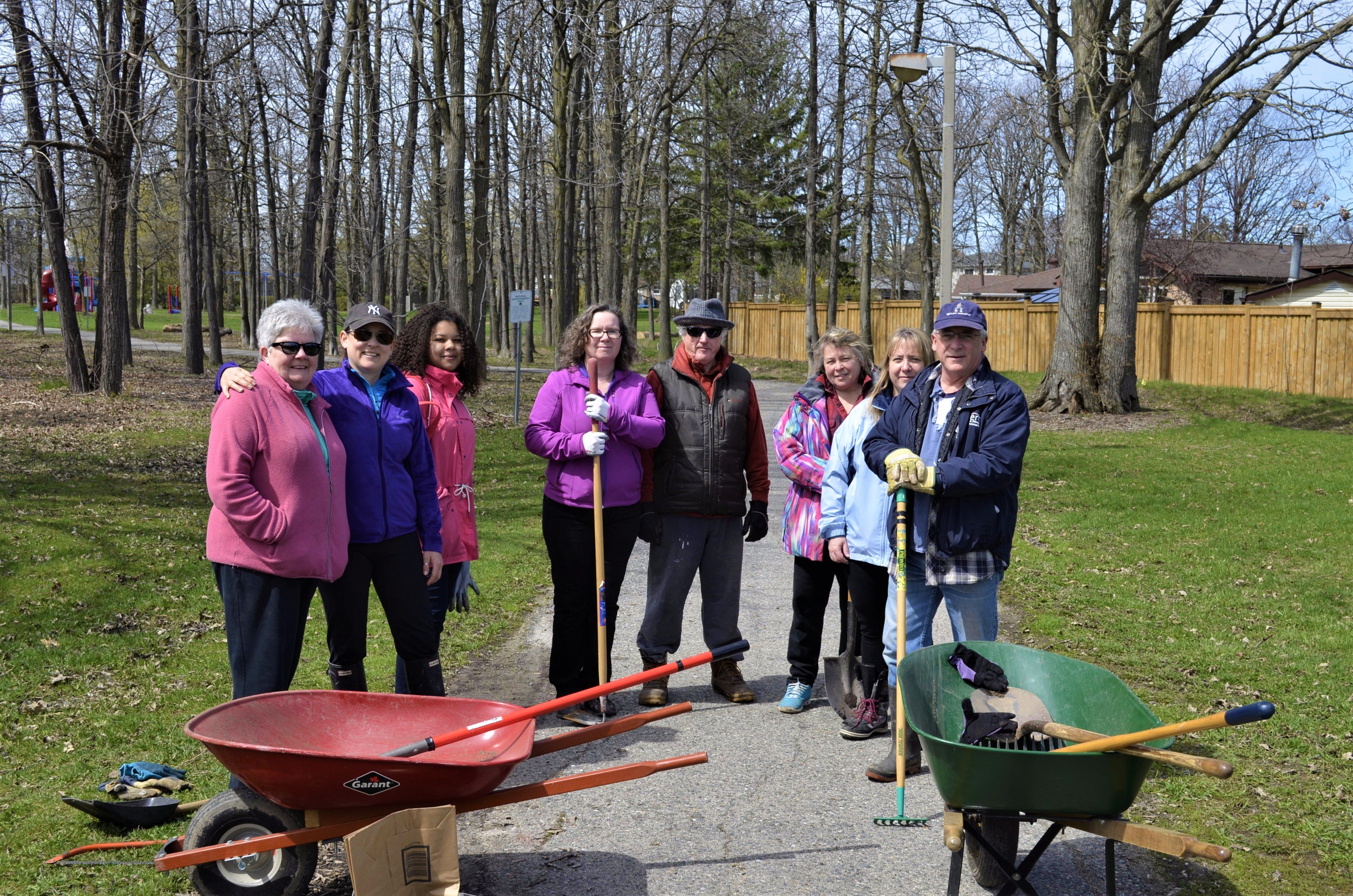 The Friends and Stewards of Dorchester Park applied for Bee City Partner status in 2019 after congregating for over a decade to restore the park's land as a "corridor" for pollinators to visit. Pictured are some members of the group.
Bee City Canada, a federally recognized non-profit organization, works nationwide with cities, towns, schools and businesses to raise awareness about the value of protecting pollinators. The Friends and Stewards of Dorchester Park, a group of 25 members, are the only known Bee City Partner in the city, a label given to organizations that dedicate measurable efforts in protecting pollinators.
On March 3, city councillors directed staff to pursue Bee City status after a BEAC presentation in February – most notably after 30 other cities in Ontario have already done so, including neighbouring Mississauga, Orangeville, Hamilton and Toronto.
"Being one of the fastest growing cities in Canada, sometimes, things like that sort of get put on a shelf," said Brampton Ward 2 and 6 city councillor Doug Whillans, an active horticulturist and prominent advocate for action against climate change. "The focus now [is] on sustainability. I think part of it is that staff now has the confidence that they have full support from Brampton on environmental issues, [now that] planning policies are going through a sustainable lens."
The Bee City designation represents the official seal of recognition for the City's work in protecting pollinator species populations, and a declaration to do even better. To officially become Bee City certified, alongside getting council's support, Brampton must establish a pollinator team and commit to celebrating National Pollinator Week in June each year. According to the BEAC presentation timeline, the City hopes to receive the certification sometime this month.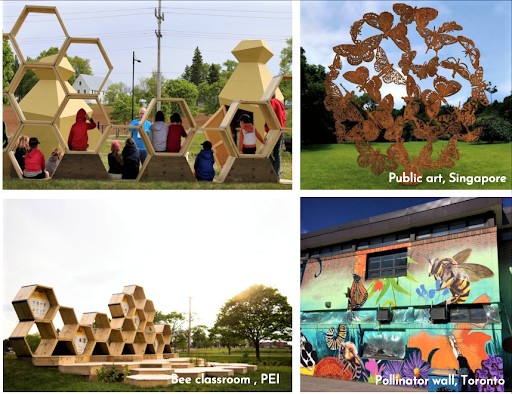 Bee art, interactive education, official resident pollinator garden recognition, the establishment of bee "hotels" and an official pollinator map of Brampton are a few initiatives the City is considering after the designation, which can boost eco-tourism and help Bramptonians learn more about the pollinators in their community.
Brampton currently maintains 723 pollinator-supporting beds as part of its Natural Heritage & Environmental Management Strategy, and has naturalized over 220 hectares of land over a 17-year-period. In 2018, Brampton implemented a Don't Mow, Let it Grow program that further naturalizes certain plots of land throughout the city.
"I think that people are busy and have difficulty finding easy access to engagement," Wilson says. "Not everybody wants to take on the role of running a stewardship group, but if you can get people that were interested in taking on a role within a stewardship, or even coming out just to volunteer [with] boots on the ground – having simple ways for people to engage in environmental work in the city would help reach out to diverse communities and maybe newcomers who don't necessarily have any [attachment] to the land. Helping to invite them to come, learn about it, be engaged and discover nature nearby, [and] inviting others into the conversation and into the process might help. We need all hands on deck."
In the past year alone, public interest in gardening and wildlife has soared due to the COVID-19 pandemic. With the launch of the hugely successful backyard gardening program, which Whillans worked tirelessly on, that resulted in over 10,000 pounds of fresh produce donated to local food banks, the City realized public engagement with outdoor programs can reach new highs if the demand is there and municipal efforts are effectively supported.
"They're trapped inside of their houses, they couldn't go anywhere, so they started venturing out into yards, got their kids involved and now they're outdoors. It's the best place to be," said Whillans, who, inspired by the engagement in backyard gardening, recently took up beekeeping. "It just took off. This year was new participants only, and we had 3,000 sign up in less than 36 hours. I'm just pleased that they're using it for their own personal use and just getting outdoors, getting back to nature."
Although these figures show a sound foundational base to grow from, more work needs to be done to fully restore these naturalized areas. Steering development away and reducing the amount of manicuring are only a part of what needs to be done.
"Some of the problems with the Grow, Don't Mow, is that the difference between naturalizing a property 'properly' isn't just letting it grow wild," said Victoria MacPhail, co-chair of non-profit conservation and pollinator supporting group, Pollination Guelph.
"Letting grass grow and stopping the mowing of lawns isn't the same thing as deliberately creating habitat. Generally, the non-native invasive species are just coming in – they don't provide as much habitat or quality of habitat to our wildlife as native species do."
Brampton's recently released updated Grow Green Environmental Master Plan showed the City excelled the most in preserving natural heritage sites. The EMP's achievements snapshot was notably filled with public initiatives like the Grow Green Network, the Parks Environmental Stewardship Education Program and the Sustainable Neighbourhood Action Program that target the residential, private and public sectors.
An homage to the city's history, in its nickname, is related to once being the country's key exporter hub of all things, flowers. A beautiful floral Brampton means bright perennials and annuals that are eye-catching to visitors and residents. In charge of maintaining five out of the seven main garden attractions in the city, the local government boasts 400 roadside gardens and 1 million spring flowers annually.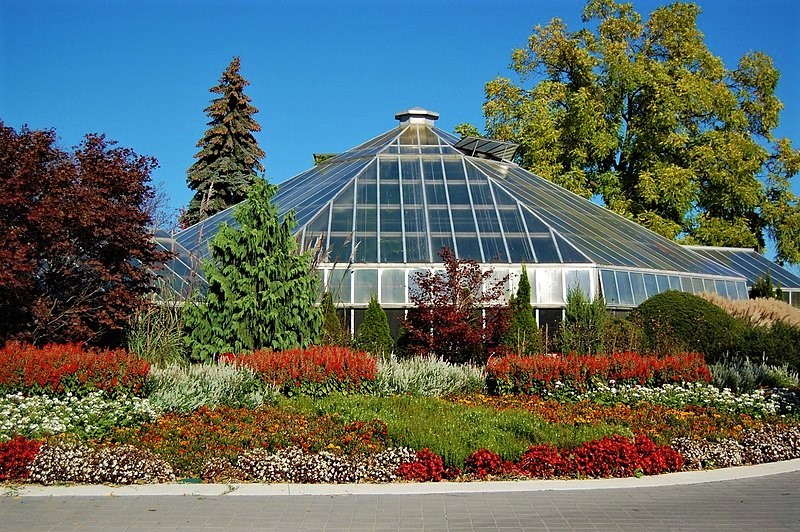 The ten most common annual flowers, which only bloom once a year, the City plants are: Alyssum, Dragon Wing Begonia, Canna Lily, Coleus, Marigold, Petunia, Geranium, Annual Rudbeckia, Salvia and Zinnia. The ten most common perennial flowers the City plants are majority hybrids and native-based, including: Aster, Tickseed, Coneflower, Perennial Geranium, False Sunflower (Heliopsis), Coral Bells (Heuchera), Daylilies (Hemerocallus), Hosta, Catmint (Nepeta) and Black-eyed Susan (Rudbeckia). Pictured above is one of the gardens at Chinguacousy Park.
Although they are chosen for their resilience to rough growing conditions and beauty, many aren't native to Brampton's environment.
"Of the gardens the City maintains, the majority of the plants are not native, although some are hybrid cultivars of native plants," a City of Brampton spokesperson told The Pointer. "Native plants have a short blooming period, having specific soil, pH and moisture requirements. These conditions are difficult to replicate in roadside beds with traffic, pollution and salt affecting them. The City's Parks Maintenance and Forestry team selects plants that are extremely hardy, those able to withstand harsh conditions, wind and pollutants, and have a long blooming period."
However, planting non-native varieties is a missed opportunity to bring in plants and flowers that would add value to the carrying capacity of a given area, says MacPhail.
"With any garden centre plant, they've been cultivated for beauty, you get it for appearances," MacPhail says. "You have double flowers or triple flowers that have lots of petals [and] really interesting color patterns, which are cool. Those are totally fine in your garden, but they've been sort of manipulated over time. Think of your hybrid roses, the new varieties, their tight, tight buds that are just full of petals – there's no pollen there for the bees. The bees can't actually [retrieve] pollen from them, versus a wild or native variety which is just full of pollen. They've been bred out over time to lose those beneficial characteristics like no pollen, no nectar, or the invisible guides like directing the bees to the middle of his flower to get the nectar. Those are lost too."
Opportunities to expand the City's current naturalization trajectories and build a modern Flower City can be seized upon if the public places importance on these issues. Education and awareness are key factors in producing measurable and impactful results that can protect Brampton pollinators in the long-term.
"It's an opportunity for them to perhaps showcase pollinator sustainable gardens and revisit how they plant those," Wilson says. "Those are some opportunities for sure, but I think this is where your gap in education is: the public might not find them attractive in some ways. They may see them as weedy, and [many] people lack general knowledge [about] plants that actually benefit pollinators. There's a lot of pollinator-focused gardens that can be beautiful and designed very well, and there are more than a few capable designers and specialists in the City of Brampton that could take that on."
Beyond local government, residents play an important role in sustainable management of land. Getting involved can range from supporting local farmer markets and talking to city councillors, to taking part in City initiatives like the annual Seedy Saturday Garden Show and volunteering to help out the Grow Green Network Leadership Team. But something as simple as planting native species in a front or backyard and creating spaces for pollinators to lay their eggs are enough to make a difference.
"Every little bit helps – we can't all have massive conservation reserves on our streets," MacPhail says. "You have to start [with] stepping stones – if every second person on your street had a meter square of habitat, then that's a lot more than it was before. Then you have stepping stones or corridors for the bees and other pollinators to travel from larger park to larger park."
In 2019, Brampton council declared a climate change emergency. Although limiting GHG emissions was the driving force behind the announcement, paying attention to the ripple effects and impact of the loss of biodiversity is just as important when keeping the best interests of present and future residents in mind.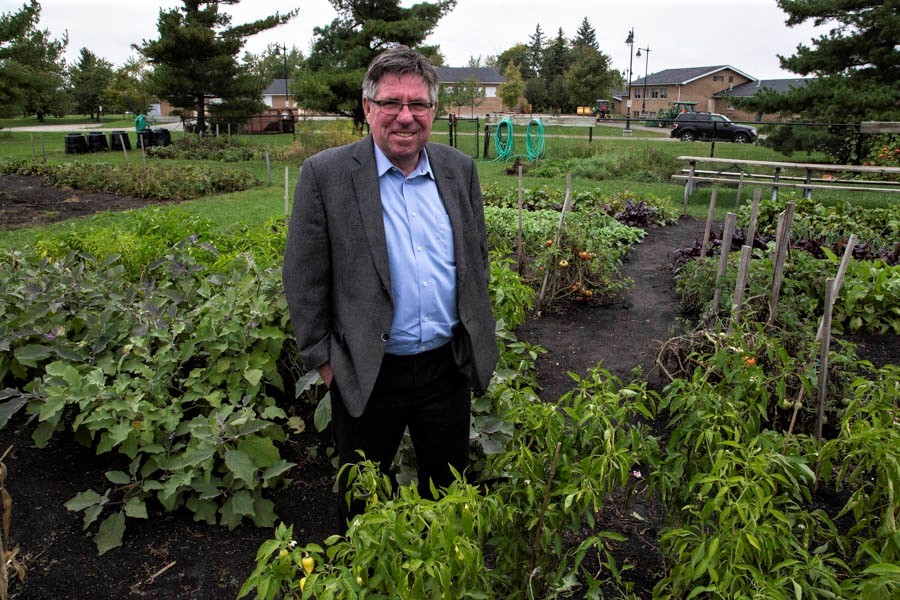 Councillor Doug Whillans is an avid gardener and has recently taken up beekeeping
"The importance of access to healthy nearby nature in the urban environment benefits not only human mental health and social impact in the community, but it also benefits the broader health of the environment," Wilson says.
Nature has recovered some of what was lost as the COVID-19 pandemic forced the world to halt the hustle and bustle of a globalized, carbon-based economy. In the wake of another long lockdown as spring fully takes bloom, the wildlife and insects in the Flower City can be seen in anticipation of gardeners preparing for planting season.
Whillans, who grew up in Brampton, looks back fondly at the memory of growing up surrounded by the Dale Estate Greenhouses that used to sit on the corner of Vodden and Main Street. The greenhouses served as a tribute to Harry and Edward Dale, who eventually built one of the largest greenhouse flower businesses in the world.
"Last term at council, there was a mumbling by some members of council that we should rebrand the City, that we shouldn't be called the Flower City, we should be called something else," said Whillans with a laugh. "There was a lot of opposition to that."
---
Email: [email protected]
Twitter: @vanessabalintec
---
COVID-19 is impacting all Canadians. At a time when vital public information is needed by everyone, The Pointer has taken down our paywall on all stories relating to the pandemic and those of public interest to ensure every resident of Brampton and Mississauga has access to the facts. For those who are able, we encourage you to consider a subscription. This will help us report on important public interest issues the community needs to know about now more than ever. You can register for a 30-day free trial HERE. Thereafter, The Pointer will charge $10 a month and you can cancel any time right on the website. Thank you.
Submit a correction about this story