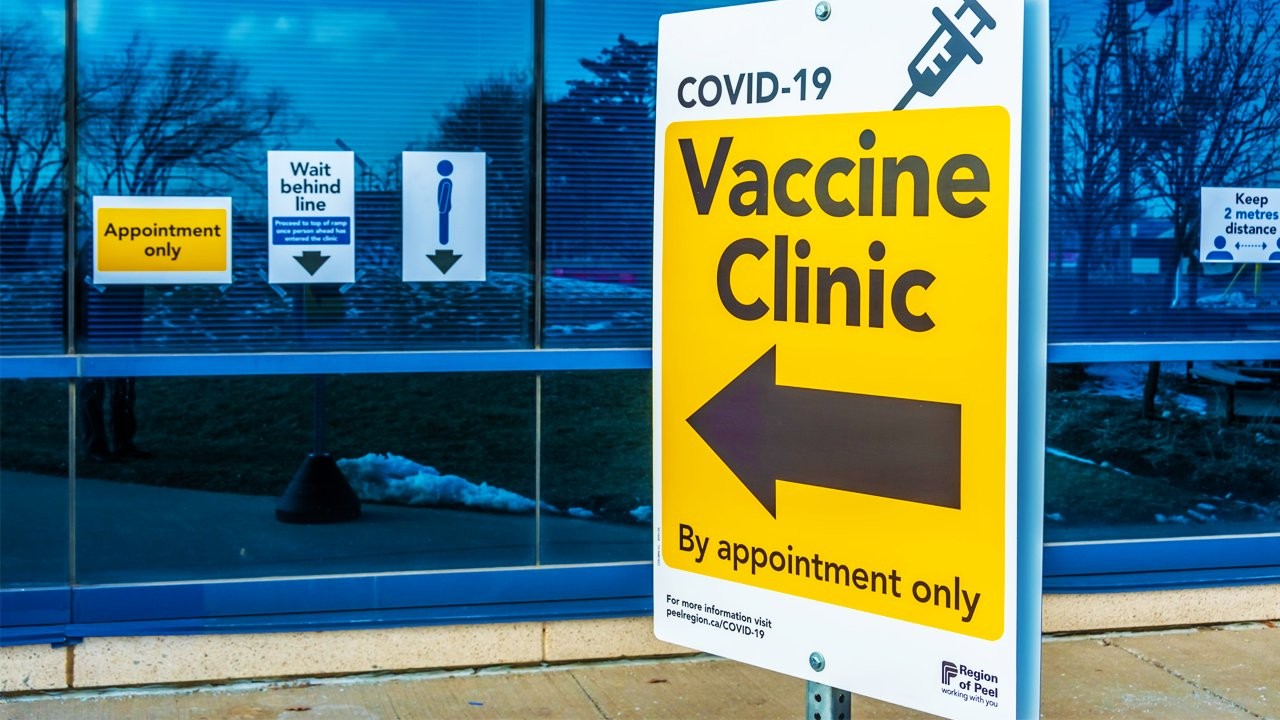 Photos from the Region of Peel/City of Brampton
'The cost of inaction is simply too high': Peel pouring efforts into vaccine rollout as province locks down again 
Peel residents aged 55 and older can now book appointments with select pharmacies across the region for the AstraZeneca vaccine.
The news, while welcomed by health and government officials advocating for the expansion of vaccine appointments for more of the population, was shadowed by the announcement of a province-wide "emergency break shutdown" as Ontario ICUs reach capacity levels unseen since the start of the pandemic. Projections show the already bleak picture will only get worse if actions aren't taken.
"I know what this means for people to be here, over a year into this pandemic," said Ontario Premier Doug Ford during a press conference Thursday. "It's frustrating, it's very, very difficult, but we've come so far, we've sacrificed too much to throw in the towel so close to things getting better. Let's be clear – the cost of inaction is simply too high."
The emergency shutdown, active starting April 3, puts a halt to the desperately anticipated reopening of personal care services in Peel and Toronto, the primary hotspots, and a stop to the recently introduced outdoor dining allowance. Supermarkets, grocery stores, convenience stores, indoor farmers' markets and other stores that primarily sell food and pharmacies will be restricted to operate at 50 percent capacity, and 25 percent for all other retail, including big box stores. Although the shutdown is needed to contain the spread of the initial novel coronavirus and all its variants and maintain stability in hospitals across the province, schools remain open for in-class learning.

As more doses have arrived in Peel, vaccination efforts have increased.
The need for an emergency brake shutdown was clear, Minister of Health Christine Elliott said.
"What we are introducing is an emergency shutdown that allows some activities to be carried out. But the lockdown, we know with the warmer weather coming, with all that we've asked Ontarians to sacrifice, is too difficult to do. We also of course have to balance any measures that we take with people's mental health as well."
Thursday, Ontario reported 2,557 new infections, with 484 of those in Peel. According to provincial data, current COVID-19 related ICU admissions outpace the highest peak seen in the second wave. COVID-19-related ICU admissions are projected to exceed 650 beds in a few weeks.
The bar graphs represent the number of people hospitalized across Ontario, including those in ICUs. The brown line represents those in ICUs alone. On March 31, 396 people were in an ICU.
The numbers fit into a dangerous trend of transmission that has been rising the last month, largely due to the spread of variants of concern (VOCs) that has been made worse by region-hopping and group-gathering. The risk of ICU admission is twice as likely, while risk of death is 1.5 times higher for the new variants, particularly the UK B.1.1.7 variant, according to Ontario's latest COVID-19 modelling.
The virus is spreading increasingly among younger populations, which is raising growing concerns for many, but represents two parts of the same whole, says Dr. Dante Morra, chief of staff and president of THP Solutions at Trillium Health Partners.
"It is a success of our vaccination program," said Dr. Morra at Wednesday's Mississauga press conference. "We have vaccinated people in long-term care and our older population. That shifts the age down. But the variant is more infectious, and it actually is more serious… that means you have a higher chance of hospitalization, you have a higher chance of death, and a higher chance of being in the critical care environment. We are seeing people in their 30s who are sick. We're also seeing more visits to our emergency department, and these are patients with both COVID and without COVID, with higher admissions. So what that means is our capacity is under strain, and with our modelling and what we're seeing, we're very concerned about the patient volumes and the capacity in this community."
As of April 1, Trillium Health was treating 67 patients with COVID-19, 16 of them are currently in critical care.
For Peel, little has changed in terms of restrictions. However, healthcare and public health staff are already wearing thin, resulting in a dramatic decline in efficiency of contract tracing as the rate of infection throughout the region continues to worsen with each passing week.
"We are fortunate that in the Region of Peel that remaining in the grey lockdown category of the provincial framework has helped to blunt the case growth with those measures in place," said Dr. Lawrence Loh, the Region's medical officer of health, during Wednesday's Mississauga press conference. "It is clear that these measures have started to reach their limit in controlling our contact in interactions, and more and more patients, especially younger people, are showing up sicker, and staying longer in our hospitals. What we do next is crucial."
Health and government officials are urging residents who are eligible for a vaccine to book their appointments without delay. The announcement of select pharmacies providing vaccinations means people can be vaccinated as soon as April 3. Pharmacies that are providing vaccination appointments can be found here.
"I want to start with a strong plea: if you are eligible to be vaccinated, please go get vaccinated,"
said Dr. Loh. "Our supply is growing and more and more appointments are available each day in the Region of Peel. We are ready for you. Please come and get your vaccine."
Despite a crowded appointment system that many critics have called confusing and unfit for the senior demographic to navigate, many who are eligible for vaccines in the region have received it or already registered to get their shot. In contrast, more areas in the province, most notably Toronto, are facing rising rates of vaccine hesitancy, illustrated through missed inoculation appointments or wasted vaccines.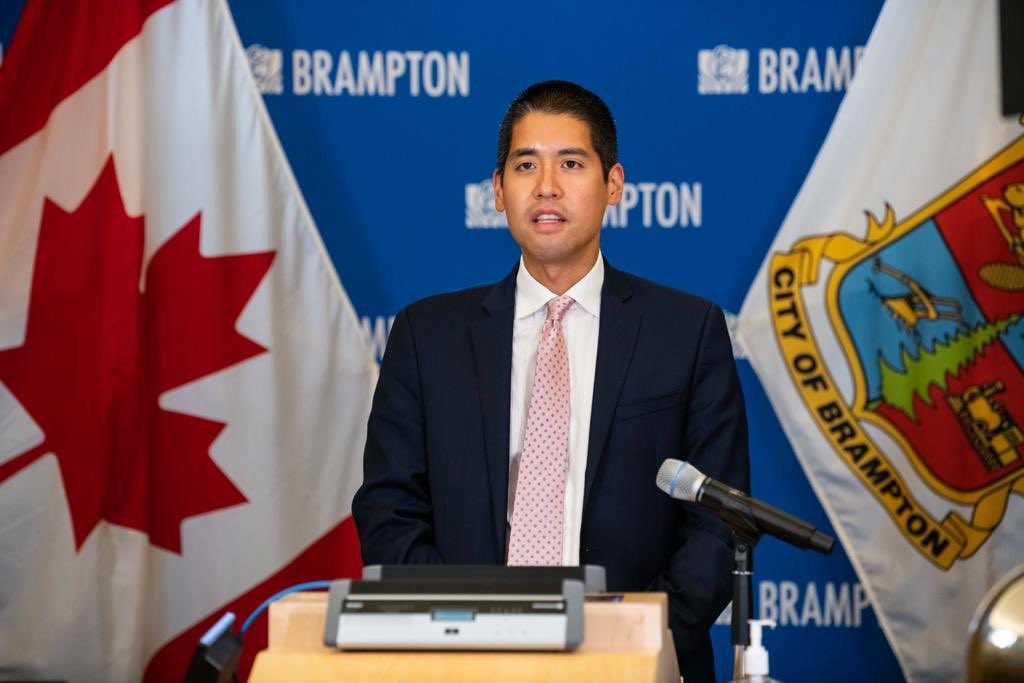 Dr. Lawrence Loh, Peel's medical officer of health
As of April 1, PPH had administered 170,828 doses of the vaccine, with 146,727 as the first dose and 24,101 as the second. Over the period of March 19 to 26, only 1,042 doses had been administered. But that number has surged to 51,705 doses given between March 25 to April 1, as vaccine supply coming into the country has improved recently.
"No-shows are relatively low, and usually range from 0-2 percent of daily appointment bookings," a Peel Public Health (PPH) spokesperson told The Pointer. "The Region has a zero-waste policy. Vaccine is thawed and prepped as the clinics progress to minimize wastage. The vaccine is managed in such a way that it is used for eligible residents in priority groups for appointments each day. We have previously used a limited call-out system for very small volumes of end-of-day doses that we are hoping to expand with additional allocation anticipated."
Ahead of its own schedule, Peel has continuously lowered the age threshold for eligible vaccinations. On March 29, the province opened up appointments for people 70 and older, allowing Peel to get ahead of their age-specific vaccination schedule about two weeks earlier than planned. Yesterday, Dr. Loh announced that hospital-run vaccination sites at Trillium, William Osler and the University of Toronto Mississauga will be offering limited appointments for those aged 65 and older.
This comes as the country has received a shipment of 583,400 doses of AstraZeneca Thursday. Just a few days earlier, the province suspended the use of the vaccine for those under 55 due to rising concerns of rare blood clots. Despite the sudden change in direction, PPH says the directive doesn't change current plans to roll out the AZ vaccines in the pharmacy pilot program originally designated for those 60 and older.
"Our clinics are not being fully used," Brampton Mayor Patrick Brown said during yesterday's weekly press conference. "We have these mass vaccination centres set up, everything is ready to go. And there is additional capacity, significant additional capacity and so supply, supply, supply is the biggest issue. Can we carry on with the limited supply we have right now? Of course, but it's not ideal. That's why we want to underline the fact that we have the capacity to vaccinate so many more residents immediately tomorrow if that supply arrived. We anticipate to be joining the pharmacy rollout any day now as soon as that AstraZeneca supply arrives."
Last week, PPH received the expected allotment of about 66,000 doses. This week, a shipment of 56,160 doses expected on March 29 was delayed. A PPH spokesperson confirmed that the new doses have just been received, and will be going to public health clinics, hospital clinics, and primary care clinics.
In April, the province is expecting to receive 1,584,180 doses of the Pfizer-BioNTech vaccine and 751,500 doses of the Moderna vaccine.
According to Peel's vaccination plan, 500,000 doses are supposed to be administered in the region this month, and for each of the following three months, with the hope of getting most of Peel's residents 50 and older vaccinated by the end of July, when the rest of the population will be the focus in the final phase of Peel's inoculation strategy.
With new directives to hold off on second doses, much of the region's population could receive a first shot much earlier than the original plan, if the supply does not get disrupted.
---
Email: [email protected]
Twitter: @vanessabalintec
---
COVID-19 is impacting all Canadians. At a time when vital public information is needed by everyone, The Pointer has taken down our paywall on all stories relating to the pandemic and those of public interest to ensure every resident of Brampton and Mississauga has access to the facts. For those who are able, we encourage you to consider a subscription. This will help us report on important public interest issues the community needs to know about now more than ever. You can register for a 30-day free trial HERE. Thereafter, The Pointer will charge $10 a month and you can cancel any time right on the website. Thank you.
Submit a correction about this story