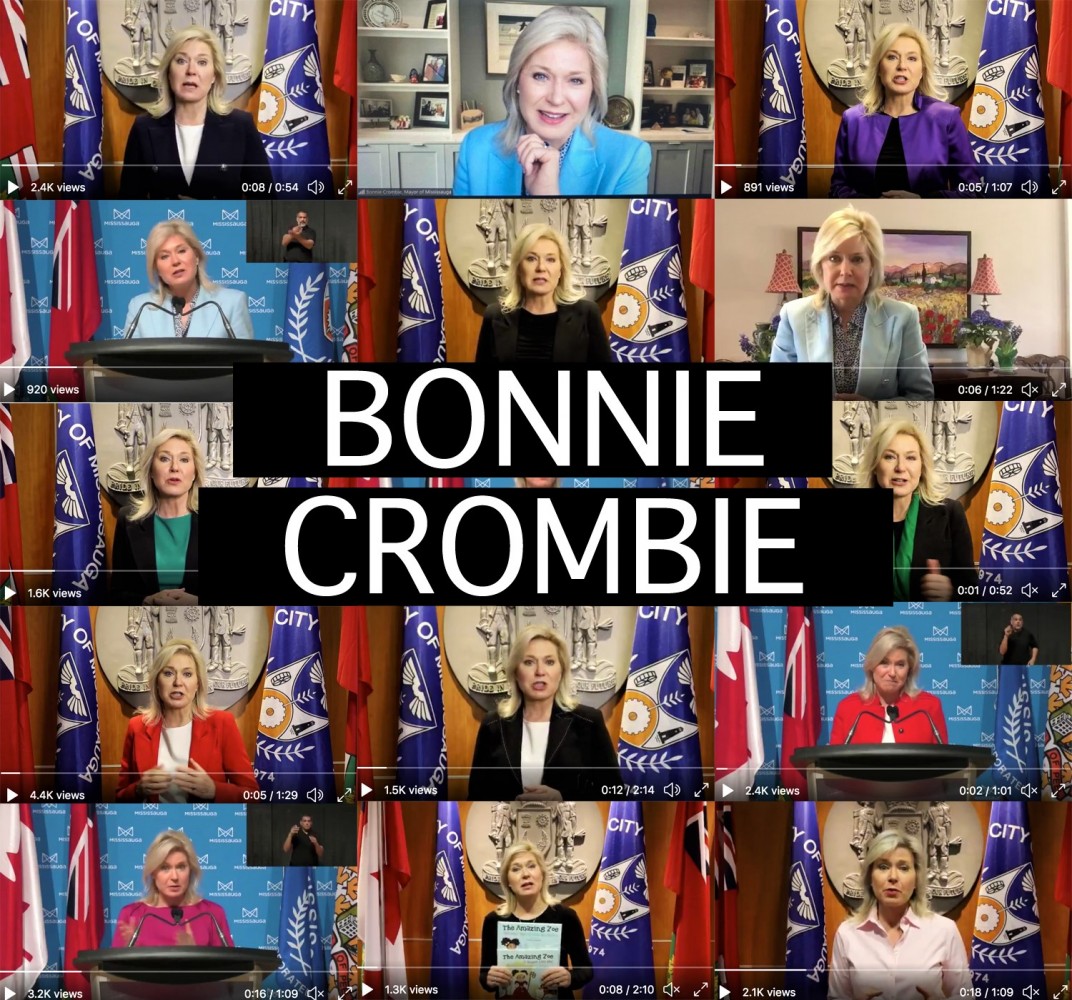 Graphic Illustration Joel Wittnebel/Twitter/Facebook
Mississauga Mayor Bonnie Crombie uses a small army to keep up her social media presence
The Pointer's Social Media Monitor is a weekly look at how elected officials and other public civil servants are using their taxpayer-funded resources to shape digital communication aimed at constituents. We feature one public figure each week.
---
When Martin Dobkin, the first mayor of the City of Mississauga, took office in 1973, his campaign likely involved interviews with the local papers and TV stations, and perhaps some quick meetings with residents.
Decades later, the internet, and eventually the birth of social media, turned everything politicians had known on its head.
Jason Gainous and Kevin Wagner wrote in their book, Tweeting to Power: The Social Media Revolution in American Politics, "Each previous advance in communication technology influenced how we choose our leader and even why we choose our leaders."
Social media has become a dilemma for many politicians: ignore it, and watch your opponents pass you buy; obsess over it and watch your constituents lose interest in PR-style leadership.
Mississauga Mayor Bonnie Crombie has found an effective balance.
Scrolling through her Twitter and Facebook pages, Crombie sends well wishes to residents who celebrate numerous religious and cultural holidays and commemorates the independence days of their countries of origin, year round. Her Twitter page has posted 10 separate messages around such themes in the past month alone. This is intentional.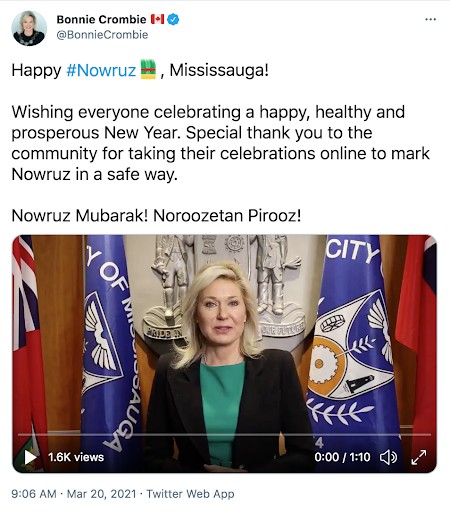 "Since there are dozens of holidays, days of recognition and campaigns during the course of the year, there is a degree of management by staff to ensure significant events and announcements are not missed," Daniel Bitonti, a staff member from the mayor's office, told The Pointer.
Unlike many other politicians The Pointer has approached for its Social Media Monitor, Crombie's refreshing transparency about how her social media is approached suggests a politician comfortable in her own skin, who doesn't run away from the realities of political communication in the information age.
Bitoni noted the platforms are also used as a tool to "pressure other levels of government" to make changes to certain policies. A majority of these efforts are shared through official letters from the mayor's office. One of the most recent requests was made on March 10, asking the Province to move Mississauga into the red zone, a bid that was ultimately unsuccessful. But it was a direct response to what many residents and businesses were asking for on social media.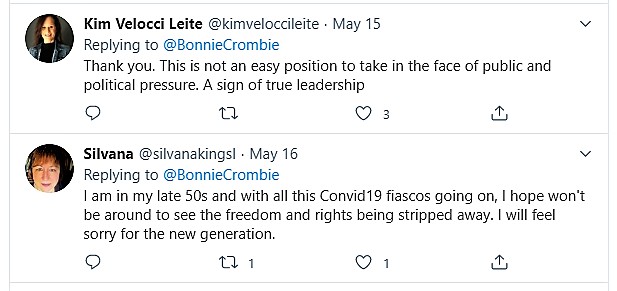 Crombie was lauded by many residents for advocating against prolonged lockdown measures
"Mayor Crombie strongly believes that social media is a powerful tool in spreading important messages to residents, but also in advocating to other levels of government. The COVID-19 crisis has made this even more true, with the Mayor using social media daily to update residents on the situation facing Mississauga."
Crombie has put together a small army to help her keep up her presence on social media and has never kept this a secret. Her Twitter and Instagram pages state in their respective descriptions the mayor and a team are responsible for the content on the page. The page transparency feature on her Facebook account shows four people have access to manage it.
In total, six staff members have worked on Crombie's social media presence since she was re-elected in 2018, Bitonti said. At this time, three staff members actively work on her social media.
Few politicians are willing to admit this. Crombie embraces it.
One of the full-time staffers is responsible for writing scripts and shooting videos to post on social media for special events or specific holidays. When there are multiple clips to record in one day (there can be upwards of 10 Bitonti said) it can take six-and-a-half hours to complete, between writing scripts, recording, editing, and posting. A total of 200 videos were filmed last year, and so far this year, 80 videos have been completed.
Another staff member is responsible for posting statements on behalf of the mayor, such as posts outlining the Provincial changes to its COVID-19 framework. Staff are also responsible for taking photos and videos of Crombie at events. The three staffers work together to flag important posts and create updates for responses or original posts.
When videos don't need to be shot, upwards of three hours can be spent on the mayor's social media presence a day and the work is divided between the three staff who handle it in Crombie's office. A dollar figure can't be attached to the work staff do because social media is only one part of the job description. Bitonti does note two staff members take on a more "prominent role". Crombie's office uses the social media management platform Hootsuite, that is shared with the City's corporate communications division, to manage much of the work.
Bitonti said social media is used by the mayor and her staff to see how residents feel on specific issues and what questions they're thinking about, helping Crombie better respond to concerns residents have.
These responses rarely come through social media. The posts made on her three platforms are one-sided. Despite many of her posts, specifically on Facebook, receiving dozens of comments, there is little to no interaction between the mayor and her residents through online platforms.
It's one shortcoming of her approach. A more interactive engagement with constituents looking for more of a dialogue with their mayor, could provide meaningful approaches to decision making that directly responds to those who often understand complex issues they engage with.
One of the few examples where Crombie's account engaged with residents was on the city's decision to broadcast the Azan, the Muslim call to prayer, during Ramadan last year. In the weeks before and after Ramadan, holidays specific to numerous religions were being celebrated, and many commenters took issue with only one faith group being accommodated.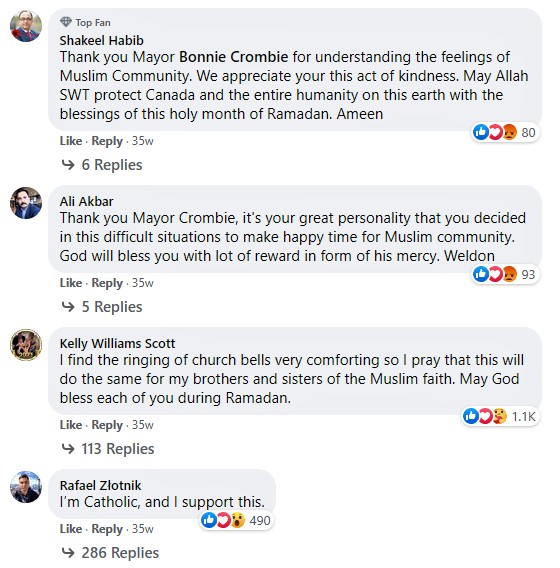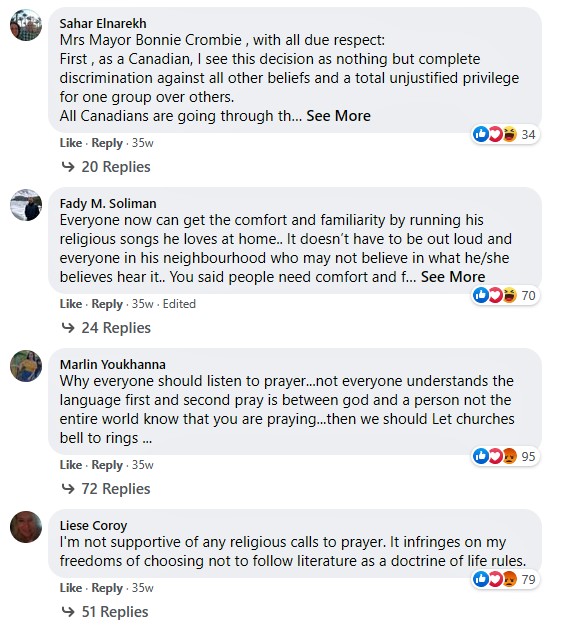 Crombie's candid use of social media has invited supporters and detractors, like any good platform for debate
In her response on social media which was shared numerous times, Crombie said this was a special request and other faith groups were not being excluded. It was posted to Facebook with the caption "This is the last I'll be commenting on the matter. Proud we did the right thing."
It sparked a passionate online debate and proved to be an invaluable tool to gauge the complex range of sentiments in the community.
Crombie has also used social media to vent her frustration with higher levels of government. It's a rare thing to see a mayor willing to use such platforms in such bold ways, sending out messages that can rapidly spread and be captured forever.
Admonishing the Province's poor treatment of her city in its vaccine rollout was a recent example of her frank use of Twitter, showing social media is much more than a cheerleading tool for her. She takes the gloves off when she has to, and isn't afraid to use these platforms as her arena of choice when doing battle on issues she's committed to.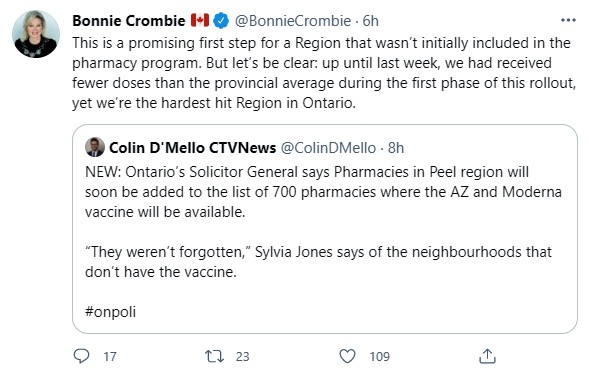 It's a sign of a politician who has grown into her status as an experienced leader, and one of Ontario's most powerful voices, who is not scared to use it.
Even with the heavy staff presence, Crombie does frequently post herself, Bitonti said.
Looking through her social media, isolating those posts may not be very hard to do, based on the tone of the messaging. In between messages on her Instagram page highlighting former mayor Hazel McCallion's 100th birthday, and opening dog parks as part of Ontario's previous COVID-19 reopening framework, are posts that give residents a glimpse inside her life as Bonnie Crombie, not Mayor Crombie. She frequently takes to Instagram to post photos about her family and their accomplishments, from graduations to weddings, something many politicians don't do.
It's part of a comfortable relationship the media savvy mayor has developed with social media.
Many other politicians could learn from her approach. It's not overly rah, rah, look at me. It's heavy on real engagement on key issues, with strong advocacy aimed at higher levels of government.
And, perhaps most refreshingly, she and her staff openly admit how central social media is to Crombie's day-to-day work.
---
Email: [email protected]
Twitter: @nida_zafar
Tel: 416 890-7643
---
COVID-19 is impacting all Canadians. At a time when vital public information is needed by everyone, The Pointer has taken down our paywall on all stories relating to the pandemic and those of public interest to ensure every resident of Brampton and Mississauga has access to the facts. For those who are able, we encourage you to consider a subscription. This will help us report on important public interest issues the community needs to know about now more than ever. You can register for a 30-day free trial HERE. Thereafter, The Pointer will charge $10 a month and you can cancel any time right on the website. Thank you.
Submit a correction about this story