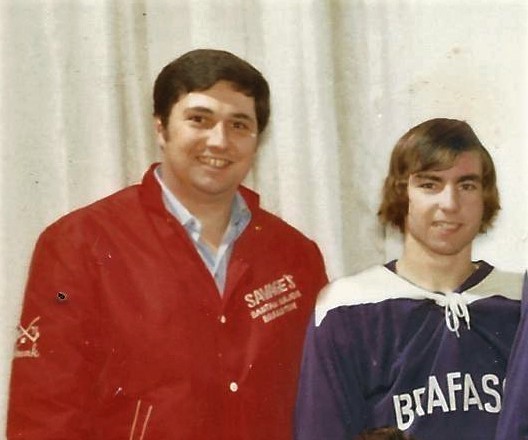 Photos courtesy of Paula Tookey/Screengrabs from YouTube/CBC
Former Brampton policeman facing prison for sexual abuse of Kevin Dickman five decades ago begs for leniency
The man who tormented Kevin Dickman and pushed him into a downward spiral that bottomed out in the frigid waters of the Don River, begged for leniency in a Brampton courtroom Tuesday.
Fifty years after sexually abusing the boy he coached, condemning his young victim to a lifetime of alcoholism, homelessness and isolation, before Dickman's crushing despair sent him over a Toronto bridge to escape his demons, Frank Kohler, a former Brampton policeman, broke down before a judge.
He asked for compassion after failing to show any for the boy he repeatedly abused. Dickman spent a lifetime suffering while the man who caused it enjoyed the freedom he robbed from his victim.
Standing between plexiglass dividers separating courtroom attendees, Kohler's hands shook as he shuffled his papers atop the podium. Fluorescent lights cast a sanitized glow over the room as Kohler poured out the dirty truth hidden from the public since the '70s.
"At the outset of this letter, I am sorry, and I have lived with this awful reality for all these years," he began. "The distance of time from when I committed this crime does not negate to me the seriousness of the offence."
He pushed out the words, his voice choked off by anxiety. The former officer's eyes were glazed, tears welling up. Kohler, a thin man with a crop of white hair, spilled out what he described as remorse for sexually abusing Kevin. He said he hopes his life since the offences in the late 1960s and early 1970s, a life that saw him go on to become a pastor in Nova Scotia, can serve as some form of atonement for his inhuman actions.
"There are consequences here on earth that I must face," he said. "I am so thankful for the years of this good life I have enjoyed, with wife and family and community. But this blatantly accents to me what apparently happened to Kevin and raises the question of how much I contributed to his downward slide in life. When I think of Kevin I think of that wonderful kid who loved to hang around with me, to go places, water skiing, travelling, being with groups of friends. But there was that part that is awful and despicable that I regret so much. My life went up, his life went down to the depths."
After delivering his words, Kohler sat down and placed his head in his hands. Through the microphone feed he could be heard crying.
For a man who has worked as a pastor for years, delivering sermons has clearly helped him speak convincingly before others. His words were delivered with what he tried to convey as genuine remorse.
While this may serve as a mitigating factor in his sentencing, which has been scheduled for April 26, it will do nothing to bring back the man who died as a result of his predatory actions. Kohler's abuse pushed Kevin Dickman into a life of drug addiction and homelessness, captured in a CBC documentary.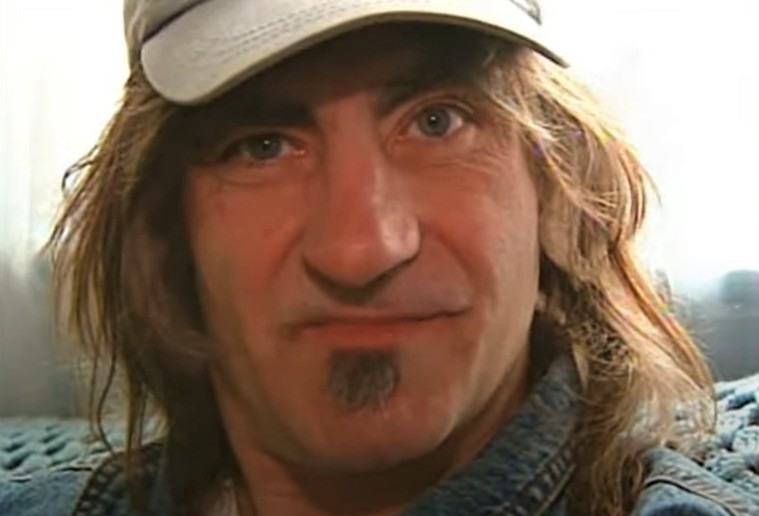 Kevin Dickman in 2005.
In a haunting 46-second interview in 2005, Kevin, nearing 50, stared into the camera with a grimace.
"It [the sexual abuse] became a sickness," he said. "It's something you don't just wipe away. It can stay with you forever. You can lose touch when you're outside and homeless for five or six or seven years, and you might not want to come back – people don't recognize you as being of this earth."
Those who have fought on Kevin's behalf await the final word on Kohler's fate — he faces up to five years in prison. The sentencing hearing Tuesday offered the first glimpse of justice for Kevin, but many questions still remain. What punishment will come to the man who sexually abused Kevin repeatedly 50 years ago, why did it take so long to get here, and will closure ever arrive for those closest to Kevin's story?
Kohler's Potential Sentence
The sexual abuse that ultimately unwound Kevin's life, took place more than 50 years ago between 1967 and 1972 while Kohler was a member of the Brampton Police Force (later the Peel Regional Police) and Kevin's Big Brother.
Kohler, nicknamed Frank the Narc, patrolled the tight-knit community of Peel Village in Brampton. When Kevin's father passed away, his mother believed the policeman and hockey coach would be a perfect role model for the boy, who was struggling with the loss. It was the beginning of the end for Kevin.
Kohler explained to the court that he began to have homosexual tendencies around the age of 12 or 13, and while he experimented with other boys (two older and two of his younger cousins) in his teen years, actions he described as "brief sexual encounters", he vowed that Kevin was the only boy he ever abused. He admits joining Big Brothers while a police officer and hockey coach was foolish and naive, but said he did not do so with the explicit intention of preying on a sexual victim.
"I honestly never thought of bringing harm to a child," Kohler told the court.
Crown Attorney Roger Shallow made it clear, Kohler should be put in prison for five years, and that's on the short end of sentences for these offences. Shallow explained that a number of mitigating factors, including Kohler's confession to the RCMP in Nova Scotia in 2019, and his subsequent guilty plea, were all factored into his recommended sentence. Kohler's confession only came after a former Peel police officer and childhood friend of Dickman, Pam Hand, tracked him down following Kevin's death, pressuring him to confess his crimes to police.
The inescapable fact "steeped in the concrete realities of this case" is the end result of Kohler's actions, Shallow said. Kevin is dead, and the CBC feature makes it explicitly clear, in Kevin's own words, that the abuse is the reason.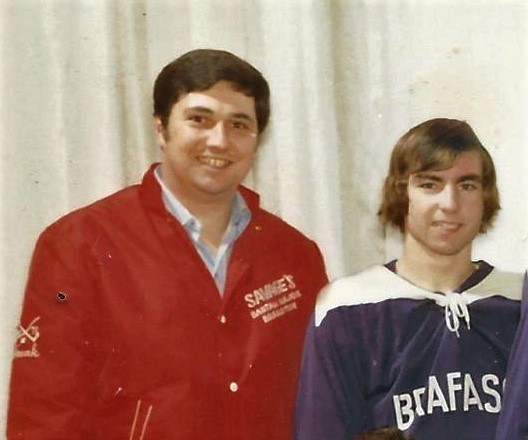 Kohler (left) coached Kevin in the early 1970s.
As a police officer at the time, a stricter punishment must be doled out, Shallow said, as not only a denunciation of such behaviour for current officers, but a deterrent to others. Further, the Supreme Court of Canada has ruled that in cases involving sexual crimes against children, deterrence and denunciation must be "paramount sentencing objectives," Shallow said.
"We have the need for denunciation and deterrence times two (in this case)," he added, referring to Kohler's position as an officer of the law, when he committed his crimes.
Kohler spent most of the time during Shallow's deliberation with a hand over his face.
Lakin Afolabi, Kohler's lawyer, painted a picture of a reformed man, a man who had found Jesus Christ and turned his life around. A man who had atoned for his sins, and then some, by coming forward and laying himself at the mercy of the Justice System, voluntarily.
It was only after the presiding Justice pointed out that in fact it was the call from Hand after Dickman's death that prompted Kohler to call the RCMP that Afolabi conceded his client may have felt "pressured" to contact police.
"He chose to face the music for the crimes that he committed. The only other witness that saw this (Dickman), is now deceased, so we could argue about how remorseful he is, and whether or not he's actually throwing himself at the mercy of the court because he's been caught, but he really had a choice to make," he said. "Mr. Kohler was motivated by his convictions and his literal fear of God and his belief in his faith, to do the right thing. Even if it were 50 years later."
Afolabi argued that for much of the past five decades, Kohler has not kept his crimes a secret. He told his wife soon after they met in 1974, and he told many others in the church community he would later go on to lead.
"This is a man that was broken by his sin and confessed it along the way," Afolabi argued.
Kohler's repeated confessions, Afolabi claimed, combined with the fact that, according to Kohler, there were no other victims (there is no evidence to suggest Kohler abused other children), led his lawyer to submit his client should face no jail time.
"If Mr. Kohler came before this court and this offence was committed three years ago, I think I would rightfully would be laughed out of here for asking, having the audacity to suggest something non-custodial would be appropriate," he said, but in Kohler's case, he had "done everything he can to make amends" and has already been punished by his confession, including lost family connections, destroyed reputation, and loss of employment.
"He has lost a lot already," Afolabi said. The Crown reminded the court that it was Kevin who actually paid the price, not his molester.
Afolabi suggested that if the court agreed to avoid a prison sentence, a conditional discharge with "very serious" probation could be a potential option, or jail time served intermittently.
Where were the Peel Regional Police?
Throughout the last year, the Peel Regional Police have been silent on the matter of Frank Kohler. Despite the fact one of their own was caught sexually abusing a child, actions that directly led to the victim's death many years later, despite the fact they knew about it through a confession made to police at the time, the force has remained largely silent, other than to say records from the early to mid-70s have been destroyed. Explaining why Kohler was allowed to simply walk away is now impossible, the force maintains.
That statement was made late last year, after the Special Investigations Unit (SIU) laid charges against Kohler, following Hand's work to track him down.
In Kohler's own words, it appears he was even surprised when charges weren't laid against him throughout the years, after he confessed to police shortly after his crimes and then again, decades later, said he approached Peel police and tried to address what he had done.
In the first of several shocking statements on Tuesday, Kohler admitted that in July of 1974, the Brampton Police showed him an accusation of what he had done to Kevin, written by Kevin himself.
"I was questioned about it at Peel headquarters on July 14, 1974, and I admitted it fully to the internal investigations team and the head of the criminal investigation bureau," Kohler said Tuesday. "They showed me Kevin's admission and I did not deny it. I gave a written statement of my guilt. They told me that I was to immediately resign from the police force and no charges were being laid. I resigned from the police department that day and they let me walk."
Peel Regional Police have said this can not be explained, meaning those responsible for the unthinkable police corruption can not be held accountable, as the records have since been lost or destroyed.
This means, around the time of its creation, the Peel Regional Police allowed a sexual predator, one of its own officers, a man who confessed to sexually abusing a young child for several years, to walk out the door.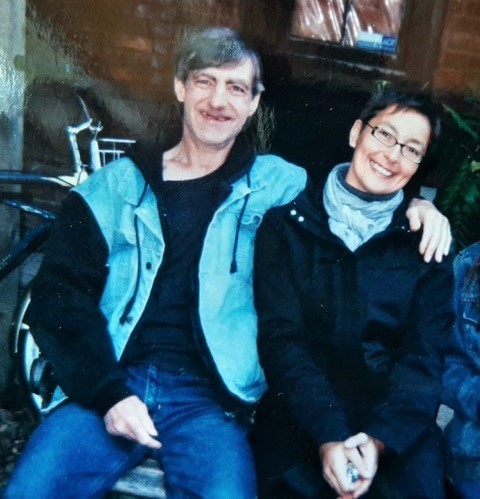 Kevin with friend and counsellor Paula Tookey
Kohler has vowed that he never abused anyone else, and the court has not seen any evidence to the contrary, and publication of Dickman's story has not led to any other victims coming forward. However, Peel police investigators could not have known what the future would hold for Kohler, and essentailly allowed an admitted sex offender to return to the community.
The officers, according to Kohler, who handled the case and the confession let an admitted predator walk out into the world to possibly prey on more young victims.
It was a stunning piece of evidence offered by the convicted man. Whether Peel police decides to investigate his claim remains to be seen.
The organization may not be able to explain what happened, but it is able to apologize for what we know happened – a former officer sexually assaulted a young boy who suffered unimaginable pain because a man trusted to protect the community betrayed that trust. No apology has been issued to date.
Denying justice to Dickman in 1974 may not be the only thing the organization has to apologize for.
Kohler also shared with the court that sometime in the late 1980s or early 1990s, he and his wife attempted to set up a meeting with Kevin through the Peel Regional Police.
"I wanted to make amends to Kevin, to apologize," Kohler said. "The inspector engaged with us for a few minutes, left the room, and then returned. He told us not to pursue this idea, that it may be dangerous for us to do so."
It's unclear why the Peel police inspector came to this conclusion. The repeated failure by Peel Police to act in Kevin's interests was not lost on Kohler's lawyer.
"Had the police department done their job in the 80s, this would have been litigated and Mr. Dickman would have had justice, because Mr. Kohler went to the police and he was looking to do something about this. Even when he first resigned from the police department, he could have denied it, there could have been litigation, there's all these things that could have been: he confessed, he resigned," Afolabi said.
After 50 years, justice will be served when Kohler is finally sentenced on April 26.
It will be too late for the victim of his monstrous crimes.
---
Email: [email protected]
Twitter: @JoeljWittnebel
---
COVID-19 is impacting all Canadians. At a time when vital public information is needed by everyone, The Pointer has taken down our paywall on all stories relating to the pandemic and those of public interest to ensure every resident of Brampton and Mississauga has access to the facts. For those who are able, we encourage you to consider a subscription. This will help us report on important public interest issues the community needs to know about now more than ever. You can register for a 30-day free trial HERE. Thereafter, The Pointer will charge $10 a month and you can cancel any time right on the website. Thank you.
Submit a correction about this story