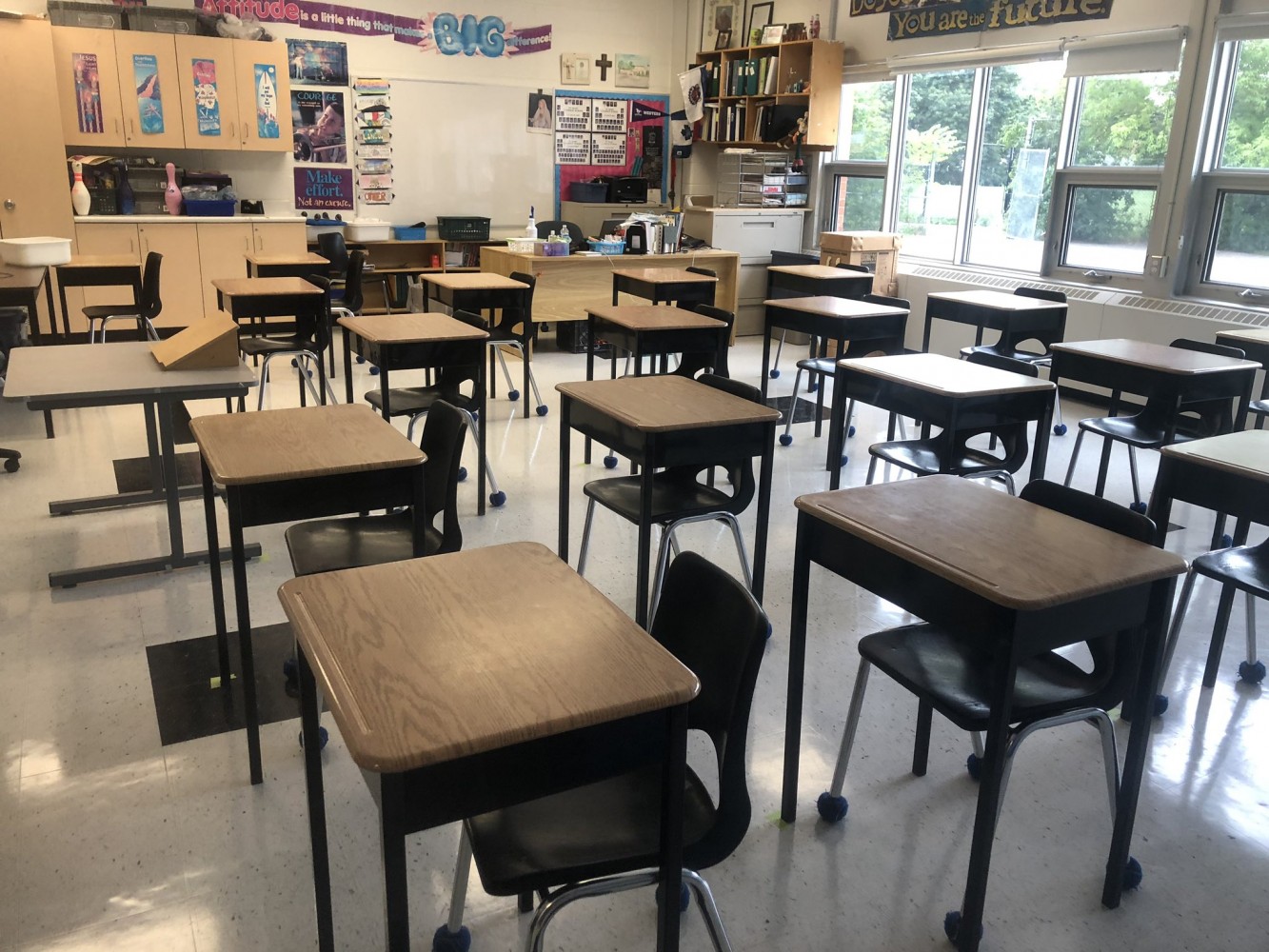 Photos from City of Brampton/DPCDSB/Region of Peel
Peel Catholic board has 26% of Ontario's school closures – future of in-class learning uncertain
Once again, students, parents and educators are bracing for the possibility of returning to at-home learning after a meeting this week between Peel's public health unit, its top doctors, the Province and school boards offered little clarity on issues that have been raised for weeks.
Cases and school closures, particularly in Peel's hard-hit Catholic board, have raised serious concerns over the continuation of in-class learning.
"At this time, there is no anticipated closure of Peel schools across the region," Dr. Lawrence Loh, the medical officer of health, told The Pointer. "Overall, transmission inside schools remains low. Trends of case introductions in schools have reflected trends in the community. Very few of the individual cases in schools spread to others inside that setting, which means we have seen a low number of outbreaks occur since in-person learning resumed in mid-February. The number of exposures in schools has reflected increasing rates of COVID-19 in the community."
In Ontario, there are currently 38 schools closed out of a total of 4,828 that are publicly-funded. Peel schools account for 32 percent of these closures, while the region makes up about 10.5 percent of Ontario's population. The numbers are even more disconcerting in the Catholic board, which is about half the size of the PDSB but currently accounts for 26 percent of all school closures in the province.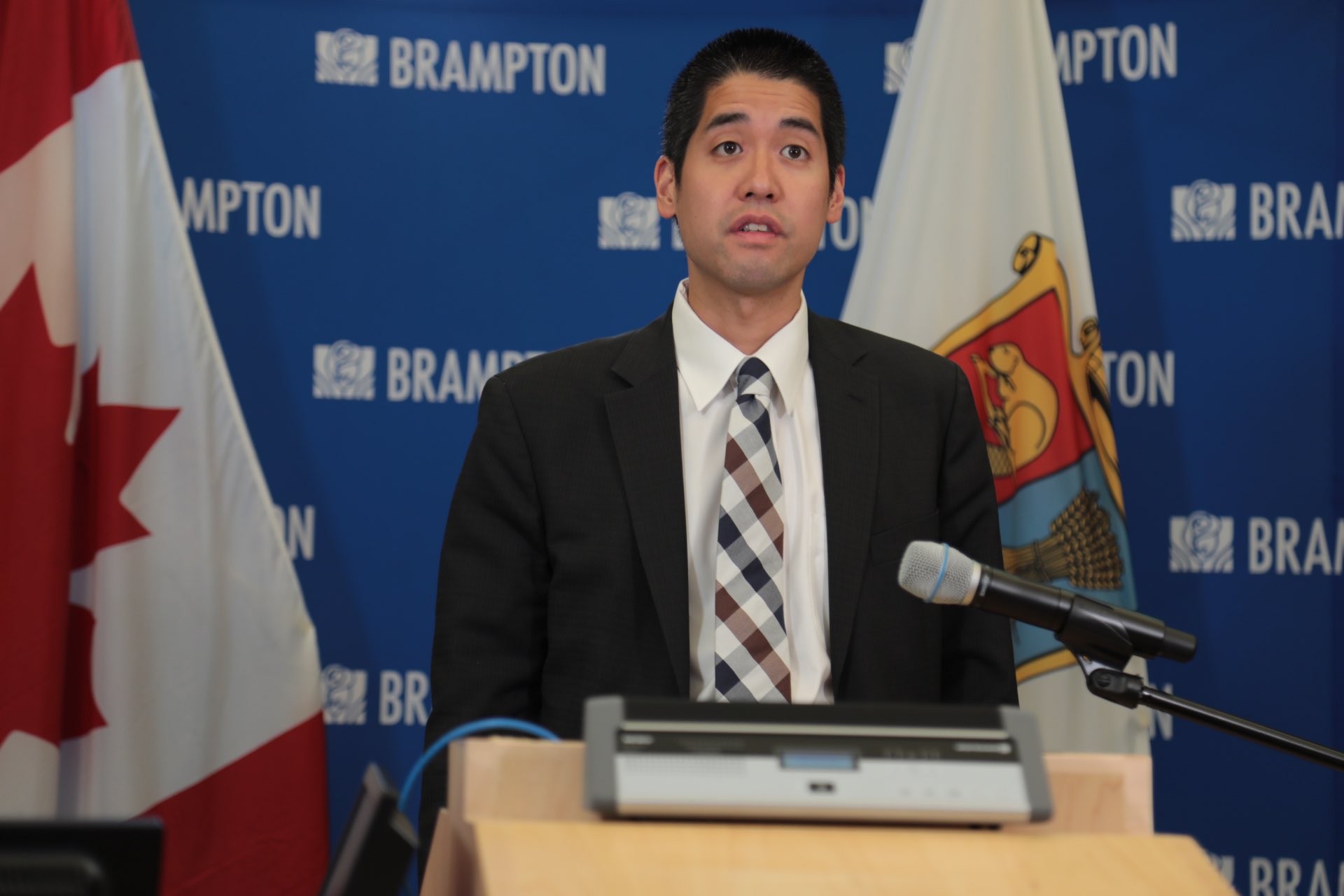 Peel's medical officer of health Dr. Lawrence Loh
This Wednesday, stakeholders met to discuss the severity of viral infection in schools across the region and are expected to meet next week to continue the conversation, as the current viral picture remains incredibly fluid. Public health experts across the country have voiced uncertainty about the direction the pandemic will move in. Variants of concern are spreading rapidly, while hope of a widespread inoculation effort to counter the transmission is being challenged because of the poor vaccine supply across the country.
In Peel, which has had Ontario's highest rate of transmission throughout much of the pandemic, the rate of vaccine supply is lagging the province overall, making it even more difficult to make decisions about local schools.
The Pointer was told by sources that rumours have been circulating among educators suggesting both school boards have asked the health and education ministries and Peel Public Health to move learning online for at least a month, citing concerns over the variants' faster and easier transmission. Peel District School Board and the Dufferin-Peel Catholic District School Board have not confirmed or denied that they have requested a temporary closure of all schools.
"Directors from Boards in the Region of Peel and representatives from the Ministry of Health, Ministry of Education and Peel Region Public Health have engaged in dialogue about the challenges that schools are experiencing," said Bruce Campbell, the general manager of communications at DPCDSB. "DPCDSB has shared school and community related concerns with all partners throughout the COVID-19 pandemic and we enact measures that are recommended by the Ministry and Public Health Officials. There was agreement to engage in ongoing discussions."
Dr. Loh says infection is largely introduced through household and community transmission, which are two of the biggest sources of viral spread in Peel. "The Ministry of Health and Public Health Ontario makes decisions about appropriate thresholds for consideration of remote learning across Ontario. These decisions would be made by the Ministry of Education in consultation with the local school board and Peel Public Health. We continue to monitor trends and make recommendations accordingly."
According to Peel Region's March 19 weekly epidemiological report, the incidence rate is starting to rise once again throughout the region. Confirmed VOC infections amount to 2,362 confirmed cases so far, a dramatic increase from the 206 VOC cases confirmed in last week's report.
Just last week, Minister of Education Stephen Lecce touted promising numbers inside schools despite the rise of VOCs, and said although the test positivity rate at schools across Ontario that were identified for testing was just 0.61 percent (Peel's overall test positivity for the week that ended March 13 was 7 percent) the province, health units and school boards need to "remain vigilant".
Updated testing results provided to The Pointer by the Ministry of Education Friday, show that screening of 1,146 schools and almost 17,000 students and staff in Ontario as of March 12 resulted in a test positivity of .62 percent. Results from 63 PDSB schools and 901 students and staff tested in the week ending March 12 showed a positivity rate of .44 percent, but the number was much higher at Peel's Catholic schools. The board is clearly having problems containing the virus in some of its settings. The test positivity for the DPCDSB, in 32 schools and among 214 students and staff who were screened, for the same week was 3.2 percent, five times higher than the provincial rate.
"My observation is we're being extremely cautious in the context of sending cohorts home or schools for short periods of time for upwards of two weeks if they think that there could be a risk," Lecce said during a press conference. "At the end of the day, in this province, notwithstanding the global challenge of the variants of concern that have come to our shores, in this province and country, we still retain very strong levels of safety within our schools with well more than 99% of schools open."
His words of caution were not supported by the actions of his own government, which on Friday announced some restrictions in Peel will be loosened under modified grey-zone criteria. Outdoor dining in patios and fitness classes outside will be allowed, despite warnings by public health experts against such moves, as the third wave has arrived, variants are spreading rapidly and the anticipated vaccine supply fails to materialize.
Talk of closing Peel's schools comes as Dr. Theresa Tam warned Friday that the country needs to show more caution and refrain from loosening restrictions.
"It is quite a critical moment," the country's chief medical officer said. "The vaccines are just escalating. This is absolutely not the time to let go of those measures.
"Less than ten-percent of Canadians have received a vaccine. It is a really tricky situation." She is particularly concerned about rising hospital admissions across Ontario. Data released this week show Peel's three hospitals are facing an ICU crisis, already either beyond capacity or dangerously close.
Her deputy, Dr. Howard Njoo, also sounded the alarm at the same press conference Friday morning.
"If there needs to be stricter measures put in place, I think they're prepared to do that," he said, referring to local public health units, highlighting the situation in the Ottawa area, where measures were recently tightened in response to rising infections numbers.
It all raises concern about the move to loosen restrictions in Peel, while education stakeholders fear schools may have to close.
As of Friday afternoon, there are two schools closed within PDSB, and 137 classrooms are temporarily shuttered, with 205 individual cases confirmed across the entire board. In DPCDSB, there are 10 closed schools, 75 closed classrooms and 91 cases that have been confirmed including students, teachers and school board partners. Although classes may be closed down due to operational procedures other than outbreaks, and a confirmed case does not mean an individual was exposed to a virus that causes COVID-19 at a school, these numbers continue to paint a troubling picture of case transmission in schools.
"At this point, we've seen just about everything – we've been online, we've been offline, now in secondary we're doing hybrid instruction, which means we're teaching online and in-person at the same time," said Jason Bradshaw, a Peel secondary school science teacher. "It's just a little bit frustrating and a little bit unnerving that we just don't know what to expect. We don't know if there's going to be an announcement later today or next week, we're just always holding our breath, not knowing what the next day is going to bring."
Ryan Harper, acting president for Peel's local high school teachers' union, OSSTF, says that Peel's overall recent COVID-19 response is troublesome given the data available and precedents set in other hotspot areas of the province.
"My question really would be, why is Thunder Bay online only now, but Peel is not, when we have had higher rates of infection in Peel than they've had in Thunder Bay? What's going on there?" said Harper. "To be frank, I think it's political. Thunder Bay is represented by an MPP who is NDP, whereas Peel has several Progressive Conservative MPs who are likely to [not] want schools to go to online because it would indicate that something's gone wrong with the provincial government's plan to reopen schools, and they were adamant about how our schools are safe [when] reopening back in February. For them to now, so quickly, a month later, admit that, yeah, that wasn't right, we [might] need to close them again – I think that the politicians in Peel are afraid of how that'll look on them."
According to Dr. Loh, the test positivity rate at the region's schools is hovering around one percent. Alongside teachers, concerns from parents over the region's ability to accurately portray the reality of asymptomatic transmission in schools means sending their children into class everyday is a fraught decision.
"When we have this situation with these variants of concern and when we're talking about the medical modeling that has been in a way sort of showing almost catastrophic numbers being predicted, we do need to be a little more careful and cautious – we need to not take this so lightly," said Romana Siddiqui, a parent activist and community advocate involved in Ontario Parents Action Network and Peel Families for Public education.
Siddiqui, a mother of three children who attend elementary and high school in Peel, aims to take her family to school testing sites every two to three weeks to make use of the resource and ensure her family is safe.
Upon her first visit, the testing site was filled with more staff than patients; others in the community say asymptomatic testing isn't living up to its potential.
COVID-19 testing sites are set up throughout the region each week, and families are alerted through email from the school boards when and where they can get testing done, just for the school community, if desired. However, barriers due to weekends and late operating hours, with tests often performed off-site, have hampered the ability to get a more accurate infection picture.
"I was a little disappointed that there aren't that many people doing the asymptomatic testing but I think it's that maybe the most effective model wasn't developed. We need proper measures that are not just sort of reactive, that are proactive," Siddiqui said.
While a new directive came down late last week for PDSB staff to now wear face shields or goggles as well as masks to enhance safety, the Dufferin-Peel Catholic District School Board had already implemented extra PPE. In the fall, Peel Public Health recommended school staff wear additional eye protection in situations where adequate physical distancing can't be maintained. This, in addition to daily school screening and mandatory masks for all students from kindergarten to Grade 12, are supposed to keep students safe. But complaints about these protocols are being voiced.
The active screening process requires students to complete a self-assessment test everyday before coming to school. The process, designed to catch any potential symptom of COVID-19 and direct symptomatic students to stay home, isn't being verified until students are already on the premises, according to Harper.
"Once they're already in the classroom, they show their test results to their classroom teacher. If they haven't completed it, or a kid goes to school with one of the red Xs on the screen, by the time the school finds out about it, they're already in a classroom, they've walked all through the school, and they're in a classroom before it's even verified." He said this needs to be done before entering a building.
The increased protections for staff fall short of the preventative measures unions have been lobbying for since the summer.
"It is clear that something more needs to be done to ensure the health and safety of students and staff in our schools," said a joint statement from Ontario Catholic Elementary Teachers Association (OECTA) elementary and secondary school teachers' unions in Peel. "Despite repeated claims from Minister Lecce about enhanced screening, testing and other measures, those on the ground report little has changed since the beginning of the school year. The government also continues to ignore recommendations from public health experts about the need for better ventilation and more physical distancing in schools."
Enhanced protective measures are not being enforced among students in the classroom, who are able to attend school with less PPE than staff and visitors, the unions say. The need for staff to wear enhanced PPE makes it "very clear" that schools aren't safe places to be, Harper says.
"We still have concerns that those same requirements don't apply to students. Students are showing up at schools wearing all sorts of versions [that are] certainly not medical grade or anything like that. So there's a double standard that exists here – the implication is that teachers are the ones bringing COVID-19 to the schools and therefore [must] wear medical grade masks that are provided by the employer plus face shields, [while] students are coming in with homemade cloth masks and that's okay."
Bradshaw says teachers, families and students need decisive leadership that clearly communicates what thresholds need to be crossed before a switch to online learning is needed and the acknowledgment that a double standard exists between student and staff safety.
"We have Minister Lecce who is always talking about how safe schools are. He always says that schools are the safest place for kids, but how can you say that at the same time when you're telling employees that they need to wear multiple layers of protection, and it's not safe for us to eat or drink in the presence of another person?"
Just yesterday, news broke that a Peel teacher was allegedly assaulted while sitting in her car in a school parking lot. School staff are encouraged to eat and drink alone, and preferably outdoors if able. PDSB has been facing backlash for telling staff they aren't allowed to drink water in classrooms with students present, to prevent the risk of transmission from eating and drinking in enclosed spaces.
"It's that contradiction that actually I find the most upsetting because if you want to say that schools are safe, then those kinds of precautions shouldn't be necessary," Bradshaw said. "If you want to say that those precautions are necessary, that's fine, okay – but then you're basically admitting that it's a potentially hazardous environment and you have to be able to name it as such."
Many are expecting a switch to online learning in the coming weeks, no matter how tired students and staff are of remote learning.
"While it is always preferable to have students in-class learning, a temporary move to remote learning may be necessary," wrote Sandra Vukosich, the president of Dufferin-Peel's OECTA elementary unit and Maria De Berardinis, president of the secondary school unit. "But what is most needed is for teachers to be part of a conversation with public health, school boards and the Ministry of Education about what is going on and the best way to move forward."
---
Email: [email protected]
Twitter: @vanessabalintec
---
COVID-19 is impacting all Canadians. At a time when vital public information is needed by everyone, The Pointer has taken down our paywall on all stories relating to the pandemic and those of public interest to ensure every resident of Brampton and Mississauga has access to the facts. For those who are able, we encourage you to consider a subscription. This will help us report on important public interest issues the community needs to know about now more than ever. You can register for a 30-day free trial HERE. Thereafter, The Pointer will charge $10 a month and you can cancel any time right on the website. Thank you.
Submit a correction about this story