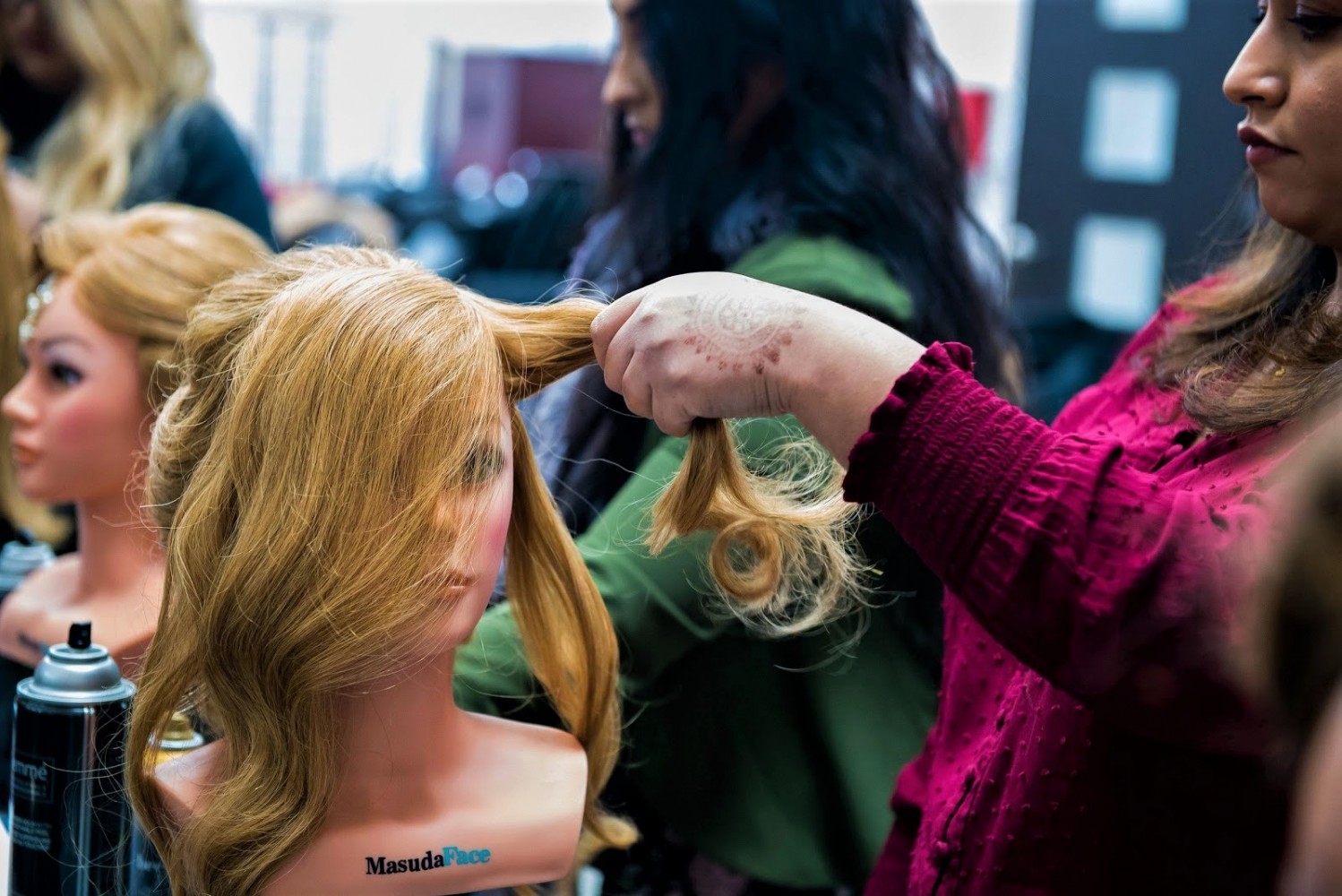 Trend Sassy/Kulbir Gill/Lockdown Injustice/Wiki Commons
Struggles of Peel's popular personal care industry illustrate Ontario's unfair treatment of small businesses
News of a gradual pandemic reopening is usually met with expressions of relief, but for small business and micro-enterprise owners who offer personal care services in Peel, the latest decisions by the Province are met with distrust and months of built-up frustration.
"For the most part, even before the pandemic started, we were following all the rules and regulations to renew our licence every year, in terms of hygiene, in terms of sanitation – all of those things," Anu Mohan, owner of Laser Genesis in Mississauga told The Pointer. "It is not something that is new to us at all... so I don't understand what more we can do in terms of protecting ourselves and the clients who come in."
News on Friday that Peel would not be allowed to move back into the grey lockdown zone for another two weeks, at least, while a stay-at-home-order remains in effect, was the latest body blow for an industry that is struggling for survival, after rapid growth in the beauty and personal care sector prior to the pandemic.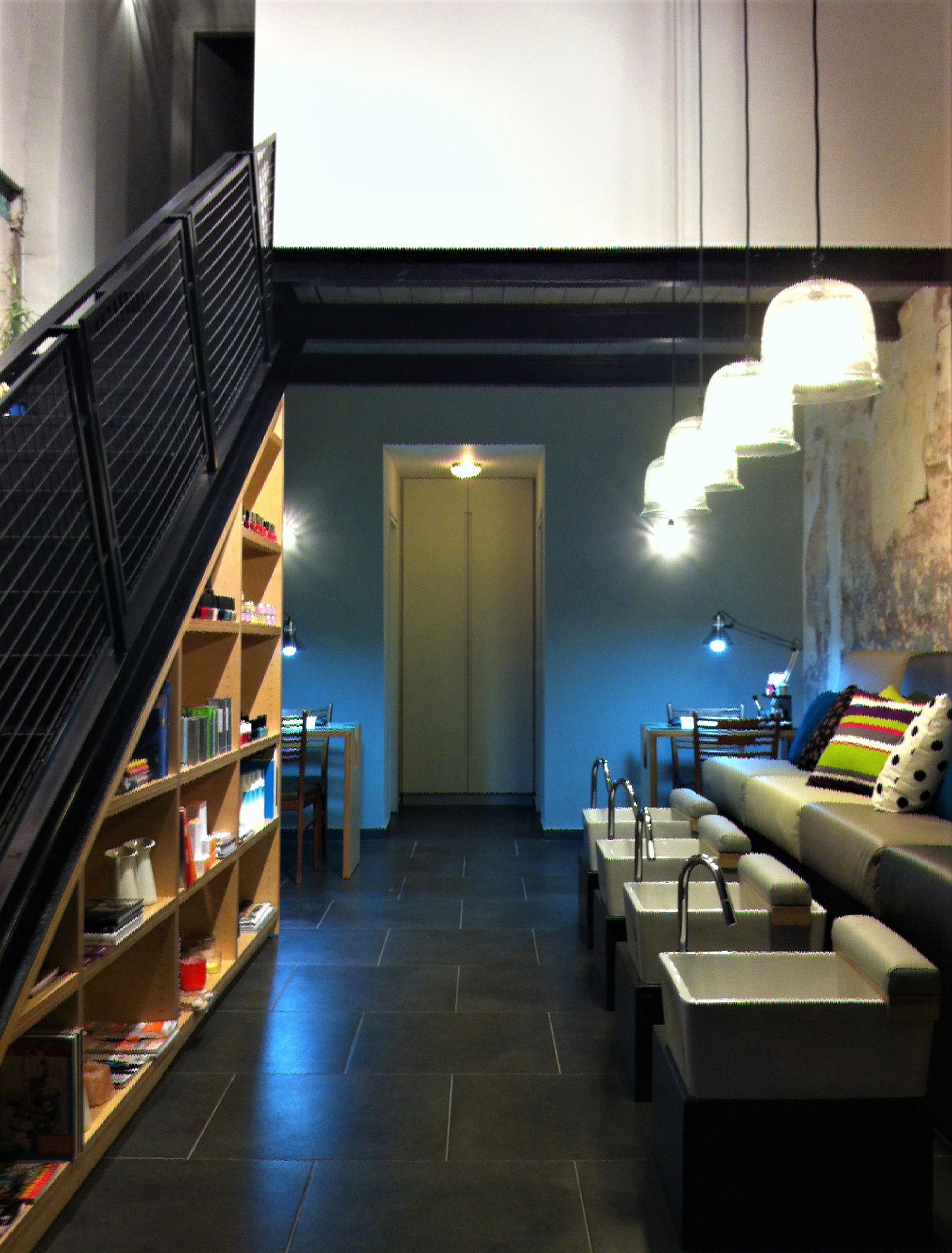 Peel's personal care industry has been devastated by the pandemic.
Owners across the region want to know why they are being treated differently than other businesses allowed to continue operating, many that provide the same services.
The plight of these struggling entrepreneurs illustrates the inconsistencies in Ontario's treatment of various business sectors.
As a result of Queen's Park's seemingly random approach, many in Peel are watching their livelihood circle the drain.
Reopening from the first lockdown in Peel during the spring meant salons and spas were open for business by the end of June. But since November 23, Mohan's business, along with dozens of personal care operations throughout Peel and Toronto have been shut down until most lockdown restrictions are lifted. With minimal revenue coming in, employees laid off, mounting debt and payments due, expiring beauty products and hundreds of dollars in personal protective equipment (PPE) left unused, entrepreneurs are struggling to make it through the latest lockdown, which has now been extended till at least March 8.
Peel, home to some of the hardest hit areas in Canada during the ongoing pandemic, has been under lockdown for almost three months during the second wave. The current stay-at-home-order has been in place since January 14.
The first businesses to close were those where effective physical distancing can't take place, most notably tattoo parlors, barber shops, beauty salons, hairdressers and gyms.
While restaurants and other retail establishments have adapted to pickup and takeout or e-commerce operating models, personal care providers, where the bulk of services are performed in-person and onsite, have largely been unable to operate.
Recent provincial announcements stripped away the small shred of hope that normalcy will soon return. Although most businesses were expecting to move into the grey zone on February 22, on Friday the provincial government announced that Peel, Toronto and North Bay-Parry Sound will continue to stay under the stay-at-home-order, a decision prompted by Peel's medical officer of health, Dr. Lawrence Loh.
Personal care services, no matter the reopening situation, are stuck waiting to be moved into the red zone to open up at all, and need to wait until further reopening into the yellow zone before many services can be performed as they require the removal of face coverings. These procedures provide a significant portion of salon and spa revenue.
While residents of other regions can finally look forward to getting a professional haircut, a pedicure and their hair dyed as of Monday, Peel personal care businesses have to watch from the sidelines as many clients drift toward other establishments, both in Peel and beyond.
Regulated health professionals, including but not limited to dermatologists, plastic surgeons and massage therapists, are able to offer laser, skin, acne, hair and even eyelash treatments in their establishments – services that personal care services are usually able to provide.
"Nurses (and estheticians) who perform services such as Botox, micro needling, OxyGeneo – these are services that we can provide in salons, but we can't, because they're a doctor's office and they're allowed to operate [during the current shutdown]," said Anosha Swalah, the creative director and manager of Sabhoohi's Salon and Spa based in Mississauga. "They are performing those services at the moment [and] that's something that's quite outrageous."
Although the ultimate decisions for lockdown rules and restrictions are decided by the provincial government, local health units are allowed to offer input, said Region of Peel communications specialist Ashleigh Hawkins.
"Our understanding is that regulated health professionals are exempt because they are providing direct treatment to individuals for a medical condition or illness. Regulated health professionals are bound by licensing requirements of their professional college, must act within their scope of practice and have received a high degree of training. In not continuing with treatment plans, a person's condition or illness could worsen."
Estheticians at closed beauty spas argue that interrupted laser treatments that hinder hair growth and treat acne should be viewed in the same vein.
But without a formal association or representative body for the personal care industry within the province, to provide a uniform code of conduct and regulatory standard, many concerns of entrepreneurs in the sector have not been acted on at Queen's Park.
Owners are anticipating the reopening of other regions will create a repeat of what happened when Peel went into a regional lockdown on November 23, in the middle of the busiest and most profitable business cycle of the year for the personal care industry.
"All our clients were actually going to Halton – Milton or Oakville because spas and salons were open," said Imran Hijazi, owner of Trend Sassy laser and medical spa based in Mississauga. "That is where we felt that this is unjust. We are closed and they are open, and it's very convenient for everyone to just drive four or five kilometres and get [to] these [spas in] Milton or Oakville and get their services done. This is where this idea came that we have to actually raise our voice."
Trend Sassy, a 6000 sq. ft. commercial property in Mississauga, provides medical spa services such as laser hair removal and restoration, cosmetic botox and acne treatments, alongside hair care, spa treatments and even various training courses for those who want to work in personal care services.
Anna Miller, a senior communications advisor for the Ontario Ministry of Health, says the government considers a range of criteria when a public health region returns to the colour-coded framework and which zone they are placed in, including health system capacity, case rates, and local context and conditions, such as presence of COVID-19 variants.
"The public health and workplace safety measures in each level, including whether businesses have to close, have been determined based on evidence and expert advice, including related to the risk factors that help drive transmission of COVID-19, including close contact, closed spaces, crowded places and forceful exhalation."
Although these factors, most notably close contact, closed spaces and forceful exhalation, often apply to personal care services, many small business owners even outside of the industry point at big business establishments that get to operate, despite creating an environment where many of these risks are also present.
"You have the big box stores open, you have the LCBO open, you have the airports open, you have everything else open where you will see hundreds of people at any given time, yet businesses like us are closed," said Kulbir Gill, a local advocate for fair representation of the personal care industry in pandemic decision-making. "[But] yet, we get one or two or three people at any given time, [and] it's easy for us to do contact tracing and all [of] that stuff. We had so many conversations, and we have not been given a reasonable answer as to why we are closed."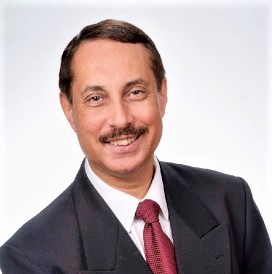 Kulbir Gill helps his wife run her laser clinic in Mississauga. A resident in the city for more than 20 years and a supporting hand to his wife's establishment that's serviced customers for more than a decade, Gill has been a uniting force for more than 30 businesses across Mississauga.
In November, due to the latest regional lockdown, Gill started a WhatsApp group chat called "Lockdown injustice," which serves as the main communication tool local businesses now use to stay updated and organized to advocate for their interests. The first step was a closed presentation with Mississauga city councillors and Mayor Bonnie Crombie on December 11. Gill says despite municipal support for their cause and Crombie's efforts to help the group, little can actually be done at a local level to address their concerns.
"Based on that group, I took all those business owners along with me and did a presentation," Gill said. "It was all done virtually to meet Mayor Crombie and some of the councillors [and] put forward our issues. They listened to us. They understood our issues and they appreciated the fact that we should not have been closed but since it was a provincial matter, there's only so much that the municipality, Mayor Crombie or her council could do at that time."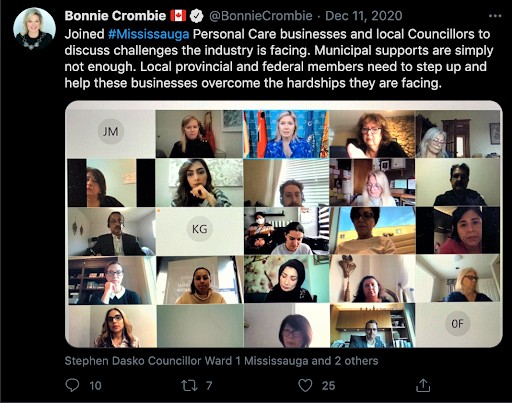 Mississauga Mayor Bonnie Crombie advocated for small businesses throughout the region throughout the pandemic, including the local, hard-hit personal care industry. Gill says her support, alongside the Mississauga Board of Trade, was appreciated by Lockdown Injustice and was crucial in creating awareness of their situation.
Before Lockdown Injustice's group presentation, tentative actions were set in place to address the trouble small businesses were facing due to the pandemic.
In November, Mayor Crombie put forward a motion at City Council to limit big box retailers from selling non-essential goods to help "even out the playing field." But due to Dr. Loh's caution over exercising his authority in economic policy matters rather than public health and safety, and councillors' concern over policing residents' right to deem what is essential and non-essential, the motion was rejected.
In its place, another motion passed that called on the provincial government to revise the rules for areas under lockdown to address the inequity created between small businesses and big retailers, and to further support small businesses struggling to weather the storm that lockdown restrictions have created in Peel – which some Mississauga councillors said was unfair because the region's transmission and infection figures have been dominated by the viral picture in Brampton since early in the pandemic.
Brampton has been woefully under-resourced by the Province and has unique labourforce dynamics, with an outsized essential workforce, that have made it difficult to control viral spread.
"I know Mississauga is a part of Peel and I know that the mayor has been trying for a long time to get [the city] outside of Peel," said Hijazi. "During the pandemic, I think all the personal care businesses in Mississauga have suffered a lot, just because Mississauga is part of Peel. This should be a big point for the mayor – if we were not in the Peel Region during the pandemic or even in the last two months, all the small businesses would not have suffered so much."
Support has come in various forms of relief; the provincial government released the Small Business Support Grant, rebates for PPE and deferrals for property taxes, various programs to help make energy more affordable and pay off outstanding bills, and an extension for temporary bans on commercial evictions; while the federal government offered a mix of low-interest and interest-free loans, rent and mortgage support, the CERB program, wage support and $15 million to women entrepreneurs facing particular hardship due to the pandemic. Although these supports were much needed, without working hours, Gill says small business owners are unable to carry on full operations or pay off loan obligations under the terms of these government programs.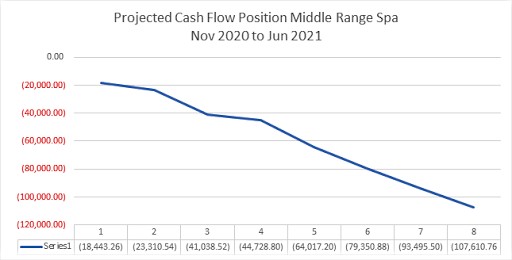 Hijazi, a former banker, provided The Pointer with cash projections for a mid-size spa, which typically makes $50,000 to $60,000 a month, based in Peel. Starting from December 2020 to Jun. 2021, the graphic and chart illustrate the amount of revenue being lost per month with fixed costs. The figures assume payments from financial relief programs, and an estimated return to the red zone in May, when personal care services would be able to start operating at limited capacity.
"The current government financial aid, the rent subsidy, the wage subsidy, it's not enough," Gill said. "Business owners in lockdowns are not able to pay the difference. The government has consistently chosen big box over small businesses throughout the pandemic. Many businesses will not survive the second lockdown. If any restrictions are required, they should be all across the board."
A second round of local government presentations by the new advocacy group took place January 7 at a townhall event held by the Mississauga Board of Trade. Mississauga city councillors, Mayor Crombie, MP and federal Minister of Transport Omar Alghabra (Liberal Mississauga Centre) and MPP and parliamentary assistant to the Minister of Economic Development, Job Creation and Trade, Nina Tangri (PC Mississauga-Streetsville) gathered to listen to the growing concerns of Peel's personal care providers. While the meeting with senior government officials represented a broader reach among decision makers who set pandemic policy, the response from politicians felt flat to some presenters.
"All three of them (Crombie, Tangri and Alghabra) just talked about vaccination," said Swalah. "They just talked about the support that was already provided to us. They didn't elaborate on anything else – they didn't say, 'Why don't we come to your business to try to understand what changes we could do?', like how they made a change in the grey zone for retail stores. They didn't talk about any other alternatives and they didn't ask us [to] meet up after this meeting to see what else [they] could do."
The modified reopening framework allows for non-essential retailers to operate under 25 percent capacity if located in a grey-zone region. Alongside the new modifications, recent rule changes on February 4 allow pet grooming services to continue operating throughout the province. Despite recognizing the necessity for pets to be groomed, the equivalent service for people who require grooming services continues to be deemed a lower priority, regardless of the accepted mental health benefits personal care services provide.
"It's really mental health for them to look [and] feel beautiful," said Shirley Wu, the creative director of hair and beauty salon The Beauty Concept in Mississauga. "To get themselves put together makes such a difference. I hear a lot of times [from my clients], they have to wear a hat on a Zoom call [among] so many things they have to do to make them feel [confident]."
Gill says being closed down during the winter months, with minimal revenue coming in, has particularly impacted many entrepreneurs. From mental health decline and stress-related health problems, the lockdown has severely affected both customers and service providers in ways that can't be directly measured, making financial compensation difficult.
Personal care providers see first-hand how their services improve mental health for their clients and are starting to see their customers take matters into their own hands. Some have started seeking out other health professionals who are able to offer similar services, such as skin treatments from dermatology offices or clinics that have laser technology. For quick fixer-uppers, some customers find themselves turning toward drugstore hair products and DIY home remedies instead. Although minimal amounts of pivoting means that some salons like Swalah's can offer pick-up only root touch-up kits, virtual sessions and increased social media interactions, indirect methods don't provide sustainable income and simply cannot provide the vast majority of services clients are looking for.
"I try to provide my clients with root touch up kits," said Swalah. "I do video calls with them, they show me their hair colour [using] the daylight sun so there's minimal contact when they come in to pick up the root touch up…I go every Saturday, and I make maybe $40 to $60."
Using their personal networks, the nascent association group got into contact with Brampton South PC MPP and Associate Minister of Small Business and Red Tape, Prabmeet Sarkaria. According to Hijazi and Gill, Sarkaria pointed them in the direction of Peel Public Health for an explanation as to why personal care services, specifically, were being targeted in extensive lockdown closures.
Hawkins, the Region's spokesperson for such issues, said that although Peel Public Health empathizes with local businesses affected by lockdown restrictions, the risk of resurgence is significant, calling for the continuation of minimized "non-essential in-person interactions" particularly in the wake of new variants of concern in the region, primarily the strain that originated in the UK, which is now spreading across Peel.
"With a recognition that precautions cannot be consistently maintained (e.g. distancing) and are not always foolproof, many jurisdictions have targeted these settings for closures," Hawkins told The Pointer. "There have also been notable outbreaks in these settings reported in other areas of the province, notably a large nail salon outbreak in Kingston."
In the summer, over 30 cases of the novel coronavirus were confirmed to have originated from transmission at nail salons in Kingston, with Binh's Nails and Spa being the major source of the outbreak. However, investigations from local public health authorities into Binh's Nails and Spa found weak spots in the operation's COVID-19 prevention plans, such as letting employees come into work with symptoms.
"As per my understanding, there is no stat or data to support that personal care businesses are causing COVID-19 to spread," Gill said. "Even if there was one incident in Kingston, it doesn't mean everyone else should be closed down as a result."
Upon meeting with Peel Public Health officials on January 26 and February 3 to discuss their concerns, Gill and Hijazi took the responses to Sarkaria, and are now awaiting further communication from the Province.
Although local efforts have stalled, Beauty United Council of Ontario, another newly formed beauty-care association, was able to secure a meeting with Peel Public Health and a few meetings with Sarkaria, including an in-person meeting to walk through the reality of operating a personal care service during the pandemic.
"He came to visit my salon, he was able to see and understand what our concerns were and why we were closed, we were able to talk to him about all of our products expiring, that [we] would be able to review different programs that we require from him, including more money for PPE and expired products and [even in] developing this infection [prevention and] control program (IPAC)," said Paola Girotti, chair of Beauty United Council of Ontario and owner of Sugarmoon Salon, which has three locations in Toronto. "He was very open to hearing all of those suggestions. I think he really had some aha moments, because he fundamentally just [did] not understand the impact until he visited."
The Pointer reached out to Sarkaria for a comment, but he did not respond.
While Lockdown Injustice aims to create a local body for personal care representation in Peel, according to Girotti, Beauty United aims to secure personal care-specific funding from the Province to the tune of $10 million per year for the next three years to create an IPAC program for personal care services throughout the province on an opt-in basis, in a bid to start regulating the industry beyond local public health certification. This, according to Girotti and Beauty United executive director Annette Palumbo, can help "reignite" the beauty industry in Ontario, which is more likely to contain women entrepreneurs compared to manufacturing and technology sectors, and supports a significant number of female clients and employees.
Beauty United released survey results in June that include responses from 55 out of 110 personal and beauty care businesses throughout the province. Results show that over 80 percent of the industry is made up of single-location business owners, and many are facing closures due to COVID-19 restrictions.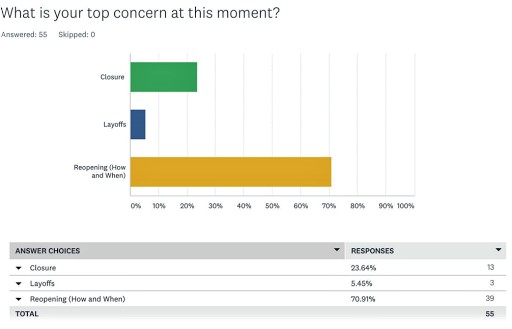 More than 70 percent of respondents said reopening their business remains a top concern, with more than 20 percent saying the threat of closing their business is their biggest challenge.
"Applying these ratios to Ontario's $1.2 billion spa industry, if up to 82 per cent of businesses are threatened with closure, that would be a $420 million impact on the economy, the loss of 2,870 of the province's 3,500 beauty businesses, and 28,000+ estheticians being unemployed or worse, doing services in uncontrolled environments without proper safety protocols," the survey report states.
In contrast, Quebec, the second largest province in Canada, is dealing with similar community transmission rates as Ontario but has approached business closures in a different manner. Quebec, currently operating under a dual-colour system, allows personal care services to resume in both their Level 3 Alert and Level 4 Maximum Alert zones. British Columbia, the third most populous province, has largely kept the virus spread under control. Other than the first lockdown in the beginning of last spring, B.C. has kept hair salons, beauty salons and spas open with mandatory COVID-19 safety plans in place, even as additional restrictions on socializing and traveling came into effect.
Despite everything, Gill is encouraged by the awareness and movement Lockdown Injustice has started.
"It's very frustrating for all of us," he said. "Because dentists, physiotherapists – they all have lobby groups, they have associations that can go and vouch for them, which they have been doing. I don't think our industry has that in place because we never thought that we would come to a situation like this, where we need to do everything ourselves. We need to unite together. And I think every one of us has done a lot of good work here with getting together, putting our voices together, getting ourselves heard and making ourselves known."
While lockdown restrictions remain a reality for at least the next two weeks, Gill and Hijazi look forward to meeting local business owners with Lockdown Injustice in person. The pandemic as a whole has widened their perspective on the need for a local representative body for the interests of personal care services within the region.
"For us moving forward, what we intend to do is to put something together for Peel Region and come under one umbrella so everybody is there," Gill said. "Whatever organization [that it's going to] be [whether it is] a nonprofit organization [or not], we are still working at it, looking at how it is going to be formed, what the schedule is going to be, what our mandate is going to be. Then once that is in place, after we reopen, then we take the next steps forward."
That might be too late for those businesses on the brink of closing their doors, permanently.
Gill is calling for changes in lockdown restrictions that would allow personal care services to open and operate safely and for loan forgiveness to help struggling businesses in the sector. While spring weather and the rollout of vaccinations present hope that better times are ahead, entrepreneurs in the space are left in the dark when it comes to when they will open for regular operation. They are not being consulted on that decision.
"I've got two children, and my [wife's] business is my third child," Gill said. "We started this business from scratch. We designed it, we decorated it, we started from one client [and] we borrowed money to invest in machines. There's a lot of money involved. We built new clientele [from scratch]. Because of this pandemic, it seems like I'm going to be losing that. It's very hard. It's 16 years of our life going down the drain; 16 years of effort. All that is gonna go down the drain because of this."
The most recent postponement of reopening in Peel is the latest blow to Mississauga's personal care business owners. Hijazi says he, along with other entrepreneurs, are considering alternative locations outside Peel to survive.
"Let's not forget that the government chose to close all businesses," Gill said. "They cannot be expected to survive without full economic support – nothing short of 100 percent support for affected businesses will get them to the other side of COVID-19. The decisions made by this government has put us in an economic, business and financial pandemic. The situation is dire – they need to act now, as the personal care industry is in crisis."
---
Email: [email protected]
Twitter: @vanessabalintec
---
COVID-19 is impacting all Canadians. At a time when vital public information is needed by everyone, The Pointer has taken down our paywall on all stories relating to the pandemic and those of public interest to ensure every resident of Brampton and Mississauga has access to the facts. For those who are able, we encourage you to consider a subscription. This will help us report on important public interest issues the community needs to know about now more than ever. You can register for a 30-day free trial HERE. Thereafter, The Pointer will charge $10 a month and you can cancel any time right on the website. Thank you.
Submit a correction about this story