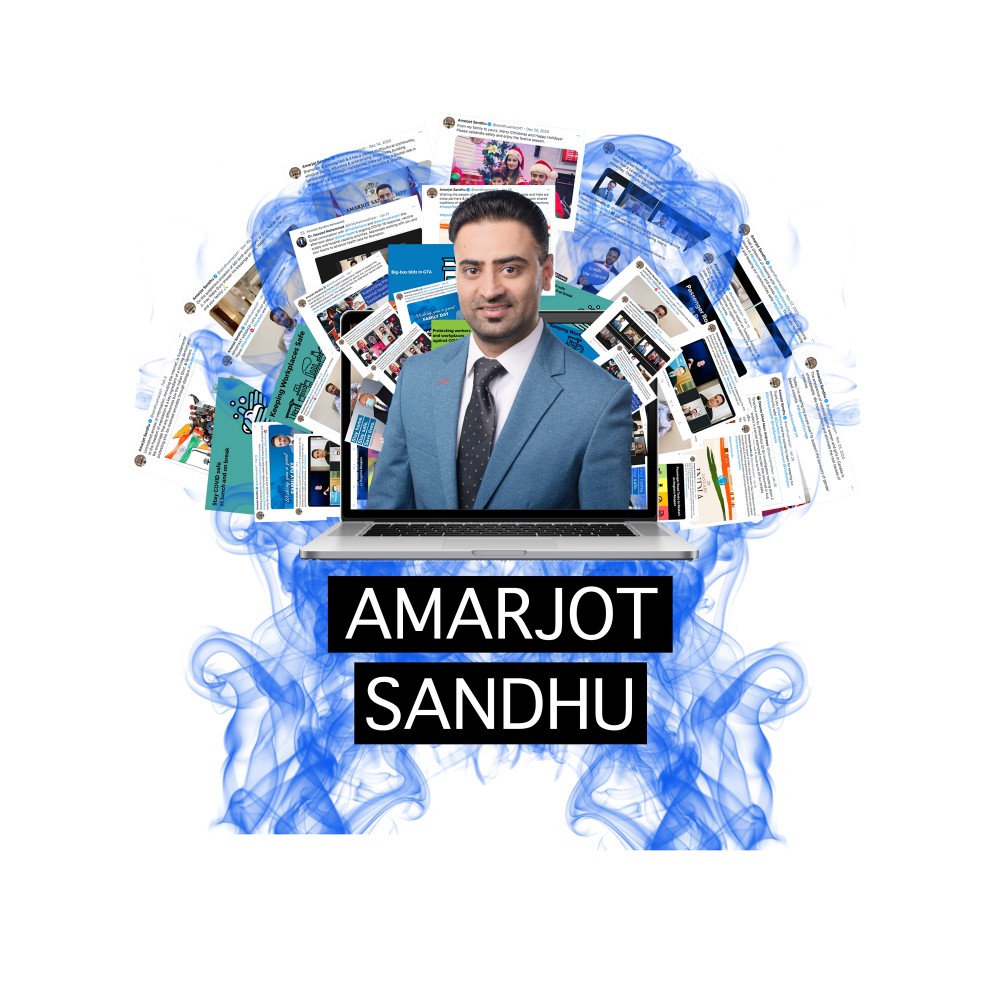 The Pointer file photos/Graphic illustration Joel Wittnebel/Twitter
Amarjot Sandhu's glaring social media disconnection from the residents he's supposed to represent
The Pointer's Social Media Monitor is a weekly look at how elected officials and other public civil servants are using their taxpayer-funded resources to shape digital communication aimed at constituents. We feature one public figure each week.
---
In a word, Amarjot Sandhu's social media can be described as clueless.
It's as if he actively tries to upset the very voters who put him into office.
Sandhu's story is the epitome of the Canadian dream. After arriving here in the late 2000's as an international student, he eventually became a real estate agent, and then won the PC nomination for Brampton West. An election victory, thanks to the poor fortunes of the Liberals, followed and the Indo-Canadian immigrant is now a Member of Provincial Parliament for the governing Progressive Conservatives.
Sandhu is a loyal soldier when it's time to deliver his party's messaging to his constituents. Anyone curious about provincial announcements released daily don't have to look further than the MPP's Facebook, Twitter or Instagram pages.
Each account features the same content, often highlighted by professionally constructed images and videos in the PC's slick design style. Screenshots or images of Sandhu in Zoom meetings or handing out certificates to small business owners in his riding are plastered across his feeds.
Beyond the party promotions and announcements and the PR-style posts, the Brampton West MPP's social media is a desert. There is hardly any information about what he does day-to-day outside the promotional posts, there's zero content on his legislative activities (assuming he takes action) voters are invisible and his tone-deaf, party-line messaging is often directly at odds with the mood in his city.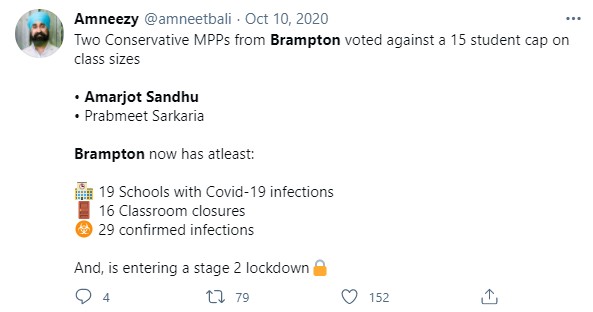 When Brampton led Ontario's per capita infection rate, Sandhu would not support enhanced safety measures in schools; his social media ignored the issue.
While Brampton's exhausted essential workforce was under unbearable pressure to continue working in difficult conditions, while being widely blamed for the city's high infection counts, Sandhu was tweeting out a PC message warning essential workers they would be fined for violating restrictions.
The tweet was pushed out by the Brampton West MPP while social media was being flooded with calls for his PC government to provide sick days for such workers. Instead, he went after them.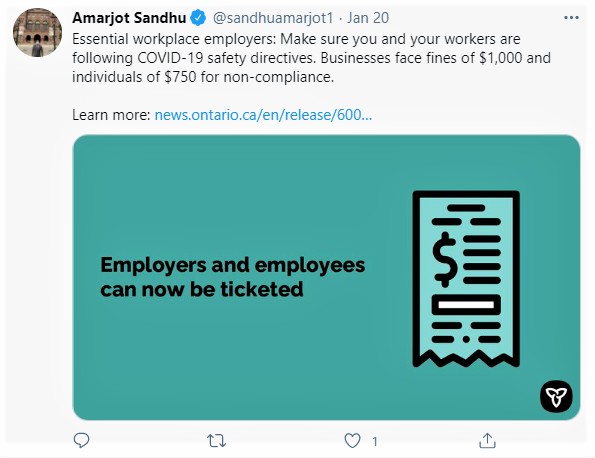 Sandhu warned essential workers of penalties, but ignored calls to give them paid sick days to stay safe.
It's part of a pattern. Brampton residents call for leaders to represent their needs, and Sandhu takes to social media to push out party positions that run contrary.
The obvious lack of any actual human connection with those he supposedly serves is unmissable. Comments asking questions never receive replies, and posts seeking the input of constituents do not exist. Important points residents raise in the comment sections on his social media pages don't appear to inform the decisions he makes in the provincial legislature, showing the disconnect between what residents need and the dismissive messaging Sandhu puts out.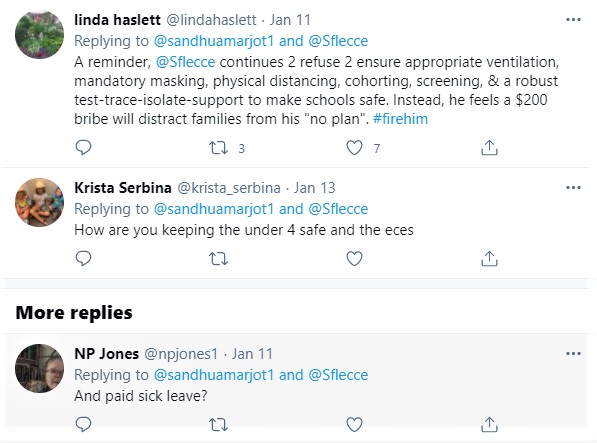 An example of questions and comments under a Twitter post by Sandhu, who did not respond to the remarks.
One obvious example is the ongoing discussion on the lack of adequate healthcare in Brampton. It's easy to find comment threads on Facebook and Twitter of Brampton residents questioning why the Province has forgotten them.
When the City of Brampton declared a healthcare emergency in January 2020, Sandhu's social media pages were absent of any mention of this declaration. Twice in previous years, Sandhu failed to support motions to bring adequate healthcare to the city. In 2018, the NDP introduced a motion calling for funding a third hospital in the city. Sandhu, along with his fellow Brampton PC MPP Prabmeet Sarkaria, was absent for the vote. When the NDP pushed for a third hospital once again in 2019, both MPPs voted in favour but the vote ultimately lost 63-28.
Despite a City of Brampton climate emergency declaration and widespread criticism of the PC's proposed GTA West Highway that will see a massive 400-series corridor cut right through his riding, his social media highlighted his excitement after the PCs put the highway back on the table following its cancellation by the previous government which pointed out how much ecological and environmental damage it would do to areas such as Brampton.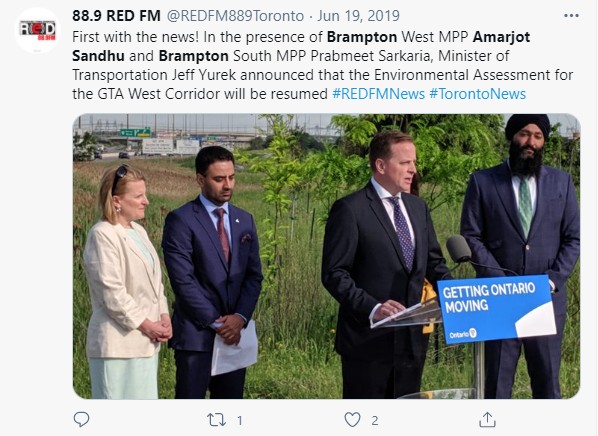 A more recent example of the disconnect is seen in his response during the spread of the novel coronavirus. The constituency he represents was part of a larger group facing some of the highest case numbers in the province. A lack of testing and available resources in Brampton only caused this number to grow.
Sandhu was quick to post photos of himself handing out masks to residents and a video announcing Peel Memorial opening a COVID-19 Cold and Flu clinic. Prior to this, the city only had one testing centre and residents often waited hours to get screened. At no point in that video, or anywhere else on his social media, did he mention the hardships his constituents were going through. On September 17, the day the video was posted, Brampton reported 60 new cases of the virus, representing 20 percent of the 293 cases reported by the province that day.
One reason for exclusively highlighting his party's messaging may be to avoid the scorn of residents. A post in October of 2018 included a letter outlining why the PCs cancelled plans to bring a Ryerson University campus to Brampton, cutting the $90 million promised by the previous Liberal government. It partially blamed the previous government for the cancellation. "Cop out response. You should be fighting for your community and in this regard you have failed," one commenter wrote.
That was the end of such open-ended posts.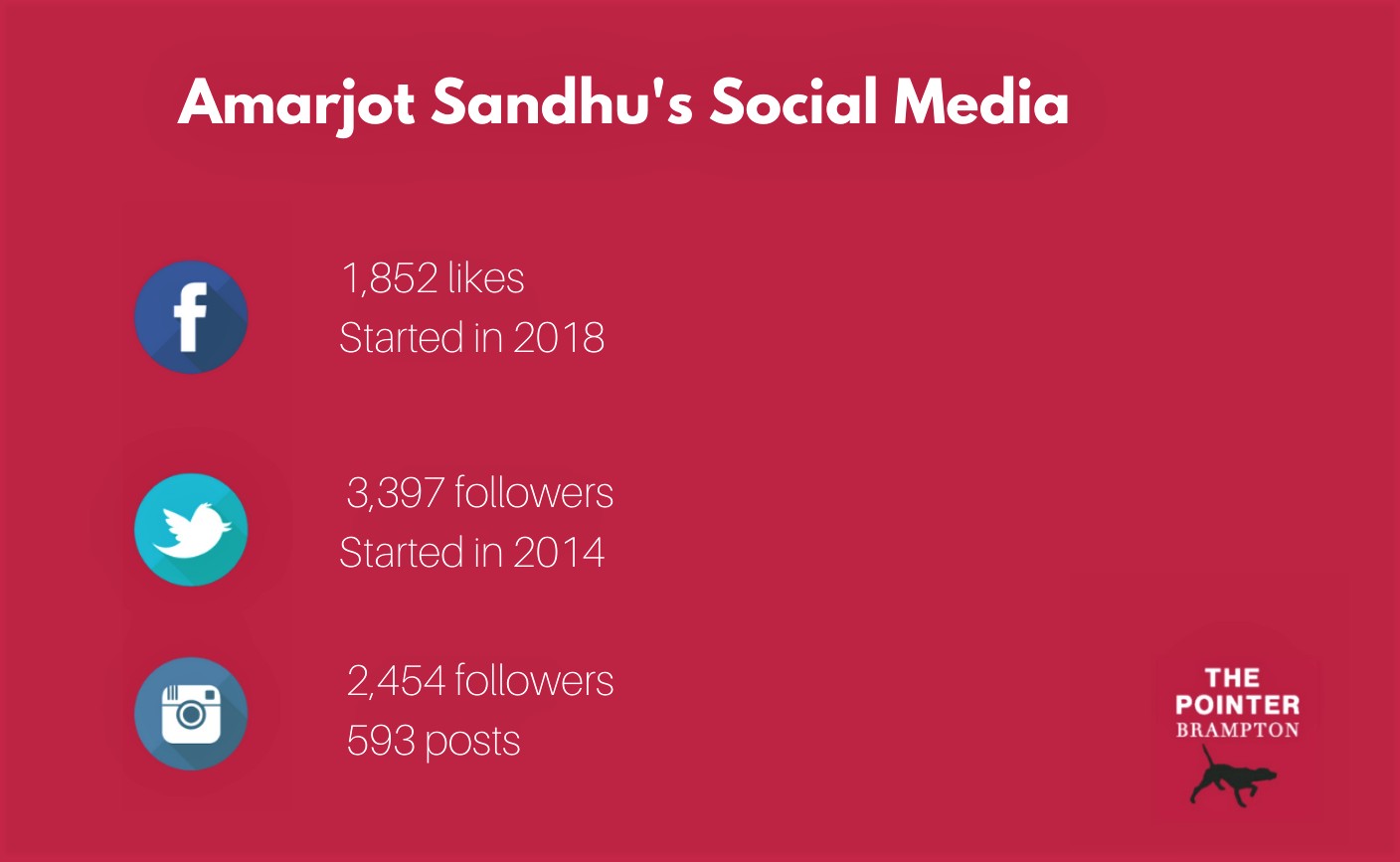 In many ways, Sandhu's social media platforms are brightly lit manifestos reserved only for government messaging peddling the PC view to anyone paying attention. It's a theme his social media pages have represented ever since he got into politics, most evident on his personal Facebook page.
When he was first nominated to run for the 2018 election, at the time under former PC leader and current Brampton Mayor Patrick Brown, his messages were all about campaigning. A majority of his pictures were with Brown, attending religious events and cultural ceremonies. Sandhu used social media to campaign for his seat, posting pictures of cultural gatherings aimed at Brampton's diverse communities.
Older messages were created by Sandhu himself, a task he has been unable to keep up with since being elected. His personal Facebook account mostly reposts items from his official Facebook page as a Brampton MPP. The same posts are shared between all three social media platforms with the same captions.
His verified Facebook account as an MPP shows only one person has access to the page. The Pointer reached out asking about details on how many people manage his social media and how much taxpayer money is spent. Sandhu did not respond.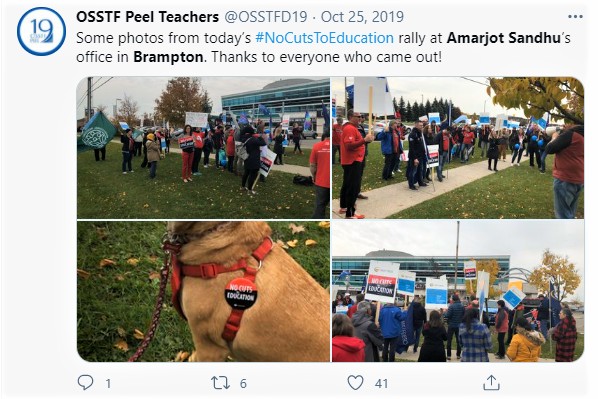 Sandhu supported his party's proposed cuts to education, even though Brampton residents and unions flooded social media with criticism of his decision.
A contradiction of his social media is his advocacy for basic rights in India, while he has completely avoided any mention of pressing issues he can actually vote on, such as paid sick days for the thousands of essential workers in Brampton, which his party refuses to support.
Sandhu is now halfway through his term and soon residents will have to make a choice on who they want in the same Queen's Park seat after the 2022 election. Scouring his social media, examples of posts outlining the needs of his Brampton constituents barely exist, raising questions about his understanding of his role. If his social media behaviour until now is any indication, his constituents might be wondering what they're getting for their taxpayer dollars that fund his activity. More importantly, they're probably looking forward to the chance to hire someone who actually represents and reflects their interests.
---
Email: [email protected]
Twitter: @nida_zafar
Tel: 416 890-7643
---
COVID-19 is impacting all Canadians. At a time when vital public information is needed by everyone, The Pointer has taken down our paywall on all stories relating to the pandemic and those of public interest to ensure every resident of Brampton and Mississauga has access to the facts. For those who are able, we encourage you to consider a subscription. This will help us report on important public interest issues the community needs to know about now more than ever. You can register for a 30-day free trial HERE. Thereafter, The Pointer will charge $10 a month and you can cancel any time right on the website. Thank you.
Submit a correction about this story