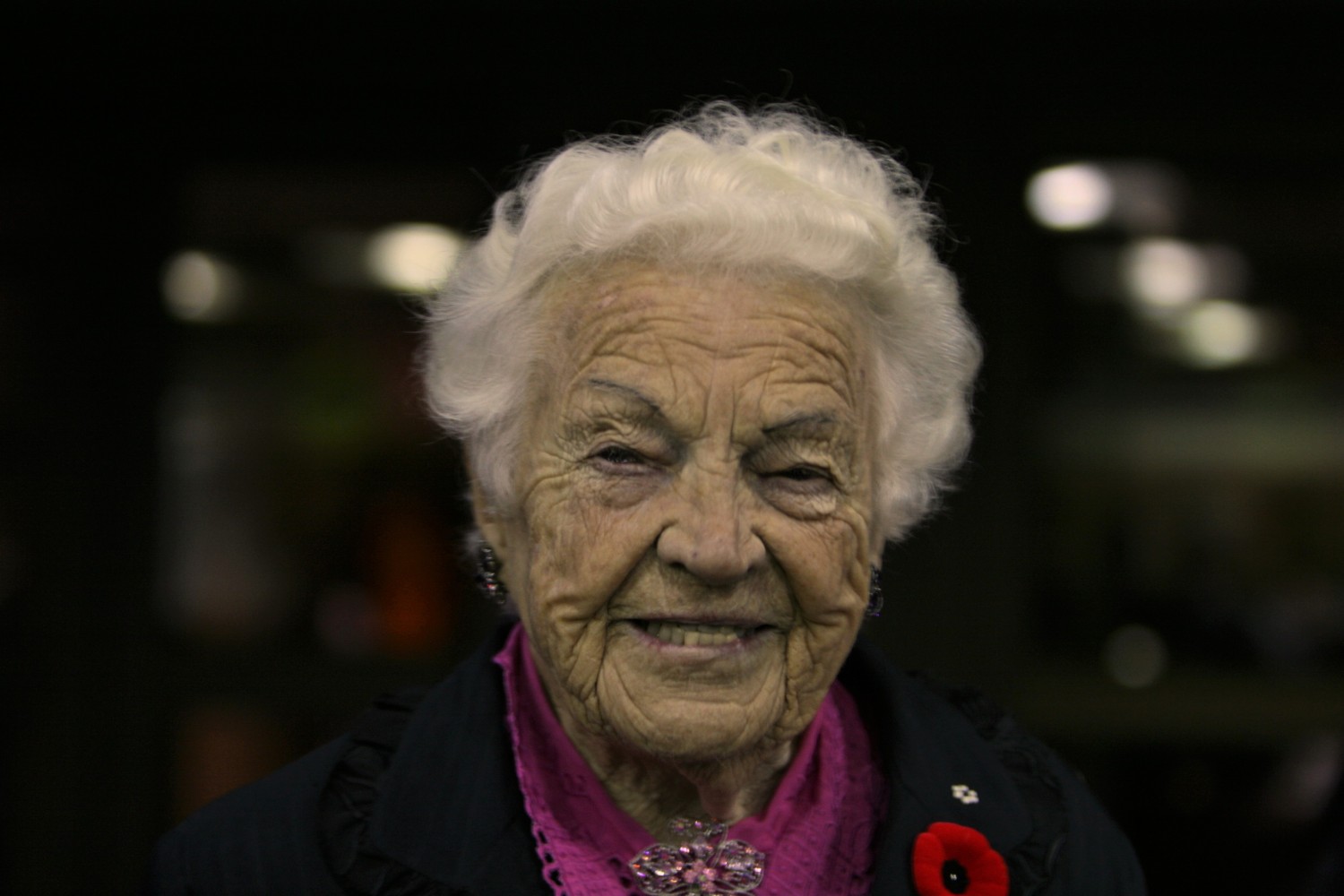 Photos Flickr-Joey Coleman/The Pointer files/PAMA Archives/City of Mississauga
Hazel McCallion: The 'My Fair Lady' of Mississauga politics turns 100
Life moves slowly for some, races by for others. Those who lope through it by embracing no one, accomplishing nothing and seeking only material rewards, are doomed. So said Tolstoy in The Death of Ivan Ilyich. It underscores the dangers of living light, and in the remove. Ivan Ilyich exited the planet haunted by regret.
Others choose to live large, like the father of South African freedom, Nelson Mandela, the multitudinous man. He was the ultimate doer: humanitarian, political activist, writer, philanthropist and leader. He didn't buy the contention that life is a short race. Mandela inspired the world and worked tirelessly at the long game until his death at the age of 95.
Hazel McCallion is still with us – the long game has also served her well over the past 100 years: daughter of a Port Daniel, Quebec, fish canner, a workaholic businesswoman in a man's world with building and engineering firm Canadian Kellogg in Montreal, Quebec City, and Toronto who, at an age when most humans begin to creak and leak and retire to the rocking chair, became a celebrated politician, the longest-serving and most iconic mayor in Mississauga history.
She ran the election tables from 1978 to 2014, winning by pluralities that would make the most brutal dictator blush with envy.
Her lifeline continues to extend because of good genes, a non-stop, work-life balance and a powerful self-regard.
On February 14th, she will celebrate her birthday and Valentine's Day for the 100th time.
The Mississauga Arts Council is streaming a 100-minute documentary in her honour, featuring 160 musical performers from all walks of life. It runs Sunday night at 7:30 p.m. on the MAC Facebook page and YouTube channel. The only thing preventing this from being a live, sold-out show at the Living Arts Centre, was COVID-19.
If Mandela carried a torch throughout his long life, McCallion was armed with a flame thrower. Yet, in the end, both will be measured in deeds done, not time spent. His were monumental, profound achievements that create universal legacies. Hers have been more incremental, local and symbolic, one of Canada's first female political firebrands. She also represented the breaking of barriers and proof that the shattering of glass can lead to greatness.
McCallion was no artist. She was not a visionary. She will leave the planet with no memorable words or phrases trailing behind. She was the ultimate doer. Her sheer will and energy were the force of her strength. The diminutive stature packed a frightening punch. Those in thrall would catch her in mid-step, shoulders rotating, hips rolling, legs bowed as she marched across the floor to the waiting lectern. She would walk like the former hockey player she once was, starring for the Kik Cola team out of Montreal in the 1942-43 season where she was paid $5 a game.
She wore her game-face in everything she did, especially politics.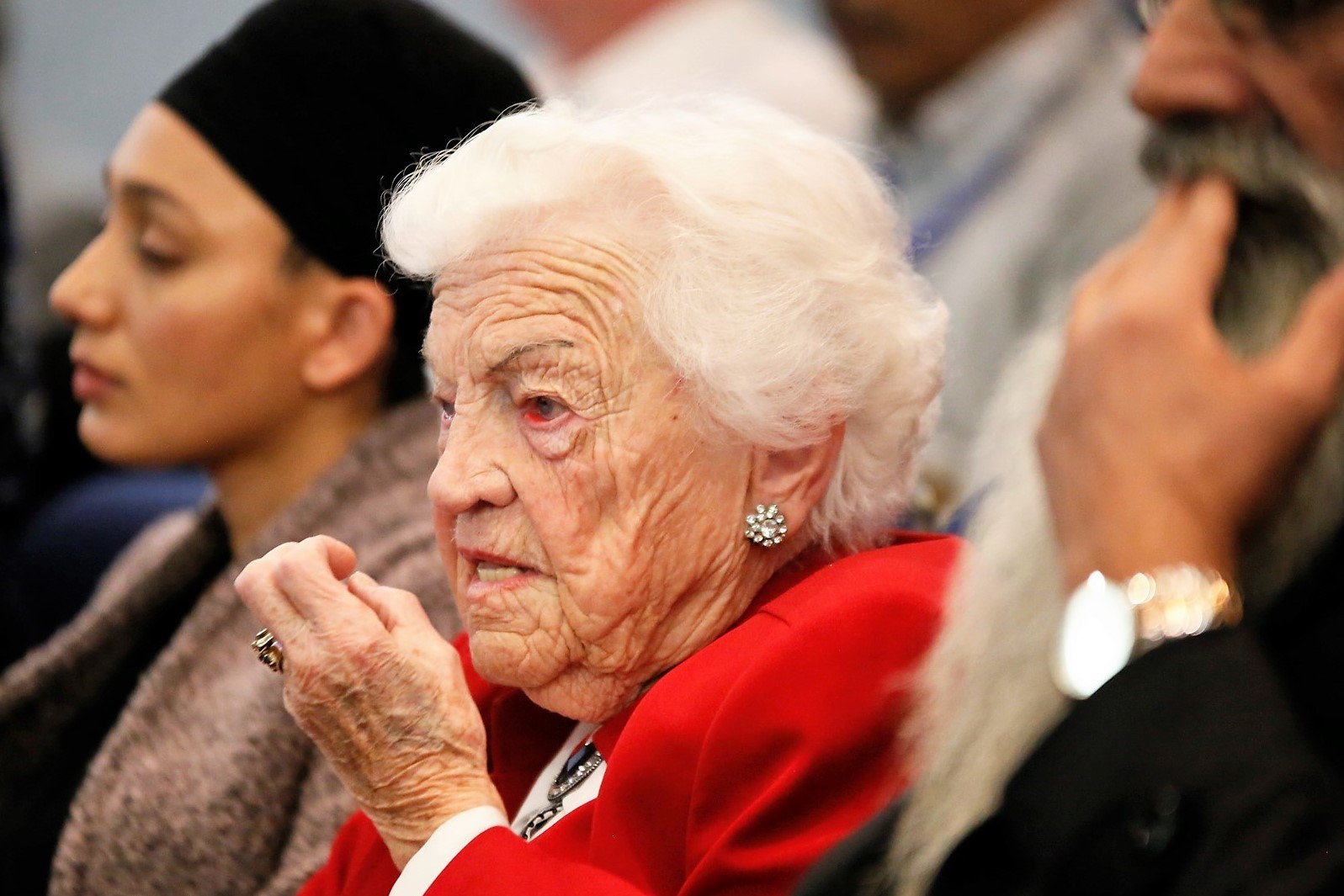 Hazel McCallion attends a Region of Peel council meeting in 2018.
Bob Rae, the former Ontario premier, once called her a "force of nature" and delivered it without affection, but a grudging sense of wonder. Weather is an apt metaphor here, because throughout her life, Hazel could advance from a Category 1 to Category 5 storm in just a few minutes – thus earning her the nickname, 'Hurricane Hazel'.
During her 36-year reign as mayor, she became the "Miss" in Mississauga, the most influential and popular mayor in Canada, maybe the world. Her influence gains even more resonance now because her ascendency in the 1950s, '60s, and '70s, came during an age of militant misogyny, when women in business and politics were few and lightly regarded – the glass ceiling still unbroken.
She was a 'Depression Era' kid, and a woman of her time. We might think her life on the Gaspe´ was part of the lore of the land: troubadours in silk trousers and top hats, playing cabaret in the outposts, while fishermen loaded their hauls on leaky trucks as stay-at-home women prepared meals and took care of the children.
But in truth, it wasn't like that at all. Each of Hazel Journeaux's days had a certain rhythm to it, and she stepped lively to it: school, work, church. She adored her nurse mother, and her hard-working father, who called her Dub. There was no family crest, no official history, just one of the thousands of Huguenot descendants who settled near the Bay of Chaleur, in Port Daniel.
The Journeaux clan were hard-nosed Anglicans, and throughout Hazel's life, faith was her great mollifier. That's how she met her husband Sam McCallion, a tall, rakish, ah-shucks guy, and by trade, a printer and newspaper publisher. They met at a church event in Toronto, married, and moved to the village of Streetsville in 1951, where they raised three children. Then, a strange collision of occurrences set in motion her journey to political immortality.
She eventually retired from work, "accidentally" stepped into local politics, and became the village's mayor. In 1974, regional government turned a community of communities into modern-day Mississauga. She entered the new council representing her hamlet. She had one goal in mind: dismantle regional government. She soon recognized Mississauga was here to stay, and so she challenged the incumbent mayor Ron Searle in the '78 election, setting off an old boys' network, which conspired to upend her candidacy. Her crusty opponent brushed off her chances with a few well-aimed sexist comments, but she surprised him, and everyone else.
She brought a firebrand spirit and a unique vote-gathering ability to the new-look council.
This was the last time she had to run a full-fledged election campaign. Thirty-six years, and 11 overwhelming election victories later, she called it a career, age 92.
Over time, and under her leadership, Mississauga became the sixth largest city in the country, an economic powerhouse: home to seven 400 series highways, the giant Pearson International Airport, and a population that now tips the scales at 828,852. In 2020, the city's gross operating and capital budgets closed in on $1 billion.
She earned her spurs as a populist in '79 when a CPR freight train carrying a deadly payload of chlorine gas (the same used to kill soldiers in World War 1) derailed in the middle of Mississauga, spewing out a giant fireball of toxic gas. The greatest peacetime exodus since Moses left Egypt followed, which was later dubbed the Mississauga Miracle.
Fireballs come in all guises, and this was the best way to describe her and how she would handle the crisis.
McCallion earned her one-word moniker, Hazel, during that fabled November week, and soon became the Little Engine that Could… could save her adopted city from disaster. She quickly went from a Category 1 to a Category 5 critic. She mocked the tepid response by both Queen's Park and Ottawa. She told the railroad industry bigwigs they would never again transport dangerous chemicals through a built-up city. She lobbed a few verbal bombs at federal transport minister Don Masankowski during a heated phone call. She vowed taxpayers would not pay a cent for the massive clean-up, and all the parties concerned would compensate Mississaugans for this massive inconvenience. The higher ups in the government halls and the C suites at CPR headquarters, had never seen the likes. The Big Mac attacks forced them to bow to her as if they were foreign courtiers addressing an all-powerful Queen – which proved to be the case.
The media was drawn to her like moths to light. She delivered straight from the hip, in no-bull language, and she didn't do spin. Her assessment of the situation was blunt and spot on, and her age, diminutive status, and grandmotherly countenance hid an inner strength, a pathological need to do battle. She had the fortitude of a heavyweight champ. It wasn't long before she started throwing haymakers at the established order – which kicked-off a life-long ability to play against type.
She gathered something rare in politics, not unlike the energy that currently holds America's right-wing political and corporate class tightly to Donald Trump: unconditional support.
She quickly became so popular that the powerful party machinery, instead of doing what it does to so many neutered mayors, was in her palm. If the government in power at Queen's Park or Ottawa dared playing games, threatening the curtailing of funds and favours if she didn't toe their line, she would not only cut them off from her city, her increasing popularity would be used to damage them more broadly.
She had zero interest in the sycophantic, old boys club of party politics. She was her own boss. "I could never toe the party line. I'd wear out the carpet crossing the floor," she said.
She dropped the gloves with Bill Davis, premier of the province, and the father of regionalization. She used attorney general Roy McMurtry as a punching bag. She derailed the railroad executives every time they stammered about paying for the clean-up following the disaster. She wondered why the prime minister at the time, Joe Clark, didn't travel to the scene, assess the damage, and offer up solutions. He lacked the instincts to lead, she thought and her analysis proved right. Joe Who was soon turfed from office.
As rail officials and government types and more old boys rushed about the scene to take over operations and handle the clean-up, holding hush-hush meetings, the newly minted mayor was standing before the thirsty gods of news, some from as far away as France, and wagged her finger at these secretive cabals.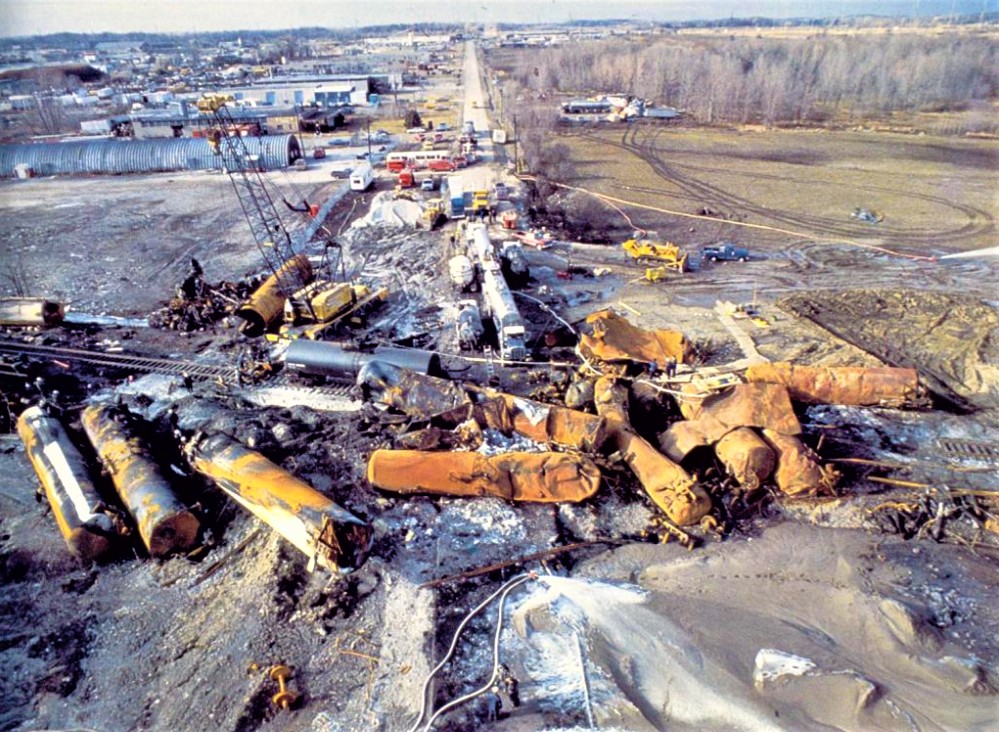 McCallion received international attention for her handling of the 1979 rail disaster.
She eventually got her wish, and the laws for transporting dangerous chemicals were changed.
The "Hazel factor" was now a thing, a mix of transparency and action. She quickly seared herself into the collective consciousness of Mississauga taxpayers, and became their Horatio at the bridge.
Author Walter Kim said populists change sensibilities and the standard rules of play. They are the "paragons of democratic self-invention, the anti-phonies who tell it like it is" – even when others say it isn't. This is right from the grassroots, in words and ways, he added.
It was easy, in a way, for Hazel. While snivelling men disguised as leaders, beholden to their feverish power lust, toppled one after another – and still do – McCallion grew in stature and strength with every year that passed. Let the men play their pathetic games. She would do the leading.
Brusque. Brazen. Scary smart. A hide thick as a rhino's. And a memory longer than an elephant's. Over a short period of time (so quickly, it took everyone's breath away), she became the great slayer of shibboleths, a woman in full. Her acidic zingers were aimed squarely at political elites and the uppity ups in business with their diamond-encrusted pay packets, and their moral failings. She was quick to upbraid the media, too, and her own council. Anyone who "didn't do their homework" was the target of her scorn.
Those who did the dirty on her city, would get her dead-eyed stare – a look that could melt metal. To her way of thinking, the customer (taxpayer) was always right. She learned this running her dad's retail store at age 10. It was a bravo performance.
Her phrase, "I can assure you…" was an early-warning signal that she was about to upend another applecart. When she spoke, the cameras rolled, and the news media took copious notes.
Yes, fireballs come in different guises.
Like any 36-year career, the Hazel McCallion file comes replete with highlights and lowlights. There are hundreds of examples of both, which this author covered over her career. The incident below isn't a seminal one, but indicative of her substance and style. This maverick approach endeared her even more to followers.
In 2009, during the economic meltdown, some of this country's key decision makers gathered inside a boardroom at the Mississauga Board of Trade, where guest speaker Tony Clement, then a well-regarded cabinet official in the Stephen Harper government, would speak. The topic was the fallout from the meltdown, and the mayor was welcomed along to observe, perhaps speak at the end.
Clement talked about how his boss, Mr. Harper, wouldn't over-react to the current economic calamity – not like the Yanks, not like Obama. He poured out his spin, telling the business crowd what they wanted to hear: his government had shrunk the deficit and reduced corporate taxes. Every tired talking point designed for the roomful of zombies, almost all men, fell out of Clement's mouth.
The mayor sat still as a stone, then seemed to grow more irritated as he carried on. She appeared much like the woman in Robbie Burns' epic poem Tam O'Shanter.
"Gathering her brows like gathering storm,
Nursing her wrath to keep it warm."
To those listening, Harper's plan seemed the right response. Clement touted Canada's assets: the lowest corporate tax rate of any G7 country. The MBOT crowd broke into applause as he dropped even more bon mots. This had the feel of a major love-in because the Harper Conservatives were simpatico with the pro-business attendees. Even Hazel had famously said during her long career that she would do cartwheels to bring business to her city.
Then Clement closed, and Hazel had the floor. Eyes shifted to the great dame. She cast a withering glance toward Clement, started rather slowly (Category 1) but soon the storm clouds appeared, and the high winds.
She said… "I can assure you…"
The rest was a blur. She said the PM's response to the economic downturn was "pitiful". She asked Clement if his boss really believed in democracy, and if so, why would he try to introduce something to cut off funding to opposition parties – as he did (through finance minister Jim Flaherty) in his pre-budget presentation? Is he trying to be a dictator? Said Hazel, more forcefully, referring to the prime minister: "He's on a political ego trip." She then focused on his recent plan to add 18 new senators – a vast majority of them Conservative flunkies. "This guy doesn't get it," she said, shaking her head toward a room filled with many looking unnerved. Harper lacked the leadership – or the moral authority – to get Canada through this economic mess, she said. Ideologues shouldn't play petty politics with people's lives, and he [Harper] better "smarten up," she added.
She coated each word with righteous indignation, and said in these trying economic times, people need help and compassion. Hell, she noted, even Harper's own mother had to point out to him the economic realities of today's world. The mayor expressed her frustration with the arrogance and inactivity of the current party in power and didn't give a tinker's damn if she was offending anyone.
She finally took a breath, gracefully thanked Clement for his work when he was health minister during his time in the Ontario government, as it fought off the SARS crisis, then quickly followed by giving him his marching orders to take back to his boss in Ottawa. Tell him to "lead," she said. Tell him to give a hand-up to those trying to hold on to their homes. Tell him to show he really has a pulse, and a heart. Tell him to start make-work projects like fixing our crumbling infrastructure. If deficit spending is good enough for others, it's good enough for us, she exhorted.
Hazel was being Hazel. And Clement was being Clement when he said he would deliver her message ASAP. What was supposed to be a gathering of the herd to drink at the water hole of Conservative orthodoxy, became another Hazel moment.
Her political career is so long, it's impossible to synthesize it here. Her manner was brusque, but her message was clear: politicians serve at the behest of the people, not the other way around.
---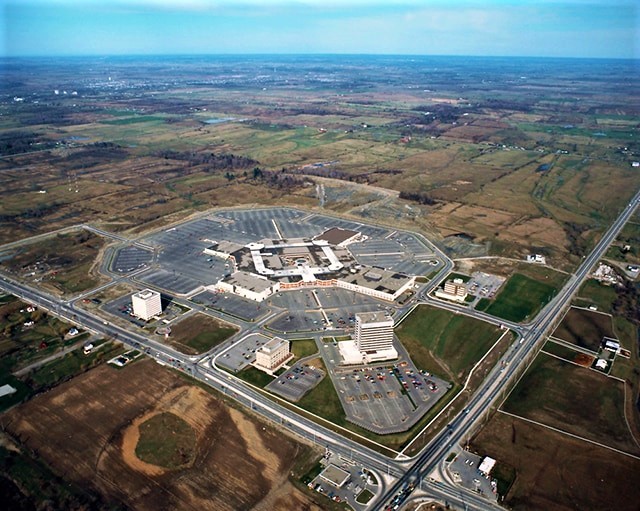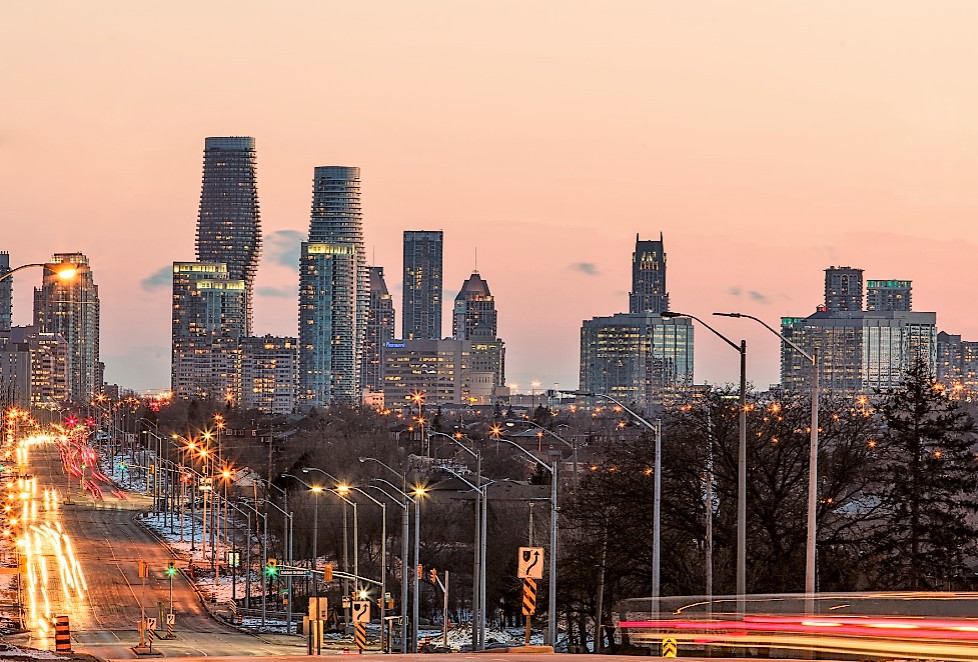 Downtown Mississauga around the time McCallion became mayor, top, and when she left office four decades later.
---
Her popularity never dimmed, even after two judicial inquiries questioned her dealings with local developers, the last one coming in 2010 in which it was said, she had helped her realtor son Peter try, unsuccessfully, to carve out a lucrative deal with her assistance.
A judge's ruling, that she had violated common law principles when lobbying secretly to get her son the potentially lucrative deal, after evidence in the inquiry revealed her heavy-handed manipulation of City staff, damaged her legacy.
It was the sad outcome after decades of unyielding fealty.
Sure, there have been other monikers attached to her: The Mississauga Rattler, The Queen of Sprawl, and Attila the Hen. Toronto councillor Howard Moscoe once confronted her in a dispute over bus access to a TTC stop in Etobicoke, calling her a "nasty, brutish autocrat" who oversaw a "supine" council.
Some thought she couldn't abide criticism, especially from fellow Mississauga council members. She bristled at the prospect of dealing with renegades like Larry Taylor or Carolyn Parrish. The 'Group of Seven' who took her on during the Mississauga Inquiry of 2010, were rogues, and a suspect bunch, in her mind, not the "supine" types she was most fond of, who brought forward the concerns of their ward, then left the heavy lifting to their mayor.
Were Father Time and Mother Nature taking note, and determined it was time to wrestle her into submission?
When famed British director Michael Winner once quipped, "A team effort is a lot of people doing what I say," he could have been referring to her brand of politicking. Despotism – enlightened or not – is a very good thing when it comes to moviemaking, but not so much when the talk turns to democracy, or running a city.
The 2010 inquiry bookended another one in the early '80s, when the mayor violated The Municipal Conflict of Interest Act. But a ruling by Judge Ernest West allowed her some serious wiggle room: although she violated the Act, he said she made a "bona fide error in judgment." That little piece of legalese saved her political skin. It allowed voters to rule on her competency to hold office, wrote Tom Urbaniak in his book: Her Worship: Hazel McCallion and the Development of Mississauga. In the next election, the voters were so mad over the effort to waylay their leader, they returned her to office with another massive mandate.
The downside to the city's giveaway of democratic oversight began to show, across Mississauga. McCallion didn't even run election campaigns. She won elections with more than 90 percent of the vote. She literally told residents lining up to show their unflinching loyalty that instead of sending campaign donations for a non-existent campaign, they should give their money to a local charity.
Hubris set in. How could it not. She was the beloved Queen of Mississauga.
McCallion gained much of her unwavering support through a failed taxation policy the city still hasn't dug itself out from. To give her residents (her followers) the break they so deserved, property taxes were frozen. She did this by letting fees from builders, known as development charges, offset revenues that should have come from the property owners who benefitted from all the services and infrastructure that made Mississauga one of the most desirable suburbs in Canada.
Its build-out from a collection of small townships and hamlets was effectively handled by developers, who were given free rein in exchange for the revenues that kept taxes frozen for decades. It made McCallion wildly popular and fuelled her cultish following.
Unfortunately, it led to her biggest failing. Planning in the city was a disaster. Sprawl and urban design built around the car were the result. Transit was ignored and developers were given far too much power. Her cozy relationships with these men were easily cultivated by a woman who knew exactly how to deal with them.
But she lacked the vision to understand the long-term consequences. The infrastructure was brand new, manicured boulevards that looked straight out of Disney World and streets covered by fresh black asphalt. But what would happen when it started to crumble and the builders had moved onto the next undeveloped municipality, like Hollywood aliens that hopscotch the universe looking for the next planet to drain.
The city she helped build in the late 20th century looks somewhat ill-conceived now, a messy agglomeration of housing projects and Big Box malls. The Hazel way – her way or the highway – was either something to behold, or something to dread.
Bonnie Crombie and the rest of council, working with an impressive staff inside City Hall, are working feverishly to transform Mississauga from what Hazel let the developers move on from.
She understood she wasn't cut out to operate in the confined world of party politics, although it was a lay-up that if she ran for premier of Ontario, she would have won a landslide – whatever party she headed.
---
"I could never toe the party line. I'd wear out the carpet crossing the floor." — Hazel McCallion
---
Her political leanings were as tangled as a plate of spaghetti: fiscally conservative, liberally inclined, and socially progressive. Hard work and clean streets, public safety and community spirit, with a gradual embrace of the shifting demographics that her pro-developer attitude helped create, perhaps inadvertently.
This range of preferred social and public outcomes showed its face in the 2018 provincial election when she backed Doug Ford for premier, while also supporting Charles Sousa, her friend and MPP for Mississauga South.
If anyone could bottle what made her tick, there would be no need for old folks' homes, or universal healthcare. By the end of her political run, in her early '90s, it was clear to all observers she could have kept going for another decade, at least.
She wasn't a political diva, but a woman rooted in her upbringing, and driven by fiscal prudence. But she was also all-in on unfettered development (sprawl) gridlock, and her chumminess with developers swam against the tide of public sentiment.
She presaged the feminist movement, and although she shattered the glass ceiling for female politicians, she never was entirely comfortable leading the charge to equality in the genders. She was so deeply rooted in industry and the building sector, she failed to capture the danger it held to those pushing for a green agenda and equity for women. Most Mississauga voters beatified her as a saint, the grand dame of politics. But to others, she was the evil Madame X.
Mississauga was a reflection of her – which was both good and bad.
Author John Irving once said, "If you don't have enemies, you haven't lived."
Hazel said she stood as much for the owners of Papa's Pizza Emporium, as the CEOs of Fortune 500 companies.
Still, she was no futurist. She didn't see how sprawl, gridlock or tax freezes could one day come back on her, and put the city in a financial bind.
But unlike so many mayors today, who use the office as nothing more than a stepping-stone and push short-sighted policies just to get populist support for their next political leap, McCallion was all about leading her city. She was all in for Mississauga.
The 2010 Judicial inquiry didn't crush her but seemed to diminish her hold on the high ground of local politics. Maybe it sped up her decision to retire before the next election. The fin de regime came in 2014.
In her post-political life, she remained on a dead run, a must-have as a public speaker. She continued to raise money for her charitable causes. She accepted the job as chief elder officer for Revere, the owner of private Long Term Care homes. It was one of the for-profit companies highlighted during the pandemic for its iffy results in stopping the onrush of COVID-19.
Even at her advanced age, she remains the subject of praise and criticism.
She has been feted, fried, and fricasseed in equal parts by her fans, the media and critics, but as she hits 100, she is still standing, undaunted, unbowed, and very much the product of her times.
There's something special about those who have lived through tough times, the Great Depression, a world war. They are now referred to as the "Greatest Generation".
She's got common sense, said one of her fervent followers when she was still in office. These kids today, they send them off to college to knock the common sense out of them. Hazel is like me, he said.
She is a lot like the people who voted for her – driven by her values that, in her case, were set in place starting 100 years ago.
Even the cancel culture-crowd can't deny her impact on Mississauga.
Her political philosophy was blunt, and unmodern: "Think like a man, act like a lady, work like a dog."
She rode the rails of fame during and after the derailment and packed on more public support when she ran Mississauga by fiat after pushing through tax freezes. We're debt free, and flush with cash, she told her voters. No wonder she was beloved, and unbeatable at the polls.
Yet, when she announced she was leaving her perch at the top of the political tree before the 2014 municipal election, her legion of followers couldn't conceive of a city where she wasn't its chief executive. What will we do? How will we cope? Who can replace her?
Even icons have their day.
Hazel was born on the same year the Irish Free State came into being. Banting and Best had just discovered insulin. Mackenzie King was prime minister and the "Roaring 20s" was about to explode.
She "roared" into life, and kept roaring into old age.
She was raised in a province where women were still a generation away from even getting the vote, but when she ran, records for vote-getting fell and they will probably never be matched in municipal annals.
It's been said, you can tell how a play will end by its very first act. George Bernard Shaw's Pygmalion was eventually adapted into a more popular Broadway musical, My Fair Lady. It was the story of a woman's transformation.
It launched on stage in 1913, seven years before Hazel McCallion was born. It tells the story of Eliza Doolittle, elevated from her simple status as a flower girl into the life of elites as part of a wager between two men. Eliza eventually proves to be her own person, all too familiar with the dehumanizing world created for women.
McCallion never took up the cause, but she lived a life too powerful for the chauvinists to sideline.
The little girl who helped out with her family business and went on to a successful career in the building industry, transformed into a political dynamo late in life. She proved to be the Eliza Doolittle of politics, a little rough around the edges, but beloved, feared and admired by followers and those who stood in her way.
To so many, she will always be the 'My Fair Lady' of Mississauga politics.
---
---
COVID-19 is impacting all Canadians. At a time when vital public information is needed by everyone, The Pointer has taken down our paywall on all stories relating to the pandemic and those of public interest to ensure every resident of Brampton and Mississauga has access to the facts. For those who are able, we encourage you to consider a subscription. This will help us report on important public interest issues the community needs to know about now more than ever. You can register for a 30-day free trial HERE. Thereafter, The Pointer will charge $10 a month and you can cancel any time right on the website. Thank you.
Submit a correction about this story