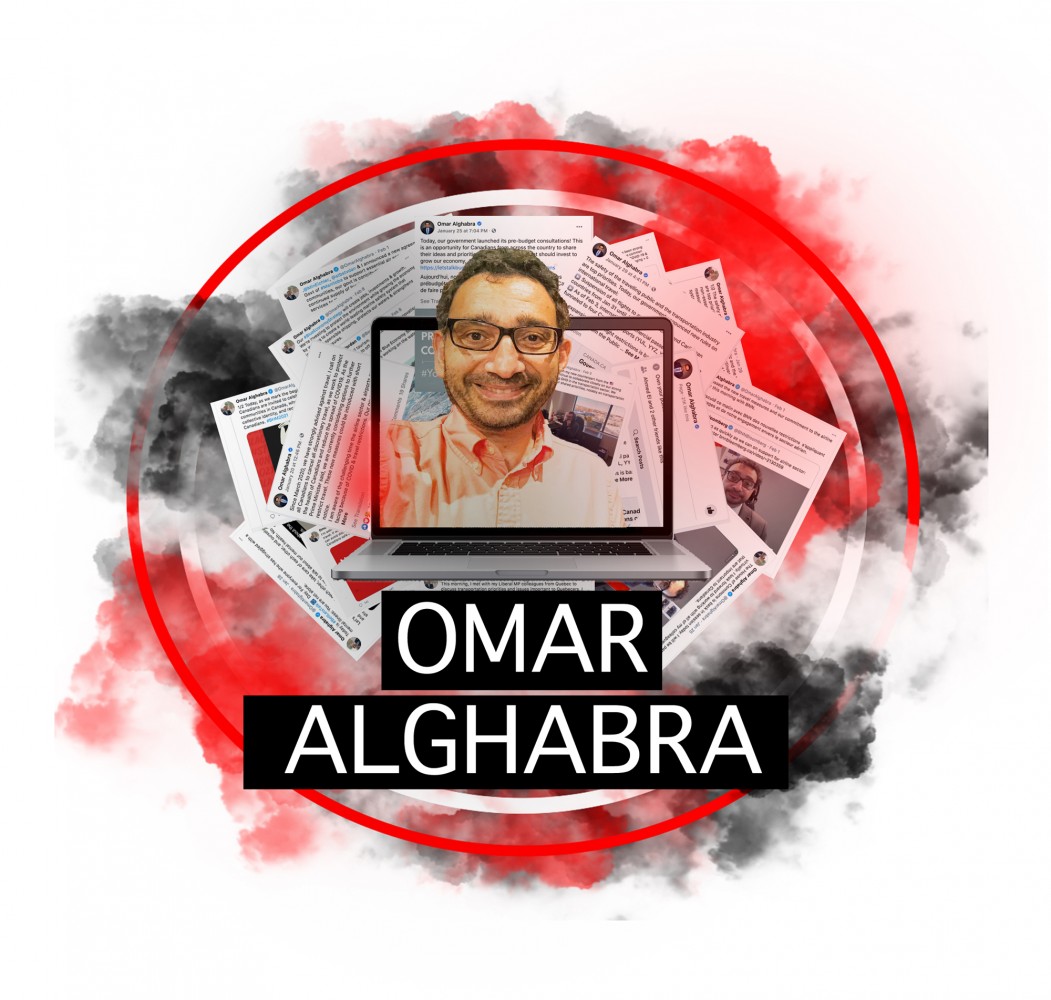 Graphics from The Pointer/Photos from Twitter-Omar Alghabra/pngtree
How hard is Transport Minister Omar Alghabra working to stay connected to his Mississauga constituents? 
The Pointer's Social Media Monitor is a weekly look at how elected officials and other public civil servants are using their taxpayer-funded resources to shape digital communication aimed at constituents. We feature one public figure each week.
---
On January 20, Omar Alghabra's Facebook page learnt to speak French.
A lengthy post warning Canadians that Ottawa could impose new travel restrictions without warning was written in both of Canada's official languages. It was the first indication the Mississauga Centre MP was transitioning into his new role as Canada's Minister of Transport.
The change in Alghabra's social media presence after his January 12 appointment to cabinet illustrates an interesting phenomenon. Many senior cabinet ministers find themselves consumed by their government responsibilities and struggle to work as directly or effectively for the people who elected them in the first place.
Since his elevation to the top table with Prime Minister Justin Trudeau, Alghabra has rarely mentioned Mississauga on Facebook, Instagram or Twitter. The MP's accounts rapidly transitioned from those of a local constituent politician providing retail service to his riding, into a booming voice for the policy pillars of the minority Liberal government.
A post in both of Canada's official languages was an early indicator of Alghabra's elevation to cabinet.
Recent posts on Facebook have promoted a call he had with his United States counterpart, Pete Buttigieg, a plan to produce vaccines in Montreal and pre-budget consultations. Even in a recent video, charting his political journey from his first election victory in 2006, Alghabra mentioned Mississauga just once.
It's not like there haven't been opportunities. A post about Black History Month, for example, offered a perfect moment to reflect on a year of change and turbulence at the Peel District School Board, after a provincial supervisor was sent to the board to help dismantle a legacy of anti-Black racism cultivated under a dysfunctional board of trustees. The plight of Malton's Black community, ravaged by neglect and calling for police reforms could have garnered a mention. A separate post, regarding Bell's Let's Talk campaign, could equally have drawn on countless local examples.
Instead, the Mississauga Centre MP's social media presence is now geared toward Canadians. It rarely talks to those whose postcodes mean Alghabra represents their voice in Ottawa.
Even before his new role, Alghabra was an MP more interested in the big picture than specific local issues. An analysis of his 2015-2019 term showed he spoke the most regularly of all Mississauga MPs in Ottawa aside from Navdeep Bains, former minister of innovation. But, during that time, Alghabra's references to Mississauga usually focused on either events or people of note from the city, such as tennis star Bianca Andreescu. The MP more often talked on foriegn policy issues or debated government policies in the house.
Alghabra's international vision, and ties to the Middle East through his Syrian origins, were recognized at the beginning of 2020. After the tragic downing of a Ukrainian Airlines flight over Iran, Trudeau chose the MP to take a lead on Canada's response.
He showed that he can communicate on the issues he feels passionately about, with a professionally produced video on January 8, discussing the one-year anniversary of the tragedy. "My thoughts are with their families and loved ones," he wrote, only in English. "Canada continues to stand by you in your grief and pursuit for justice."
In his role as an MP, before he was given the Transport portfolio, Alghabra relied on professionally produced videos to communicate his messages across social media. He rarely posted content that looked fresh from his own smartphone, with editing regularly apparent and effects such as captions, transitions, title cards and cover shots (b-roll) used.
In December 2019, Alghabra's Facebook page even promoted one such video using the platform's advertisement feature.
The video piggybacked on a trend called 'mean tweets', where celebrities read out online abuse they received from anonymous trolls and members of the public. There are some benefits to this, including shining a light on the toll such messages can take on the mental health of public figures, but paying to promote the tweet suggests engagement was the motivation.
It is unclear if taxpayer dollars or campaign funds were spent on the video, which was posted to Facebook by Daniel Kucirek, listed online as a parliamentary assistant for Alghabra.
A screengrab of Alghabra's "mean tweets" video.
In total, five different people contribute to running Alghabra's Facebook page, which was started in 2008. Alghabra cancelled an eight-minute interview with The Pointer on February 4, with social media the agreed discussion topic.
"Social media has become a powerful communication tool for the federal government to stay connected with people from across our country and around the world," Allison St-Jean, a press secretary for Minister Alghabra's office, wrote in a statement to The Pointer. "In the era of COVID-19, as we all do our part to slow the spread by staying at home, we're turning to digital platforms, alongside mainstream media, to keep ourselves informed, connected and safe. Minister Alghabra's commitment as an elected official is to continue to utilize his social media platforms to share progress on the work being done by the Government of Canada for the people of Mississauga Centre and all Canadians."
St-Jean did not answer four questions about staffing and costs of social media. The statement only responded to a fifth question asking about Alghabra's "personal philosophy" about how social media should be used.
The MP's expense report for the second quarter of 2021 includes several entries which could relate to his social media accounts. On the first of June, July, August and September, Alghabra listed $100 in payments to NGP Van Inc. for "professional communication services". NGP Van includes social media integration among its list of services, with "advanced social matching" and "social share tracking" as two features.
"With Social Matching, any supporter record that has an email address is automatically matched to nearly 100 different social networks — including Facebook, Twitter, and LinkedIn," the company's website explains. "Identifying your most influential supporters, en masse, has never been easier."
Alghabra also includes payments of between $85.40 and $150.04 to NGP Van for licence fees for "application software and application development and delivery software". At the beginning of September, he paid $2,500 to MaxTV Media (a company that appears to deliver advertising within condominium towers) for a "communications officer".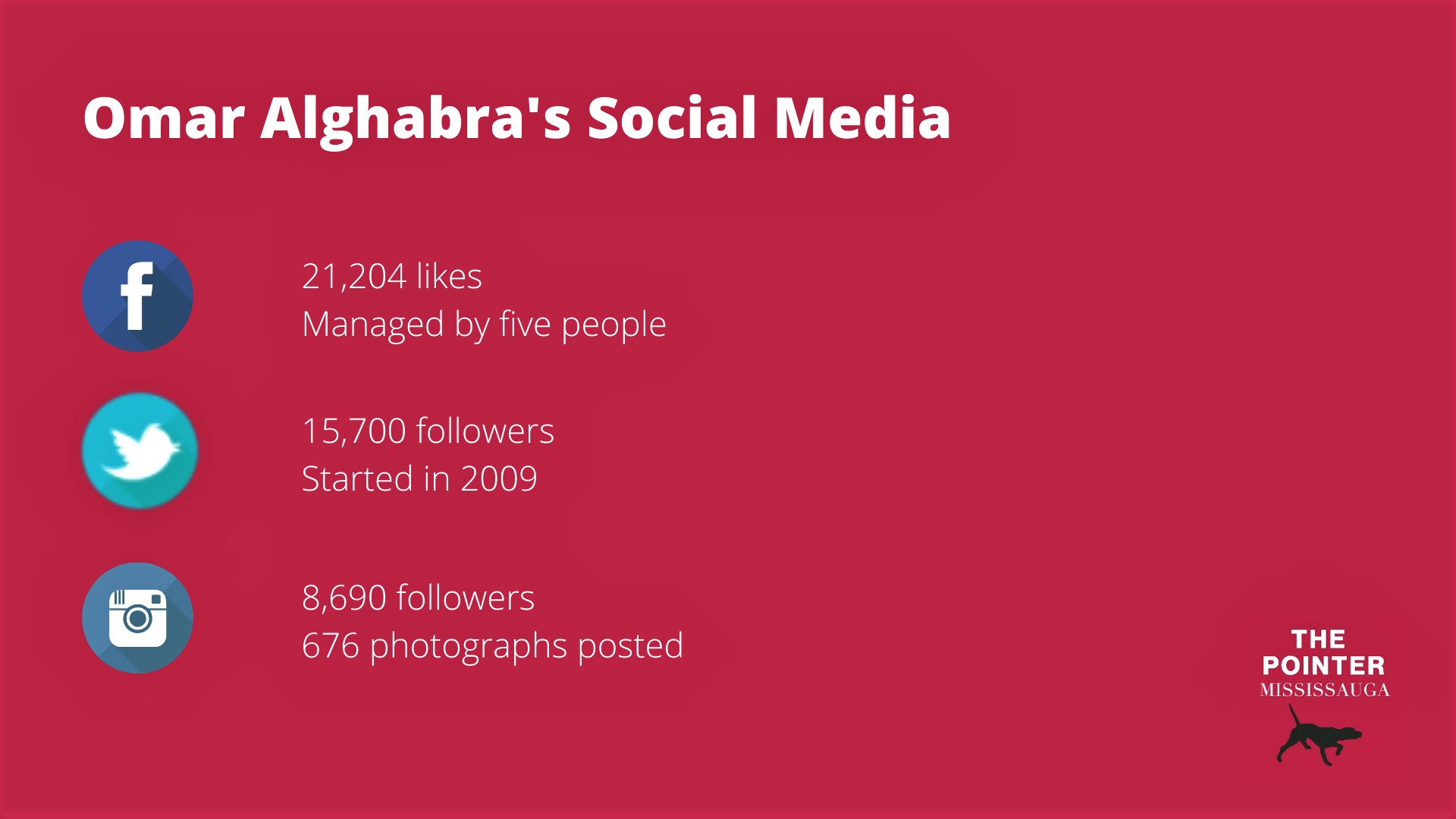 Alghabra seems to be personally a little more active on Twitter, but the MP underwent the same transformation in the Twittersphere as he did on Mark Zuckerberg's platform.
On Twitter, a blizzard of official announcements in his role as Minister of Transport have been issued in French and English, punctuated by tweets more likely to be coming from Alghabra's own thumbs. The day-to-day happenings of Mississauga features little more on Twitter, including a retweet for Mississauga Board of Trade vice president of government and stakeholder relations, Brad Butt, PDSB and 'liking' a tweet from City of Mississauga staffer Rob Trewartha.
Interaction remains relatively limited, but there is more evidence of spontaneity compared to a Facebook and (limited) Instagram presence, which appear coordinated from beginning to end.
The decision by Alghabra's office to utilize his social media accounts to amplify messages relating to Transport Canada is logical at first glance. He is the minister, after all. The issue is, it drowns out all messages relevant to those who want to know what their local MP is doing for them. The fact Transport Canada has its own Twitter account with 110,600 followers and a Facebook page, which it shares with Infrastructure Canada, liked by 36,406 people, makes the use of the MP's channel more confusing still.
Alghabra's transition to Minister of Transport instead of MP for Mississauga Centre is not unusual. For a government with aggressive climate strategies and visions of an environmental future, transport is a particularly important portfolio. There are only so many hours in a day, so it is not surprising constituency staff takeover many of the day-to-day issues in his backyard.
Innovative social media could be used to bridge this gap, ensuring an especially busy MP and Minister can still be available to converse with the people who elected him. Private Facebook groups, for example, could be managed by staff to create a virtual meeting room only attended by those who live in Mississauga Centre. A virtual door-knocking or hustings, of sorts.
Setting up and maintaining such a group would take significant staff resources, but the MP's expenses and professional videos suggest that is already happening. Redeploying social media efforts, could allow staff to vet applications to a private Facebook group and ensure they are located in Mississauga Centre. Using a personal account or his page, Alghabra could then solicit opinions from his residents on broad federal policy or local issues using features including comments, Facebook Live or polls.
Whatsapp groups also offer a similarly popular option to communicate directly with those constituents relied upon when theirs are the only votes that count.
Since winning election for the first time in 2006, before he had even set up his current Facebook page, Alghabra has been a big-picture MP. International relations, the stability of the world and how dollars flow to major projects are a major focus; he's an ideal candidate to be a senior federal minister. That doesn't excuse him from communicating with his residents — the people of Mississauga Centre deserve direct representation as much as their neighbours.
If Alghabra was to reallocate some of the time and energy he spends on professionally polished video content and open his online profiles up to hardworking Mississaugans, he could give them an extremely powerful voice in Ottawa.
---
Email: [email protected]
Twitter: @isaaccallan
Tel: 647 561-4879
---
COVID-19 is impacting all Canadians. At a time when vital public information is needed by everyone, The Pointer has taken down our paywall on all stories relating to the pandemic and those of public interest to ensure every resident of Brampton and Mississauga has access to the facts. For those who are able, we encourage you to consider a subscription. This will help us report on important public interest issues the community needs to know about now more than ever. You can register for a 30-day free trial HERE. Thereafter, The Pointer will charge $10 a month and you can cancel any time right on the website. Thank you.
Submit a correction about this story