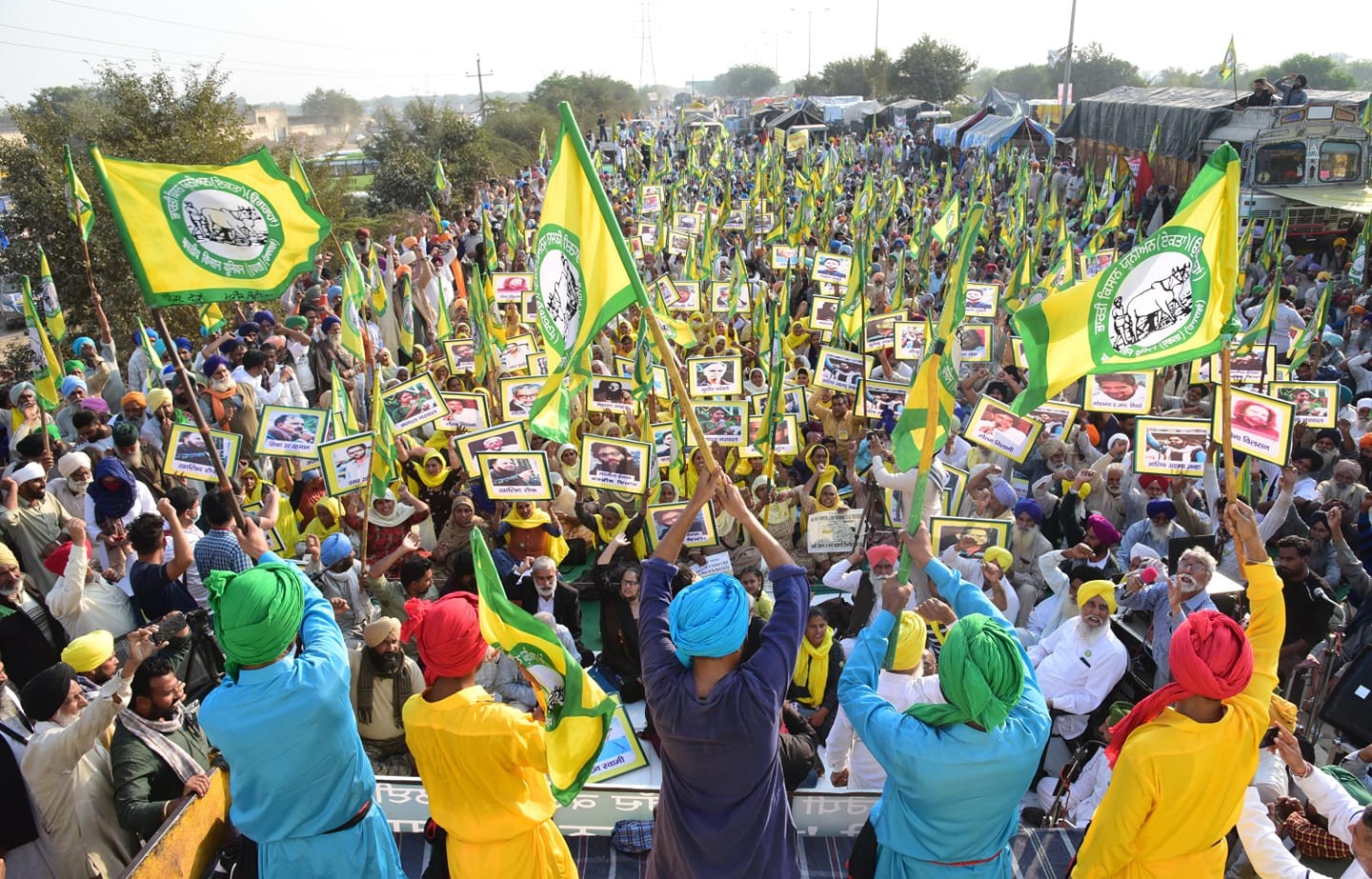 Photos from Twitter/YouTube-BBC/Wikimedia Commons-Randeep Maddoke
Sikh identity at the heart of Brampton & global movement against India's farming reforms, as Modi government uses anti-democratic crackdowns 
In the village of Ghazipur on the eastern edge of Delhi, the teeming capital of the world's largest democracy, residents gathered last week on tractors, in cars, or walked on foot in the latest round of protests against India's controversial new agricultural policies.
Images from Business Insider India show a bird's-eye view of scores of people hoisting the country's green, white and orange flag in one of many coordinated protests moving together in an escalating show of defiance.
The Hindu nationalist BJP government led by inflammatory Prime Minister Narendra Modi, has taken draconian action against those frustrated by three recent pieces of legislation that many feel will ruin family farm operations that have been the breadbasket of India for centuries.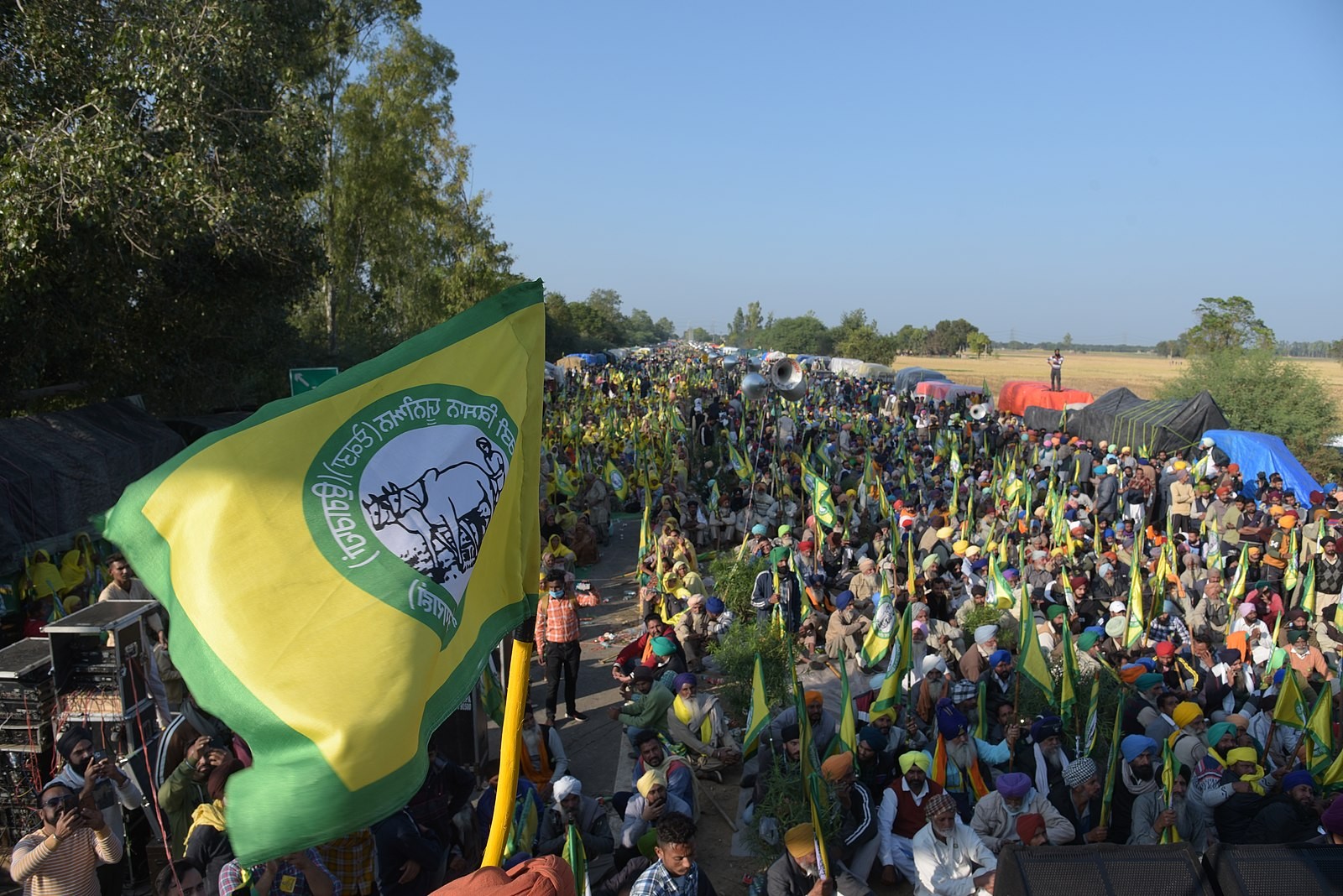 Scenes from the protests in India, which have since spread across the globe.
Freedom of expression is now being overtly stripped away, as journalists have been jailed for reporting that a Sikh farmer was shot by police while protesting. Modi's government this week cut off internet access for millions of citizens and his party allies who run two states have threatened that anyone using social media to publish "anti-national" posts could be denied passports and would be barred from government jobs, according to reporting by the New York Times.
Princeton University history professor Gyan Prakash told the Times "the B.J.P. onslaught is... more damaging to whatever remains of democracy in India" than widespread civil unrest that swept across the country in the '70s.
The Times described his characterization of the Indian government's actions as the "dismantling of the pillars of democracy under Mr. Modi, from the coercion and control of the mainstream media to influencing of the courts."
Sikhs have traditionally farmed much of Punjab, the northwestern state that produces the largest per capita amount of food in the country. Staples such as wheat and rice, along with a variety of other crops and vegetables are grown throughout the same area where most of Brampton's Sikh community trace their roots to.
More than 11,000 kilometers away from the protests against sweeping Indian policies that could make it difficult for small, family farmers to compete against large corporate players in the growing industrial agricultural sector, many in Brampton's large Punjabi-Canadian community are growing increasingly concerned by the heavy-handed show of authoritarian might against peaceful demonstrators.
Thousands of families in the city have relatives who rely on farming back in Punjab, where the vast majority of India's Sikhs live.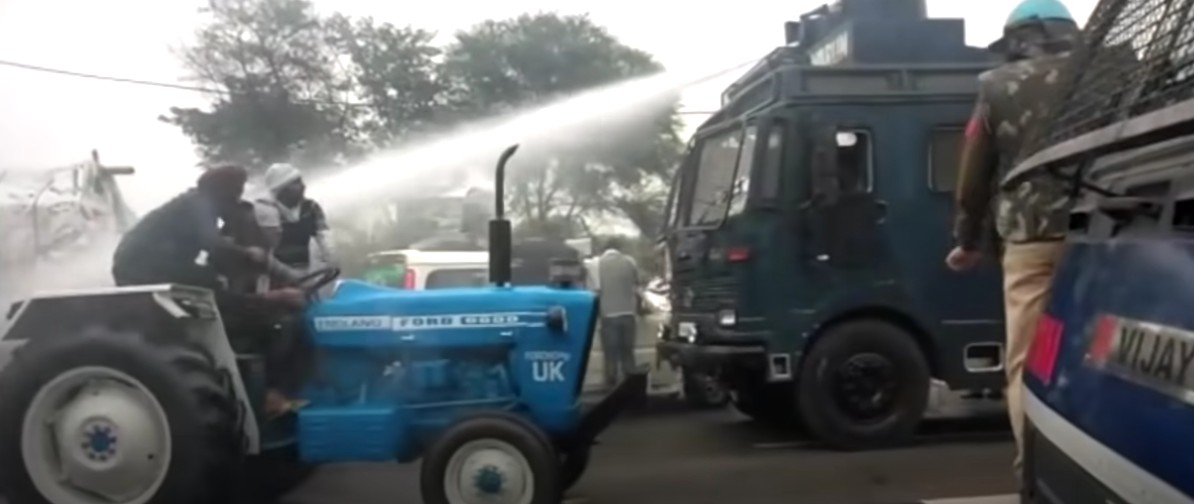 Peaceful protests have prompted aggressive responses by Indian police.
Acts of solidarity have been taking place as community organizers have held numerous rallies and gatherings since early October.
A similar sight as those seen in India unfolded on a cold Saturday afternoon in December when 800 vehicles lined up at the Brampton Soccer Centre. The plan was for the convoy to travel roughly seven kilometers to BLS International Services Canada Inc., a business where Indian passports and visas are processed.
Brampton residents are not alone in their country, as Punjabi-Canadian communities across the nation are voicing their concerns. Protests in Vancouver, Winnipeg, and Toronto have been held in support of family farmers in India, while criticism against the Modi government is pouring down across the globe.
Those opposed to the legislation late last year have pointed to three laws that Modi's Hindu nationalist BJP government brought forward in September. The Farmers' Produce Trade and Commerce (Promotion and Facilitation) Act will allow private food markets to be established, which will not be regulated by the government.
The Farmers (Empowerment and Protection) Agreement on Price Assurance and Farm Services Act will allow private companies to sign deals with farmers to grow specific products. Critics have said this will leave small farmers at the mercy of large corporations and financially vulnerable to easily manipulated market pressures, binding them to contracts where buyers will decide how much they want to pay a farmer for their crops.
The Essential Commodities (Amendment) Act allows traders to stockpile supplies creating fears of crop shortages or oversupply. The government provides little protection against the practice and would likely only step in if there's an emergency.
Many Canadians still have agricultural property in India, which is rented out for farming or have relatives that maintain family operations.
For those unfamiliar with the economic dynamics many Punjabi-Canadians are still tied to, the widespread support across Brampton may seem odd given the situation in India doesn't directly impact many expats residing here.
While old loyalties or a kinship with fellow Punjabis might drive some of the local support, for others it goes much deeper.
It's about the protection of the livelihood and identity of fellow Sikhs.
Sikanderjit Bajwa, a 29-year-old Brampton resident understands this very well. The protests won't impact him financially, and he isn't gaining anything personally from showing his support and being outspoken on social media, but he remains closely connected to the area where he came here from.
"Young and old who participate in these protests are fighting voluntarily against a government which is hell bent on eliminating their livelihood and cultural existence," he told The Pointer.
He's worried about the precarious situation many young Indians are facing and how these new rules could impact them.
There are many people who dream of working or studying abroad, Bajwa said. Not long ago, he was part of this group of dreamers. The lack of employment opportunities for some in India makes foreign countries like Canada desirable. For those with the same dream he had who come from a farming family in Punjab, their futures there and the ability to pursue other opportunities elsewhere could now be in jeopardy.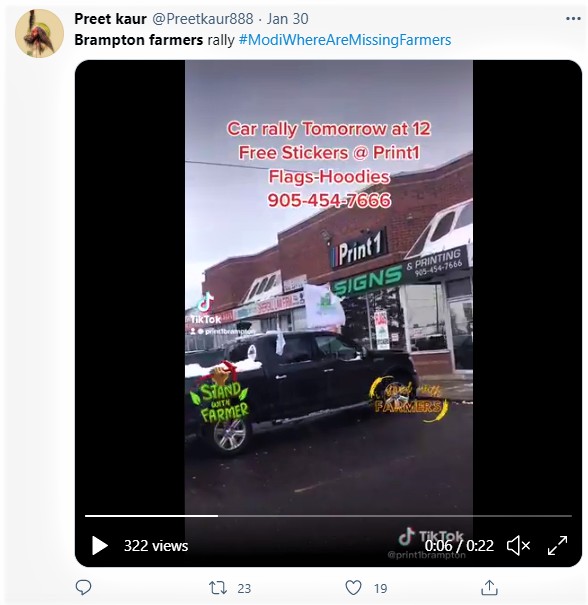 A recent tweet promoting a protest organized in Brampton.
Moving to Canada has a large price tag attached to it. International students, for example, pay an average of four times more for their post-secondary tuition, compared to Canadian students. In order to come here for their education, many farming families save their money from their agricultural businesses, but with the new rules posing financial uncertainty, it may be much harder, Bajwa said.
This could spell trouble for Canada as well, given the country's reliance on immigration. The nation's population is aging and people are needed to fill the gaps and help the economy thrive. Those originating from India play a large role in this. According to the National Foundation for American Policy, the number of Indian nationals who became permanent residents in Canada increased by 117 percent between 2016 and 2019, while the number of Indian international students coming to Canada increased by 127 percent between 2016 and 2018.
Even though Bajwa now resides in Canada, he feels deeply connected to those in his mother country. As an active participant in local protests, he sees the opposition to the Indian government's moves and its harsh crackdown as extremely important. World leaders, he says, need to understand how the Indian government is treating minority groups.
"Protesting in Canada is only a way to highlight farmers' issues, which creates international headlines, which makes world leaders support us, which in turn is the only way Mr. Modi pays heed to our issues."
In November, Prime Minister Justin Trudeau was one of the first world leaders who spoke out against the laws, raising concerns about the protests and supporting the voices of farmers. Backlash from India came soon after when federal officials there summoned Canada's high commissioner and warned against Trudeau making such comments. When the Prime Minister was asked about the Indian backlash, he didn't make much of it. "Canada will always stand up for the right of peaceful protests anywhere around the world," he said at a press conference in early December.
Bajwa was thankful world leaders were stepping up and voicing their concerns about the issue. "Prime Minister Narendra Modi cares about his global image more than anything. Protests outside of India are a way of putting pressure on Mr. Modi to not impose these ordinances on farmers."
Last year Modi came under fire for targeting another significant religious minority group. His Citizenship Amendment Act denied Muslims from neighbouring countries the same pathway to citizenship afforded to others and could force those Muslims in India to prove their citizenship through a national registry or risk being stripped of certain rights.
The BJP government led by Modi openly pushes a policy known as Bharat, which recognizes only Hinduism and the contributions of Hindus as the acceptable narrative for political, economic and cultural life in the country.
Politicians around the world, especially in places with large Muslim and Sikh diaspora communities are starting to speak out.
Brampton NDP MPPs Gurratan Singh, Kevin Yarde and Sara Singh all tweeted in opposition against the farm-reform laws. Brampton Regional Councillor Gurpreet Dhillon has been an active voice against the legislation and presented a motion to council in October asking the City to stand in solidarity with protestors in India.
One voice has been noticeably absent. Brampton Mayor Patrick Brown's Twitter account since the start of the year is filled with messages of support for a range of causes, including recognition of the Tamil independence struggle in Sri Lanka. But while protests have escalated in India since the start of the year, in support of Punjabi farmers, and against the disturbing anti-democratic actions of the Modi government, Brown's Twitter has been silent on the issue.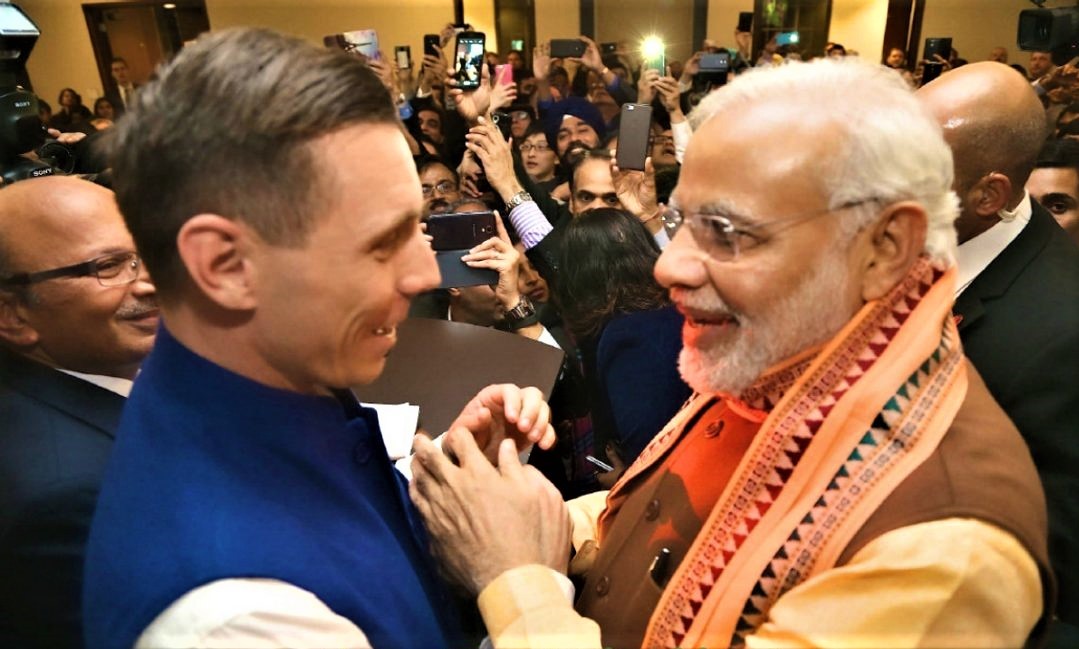 Brampton Mayor Patrick Brown and Indian Prime Minister Narendra Modi.
The Brampton mayor has often said Modi calls him his brother and has bragged about being invited to India as his special guest. He has travelled there some twenty times. It's unclear why Brown spends so much time in the country.
He aggressively courts the large South Asian-Canadian community for votes and other types of political support, but unlike other leaders who have expressed their support of the farmers in India and have raised concern over Modi's stripping away of democratically protected rights, Brown's active Twitter account has been silent on the issue since the start of the year.
But since then, the movement has gained momentum, as celebrities such as Rihanna have taken to social media to question the alarming conduct of the Modi government.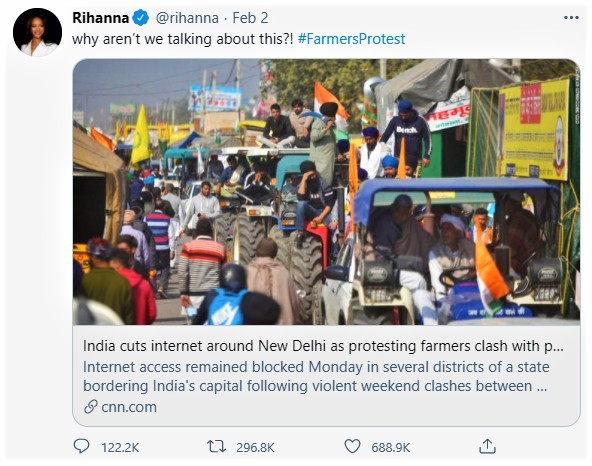 The protests and increasing global scrutiny have put pressure on the Hindu nationalist government. In January, India's Supreme Court put the three new laws on hold and convened a committee tasked with addressing the concerns of farmers.
On Sunday, a defiant Modi said the reforms will continue, according to media reports, and he targeted the protestors for being anti-nationalists.
---
Email: [email protected]
Twitter: @nida_zafar
Tel: 416 890-7643
---
COVID-19 is impacting all Canadians. At a time when vital public information is needed by everyone, The Pointer has taken down our paywall on all stories relating to the pandemic and those of public interest to ensure every resident of Brampton and Mississauga has access to the facts. For those who are able, we encourage you to consider a subscription. This will help us report on important public interest issues the community needs to know about now more than ever. You can register for a 30-day free trial HERE. Thereafter, The Pointer will charge $10 a month and you can cancel any time right on the website. Thank you.
Submit a correction about this story