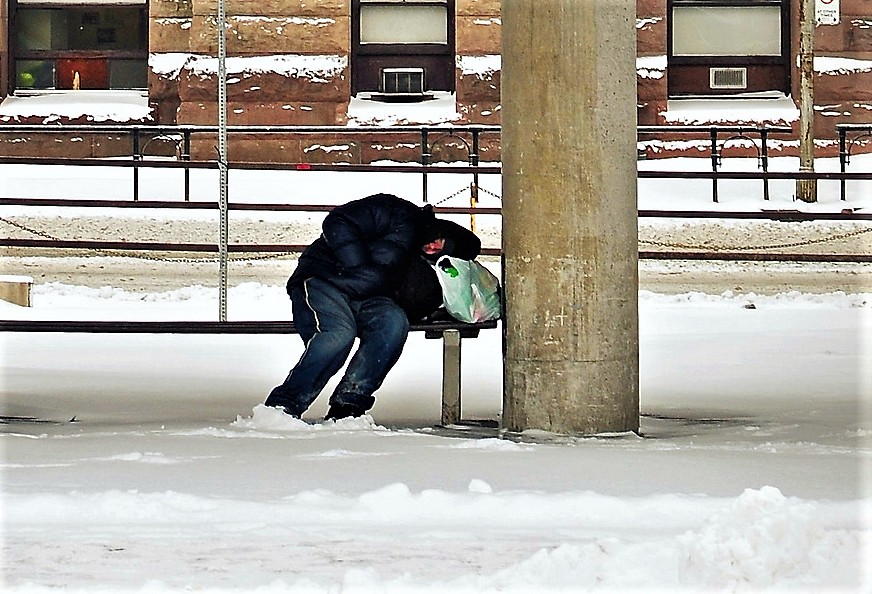 The Pointer file photos/Region of Peel-Twitter/Graphics Region of Peel
Shelter demand & lengths of stay increasing as Peel seeks solutions
Displaced from his rental unit after the landlord decided to put the property up for sale, Lunkulu Luntadila spent three months living in a Brampton shelter during the pandemic.
The 23-year-old became hyper-aware of his surroundings as a way to cope with an environment that made him feel constantly under threat – witnessing the effects of drug use, people brandishing knives, listening to screams at night and the nonstop presence of police and paramedics.
"Seeing that constantly, that definitely makes you paranoid and destroys your mental health…I had to look over my shoulder a lot," Luntadila said of his time in the shelter, between September and December.
His training as a student-athlete helped ground him. "I tried to stay motivated and exercise in the middle of the day, besides going to work and school online, to keep me in shape mentally because there was a lot going on in my personal situation and my living situation in the shelter."
As a former youth-in-care, Luntadila faced the challenges of aging out of the social support system during a pandemic, on top of finding a place to live in Peel despite its limited affordable housing options.
Funding requests to boost housing affordability were presented to the Regional Council's budget committee Thursday, as the rapidly growing area continues to attract more residents while grappling with a chronic shortage in low-to-middle-income housing stock. Councillors will soon set their priorities for the current year and pass the 2021 budget, based on proposals staff are currently recommending.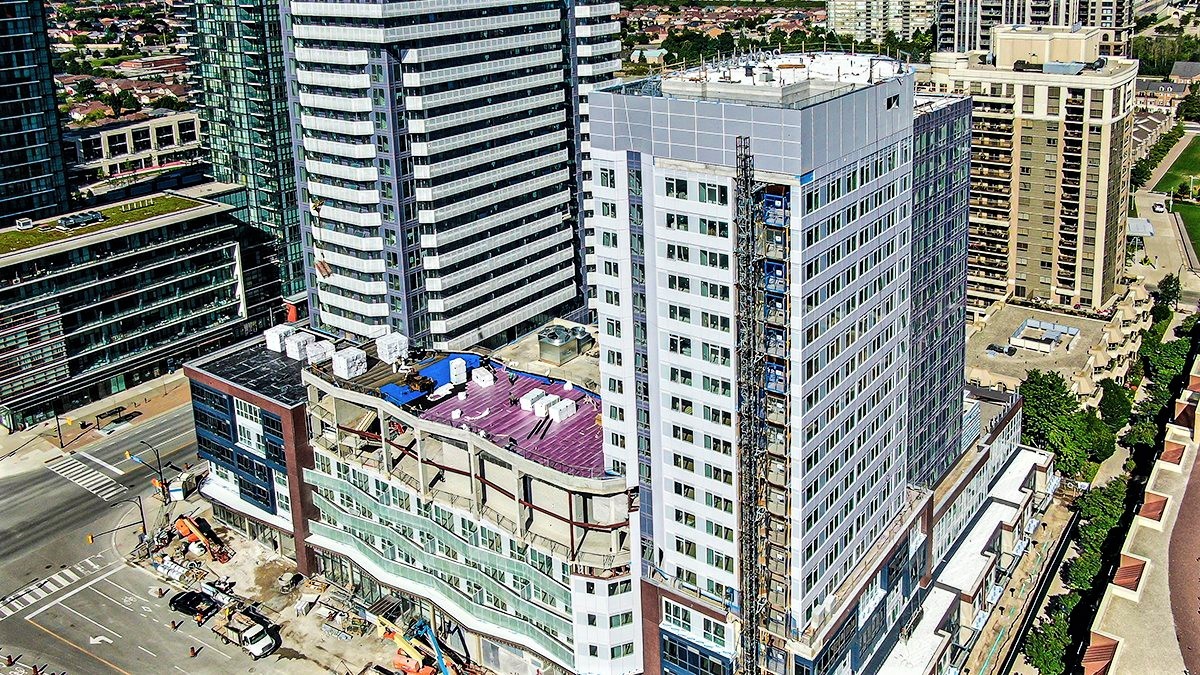 A new affordable housing building is under construction right next to Sheridan College in downtown Mississauga.
Despite the effects of the pandemic, Peel saw the fastest growth in its millennial population between July 2019 and July 2020 compared to other major Canadian cities, according to an analysis of Statistics Canada annual population data, by senior economist Diana Petramala and research assistant Hannah Chan Smyth at Ryerson University's Centre for Urban Research and Land Development.
While fewer non-permanent residents, or international students, flowed into Canadian cities due to the pandemic, the newcomers that did arrive in the last year favoured settling in Peel, followed by Toronto and Montreal.
About 11,600 households in the Region received a subsidy in the last year, and 4,800 people accessed emergency and transitional shelter services, where the average length of stay has increased to about three month, while over the last two years the average time spent at the Peel Family Shelter has more than doubled.
To manage overflow from shelters and accommodate capacity issues that stem from safety protocols during the pandemic, staff have been increasingly using hotels. In the meantime, the Region has 392 new affordable units under construction and is boosting the Emergency Shelter Operation capacity as well. Staff are recommending a $2.7 million request in the operating budget as part of investments into a new family shelter that would see the addition of 60 shelter beds, bringing the total to 120.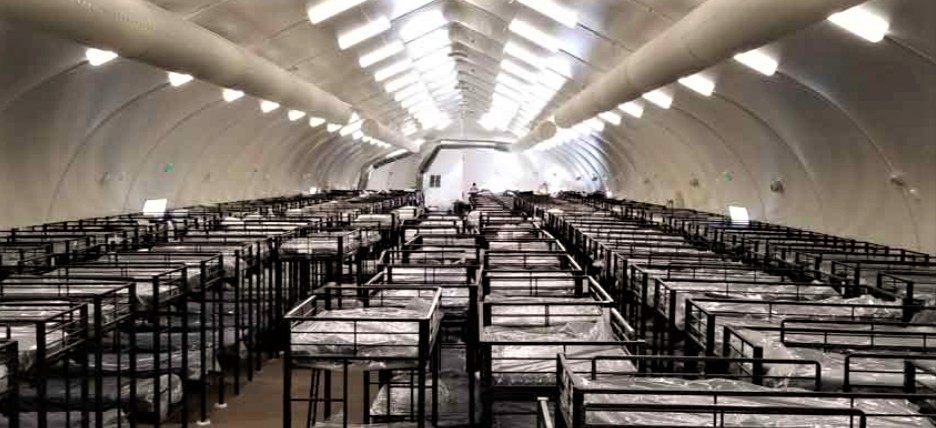 Many cities across North America are using temporary structures like this tent (shown as it was being set up) to handle increased demand for shelter space, but social distancing requirements during the pandemic have forced many of the beds to be left empty.
"We are also placing more emphasis on a Council-approved approach to focus on client needs when allocating subsidies, rather than solely adhering to the chronological waitlist. This is transforming how our clients, whether homeless or precariously housed, access our programs," Janice Sheehy, the commissioner of Human Services at the Region of Peel, told the committee.
Sheehy said staff are requesting four positions, with no impact on the budget due to reallocated resources, to help implement the Housing Master Plan. According to budget documents two additional staff are requested to provide legal and communications support for the plan, while two contract staff are requested to become full-time to implement the plan and find strategies to increase the supply of affordable housing.
The $1-billion project is slated to see more than 2,200 affordable housing units and shelter beds created in Peel in the next eight years. About one-third of the plan is yet unfunded, with the majority of the funding coming from the Region, at $335.3 million, and another $276.4 million from the federal government.
Housing support, a provincially-mandated program, is primarily shouldered by Regional tax dollars which provide about 60 percent of the cost, with only 24 percent is funded by the province and the remainder through fees and charges, Sheehy said.
The housing capital budget highlights include $10.8 million in loans for state-of-good-repair projects by housing providers, $1.8 million for technology licenses, and a $120 million investment in non-development-charge projects (meaning the companies that build them do not contribute fees for infrastructure and services) in the Housing Master Plan.
The funding and financing sources for the $120 million plan includes about $31.1 million from reserve accounts, $67.5 million in external funding, and $21.4 million in debt financing. According to budget documents, the Region is slated to build or develop the 2,200 affordable units through an agreement with the Canada Mortgage Housing Corporation, which will give Peel $89.5 million in forgivable loans and $186.9 million in repayable loans, in total, over an eight-year period until 2028. As of last August, the outstanding debt of mortgages held by the Peel Housing Corporation – as the Region itself cannot hold any mortgages – was about $120 million. Housing staff expect that debt will be used in 2021 to fund part of the Housing Master Plan, which will depend on how much building progress is made. Another budget risk this year is the possible "significant shortfall" in the reserves that fund housing and good-repair capital costs, as well as the current 10-year Housing Master Plan.
In response to questions from councillors, Sheehy said she expects to see the trend of extended stays in shelters continue.
Regional Councillor Martin Medeiros pointed to increased domestic violence in Peel, rapid population growth and other trends that may affect housing supply.
"It's almost a tsunami of all these different pieces coming to really put considerable pressure [on housing] that I just see it increasing over time," Medeiros told council.
The Region provides rent supplements, housing allowances and Peel's 6,710 rent-geared-to-income units; 4,825 in Mississauga, 1,738 in Brampton, and 147 in Caledon. In 2012, the Region had about 2,400 rent-supplemented units.
Community organizations in Peel also provide crucial rent assistance services.
For youth like Luntadila, the support of the Restoration and Empowerment for Social Transition, or REST Centres – a Peel organization that helps youth who are aging out of the care system – helped him find stable housing after months of living in a shelter. Support staff work with landlords to help match youth to housing opportunities, and provide rent subsidies and other services.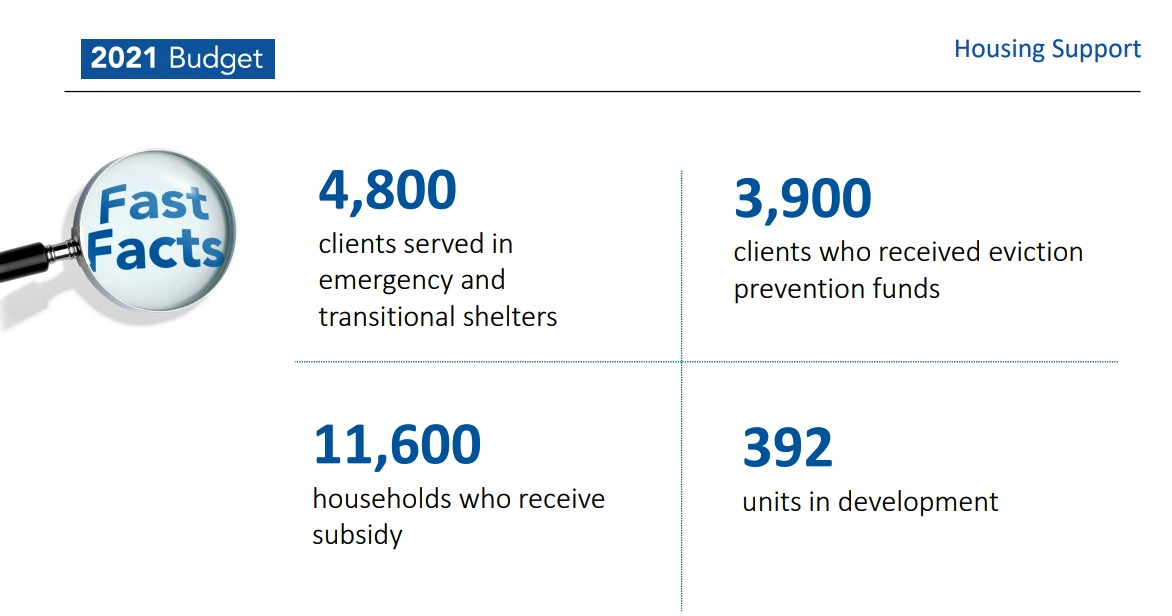 Highlights from the proposed 2021 Region of Peel budget.
"Being homeless is the worst thing ever," he said. "That can affect everything, your health…you can lose hope, depression, anxiety. Especially in wintertime."
Luntadila now rents a room in a Peel home and calls his new landlord a "mother figure". He is now working toward an education in the trades and his creative pursuits, while working with REST Centres to become an advocate for other youth in Peel looking for housing assistance.
Dagma Koyi, executive director of REST Centres, said connecting with the right landlord to help youth transition from precarious situations into stable and affordable housing is a foundational part of their Bridge Builder program.
"We're looking to put them in an environment that is safe, that is comfortable, that they can thrive in," she said.
Founded in 2015, the organization also offers training to support youth who experienced trauma, rental subsidies, grocery delivery, cooking classes, and other wraparound supports, including workshops on how to make a rental room unit feel like a home, obtaining ID documents and connecting with employment opportunities.
Like dozens of organizations in Peel that are relying on emergency COVID-19 funding to support the increase in demand for services, REST's managers are also eyeing the March 31 deadline when current emergency funding, which allowed it to create a rent assistance program, ends.
Youth who are aging out of the care system would rather be in homes than institutionalized spaces like shelters, Koyi said. "With young people like that, there are just so many barriers to them being able to get out there and get a place by themselves."
The Black Youth Matter Peel support line, at 905-863-1118, provides support for Black youth who are homeless or at risk of homelessness.
---
Email: [email protected]
Twitter: @LaVjosa
---
COVID-19 is impacting all Canadians. At a time when vital public information is needed by everyone, The Pointer has taken down our paywall on all stories relating to the pandemic and those of public interest to ensure every resident of Brampton and Mississauga has access to the facts. For those who are able, we encourage you to consider a subscription. This will help us report on important public interest issues the community needs to know about now more than ever. You can register for a 30-day free trial HERE. Thereafter, The Pointer will charge $10 a month and you can cancel any time right on the website. Thank you.
Submit a correction about this story