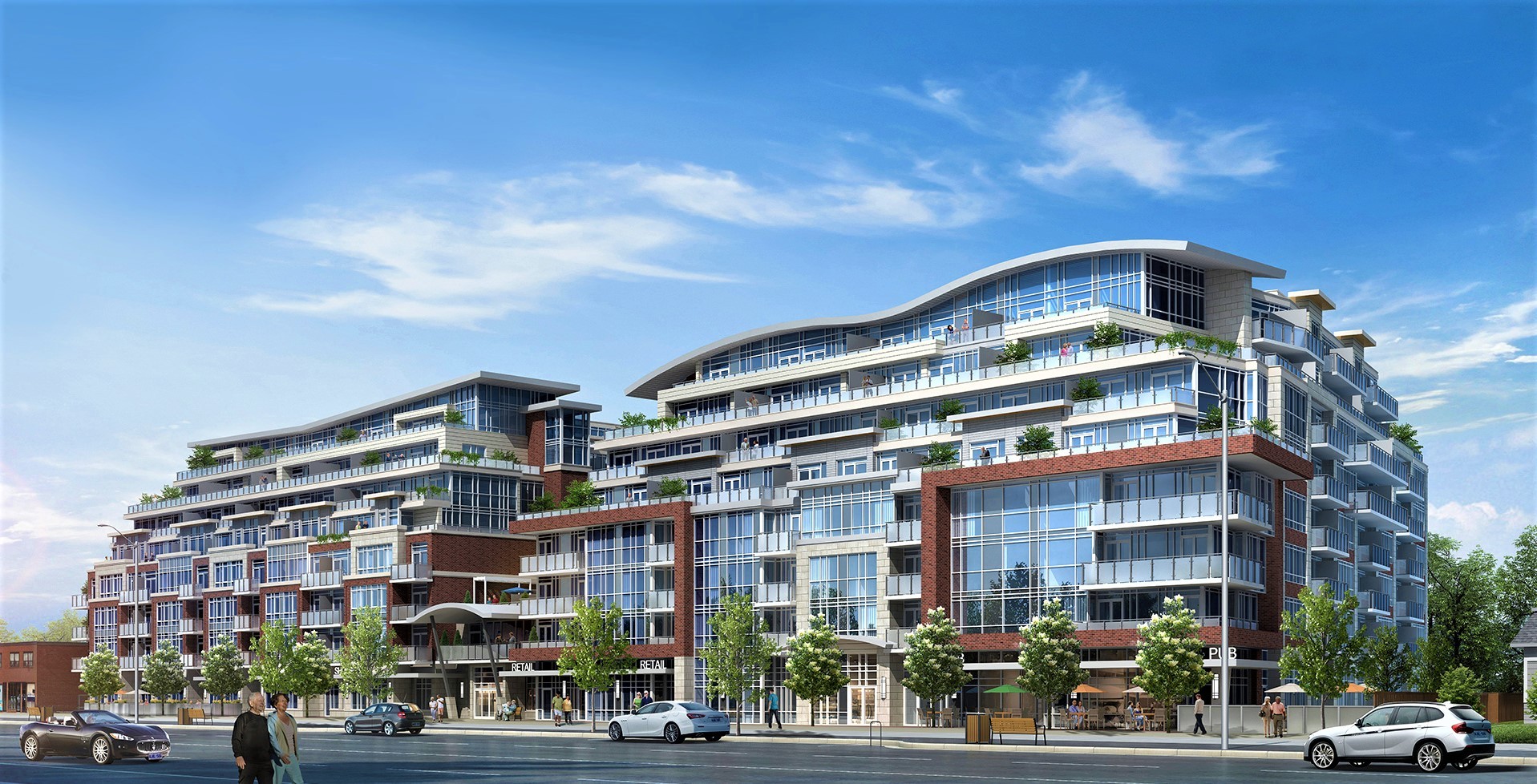 Photos and renderings courtesy The Shores/Rick Drennan
Part 1: How boomers are building a resistance movement against retirement
In the bizarre, drug-laced, counter-culture movement of the 1960s, pop icon Andy Warhol captured the tenor of the times and the kinetic energy fuelling the baby boom generation, then coming of age. His catchy aphorism foresaw a future where everyone, men, women, children, oldsters, and even those who didn't want it, would be entitled to "15 minutes of fame".
Fifty years on, most boomers – born between 1946 and 1964 – would settle for 15 minutes of bliss, amid the ongoing disruption to their privileged lives.
What's notable about all this is that the biggest, richest, and most self-absorbed demographic in the history of mankind, is now moving en masse past the age 65 – society's designated entry-point into the world of retirement.
Boomers are now facing the ultimate endgame, their own mortality. This apotheosis is terrifying to some, but a challenge to others. What has clearly emerged is a new 'resistance movement' on the very idea of retirement.
This all started when boomers changed the lexicon, emphasizing the A and L words (active and lifestyle) over the R and C ones (retirement and care) the ones so often used to define aging. These A and L words speak of independence, gleefulness, and non-stop movement. It's the kind of bracing attitude that was the dictum of famed Irish playwright George Bernard Shaw, who once said "Life is no brief candle to me. It is a sort of splendid torch. I want to make it burn as brightly as possible before handing it on to future generations." He carried that torch for 94 years.
This is what defines former Mississauga mayor Hazel McCallion, who on February 14th turns triple digits. This centenarian, who former Ontario premier Bob Rae once called a "force of nature", still has the work ethic of a Navy Seal, and has famously said people can be "old" at 50 and "young" at 90 – it all depends on attitude.
The latest figures from Statistics Canada say we now have almost 12,000 centenarians (mostly women) and seniors 65 or older (who last year accounted for 18 percent of the population) will account for 23 percent of the national population by 2031 and more than a quarter in Ontario a decade later. It's estimated there will be two-million more seniors in Ontario in two decades, more than 4.6 million in total. The average life expectancy for men has increased by almost 21 years to 79 since 1920, and 23 years for women (84).
This past year has been a time of reckoning for boomers. Some now recognize aging as a "movement" because our "greatest generation", those who spawned them, was targeted disproportionately by the novel coronavirus. Those "warehoused" in our Long-Term Care (there's that word) system were victims of institutional elder abuse. Just recently, these homes – many in Mississauga and Brampton – passed a macabre milestone as 3,000-plus of our most vulnerable have been felled by the virus, many barricaded and bedridden, four to a room.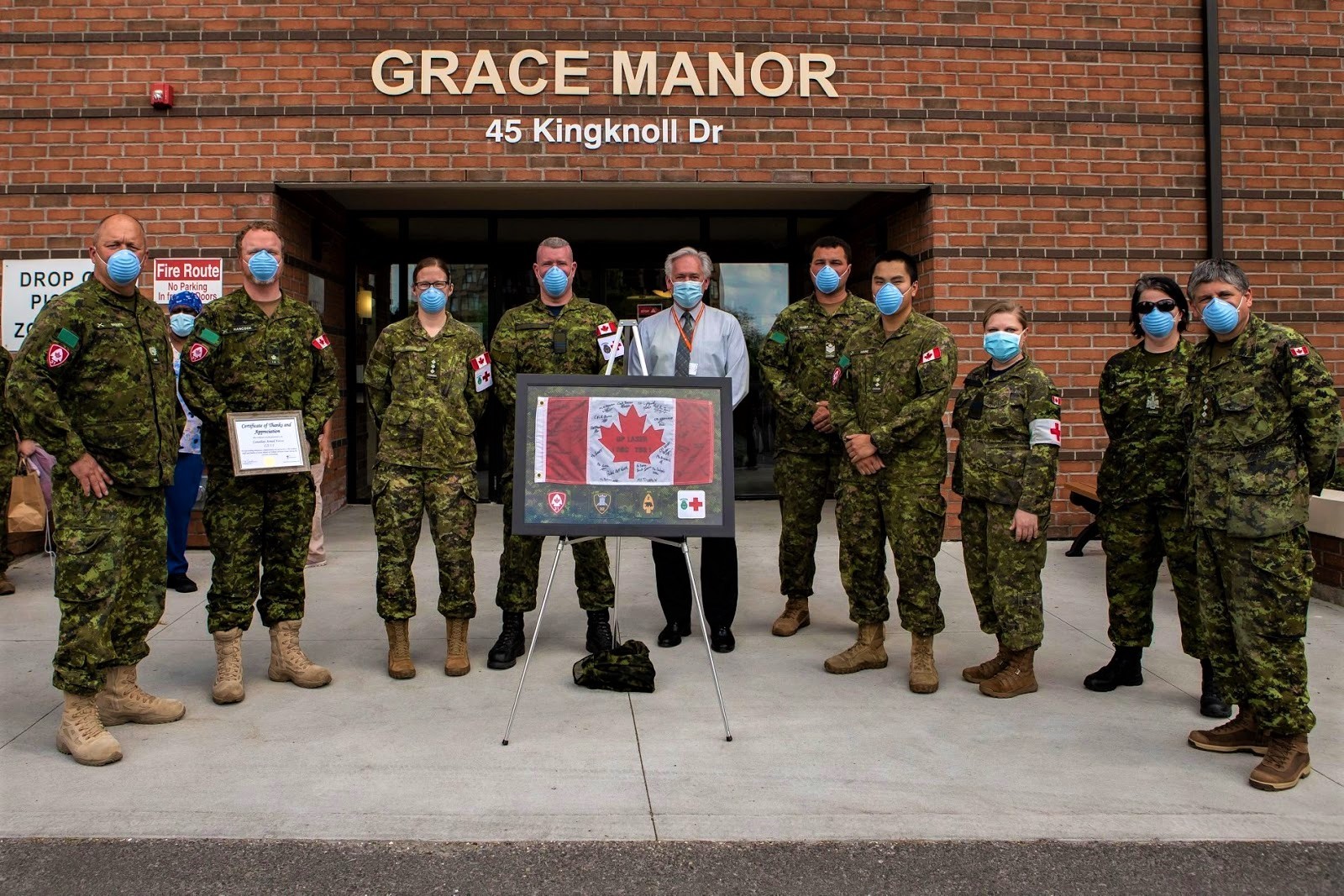 The Canadian Armed Forces had to be called into Brampton's Grace Manor, where a mass tragedy unfolded in the spring.
These are soul-searching times for boomers because (cue the soundtrack from Jaws) they are next in line.
The media has documented this heartbreaking story, and the searing TV images are indelibly imprinted in our minds: seniors in distress, dying alone, their bodies rolled into body bags and sent to cooling trucks before being consigned to their final fate, a tiny funeral, telecast over Zoom.
The demographic that sacrificed and survived the darkest days of the 20th century and lived lives of noble service to a greater cause, were abandoned by us in their time of need.
Boomers came into this world in numbers that made counting meaningless. They were given knowledge (deemed to be sacred) that they were the chosen ones: well-educated and idealistic to a fault, and sure to do their Depression-era and war-ravaged parents one better. They were the Coles Notes' kids, a blessed breed of know-it-alls. They could speed-read through classes, and party hardy, and do the latest hallucinogens, while also marching for civil rights and social equality and bringing to an end the Vietnam War. Their libertarian lifestyle was driven by sex, drugs and rock & roll. They urged their grumpy parents to give peace a chance and prayed at the altar of a new God: Themself.
They are the first 'Me' generation.
Over time, enervated by excess and spoiled by luxury, they morphed into what the 'Me' generation defined itself by – wealth, status, centred on self, pampered, privileged and consumer-driven. They became the most economically influential earthlings to ever populate this planet.
It's difficult to dislodge an impression once it takes hold, but these numbers add further bolstering: according to 2020 numbers, provided by the U.S. Federal Reserve, boomers still hold 53 percent of America's wealth, while Gen Xers have 16 percent and millennials (who now make up the largest portion of our workforce) check in at a paltry 4.6 percent. What's more, in 1989, when boomers were the same age as today's millennials, they controlled 21 percent of the economy. Boomer influence can't be overstated, then, now, or in the future.
Famed author Dr. David Foot, captured this conundrum in his seminal tome, Boom, Bust & Echo, a demographic analysis that did some serious number crunching. Almost a decade ago, after a speech in Mississauga, given to Sheridan College students, he told this author, the bloated, post-war, baby boom generation took all the spoils from the world we know, passed along little to the follow-up group, and left the next generation, their children, in the lurch – struggling to make do with the leftovers.
And yet… a clock ticks, a bell tolls, and it is ringing for boomers. No one should deny how hard working this generation is, collectively, and in many, many cases, individually. With this work ethic comes their expectation of society. That's why COVID-19, and the treatment of our elderly created so much angst among them, and why they are hell-bent on reinventing retirement.
---
The Boomer Pushback
It's mid-morning in mid-January, and pillowy clouds, black and grey, cover the south Mississauga sky. The expected overnight snow never arrived, replaced by a light, misty rain – a testament to the mild winter. The traffic along Lakeshore Road in the west end of Port Credit is as intermittent as the precipitation – except at the Benson Avenue embouchure. A steady stream of cement trucks, panel vans, and construction workers – replete in hard hats and work boots – gather at one of the most significant construction projects in Mississauga's history.
The site is surrounded by low-slung fencing, PVC pipes, and there's the whiff of sealants.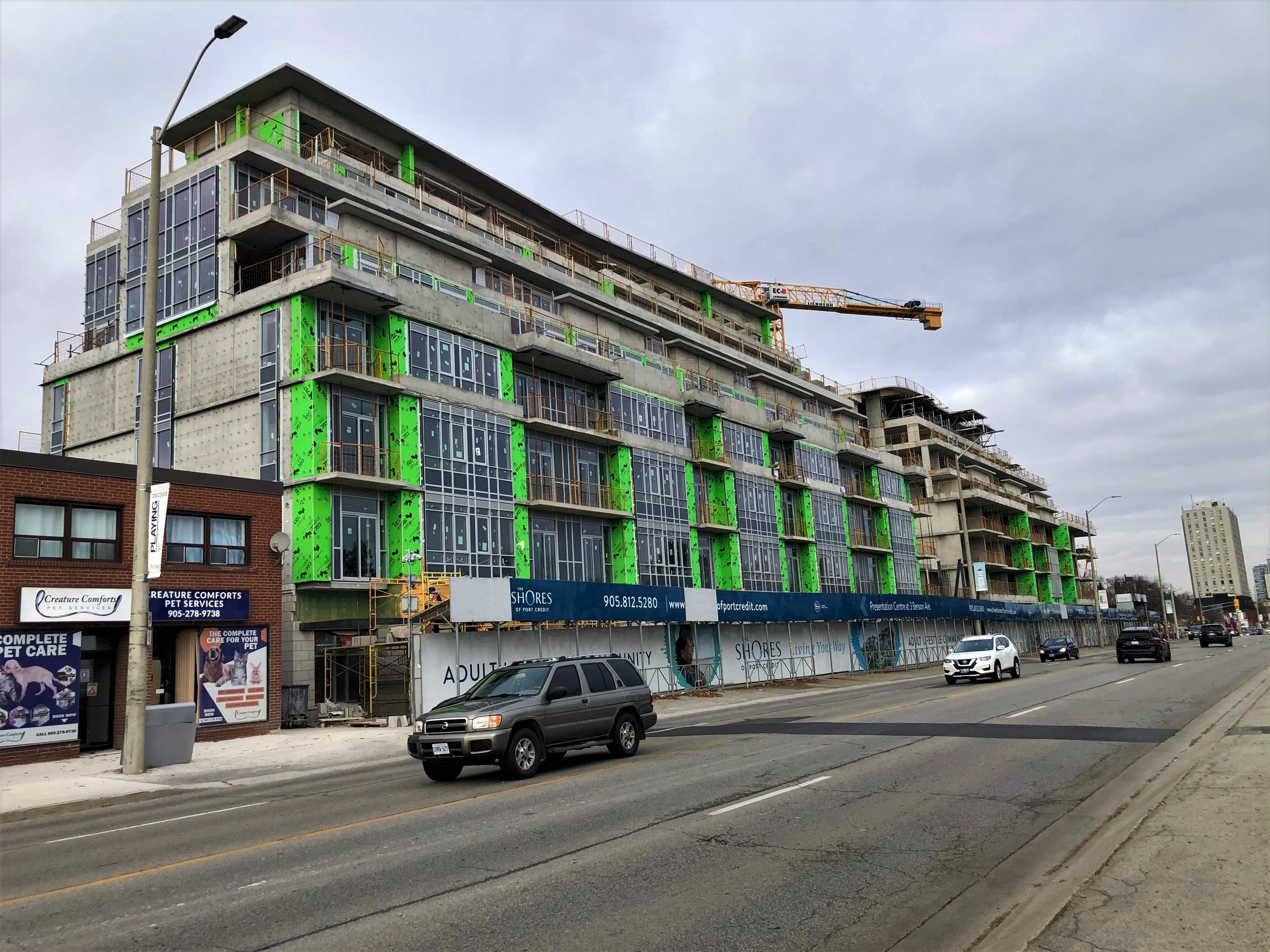 The Shores is under construction on Lakeshore Road.
The Shores of Port Credit is a planned 2.8-acre site of mixed-use buildings, in different stages of completion. There's an 119,000-square foot retirement residence which includes 30 memory-care units for Alzheimer's and dementia sufferers, 30 geared to supply assisted living, and 101 other units. There's a 128,000-square foot adult-lifestyle portion, with 141 rental apartments. Sitting just off the main building, once completed, are 16 luxurious multi-storey condominium-towns, ranging from 2,200 to 3,000-plus square feet. There's also the unseen, a large underground parking lot.
The entire project will check in at a lofty $225 million.
It might best be described as a "graduated retirement site" meaning: those who buy a condominium town home, can turn over their unit when they age, and shift to a retirement or lifestyle rental unit, depending on the services they will need. This allows a seamless transition from independent living to partial to fully assisted care. Residents can age-in-place.
This flexibility is a step-up for empty nesters who choose to sell their homes and seek a one-stop retirement option. The LTC model that debased many of our elderly, seems a thoroughly unmodern option, compared to The Shores – high-end, driven by wellness.
The horrific system of senior care invented by western Europeans, in their cold indifference, has made society collectively shake its head. Is there anyone anymore willing to house the mothers who gave them life in one of these profit-making nightmares?
And does anyone really think self-made boomers entitled to all the luxuries they created, are about to give it all up for a shared 10 x 20 room that could double as a student dorm?
The Shores is a privately funded project and is clearly how most boomers would want to spend their golden years, if they can afford it.
The visionary behind it is Helmuth Strobel, owner of Newmarket-based Tiffany Development. He's a boomer, who has edged past 70, but belies his age as he bounds up and down staircases and leads a Pointer reporter on an extensive tour of the site. Strobel is a proponent of 'grey power' and said 70 is the new 60.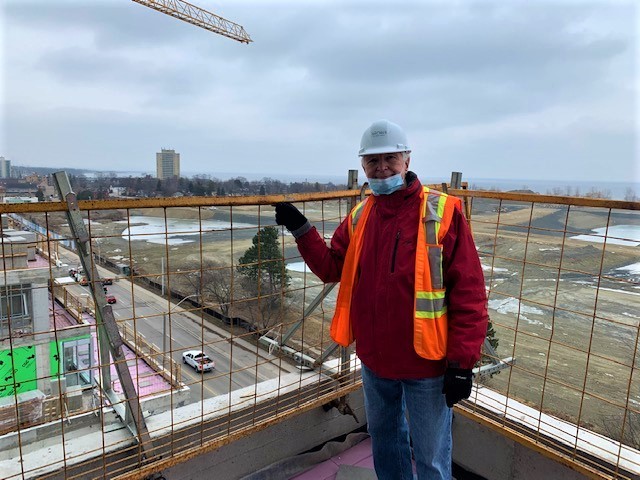 Helmuth Strobel, owner of Tiffany Development, is building the retirement living of the future.
He began The Shores 13 years ago, when McCallion was still in office, and partners in the original 'Port Credit Group'. He had a small parcel of land but acquired 15 more. The project will end in 2023 with the completion of all occupancies. But much of the major construction and move-in will begin this November. The sales office has been marketing units for a month, and both the construction and marketing operation follow strict COVID protocols.
The history of the project is complicated and compelling. It began with the land assembly and continued with re-zoning – a joint effort through a number of partnerships. It continued by adding financial support, "when there was still a lot of doubt," said Strobel. A final partnership with Domenic Gesualdi of DCMS Realty Developments Inc. and Verve Senior Living, brought in the construction machinery needed, and Verve – one of Canada's top retirement home companies – added its world-class operational expertise, and talented team of marketers.
Frank Giannone, president of FRAM Building Group, another Port Credit building legend, made many of the key business introductions for the project, and currently provides construction management services. Ron Possamai of Global Architect was a key partner since day one, while local architect Michael Spaziani and urban design consultant Ed Sajecki (former manager of planning and building for the City of Mississauga) have contributed their time and expertise. The journey has been at times tortuous, especially the angry pushback from the local neighbourhood at numerous public meetings over the years.
---
Tovey Helps Broker a Deal
Strobel said late Ward 1 councillor Jim Tovey helped broker a compromised deal. "He worked tirelessly to ensure that we adhered to the City's planning principles, yet gave us enough room to produce what we believe will be recognized as a world class retirement-living project," he said.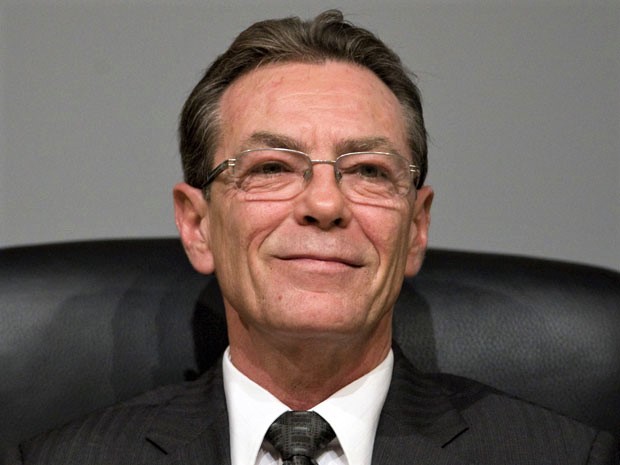 The late Mississauga councillor Jim Tovey worked tirelessly on community projects.
The Shores sits on the north side of Lakeshore directly across from the 75-acre Brightwater project currently remediating the old Imperial Oil lands at a cost of $40 million.
For years, the oil-drenched site separated local residents from Lake Ontario and stood as a reminder of the community's industrialized past. Brightwater is the brainchild of a consortium of builders, including Giannone, and both it and The Shores will re-make the west end of Port Credit. They will bookend with the giant Lakeview Village project as it arises on the old Ontario Power Generation site on the east end of Lakeshore.
Mississauga has targeted a renewal of its shoreline as part of its master plan for the future. Boomers, and their big bank accounts, will feature prominently in the growth set to dominate the city's waterfront.
Strobel feels like the exhausted traveller standing on the lee-deck of a ship that is about to reach its home harbour. Boating is an apt metaphor for the project, and many of its homes will be named after sailboats. He's an enthusiastic sailor, too, who has piloted crafts in waters as far away as Thailand.
He said he hopes "to sail away into retirement after the project's completion."
He began his building career in 1975 in Calgary then returned to Mississauga in 1990 as a self-employed small builder/developer. He had early success with a project near the old Cavan Garden Centre on Clarkson Road North, then partnered with Kylemore Homes for the award-winning Town Manors of Coventry Lane. He continued at the entrepreneurial level and conceived, developed, and built Town Manors of Sulphur Springs, and Stonegate, both in Ancaster.
But The Shores is a legacy project, a timely product, the ultimate in luxe living.
This quickly becomes apparent during the walking tour, beginning with the condominium towns. The model home is age-friendly, with a ground-level walk-in. Each unit has an elevator that runs from the basement to a lovely wraparound rooftop, and throughout the home there are high ceilings and lovely accouterments: fireplace, walk-in closets, generous bedrooms, high-end washrooms and showers, and a special add-on that will warm the hearts of environmentalists. A geothermal system lets The Shores participate in an energy evaluation and modelling program sponsored by Enbridge's "Savings by Design" initiative. The objective is to reduce energy consumption. The entire site is heated and cooled by 160 geo-field wells (plunging 600 feet down, through shale and sand) and Sustainable Buildings Canada said the condo-towns will provide about 50 percent energy savings over the 2017 Ontario Building Code requirements.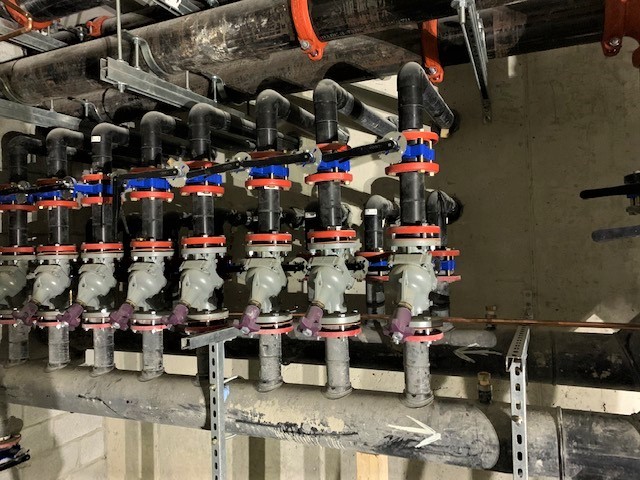 Pipes for geo-thermal heating and cooling installed at The Shores.
Each townhome will have its own geo-well, and little natural gas is needed for the production of domestic hot water, BBQ, fireplace, or other appliances. The geothermal heat pump will distribute heat and cooling through two fan coils (heat exchanger system) with each unit serving two floors. It's all about comfort control. Each home will be equipped with an ERV (Energy Recovery Ventilator) circulating a continuous flow of fresh air while expelling stale air, a nice touch as we live through an era when airborne viruses have become a real worry. Each condo-town owner belongs to The Shores Social Club.
This is the true idealism of the boomer, reconciling their past indifference to the environment with a retirement lifestyle energized using clean technology. Who said they don't care about their planet?
Urban design icon Richard Florida, author of The Creative Class, and a University of Toronto professor, once said, "People want diversity, low entry barriers, and the smell and feel of life on the streets."
This, he added, is particularly important in our post-industrial world. People expect more from the places they live, and that includes boomers.
The adult lifestyle and retirement rentals focus is on health, wellness and movement. The Shores will have daily exercise classes, inside and outside, art sessions, even a golf simulator and therapeutic pool located in a Wellness Hub, which also features a spa. Across Lakeshore Road a walkway will run alongside Brightwater and directly to Lake Ontario, a mere 400 metres away. This promise of wind, surf, sails, shoreline walks, summer sunrises and orangey fall sunsets, means despite The Shores' high-end amenities, location will always be its primary selling tool. Said Florida: "People increasingly want to act like tourists in their own city."
Port Credit village is close by, replete with retail and restaurants, and the GO station guarantees an easy 25-minute connection to Toronto.
The rental units in the adult lifestyle and retirement residences include dining rooms, bistros, courtyard dining, rooftop terraces for general or private functions, wine cellars, indoor and outdoor gyms, pools for swimming or therapy, a movie theatre, game and activity rooms, a library, housekeeping services (if wanted) and organized travel trips to some choice sites throughout southern Ontario. There's more, but everything is driven by movement and engagement. Strobel agrees with Florida: "Boomers are, by nature, adventurists. They want to be in settings that connect them to their friends and other community members."
---
Some of the features in The Shores that boomers expect: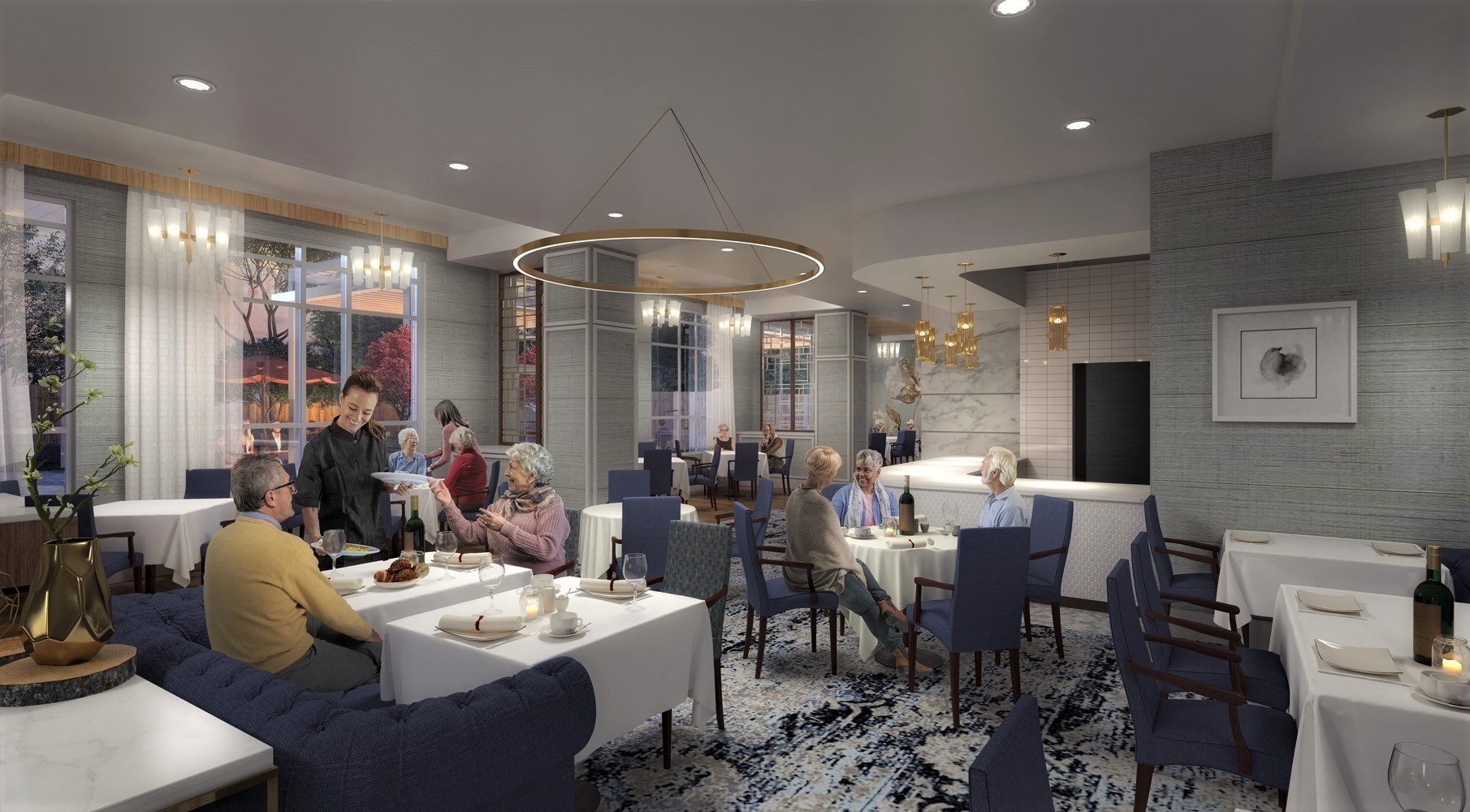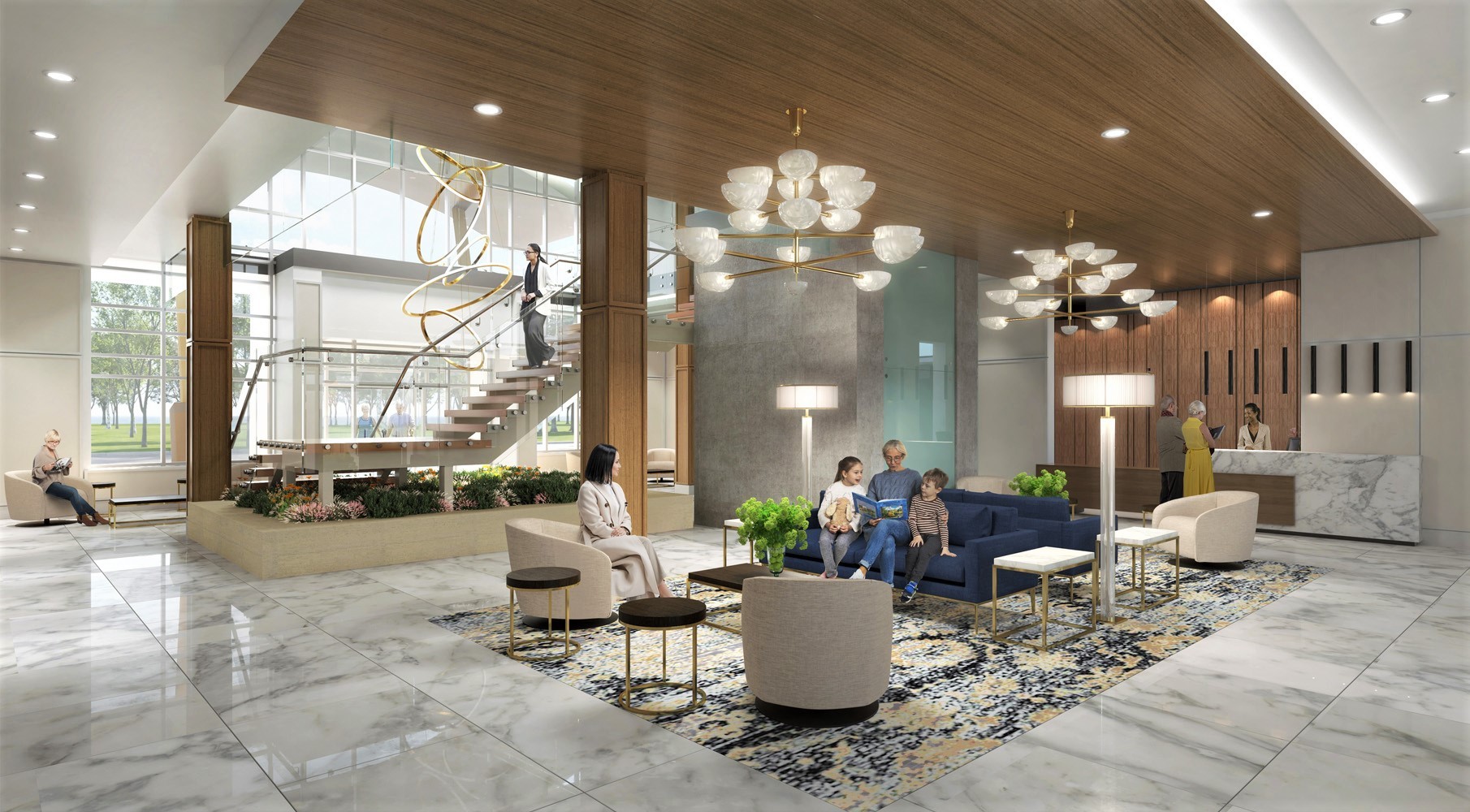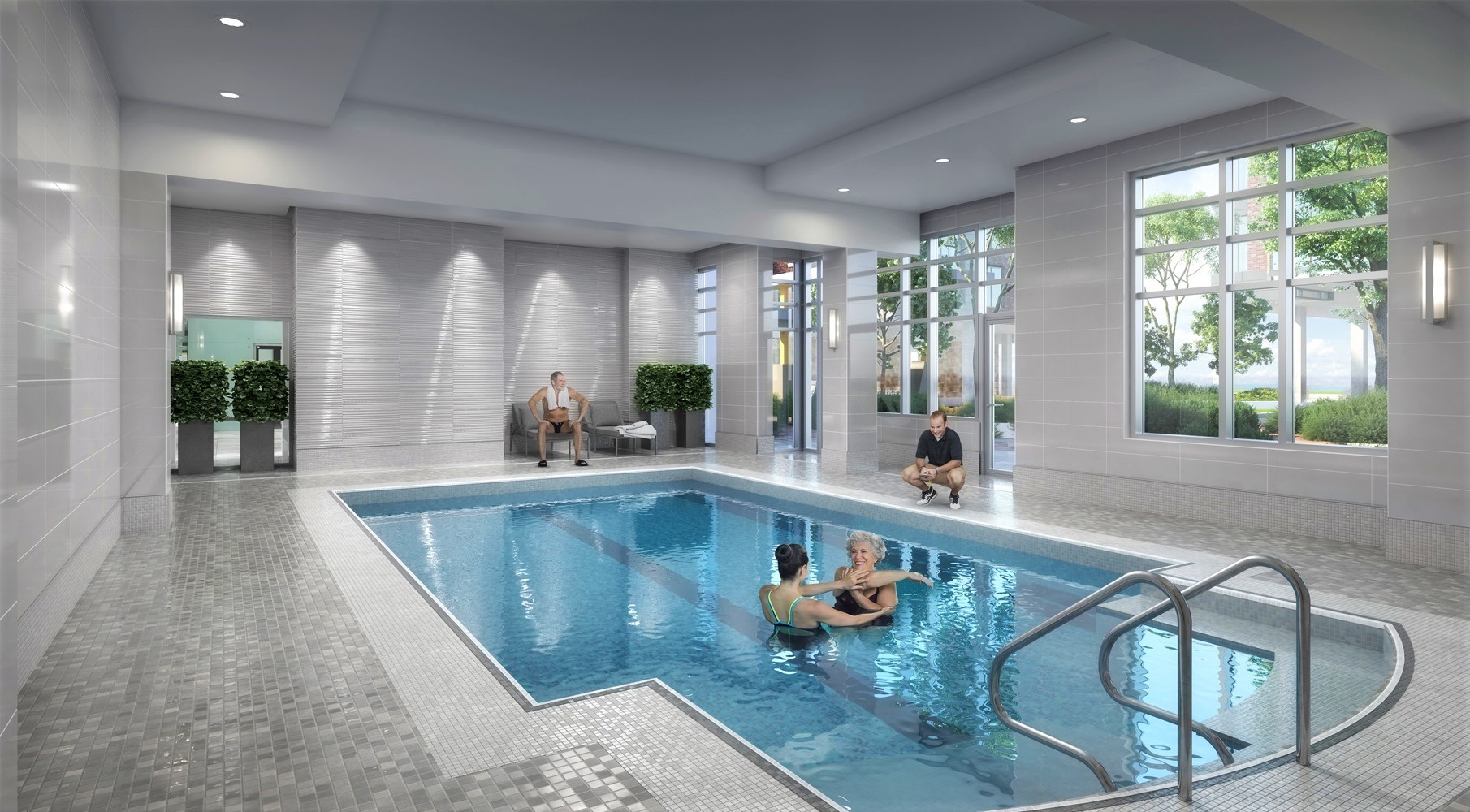 ---
COVID-19 has changed everything, including socializing. The Shores is unabashedly high-end, and a radiant new reality for retirees who can afford it.
The Shores anted up $1 million to remediate its land, which sits only a few steps away from Credit Landing, a commercial-retail mall sitting on another parcel of reclaimed Imperial Oil land on the north side of Lakeshore.
Strobel's tour is over and leads back to the presentation centre on Benson Avenue. The marketing team of Katherine Mayers, Jodi Flanagan, and Milyda Scott are there to meet and answer more questions. Everyone is masked up and socially distanced, and the Verve team explains that both the construction and the marketing phases of the project have been somewhat constrained because of the pandemic.
The wine and cheese parties that they were supposed to hold to welcome in potential buyers, have been replaced by phone calls, and plenty of Zoom meetings.
Flanagan explains that the retirement home sector is still a "niche" portion of the building industry, and only 4 percent of the entire elderly living community, which is still dominated by those who choose to live independently at home, or in their own rental units. One reality of this prolonged nesting by so many seniors, is the lack of options, especially for boomers who want nothing to do with the places featured in the news over the last 10 months, for all the wrong reasons.
She admits that horrific stories in those homes this past year have had a dampening effect, but counters that Verve has a robust program for private testing and exceeds all the COVID protocols. The Shores has its own infection control policy, and every unit is inspected by the RHRA (Retirement Homes Regulatory Authority). The Oakville-based Ontario Retirement Communities Association (ORCA) oversees the industry, and Flanagan said The Shores will be a blended community that serves everyone's health needs, from the robust to the fragile. Its multitudinous offerings will also help solve another plague that infests the elderly community, loneliness. She said, "People have to ask, how do you choose to age, and what do you want?"
Projects like The Shores, she says, will provide many of those answers, especially to boomers.
Nearly one in six Canadians — about 8 million – cracked age 65 in 2015. This 3.5 percent growth rate is four times higher than the rest of the population. As more and more people make decisions about how and where they want to live into the future, those private sector players who provide the most desirable options will vie for the trillions of dollars boomers will spend on themselves over the next two decades.
An executive with the ORCA described our aging population as a "slow growing boom" a few years back. No wonder builders are now focusing on boomers. Some industry experts believe the modern retirement living sector will soon be recognized as its own real estate class.
---
The Boomer Credo
Historians and social scientists remain flummoxed by boomers, their ongoing influence, their strange duality. They are in many cases workaholics. They are also motivated by position and prestige. They define themselves by their accomplishments and sacrificed a ton of time to embolden their careers. They are confident, self-reliant, independent, and achievement-oriented, and their engines get revved up by taking on challenging projects. Strobel is a composite drawing.
They strive to make a difference, are driven to win, and believe in what one writer calls "hierarchal structure and rankism". Because many grew up in comfortable circumstances, they had time and support to self-actualize, and maybe that's why they embraced counter-culturalism as youth. The late journalist/author Tom Wolfe said boomers created the "me generation" and became rooted in post-war prosperity. Good times meant happily involving themselves with "remaking, remodeling, elevating, and polishing one's very self …".
Yet traditional values like conformity and loyalty fall from their shoulders like ancient plaster. If a broad descriptor can be honed from all this, it would be this: if you want to get something done, hire a boomer.
Strobel said he gets excited every time he does a walk-through of The Shores. "I have to pinch myself that this is actually happening after the tumultuous ups and downs over the last decade," he said after our tour.
The R and C words (retirement & care) barely cross his lips, but A (active) and L (lifestyle) do, multiple times. They represent what boomers want, him included.
Near the end of Strobel's tour, he reaches the top floor of a lifestyle residence, featuring a spectacular view of the south side of Lakeshore. He's asked to pose for a picture. He edges out on the balcony, slips down his mask, smiles. Behind him are the sweeping vistas of Port Credit village on his left, Brightwater to his right, and beyond that, the white waves of Lake Ontario. He looks to the camera like a proud father showing off his 17-year-old child on graduation day – which he is.
Part 2: BLUE IS THE NEW BROWN. In part 2 of this series on aging post-pandemic, we look at the massive Brightwater residential and commercial project in Port Credit, and how a talented team of developers and remediation experts have turned a filthy, oil-soaked industrial site into a blue-water playpen for residents who will eventually settle along the Lake Ontario shoreline.
---
---
COVID-19 is impacting all Canadians. At a time when vital public information is needed by everyone, The Pointer has taken down our paywall on all stories relating to the pandemic and those of public interest to ensure every resident of Brampton and Mississauga has access to the facts. For those who are able, we encourage you to consider a subscription. This will help us report on important public interest issues the community needs to know about now more than ever. You can register for a 30-day free trial HERE. Thereafter, The Pointer will charge $10 a month and you can cancel any time right on the website. Thank you.
Submit a correction about this story