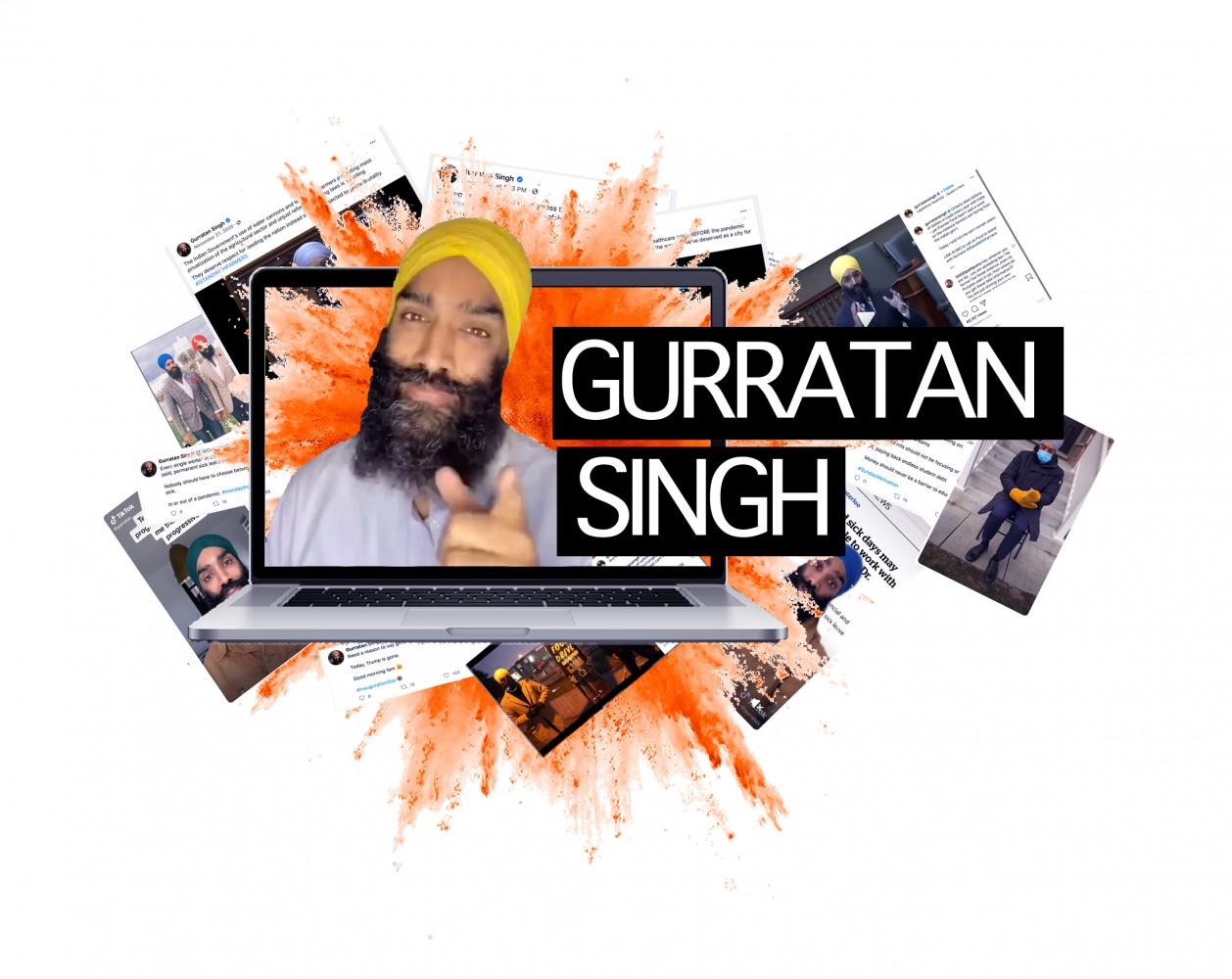 Photos from Twitter/Graphics from The Pointer
Advocacy for Brampton & personal branding: The two sides of Gurratan Singh's social media use
The Pointer's Social Media Monitor is a weekly look at how elected officials and other public civil servants are using their taxpayer-funded resources to shape digital communication aimed at constituents. We feature one public figure each week.
---
When the camera lens of an Agence-France Presse photographer found U.S. Senator Bernie Sanders in the presidential inauguration crowd last Wednesday, he was sitting with one leg crossed over the other in a black folding chair. The former Democratic primary contender was dressed for the brisk January weather in Washington D.C., sporting a Burton Snowboards down jacket – a staple of his campaign trail – a pair of knitted mittens and a blue medical mask.
His pose and modest winter ensemble were squarely in character for the no-nonsense progressive politician, and stood out in a sea of smart suits and designer garb. But the photo composition was unremarkable. And yet, as with many internet oddities, the Bernie picture quickly ascended to "memedom", gripping the hearts and attention spans of social media users. The picture was widely photoshopped to depict him sitting in unexpected places, and creatively adapted by illustrators.
No stranger to adding his spin on viral trends, NDP MPP Gurratan Singh posted his version of the pose by noon the following day on TikTok, the popular social media platform where he has his largest audience at 79,600 followers. His TikToks have garnered more than 1.9-million likes.
MPP Gurratan Singh does his best Bernie Sanders impression.
At 36, the millennial MPP for Brampton-East represents an area where the median age of constituents is 34.4, according to the latest Census data from Statistics Canada. Prior to winning his Queen's Park seat in 2018, his Brampton district – newly created in 2015 by the Liberal government – was reported as having the lowest median age in the province at 32.6.
Younger audiences present an opportunity for Singh to connect virtually with constituents, in light of restrictions on public gatherings caused by the COVID-19 pandemic.
This means Singh's usual haunts for connecting with constituents, whether at union halls, places of worship, or the streets of Brampton, are replaced with the virtual podium of social media platforms. He has a combined 195,100 followers across his Twitter, TikTok, Facebook and Instagram accounts. Singh's following on Twitter alone – where he has the fewest followers at 22,300 – eclipses that of his Brampton MPP colleagues Sara Singh (NDP-Brampton Centre), Kevin Yarde (NDP-Brampton North), Prabmeet Sarkaria (PC-Brampton South) and Amarjot Sandhu (PC-Brampton West).
"As an elected official, my job is to go where people are...With social media, I take the same philosophy," Singh told The Pointer. "TikTok is an emerging platform, and I'm pretty active on it because it's a great way to get out a message."
The app is quickly becoming the most popular new social media indulgence of younger demographics, hitting 2-billion downloads just one month into the pandemic, not accounting for downloads on app stores widely used in China, according to The Verge.
Singh's success on TikTok follows in the steps of his older brother and Canada's NDP leader Jagmeet Singh, who boasts more than half a million followers and 4.3 million likes on the platform, often making headlines when he joins in on a viral trend. In October 2019, Jagmeet Singh's TikTok to a clip of the song "Choices" by rapper E-40 went viral, reaching more than a million views a few days before the federal election.
However, as impressive as the social media numbers are, it's difficult to link this type of popularity with effective leadership on behalf of constituents. As an elected representative at Queen's Park, Singh's role is to speak for the people of Brampton, advocating for solutions to the issues that impact their lives. In a city with a growing healthcare crisis, and one that has been vastly under-resourced to handle the COVID-19 pandemic, a strong voice in the legislature has the potential to be a stone in the shoe of the ruling PC party and trigger action. While he rises frequently inside Queen's Park to do just that, on his social media, Singh is more drawn to viral trends that get his face in front of the most viewers, often younger ones, instead of using these platforms to engage constituents on pressing issues.
Since Brampton's entry into the lockdown on November 23, Singh has posted 36 TikToks, six of which highlighted issues related to the City, its healthcare emergency and the inequities facing its essential workers during the COVID-19 pandemic.
Other content on Singh's TikTok includes videos with political or social justice themes, interspersed with viral challenges, the occasional vegan recipe, holiday messages, and snippets of life as a #GirlDad to his newborn daughter.
With only a small offering of his TikTok videos relating to civic issues, Singh says "I use social media as a way to convey the same work that I'm doing in the House in a medium that is easily digestible, for folks to understand," adding that many who do not use English-language media also turn to those platforms.
On Twitter, Singh engages with posts from his NDP colleagues more prominently than from members of the public, by commenting on and re-tweeting their messages, which creates an NDP "echo chamber".
According to a 2020 research paper by the Digital Democracy Project, led by the Max Bell School of Public Policy at McGill University and Public Policy Forum in Ottawa, while Canadians are less likely to pick partisan news sources, they are drawn to these "echo chambers" online.
"Canadians are quite selective in the content they share and the people they follow on Twitter, with many committed partisan accounts that only follow and share content from their preferred party," the researchers found in their study of digital and social media leading up to the 2019 federal election.
In the last three months on Twitter, Singh's party advocacy and posts about challenges facing Brampton residents have appeared alongside multiple posts about farm protests in India beginning in September. Thousands took to the streets following the Indian government's moves to loosen agriculture regulations, including price protections on certain crops and giving corporate players more influence in the market. "Today and everyday, let's stand up for farmers who feed us all," he said in a video caption, taken on TikTok and posted to Twitter last week.
Singh is one of the younger generation of leaders in Canada, like his older brother, who understands the importance of branding and retail politics. They were made for social media. These brand-building platforms are powerful tools in the race for name recognition, acting like an endless sea of election signs. While he does share his advocacy recorded from the legislature on issues that matter to Brampton, often in the form of videos highlighting his emotional, animated deliveries at Queen's Park, these messages to constituents sometimes get lost among the clips of Singh taking part in viral trends, or his commentary on world issues with no direct impact in Brampton.
His connection to the Punjabi-Canadian community features prominently on his social media, highlighted recently by his sustained advocacy for family farmers in India fighting against recent government action to open the industry to corporate competition. Is this pandering, or compassion?
Repackaging content across platforms is a common social media marketing strategy, with Singh's TikToks and screenshots of Twitter posts appearing on Facebook and Instagram.
He runs his social media accounts with the help of two staff from his constituent office and one aide, who have access to his login credentials and count social media content creation as part of their job. Singh said he mainly uses his iPhone to create content.
Facebook's Ad Library, a database designed to increase transparency around advertising costs, estimates how much is paid to run an ad and potential reach.
At the end of December, Singh spent up to $600 on an ad that reached up to 50,000 people to invite support to his latest fundraising campaign, and $100 on an ad for the Sikh Bandi Chhor Divas, or Day of Liberation, which reached up to 500,000 people. He had a similar reach for an ad related to "decades of underfunding by Conservative and Liberal governments" in Brampton. The cost and audience-reach figures are ballpark amounts generated by Facebook, but a member of Singh's staff confirmed the estimates.
Of about 14 ads that Singh's team ran since last February, the two most expensive cost up to $1,500 and related to his campaigning around the lowering of auto insurance rates in Brampton and Ontario, and a House speech of his opposing cuts by the Ford government.
Singh does not appear to interact directly with constituents on social media, but says the comments received are "overwhelming, really positive."
The Pointer was unable to verify this, but his mostly one-way form of social media use once again points to a politician using these platforms, with the potential to reach millions in a meaningful way, not as an engagement tool but as a vehicle for personal amplification and brand-building.
To convey a more authentic desire to lead, the broader potential of social media as a democratizing tool could be used to help Singh reach his political goals.
---
Email: [email protected]
Twitter: @LaVjosa
---
COVID-19 is impacting all Canadians. At a time when vital public information is needed by everyone, The Pointer has taken down our paywall on all stories relating to the pandemic and those of public interest to ensure every resident of Brampton and Mississauga has access to the facts. For those who are able, we encourage you to consider a subscription. This will help us report on important public interest issues the community needs to know about now more than ever. You can register for a 30-day free trial HERE. Thereafter, The Pointer will charge $10 a month and you can cancel any time right on the website. Thank you.
Submit a correction about this story